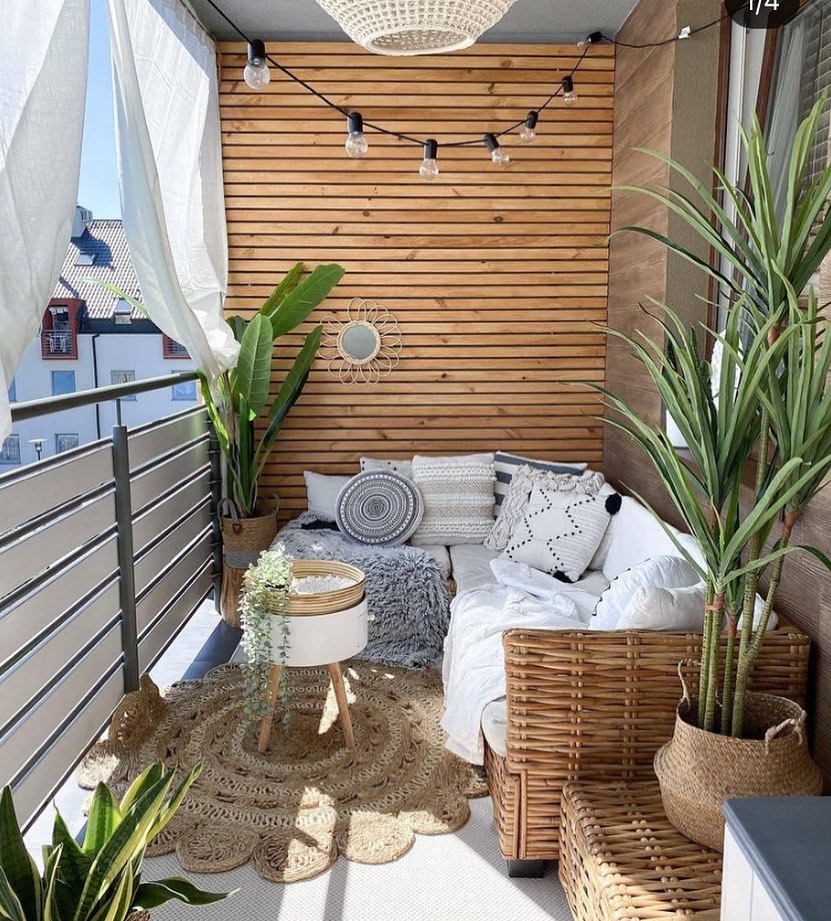 36 Small Condo Balcony Ideas that Will Inspire You
Get your condo balcony ready for spring with these trendy ideas. You can transform your space into an area for work, play, gardening, or relaxation. Check out this month's narrow balcony inspirations curated from top Instagram decorators.
A Private Patio
Taking advantage of the greenery surrounding her condo, @trishjohnstondesign kept the cool theme to create an area all her own. Her dining area with neutral-colored place settings helps welcome guests. The theme carries over to the sitting area, decorated with ferns and comfortable printed pillows ready for relaxing.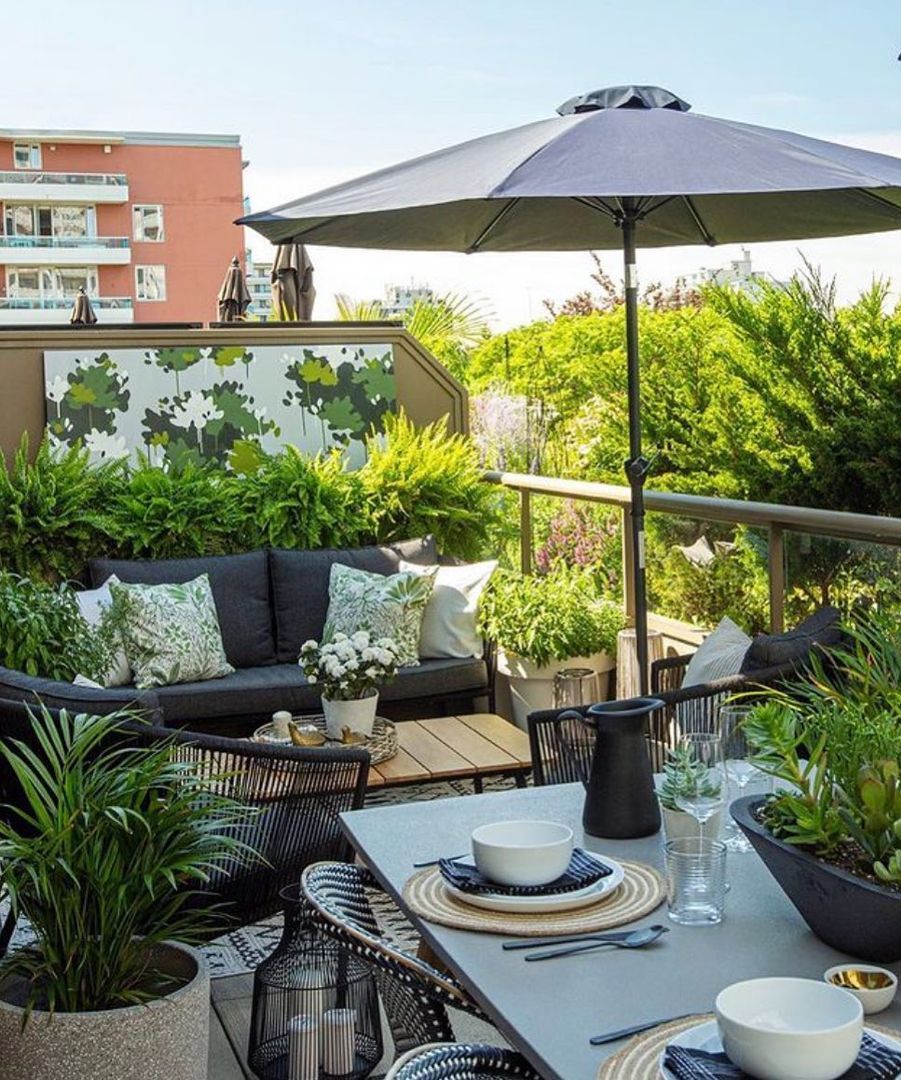 Florals Galore
A pretty, summery patio design makes the most of the outdoor space with an abundance of flowers. Brightly colored petunias adorn the balcony, while trailing vines make their way up the wall: a brilliant use of space by @lilasnest. Simple folding chairs flank a table that's perfect for an afternoon chat.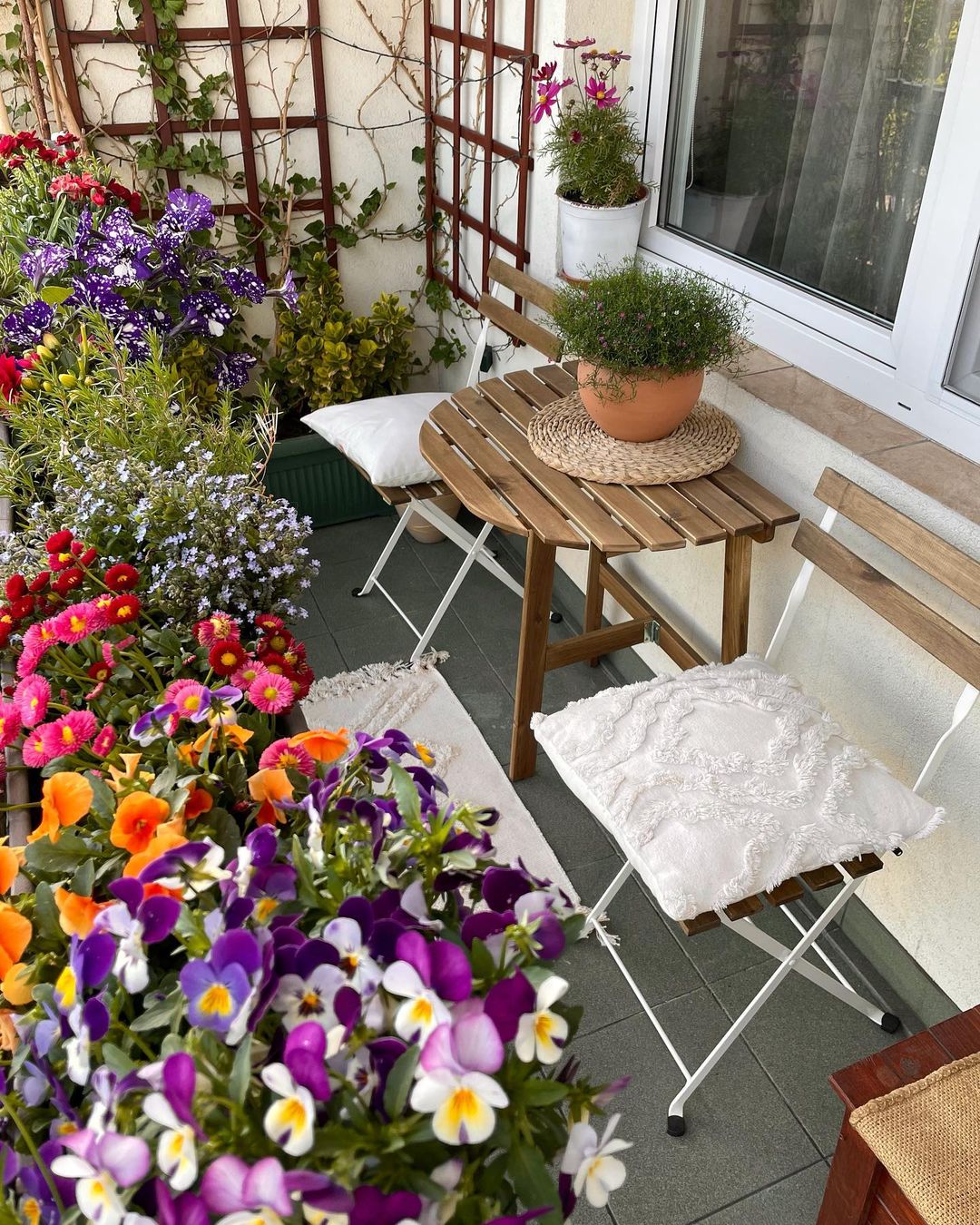 Boho Balcony
@wendy_decoo has turned her balcony into a Bohemian respite. She softens hard, industrial lines with layers of white and neutral fabrics, including a dreamy curtain that keeps the outside world at bay. Tropical plants and bistro lighting add interest and give the whole balcony a beachy vibe.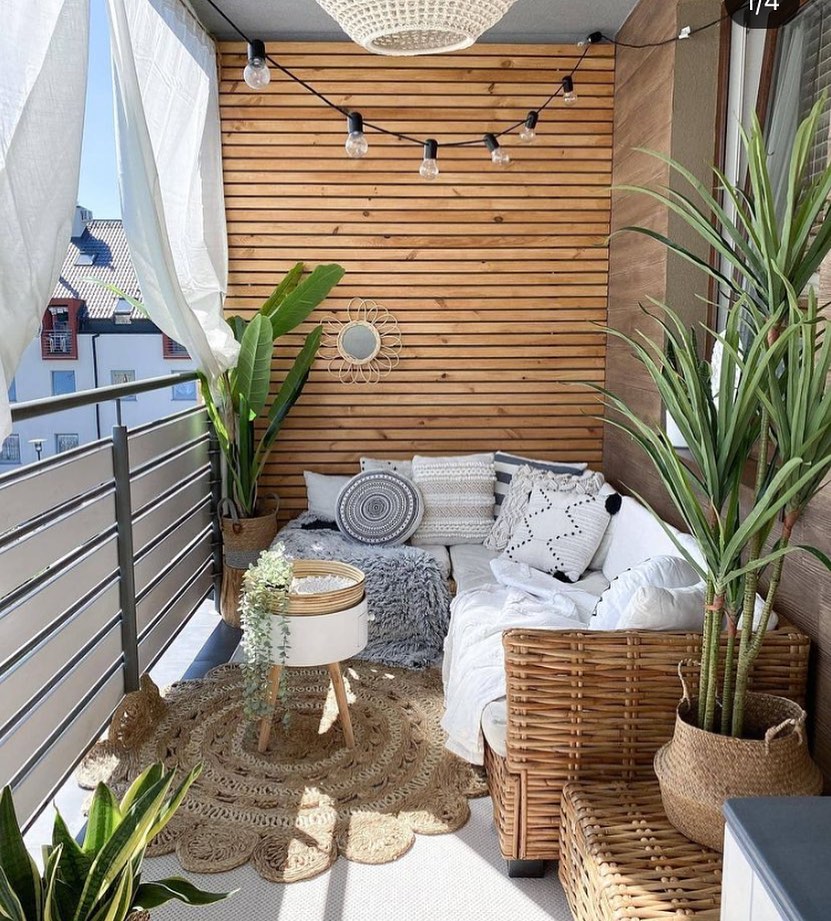 Starry Night
Dreamy accents and personal artwork make this condo balcony by @inam18.home the perfect evening respite. Whimsical details, potted plants, and a cozy futon are complemented by the soft, starry lighting.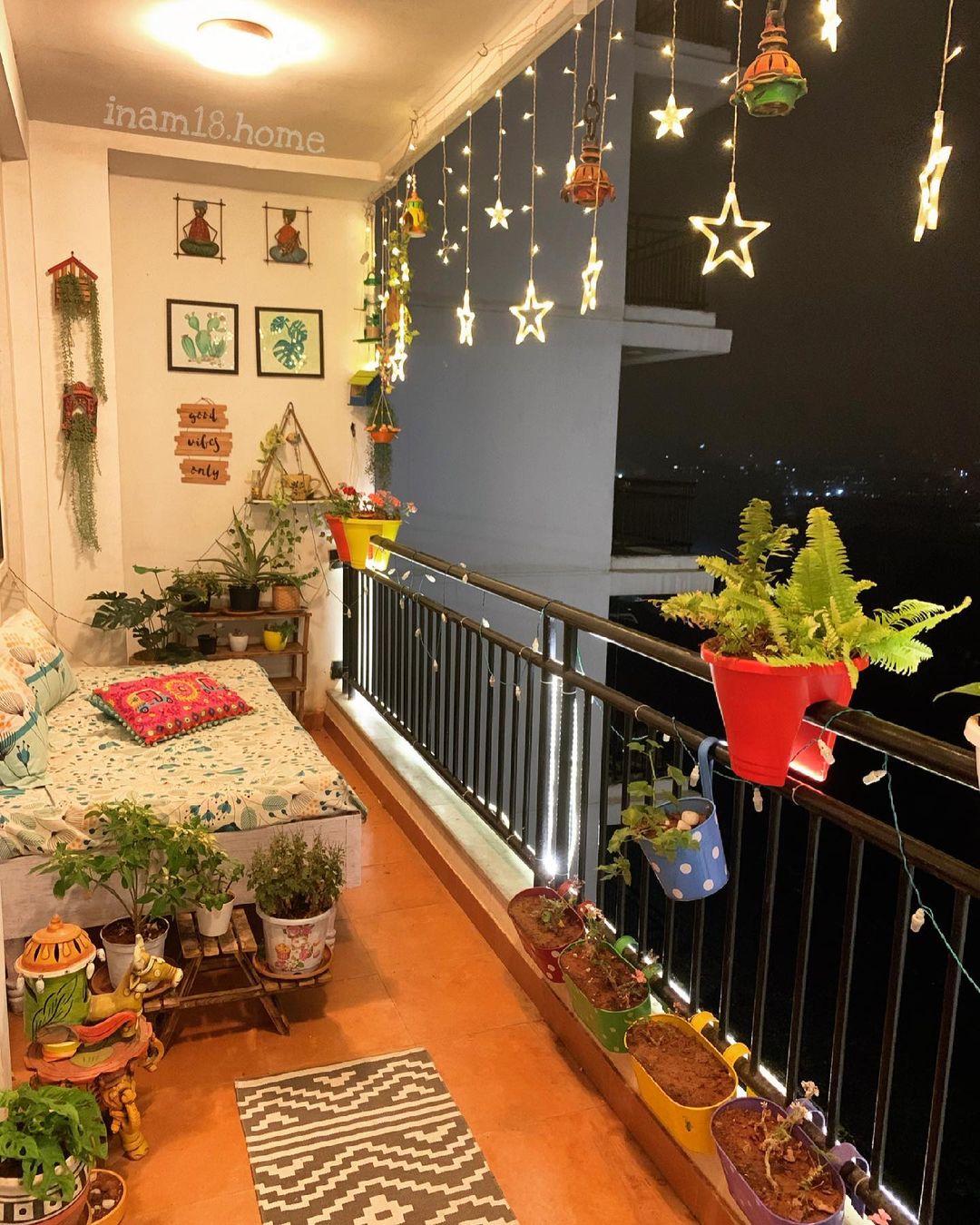 In the Jungle
One way to create your own balcony oasis? Fill it to the brim with plants. A small space still feels welcoming as you step into this miniature jungle found by @interioryesplz. Leafy green plants are scattered among pretty garden flowers with a relaxing chaise peeking out of the oasis.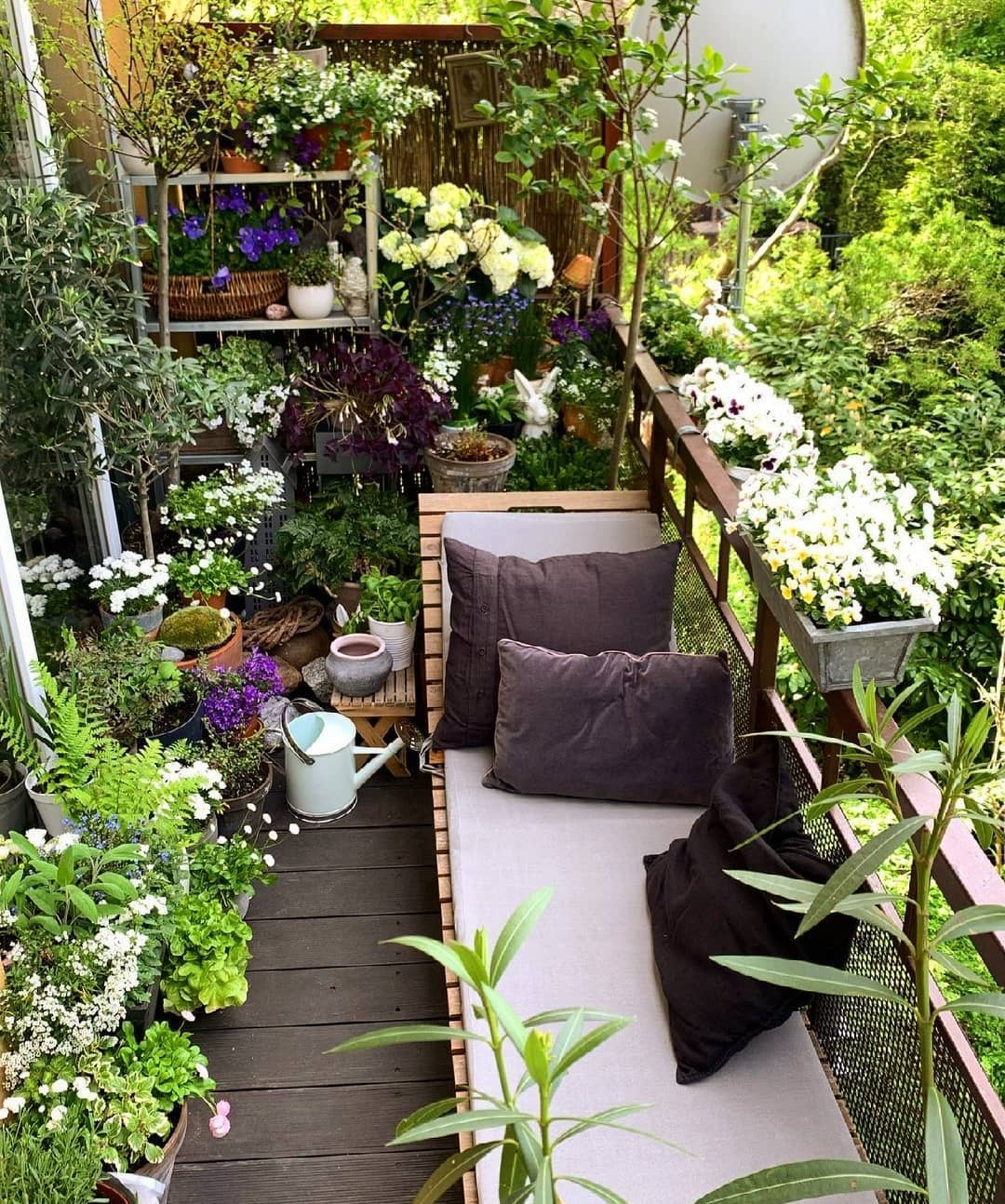 Sea-spiration
Beachy colors accent the pretty respite styled by @living.with.mary. A pair of powder blue chairs match the elevated planter that spills over with pastel flowers. Pops of yellow accent the inviting space complete with floor seating on the brick-parquet patio.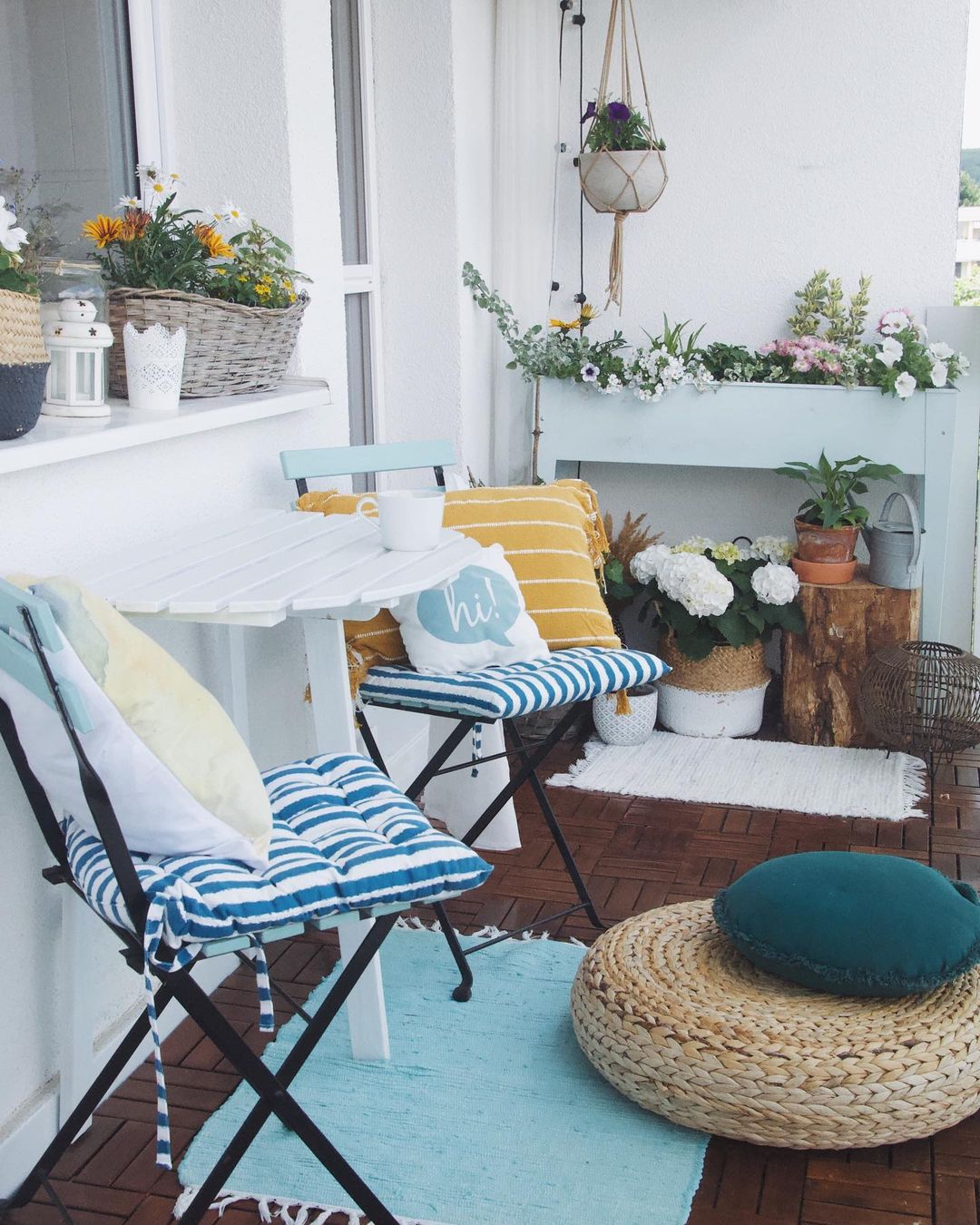 Modern Nest
@boho.nest makes the most of her condo balcony. For added privacy, a bamboo screen covers the open railing. Extra storage is available on a small shelf that floats on the edge, and bins are kept under the cozy corner seating arrangement. Cushions, throw pillows, and a striped jute rug in similar colors keep the space modern and inviting.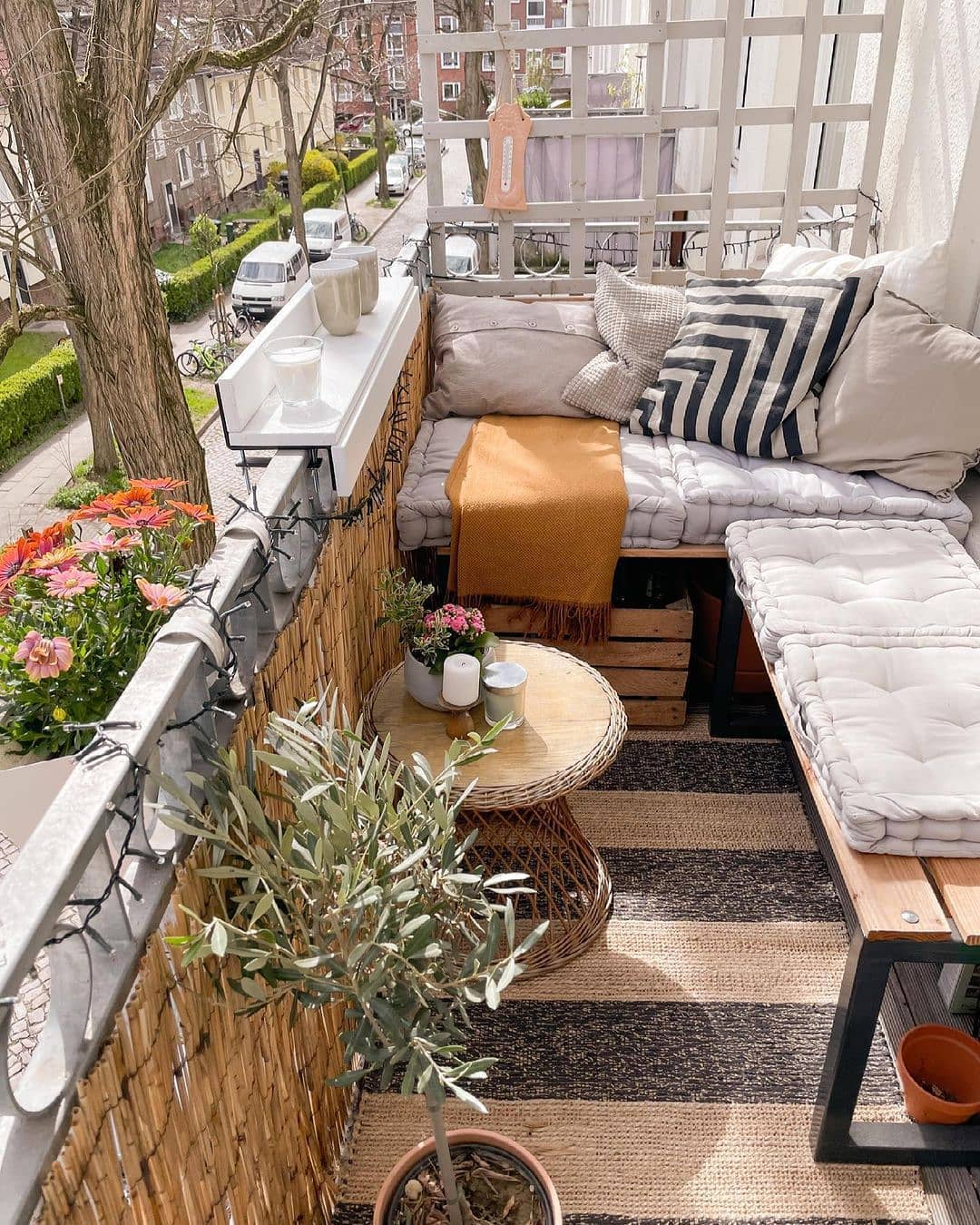 Bistro Balcony
The Italian charm is everywhere in this balcony by @doradelton. From the mosaic tile floor to the trellises up the walls, this space is the perfect mix of indoors and out. Potted plants dot the table that hides extra storage, and bistro-style seating allows a sweet spot for lunch al fresco.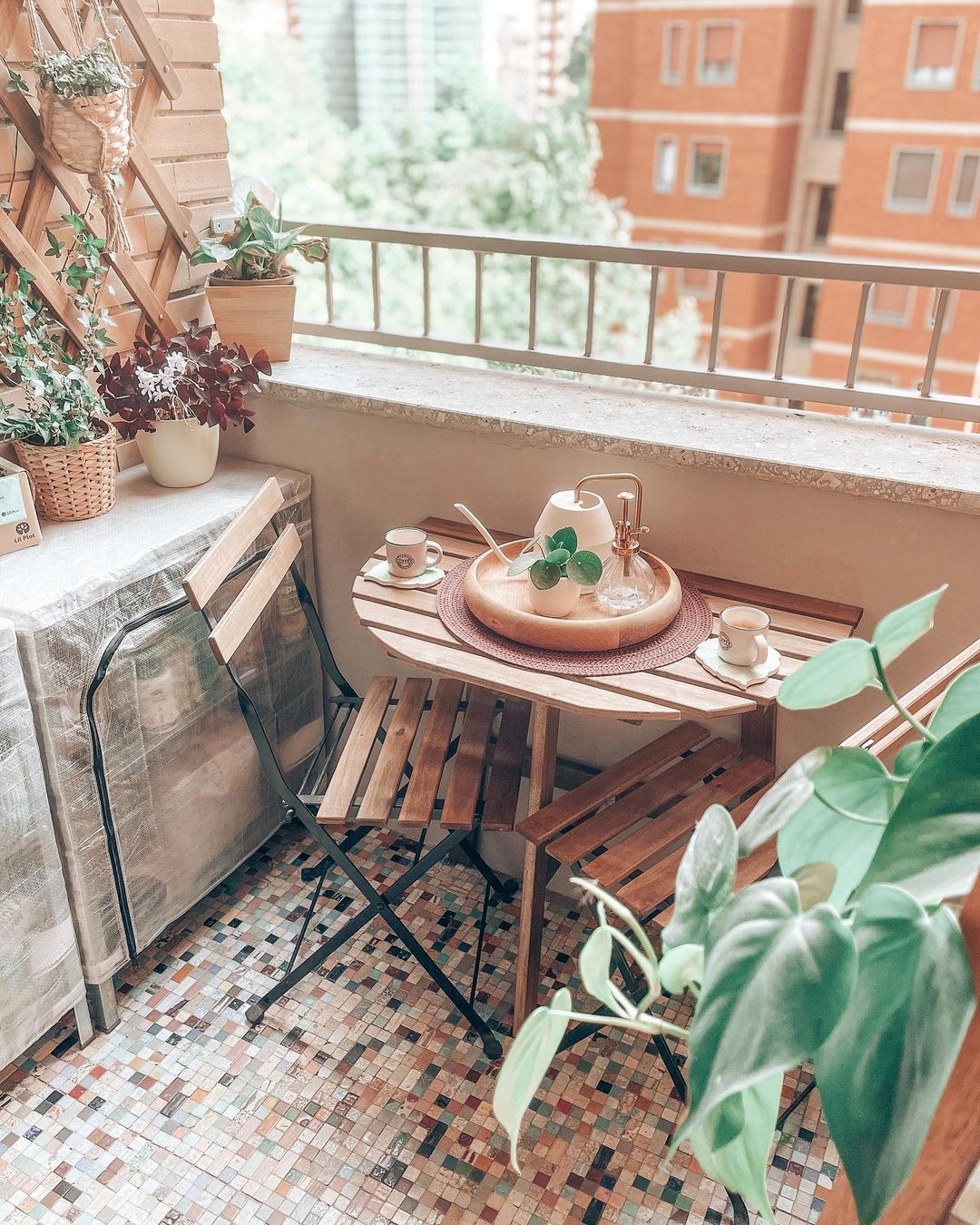 Shabby Chic Porch
@kalazpinglan's balcony looks like it popped out from a fairytale. Pretty cushions soften the white wrought-iron dining set that echoes the curves of the planters. Pink flowers and chandelier-like lighting adorn the rest of the white porch that features a small fountain to soothe the soul.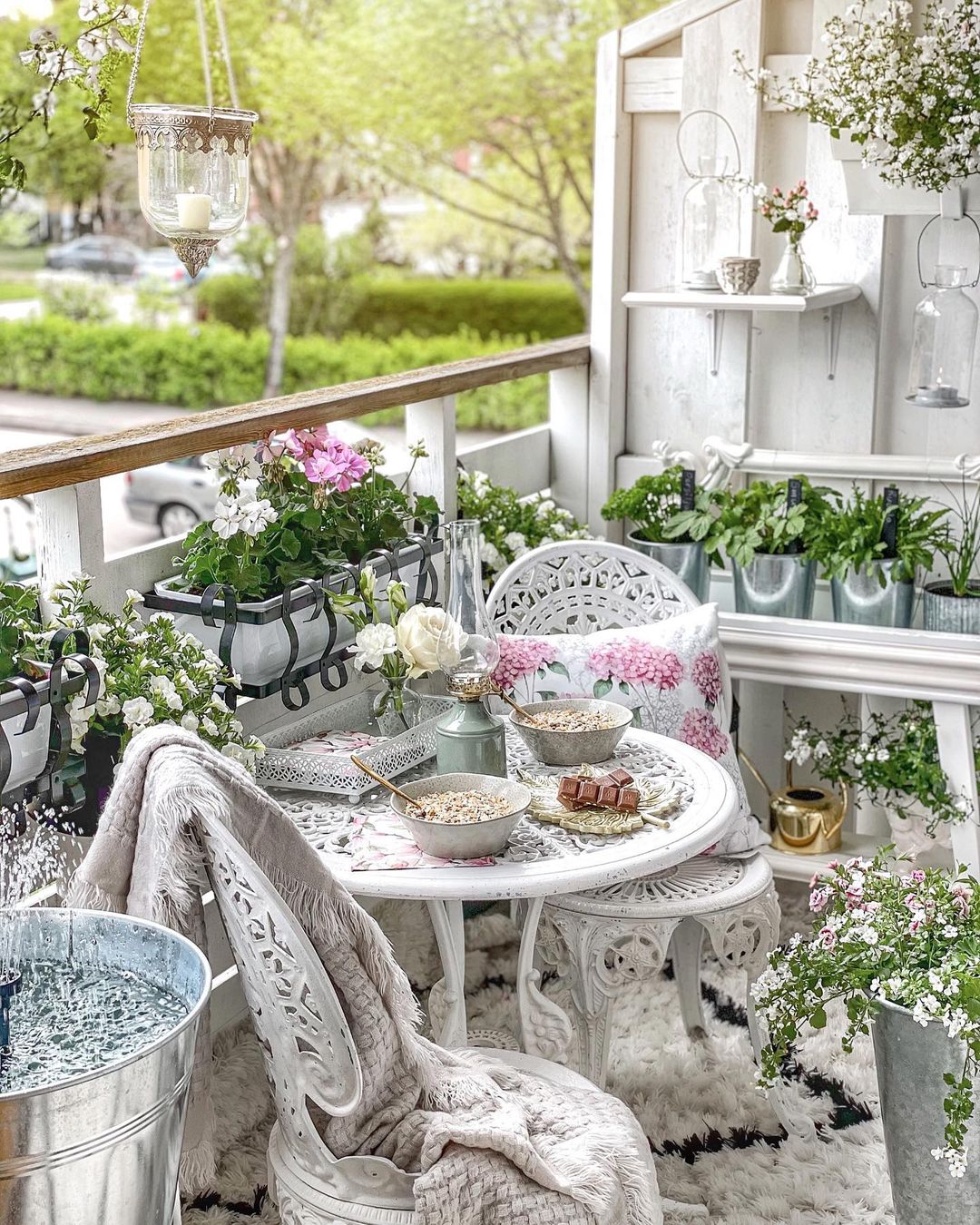 Classic
Traditional black and white gets a modern twist on this condo balcony from @idasinredning. A simple folding dining set invites guests to stay awhile, and a woven rug grounds the space. Simple touches such as potted plants and elegant metallic candlesticks are in keeping with the refined theme.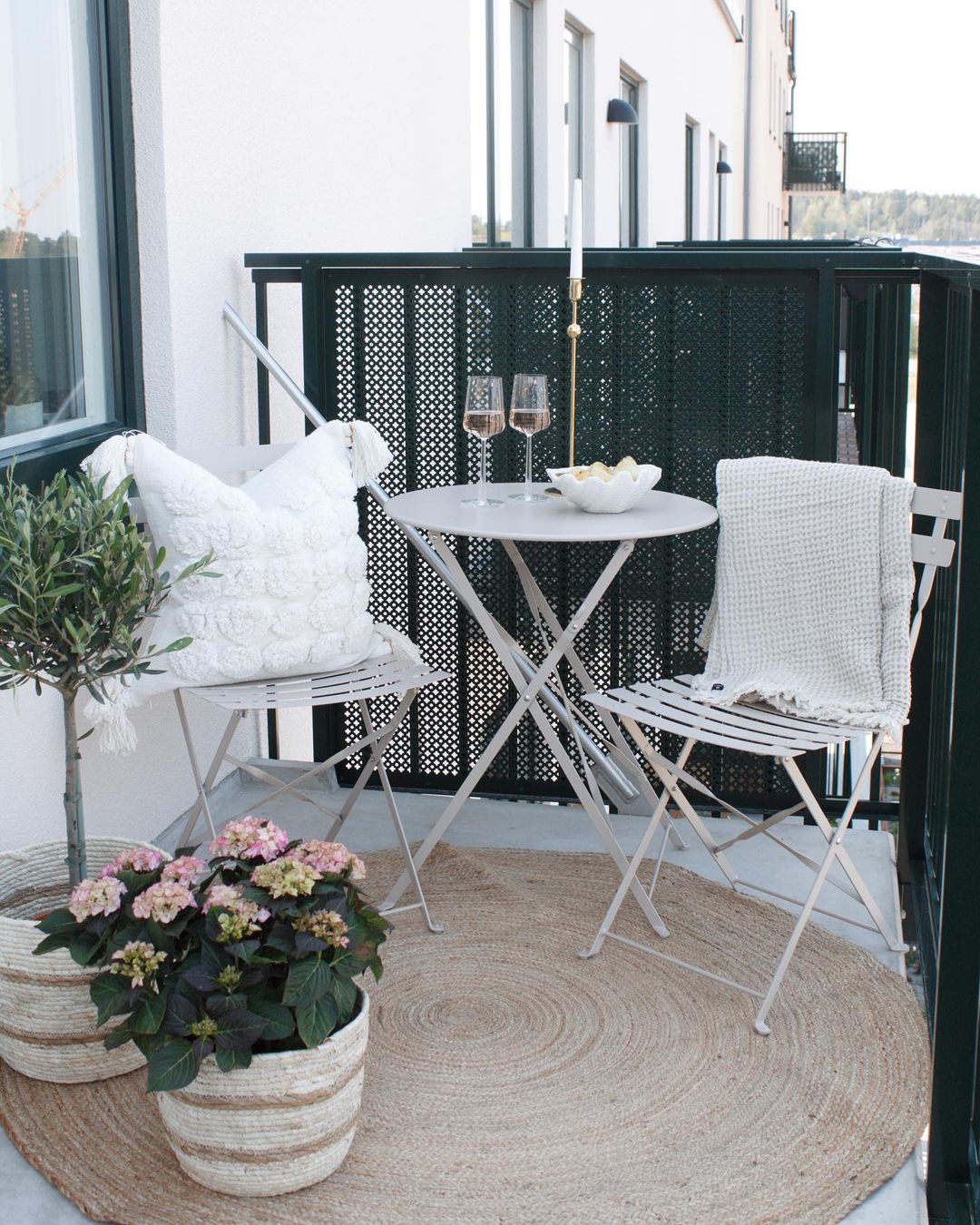 A Personal Garden
This cool retreat on @odinspiracjidorealizacji's balcony is simple but eye-catching. A low-profile planter is full of greenery, and a folding table functions for work or relaxation. The hanging seat in the corner saves space, grounded by a long rug that lengthens the porch and makes it feel spacious and personal.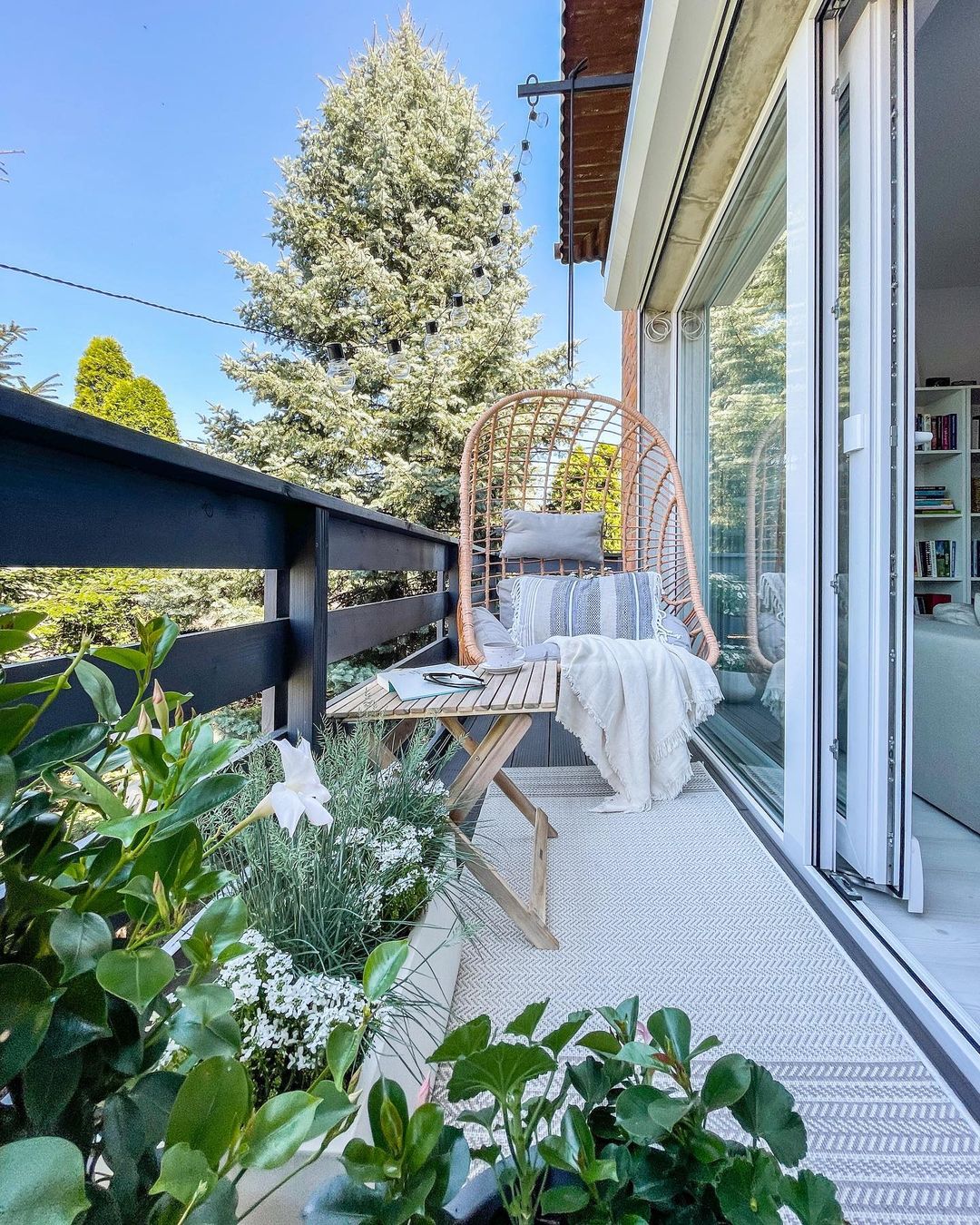 A Cozy Corner
In the shade of a mature tree, @gozdee81 creates a perfect summer oasis. A generous addition of flowers makes the most of the space by adorning the balcony railing and even hanging from the walls. The corner couch stays cozy with an abundance of blankets and pillows, and unique lighting options including lanterns, bistro lighting, and fairy lights.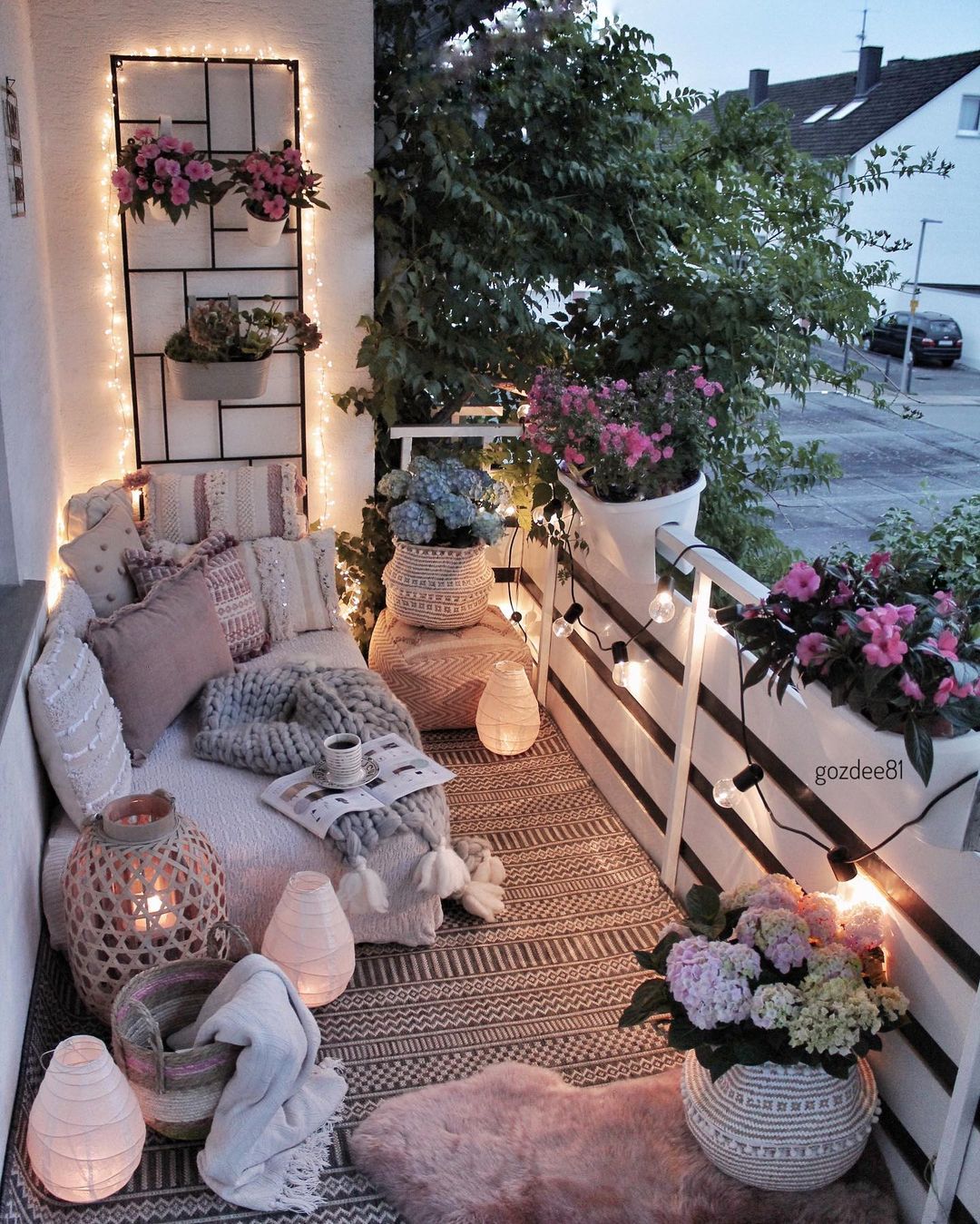 Sources: 1. https://www.instagram.com/p/CPcBZobsx63/ 2. https://www.instagram.com/p/CPYvg1bswwg/ 3. https://www.instagram.com/p/CPNndQxlP7F/ 4. https://www.instagram.com/p/COzbh3-p7BM/ 5. https://www.instagram.com/p/CPQX269LMxP/ 6. https://www.instagram.com/p/CPk1I3jLHU_/ 7. https://www.instagram.com/p/CPixp-Sr3KE/ 8. https://www.instagram.com/p/CPf7JdBgO2t/ 9. https://www.instagram.com/p/CPOII9fLpwp/ 10.https://www.instagram.com/p/CPBjZBlHh9r/ 11.https://www.instagram.com/p/CPC3Ug3MKjp/ 12.https://www.instagram.com/p/CCjXg-rClyQ/