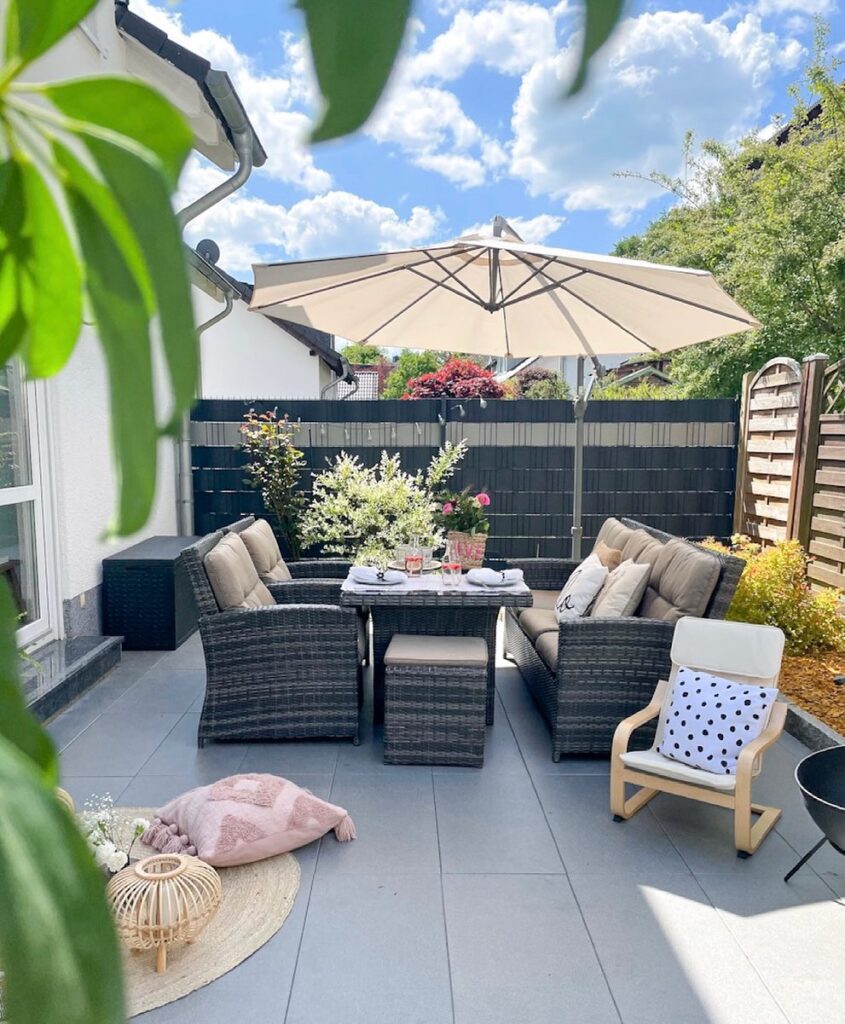 36 Instagram Viral Dining Table Decor Ideas For Your Summer Patio
Whether you're designing a decadent floral paradise or taking a minimalist approach to outdoor living, these 36 instagram viral patio tablescapes will inspire you to create the outdoor dining space of your summer dreams.
A Dramatic Sunroom
@shelleyjohnstonedesign's unique sunroom that features a vaulted ceiling and white theme to highlight the surrounding nature. Blue chinoiserie pots of tropical plants add decadence, and structural elements like classic columns and an architectural chandelier keep the space dramatic yet functional.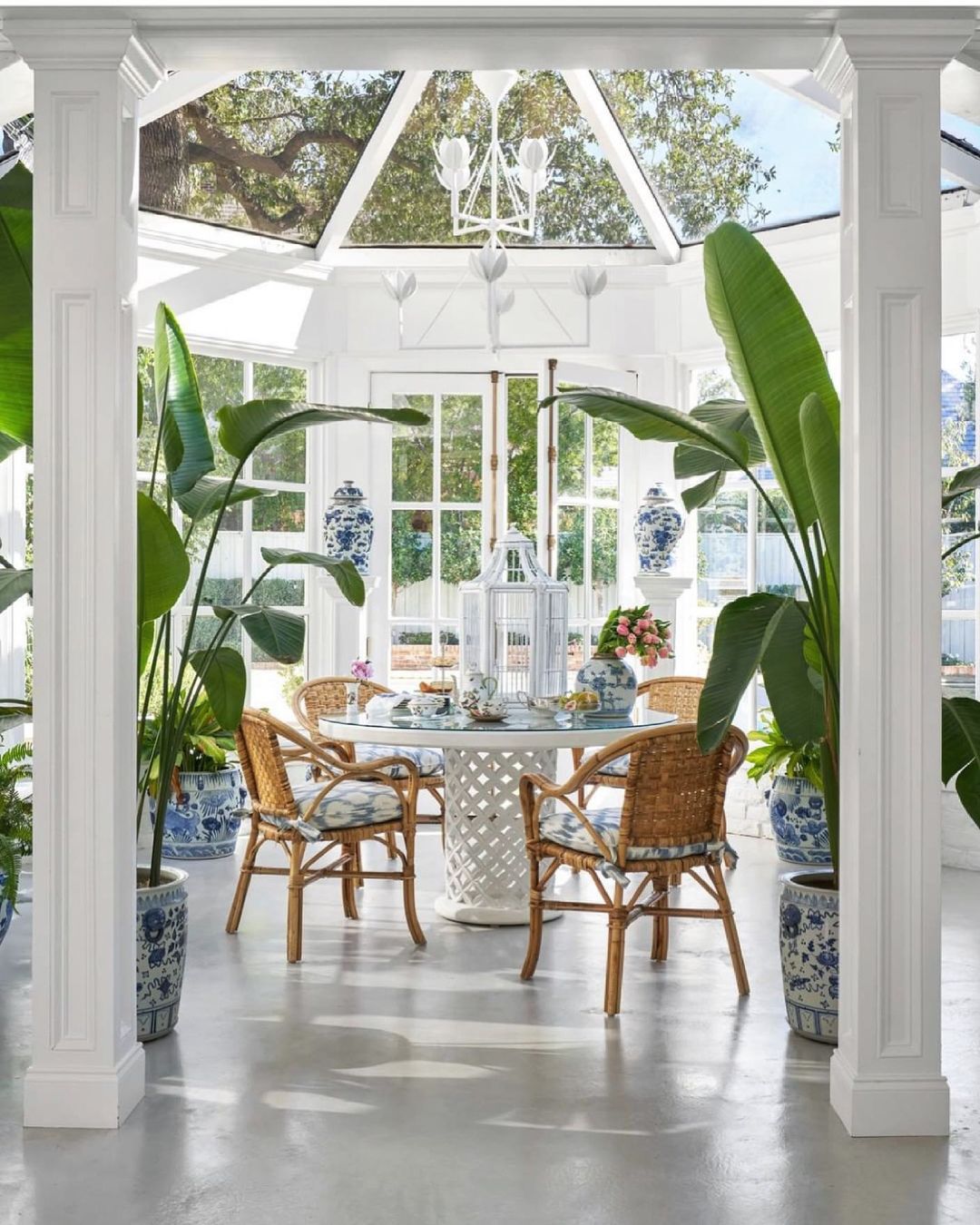 Country Estate
Stately columns define this timeless porch by @gideonmendelson. Its minimalist decor takes advantage of the view. The table, set with linens and blue glassware, welcomes guests to relax in classic cane chairs and take in the lush New York landscape.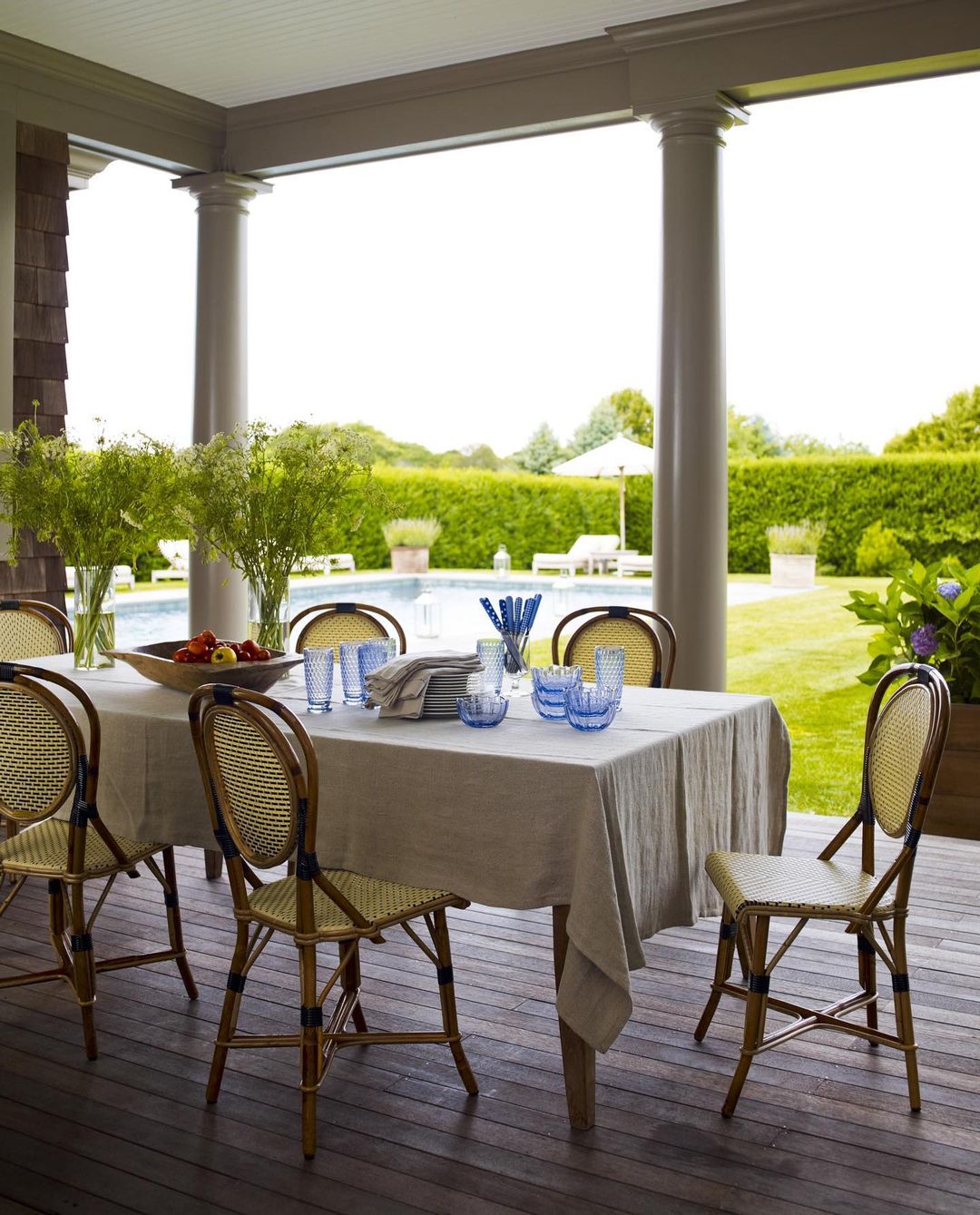 Spanish Summer
@m.art_style transforms this Mediterranean terrace into a place to eat, cook, and relax. A sage linen tablecloth covers the large teakwood dining set, and a portico covers a seating area and outdoor bar. The large white stone fireplace with built-in benches is the perfect place to relax.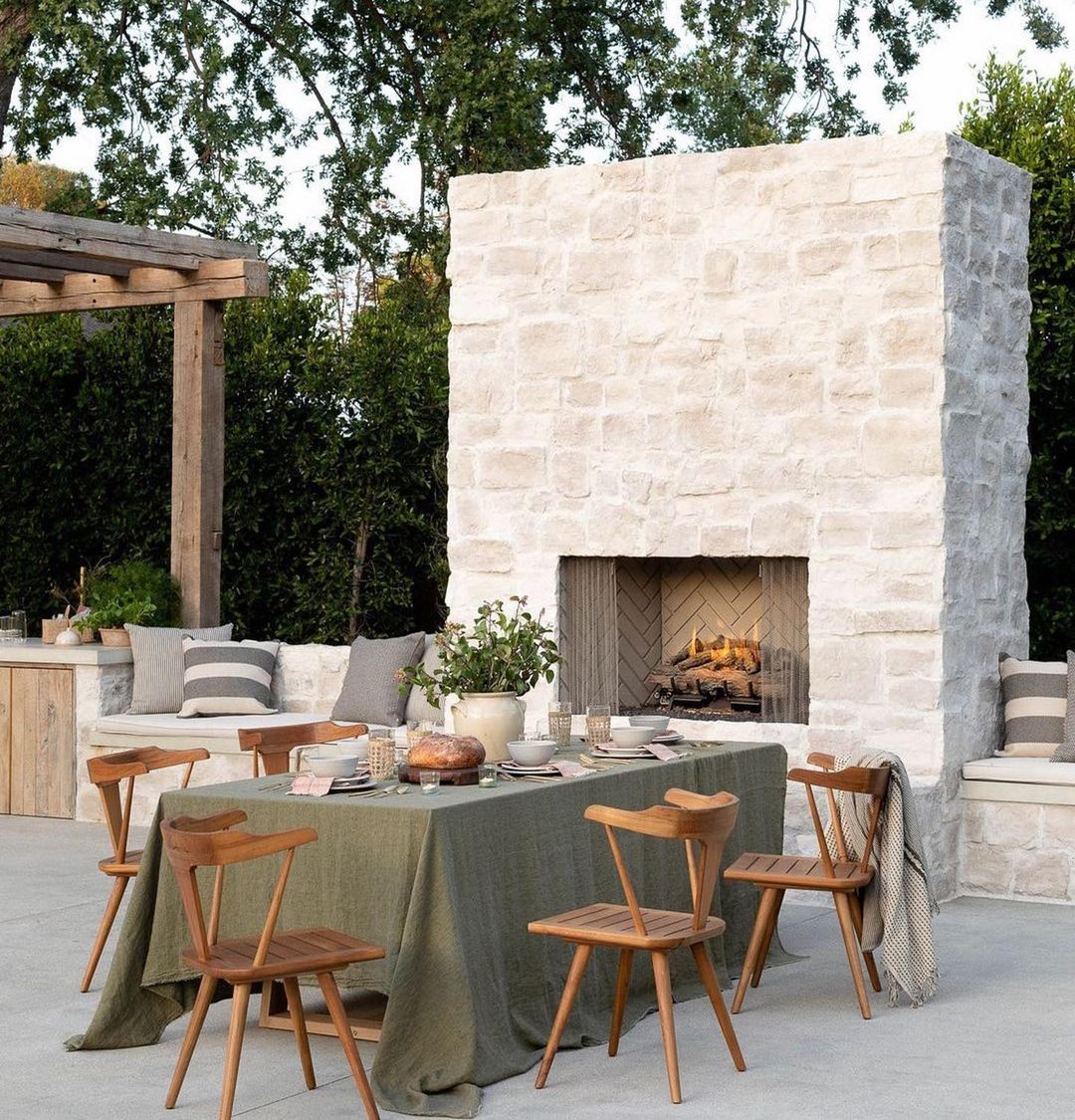 In the Garden
Against the blooms of a dogwood bush, @camperdownlane sets a breezy outdoor dining space for sunny afternoons. Earth-toned linens, bouquets, and potted plants adorn the tablescape and country charm is found in vintage drinks, weathered wood furniture, and a basket of fresh flowers.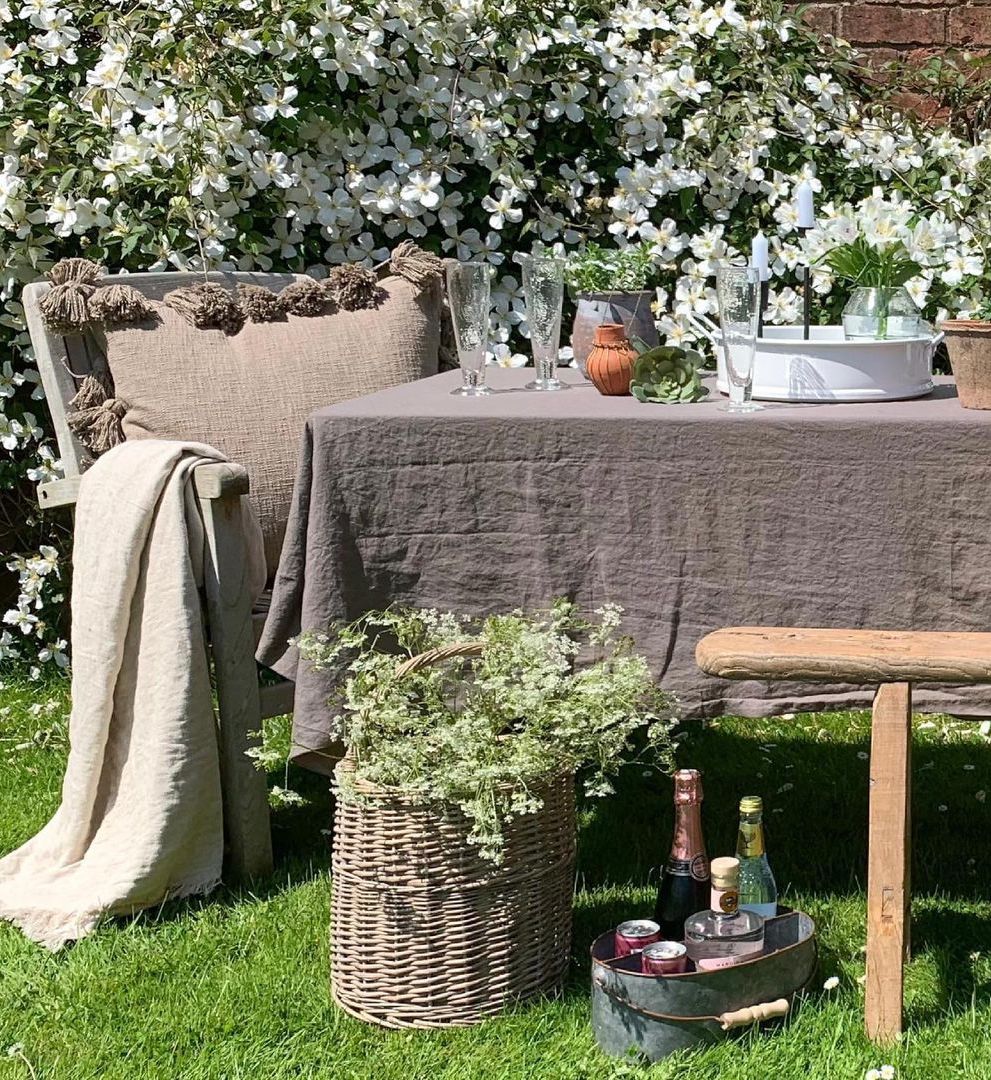 Room for Family
Sisters from @host_to_perfection have created a spacious dining area with room for the whole family. The slatted table provides easy cleanup, and cushioned chairs keep guests comfortable. The table is set with classic white dishes and glassware while fresh bread and lavender embody the scent of summer.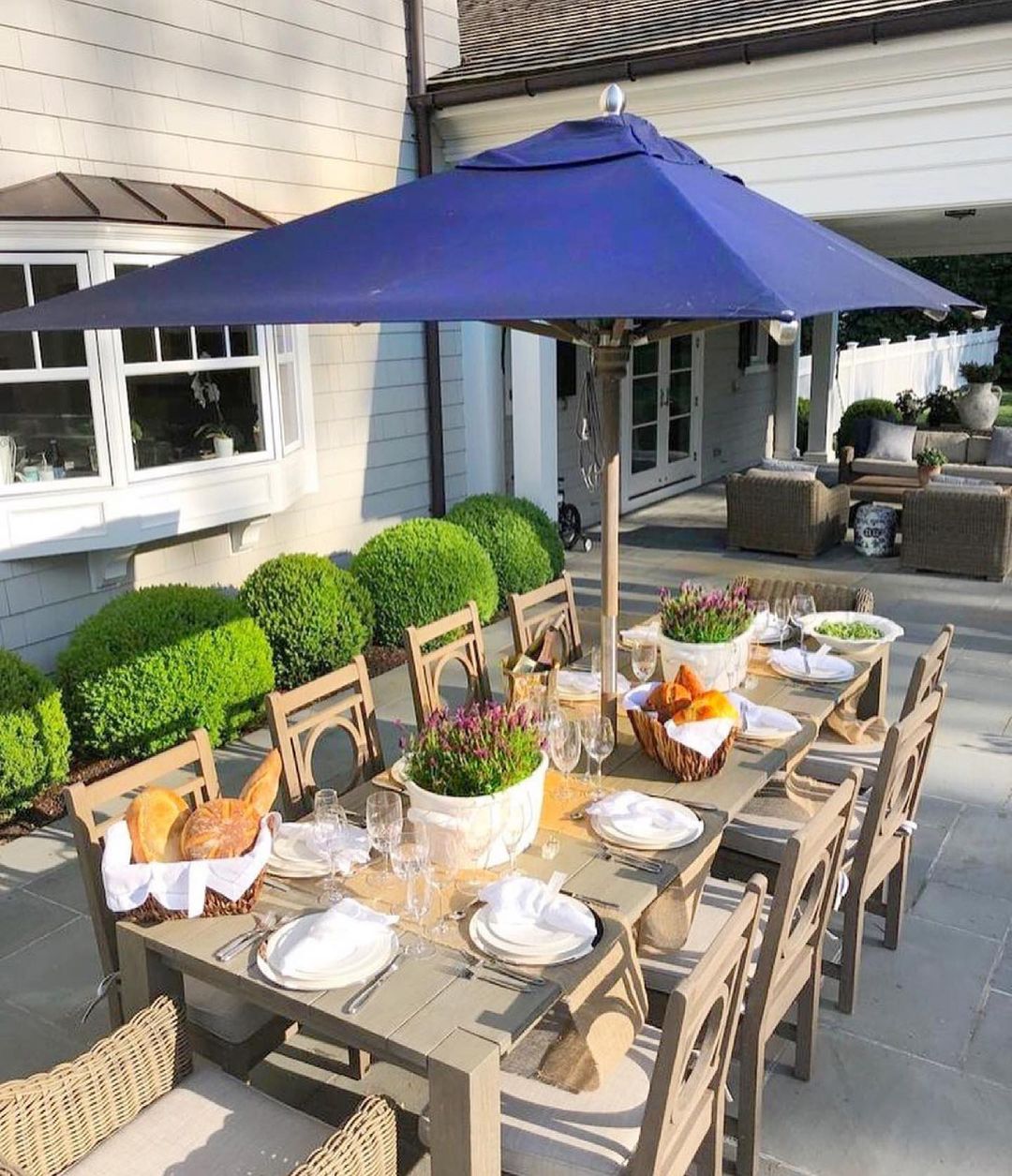 Simplicity
A green corner of @ldshoppe's is a cool respite in the summer months, with a wicker utensil holder and a round slatted table adding a picnic feel. Fresh oranges and a sweet purple bouquet in a pitcher are the perfect addition to the relaxing atmosphere.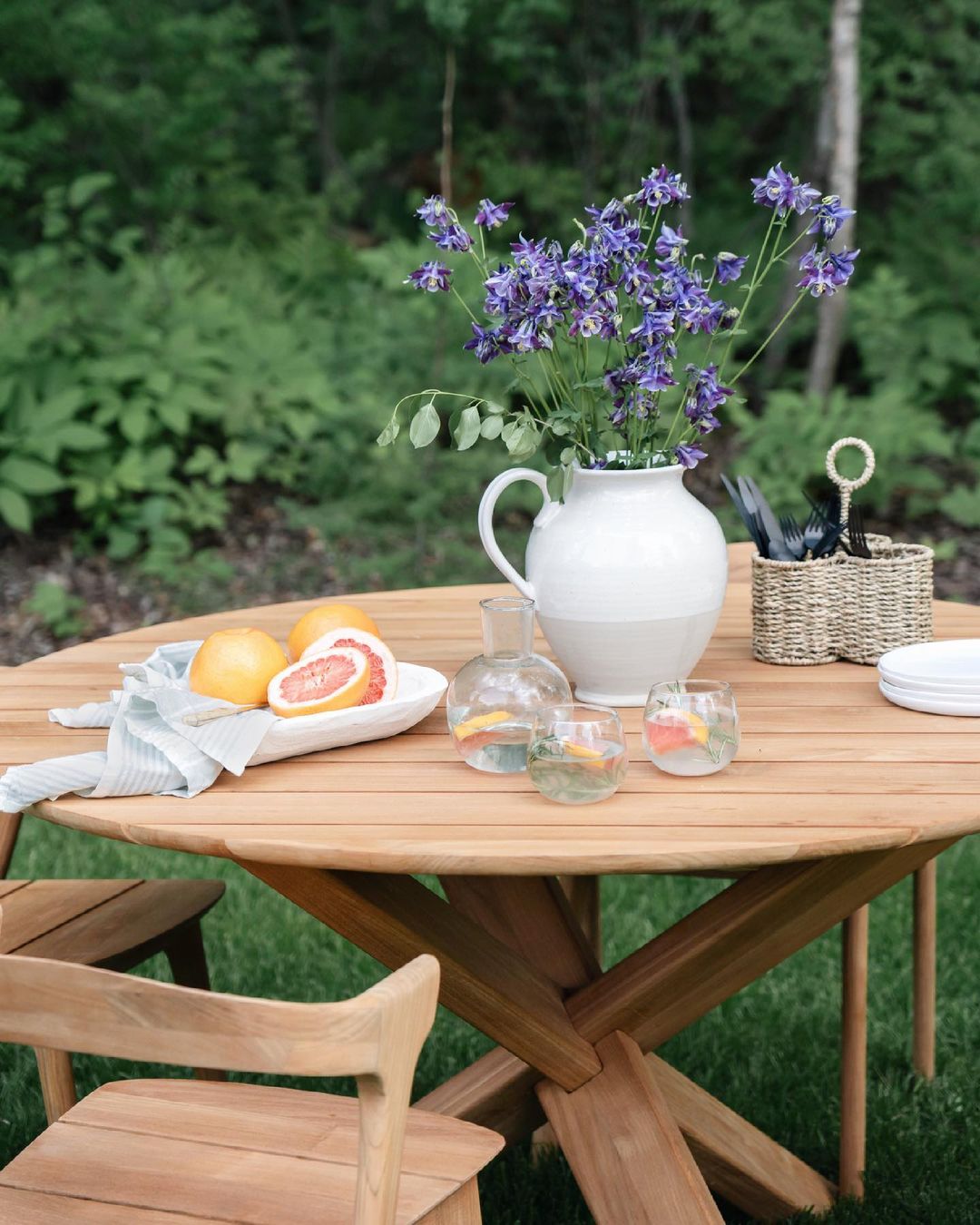 Coastal Comfort
A screened-in porch allows @coastal_cass to take full advantage of the sea breeze while staying cool for the summer. A comfortable bench hangs at the far end of the deck while a pair of cane chairs and white rockers are perfect for relaxing. The tablescape keeps up the coastal feel with jute placemats and woven chairs. Plants dot the table and the abundance of seating invites guests to sit and stay awhile.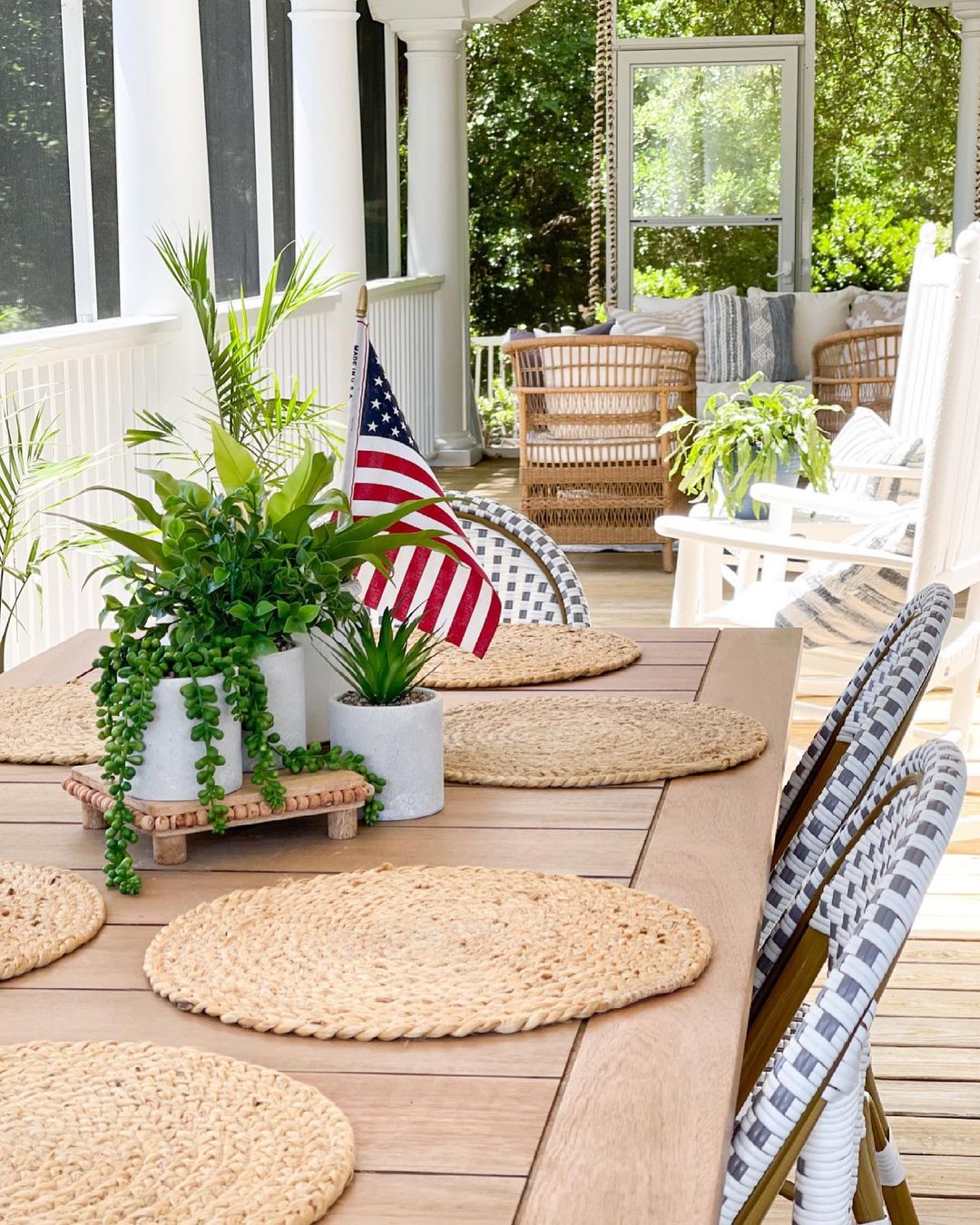 Modern Beauty
@athomewithjan decorated her porch in a modern and classy way. Her patio decor is minimalist but makes a statement. Cord-woven chairs in a bold black surround a simple slab table with a centerpiece of succulents and candles. The vaulted ceiling of the porch adds space for a trio of basket-weave lamp shades that light up the space, which overlooks a stunning water feature.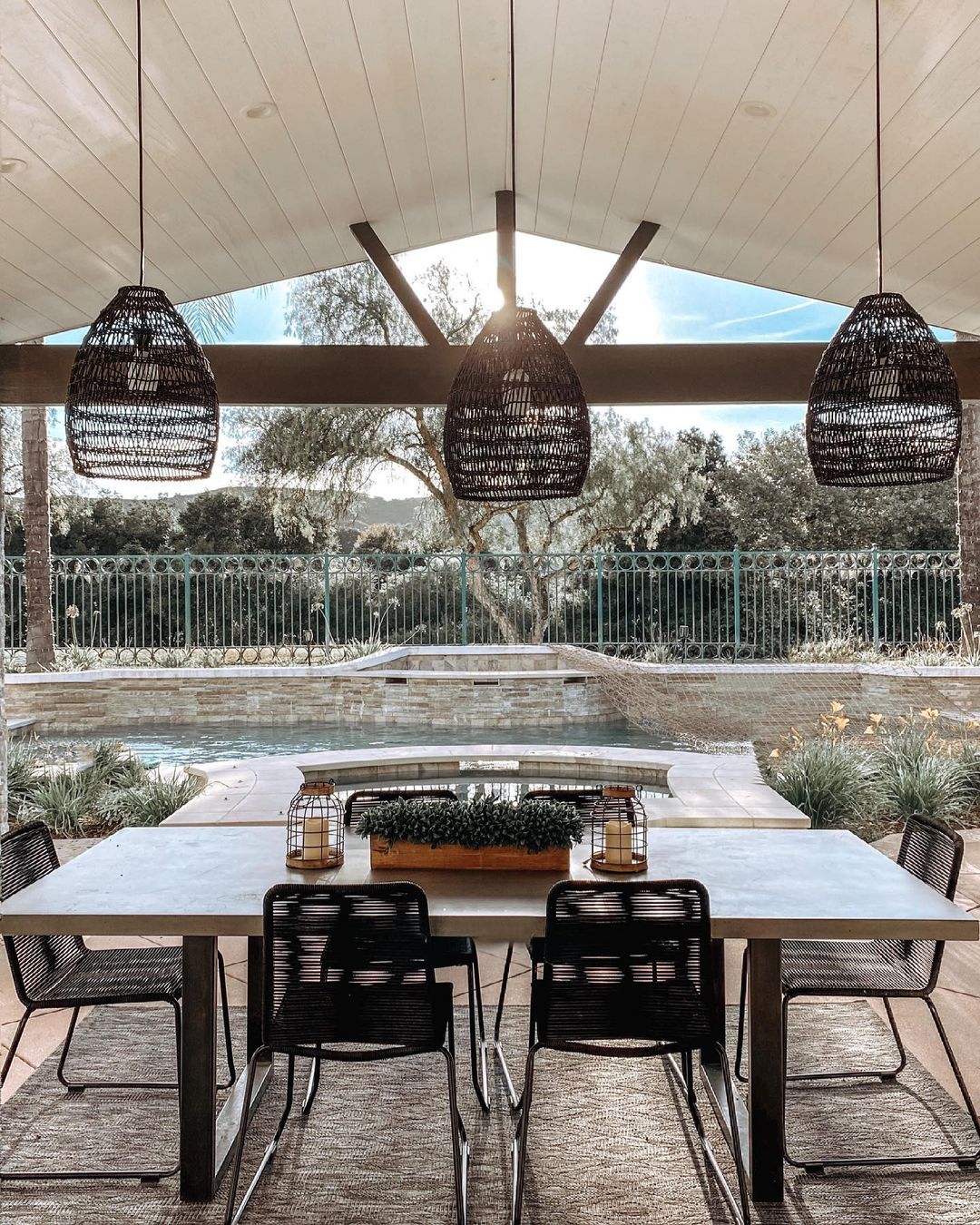 Soft Surroundings
This porch is the epitome of a dreamy, breezy summer. Styled by @jedynytakidomek, this space is surrounded by curtains, which are a simple option for keeping bugs and sunlight at bay. Unique decor choices like paper lanterns, a hammock chair, and faux fur help guests settle in, while baskets of flowers keep up the natural theme. Fresh lilacs, fruit, and a frittata sit atop the picnic style table, ready for guests to gather around and enjoy each other's company.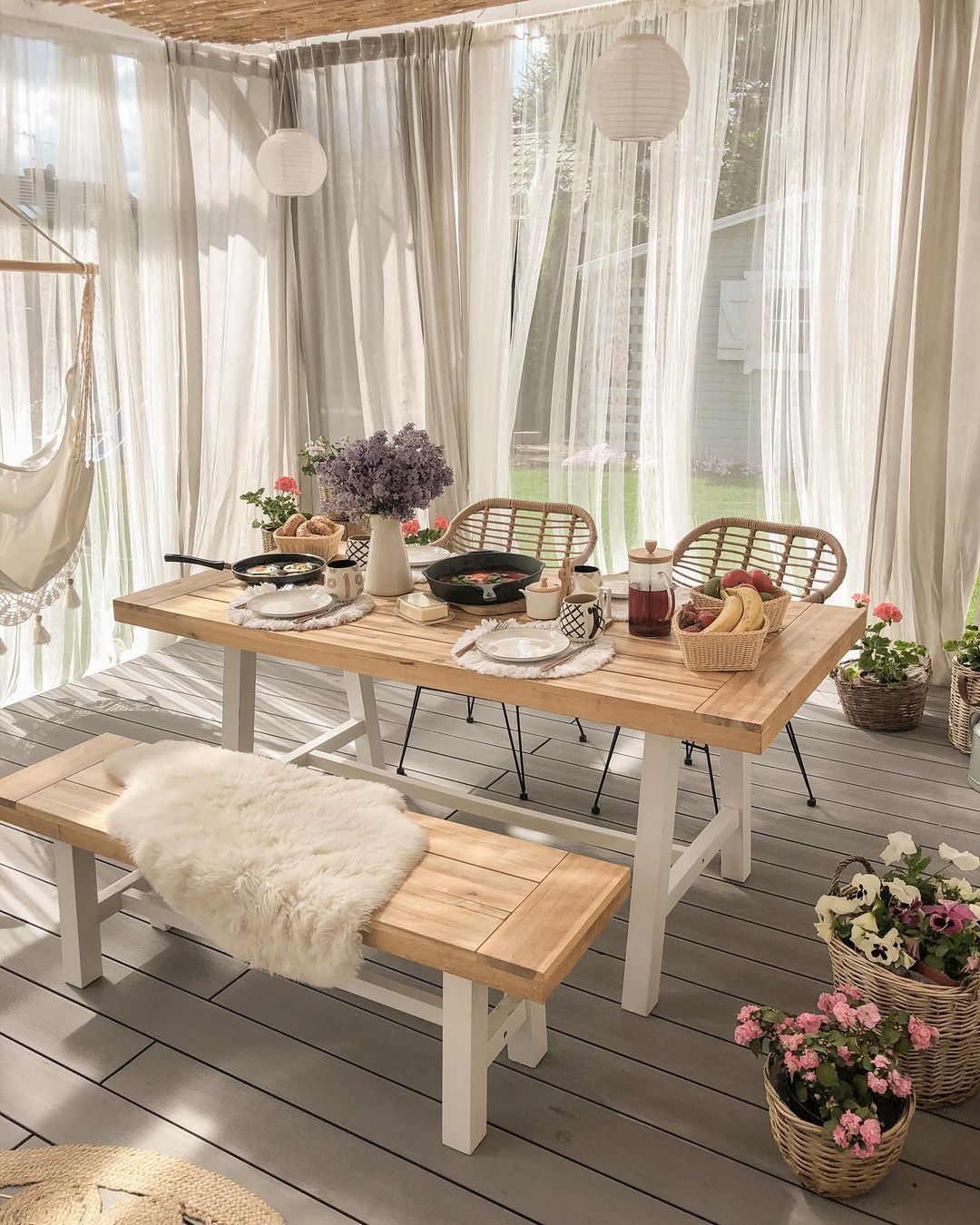 Island Paradise
This small porch by @z_potrzeby_piekna features tropical-inspired decor, including lighting reminiscent of open flames, and a large mandala that hangs on the gate. Durable bamboo seating surrounds a teakwood table set with macrame placemats and a hydrangea bouquet. Neutral pillows and offset the greenery and plants that dot the yard. A dried grass umbrella provides shade in the summer sun.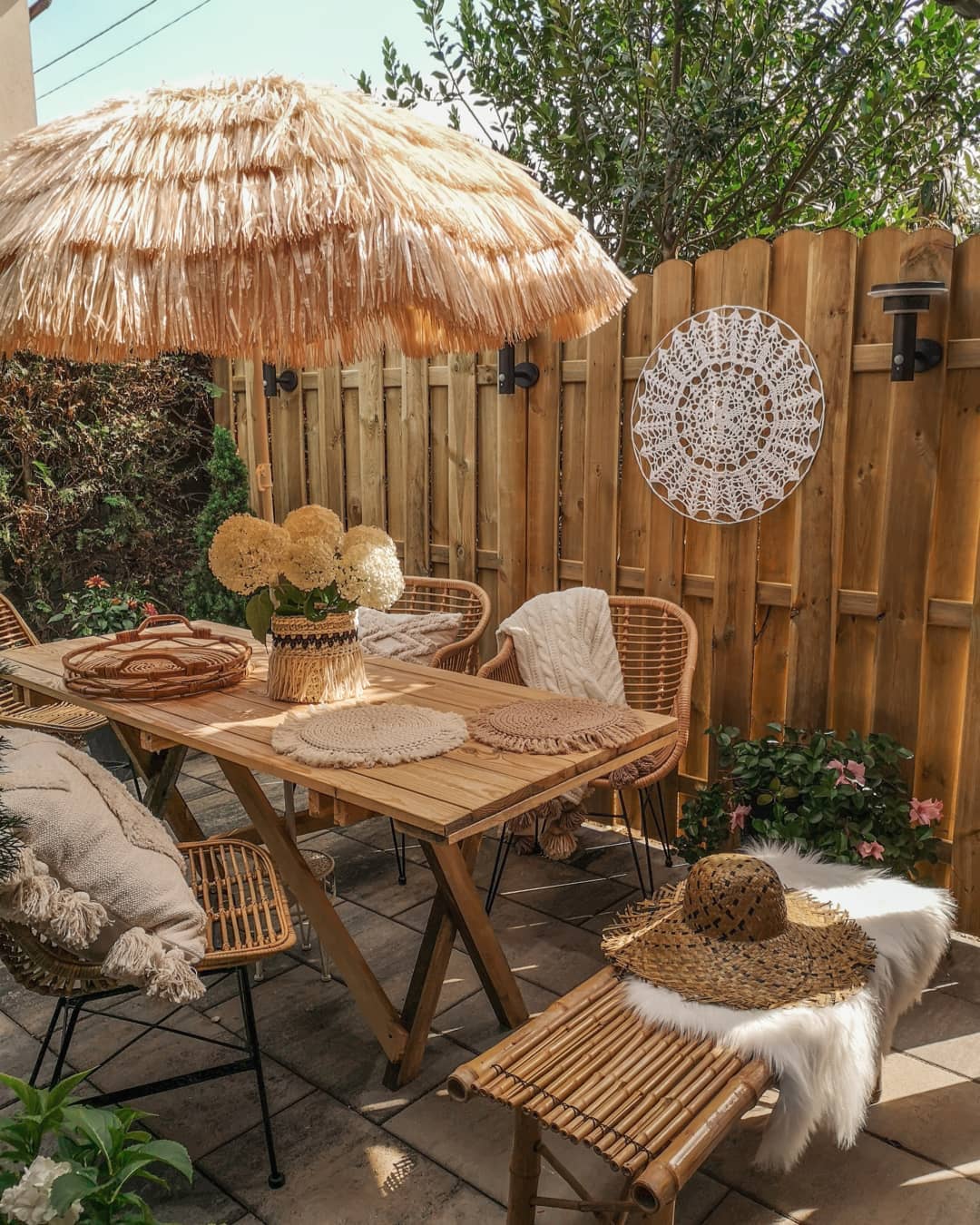 The Blues
@olivebranchfarmhouse brings her blue porch to life with a bright and bold vintage theme. A flour sack table runner sets the scene for the tablescape, complete with crystal candlesticks, a summery fruit bowl, and a picnic basket overflowing with white roses and greenery. The porch is finished off in the blue theme that carries over to the Oriental-style rug and striped outdoor pillows.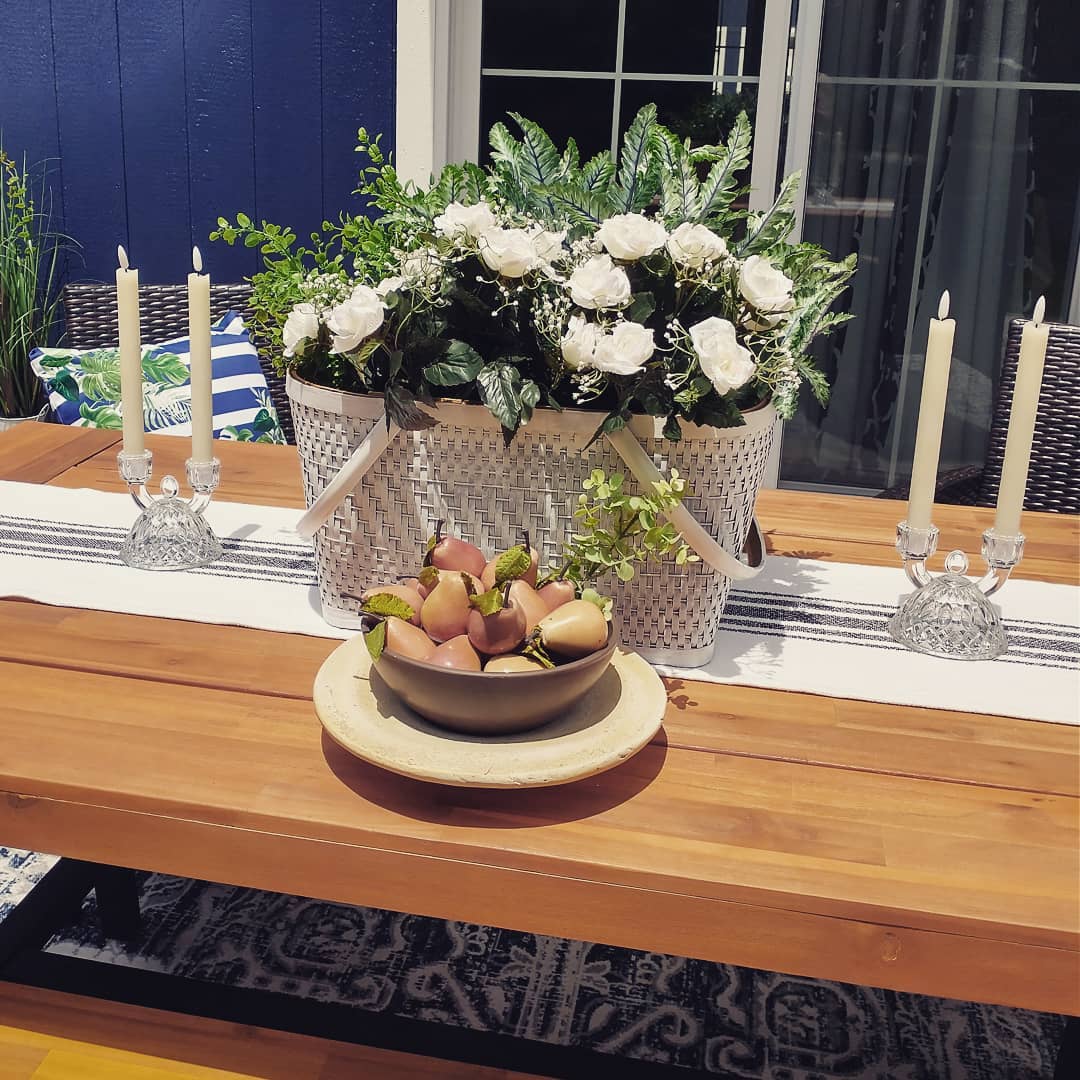 In Bloom
This raised deck by @bricksnblooms positively blooms. Guests can gather around a pretty farmhouse-style table under a canopy and hanging flower baskets. Cushioned wicker chairs are grounded by a vintage-style rug, and the porch is cooled by potted plants that include aloe and pink geraniums. The tablescape features unique finds including a vintage watering can and an old crate repurposed as a vase for peony blooms.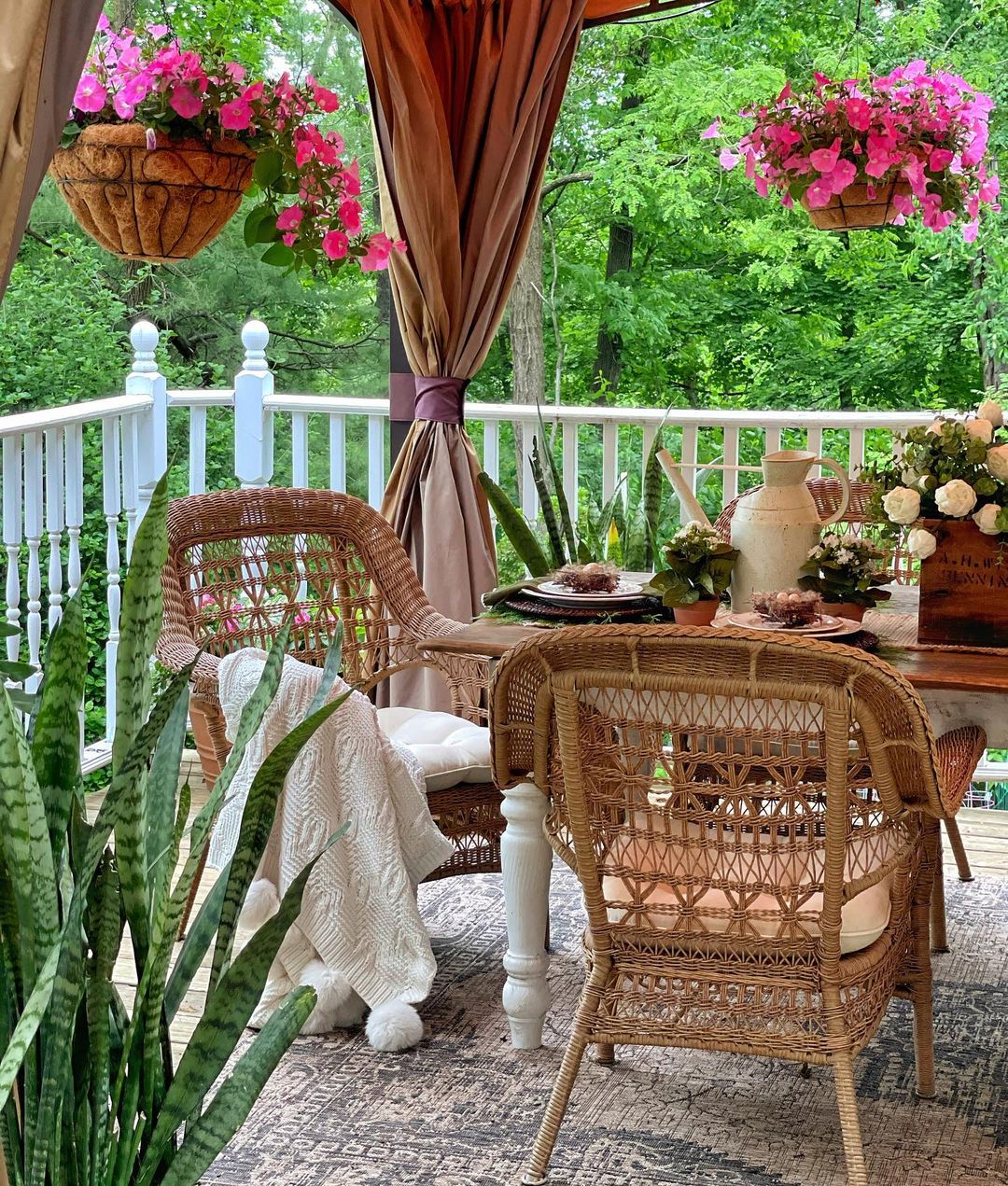 Sources: 1.https://www.instagram.com/p/CPxPLYbsUZJ/ 2.https://www.instagram.com/p/CPQK6AwMpVy/ 3.https://www.instagram.com/p/CP5ffQhlMo0/ 4.https://www.instagram.com/p/CP2fgxtrN2c/ 5.https://www.instagram.com/p/CP1ttGRsdBG/ 6.https://www.instagram.com/p/CP6FhxFlpjU/ 7.https://www.instagram.com/p/CPjC7P3nH1R/ 8.https://www.instagram.com/p/CPdmh3wFg0s/ 9.https://www.instagram.com/p/CPZ9AiwhtIK/ 10.https://www.instagram.com/p/CNt2PYUM7Ka/ 11.https://www.instagram.com/p/CPzI_7snES_/ 12.https://www.instagram.com/p/CPYEcX8Haa7/