36 Scandinavian Dining Room Decor Ideas From Top Designers
Minimalism. Practicality. Neutrals. Nature. These are some staples of Scandinavian design. But those standards are anything but restrictive, as these designs prove. These dining areas will show you just how creative and personalized Scandinavian-inspired design can be.
Simplicity
Exposed beams highlight the rustic raw wood table in @haus_tannenkamp's soothing and subtle dining area. Mid-century chairs and a unique ceiling lamp echo the white walls, and the potted plant and open windows bring the outdoors in.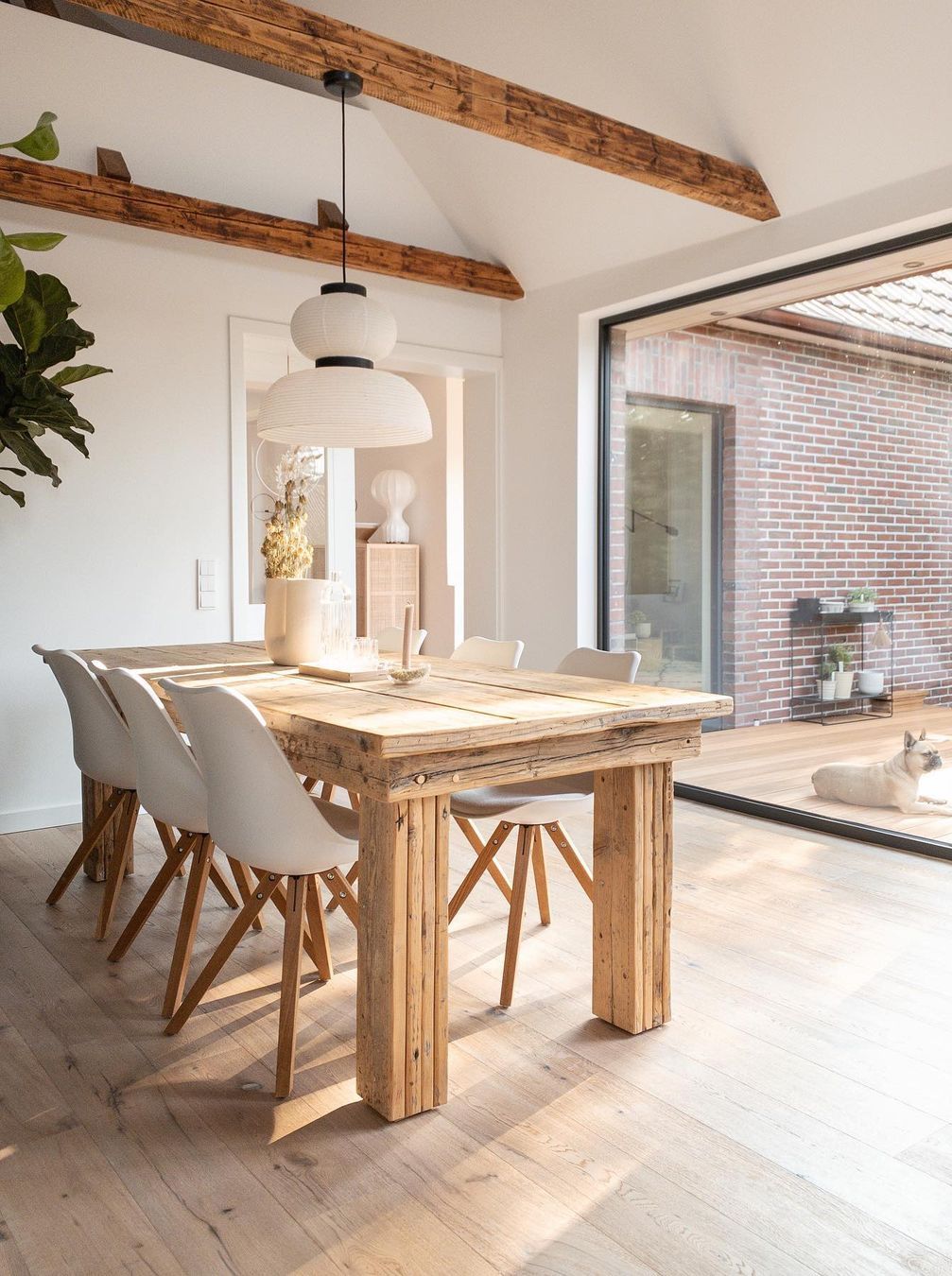 Sleek Modernity
The lighting choices in @villariaveien's kitchen and dining space make the room both comfortable and eye-catching. Sleek cupboards and minimalist fixtures keep the kitchen looking clean and organized. Large modern lamps and unique candles light up the dining table that is surrounded by seating options like lucite chairs and a comfortable couch.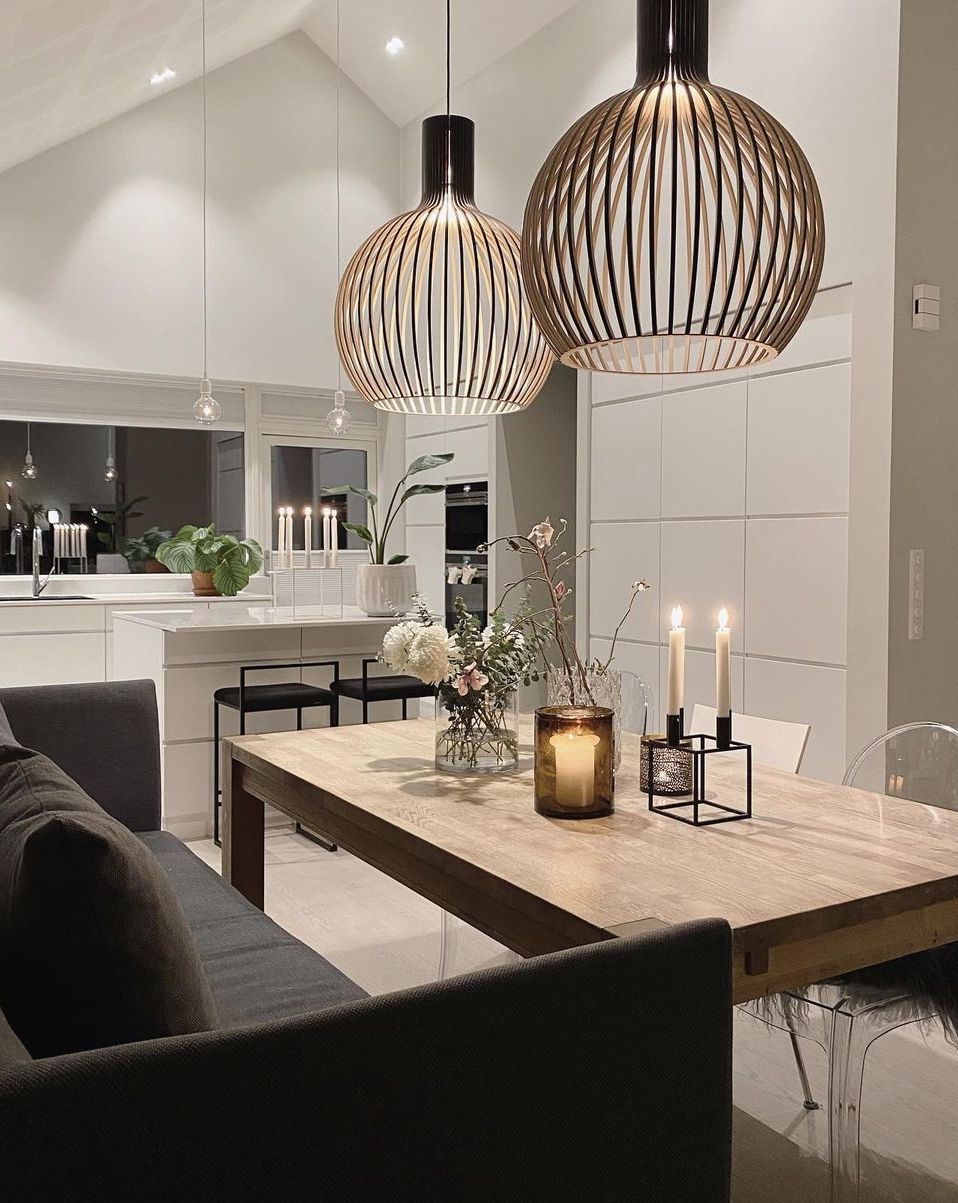 Mid-Century
@frecherfaden has designed a functional dining space in a mid-century modern style. A sleek table is lit up by unique lamps and surrounded by black and white bucket chairs with printed pillows. Minimalist storage and shelving hold personalized decor while large vintage photos hang from the walls.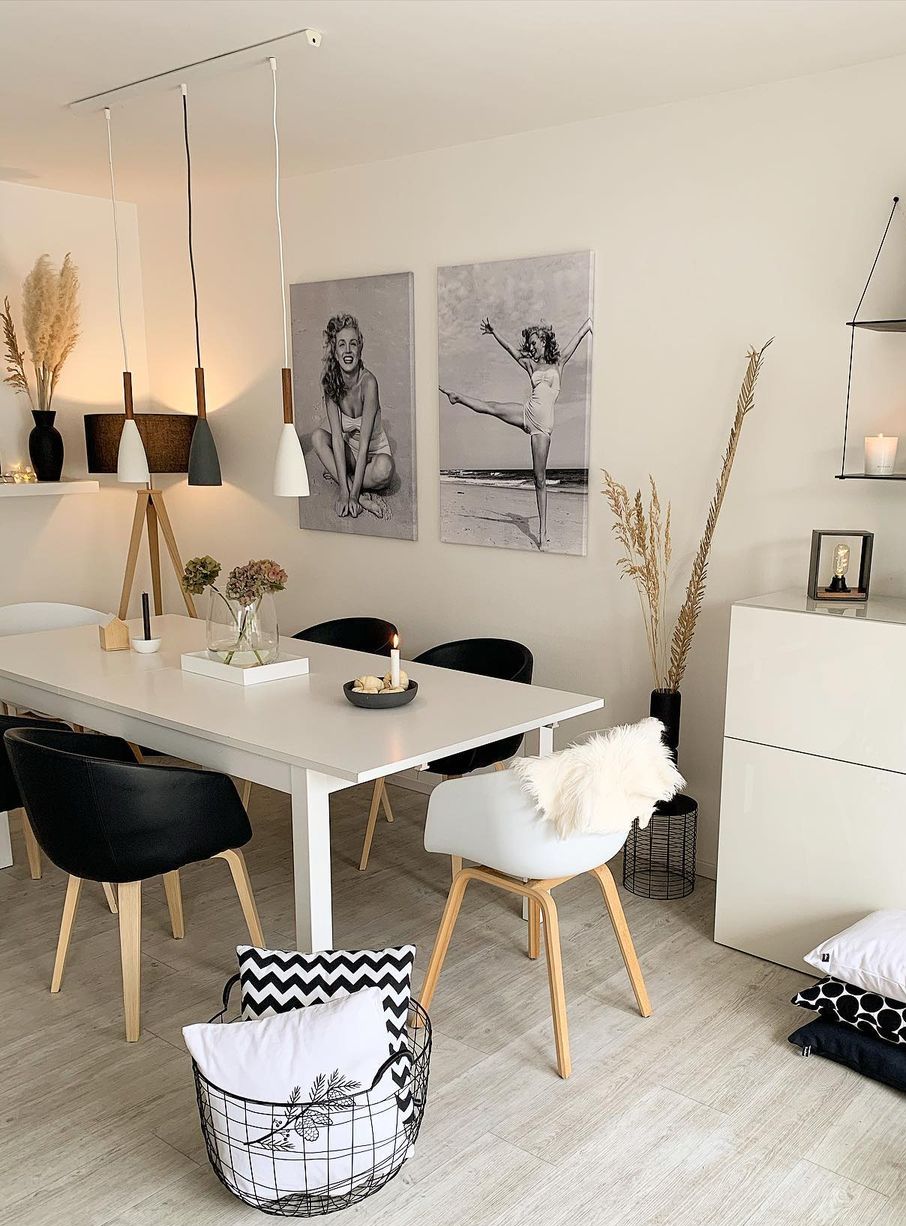 Natural Accents
Whites and woods anchor this dining space by @magda_homeuk. Low-backed chairs and a simple table sit under an arched floor lamp. The coffee table echoes shades found in the flooring, and neutral blankets hang from a ladder in the corner. The nature-inspired look is completed with accents like a botanical print, a windchime, and a woven rocking chair.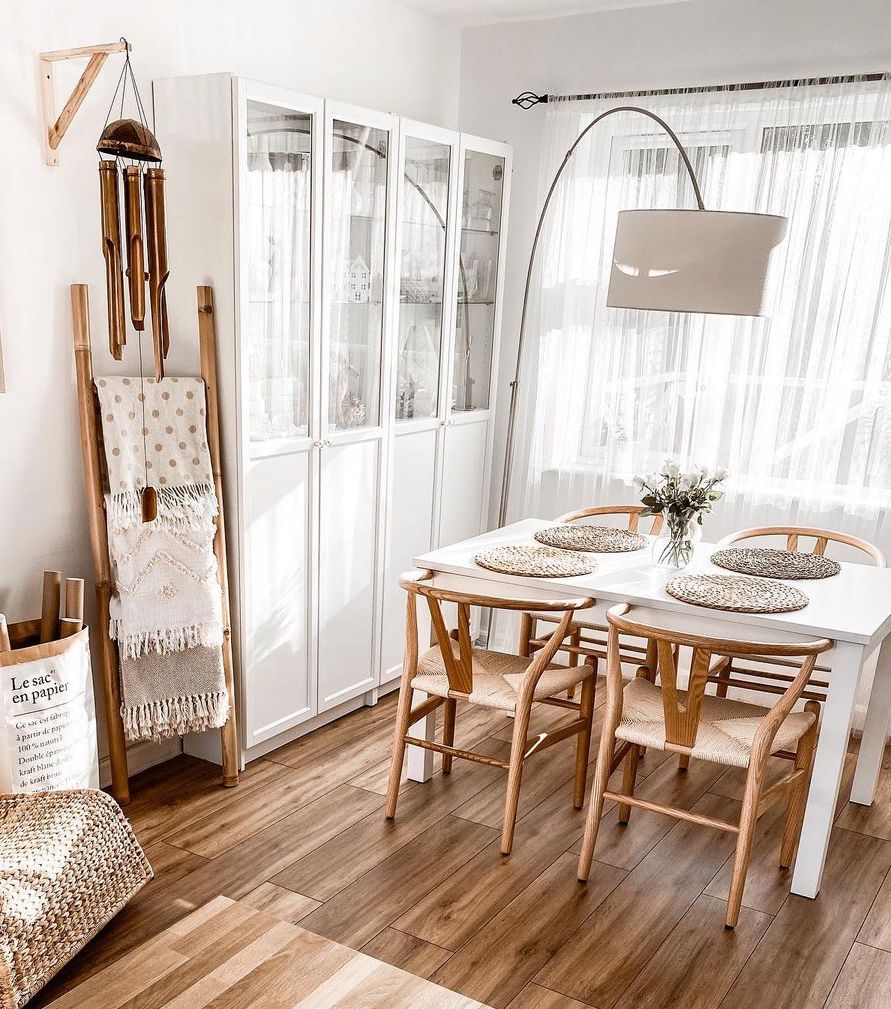 Books Galore
A grid of built-in shelves houses a large collection of books in @helenehoue's dining room, giving the space a more formal atmosphere. A marble-topped table with black arch-backed chairs sits under a minimalist globe lamp. Neutral rug and flooring choices are in keeping with the space's relaxed yet luxurious feel.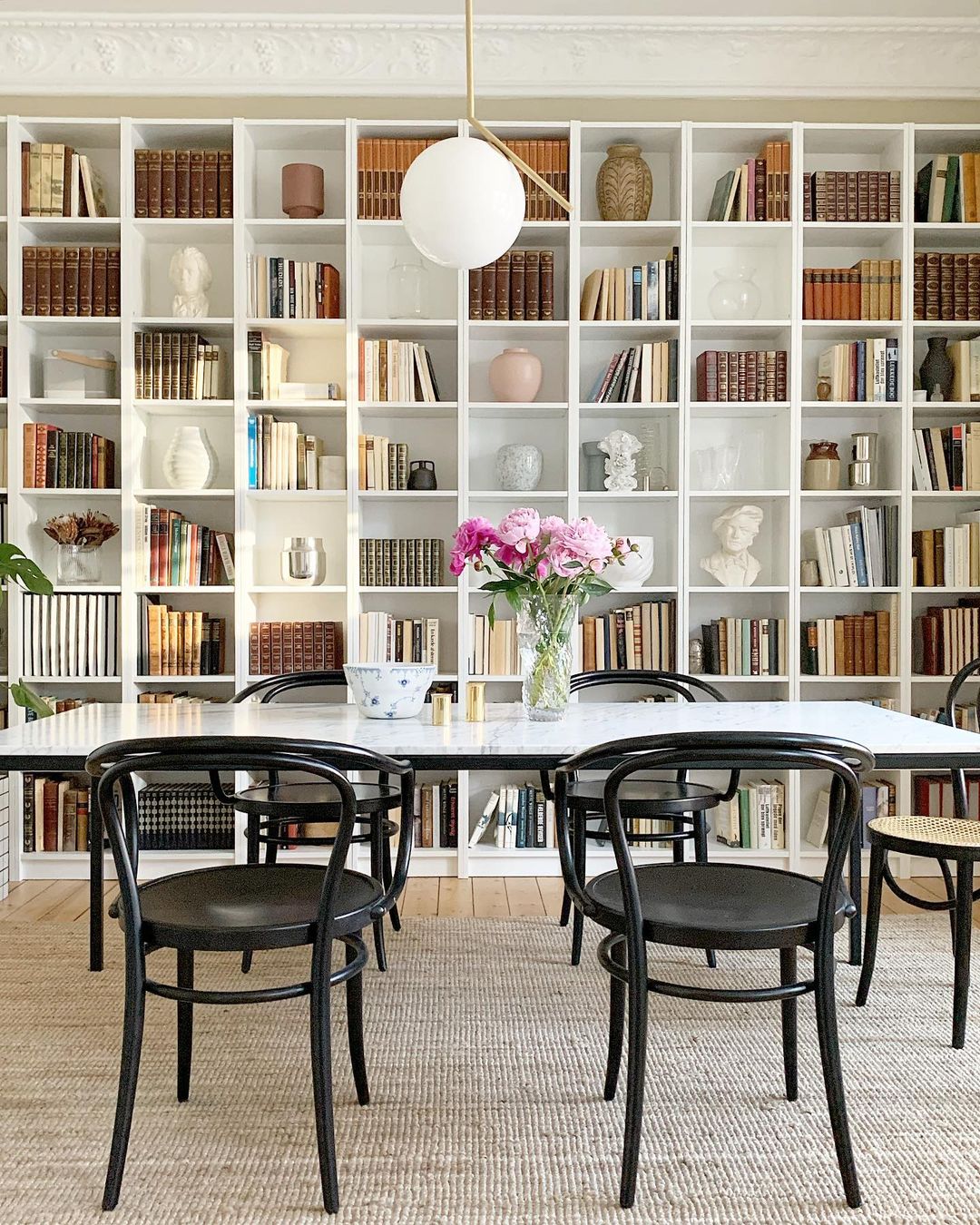 Let the Sunlight In
The vaulted ceiling in @shnordic's dining space lets in the natural light and lush views surrounding her house. Black trim against white walls allows the architecture, including a stone wall, to stand out. Built-in benches with plenty of cushions offer simple and functional seating around the unique wooden plank table.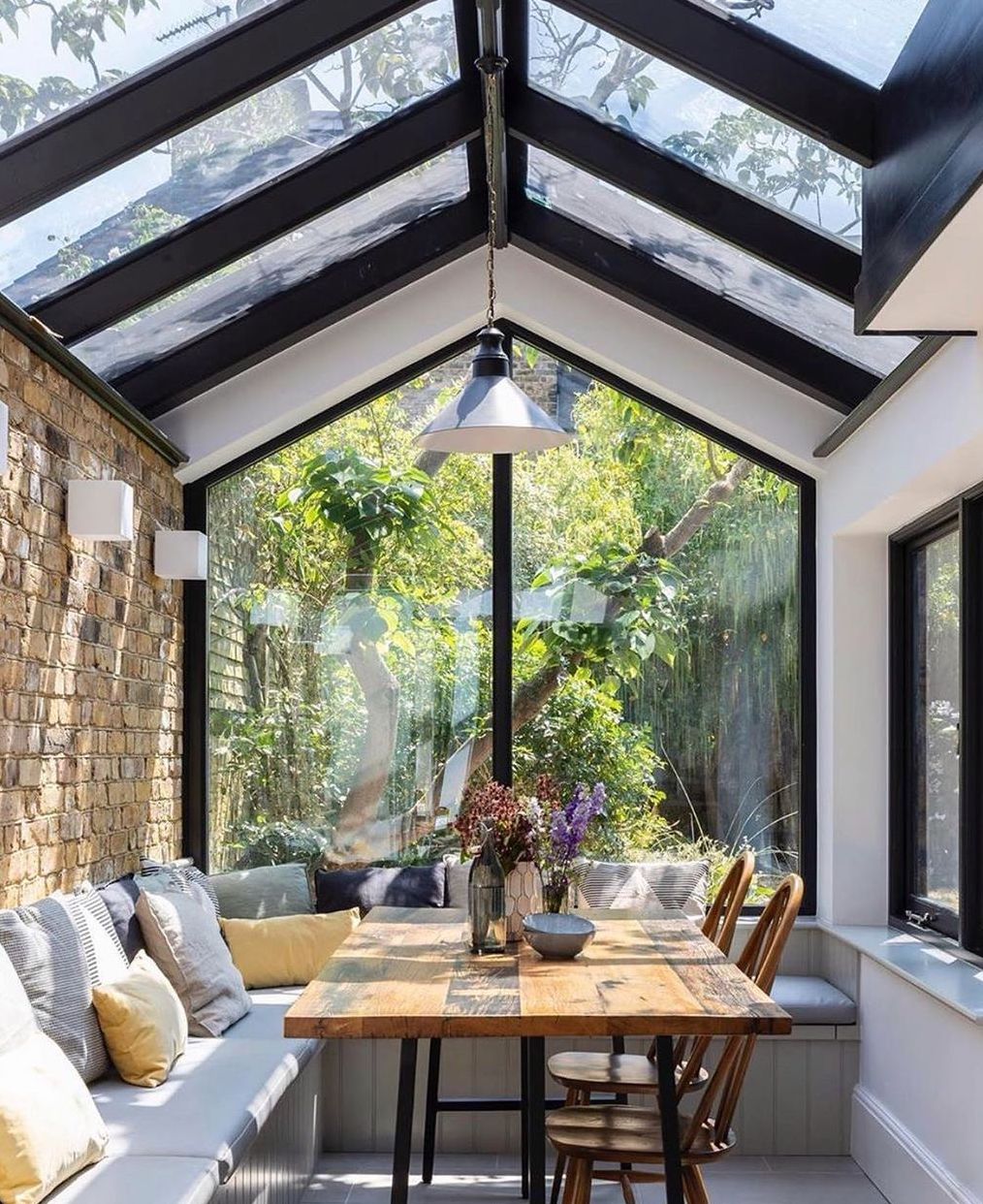 Black and White
@dotstripes.interior's dining room features classic Scandinavian staples: mid-century acrylic chairs and a minimalist white table. A round woven rug ties the space together, while a basket-weave lamp, floating shelf, and indoor plants keep the accents streamlined but personalized.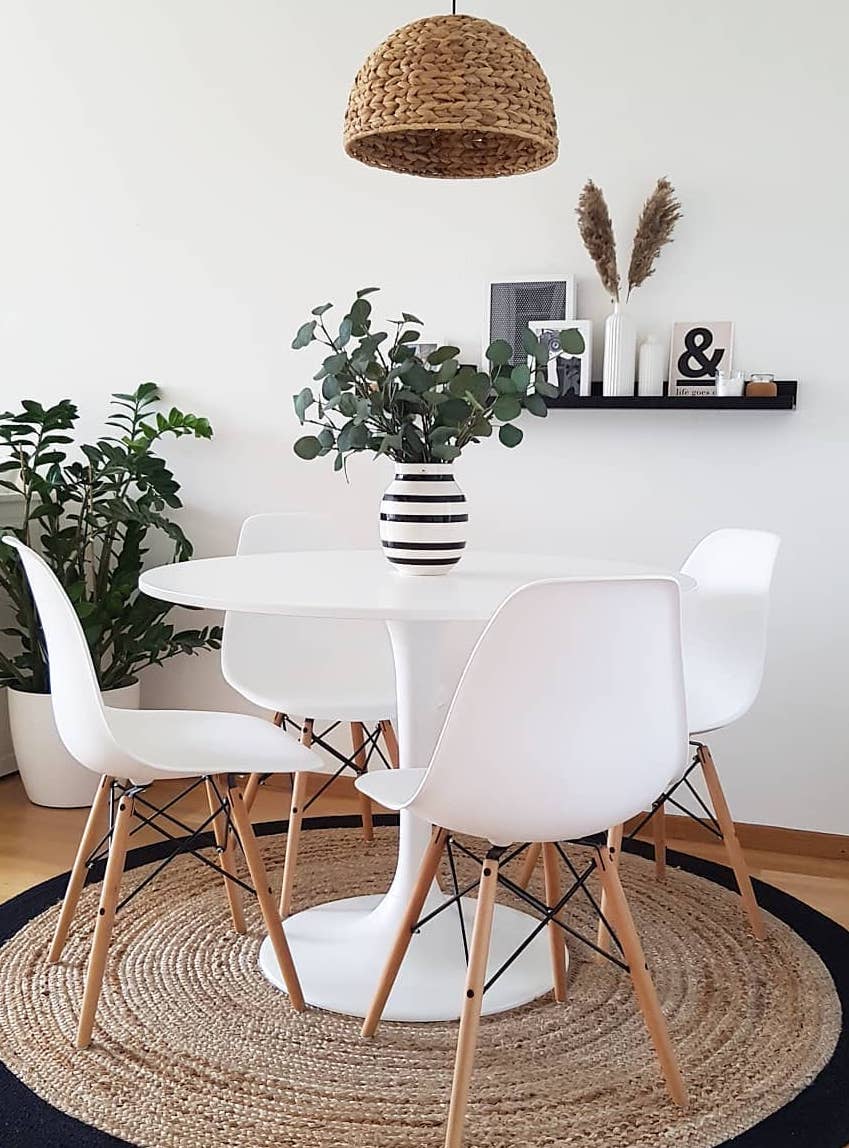 Nordic Comfort
A corner fireplace is perfect for keeping the dining room cozy in @mittfinkis's home. Personal touches such as unique masks, a family library, and an architectural lamp are scattered throughout the room. A sleek table and mixture of chairs keep the dining area down-to-earth, with a patterned wood floor and striped black and white rug grounding the space.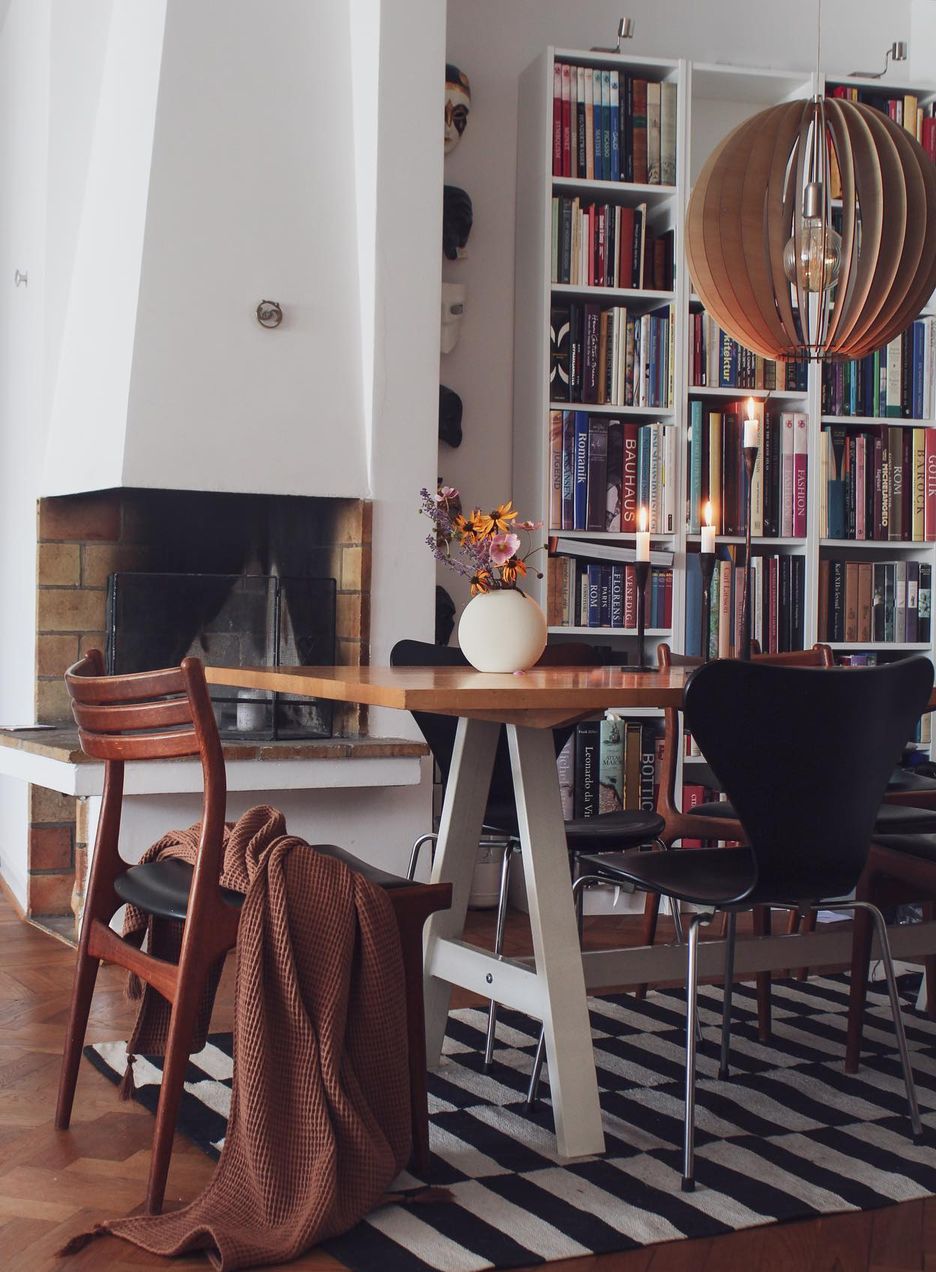 Snow White
@ania.home keeps her dining space fresh and clean with a white color palette. The beautiful black and white tiled flooring adds subtle interest and pattern, as do the whitewashed bricks above the counter. A practical farmhouse-style dining set welcomes guests for a cup of tea, while glass-paned cupboards, a minimalist black stove, and utilitarian lighting complete the Scandinavian look.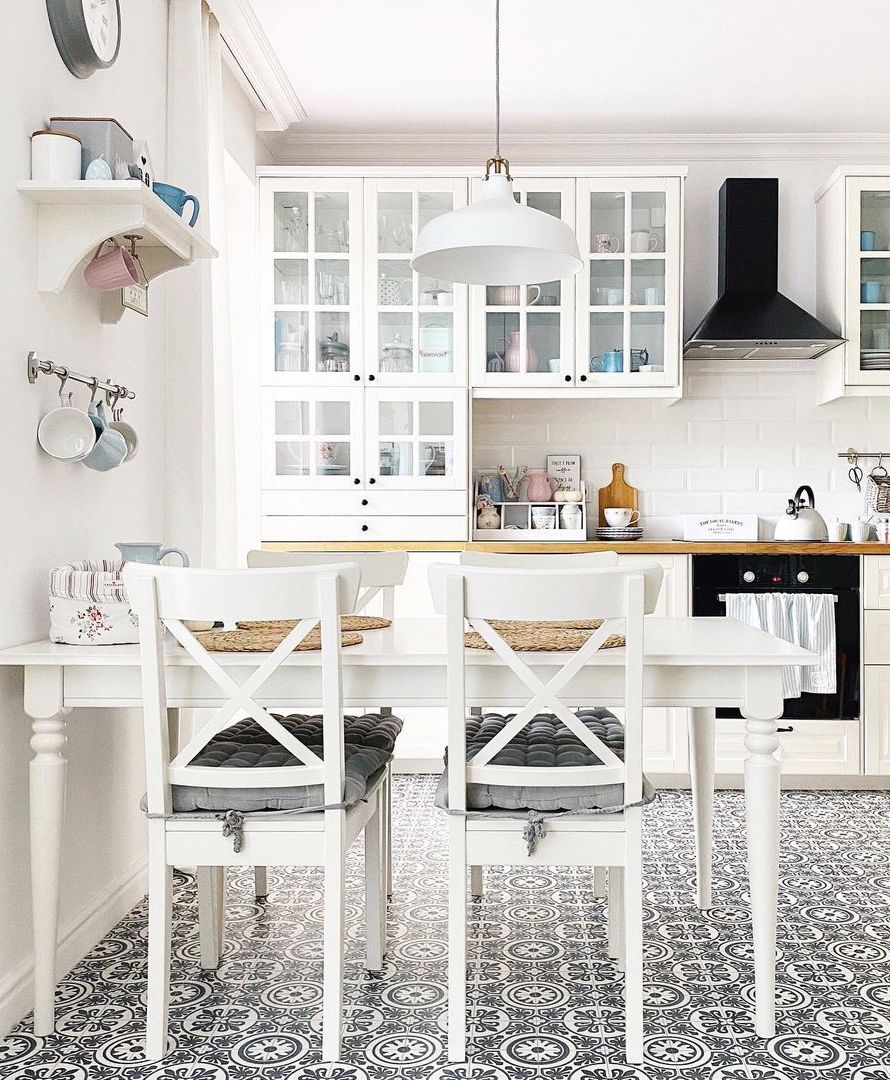 Ready to Eat
This welcoming dining space is styled by @prosto.w.szarosci. Next to an inviting sitting area backed with brick, a mid-century modern table stands ready to host a meal. Sleek cupboards serve as a sideboard with a modern shelf beneath. The mix-and-match seating, including a bench for extra room, sits under a repurposed lamp that epitomizes Scandinavian practicality and charm.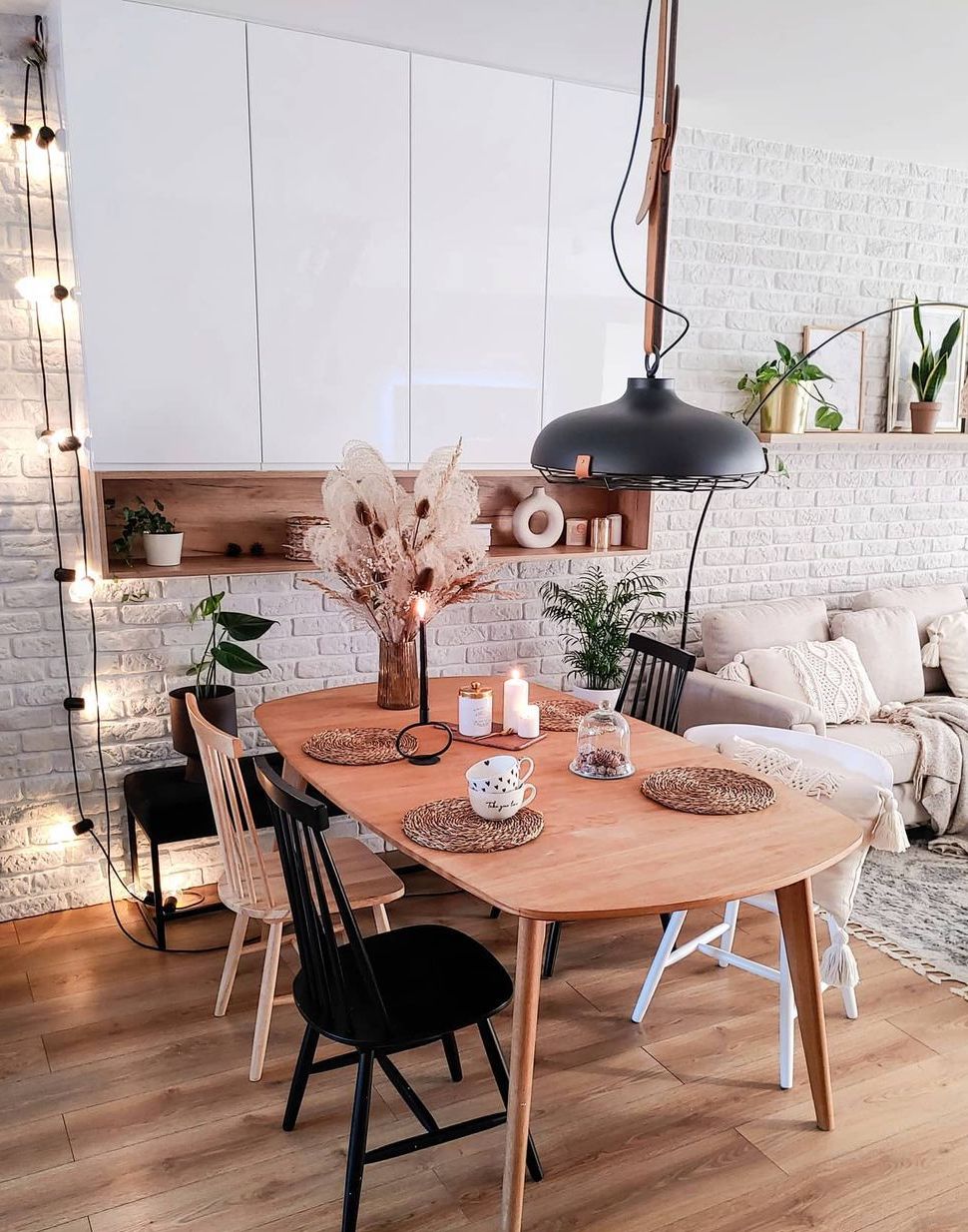 All Yours
@simple.home.of.mine makes this dining space all her own with unique design touches at every turn. The butcher-block counters echo the dining set, complete with chairs that are covered in patterned cushions. The kitchen backsplash is tiled in neutral eye-catching patterns, and leather pulls serve as one-of-a-kind cabinet handles.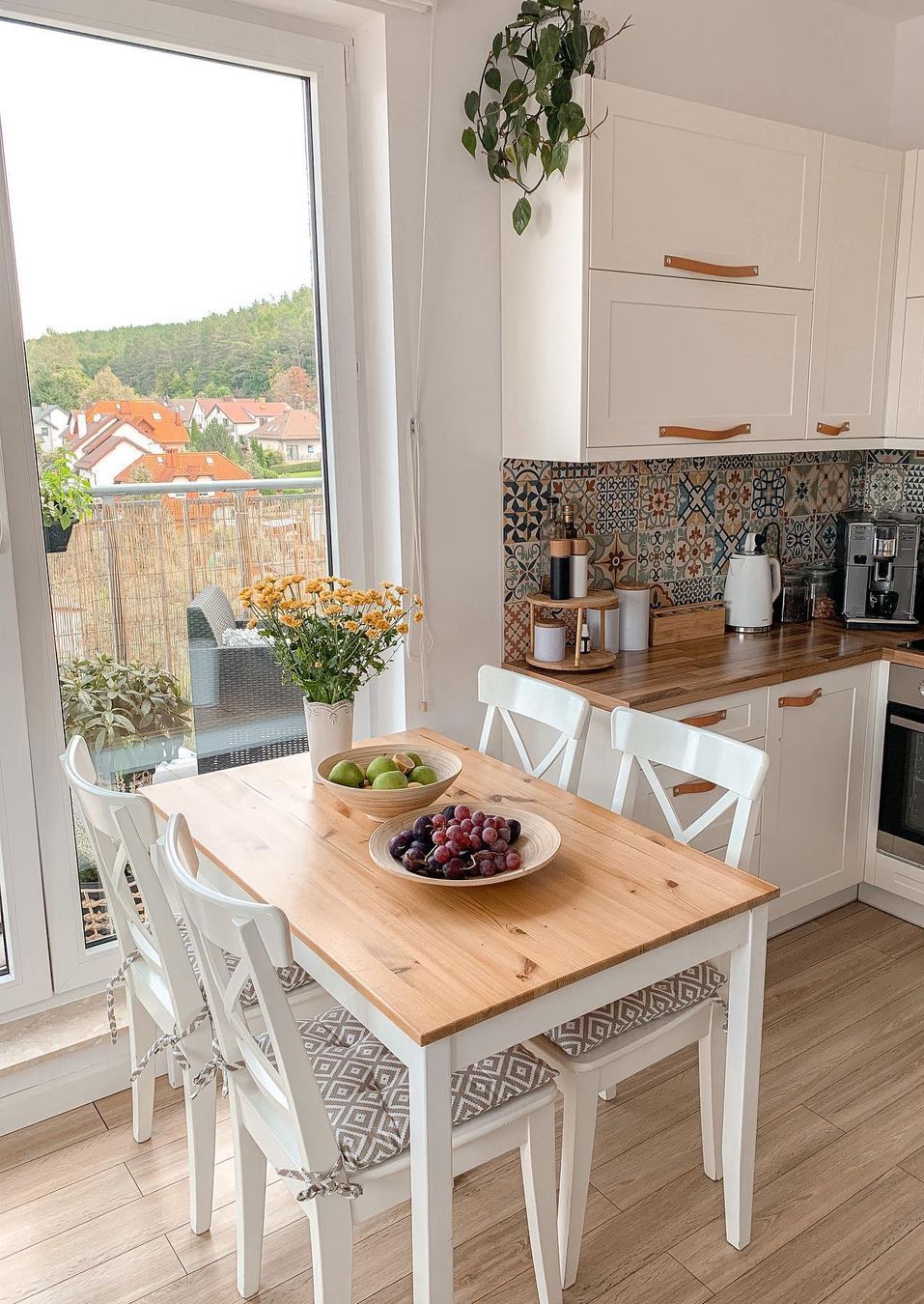 Luxe
This dining space by @kassandradekoning mixes large-scale luxury with Scandinavian functionality. Neutrals and sleek lines are seen in the rug, sideboard, and sliding barn doors. Bistro-style chairs surround the wood slab tabletop adorned with rustic pottery.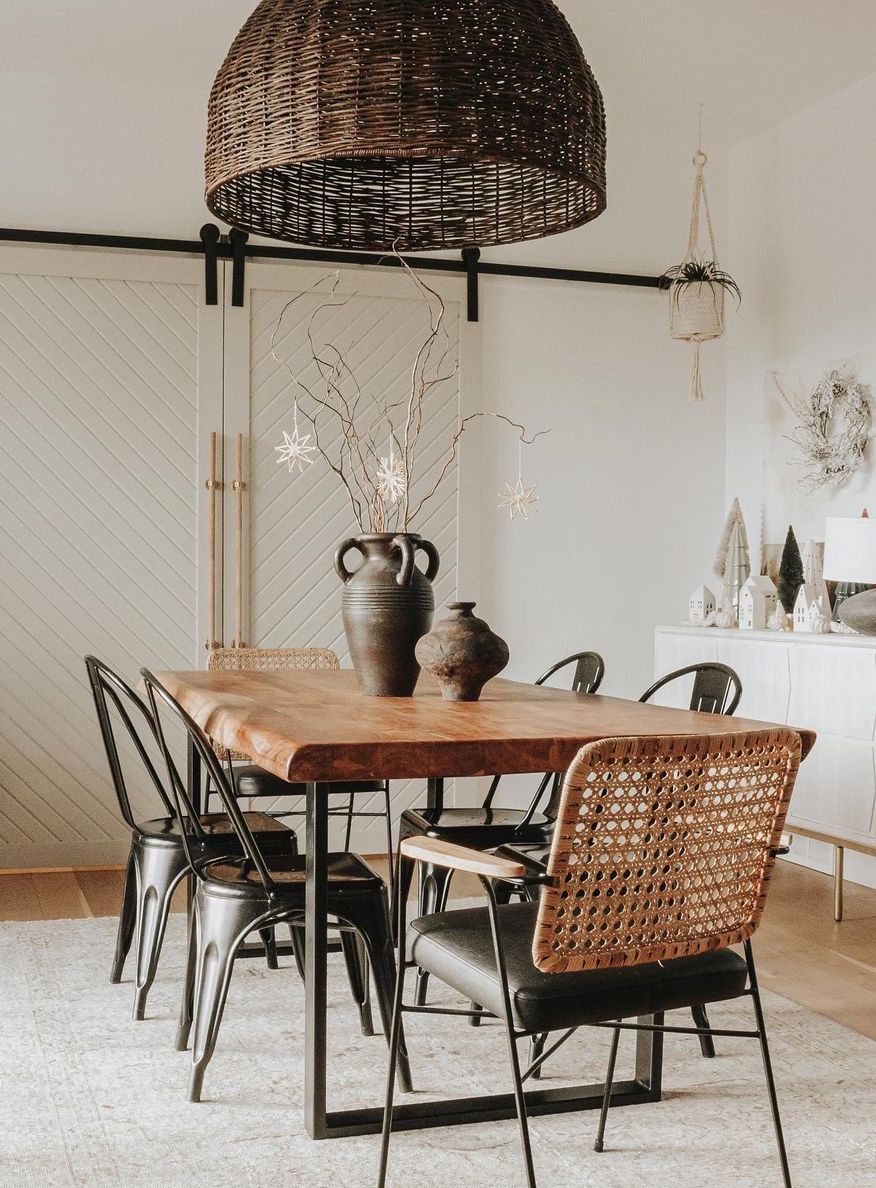 Sources: 1.https://www.instagram.com/p/CEpSJZUqD6u/ 2.https://www.instagram.com/p/B8rcdL3BaG6/ 3.https://www.instagram.com/p/CF9-8YyBGcB/ 4.https://www.instagram.com/p/CHUq36QlYJs/ 5.https://www.instagram.com/p/CDJW6rLBJN9/ 6.https://www.instagram.com/p/CCHFWBRjX94/ 7.https://www.instagram.com/p/CG4WJhcMcCP/ 8.https://www.instagram.com/p/CFFT1fbHIle/ 9.https://www.instagram.com/p/CFTzmGZFk9l/ 10.https://www.instagram.com/p/CHzkaaDlNmc/ 11.https://www.instagram.com/p/CGCoMl6FS6v/ 12.https://www.instagram.com/p/CH04bd7gky1/