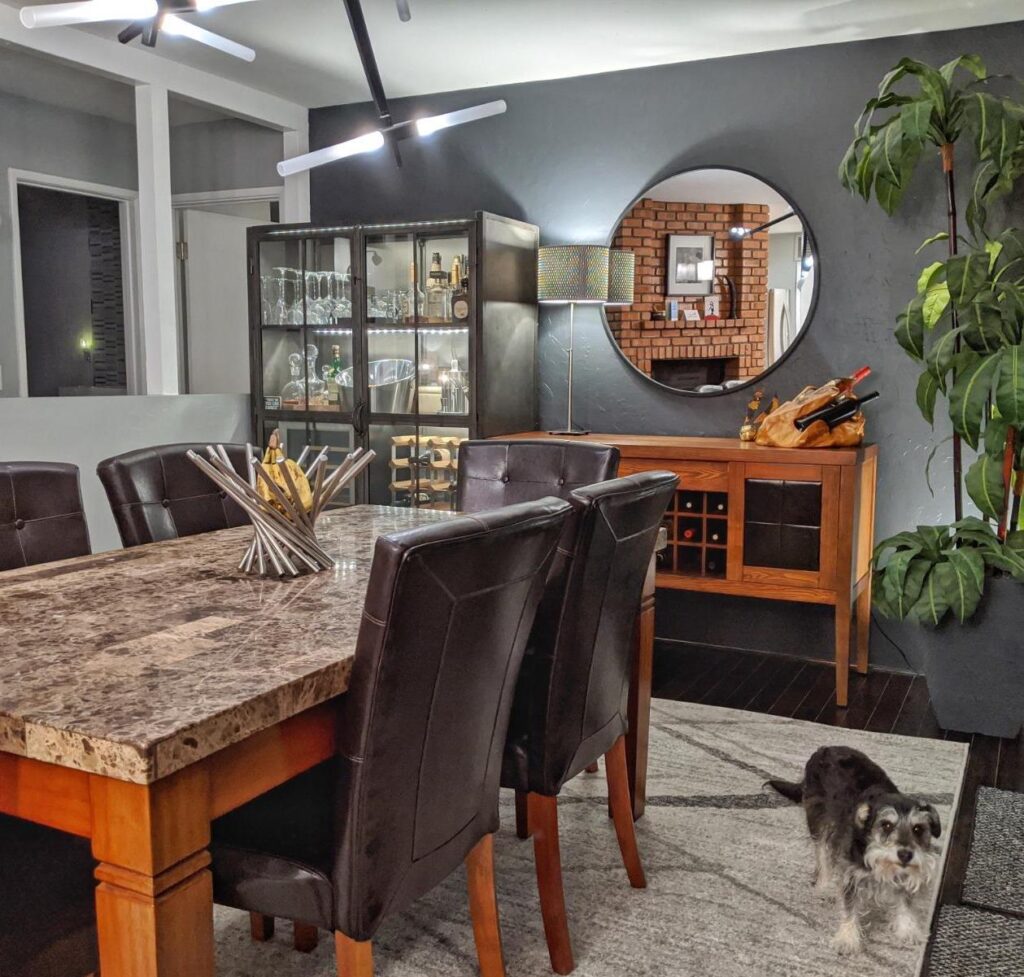 4 Reasons Umbra Hub is The Best Modern Large Round Mirror in Canada
Wall mirrors are timeless and versatile when it comes to interior design. If your bathroom feels small, a wall mirror can do the magic of making it look bigger. How is this possible? When you hang a high-quality mirror near a light source, it will reflect the light coming through to amplify the room's overall brightness. This makes your bathroom feel less cramped and more spacious. Besides, you also use mirrors in other rooms to create visual appeal. A strategically positioned mirror changes the whole look of the space.
When it comes to experiencing the benefits of having a large, modern mirror, Umbra Hub makes a go-to choice. Everything about this mirror is just a wow factor. Using this round mirror on walls creates an optical illusion that feels the room with brightness. The best part? You don't need to hire a professional to install it. Do you want to know more about this mirror brand? This article highlights the top four reasons why the round Umbra Hub is the best option for any homeowner looking for a large, modern mirror in Canada.
#1 A Wide Model Selection
Even if all consumers choose to buy from one brand, they'll still have varying needs and preferences. For instance, large is relative. The large, round Umbra Hub mirror design comes in various models to suit different user needs and aesthetic preferences. In addition, this brand has the biggest large-size collection, including 18, 24, 30, 37, 34, and 36-inch models. Therefore, you don't have to buy two mirrors for one room while you can go for the biggest model.
The modern Umbra Hub mirror also comes in seven great finishes to satisfy every homeowner's unique design needs. The finishes available on Amazon include black, brass, charcoal, copper, grey, smoke, and titanium. So you'll never miss a model that blends with your décor theme. Moreover, you don't have to go with the same finish in all bathrooms or bedrooms.
#2 Happy Customers
Umbra Hub mirror is a go-to brand for many people, and its popularity grows every day. Umbra has the highest number of positive reviews among mirror brands and more than 144K followers on Instagram. The page is popular among home décor influencers and creates a resourceful platform for inspirational ideas. Among the home décor designs that blend well with Umbra Hub mirrors include:
Modern Farmhouse Look
You can repurpose your home and give it this modern farmhouse look from The Farmhouse Dream without breaking the bank. You only need vintage pillows on your seats, a potted plant at the corner, and a couple of metal accents. The mirror at the top goes a long way in enhancing the room's brightness.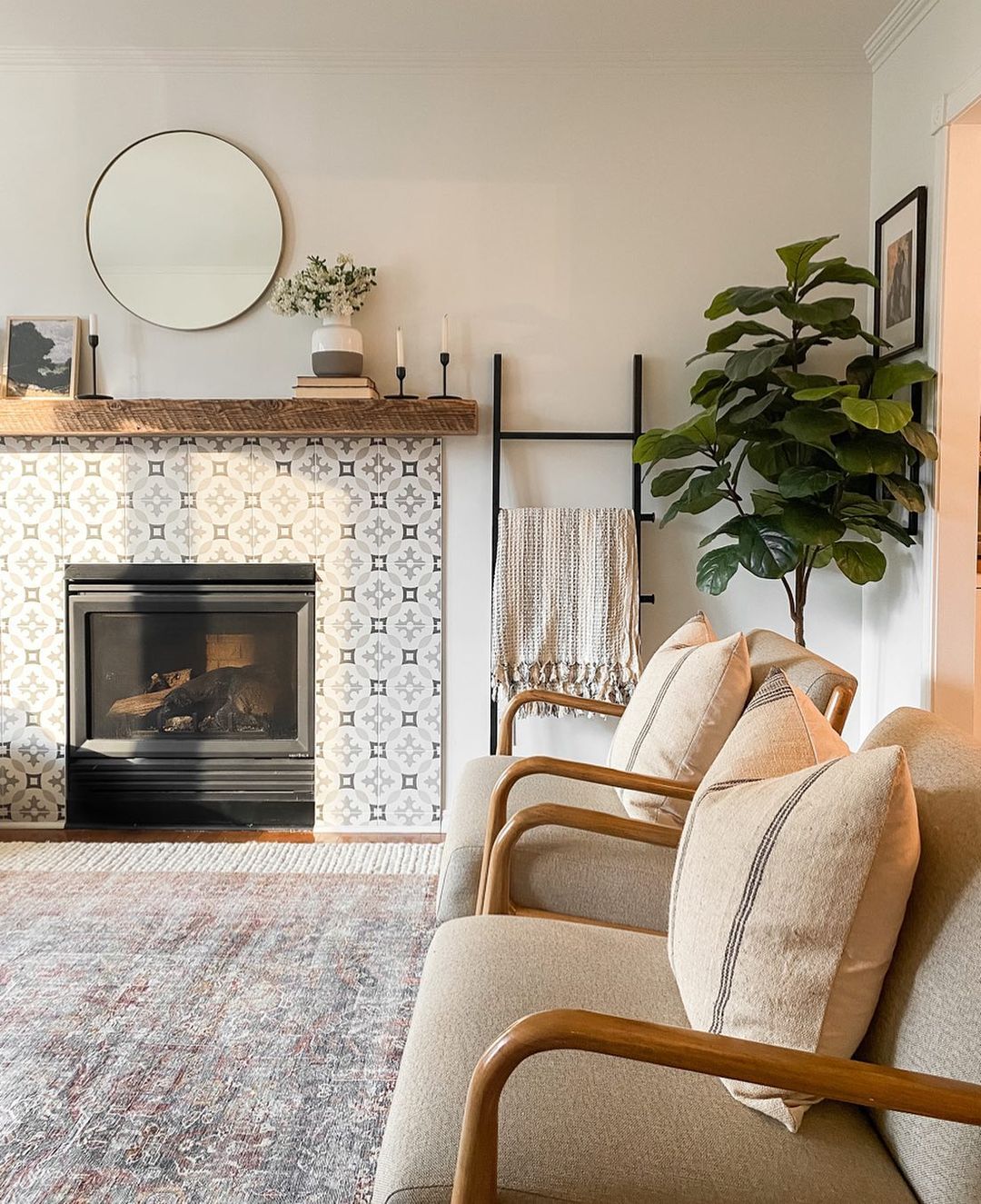 Repurposed Organization Stand
If you need to keep your living room tidy or have all your remote controls in one location, this repurposed organization stand from @beauxarts107 will get the job done. You can add potted, artificial flowers to create a contemporary farm look. In addition, the mirror reflects light in the room, making it feel more spacious.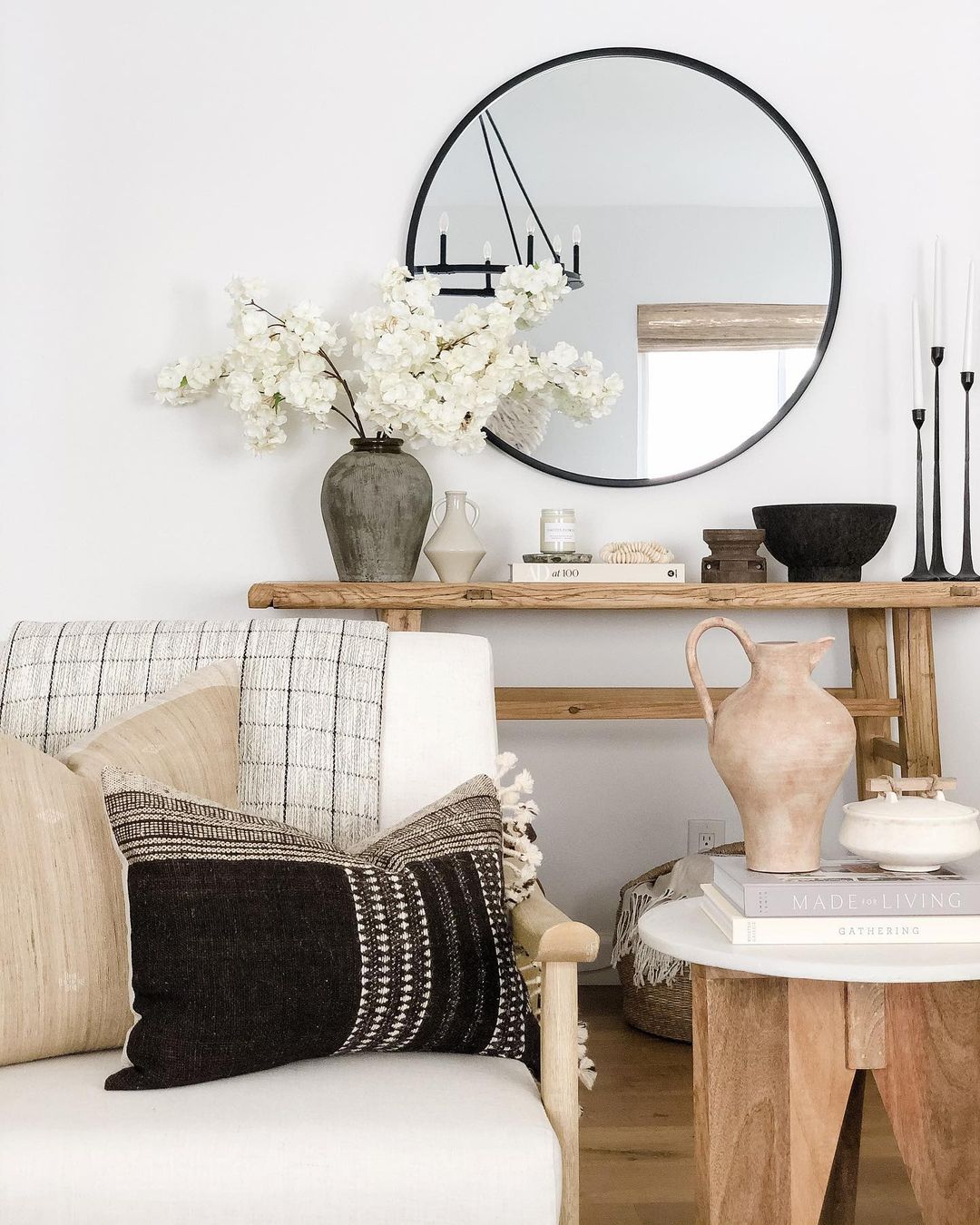 Wooden Console Table at the Entryway
You can try this décor design idea from Lindsay Turner (Southwest by Southeast). This entry table in the entryway is great for simple organization. It creates a ready-to-access storage area for your car keys and other essentials you usually carry to work. The round wall mirror above the console table ensures you adjust your hair or tie before leaving. Moreover, the mirror reflects light to the whole living room when you open the door, creating a bright space for the day's activities.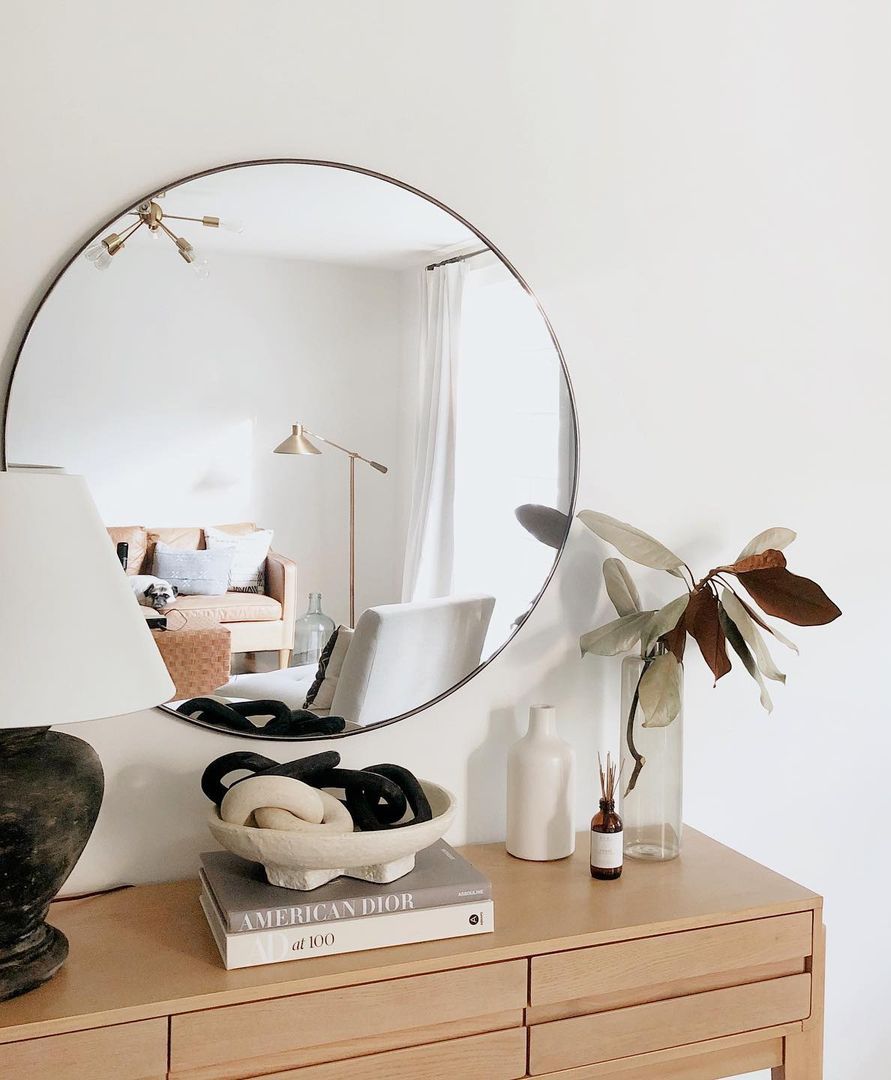 Organization Stand and Basket
Sarah Shireed of arbor & co shares a simple DIY organization idea. You only need a repurposed ladder-design stand, an organic basket, and a few potted plants, and you're good to go. If you add a wall mirror like this influencer, ensure to have it next to a lighting feature.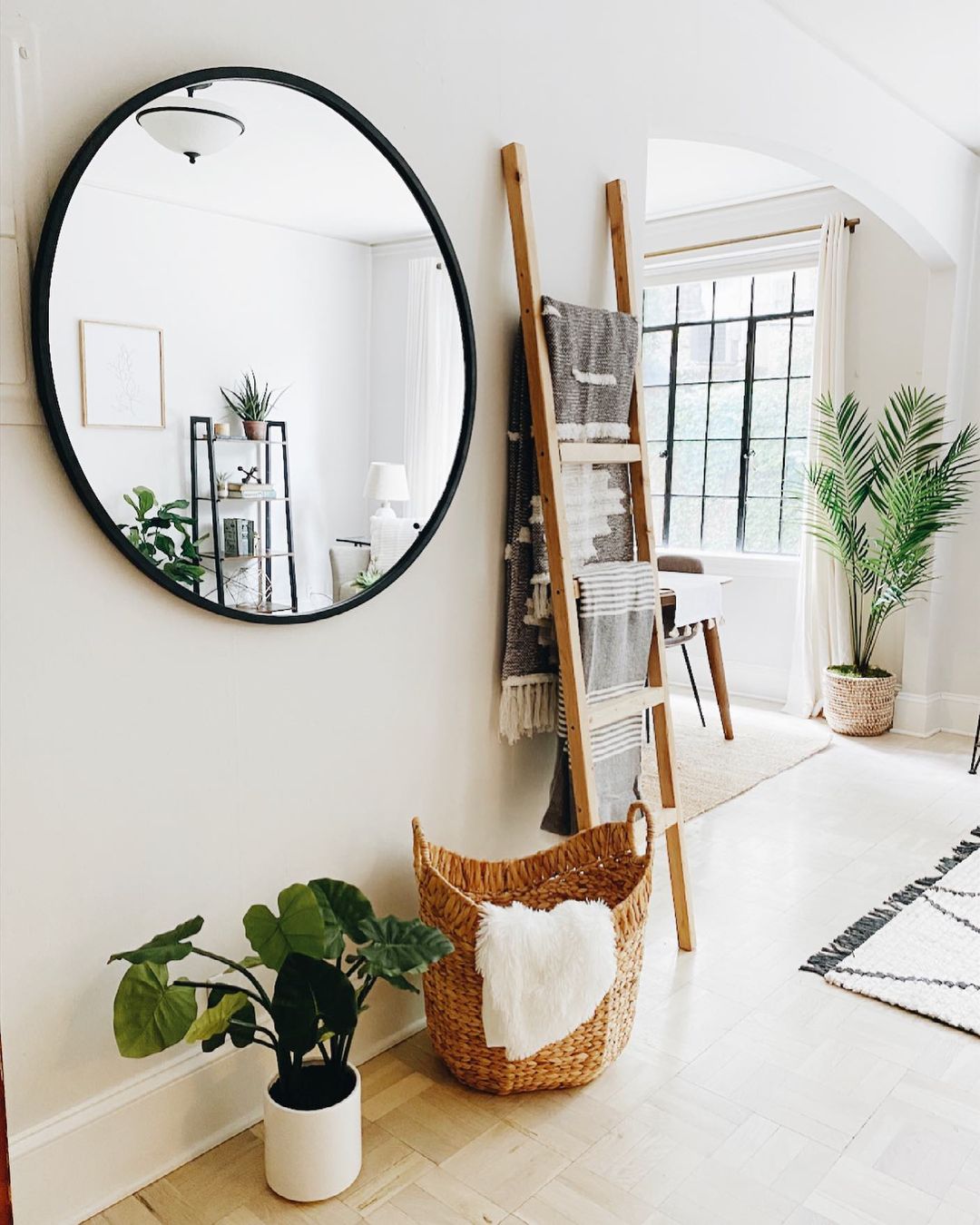 Remodeled Bathroom
This bathroom design from Emma Caron Interiors is an excellent option if you want to make your space feel less cramped. The round wall mirror fixed next to the bulb fixture reflects the light from this source in the whole room, making it feel bigger. Also, the brighter corners created by this design break the regular bathroom monotony, making this space attractive.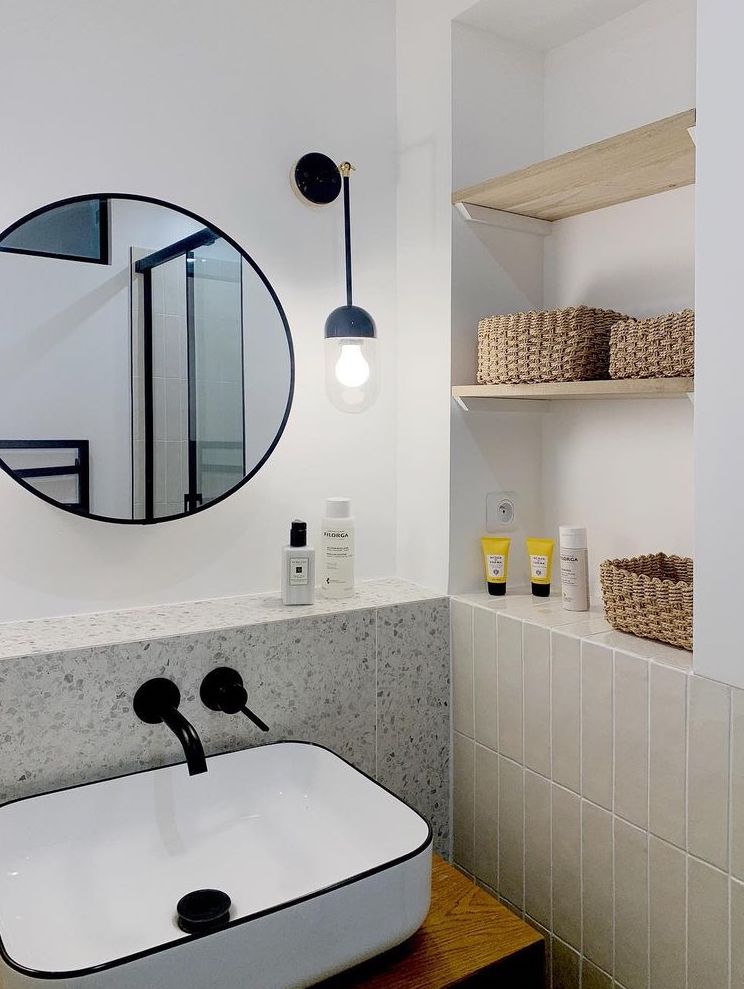 #3 High-Quality Design Built for Longevity
What complements your experience when it comes to buying large mirrors? Is it the customer service or the product's unique design? Well, the Umbra Hub mirror has everything a typical buyer would want in a wall mirror. It comes with a super long 5-year manufacturer warranty that covers any quality defects. The manufacturer is confident you'll experience prolonged longevity with such a warranty to realize your money's value. Moreover, the mirror is resistant to dust and scratches. It will look pristine for as long as you use and maintain it regularly.
Also, you'll love the customer service experience at Amazon. The retailer team is courteous and helpful when you have a problem placing your order. They also deliver the mirror within the stated period, without any deforms or unsealed packaging. Even better, you can get a massive discount if you buy through referral links.
#4 Best-Selling Product
Any product ranked as the best selling in the market is definitely of high quality. Umbra Hub is the number one best-selling mirror in Amazon for many years (source). Customers love the relatively affordable price tag compared to the mirror's quality consistency. As noted, this mirror is easy to install. It comes with a rubber frame that adheres to the wall easily. Besides, the large, round design is timeless and fits in any décor. Whether you opt for a contemporary or farmhouse theme, these mirrors will always look attractive.
Due to these features and many others, Umbra Hub has about 4,000 reviews on Amazon and other consumer websites. Nearly 90% of these reviews have 4-star ratings and above. All customers can't speak in the same tone and satisfaction if the product didn't meet their specific, if not all, design needs. We are sure that you'll also leave a positive review after getting yours.
Below are popular Amazon reviews we found quite promising & informative:
"I am in love with this mirror! It is very large and perfect for what I needed! packaged well and shipped pretty quickly! Love the modern look and price! Just to give you an idea on its size, its above a 5 foot bench in my picture!!" – Rachel H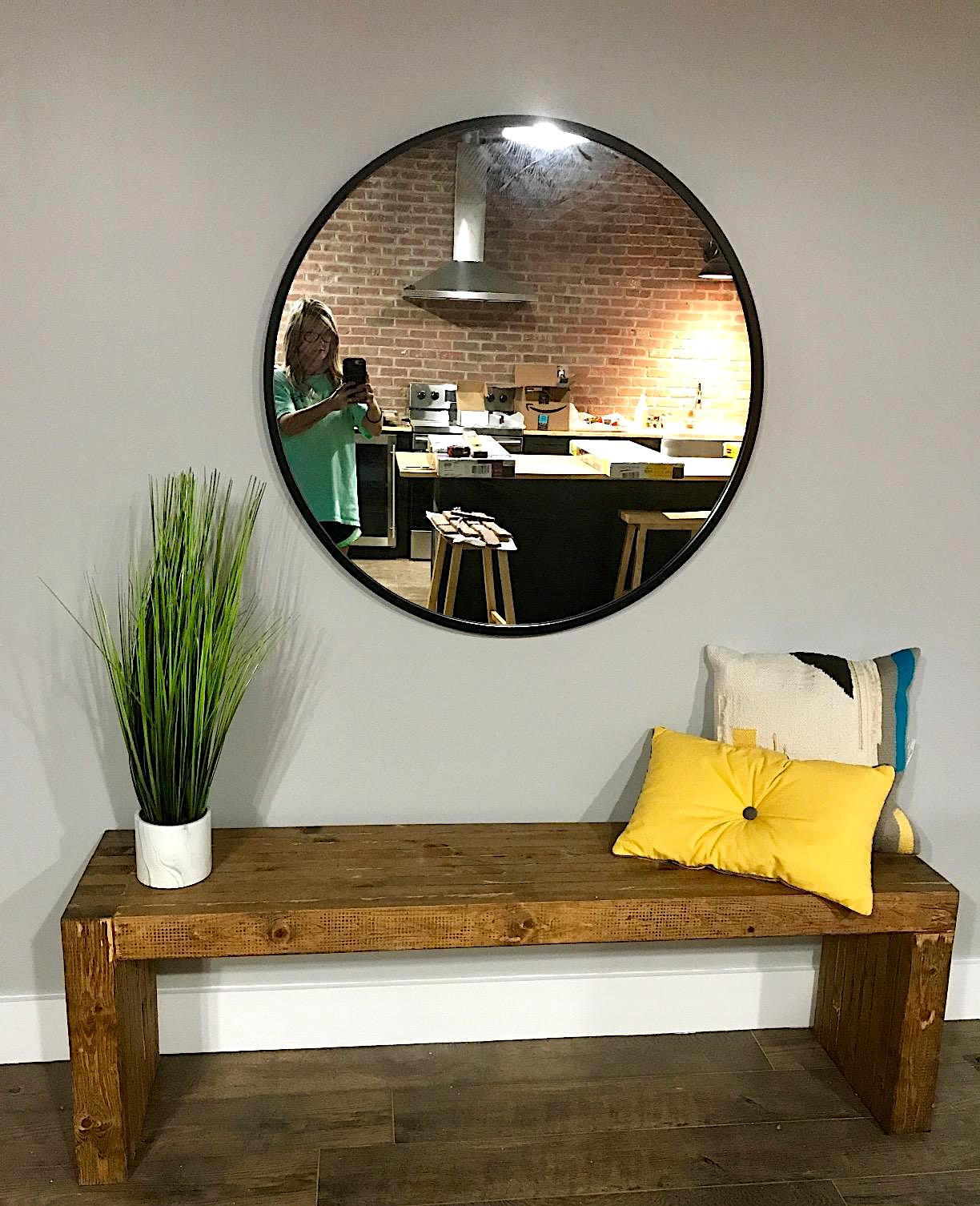 "This mirror is huge and sturdy! It arrived well packaged and on time. It was very easy to hang with the drywall anchor and screw. I went back and forth on purchasing this mirror or a competitors mirror that was 5" smaller but half the price. After reading reviews I decided the extra money was worth it to ensure I wouldn't receive a distorted mirror. Couldn't be happier!" – DenverCat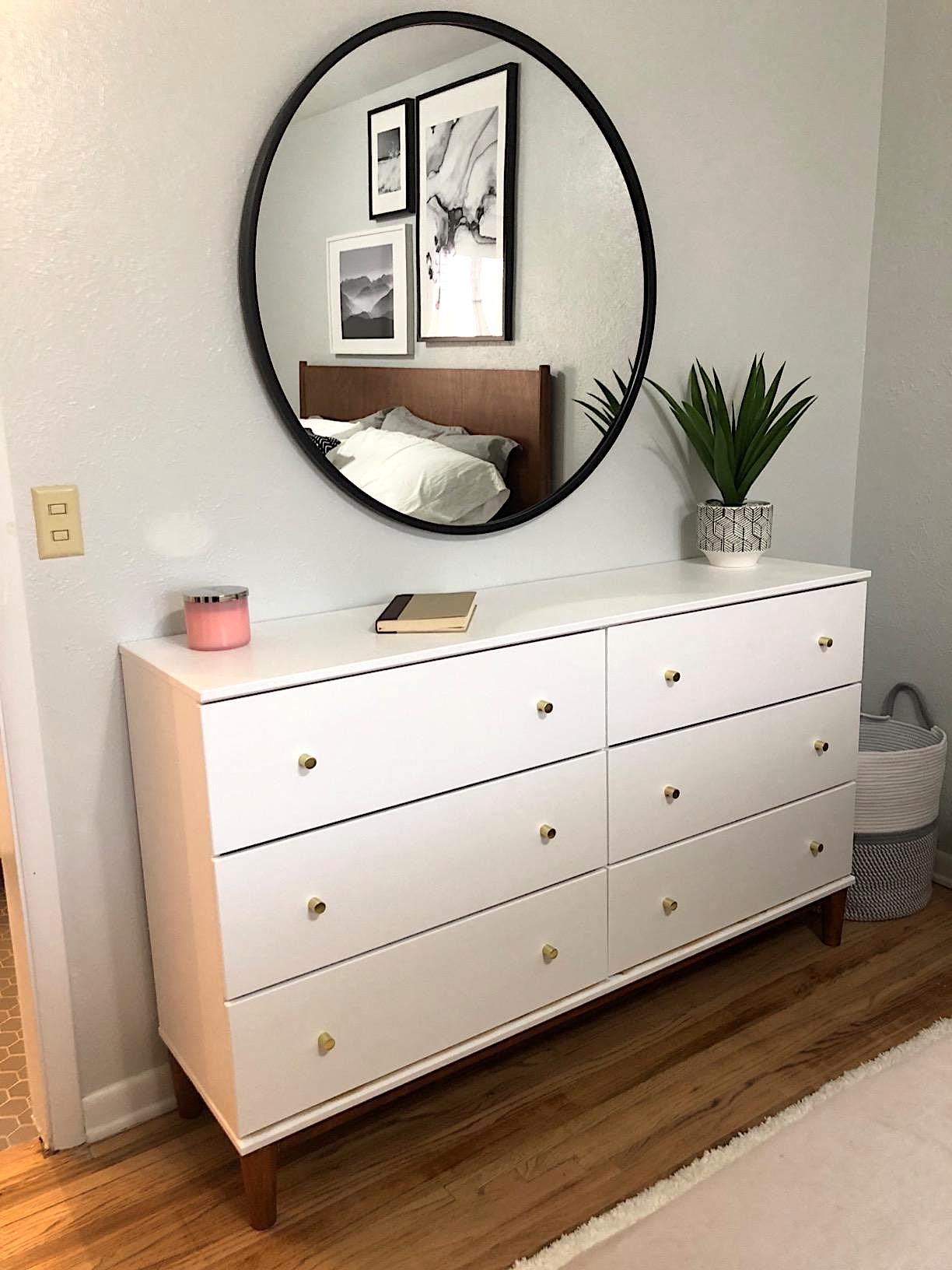 "Just what I needed for my industrial bathroom remodel. The rubber edging is great for a bathroom since it won't russet like metal. Receive a lot of complements on it." – E.K.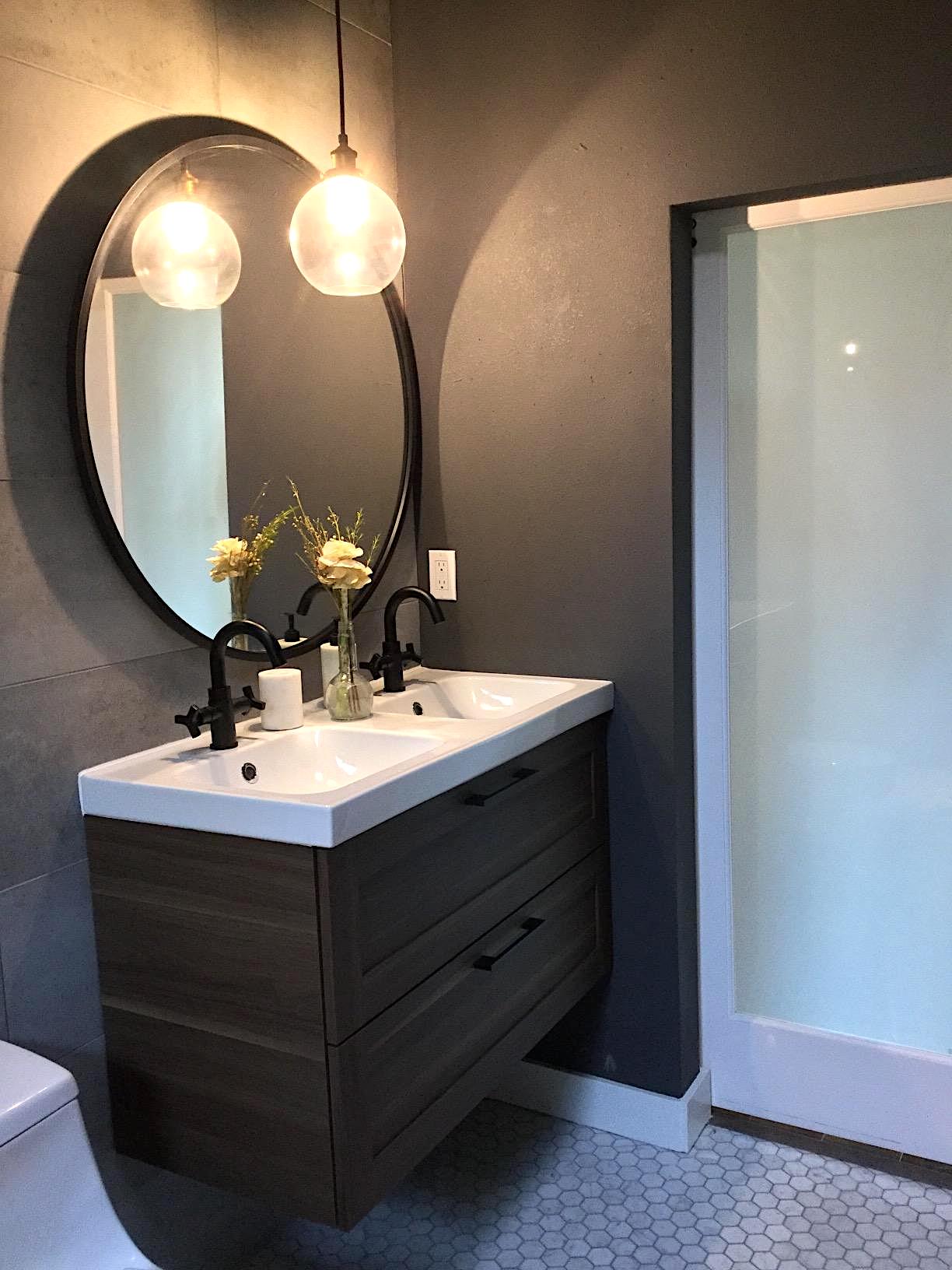 "Love this mirror. I was looking for a black framed mirror for awhile but most are so expensive due to the shape. Smart move by Umbra using rubber instead of wood or metal to make a more affordable product. You really don't think about what the material is unless you're touching it. Does not look cheap, in my opinion, at all. I am using it in my entryway paired with a couple shelves from World Market." – Tara Cohen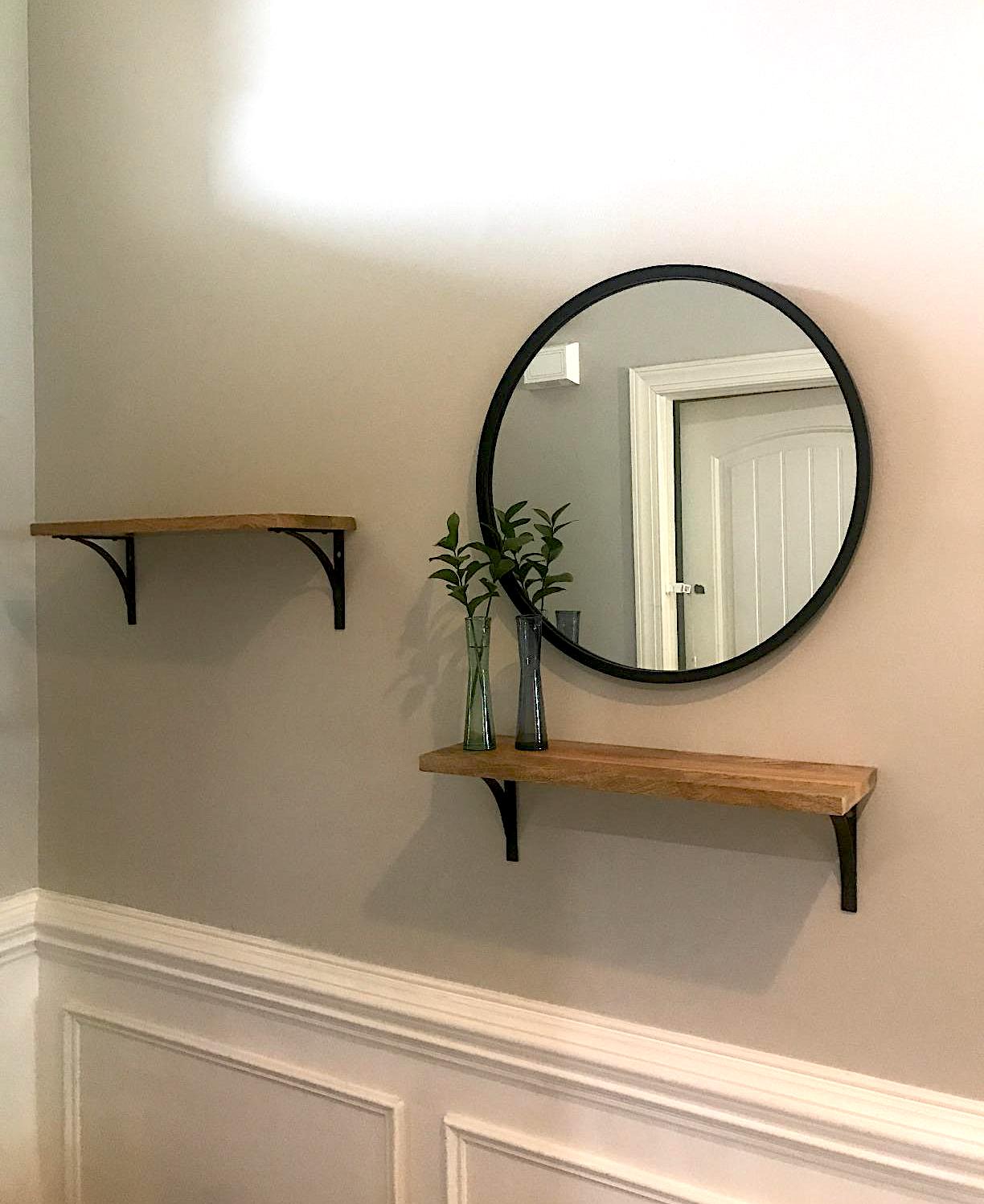 "I was initially hesitant to purchase this mirror because it had a rubber frame and I thought it might be cheap looking. But the reviews were reassuring and it was easily $100 less expensive than other similar mirrors. This mirror is BEAUTIFUL, excellent quality, and looks much more like expensive than it is. The glass doesn't distort the reflection. And there's a simple wire hook on the back for hanging. Comes with wall anchor and screw. Very happy with this purchase." – Z. Leonard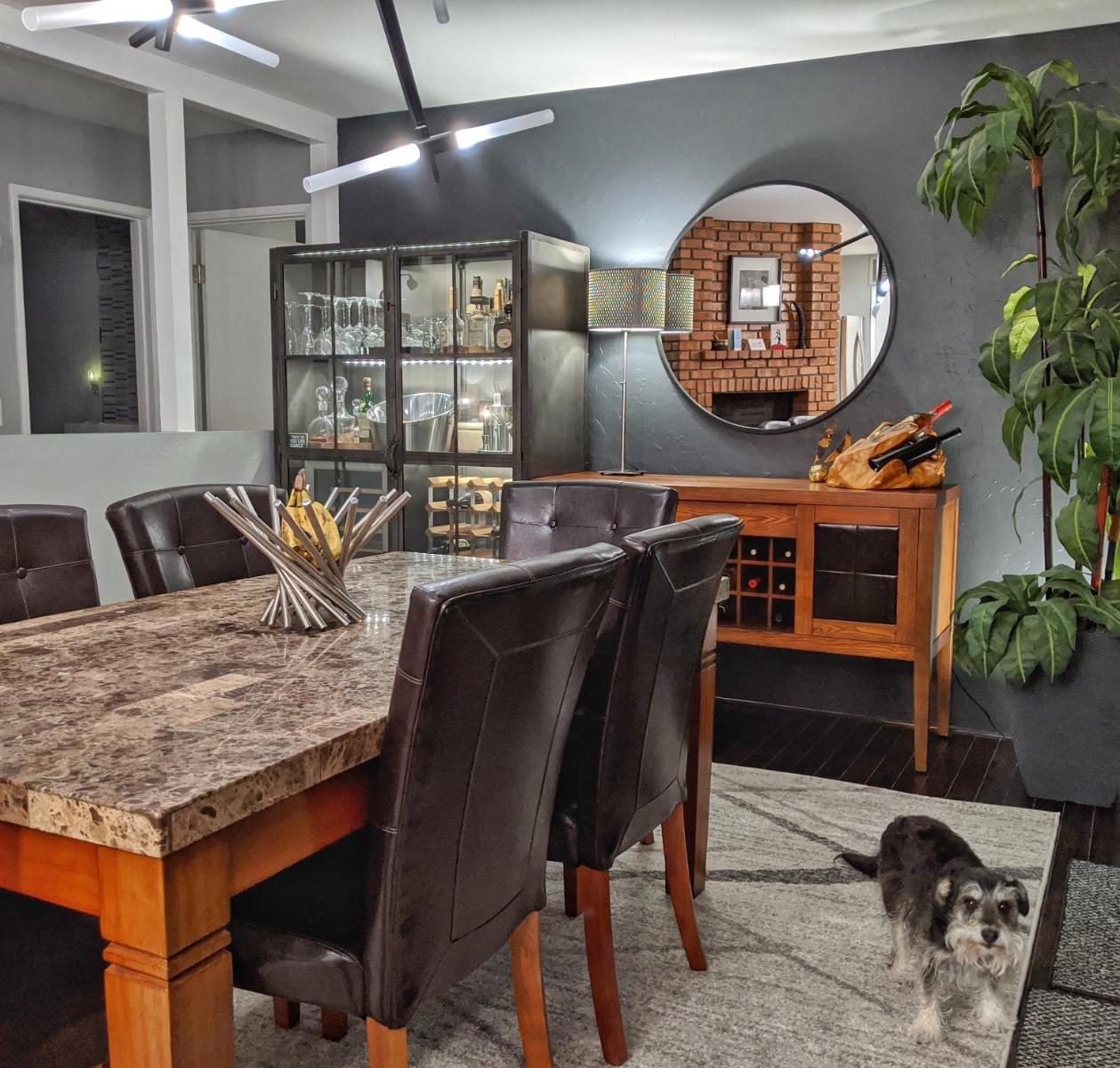 "Absolutely love this mirror. I was a little hesitant about the fact the frame is rubber, but honestly you can't tell unless you're touching it. I think the round shape really offsets the boxy-ness of my more modern vessel sink and faucet. Very happy. Hanging was super easy, I grabbed a drywall anchor from Home Depot and had it hung in 3 minutes." – Katy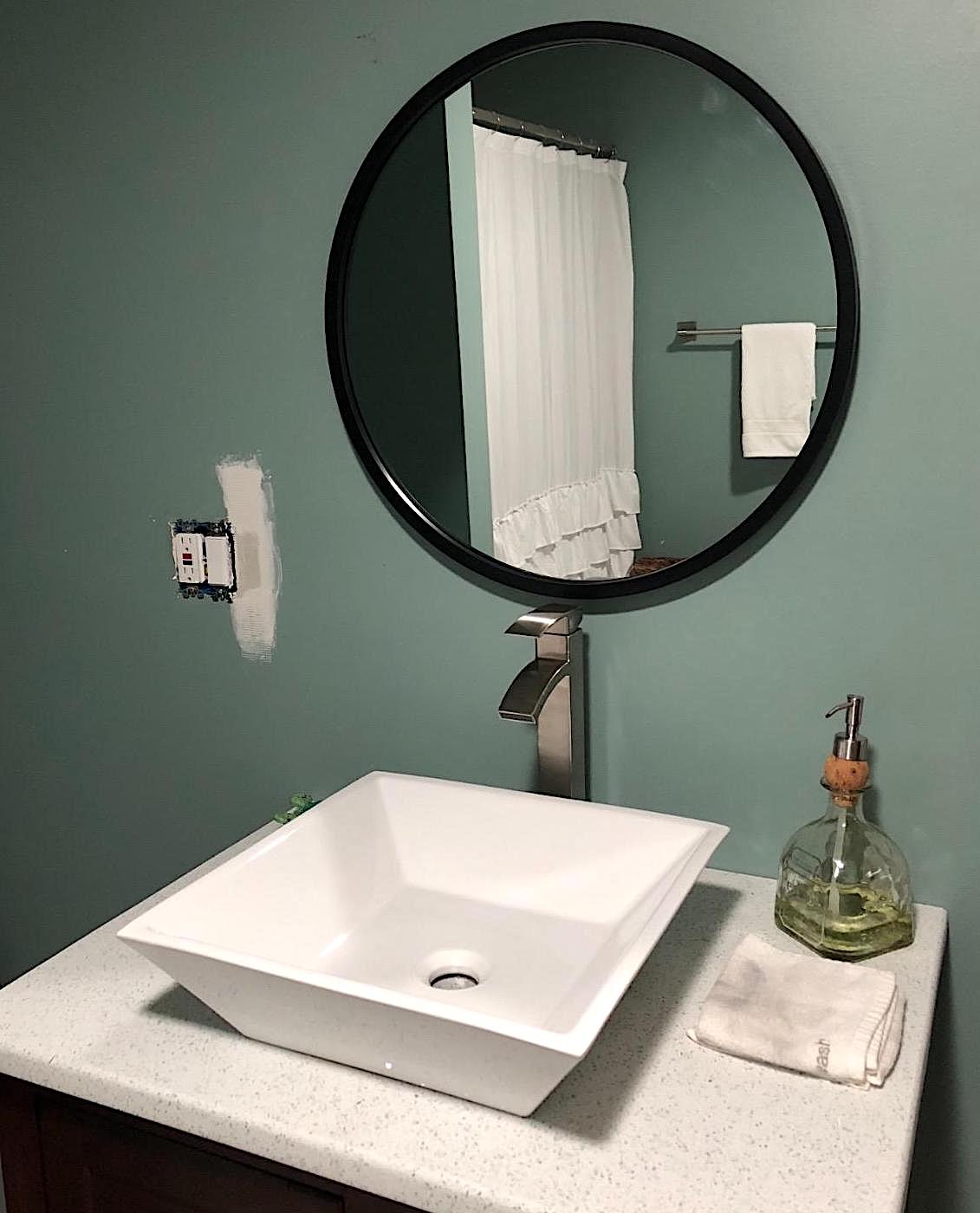 "I just received this 37" Umbra mirror today. I quickly hung it on a stud, as it is fairly substantial. My first impression is that I love the sleek, modern, minimal look. The understated, rubber frame is a cool touch. I have hung it above a couple of black Eames style chairs, and even though I haven't taken time to style and place things, the combination is very nice. It will take a little while for me to get used to seeing such a large reflection of myself when I walk by, but I bounces back a lot of light. The rubber frame does move some, so I am glad that the hanging wire was installed farther down. As long as the hanging bracket remains strong, I will love this mirror. I purchased a used one, and there are minor scratches on a few spots. They are not noticeable enough to be distracting." – Elleanne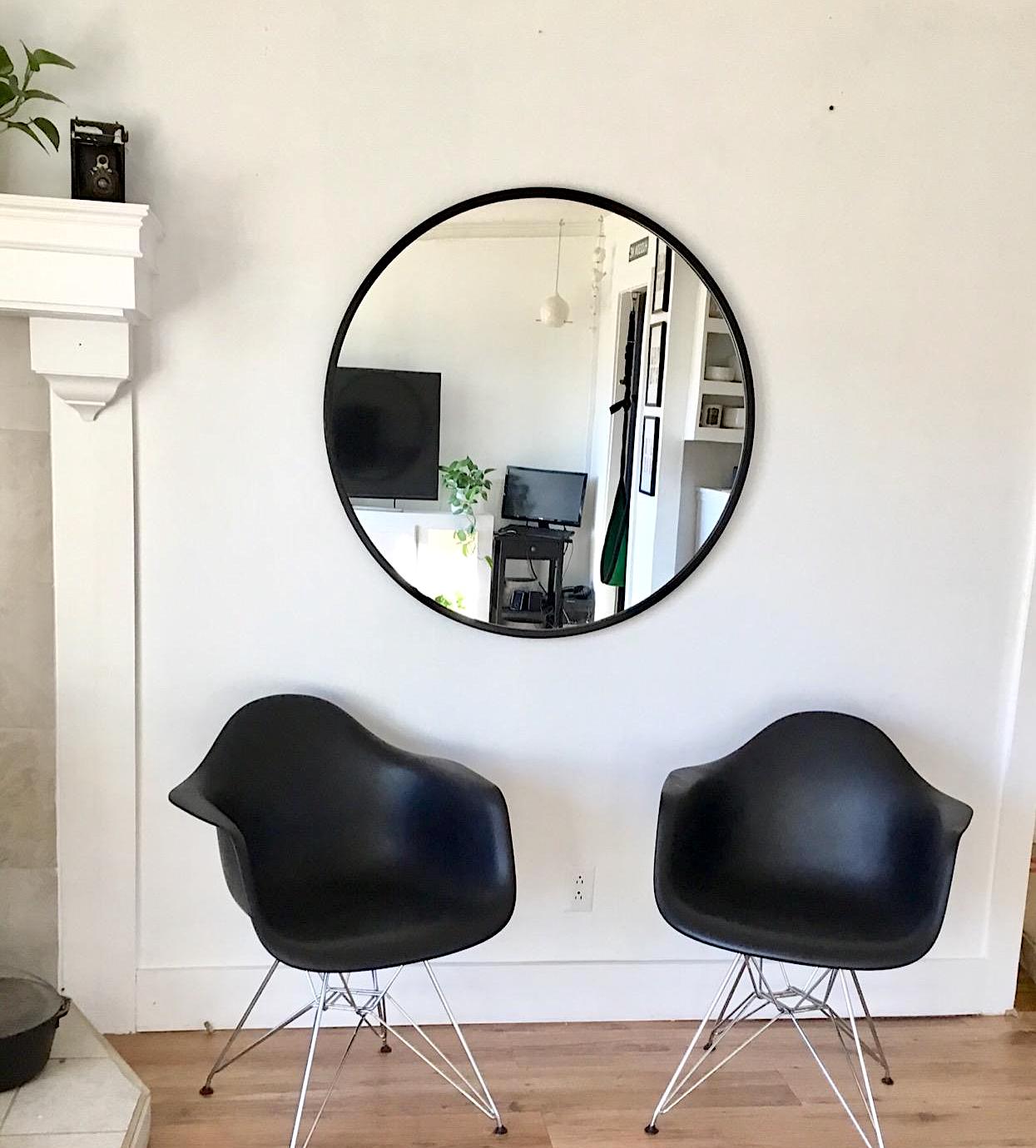 The Bottom Line
Generally, the Umbra Hub mirror is a great option that guarantees your money's value. The five-year manufacturer warranty gives you all the reasons for trusting the product's quality. In addition, the wide color and large size selection make this brand a perfect choice for any homeowner, whether multifamily or single-household. We believe this product will redefine your experience with mirrors and give you all reasons to be proud of your living space.