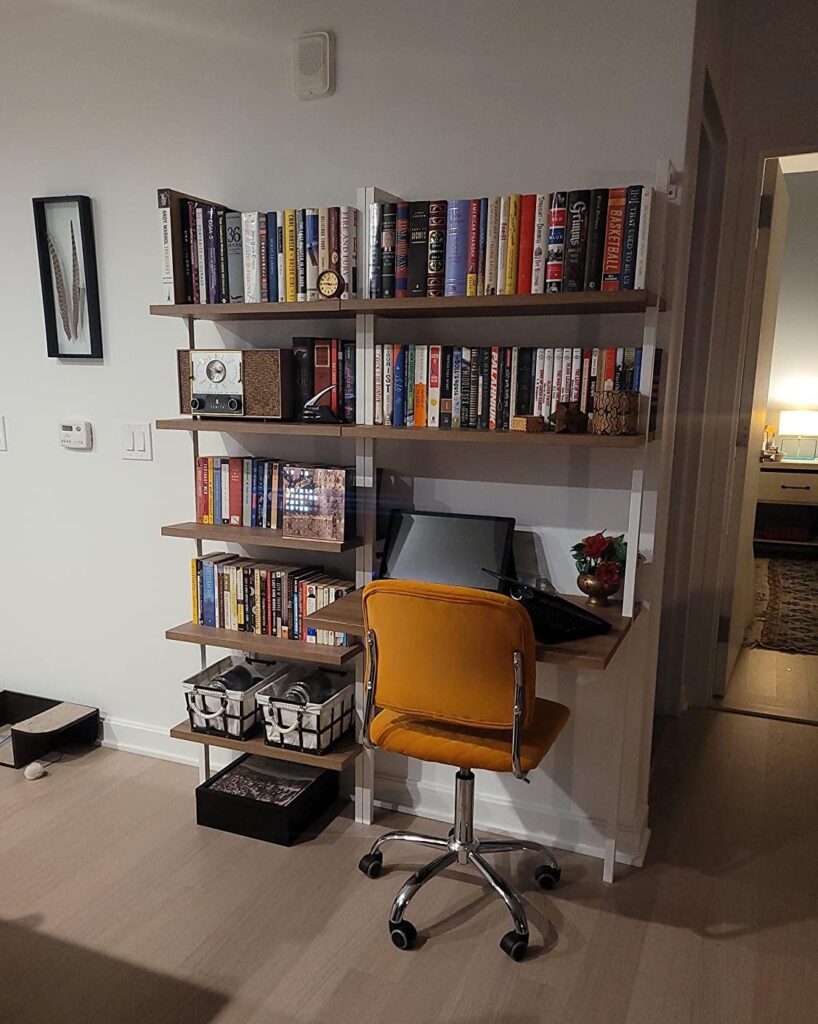 5 Reasons Nathan James Theo Is The Best Ladder Desk in Canada
If you've never heard of Nathan James, then you may have been living under a rock. Nathan James is a leading name in modern furniture designs and the Nathan James Theo ladder computer desk is no exception. This desk is functional, fun, and fashionable. If you're still debating whether to buy or not, consider these reasons to click the buy button.
Clean, minimalistic design
The Nathan James Theo ladder computer desk has simple, clean lines and a minimalistic design. These qualities make it the perfect desk whether you're putting it in your living room or your bedroom. It will fit in perfectly with your home decor.
The design of this desk also makes it an ideal display shelf when not in use as a desk. With two shelves above the desk, you can add books and other decor that will also look stylish. Put away your laptop and place a small plant on the desk itself and you've got a gorgeous display that no one would ever guess is actually a workspace.
Popular with decor influencers
Nathan James is hugely popular among decor influencers. A quick look at their Instagram shows you that you'll always be able to find ideas for styling Nathan James furniture pieces.
Start with the desk and take it from there. You can do one room or all the rooms in your home. You'll never be stuck with a single configuration, whether you go with just your own ideas or seek out inspiration from online influencers.
King of expandability
Many furniture brands have matching designs so you can create a cohesive look. But Nathan James is the king of expandability. The ladder computer desk doesn't offer enough space? Add another one in the same or a coordinating color and you've instantly got a bigger desk!
Need more shelves for display or storage? Add a Nathan James ladder bookcase or one of their 3-6 shelf units for more room. And everything is so easy to assemble, you'll never struggle to get your new furniture pieces put together and ready to use.
Lifetime warranty that can't be beat
Nathan James truly stands behind the quality of their products. First, they offer you 100 days to try it at home and return it if it turns out it doesn't suit you and your needs.
But where they really shine is with their lifetime manufacturer warranty. If there's a defect in the materials or the workmanship that created the product, they'll make it right. This applies even when the product has been discontinued. In the event of discontinuation, they'll give you store credit for the original purchase price or allow you to choose from a list of substitute products.
Of course, to take advantage of this warranty, you do need to make sure you register it when you buy your ladder computer desk and keep the original proof of purchase. You also need to make sure you buy the desk brand-new and not used.
Some of the best reviews in the industry
There are other ladder desks available on Amazon. But none of them come close to the Nathan James ladder computer desk. They have more than 400 reviews and of those, 94% are 4-stars or higher. 83% are 5-stars! Knowing that so many other people are not only satisfied with their purchase, but happy enough that they took the time to post a positive review, should put your mind at ease about the quality, easy assembly, and years of use you'll get from this stylish, simple desk.
Below are some of the popular Amazon reviews we found quite promising & informative:
"I had this blank corner in my living room and I just knew this ladder desk would be a gorgeous addition to this area. I don't have an extra room for an office or even the kind of space in our small home to designate to a bulky desk. It was very easy to assemble, it took maybe 25 minutes to put together. I love having my own spot to get my work done on my MacBook. Plus any crafts/DIYs this spot is perfect to work at. I added a pouf seat instead of a chair just to save even more space since it easily slides underneath the desk. Anyway, I'm so stoked about this purchase! Highly recommended." – Heather Nicholson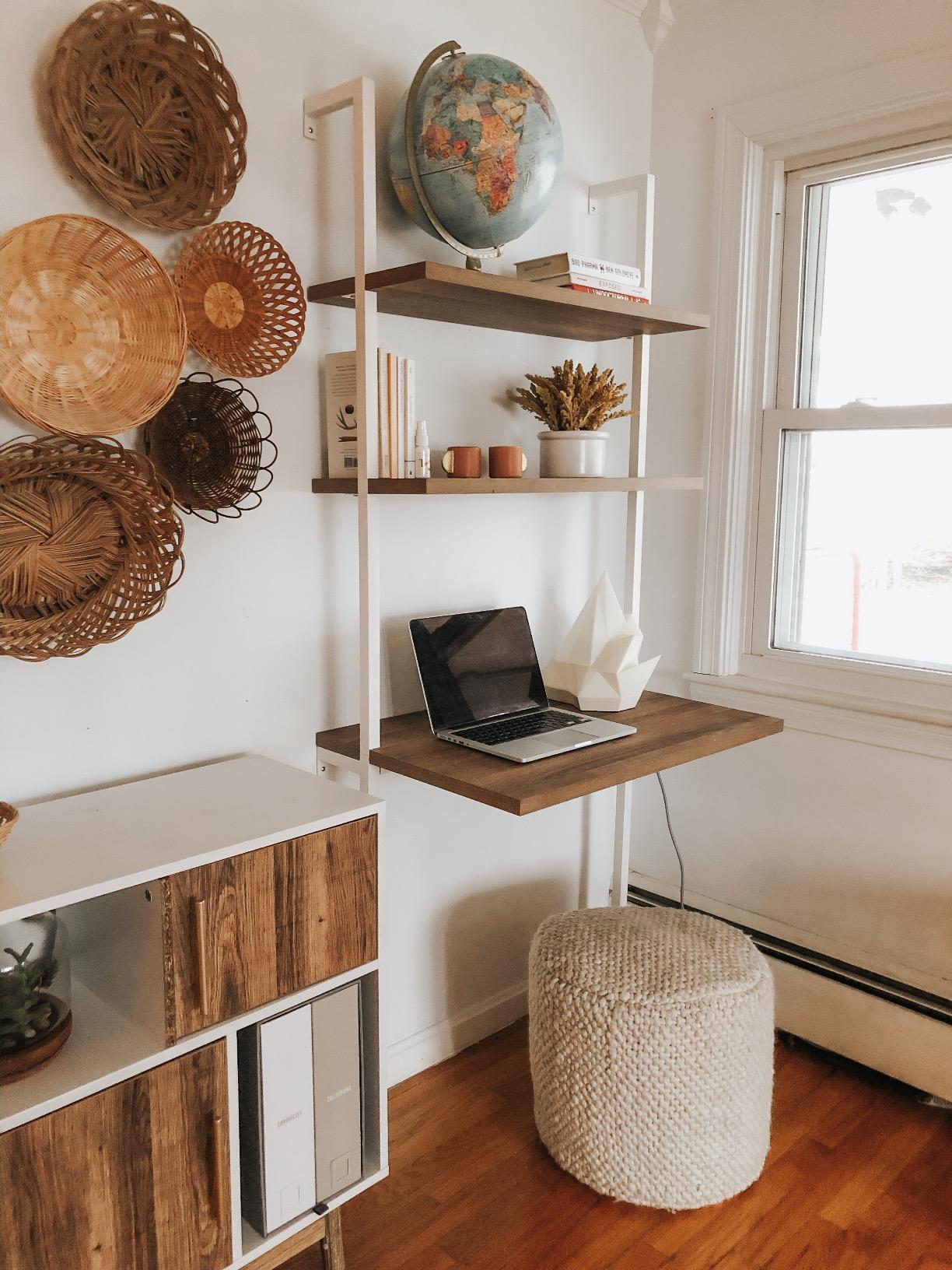 "Really easy to put together and great quality for the price! Perfect for small spaces. I have a small place and this desk fit perfectly in this nook. It took me about 30 minutes to put together. Easy instructions! I already had this small seat with storage that stows perfectly underneath." – W Robb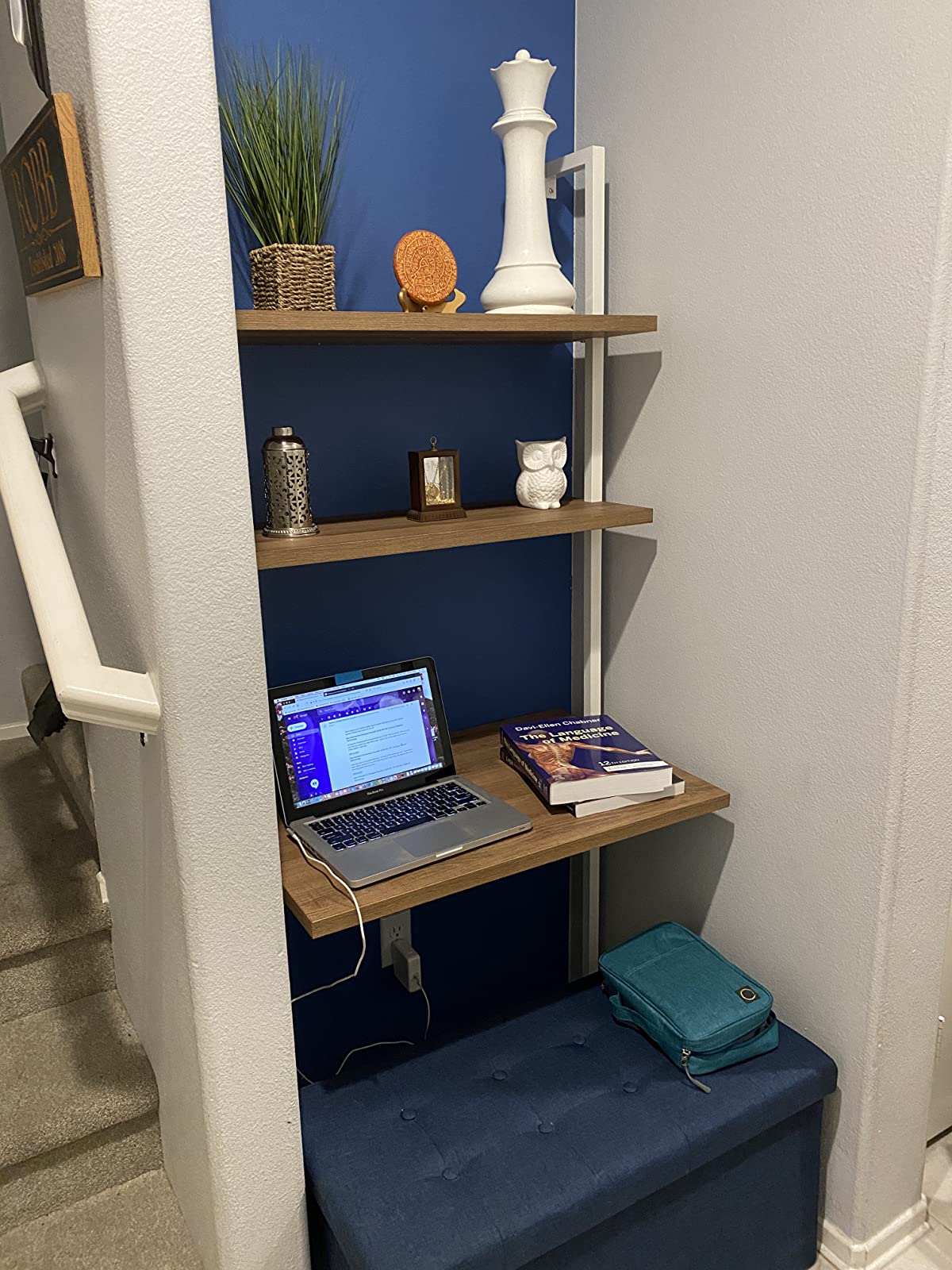 "The easiest piece of furniture I've ever built. Thanks to the manufacturer for
Making super easy instructions. I took a chance with purchasing the "used" piece for a cheaper rate (maybe someone returned it?) not sure but looks brand new to me! Super happy with this bookshelf desk. It's very sturdy and aesthetically pleasing to my tiny living room." – Jessica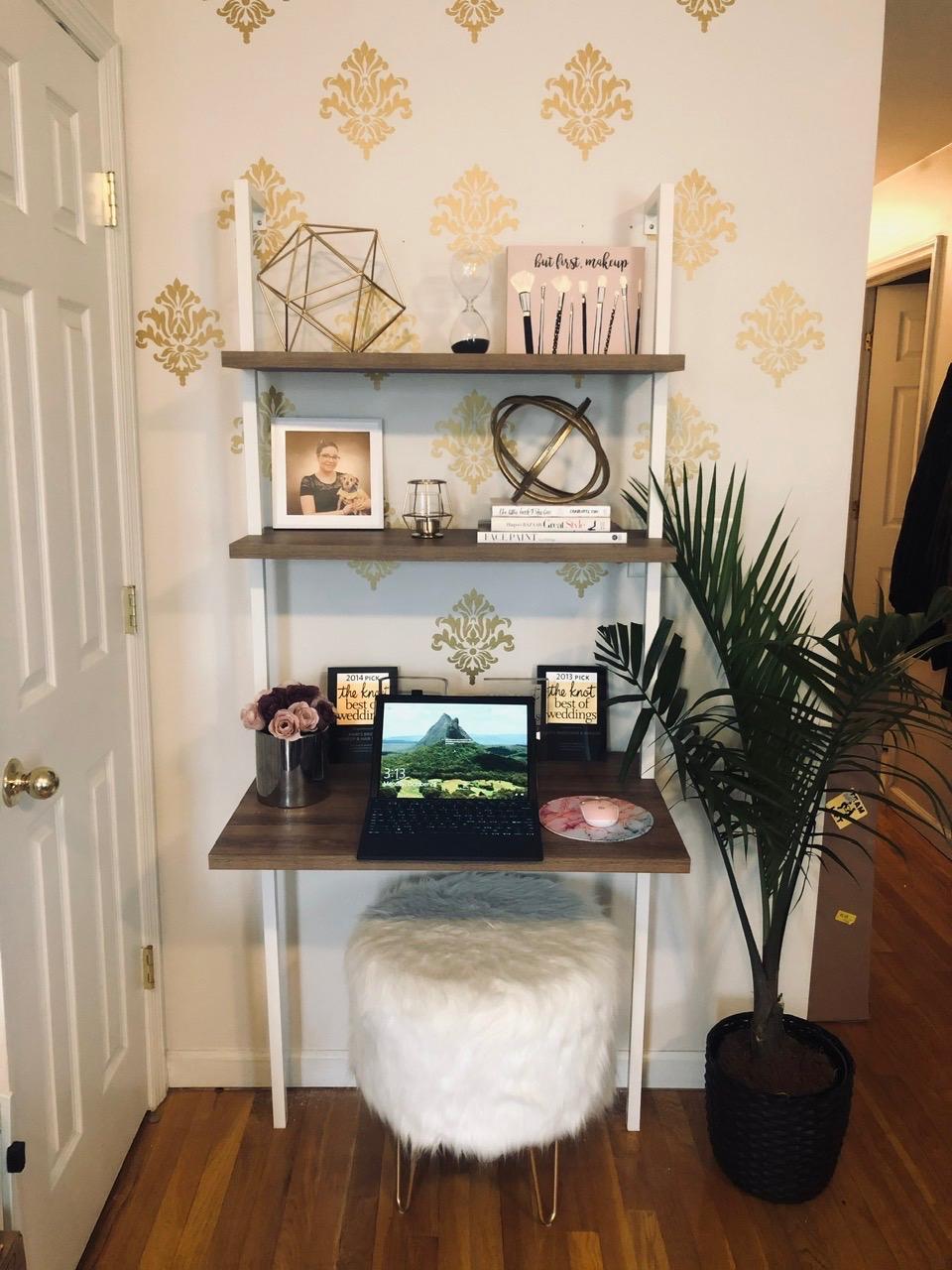 "I bought this along with the matching bookcase for my daughter's room. I put this together with a toddler "helping" in about 30 minutes. With 2 adults it would be much faster. Very easy to assemble but you will need 2 adults to pick it up and anchor to the wall. It's very sturdy and was packaged very well." – Desiree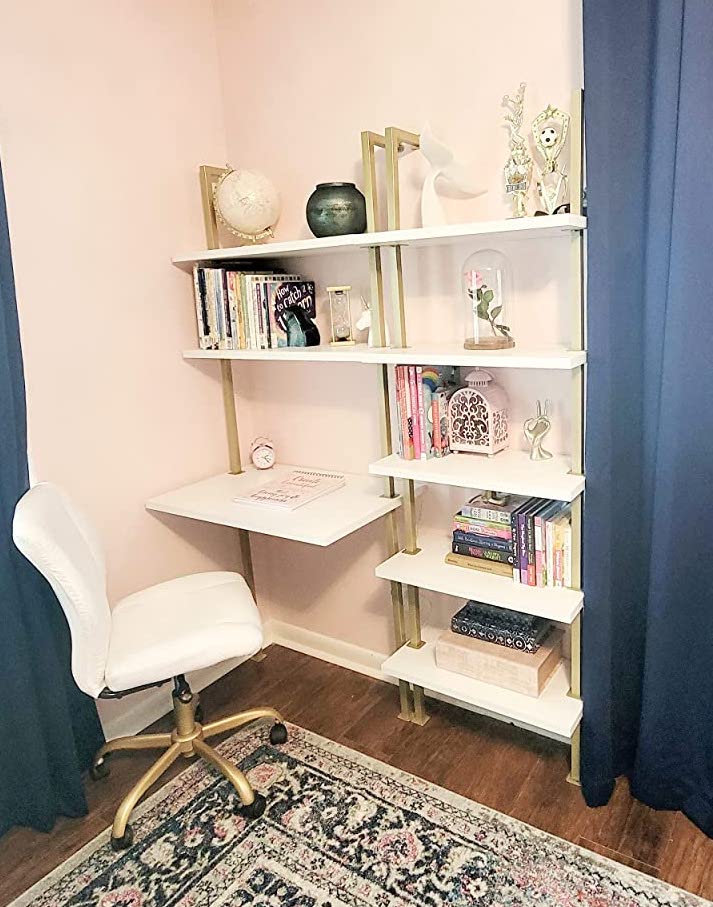 "This desk is perfect…easy to put together and looks great! It really completes my daughter's room! Update: we had an issue with one of the pieces on the desk breaking. I contacted the company and not only did they replace the full desk, but they also sent me a nice box of chocolates for our inconvenience. Their customer service is better then I've seen from any other company in a long time. Happy with our purchase and thankful for their support." – MC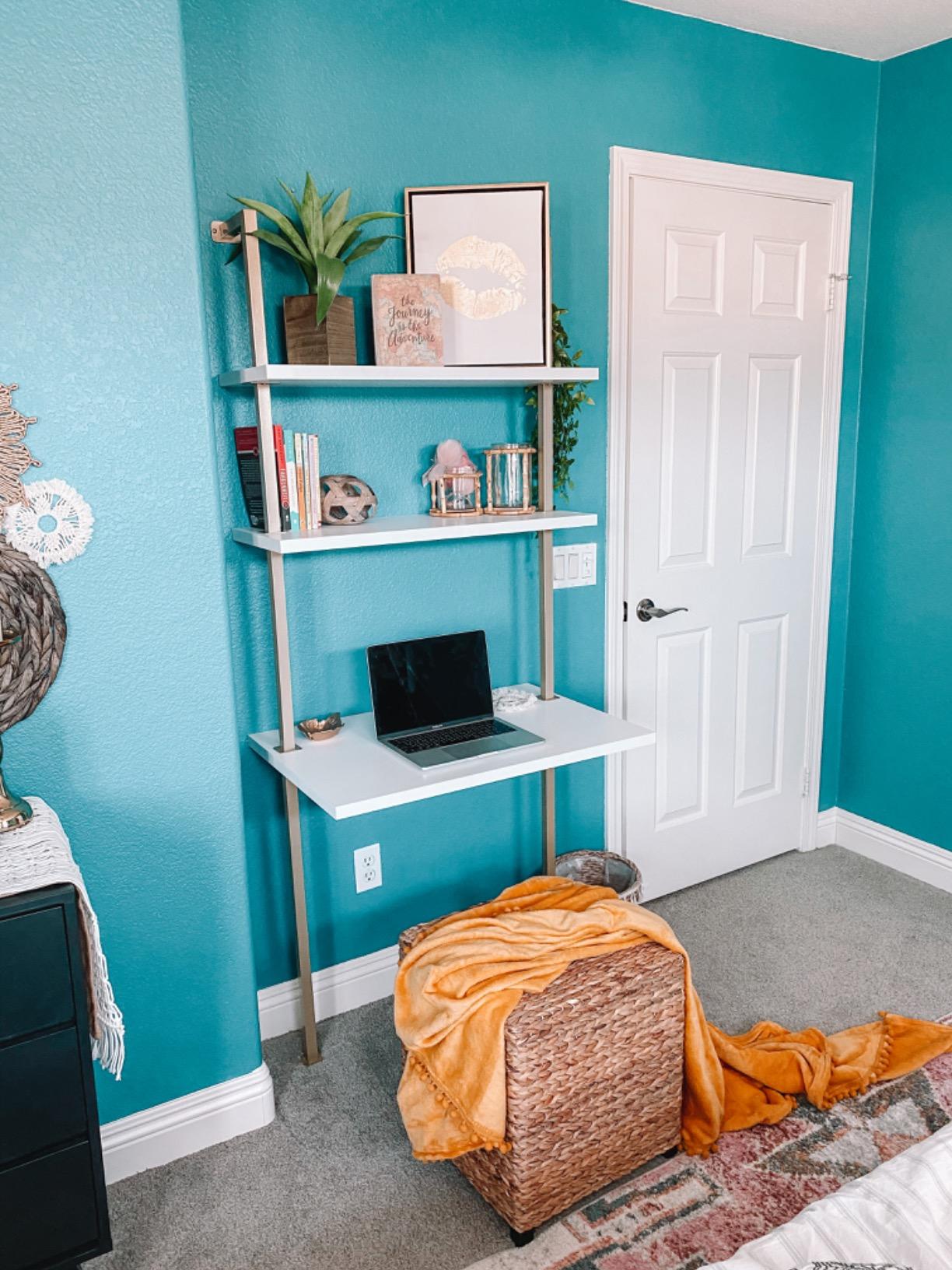 "Bought this desk for my daughter and she loves it! Was easy to assemble and looks great! Also very sturdy" – RParker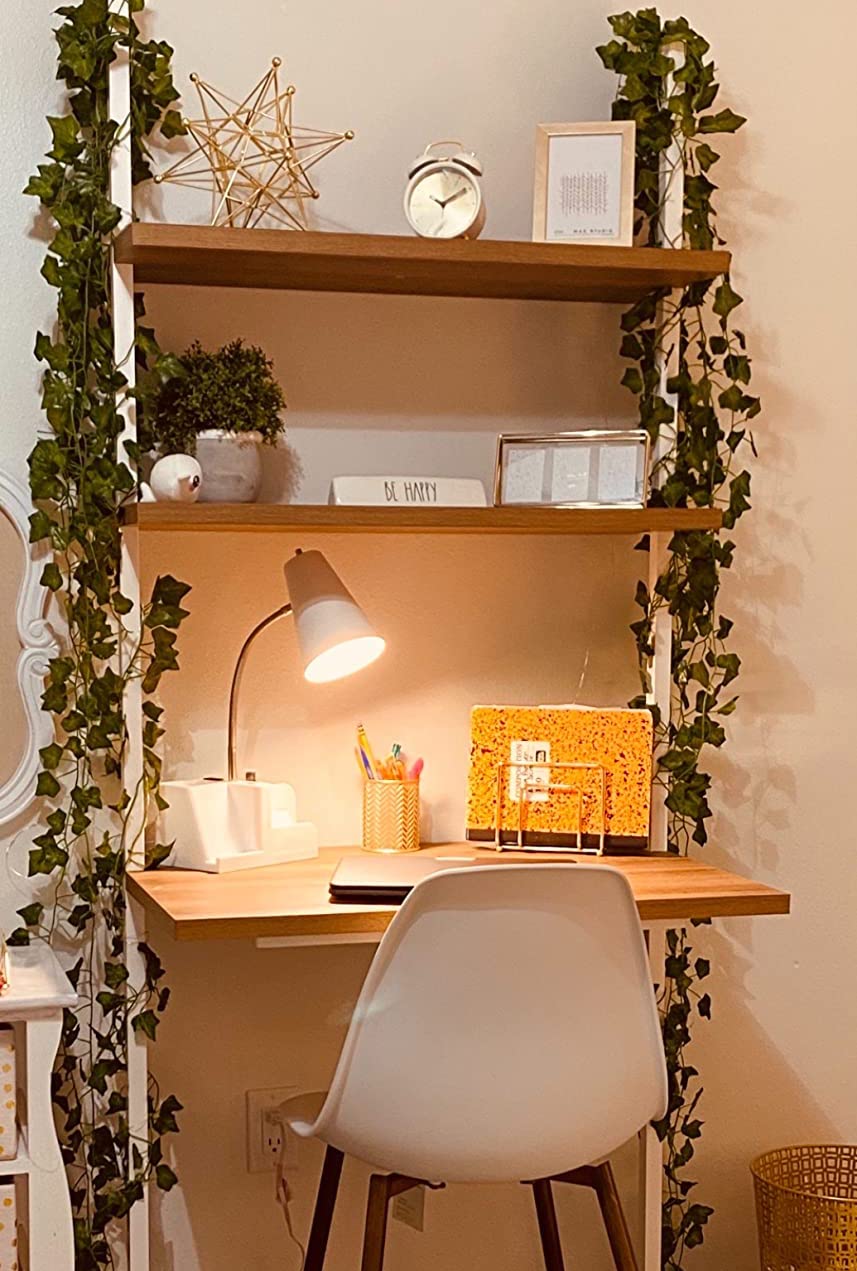 "Well made and great piece for my work from home space in my very small apartment. Definitely happy with this investment!" – Kelly Gardener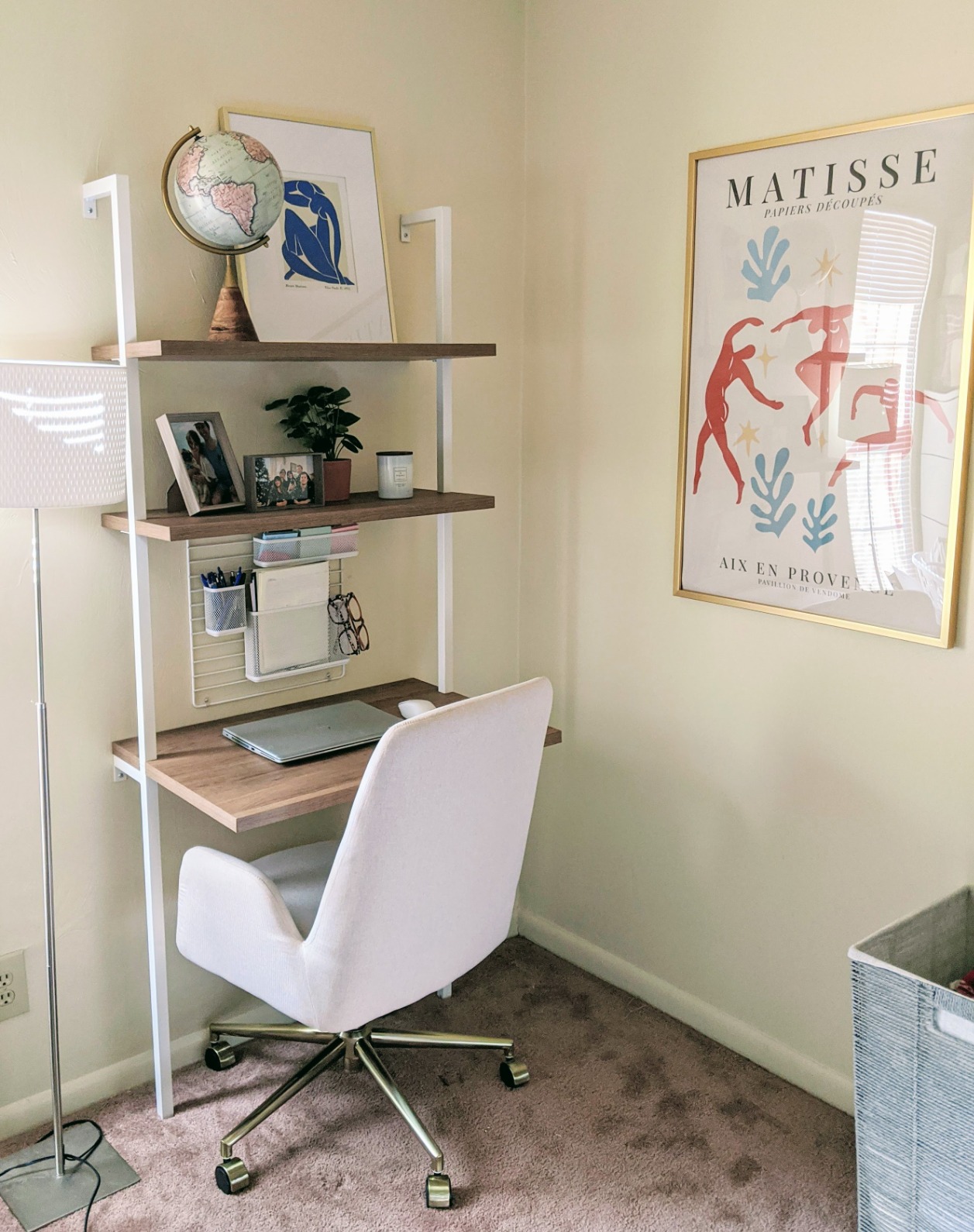 "Spent so much time searching for a small desk for my guest room. I absolutely love it!! Everyone who's seen it so far now wants one! 10/10 would recommend" – Amanda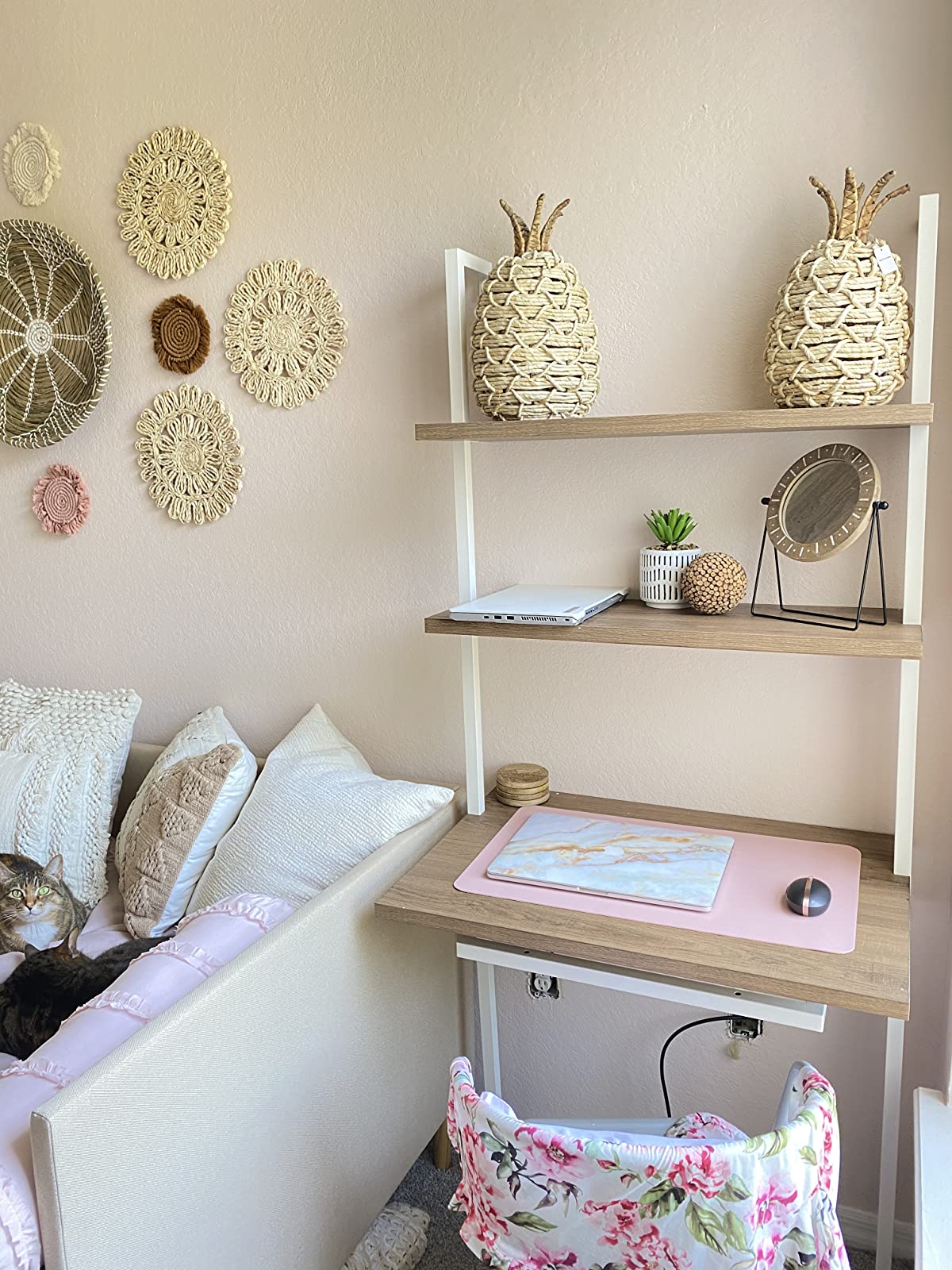 "Initially had an issue with one of the shelves missing a piece but Nathan James' customer service was quick to resolve the issue. The finished product looks great and offers a lot of space for my book collection. Would recommend" – DOREEN FACCHIANO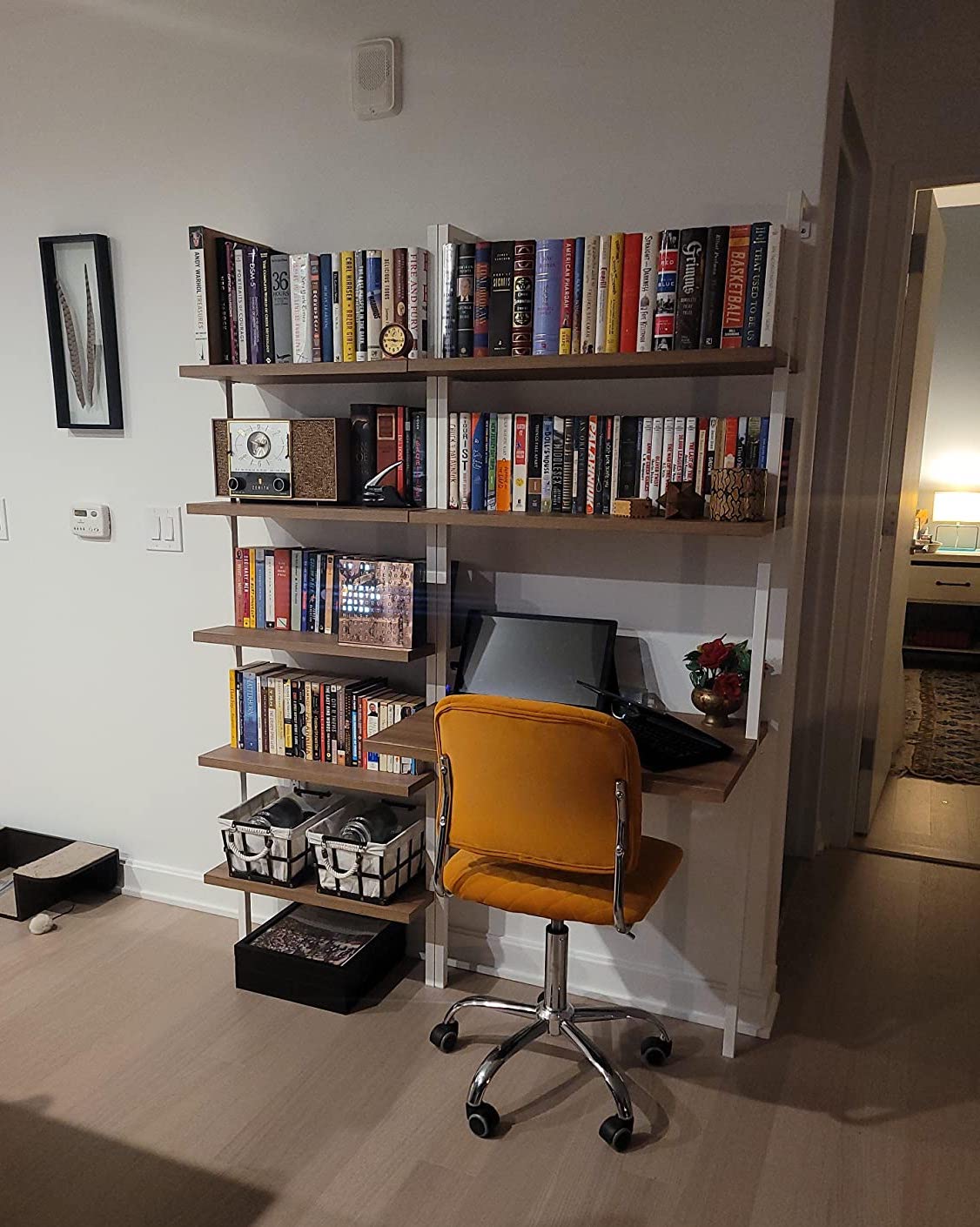 "Love this desk. Fairly easy to assemble and looks sleek and modern. Perfect for small apartment or studio if you need extra shelving." – Abraham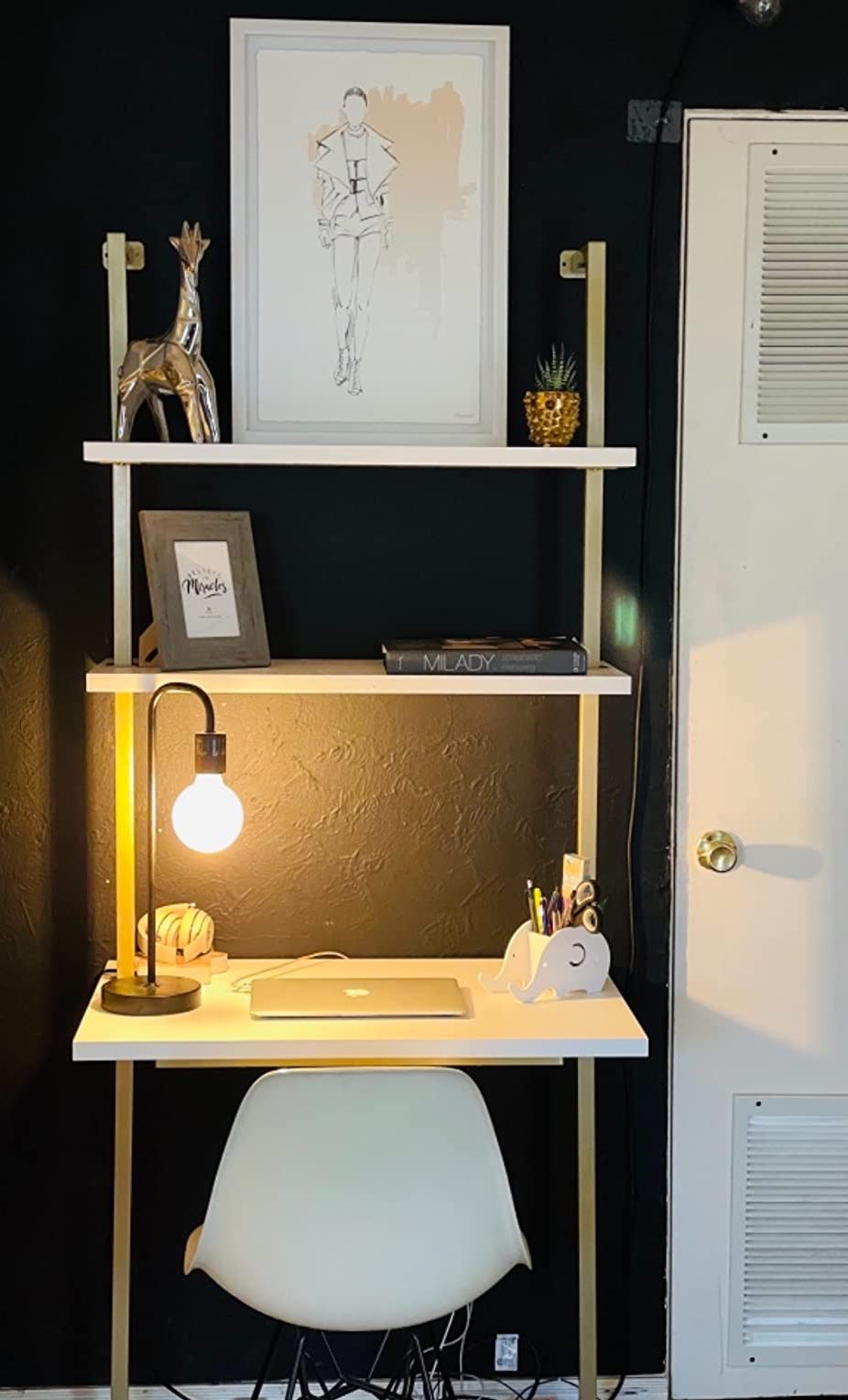 "Such a space saver. Easy to assemble and looks amazing. We bought two side by side and it really makes the room so pretty. I love it" – Amanda L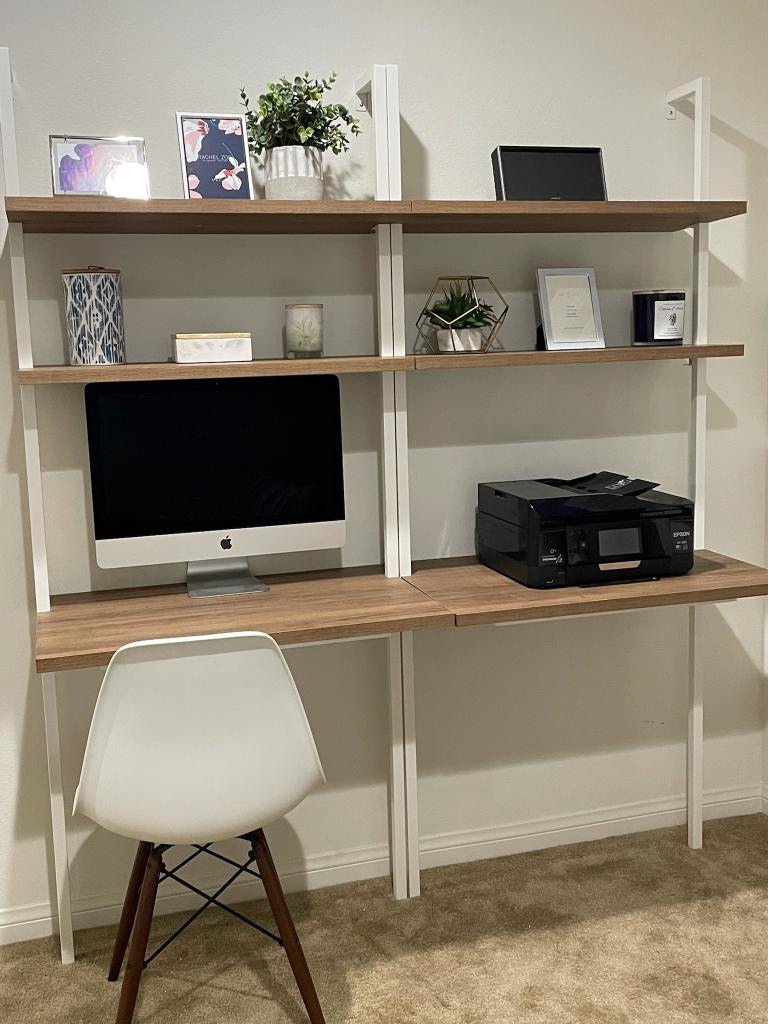 There are thousands of desks you can choose from. But the Nathan James Theo ladder computer desk is the ideal blend of minimalist design, stylish elegance, and lasting quality that makes it an excellent choice. Whether you have a small area in which to fit a desk or simply prefer a simple, clean workspace, this computer ladder desk can be the perfect fit in your space and your life. And since they give you 100 full days to try it out, you have absolutely nothing to lose by giving it a shot. With that kind of confidence, how could you possibly say no to even trying it?