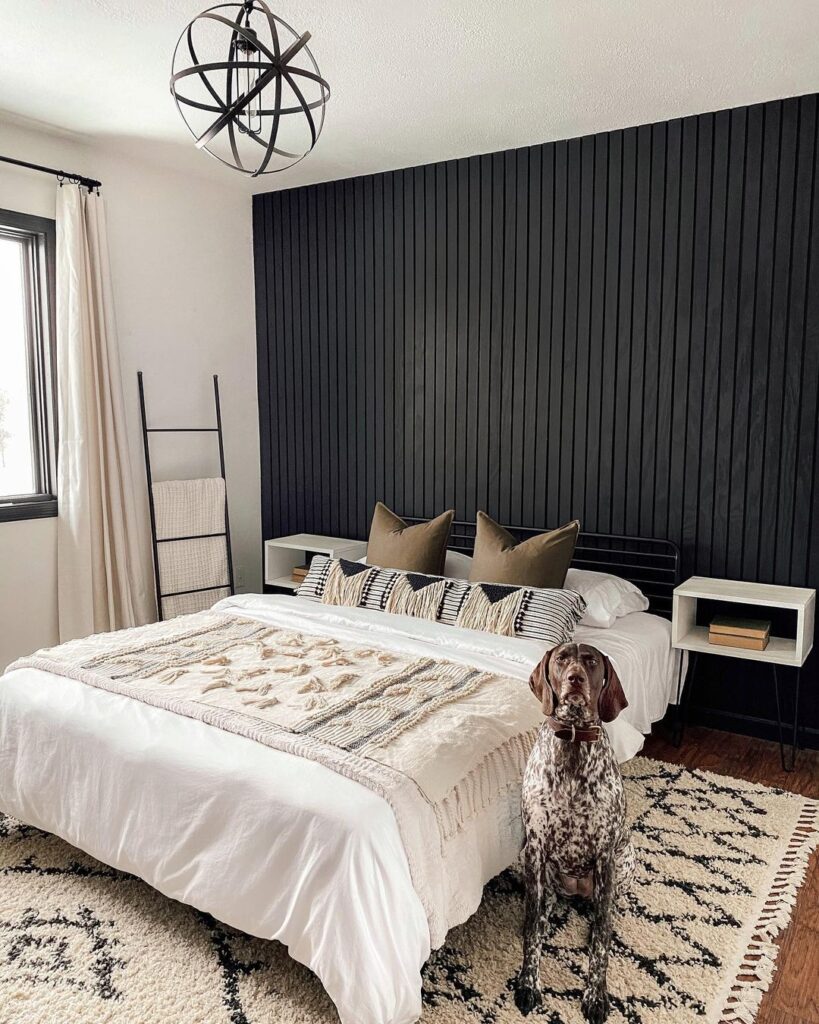 18 Affordable Platform Bed Frames That Are Adored By Influencers
No longer just a place to sleep, bedrooms are both living spaces and cozy havens. Platform beds can balance comfort and style while remaining incredibly affordable. In the quest to design a photograph-worthy bedroom retreat, Zinus platform beds are devilishly comfortable while making almost any space look like heaven. These platform beds meet the perfect equilibrium of luxurious comfort, affordable price, and dazzling style has influencers loving them.
While the Zinus brand of platform beds may boast a cheap price tag, they are made well from quality materials. With prices usually ranging from $100 to $300, a Zinus platform bed frame is an affordable way to upgrade a bedroom. This brand's quality speaks for itself as Zinus platform bed frames have earned tens of thousands of five-star reviews on Amazon.
Beyond price and practicality, platform beds can be a versatile element in the hands of any home designer. Available either freestanding or with a headboard and footboard, a platform bed offers a lower profile to allow other design pieces to steal the show. Because Zinus platform beds are budget-friendly and classy, Instagram influencers of all styles are harnessing these debonair platform beds to craft stunning bedroom masterpieces.
Platform beds with headboards can provide the same advantages as conventional bed frames in addition to a more comfortable night's rest. For a cleaner, more modern aesthetic choose a platform bed without headboard.
Here are some of the most creative ways to style a bedroom featuring a platform bed. To show how much potential platform beds hold, some of these examples feature headboards while others do not. No matter what a person's style, everyone deserves blissfully comfortable sleep.
A Feast of Tasty Textures
Michelle from @thecozyfarmhouse uses a subdued palette and layers of interesting texture to restore calm. Lots of natural light breathes life into this rejuvenating bedroom. Instead of stealing the show, the low profile Zinus Athena Upholstered Bed adds to the serenity by letting the cozy blankets shine.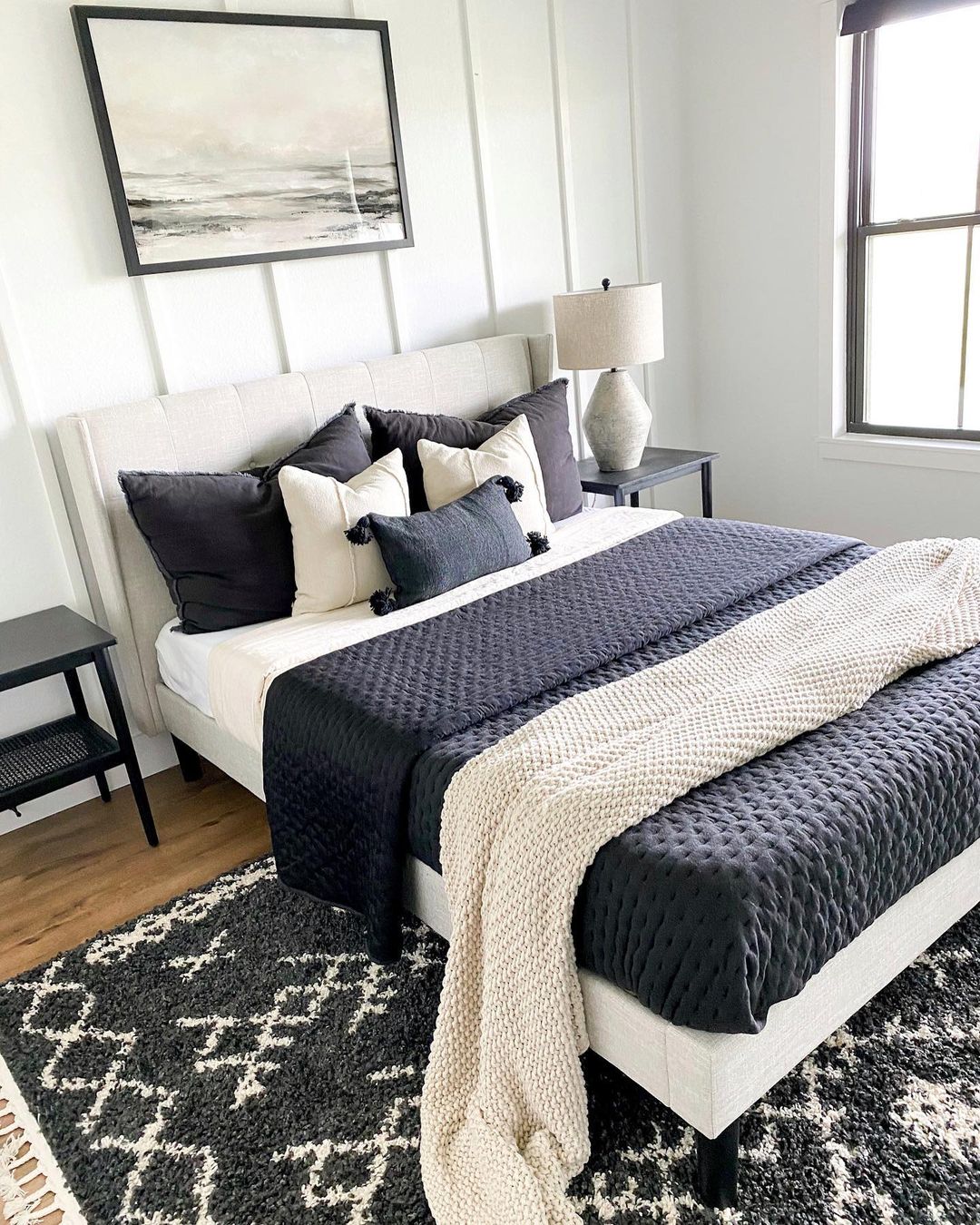 Ready for Adventure
By using a skull as a dramatic focal point and filling the room with meaningful touches, Jamie Kinross from @jamielee_designs is able to forge the ambiance of adventure. With refined subtlety, the Zinus Shalini Upholstered Bed ties in design elements from all over the world together in a cohesive and chic way.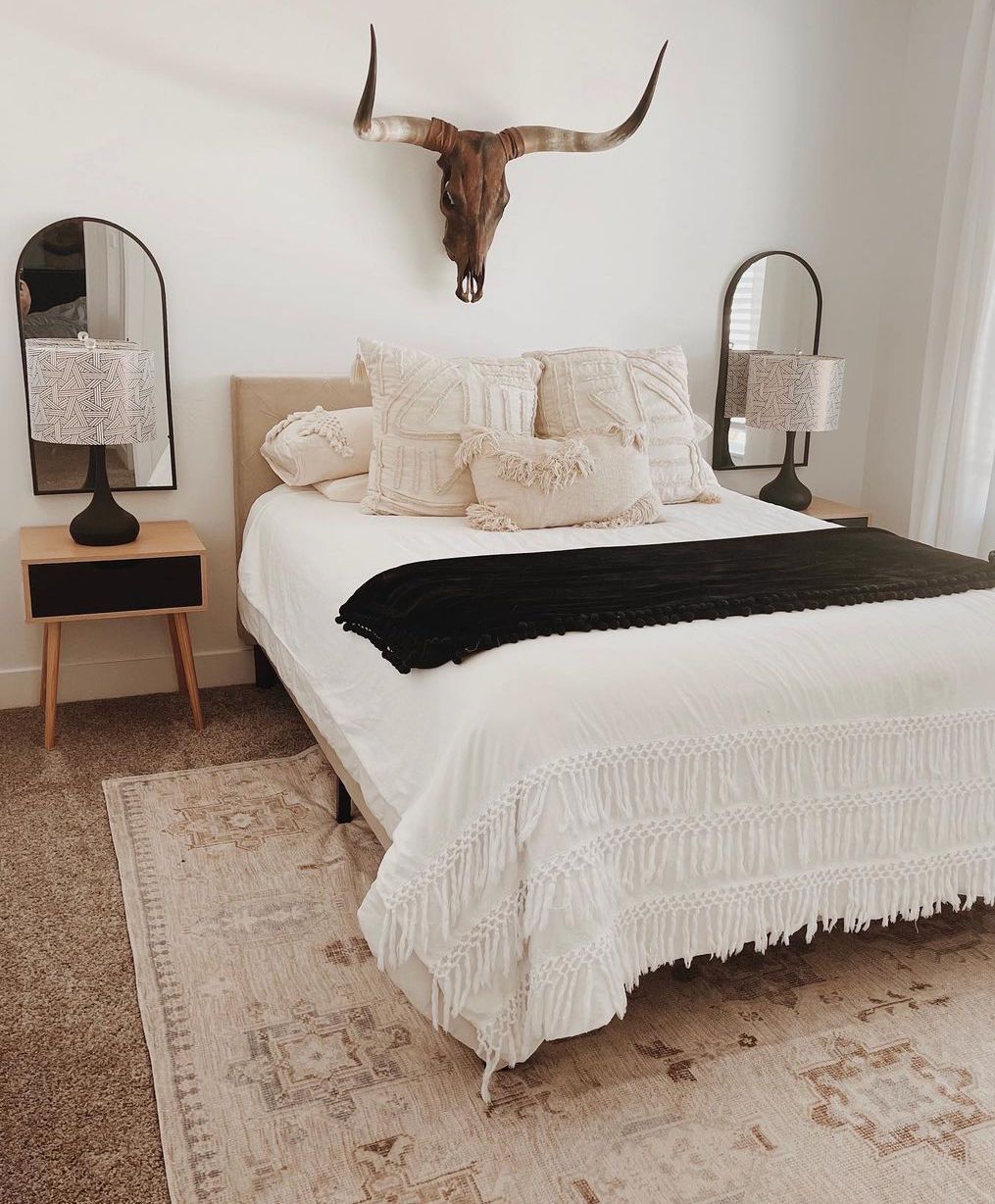 With a Touch of Greenery
To create a magical retreat, Victoria Schneider from @govictoria contrasts an intricately patterned rug with a large-leafed plant. A blanket featuring geometric squares works perfectly with the Zinus Debi Upholstered bed to impart some structure.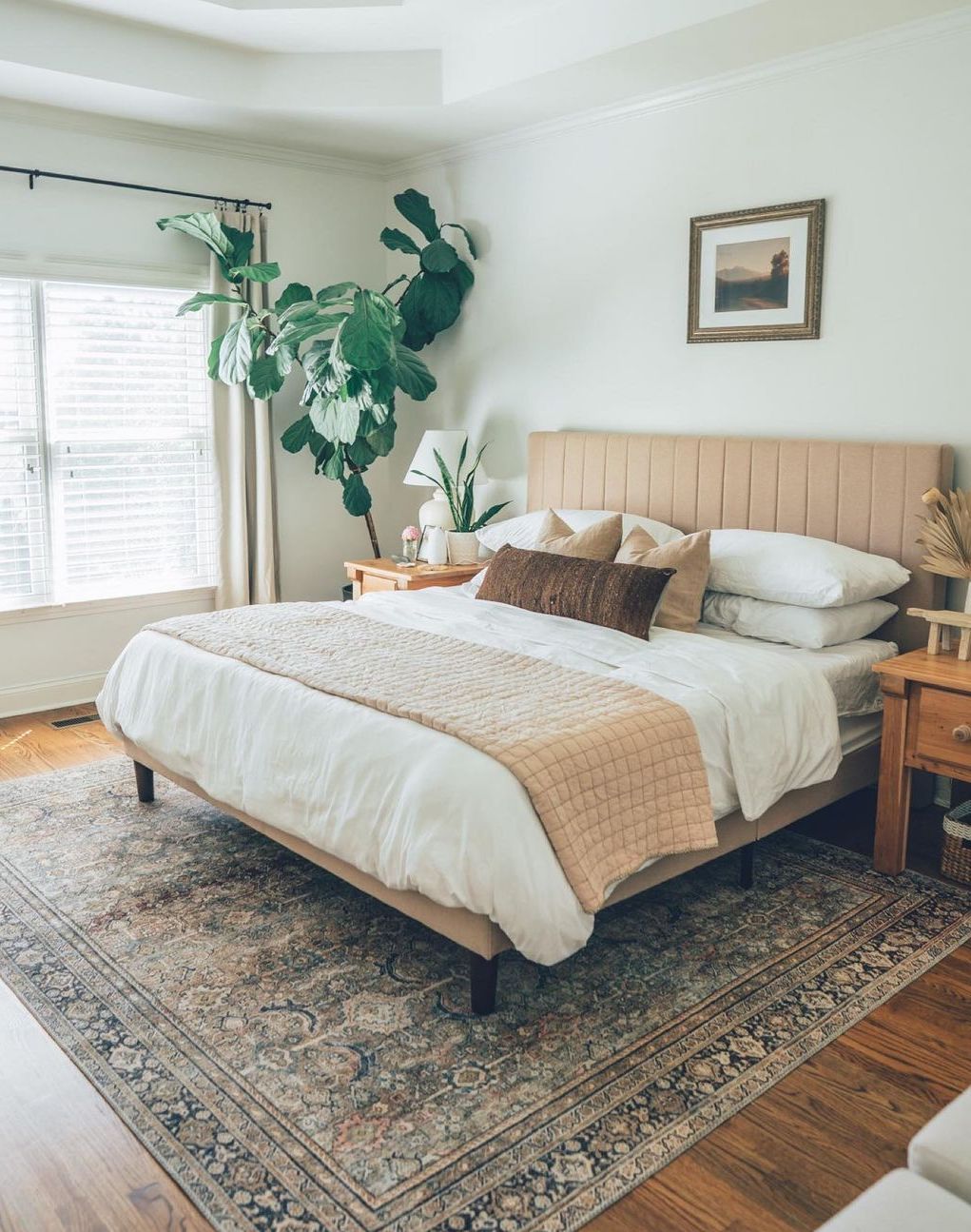 Seductively Serene Simplicity
A white brick wall provides solid visual interest while the Zinus Marissa Wood Bed adds some warmth to this space. KC Cibran from @Thecasaverde uses a chocolate brown accent pillow to both provide contrast and ground the space.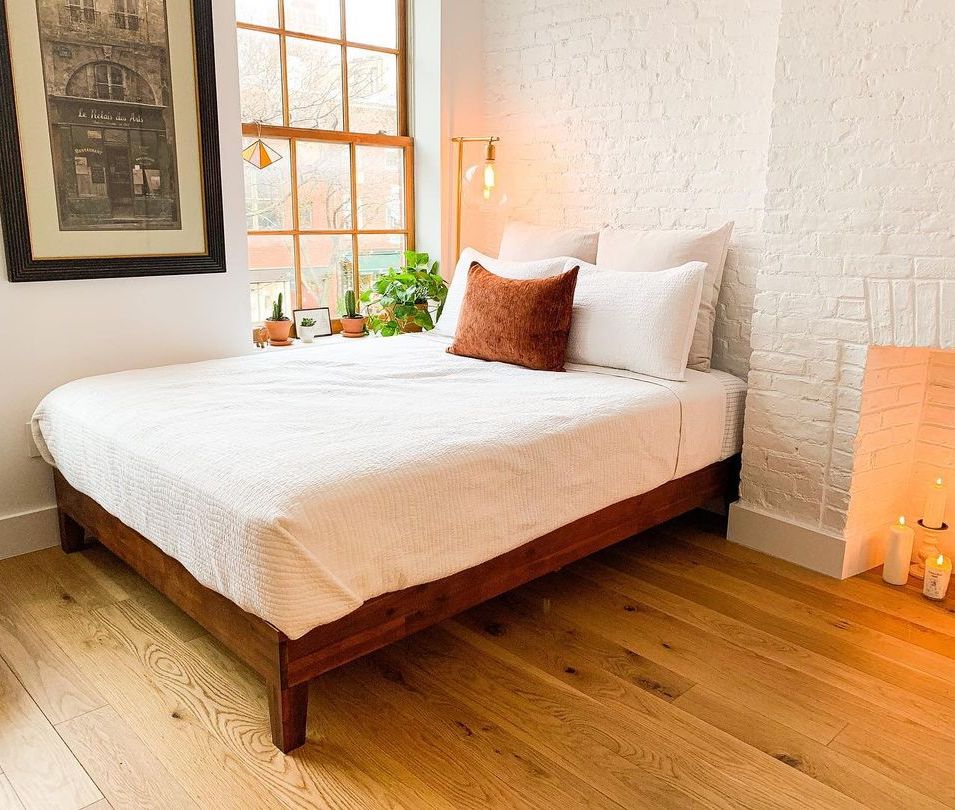 Black Accent Wall
Black, white, cream, and brown blend to gorgeous effect in this soothing space created by Seth and Sheyenne from @stripped.and.styled. Vertical slats on the wall play with horizontal bars on the Zinus Tom Metal Bed for a fun juxtaposition.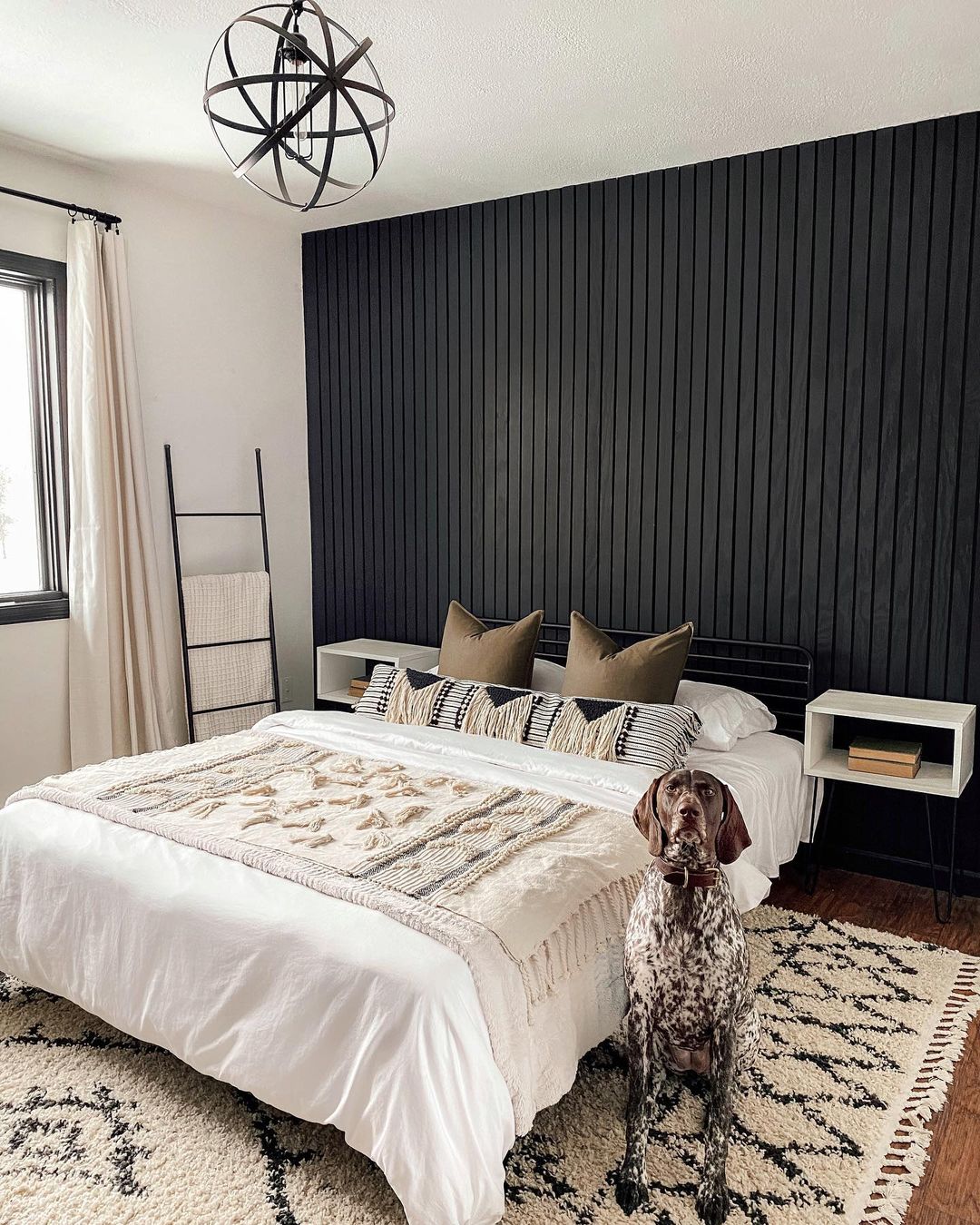 Orange with Jungle Vibes
Reminiscent of rainforest sunsets, burnt orange accents layer some exotic warmth in this adventurous bedroom styled by Chayce and Hannah from @blankslatereno. Wild vibes from the jungle-inspired rug are balanced by the geometric square pattern on the Zinus Lottie Upholstered Bed.