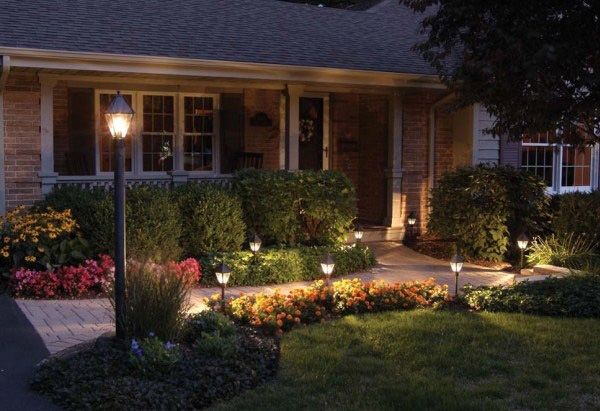 90 Tips and Ideas on Effective Landscape Lighting
The main reason we look forward to summer is the excitement of experiencing the outdoor life with our friends and families. We get to enjoy the bright sunny days and the warm balmy evenings.
While you may have the best-looking backyard on the block, it won't guarantee that you will get to enjoy it through the night if you can't see it. Therefore having appropriate landscape lighting in your backyard is really important.
You need to know the best combination of lighting fixtures and how many fixtures are required for your outdoor space.
Below is a list of tips highlighting the best lighting set up for your space so you can enjoy it long into the night. 
Visualize your landscape from inside the house
A yard has to look nice from the outside but also the inside. An amazing view from your dining or living room to the outside in the evening will bring joy to you and your guests.
Using solar lighting, or using outdoor lighting on your pathways, patio space or garden would ensure your landscape looks beautiful at night even from the inside of your home.
Get an idea of just how much light you are going to need
A common mistake many people make is mistaking optimal lighting for inefficient or un-choreographed lighting. If you are looking to illuminate your outdoor space and bring out its beauty, you need a rough estimate of the amount of lighting to use in your landscape. 
One way to do this would be to calculate the square footage of your landscape and multiply it by 1.5 for an idea of the amount of wattage you would need. This will ensure that you avoid a situation where the lighting itself becomes a distraction as opposed to facilitating a beautiful evening under appropriate lighting.
Your outdoor landscape lighting is actually not the priority
Considering the fact that your home is the most important element of your property, it's good to invest a bit of money on lighting. Begin with fitting proper lighting fixtures for your house to ultimately complement the outdoor lighting of your home.
Go for LED whenever possible
Using soft, downward-facing LED lighting for your landscape lighting will not only drastically minimize unwanted glare, but it will also provide you with a diverse array of options to portray different styles. You will also cut down on those high electricity bills as LED lights are known for their low energy consuming performance.
Get some lighting around key areas of your home to enhance security
Lighting can provide ambiance, appropriate outdoor lighting can enhance the security around your home. Installing outdoor lighting to get rid of those shadowy areas will do just the trick. An installed spotlight or a wall lantern on either side of your garage door or around different openings in your home would scare away unwanted guests.
Familiarize yourself with the 3 basic types of outdoor lighting
Effective utilization of the three basic lighting types will go a long way in ensuring you achieve the perfect landscape lighting for your home. 
Ambient, accent, and task are the three major types of lighting you could incorporate in your landscape lighting for the ultimate results. Hanging lights, wall lights, and post lights are among those that make up ambient lighting. 
Outdoor lighting comes with spotlights and landscape kits while task lighting includes security and deck lights and pathway lights. Solar spotlights, LED candles, and string lights would be most ideal for smaller-sized patios or to suite a pocket-friendly budget.
Do some pre-planning
As is with most other projects around your home, a little planning is certain to go a long way in ensuring you achieve the desired result with your landscape lighting. 
Using a paper template will ensure you have all the right measurements and positioning spots for placing your outdoor lighting. 
Planning before going out to get the equipment will provide you with the information needed to get the best lighting for your needs. 
The size of your outdoor lighting for either your patio or porch should measure up to a third of the door height.
Enhance your lighting with multiple layers
If you are looking to particularly illuminate a specific part or component of your garden, the best results can be achieved if you spread out several spotlights at strategic angles facing the specific part or component. As opposed to the undesired effect of simply grouping your lighting fixtures, this method will ensure you achieve a dramatic effect from the revealed layers and silhouettes.
Subtle lighting complements en entertaining evening
One of the most essential factors that determine the success of an entertaining and relaxing evening would be the appropriate lighting around your outdoor space. To avoid glaring lights distracting your guests as they try to enjoy your prepared outdoor experience, use indirect lighting including pendants, outdoor lanterns, and ceiling fans.
With the proper lighting, you will be able to effectively illuminate your outdoor space for your guests to have an unforgettable night.
Manipulate color temperature
From cool, pure to warm white, most integrated LED lamps have been designed with a color temperature feature that highly complements your home's landscape lighting by defining the colors of your home. 
Cool white is often used in contemporary homes while warm white is preferred to complement other warmer colors or surroundings including stonework, colored natural walls, and foliage. Pure white is utilized to complement dark materials such as deep slate, gray, and black.
Avoid run-way like lighting design
A summer evening with friends or family would require a welcoming and friendly looking home complete with appealing and not-so-overwhelming lighting in and around the home. 
A run-way design style of outdoor lighting in a straight line has a somewhat boring effect.  It's more appealing and inviting if you were more creative and have your lights arranged in a zigzag manner along your pathway. This encourages a welcoming and inviting feel.
Popular Pinterest Ideas
It's also quite helpful to see how other people are doing and to see what's currently popular on the Internet