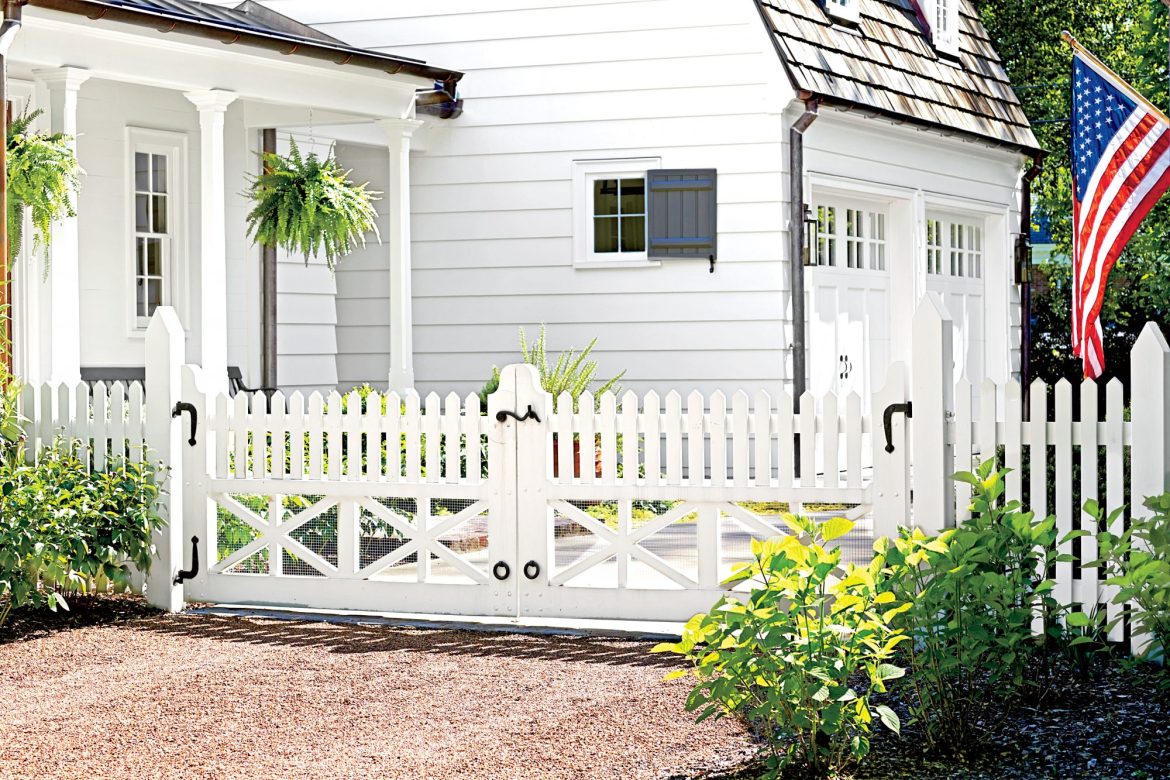 192 Popular Fence Ideas and Design Tips
Having a fence around your home not only increases the property value, but it also provides security and privacy. However, building the right type of fence for your property is not as easy as it looks; you need to know what you are doing as it can get quite technical. If you intend to do the job yourself, you need to do some research beforehand. Below is a list of tips to help you jumpstart your project.
Your Fence Should be Carefully Planned 
It's not uncommon to hear neighbors casually chatting or even arguing over the fence. Disputes may arise when the fences encroach on the neighbor's property, these disputes can lead to court cases and hostility for many years to come. To prevent this from happening, rechecking your property boundaries and planning accordingly is very important. 
Double-check Everything
It's good to double-check if there are any building restrictions or permits required in your area before proceeding to build your fence. Your council may have certain specifications on material choice, fence height, post hole foot, and the distance requirements from the street.
How to Choose the Correct Material
There is an extensive array of fencing materials from metal, composites, vinyl, to pressure treated and natural woods. It might be tempting to pick the fence materials according to style alone, however, consider the ongoing maintenance of the material. Materials like natural wood require high maintenance as it requires varnish every other year to prevent weather damage. Below are several fencing materials that are often used.
Vinyl
Vinyl products aren't so common despite it being around for a very long time. Virgin vinyl is extremely durable, using Vinyl would work best if you intend to keep your fence the same way for a long time. Initially, Vinyl products used to become brittle, sag, and yellow, however recently, manufactures have improved the quality by using robust fencing products.
Cedar
Cedar has long been recognized for being aesthetically pleasing because of its tight grain, beautiful red hue, fewer knots, and how unshrinkable it is. Cedar typically never decays. However, it's not so impermeable to soil like treated wood. When using cedar, the purpose is to secure treated wood posts or mount in concrete. 
Redwood
Teak and redwood fences may be very expensive, but their beauty is worthwhile buying. It's very lustrous and naturally soft. Teak and redwood fences are mainly only used in small spaces such as enclosing a spa or a swimming pool. Teak and redwood are both resistant to insects, shrinking, deterioration, and deformity.
Metal
Metal selection varies from modern to classical style with different options to integrate into your outdoors. Wrought iron fences have been used for many decades. The durability and simplicity of wrought iron give it a timeless look. Letting professionals do your job is a great option if you want to integrate the old-style of wrought irons or incorporate more complex outlines.
Composite
The composite fence gives you a woody aspect without the tendency to be damaged by insects or decay. It's a more expensive and high-end style than the others; however, just like cedar and vinyl, it requires technical installation by experts. Since there are many varieties of composite materials, research properly to get the best from a reliable supplier.
Considering Green Wall 
A green wall will give you some privacy from your neighbors. They can also be used in marking your boundaries and shield your home from bad weather. All you need to do is make sure your plants don't overgrow into other people's property. As always, be sure to check your local building regulations to see whether you are allowed to do this. 
Taking Maintenance Seriously 
Before deciding on the material type you want to use on your fence, consider the maintenance that's required. Going for a material that will last you long is the best option. High maintenance fences require you to have enough time at your disposal if you'll be doing the maintenance single-handedly, especially during the fall. Calling in a professional to do all your maintenance or repair isn't as cheap as you may think. The cost is subject to the degree of damage, the material type, and the labor charge.
The Better Side of the Fence
The fence you decide on should look good on both sides and also be in line with activities that take place in your home exterior. Also, your property lines should be used as they make your backyard appear bigger. Consider using board-on-board fences as they look good on both sides, whereas stockade only has one good side. Whatever you decide on, remember that many building codes cause you to position the better side of your fence to face out. 
The Quality of the Gate is Important
Fence gates get worn out faster than the rest of the fence; hence going for a high-quality one is key. It should be firmly constructed with a cross that's diagonal to avoid drooping. Adding spring hinges to your fence gate will enable it to shut well.
Doing the Posts Right 
Mounting posts on concrete may seem to be a good idea, however, concrete can cause unsuitable fitting and drainage problems, whereas gravel gives the best footing. Gravel keeps fence posts straight and is good for drainage.
Airflow is Important
Not leaving enough airflow space during installation leads to corrosion of the fence. The fence is more likely to decay or be attacked by insects if it hangs too low to the ground. Your railing should be at least six inches from the ground to offer enough airflow and be as durable as possible.
Hiring a professional
The American Fence Association may help you find a fence dealer. You may also ask for the contractor to show you samples of their work to be sure of their expertise. Get three to six estimations from different contractors to understand better how different companies work. Picking a reputable dealer that is licensed is a great idea. 
Consider Your Neighbors
Talk to your neighbors before putting up a fence. If you are planning to share the fence with your neighbor, you may want to bring in a professional so that your boundaries can be determined. Also, for future reference, agreements should be signed. Also, you shouldn't let the bad side of your fence to face your neighbors' side. 
Popular Ideas on Pinterest