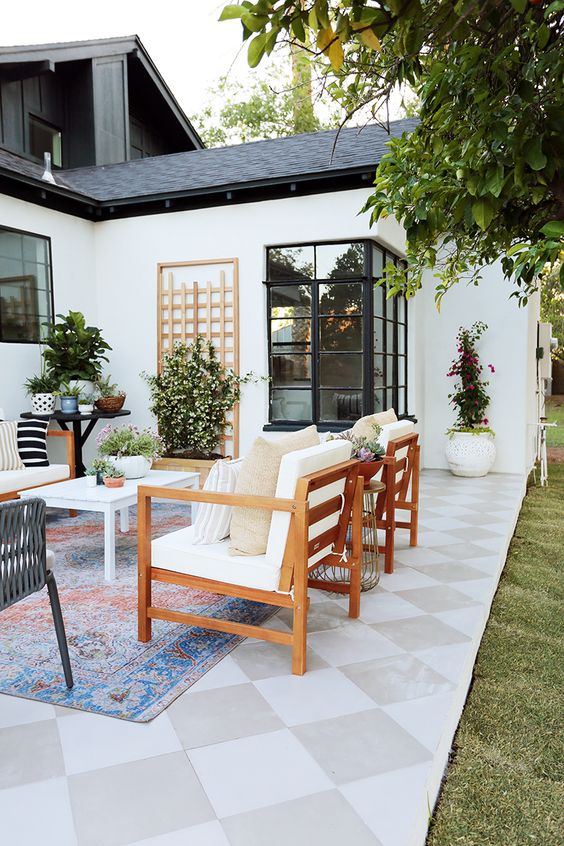 134 Design Tips and Ideas to Level Up Your Vintage Outdoor Space
Antique stores are great for outdoor furniture if you like vintage items. Vintage furniture can be also found online including Craigslist, eBay, Amazon and Facebook. 
Vintage furniture pieces are traditionally used for the interior, however, they can make your exterior look amazing. By applying your personal touches, you can decorate your yard with vintage furniture.  Given all the range of options and information on the web, coming up with a unique eye-catching design can become a very frustrating and confusing exercise.  Therefore we have tailored an outdoor vintage idea for you that will meet your needs without the confusion and fuss.
Blending Vintage and Modern. 
Your antique items don't have to look outdated. To give them a more modern look, paint your wicker chairs, metal yard chairs, and rattan settees with unique modern colors. Also, layer rugs, modern fixtures, and a combination of refined and old-fashioned fabrics to style an outdoor room.
Your outdoor space should blend in naturally with the surrounding area. Assembling new, old, and handcrafted fixtures with a fireplace made from stone along with a mantel that has been moss-stained. Antique flower pots and lanterns enhance sculptural outlines, whereas shabby patinas contribute to a more natural look. You need to gravitate towards a more organic pallet, worn-out metal finishes, and woods that look better with age.
Selecting Items that Match in Style
A farmhouse look can be a perfect choice if you want a vintage backyard. Collate items with the same theme around a piece of antique furniture that will look even better with age. Select mount displays with the same style that enhances the plants to increase the visibility of your home.
Coastal décor is also an ideal style to blend in. It provides your yard with a beach style ambience. All you need to do is paint your wickerwork white and position it together with worn out and new items that have citrus, tropical sea, and sky-blue shades. Your wall decors should match your theme. Consider brightening up the site with striped fabrics and bright sea animal figures. 
Blend vintage treasures with your Boho style. Go for antique furnishes with bright colors and vintage designs with exquisite woven details. Integrate components that are typically meant for indoors into your outdoor décor to add a touch of surprise. Macramé hangings or ornate folding screens are some of these examples which can be used.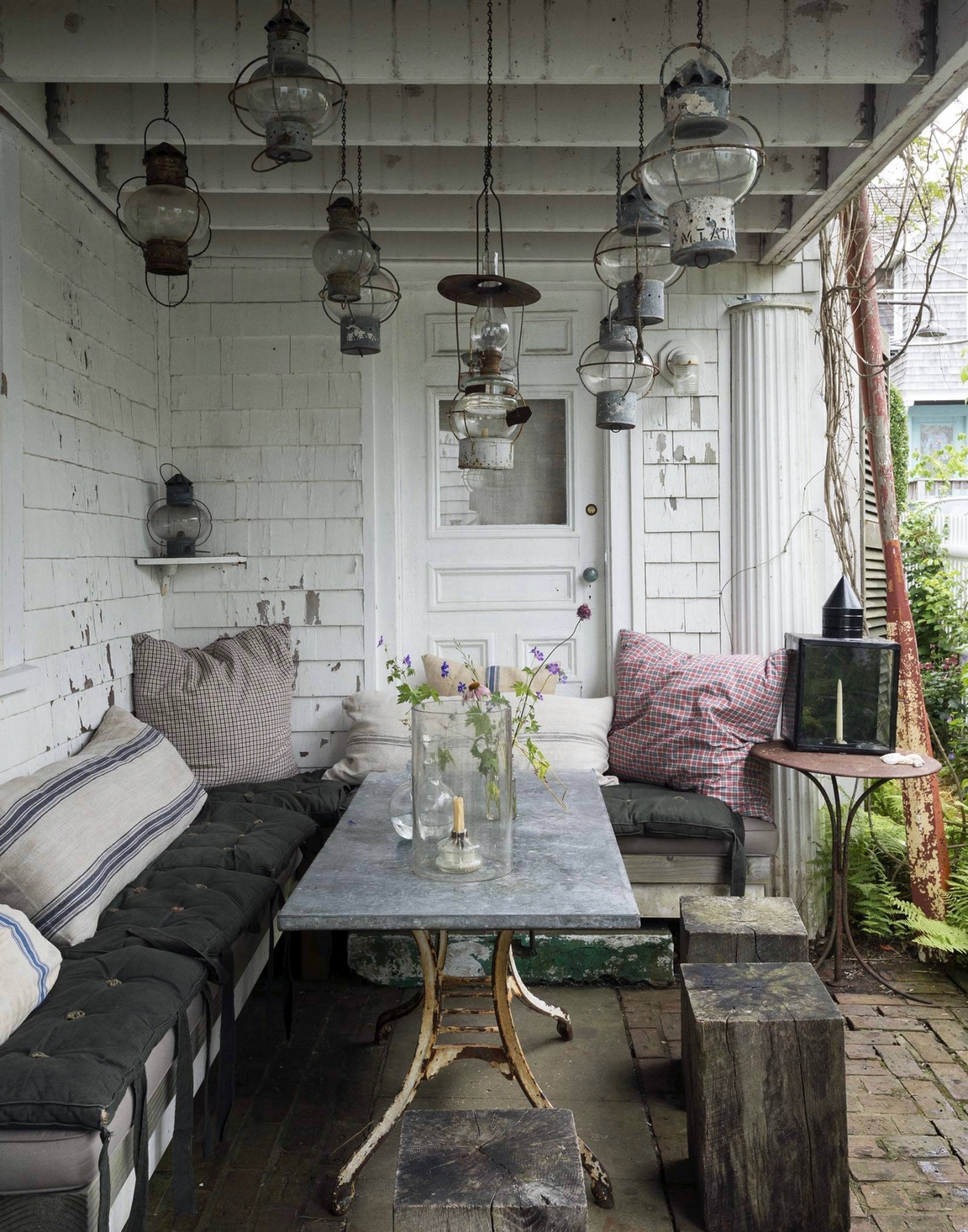 Ever wanted your yard or patio to represent different cultures? Add textiles, furniture, and decorations that have Mideastern motifs, Tuscan appeal, Asian outlines, and perhaps even a French style. You may also put your tropical plants in a huge antique vase or a trunk that is colored like the sea to represent the coast. 
Choosing the Correct Décor or Furniture Piece
Give your vintage look a final touch by adding metal lawn chairs, antique umbrella or an iron table. If you want to replicate the look of having metal lawn chairs like those of your grandparents, online auction sites and antique stores are perfect places to look for original or replica pieces.
Adding a vintage cart is a fantastic option if you like to have your friends over often. The vintage cart can act as a moveable drinking point. If you have a very worn-out piece, adding another coat of paint will rejuvenate it. A wired basket will come in handy when fixed on the lower shelf to secure items. You may fill up your cart with straw and glasses to give it a more authentic look.   
Add some personal touches by furnishing your outdoor wall with certain symbols. Creating an outdoor wall gallery with symbols is increasingly popular. You can custom license plates, road signs and old add signs to have an eye-catching display.
A glider is a must-have if your home has a front porch. One that's unique and old-fashioned will do best, especially the double-sided ones that squeak when gliding. Outdated front veranda furniture such as gliders to appreciate rocking back and forth on the front porch while feeling the evening breeze will certainly add value to your veranda.
Selecting Items with patina is a great idea. Old patinas that are usually brought about by overexposure to weather elements, which look great on your porch. Old stepladders, garden equipment, farm tables, and birdhouses are fantastic objects to have. Vintage containers can be used as attractive plant containers, whereas stepladders can be used as trellises. For lawn art, old birdhouses have to be used to draw attention away from unsightly features. 
To add a more aesthetic view to your backyard, add objects with vintage outlines. You can use remains of your vintage fabrics, printed bandanas to create a color pallet in your outside room. Display custom trays that are painted and serving equipment to boost the sentimental theme around your design.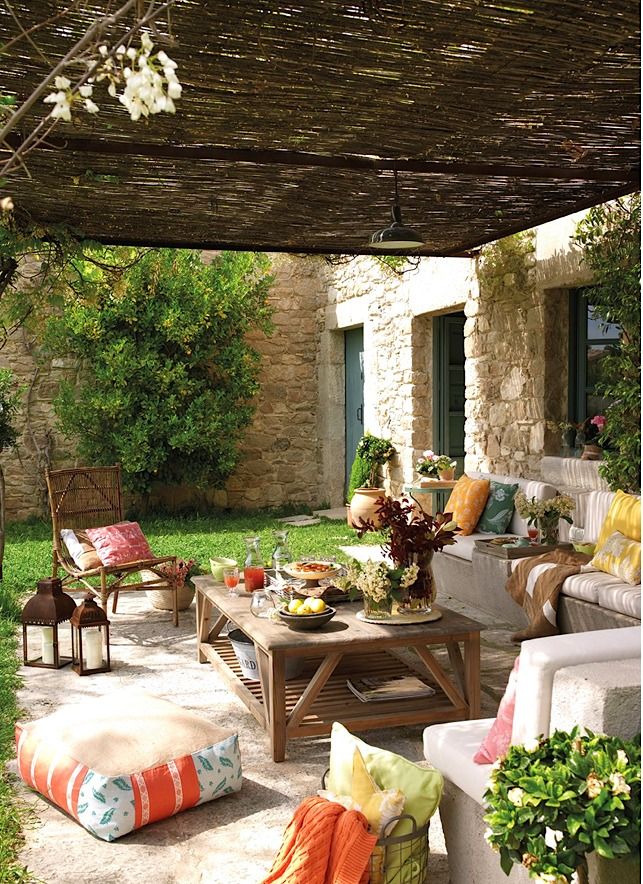 Always consider looking for prints while in antique shops, flea markets, and tag sales. Also, look out for crates, containers, and bags that still have original tags or printed illustrations to create fun with your children. Old storage boxes like ink-stained wooden beer boxes or flamboyant fruit boxes can be piled up as serving bars, seats for yard tables, or used for storing. Old sacks that previously held grass, coffee beans, or planting seeds can make remarkable covers for chairs.
Look for metal accents that match your style, if you're into a more contemporary look, keep an eye out for modern fixtures with stainless steel, aluminium, and chrome. For a more Spanish theme, go for copper chairs. Perhaps choose an iron grid to place on the wall and black- iron lamps when considering a Mediterranean style theme.
Redefining Your Space
Open-air dining allows you to immerse yourself amongst the star lit skies and warm summer breeze. A candleholder created from a garage sale tray can be lit on a picnic table. Newspaper placemats, Kraft paper, monochrome dishes, and sparkling cans full of flowers can make a picnic table appear formal.
Walls are like barriers that keep us enclosed, but can also display some amazing arrangements. Consider re-constructing walls made of iron to outline an outside room or furniture with fabric or lattice. Putting up walls featuring lattice, fabric, or iron help define an outdoor room. If you have a gazebo, it can be used to display your collection of vintage furniture or fixtures. 
If you ever-wanted a bathing area? Connect pipes to transport water through an antique tap to your bathing tub. Mounting toiletries, a candle shelf, a vintage chair and or a recycled bookcase with towels and iron baskets to make it more appealing. 
Making your yard corners a feature is a great idea that's very easy to do. Arrange large rounded pots and antique vessels in your garden to mark sheds, entry and pathways, and outdoor housings. Enhance shed fences with fancy panels, planting boxes, and bird-feeders. Be sure to paint outdoor shutters, woodwork, and doors to make them stand out.
Improving Your Current Design
Before embarking on your vintage project, it's ideal to rejuvenate your present furniture by painting it. For better results, spray paint chair frames, tables, and bookcases using gold, bronze, copper, or metallic silver: clean, sand, and prime surfaces before painting surfaces for better results. 
Popular Ideas on Pinterest