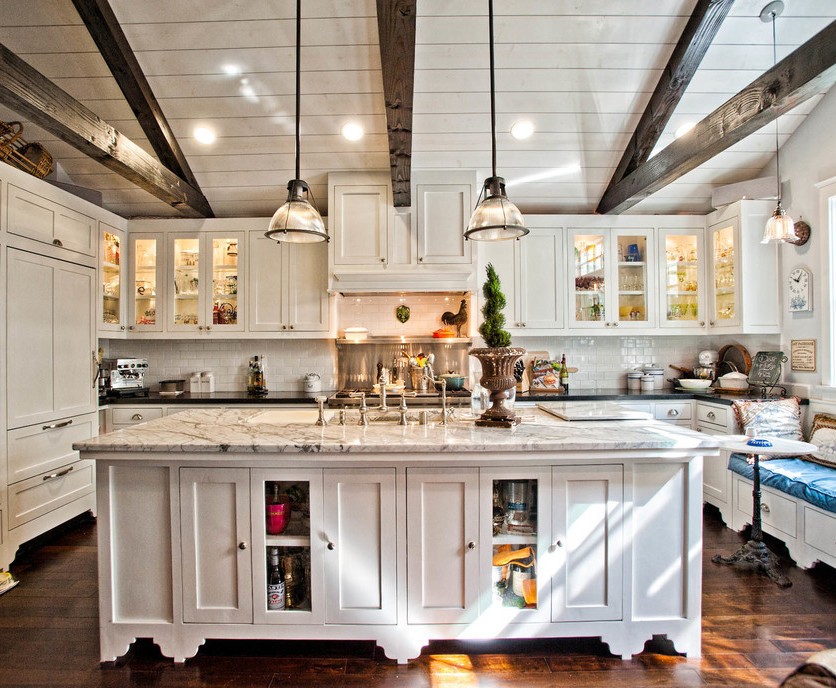 When a Farmhouse Goes to Hollywood, It Becomes This De Bilt Cottage
De Bilt designs, builds, and decorates residential homes. The firm is based on California's Central Coast.
They developed this beach cottage out of a basic post-war property in Lake Balboa, CA. The result is part quaint farmhouse, part luxurious southern France getaway. It's like a country oasis for a movie star escaping L.A.
The home's skeleton is emphatically cottage: whitewashed planks and vaulted ceiling beams of dark wood. Down below, the mismatched, distressed furniture has a shabby chic allure. But then there are the finer things. Brocade chairs, sumptuous red walls, and a Gothic chandelier populate the dining room alone.
The contrasts continue from there. While the pale green guest bedroom could belong in a countryside inn, the master suite features violet satin curtains and a towering upholstered bed. There are wooden roosters on one shelf, a fabulous Grecian bust on another.
The house's floor plan is fairly open. But there are enough cushy seating options and quirky art pieces to make it cozy. A luxe Parisian motif elevates the simple rooms into something special.
Inhabitants can lounge on an expansive, well-shaded pergola porch. Like the interior, this space is furnished for maximum comfort. The stone fountain in the backyard adds to the impression of royals on vacation. And a cute garden shed supplies extra storage space.
From this cottage's unassuming shingled exterior, one would never guess the glamour that lies within.