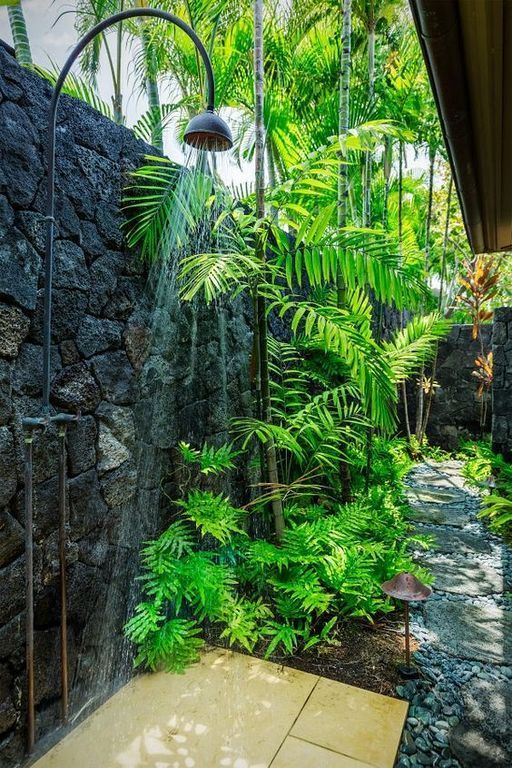 150 Beautiful Outdoor Shower Ideas and Smart Design Tips
It's a common perception that outdoor showers are associated with more affluent homes besides the beach or those that have swimming pools in their backyard. However, that's not always the case. Anyone can now afford outdoor showers for their backyard.
Appropriate planning is necessary if you want to end up with the best results along with ensuring that you monitor the project for it to be completed correctly is important.
Below are further tips to get you started with your outdoor shower project.
Prior assessment is vital 
Asking your plumber or contractor to determine if the unit of your water heater can handle an additional shower is crucial. Also, be aware of the restrictions in your area as some CC&Rs, municipalities, and homeowners' associations prohibit the construction of outdoor showers.
Get the right permits 
Permits are a must-have, especially if your shower design needs plumbing work. Considering working with a contractor is the best choice, as handling permits will be a walk in the park, especially when dealing with multiple permits. 
It's possible to have a finished project without eligible permits. However, there will be many uncertainties, especially when you want to sell your property. You may have to pay fines or bring down the structure.
Choose the correct place
Choosing the right place for a patio shower is very key. It is best to fit the shower next to your house during the initial building, when refurbishing, or when changing your siding. Also, some outdoor materials, especially certain wood products, can't tolerate consistent water flow, making them wear faster. You might also want to place your shower on a wall with preexisting electricity and plumbing to make your work easier.
Good sunlight and lighting 
Constructing an outdoor shower without having the pressure of adding artificial lighting feels so great. To ensure this, locate your shower, where it will get direct sunlight. Direct sunlight will guarantee that you are warm when showering. Including lighting in your design is important if you are planning also to use your shower at night. 
Choose the best material
When deciding on flooring materials, slip-resistant paving stones are an excellent choice. It's safer, even if your floor is wet. However, other existing options include wood, bricks, pebbles, and concrete. It's best to keep in mind that what works for indoor showers may not work in the outdoors. For instance, a shower curtain for an outdoor shower should be made from an outdoor-friendly material. Also, rust-resistance fixtures should be used.
Privacy
The privacy of your outdoor shower should be considered in your final design. Privacy is key, especially if you are close to your neighbors. Deciding to plant trees and vegetation may increase your privacy by putting casual onlookers at bay. 
Handling Water
Infallible drainage is indisputably important for your outdoor shower. Hiring a grey water system professional or a grading contractor is a good way to get a plan that works well for your shower position. A professional can help determine the current grading before installation. Having an outdoor shower is a superb way to moisten your garden using shower water by gravity, without needing complicated grey water systems!
Popular Ideas