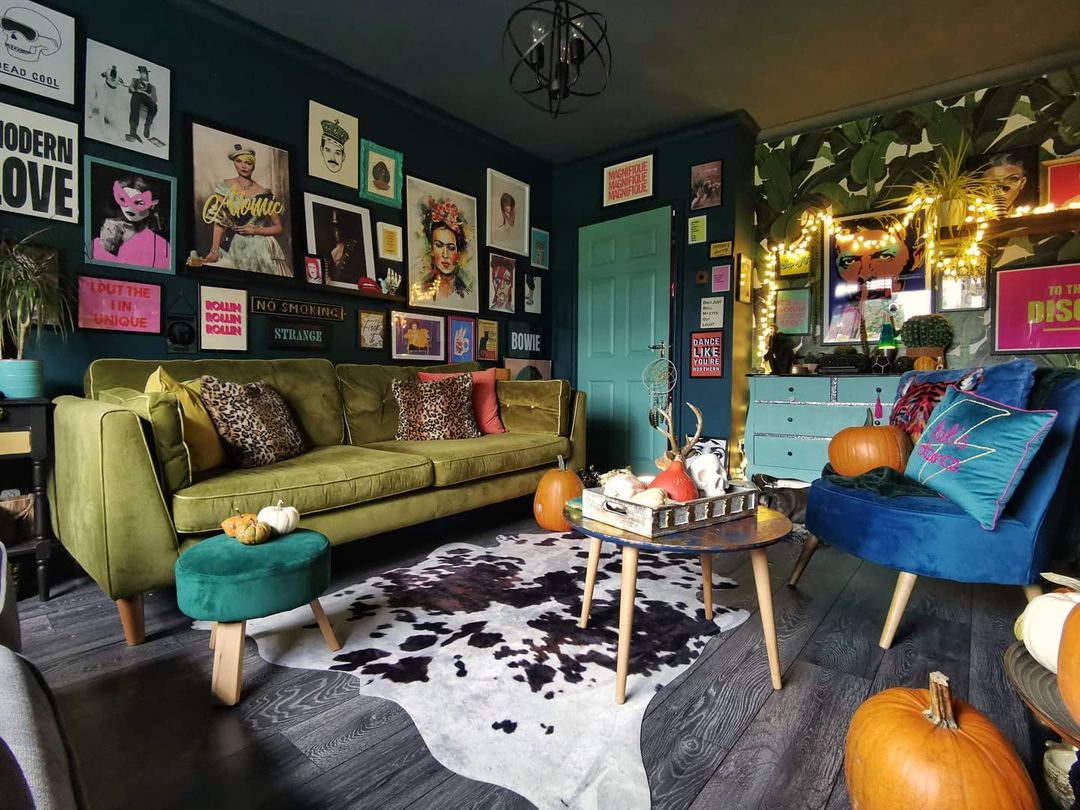 Get Inspired with These 72 Maximalist Living Room Designs from Some of Instagram's Favorite Designers
Have a seat, minimalist design, and make room for more of everything with the latest maximalist style trends. Maximalism is all about surrounding yourself with the things you love the most and doing so in generous proportions. Far from being a clutter-fest, maximalist style strategically arranges and decorates to stimulate the senses and give each room a signature personality that cannot be ignored. Check out some of these Instagram designers and their wildly creative maximalist living room design ideas.
Sunshiny Splendor
Lilly of @lillithortiz piles on the vibrant punch of sunlight in this friendly living space swaddled in pops of bright yellow and green accented with abundant natural light. She also incorporates plenty of nature's beauty with numerous plants scattered throughout the room.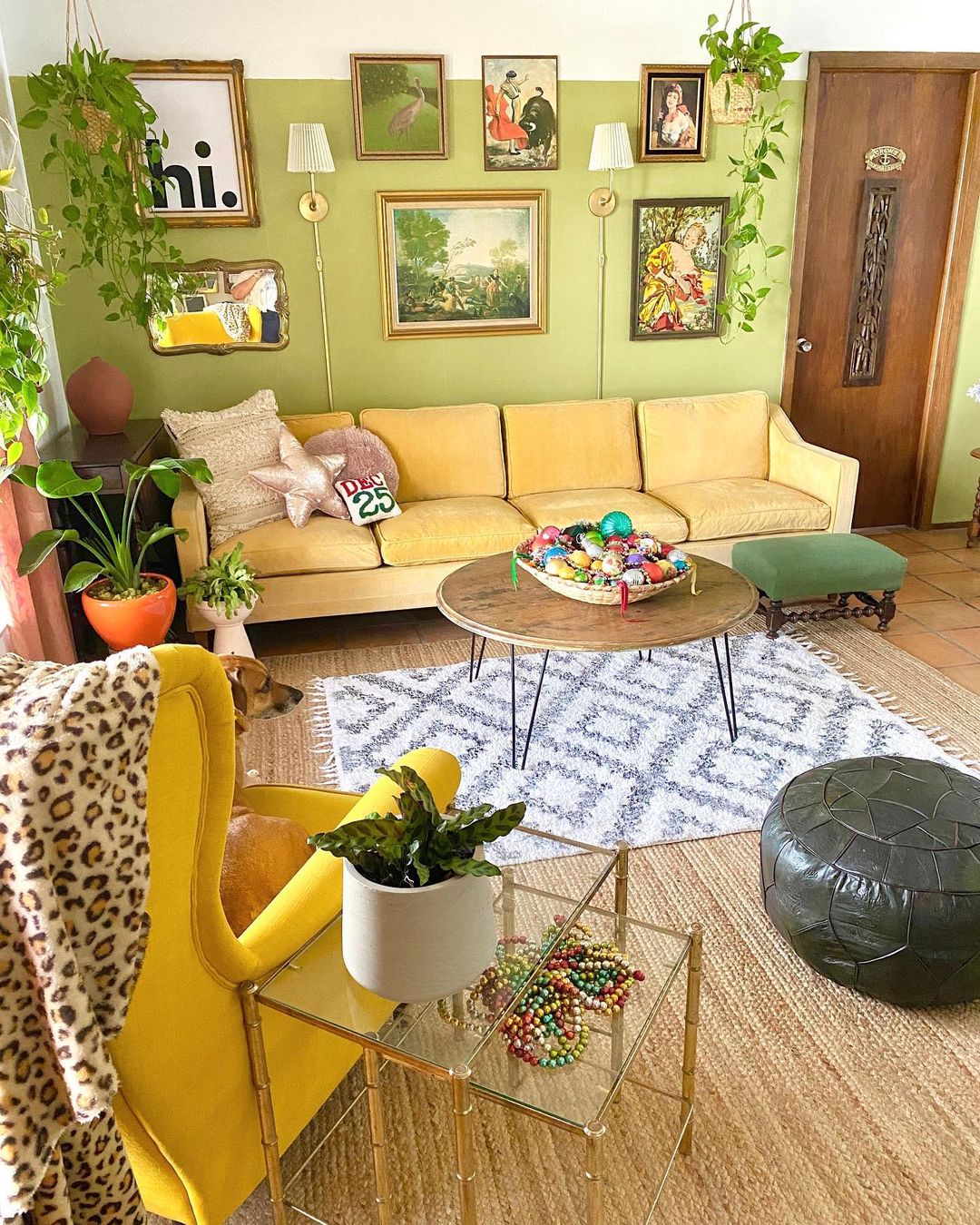 Vintage and Vibrant
Walking into this living space feels like coming home. Designer @knitchings maximizes the color palette all around this room with features such as a bright blue vintage-style fridge and a well-loved, invitingly comfy leather couch piled high with homemade pillows.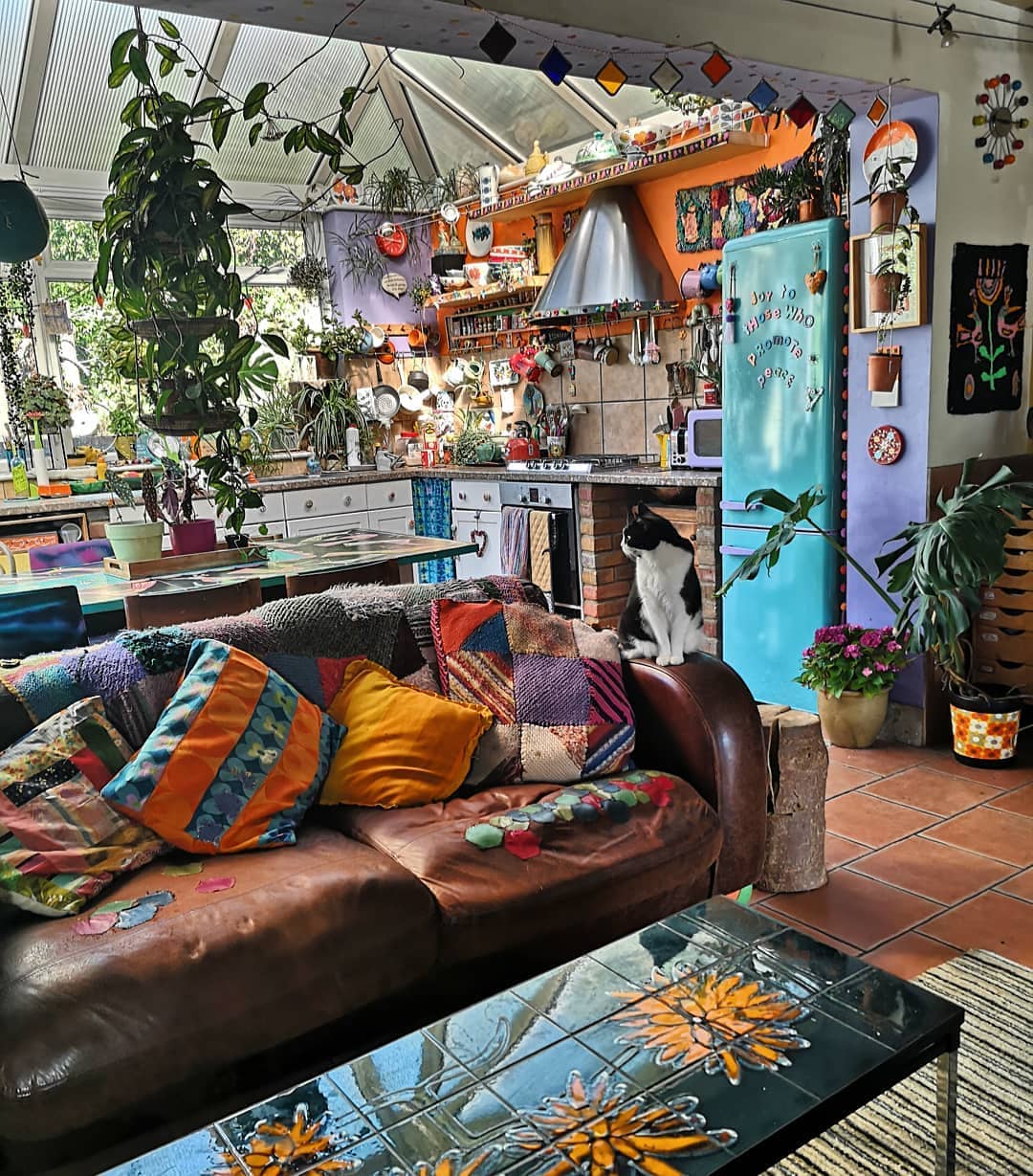 Hear Me Roar
This adventurous room by James of @pretentioushome offers wild surprises at every turn. Lush velvet upholstery and rich pink walls are only outdone by the actual life-sized tiger at the focal point of the room.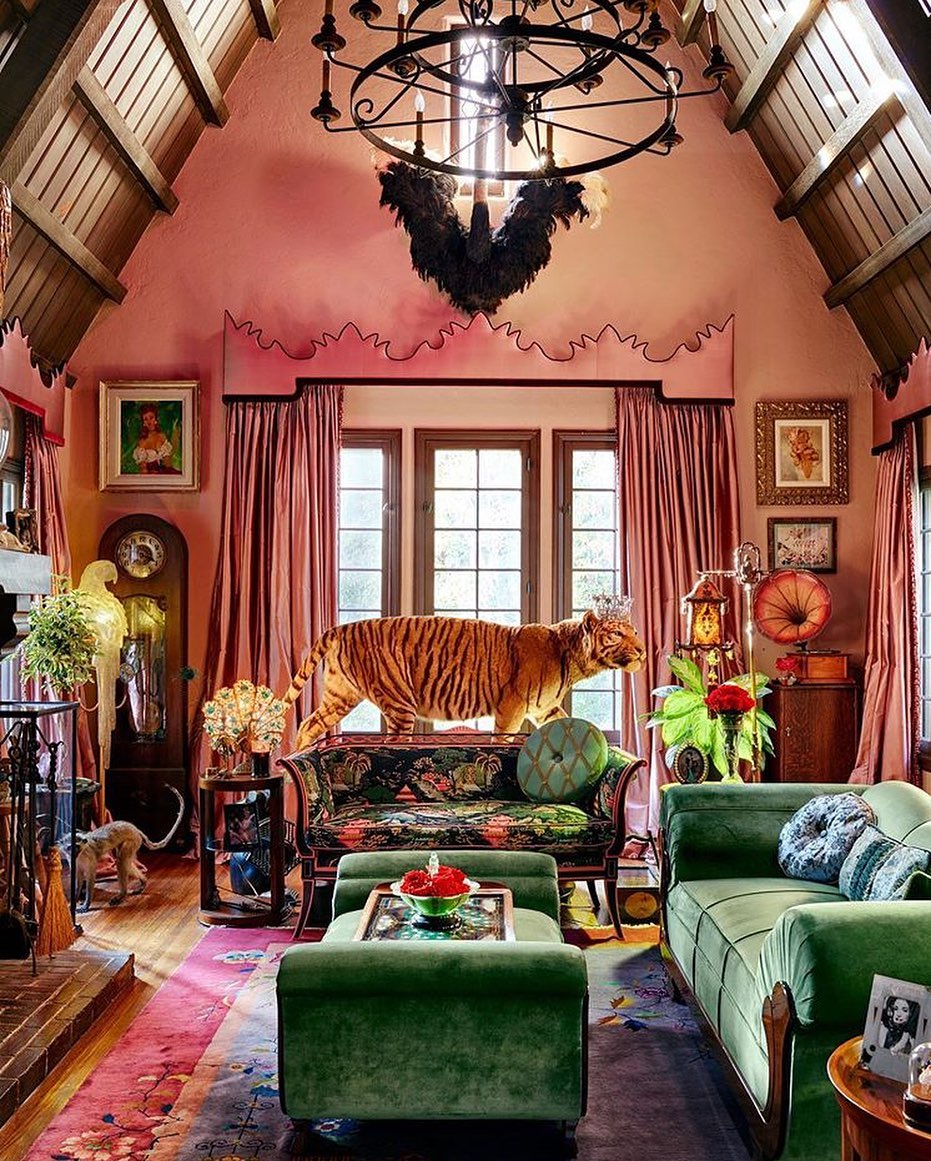 A Plethora of Patterns
Rich, royal wall color sets the stage for the cast of characters scattered throughout this heavily patterned living room by J.C. of @jc_hoyer. The various complimentary designs play off one another from the sofas to the lamps to the area rugs to the decorative screen to form a clever, cozy space.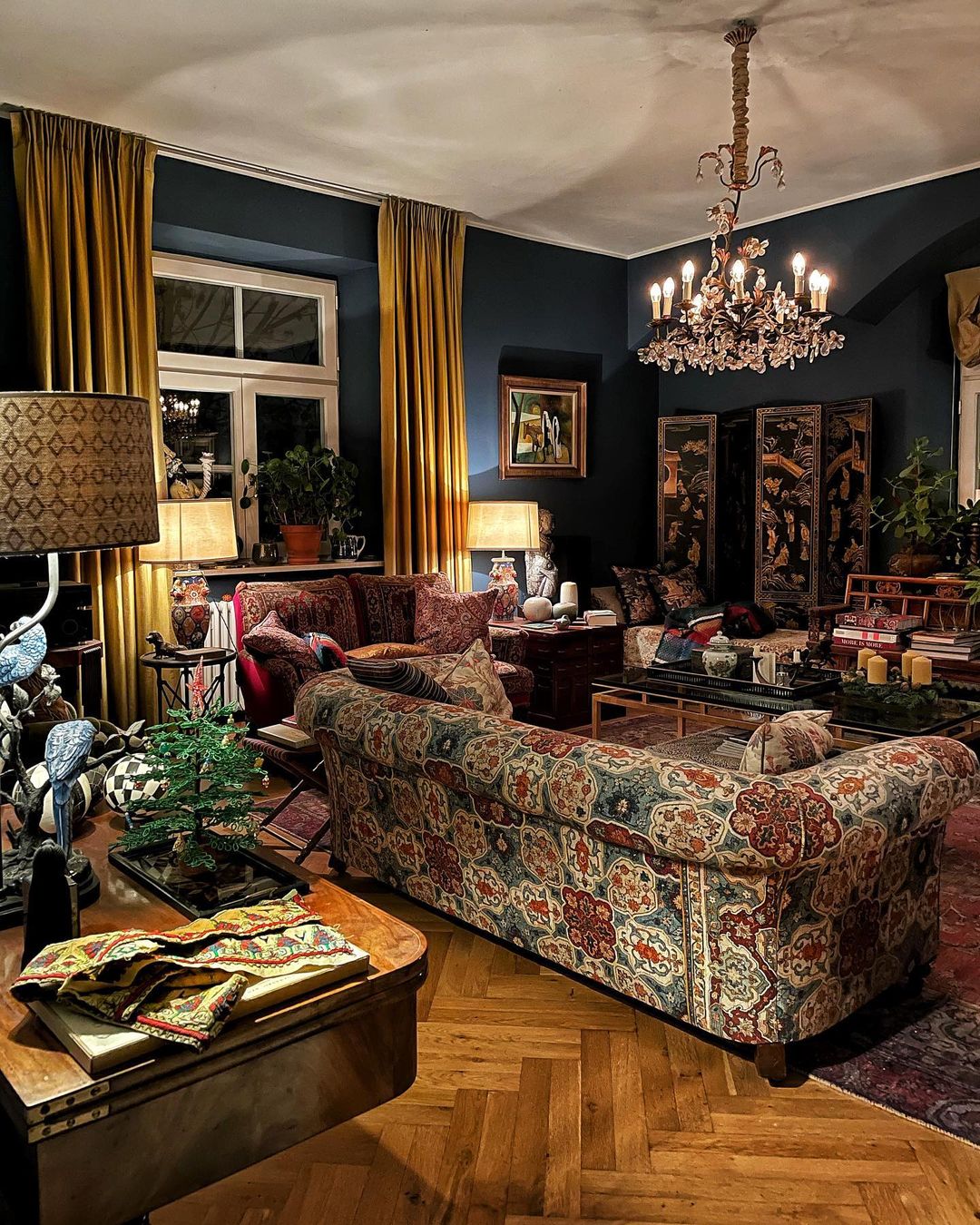 Enjoy Lavish Light Fixtures
Suszi of @suszi_saunders has created a beautifully dark palette from the walls to the ceiling that allows her mammoth, multi-armed, bold brass light fixture to become a fun focal point for the room.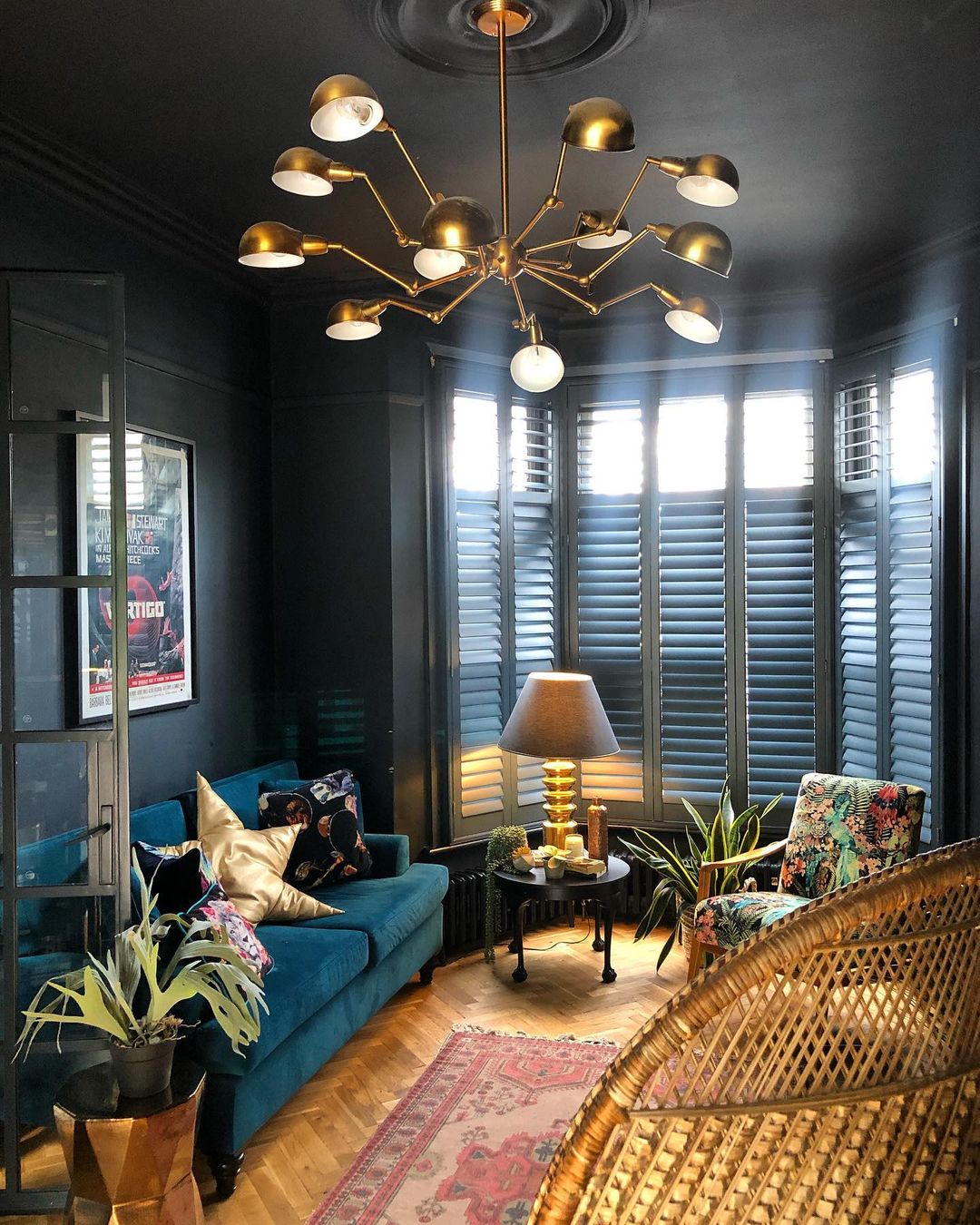 Time to Get the Blues
Floor to ceiling, this snug living space by Mel of @melmitchia calms the spirit with its abundant deep blue hues. A cozy conversation area with trendy chairs of a similar shade make for a perfect relaxing space to hang with your loved ones.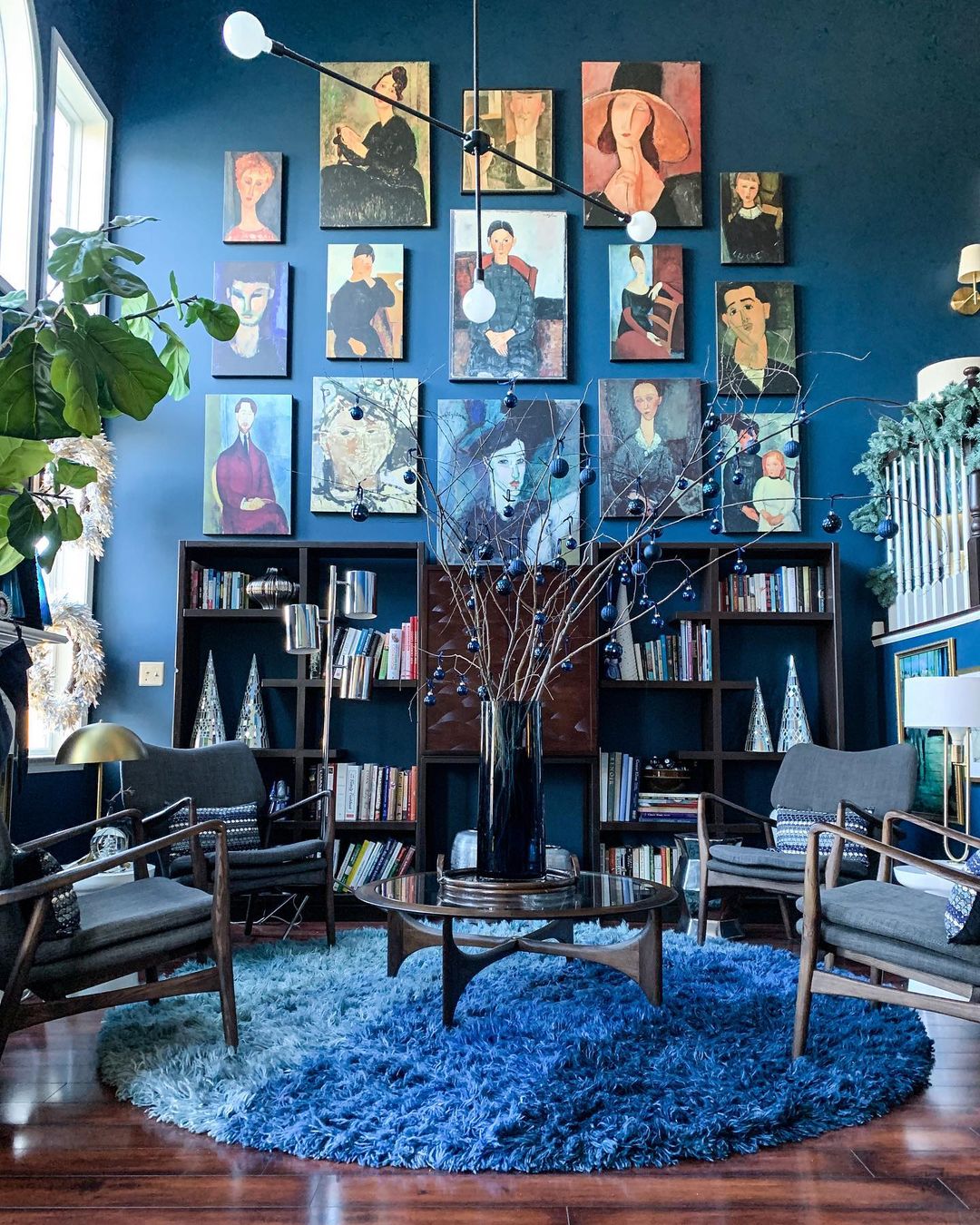 Bring in the Big, Bold Lines
From the color-blocking area rug to the black outlines trapsed throughout the wacky and intricate wall art, Ingrid of @polkadotingrid has designed a daring living area that feels both comfortable and excitedly energizing all at once.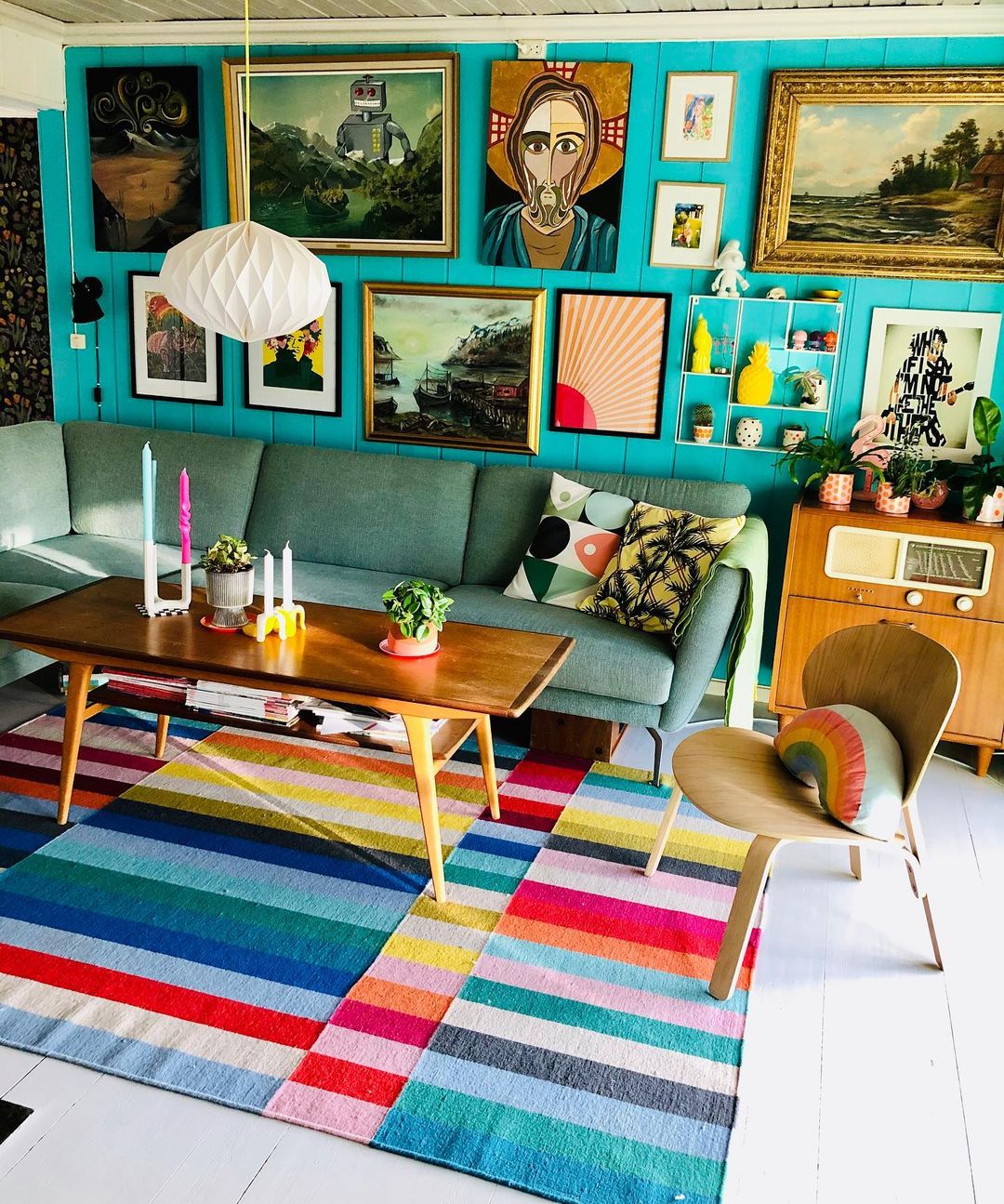 Dance in the Jungle Room
There's so much to catch your eye in this wildly wonderful living space created by Pixie of @eclecticfoxhome. Notice the bold jungle wallpaper accenting one wall while vibrant colors and animal prints finish out the various accents throughout the space.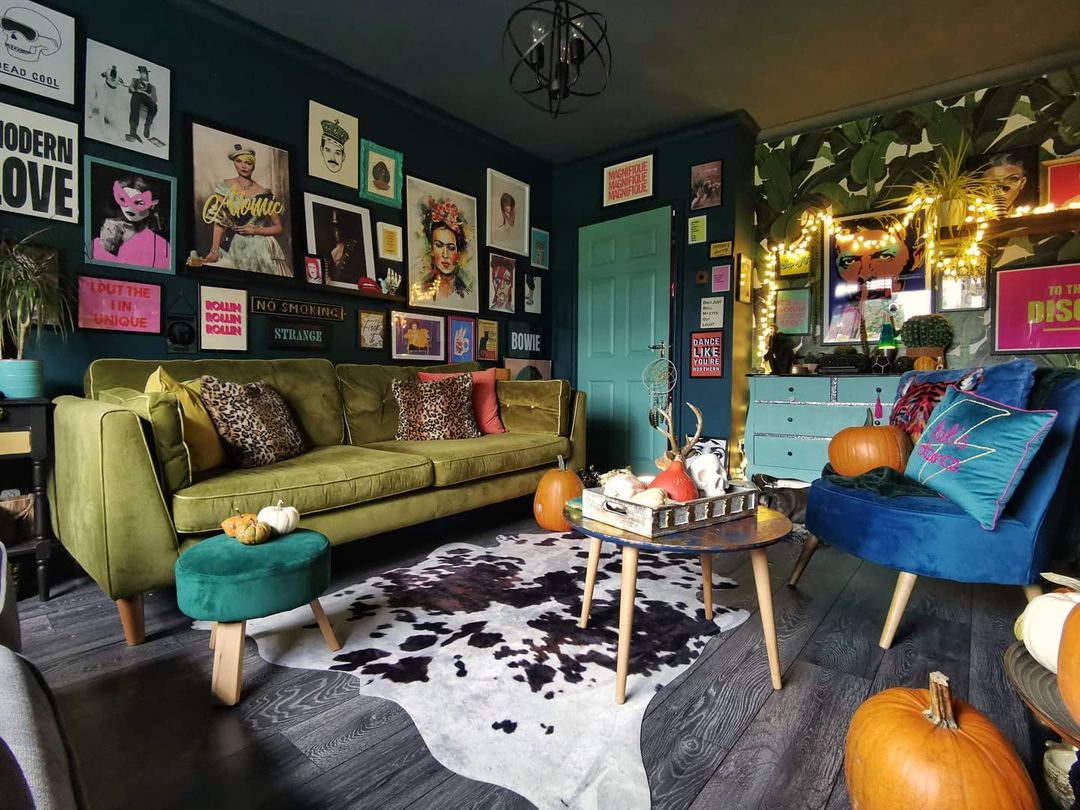 Sultry and Sassy
This quirky living room designed by Maisie of @maisieviolet_rees overflows with attitude and just a touch of the macabre. Popping with personality and saucy phrases scattered on the artwork and pillows, this space screams of the maximalist persona.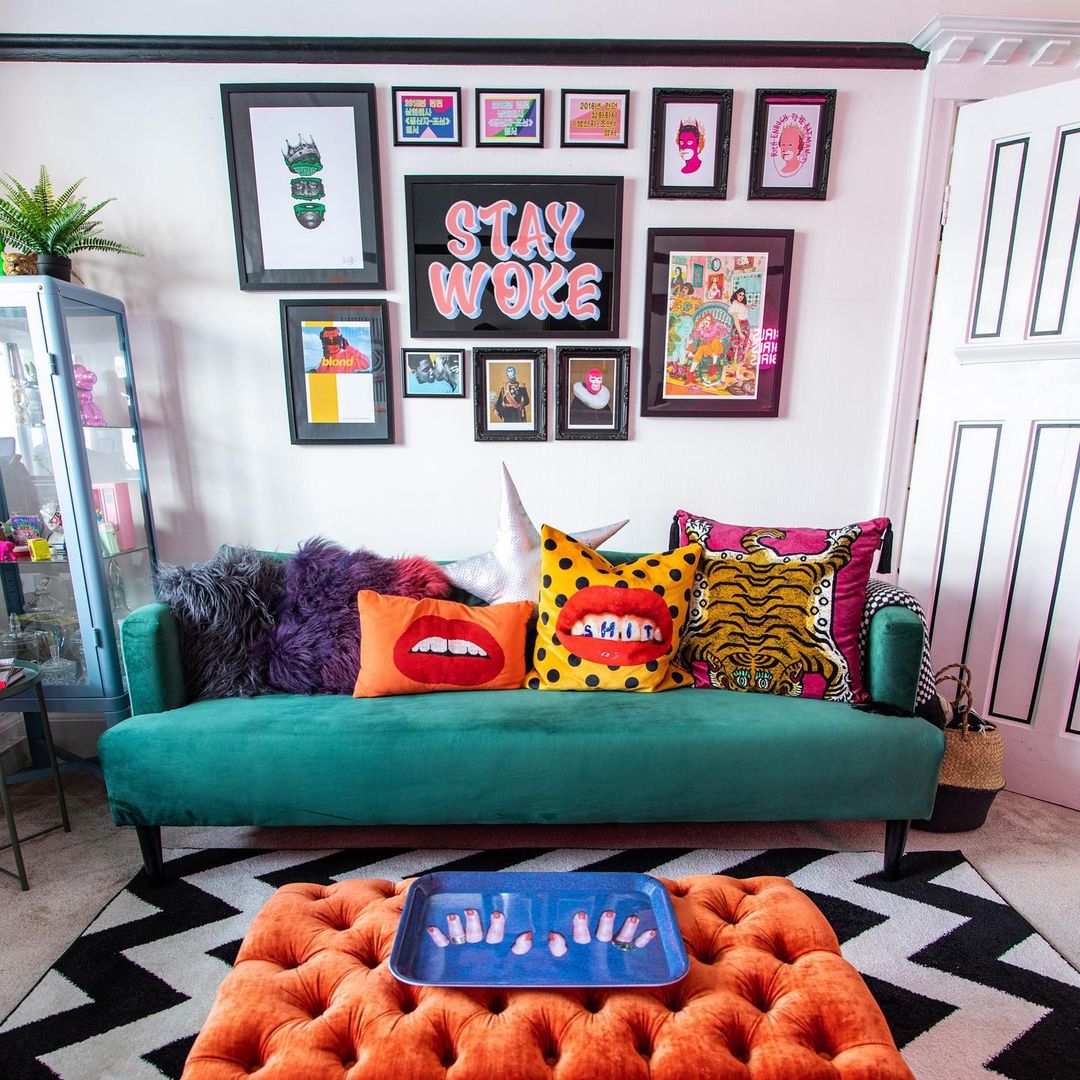 Create on a Blank Canvas
Home designer Amy of @harrison_nate_and_me begins her maximalist living room design with clean white walls. This creates the perfect slate for the abundant art designs and colorful patterns covering the remainder of the space, allowing them to freely play and pop.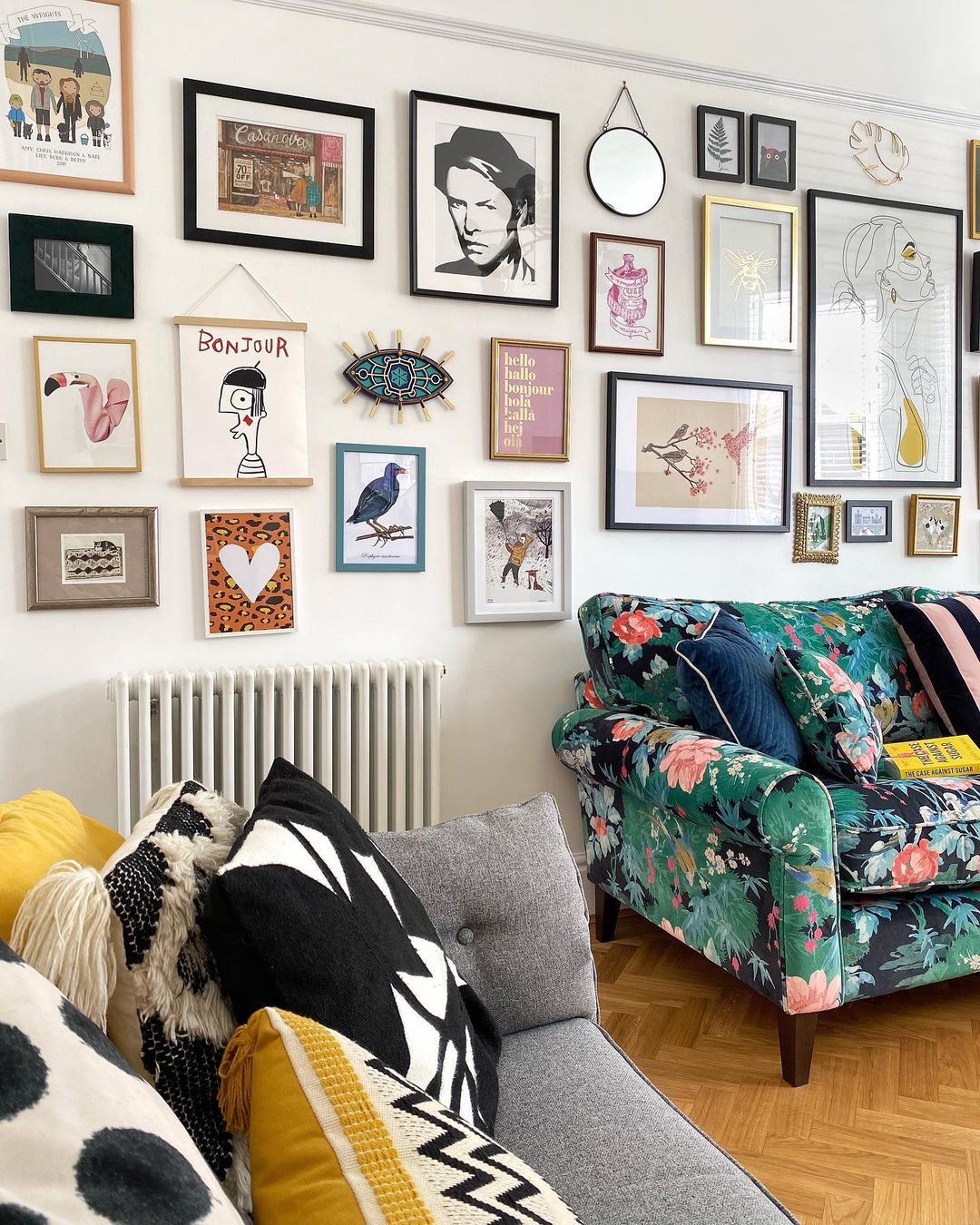 Be Creative and Comfortable
The inviting, unique design of the rich red couch piled with favorite pillows begins the story in this living space designed by Emma of @emmajanepalin. Luscious natural light and plant life also combine to make the area a perfect creative nook.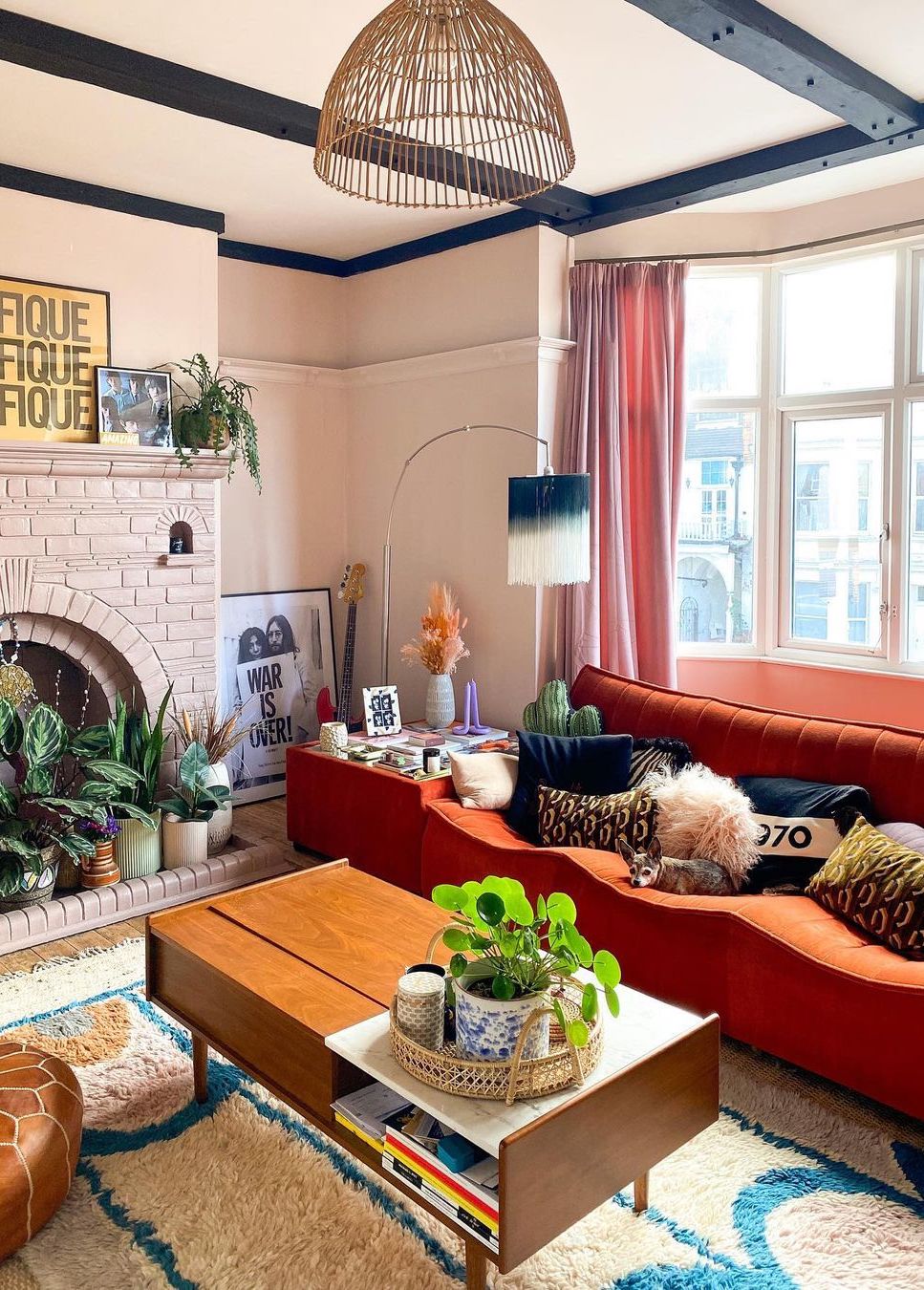 Bring in Some Tactile Treasures
While the warm wall color and overall sparkle of the room are intriguing enough, Stuart of @bless_this_acid_house has incorporated a ton of textures that make you want to reach out and touch. Feathery accents in the corner, velvety pillows and even a warm fire locale make the room a sensation for all the senses.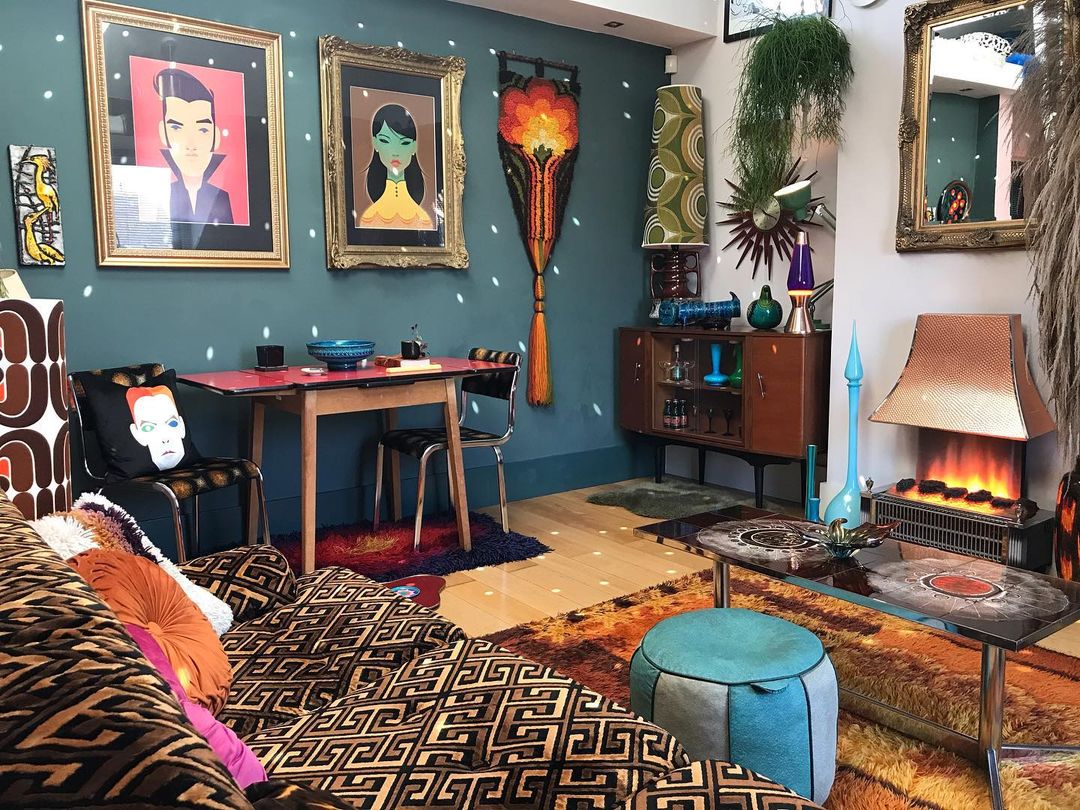 An Eager Elegance in Design
The crisp, light-colored walls and strong architectural lines throughout the room maximize the elegance within this living space designed by Natalie of @lagirl310. Encompassed by natural light, the jewel-toned sofa and pillows bring a pop of color while the oversized greenery in the corner stands as a bold design accent.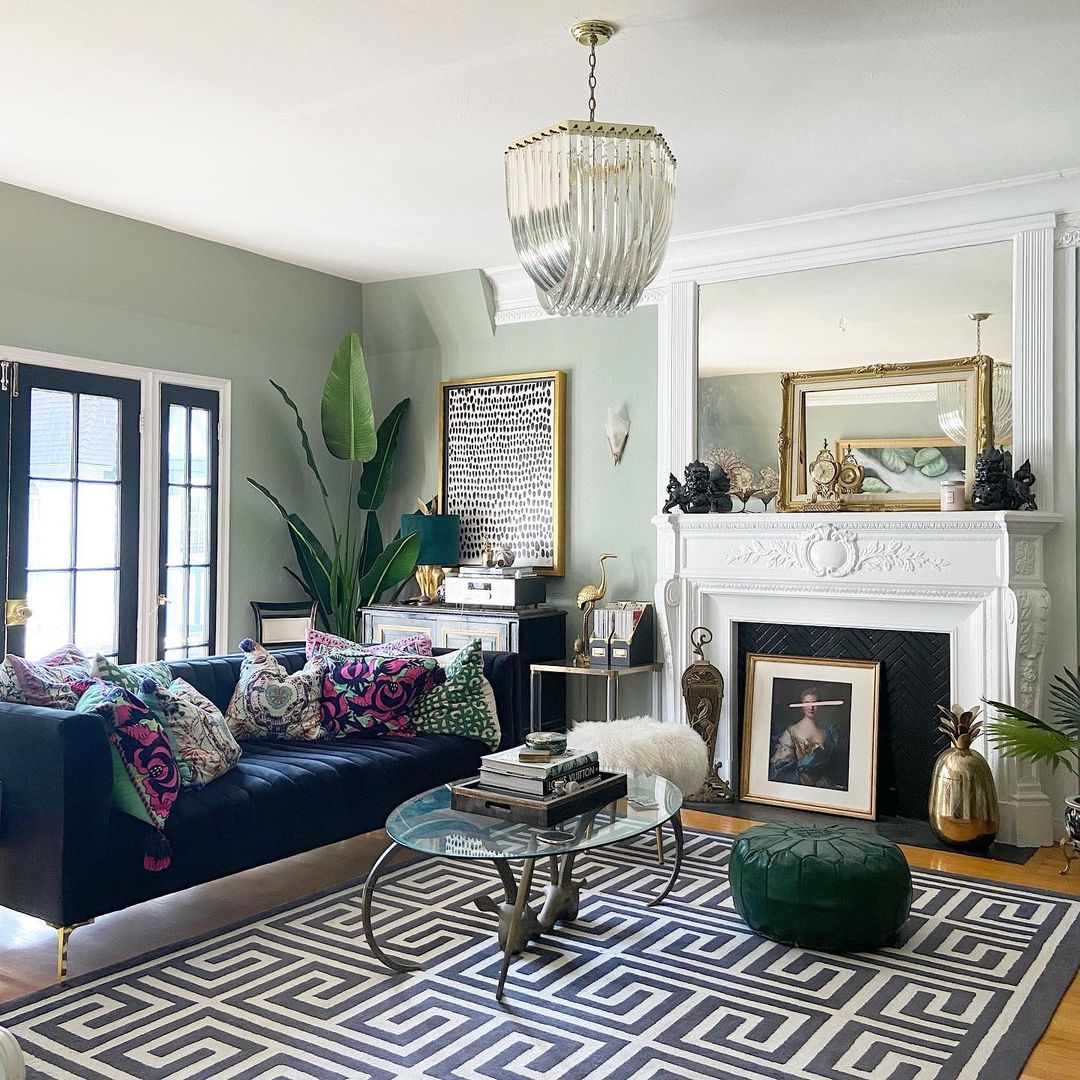 More Than a Few of Your Favorite Things
Maximalist designer Pen of @madreonthemove fills this living space with her many loves. Abundant flower arrangements, stacks of favorite books on the coffee table and family pictures galore solidify the loving personality of this space.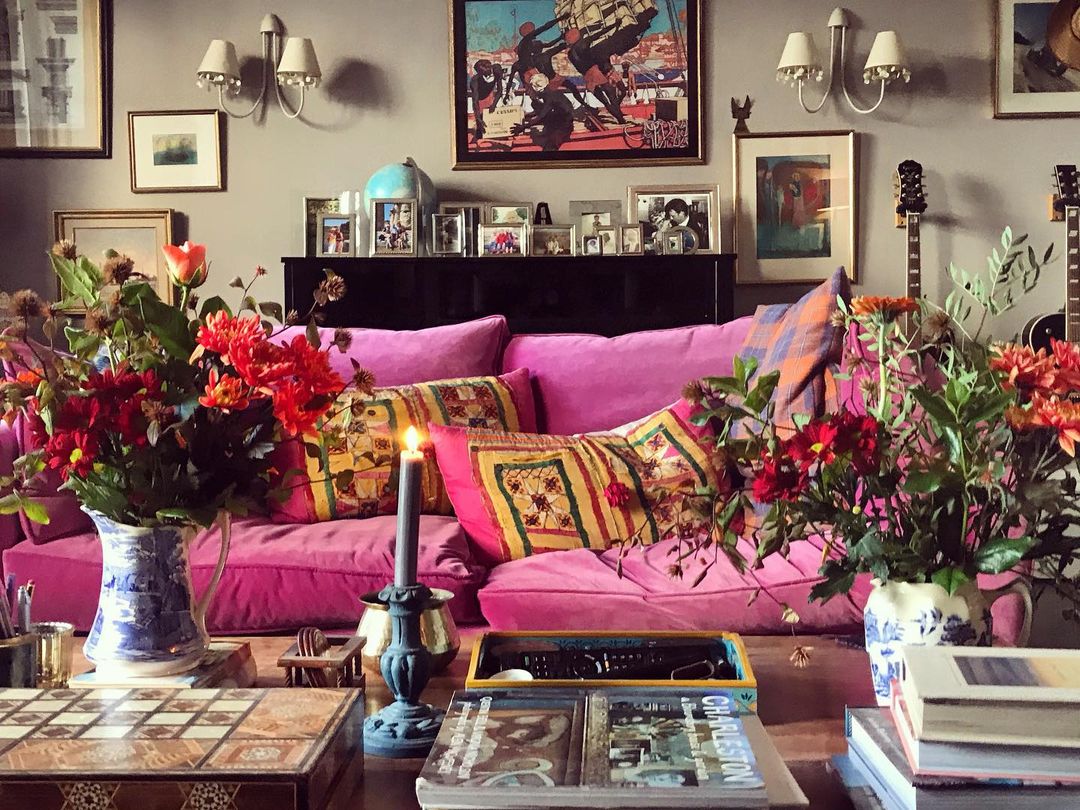 Relaxation and Whimsy
Pile on the soft, comfy pillows and adorn the walls with whimsical artwork to create a fun-filled gathering space for family and friends. Designed by Anna Maria Stoltman of @verymeinteriors, this colorful living room is incredibly inviting.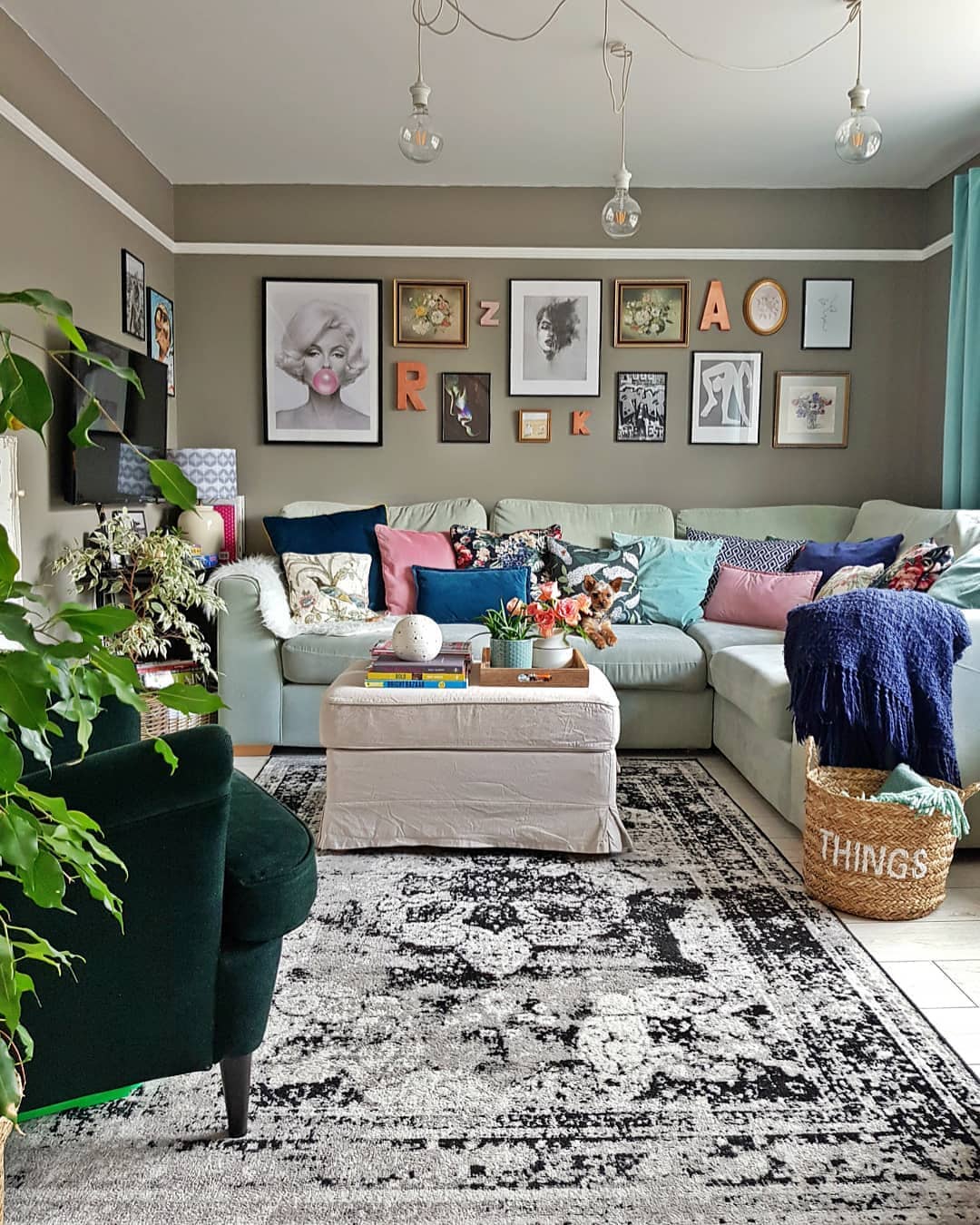 Fill the Walls with Beauty
For maximalist designers, there's no such thing as too much artwork. Beth Diana Smith of @bethdianasmith illustrates this beautifully with her gallery wall filled with abstracts and other paintings. The purple couch adds just the right amount of decadent color to perfect the personality of the room.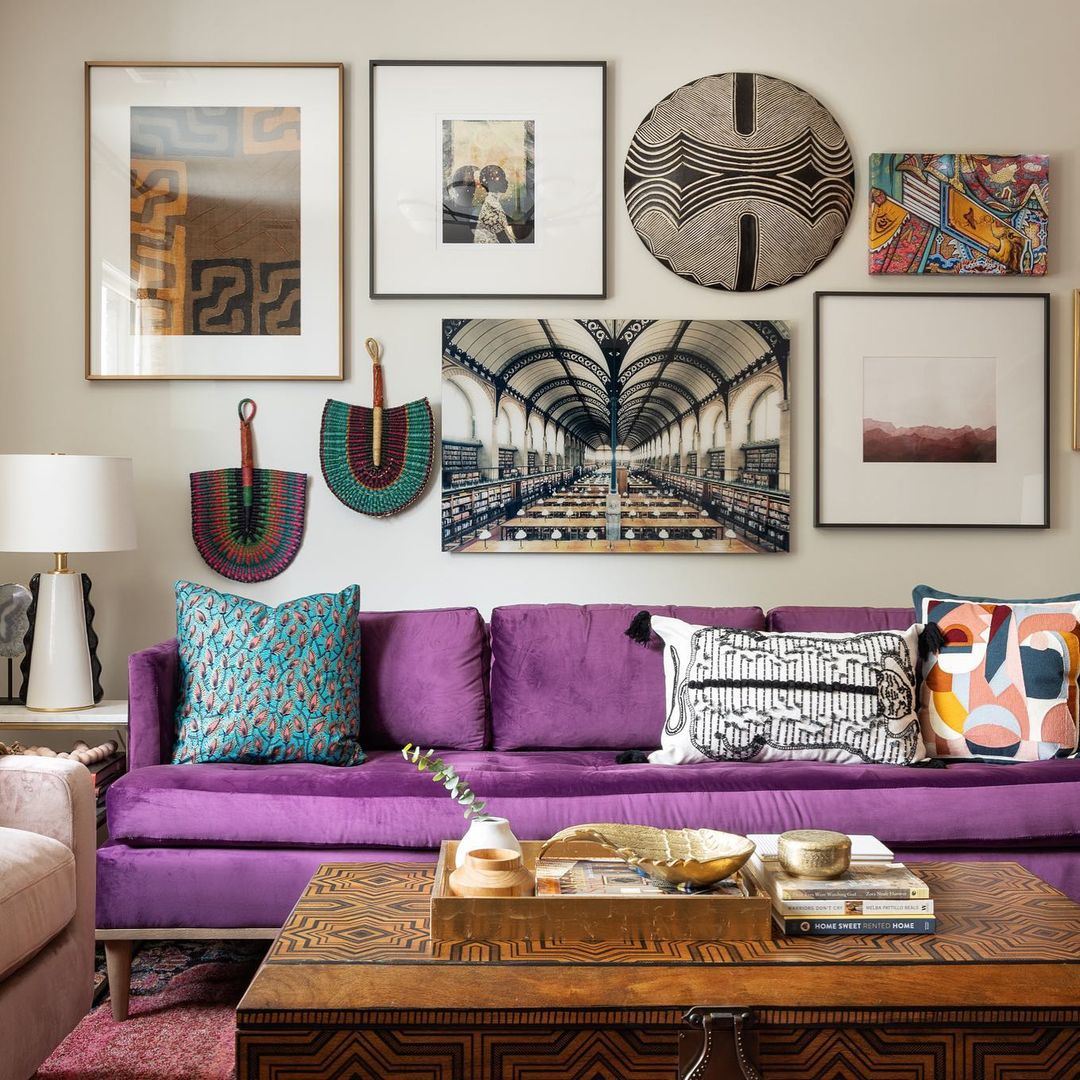 Animal Prints on Parade
Lori of @lola.decor breaks all the rules with this lush and lavish living space. Richly colored paint and textiles surround the entire area, but the real stars of the show are the various wild animal prints scattered throughout giving raucous character to this room.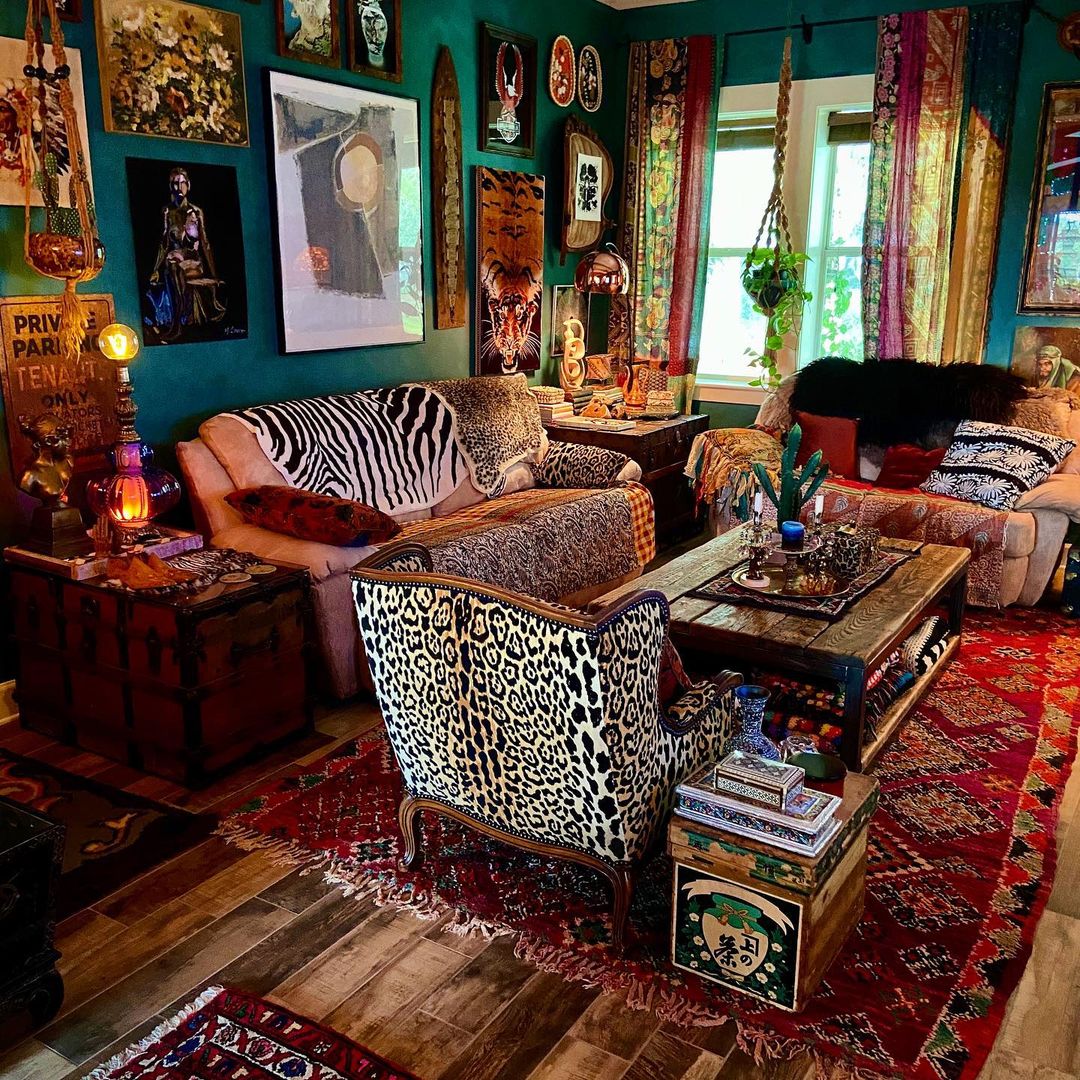 Daring and Dramatic Upholstery
From curtains to rugs to pillows and accents, maximalist fabrics are bold enough to get noticed. Tom of @themellowmaximalist brings the focal point of this room to a fearlessly upholstered armchair. The dramatic colors and pattern set the tone for the entire room beautifully.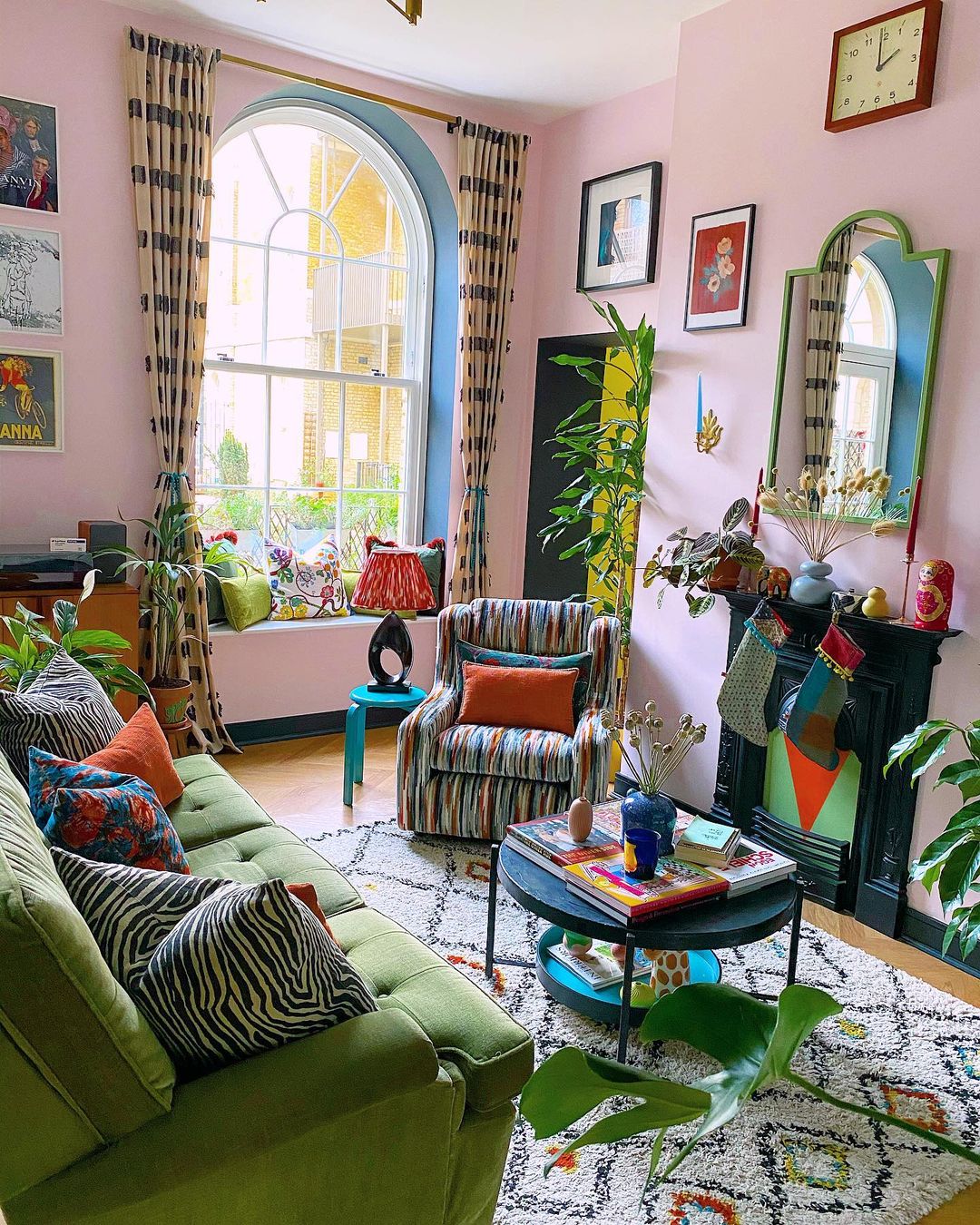 A Wild and Outrageous Accent
In this unique living room, designer Wendy Morrison of @wendymorrisondesign selects an amazingly bold wallpaper to accent one wall of the room. This Japanese print incorporates the bold colors found throughout the space and becomes a wonderfully wild backdrop.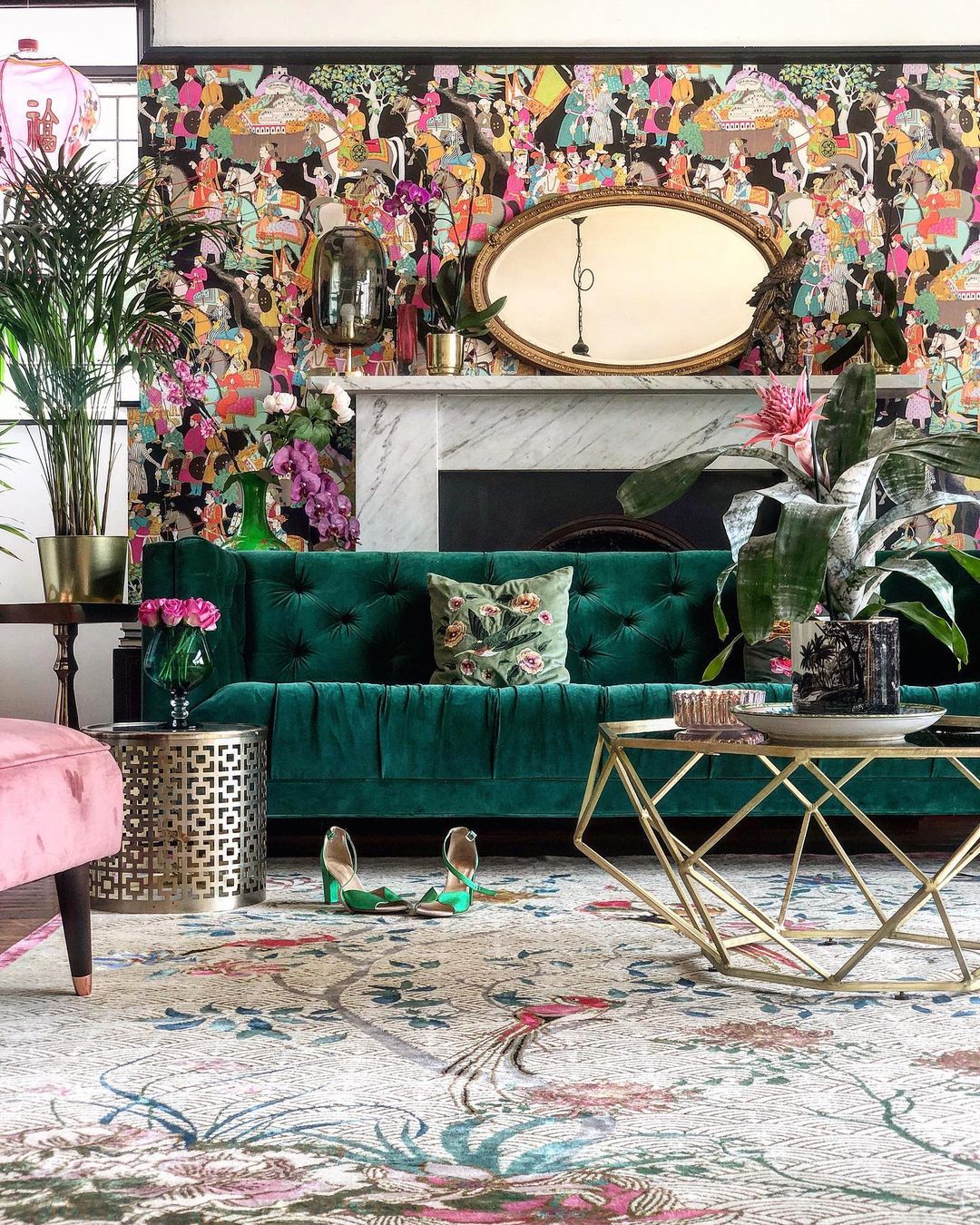 A Flourish of Faces
Room designer Daniel Mathis of @notaminimalist brings a bit of community into his living space with an entire wall of portraits. The vivid colors of these virtual room occupants bring an enormous sense of life to the already colorful space.