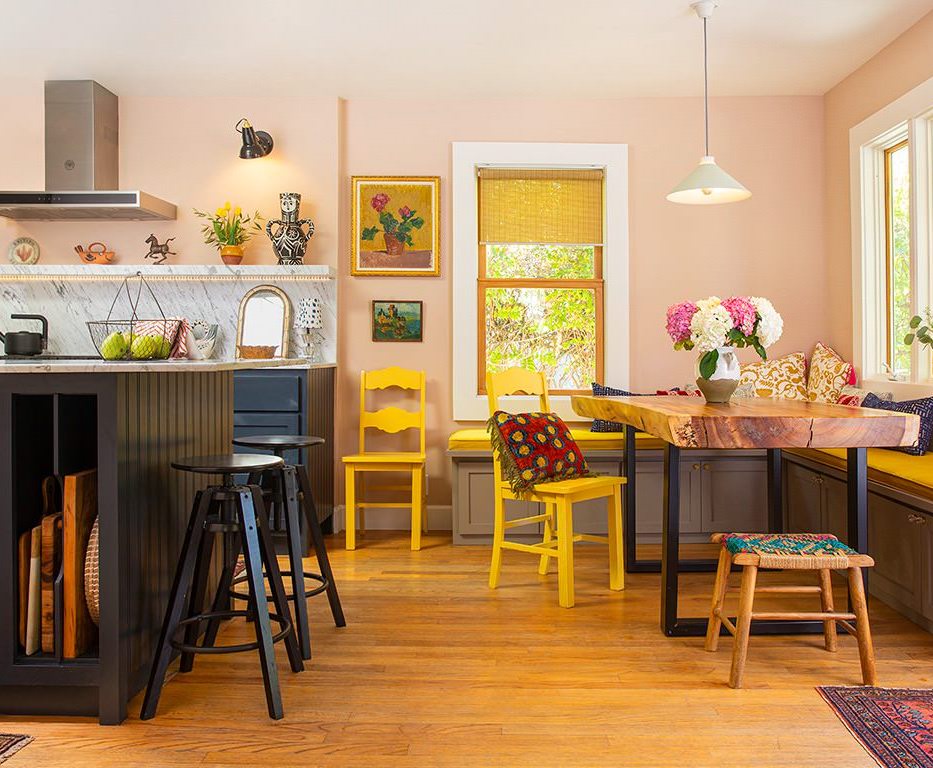 Julia Chasman Design's Craftsman Home Renovation is a Master Class in Color
Former film producer Julia Chasman always dreamed of designing homes. When she left the silver screen behind, she developed her original passion into a thriving Los Angeles design studio. She focuses on home restorations that blend vintage and contemporary elements.
Chasman performed a full renovation on a turn-of-the-century Craftsman house in central L.A.'s trendy Los Feliz neighborhood. The restored interior is eclectic and bursting with color. A sun-washed medium tone wood floor looks inviting underfoot. The quirky craftsman kitchen stands out with its streaky marble, dramatic dark cabinets, and an island that incorporates bookshelf and wine rack. The built-in banquette is crowded with colorful throw pillows.
Throughout the home, the color palette is Havana chic. Seashell pink, turquoise, and mustard hues defy every tenet of monochromatic minimalism. Color psychology tells us that yellow is a mood booster. Note the canary-colored dining rooms, the bathroom tulips, and all the brass accents. The sunshine hue also complements darker furniture pieces.
Eye-catching plants are essential to the tropical vibe. Unexpected greenery pops up in every room, and even inside the teal-tiled shower.
The decor is suitably trinket-like. Here, sprawling abstract wall art gets replaced by small framed pieces and painted ceramics. Everything looks lovingly handmade.
Bland neutrals and bare materials are all the rage these days. But Julia Chasman Design takes a refreshing approach to color. The designer turned this old Craftsman into a cute, cheery space that really feels like home.