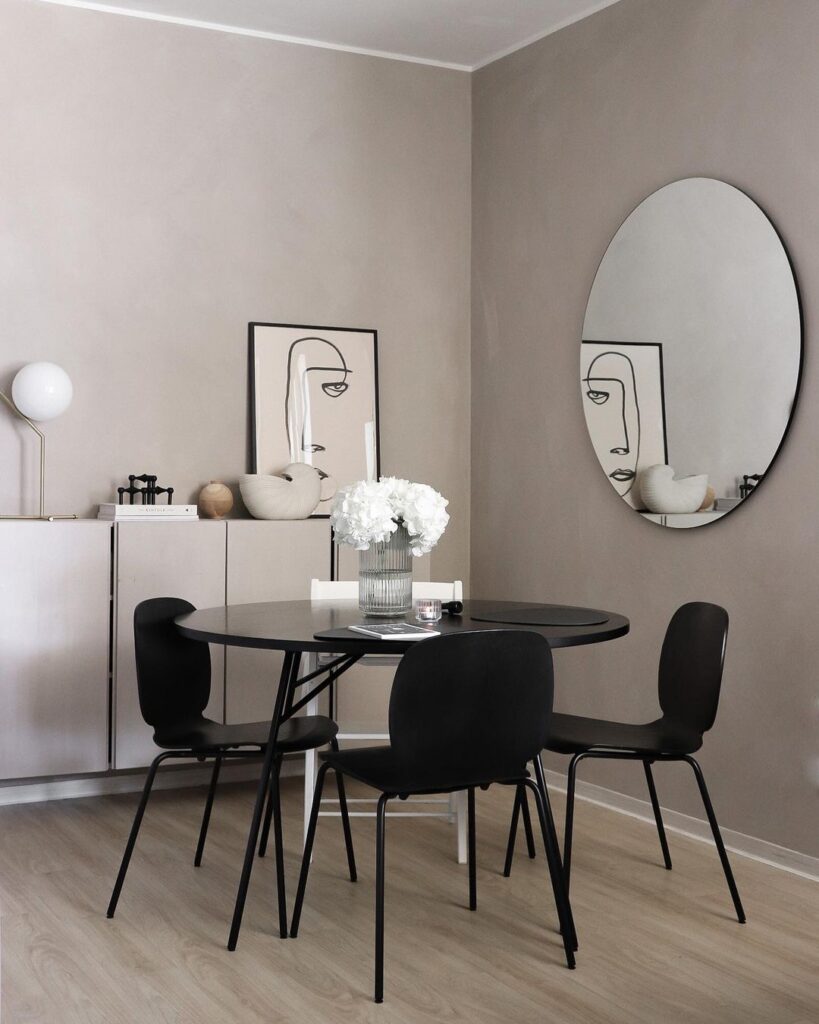 48 Scandinavian Minimalist Dining Room Designs Gone Viral on Instagram
There's something exciting, elegant, and peaceful about Scandinavian-style interior design. Its minimalism exemplifies both beauty and functionality, while its blend of soft colors, mixed textures, and crisp lines give it a sleek sort of appeal. Classy and cozy might be the best way to describe it. So it's no wonder that it's caught on so quickly. Without further ado, here are 48 of the hottest Minimalist Scandinavian style dining rooms on Instagram this month!
Life & Utility
@_katharinamaria makes great use of the simple, clean lines Scandinavian design is so well-known for. With clear lines (even down to the lively plants she's chosen), a cozy yet practical table, and subtle shelving, this is one of our favorites. Soft brown and tan hues make a nice contrast against the black accents, while white curtains soften the natural lighting.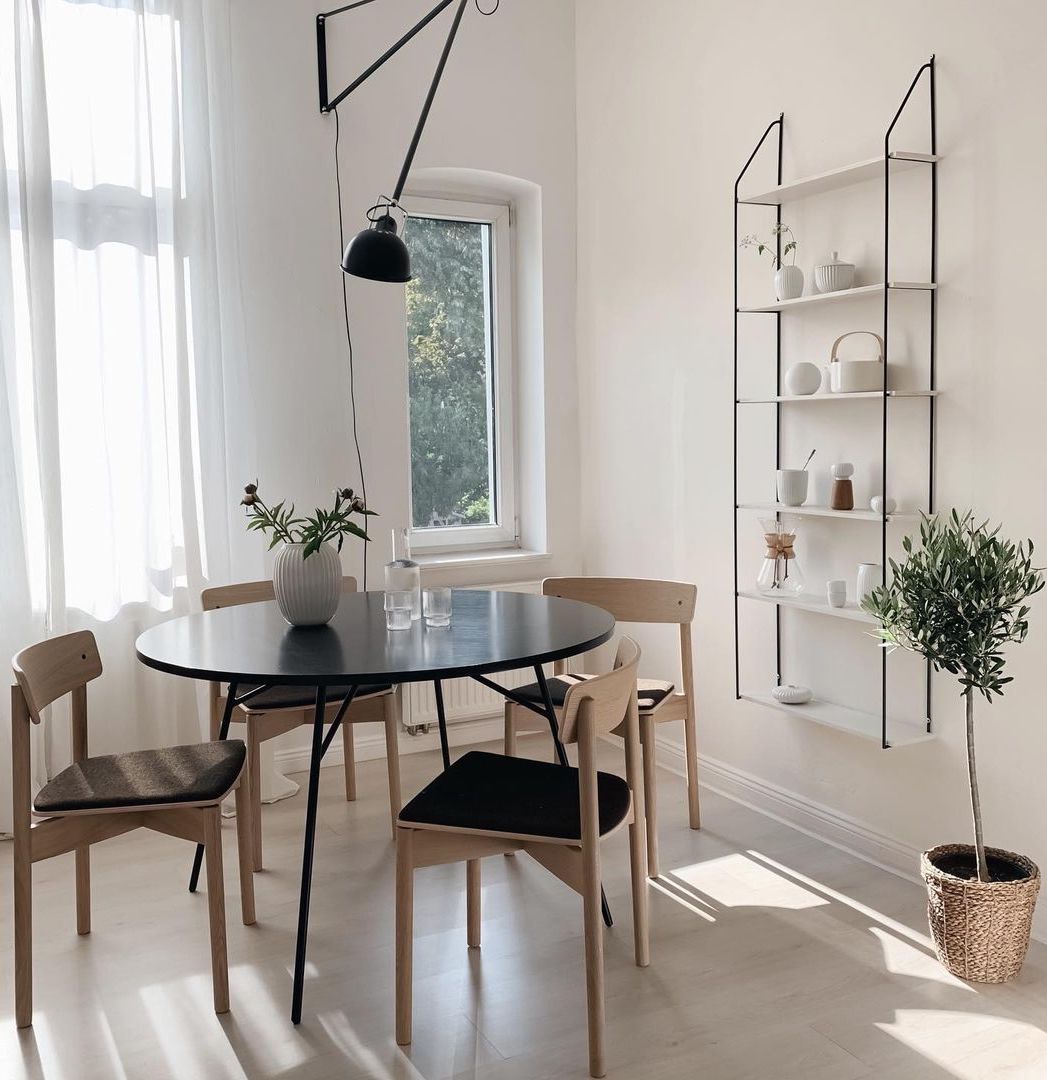 Natural Whimsy
With both real and faux candles to help with lighting, dried and living plant arrangements and a cute little raven for an extra pop of black accent, @kajastef has really captured the Scandinavian feel! A simple table serves to both hold arrangements, as well as eat dinner. Unobtrusive white cabinets line the back wall, while white chairs help to bring together the various tans and blacks in the room.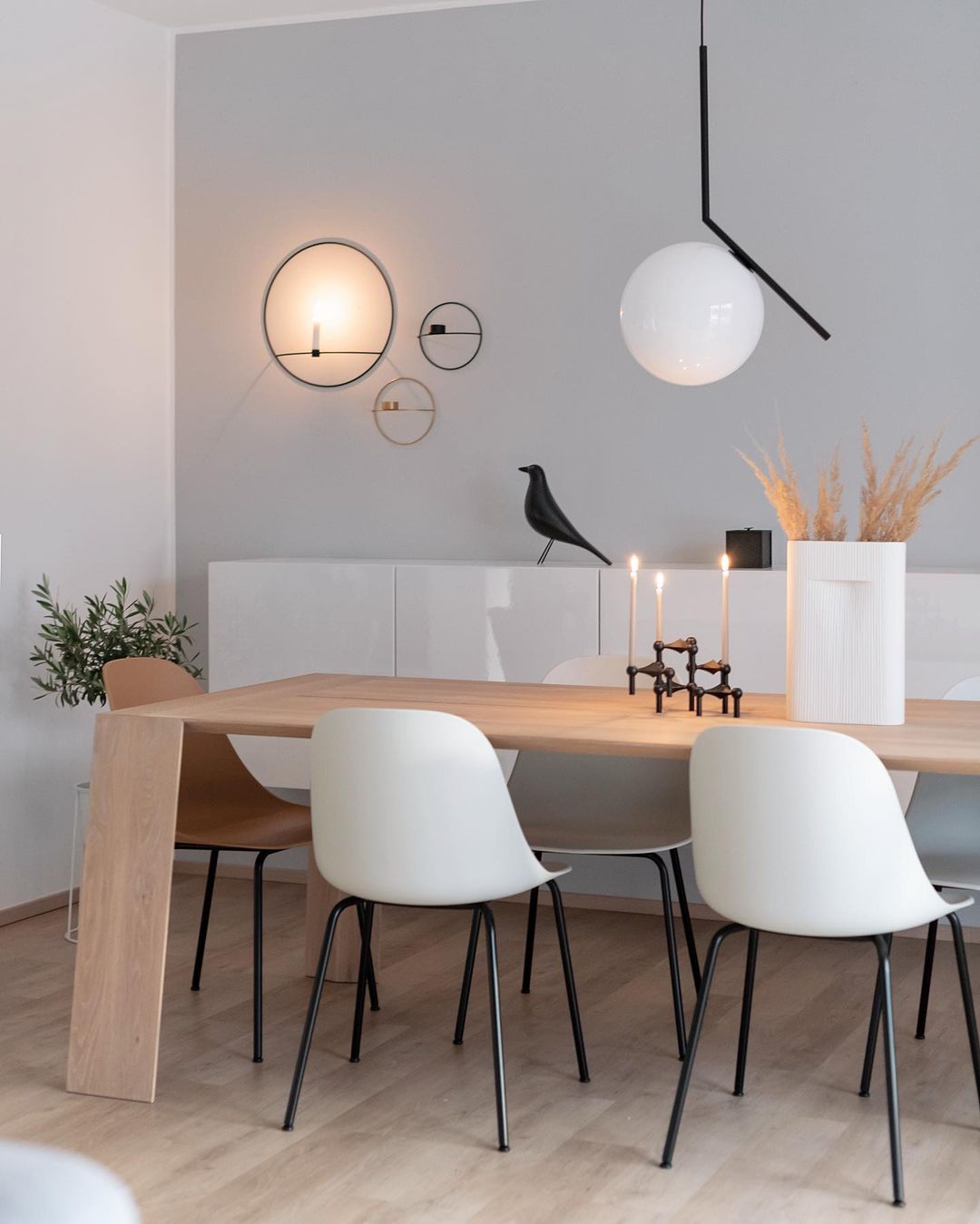 Simple & Clean
@Philcohen_ did a great job pairing light and medium brown hues. With eclectic wooden chairs, a long table, dried arrangements, and subtle artwork, the dining room looks super inviting! Parlor books, diffusers, and even tasty lemons help to break up the warm colors of this beautiful, simple dining room.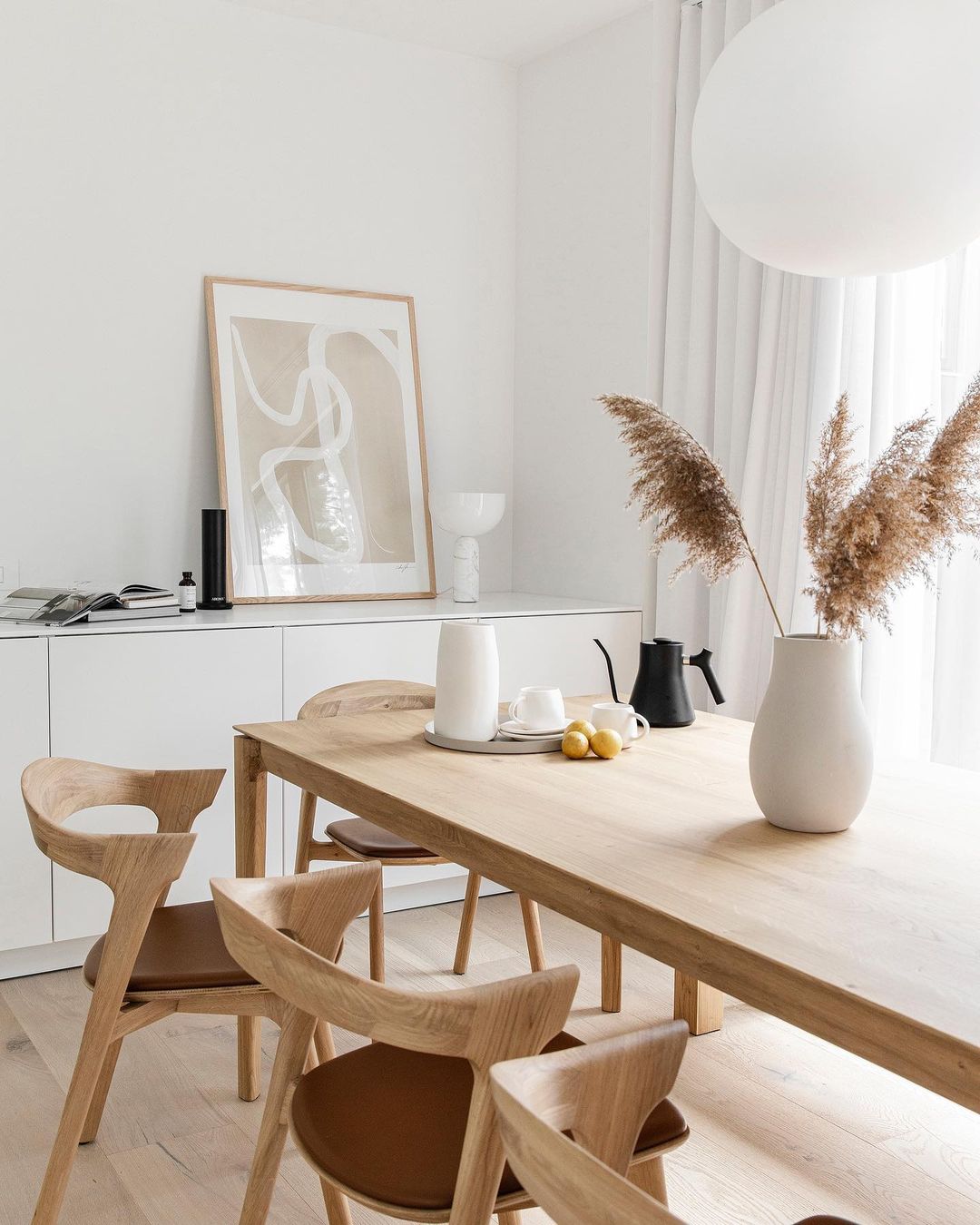 Rugged Luxury
What a way to work in life, love, and style! @Wonenaanhetspoor takes this to the next level. Combining grays, tans, browns, whites, and just a hint of greenery – the dining room looks both inviting and lively. Brown and white family photos and a woven light cover really add to this truly unique design. Exotic plants give the room the feel of something new and as of yet undiscovered. All the while, simple but lush chairs ensure that only the most delightful of dining will take place.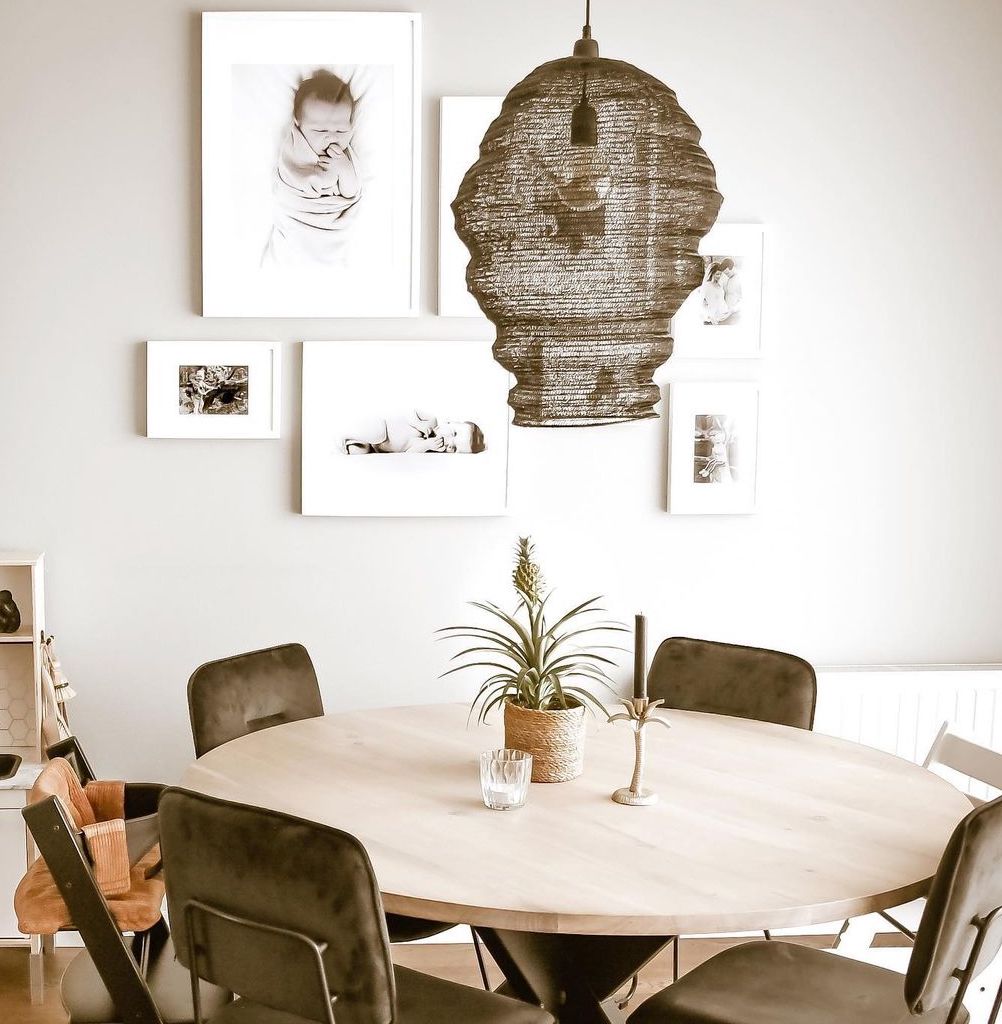 Nature's Finest
@Ashica pairs nature with simple elegance perfectly. White walls and cabinets paint the perfect backdrop, and the dark gray-brown floors create the perfect platform for the amazing natural wood dining table. With smoothly carved chairs that give just a hint of their wild nature and a pleasing, dark gray vase that houses a single, large and lively branch, this dining room looks like something you might find in a modern-day fairytale.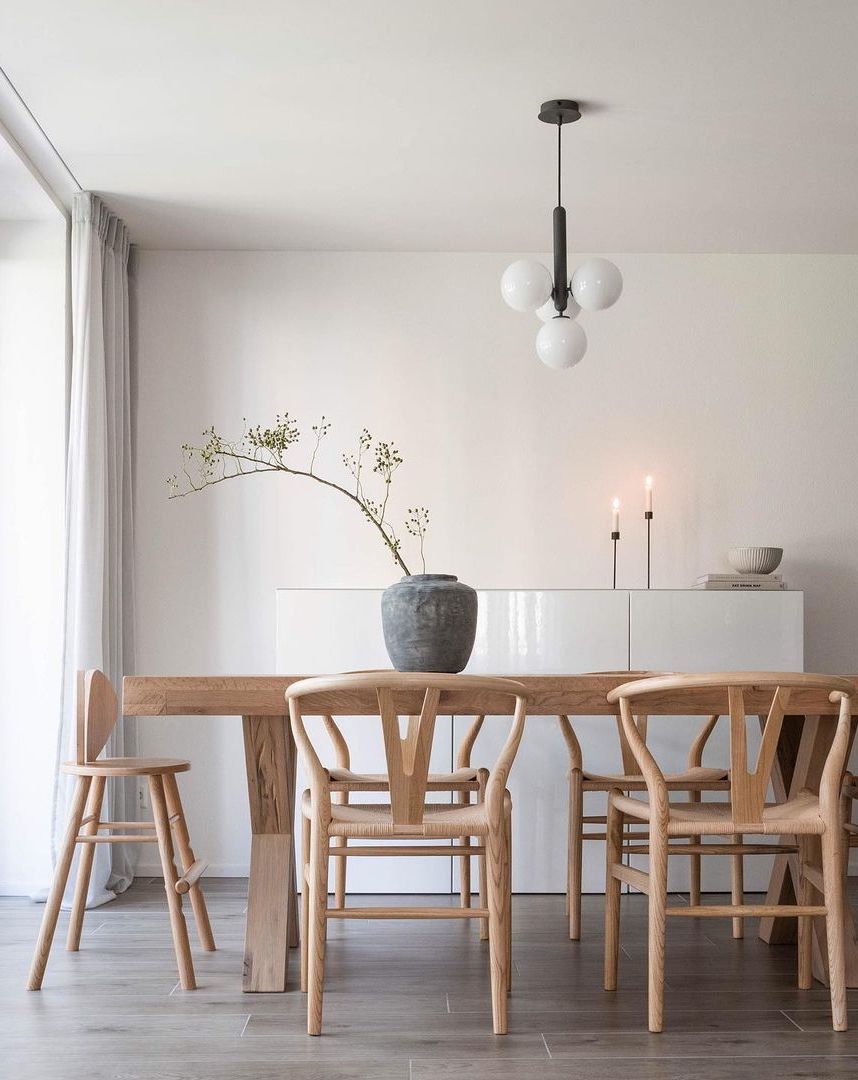 Splendor & Strings
Okay, maybe not strings – but string shelves. These string shelves coupled with a beautiful threaded bookcase are an ideal way to quietly display or hide away your dining room's flair. Using pale colors for the shelving, table, and lampshade, darker hues for the floor, and just a splash of black with the tree arrangement make this dining room by @alltagsschaetze one of the most popular this month!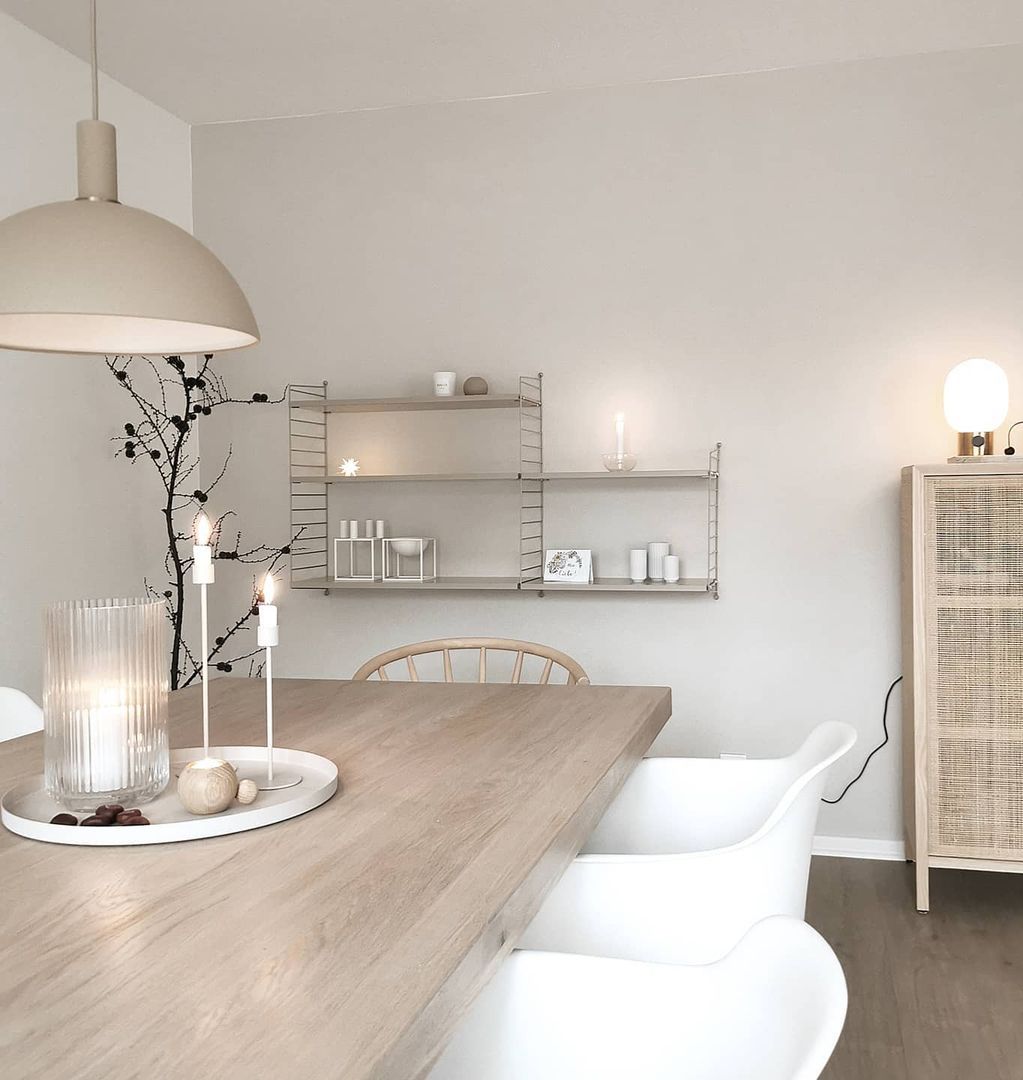 Wide Open Style
@Domek_na_krotkiej's open dining room is stunning with tans, whites, and even a little gray-blue. The dining room also combines plenty of textures – smooth and modern cabinets collide with brick walls, wide glass windows, and several kinds of wood. Even the lamps add a touch more texture (and color) with black metal grating. Though this dining room is huge, it's hardly cluttered, with a simple table and comfy chairs making up most of it.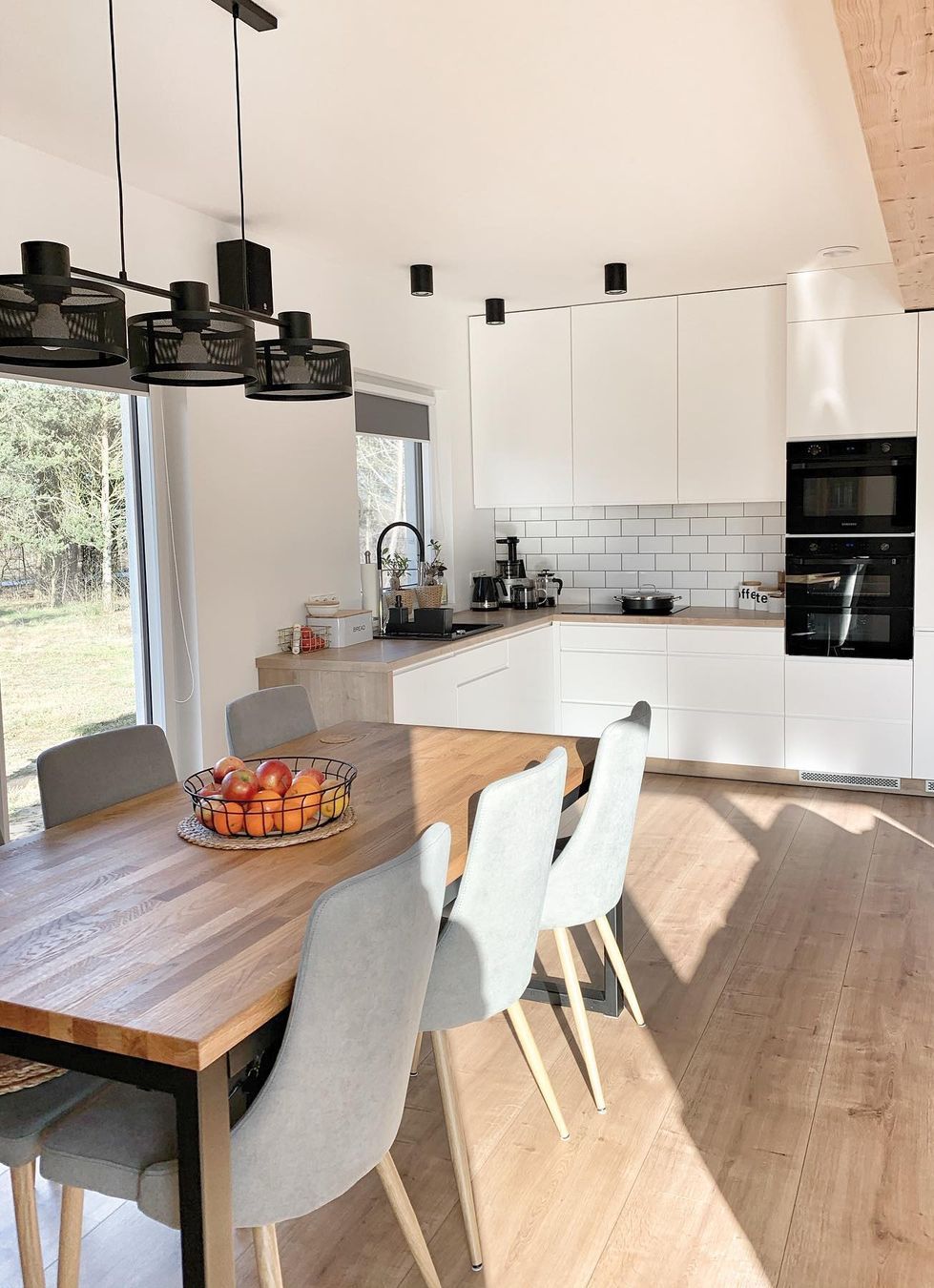 If you love color, then you'll especially love @takinada's take on this beautiful new style. Keeping in with the overall color scheme, the walls and sheer drapes are white, as are the chairs and table. The floors are tan, and there are dried plant arrangements and tan pillows – but that's where the typical Scandinavian style ends. With a yellow chandelier, pops of yellow and teal everywhere, and a comfy blue-gray rug, this truly takes the style to the next level.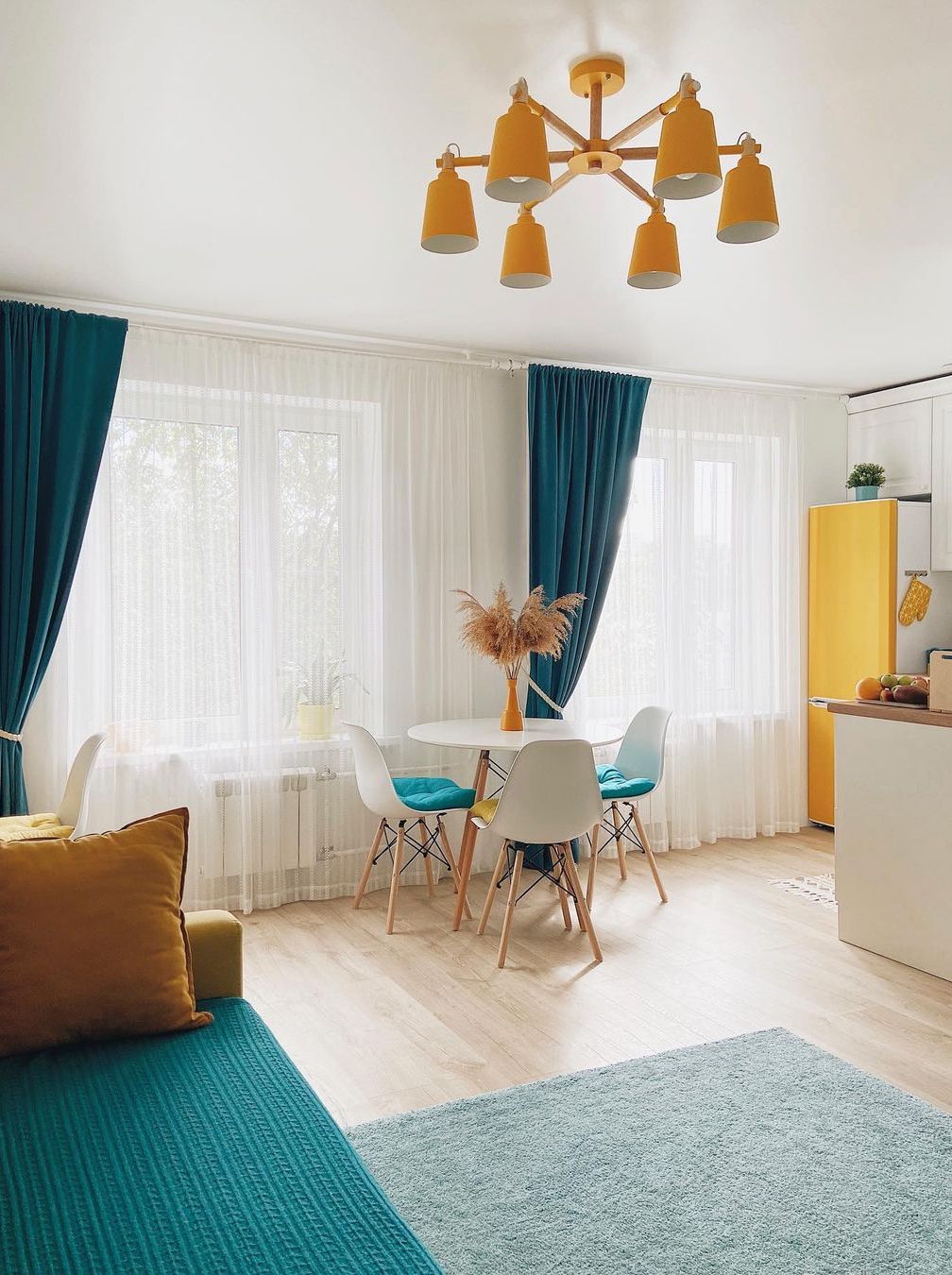 Spacial Perfection
@Essipieces takes simple and elegant to a whole new level. White on white on white with hints of wood and black throughout could seem boring – but this dining room is absolutely beautiful. An avant-garde lampshade adds a touch of modernity, while two black chairs hide amongst the others for a touch of surprise. The lovely open concept gives us a clear view of the rest of this crisp, clean home.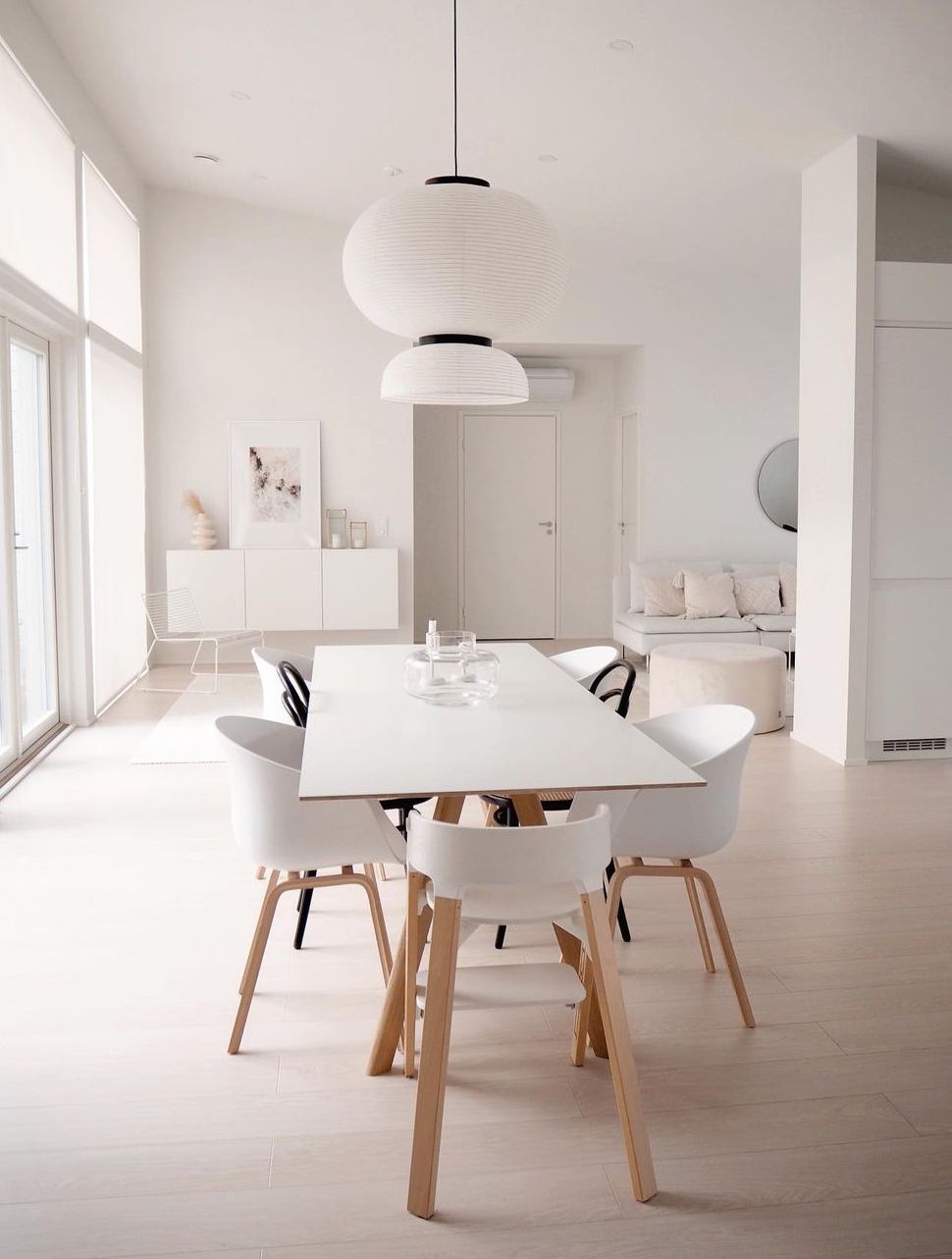 Crisp Hideaway
This is every 'picker's' dream: an eclectic and well-put-together dining area with a beautiful view through perfectly framed windows. Painted and polished woods, wicker lampshades, an assortment of candles, and thrift-friendly mismatched chairs give this a super-cozy, one-of-a-kind look. The painted beam in the center gives it a more rustic, old-world feel that truly gives homage to its roots. Big thanks to @schoene_kleine_welt for the wonderful design!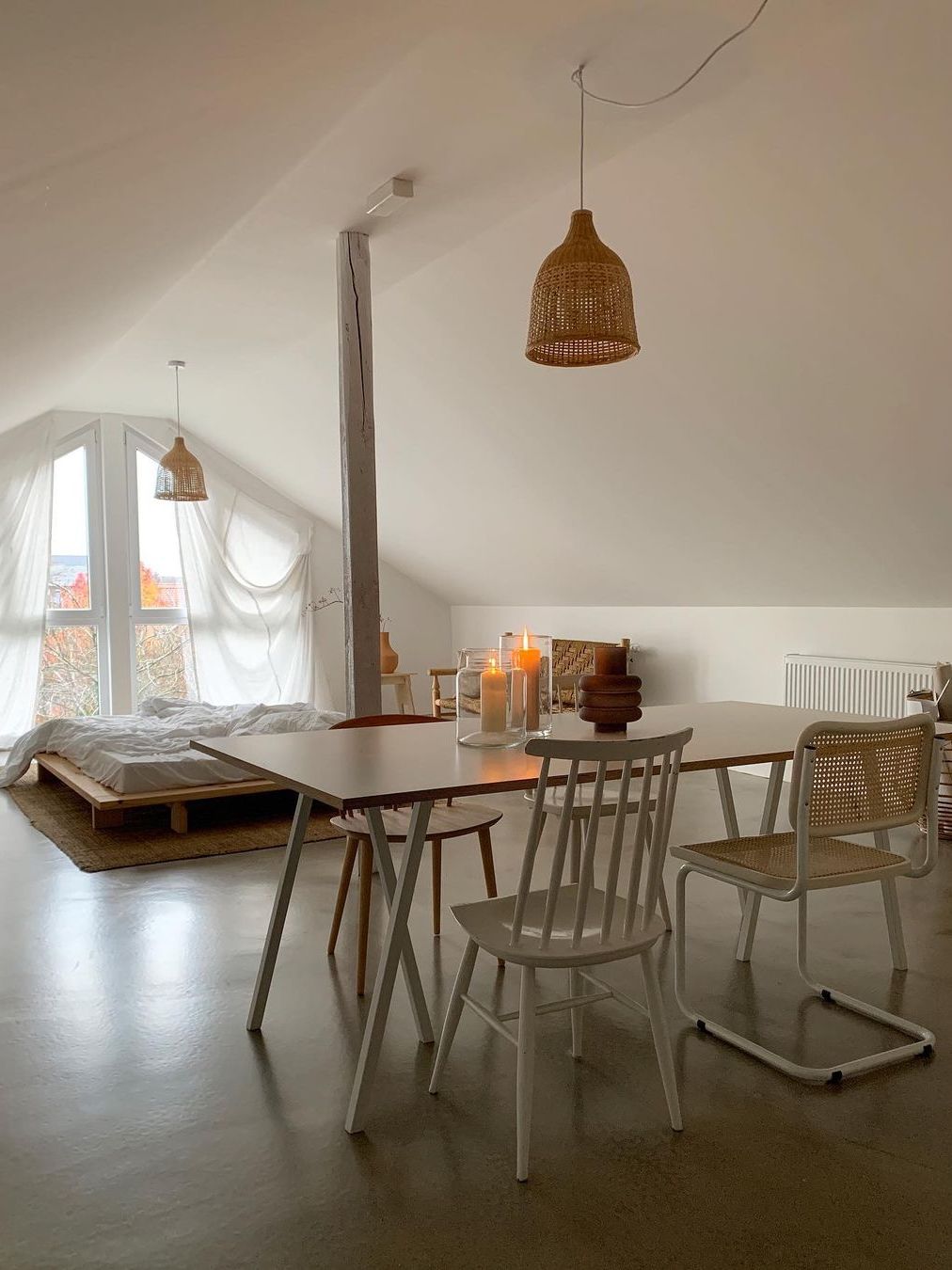 Large & Living
@Ourcornerofsuffolk gives us an idea of how to utilize open concept dining rooms whether we love having friends over or just have a huge family. Wood flooring, a huge window, a tasteful mirror, and sunroofs work together with the lush plant arrangements and plant life to give a feeling of being in touch with nature with all the conveniences of being in your home. A wood table with matching bench and black chairs provides plenty of seating for the average family, though a black table with metal matching chairs provides extra if you need it. White and bare wood cabinets offer plenty of storage space for all of your dining room needs.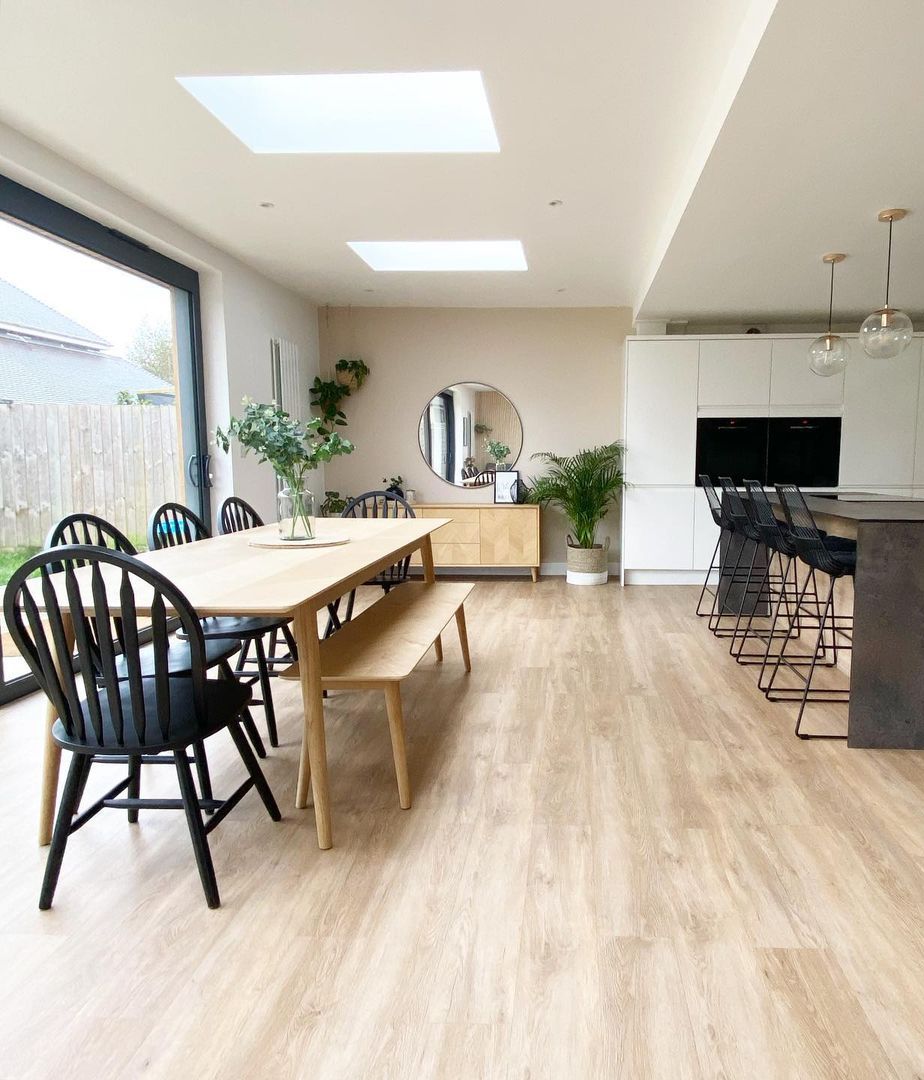 Summer Splendor
Beautiful wood-paneled floors, subtle tables with mismatched chairs, and plenty of plant life and shelving leave us wanting more from @friloconcept. Pops of color from plant life, lighting, and even chairs really bring this dining room to life. The stunning view into the garden certainly doesn't hurt, either!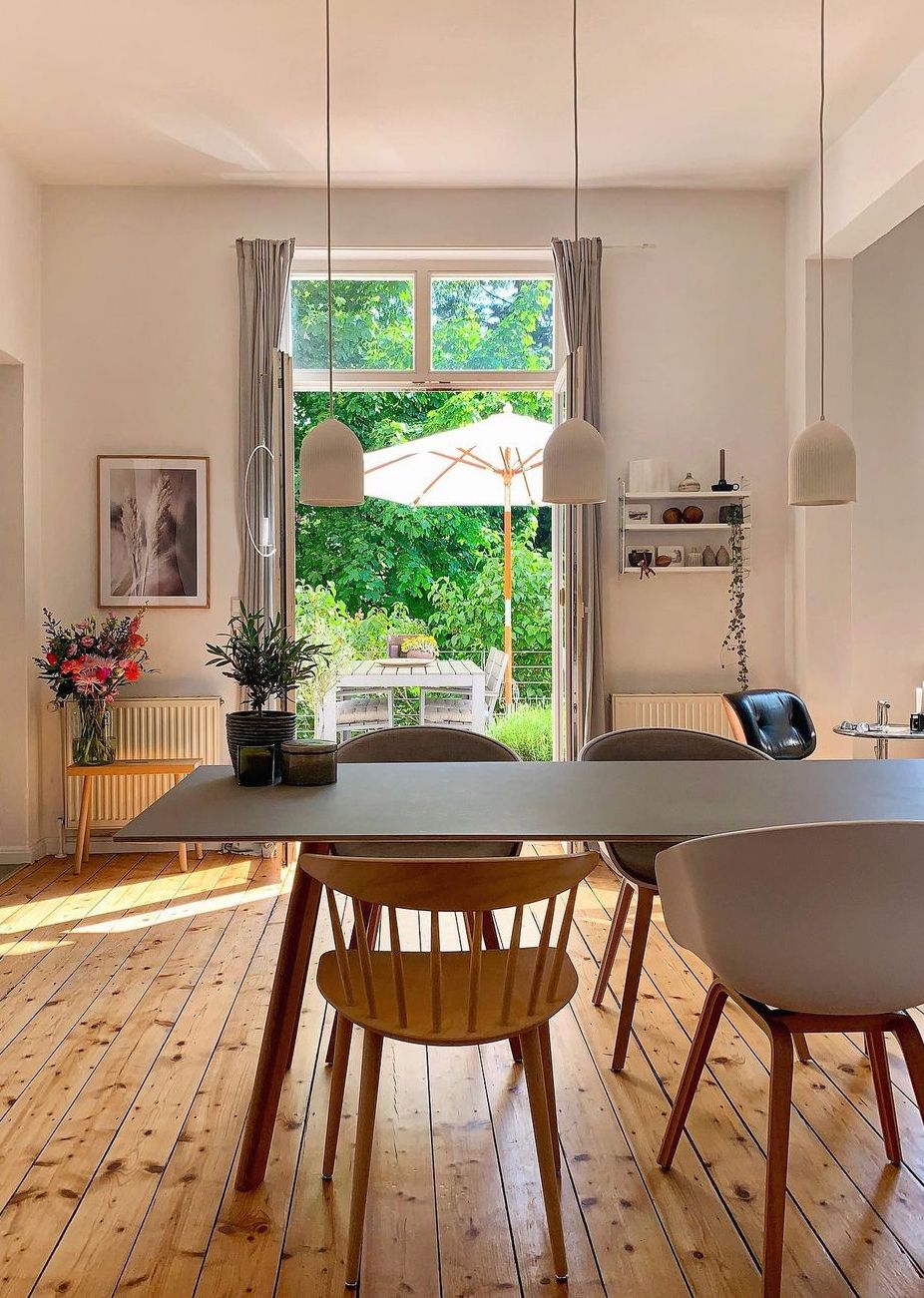 Sources: 1. https://www.instagram.com/p/CBFcWHyod05/ 2. https://www.instagram.com/p/CGqD0PUFgns/ 3. https://www.instagram.com/p/CC9E38eJBCF/ 4. https://www.instagram.com/p/CFcofURDbub/ 5. https://www.instagram.com/p/CEa_Tg2nG5l/ 6. https://www.instagram.com/p/CGw8pfnsju5/ 7. https://www.instagram.com/p/B8Qs_57p7Vb/ 8. https://www.instagram.com/p/CE_JQOWl1y3/ 9. https://www.instagram.com/p/CGVQ4U2AGof/ 10. https://www.instagram.com/p/CH5z1kahWUH/ 11. https://www.instagram.com/p/CGp7YW7HIxT/ 12. https://www.instagram.com/p/CPtFhDXsYiR/