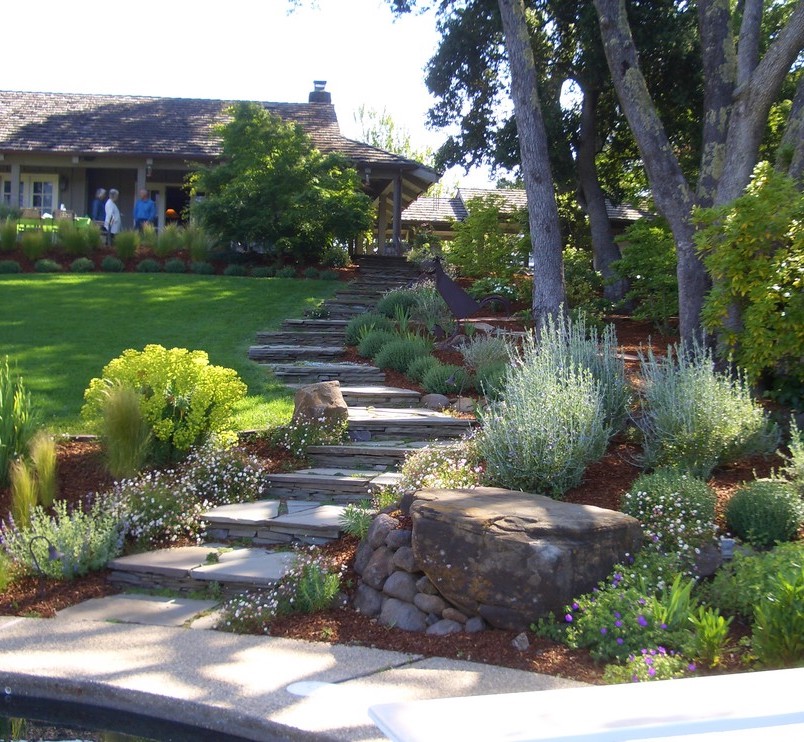 30 Hillside Home Landscaping Ideas from Top Landscapers of The USA
When you have beautiful hillside property, figuring out how best to showcase this feature in you home can be a challenge. So, to help you out, we have rounded up the top 30 hillside landscaping ideas from around the US to inspire you and included their design team information as well.
Stony Step Pathway
When your hillside meanders and you want to use it as a pathway, consider installing a stone stairstep like this curved beauty from Boyne City, Michigan's Common Ground Landscapes. Gorgeous New York Bluestone is stacked using a gravel base to create this sturdy and practical but stunning curved staircase.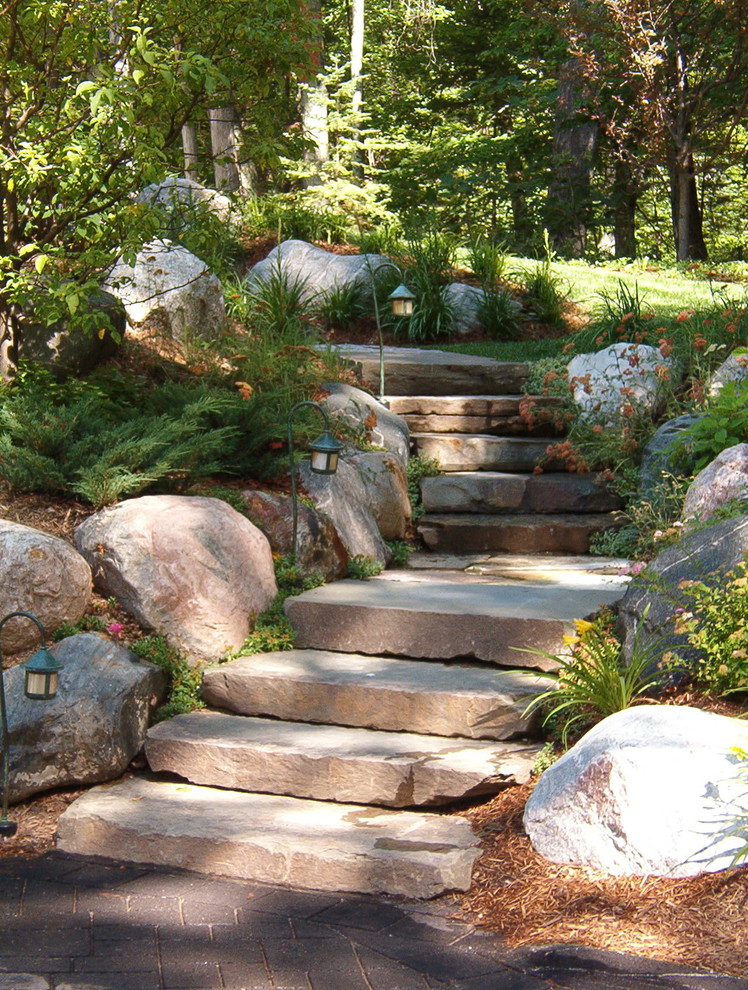 Gently Curved Japanese Pathway
For a low slope, this Japanese-inspired design is a unique way to create a traditional gravel and wood pathway. Created by Dabah Landscape Design in Randolph, New Jersey, this pathway combines dark wood step interspersed with light shale gravel.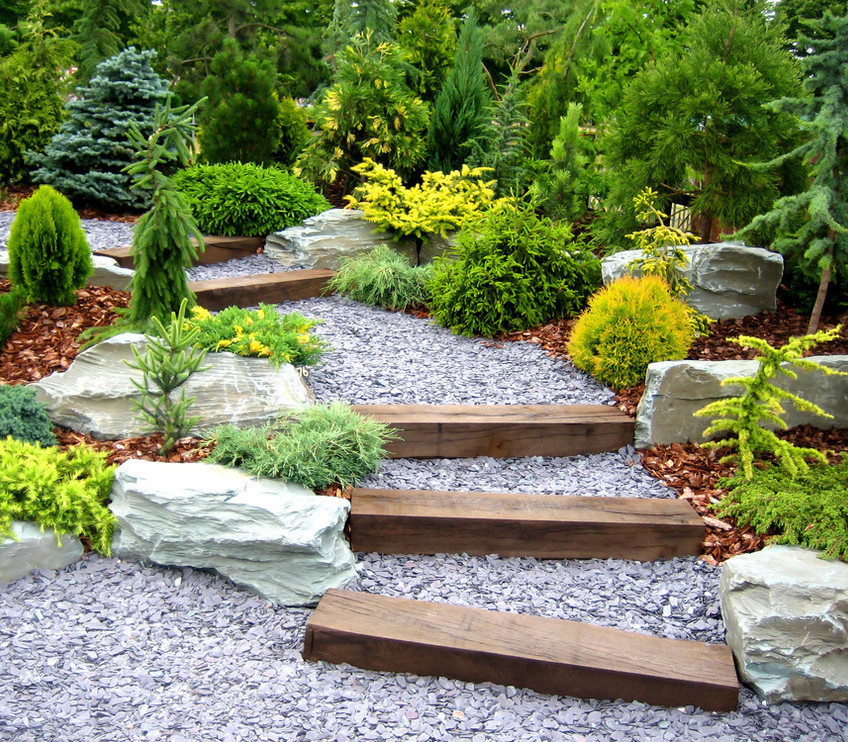 Lush Tiered Lawn
When you want a luxurious green lawn but have a hillside property, using a tiered lawn can be a perfect solution. This beauty from Atlanta's Historical Concepts uses flagstone edging to define the tiers of the full, verdant grass of the gently sloping hillside.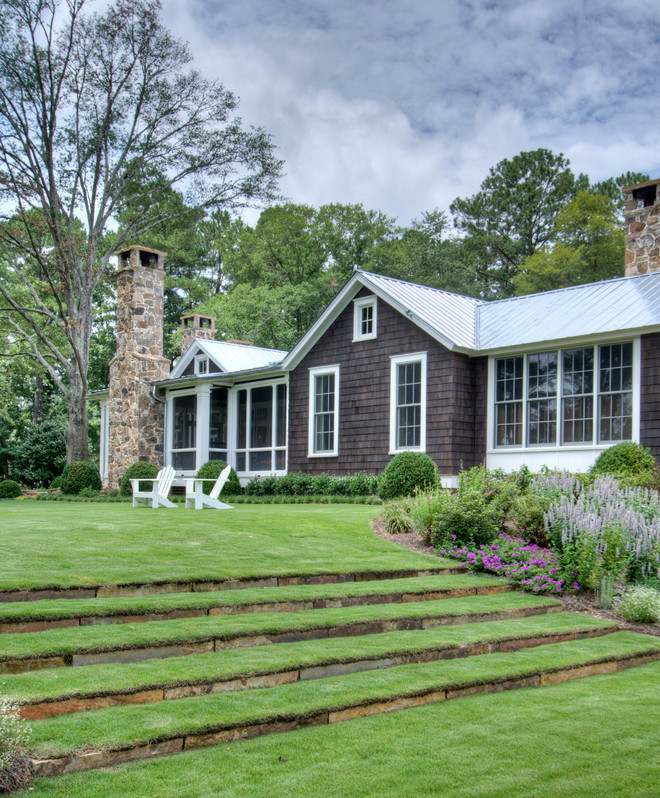 Contemporary Sunken Steps
Groundswell Design Group's modern take on utilizing a large slope creates a cozy, squared off step down and planter retaining walls. This Philadelphia, Pennsylvania design team has mixed wood steps with concrete planters to create a compact but beautiful space.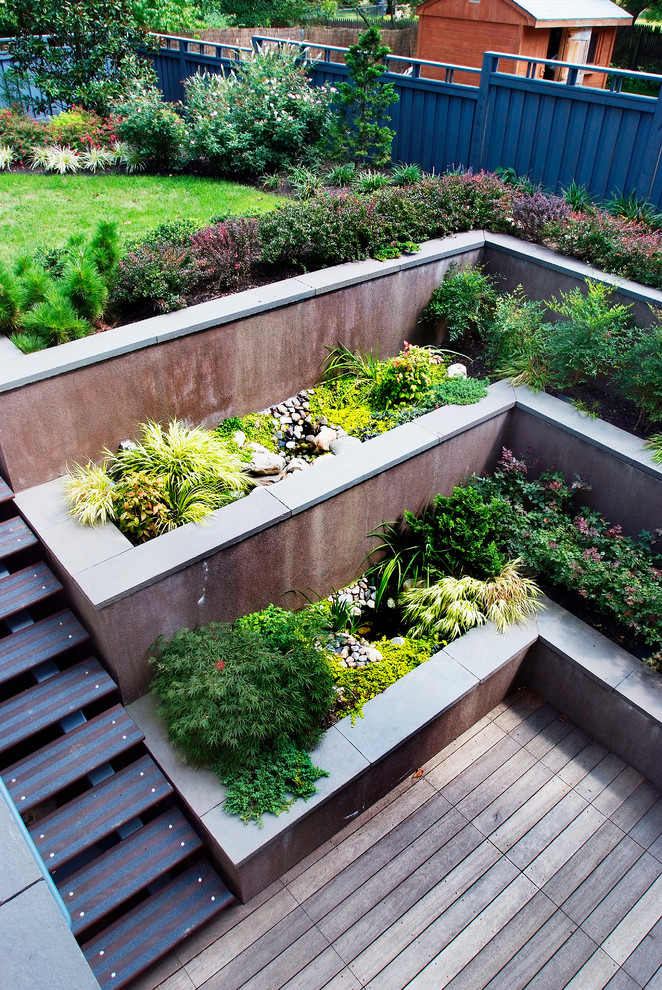 Terraced Desert Garden
This unusual, terraced stair and garden space from D-Crain Design & Construction out of Austin, Texas, uses raw steel and gravel as design elements. Rustic and modern at the same time, succulent and cactus steel planters and wooden stairs are intermixed in this arid landscape.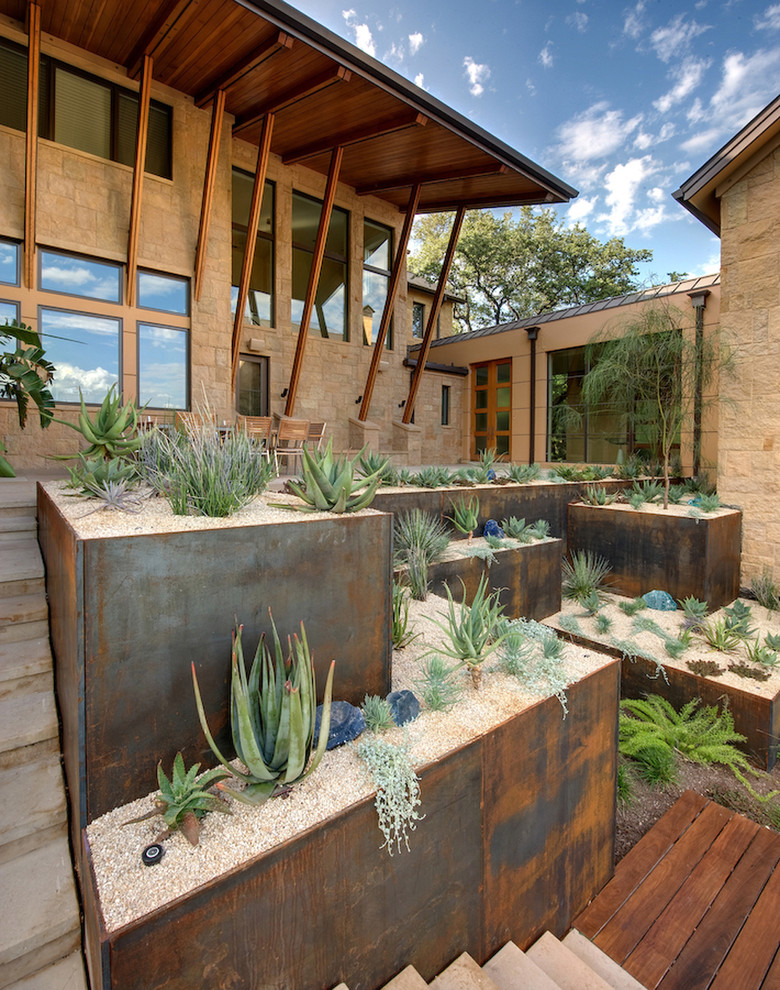 Space to Meander Together
Wide, easy stone stairs ramble upwards in this easy-going design from Keith Willig Landscape Architecture out of San Francisco, California. Made of large, flat stones, the stairs are accented with smaller stacked designs underneath as the stairs undulate lazily up the hillside.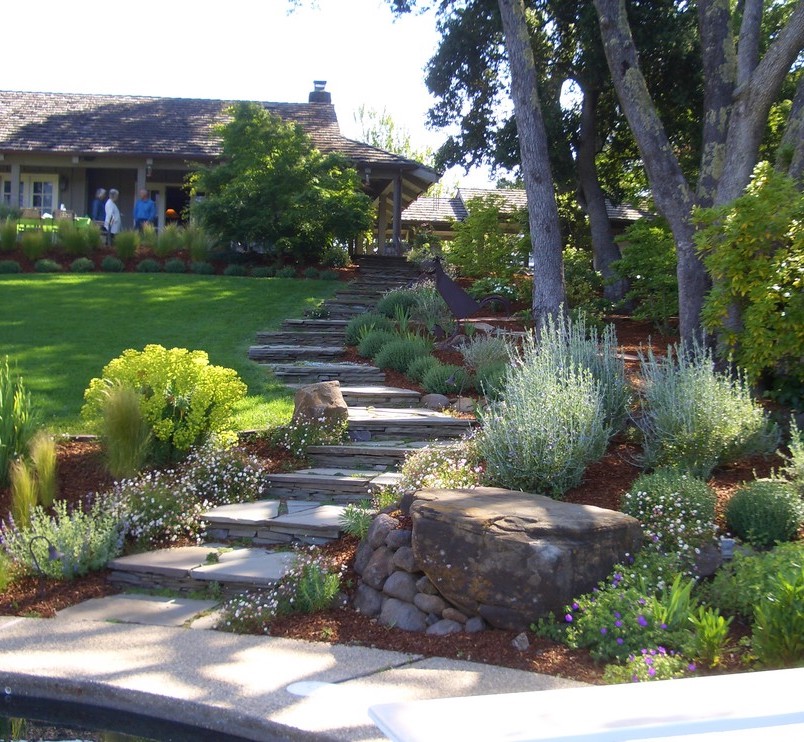 Contemporary Blue Stone Pathway
Like a secret garden path, this stone pathway takes advantage of a gradual slope while still feeling private and intimate. Created by the Los Angeles Stout Design-Build team, lush grasses between the stepping-stones are almost outshined by the soft grasses and cheerful flower plantings adjacent to the pathway.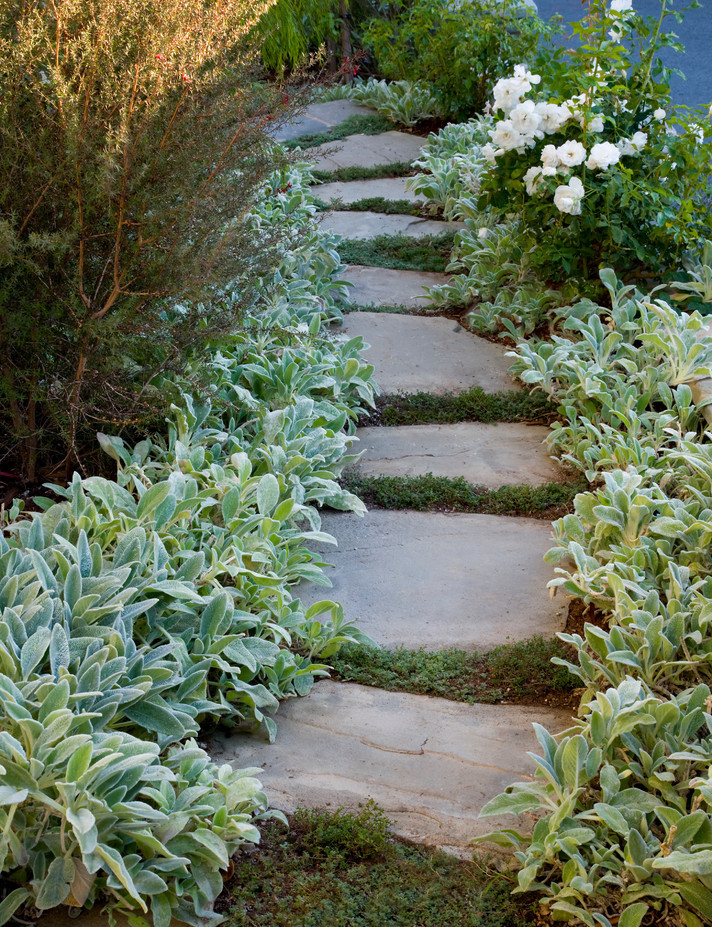 Steep Hillside Step Solution
When a steep incline needs a solution, this stone stacked wall and step combo from Boston's Fluerdelis Landscape Design is an option to consider. Gently curved bluestone steps turn smoothly around the double tiered plantings encapsulated in a stacked stone planting area.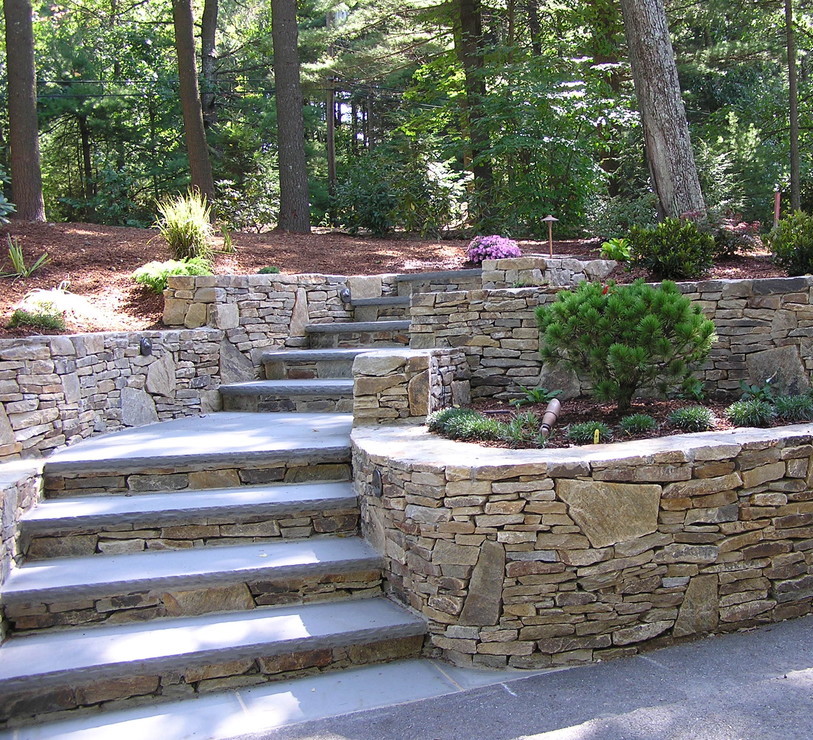 Rustic and Natural
This hillside slope displays a natural, relaxed aesthetic with simple flagstone steps notched into the hillside. The real stunner of the design from Cathy Schwabe Architecture of San Francisco is the stone patio nestled at the bottom of the slope.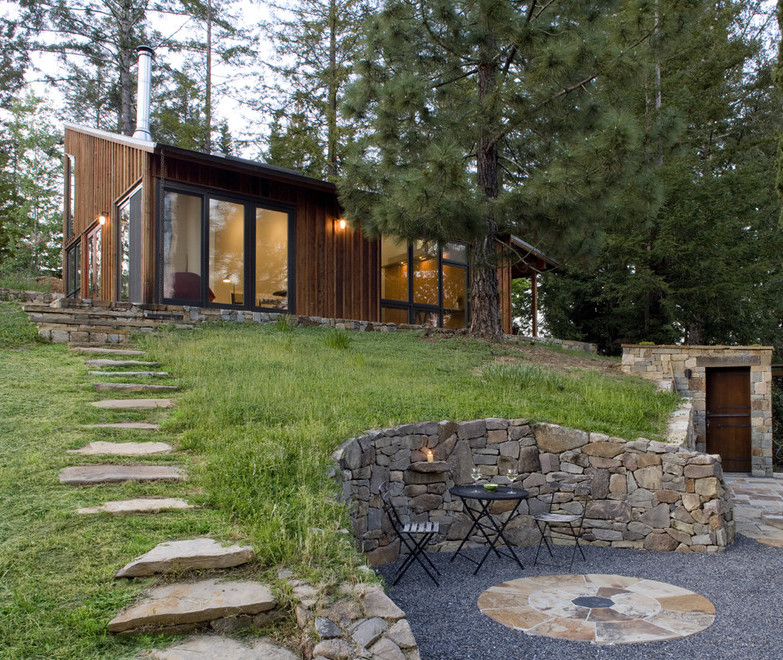 Simple Stacked Stone Edge Terrace
SURROUNDS Landscape Architecture + Construction out of the DC Metro area of Washington has created this simple but stunning tiered solution for a hillside space.
Steep Slope Stone Steps
Derviss Design in Novato, California, has created this simple but memorable stone staircase that works perfectly on a high-grade hillside. Lush plantings encroach warmly over warm, natural stone stairs that amble purposefully up the hillside.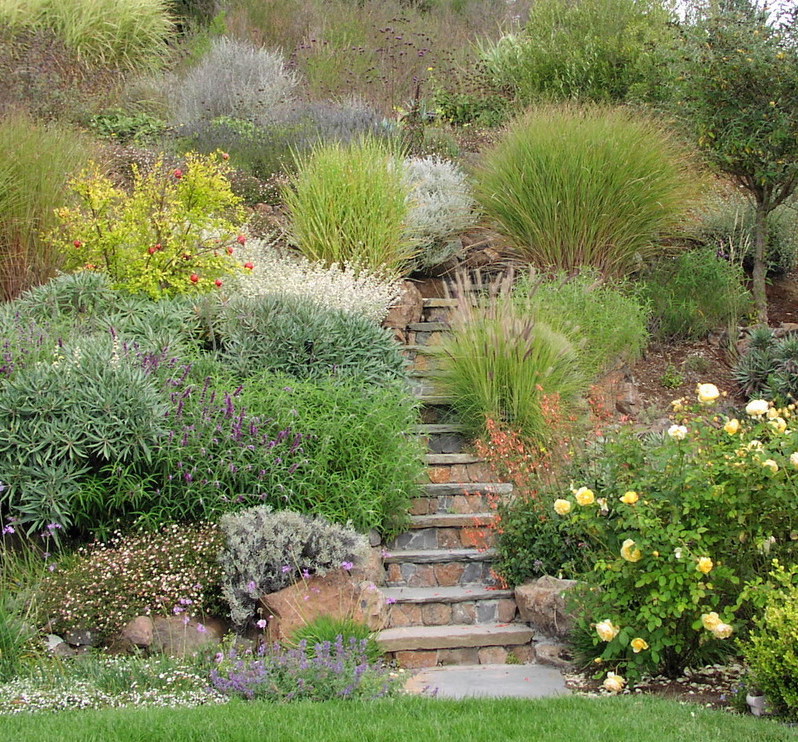 Classic Mountain Design
Out of Burlington, Vermont, Wagner Hodgson's hillside design feels like a natural, mountainside staircase. Crafted from wide stone steps placed directly into the ground, the grassy spaces between belie the steep hillside slope.