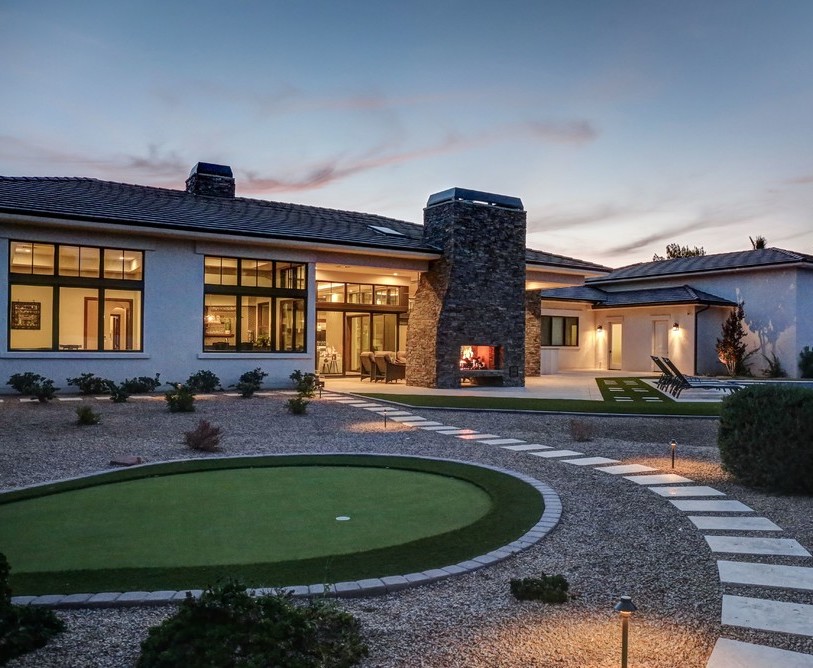 28 Latest Backyard Design Ideas From Top Phoenix Landscapers
Whether your backyard is your calming oasis, family playroom, or BBQ haven, it's important to get your backyard just right. That's why we've put together 28 of the latest backyard design ideas from some of Phoenix's top landscapers, designers, and contractors!
Room with a View
Greey Pickett gives us a breathtaking example of beauty, function, and peace. With a cacti garden (complete with a walk path) that contrasts beautifully with the patch of greenery – perfect for outdoor playtime or a little outdoor yoga – and offers a stunning view of the mountains in the distance.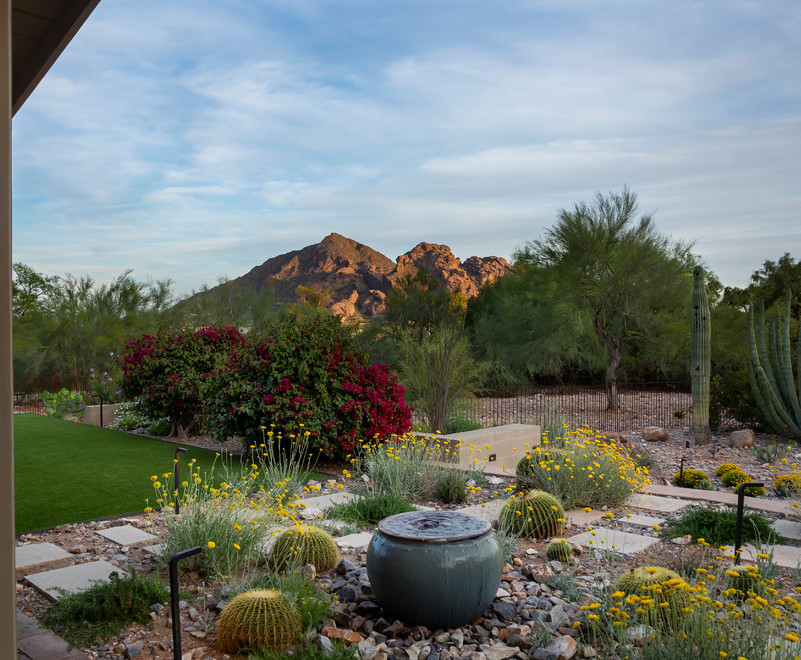 Sunny Waters
BOXHILL offers us some good, sunny vibes with this drought-tolerant alternative. With sparse, hardy plants as accent pieces, plenty of gravel, and even more water, this any water bug's paradise. A seated water patio feeds into a pool, guaranteeing that you won't get bored of this backyard beauty.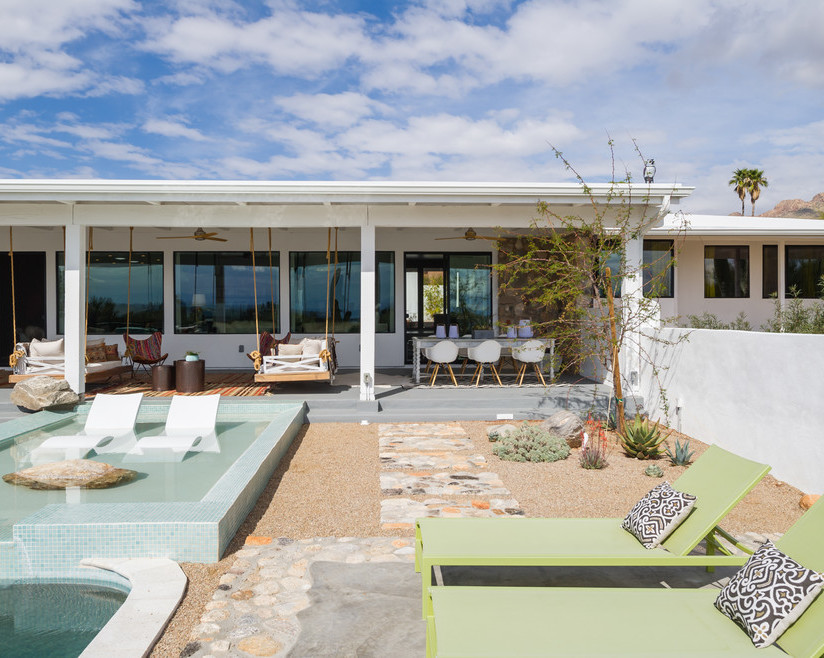 Two-Toned Modernity
Venetian Outdoors shows us how to blend the best of both worlds – with structured dessert plants, gravel, greenery, and comfort, this two-toned yard offers plenty of seating and opportunity to BBQ or just enjoy a night under the stars.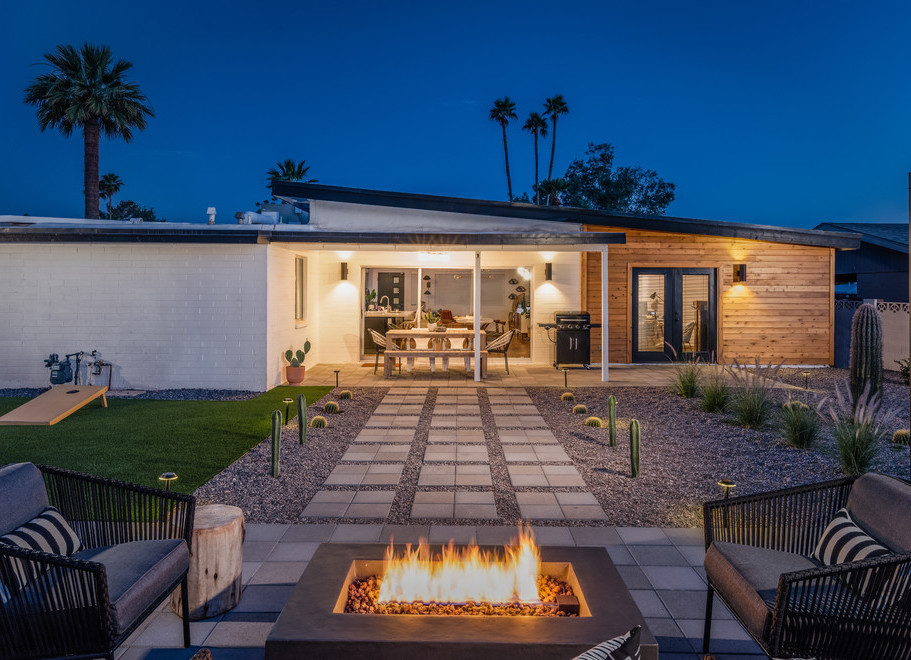 Classic, Squared.
Guided Home Design also takes on the challenge of blending greenery with the hot, Phoenix sun. With a beautiful water fountain, plenty of hard plant life, and grass with a pleasing-to-view, perfectly placed walk path. Comfy seating surrounds a charming fire pit.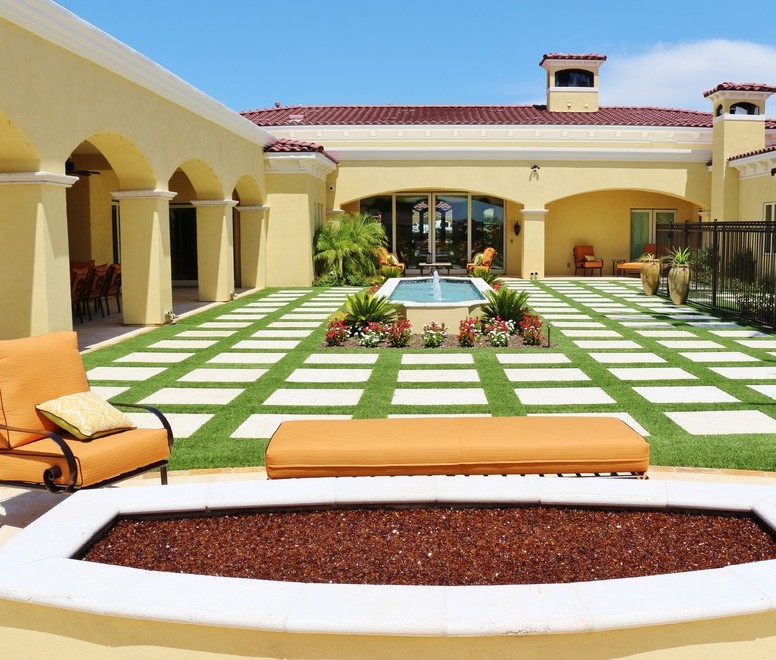 Peaceful Shade
Warren Architecture does a great job of giving a small yard a comfy patio, plenty of shade and plant life, and just a hint of solitude. Together with pops of lighting, this outdoor dreamscape is perfect for you, two, or the whole family.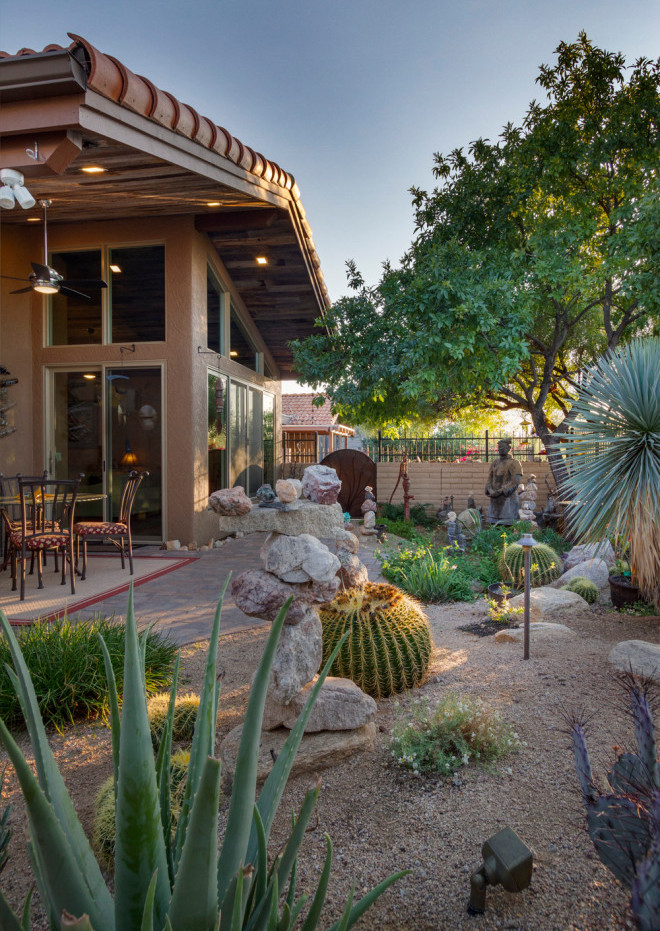 Waterscape
Creative Environments gives us something to look at with a perfectly green lawn on one side, boasting plenty of seating and lounging options, and an outdoor kitchen. On the other side, we have a romantic nook and a plethora of plant life. And in between? A luxury pool with plenty of fun fountains.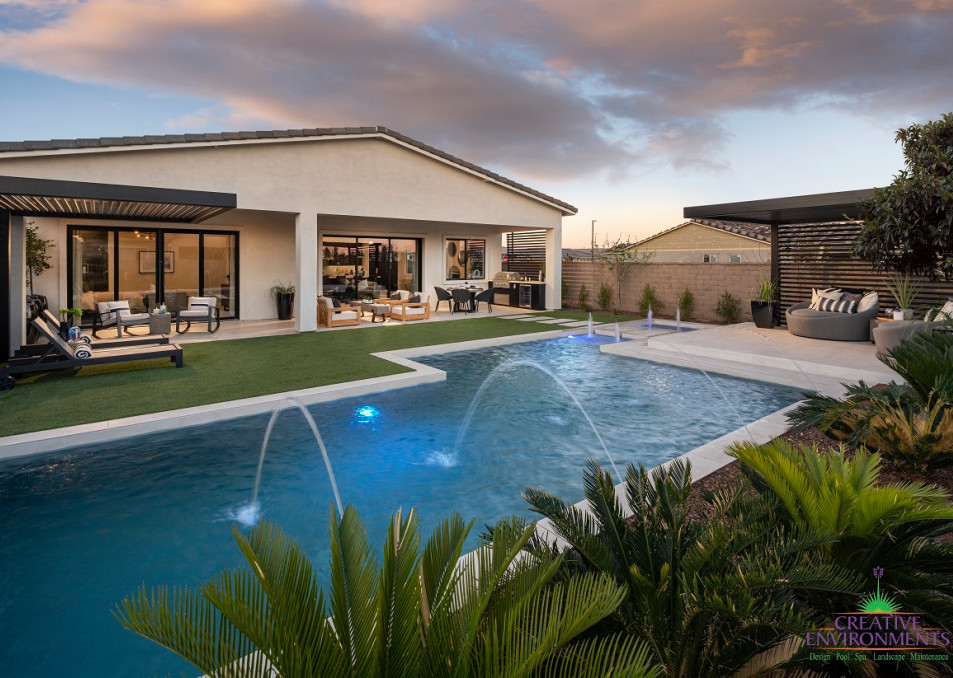 Gravel and Grace
ArchitecTor gives us a little bit of everything; greenery and grass, gravel and walk paths, a pool with lounge chairs, and an outdoor fireplace to light up the night. Subtle lighting helps to make this the perfect outdoor escape for nighttime fun!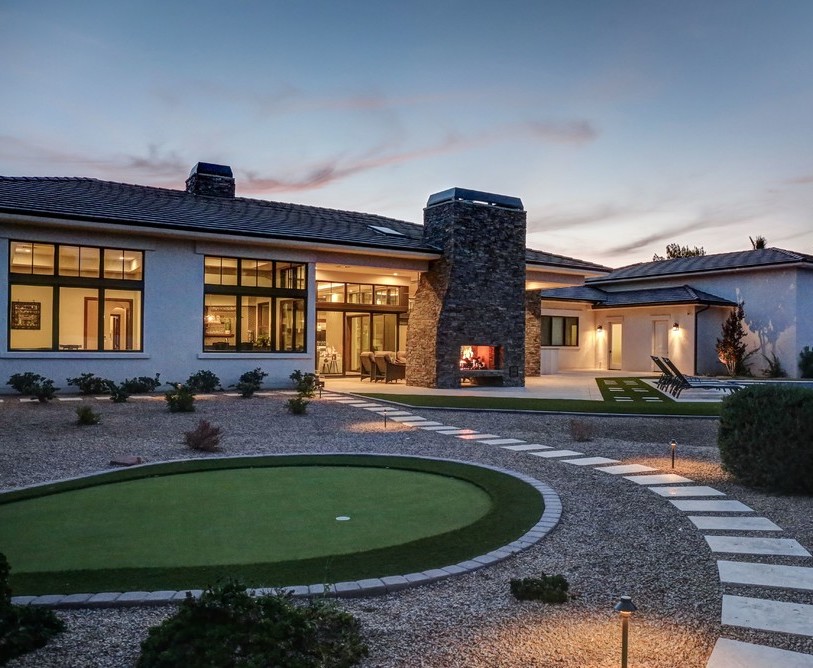 Lush & Lively
Desert Horizon Nursery shows us how to put artificial turf to good use! With pops of live plants, plenty of shrubs and trees, a stone fireplace, and a lovely cabana, what's not to love? This is the perfect setup for a big family who loves to enjoy quality time outside.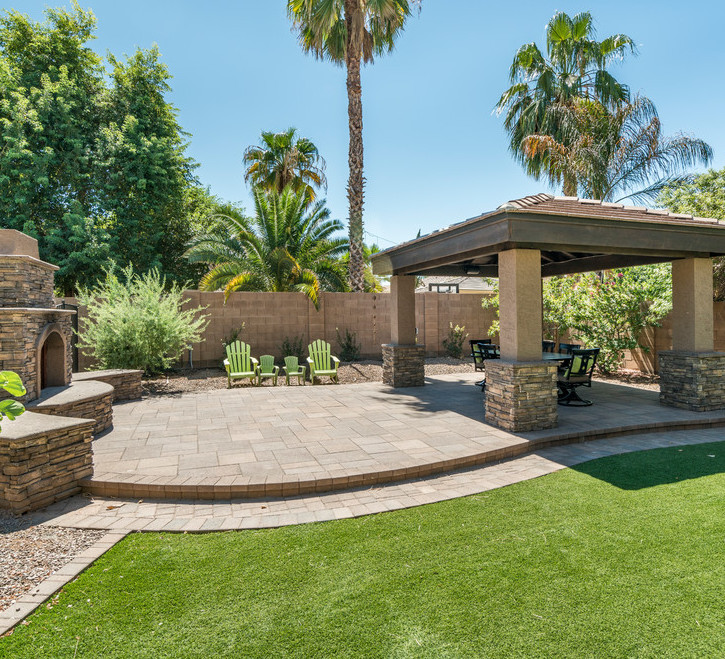 Trees, Peaks, & Good Seats
Moon Valley Nurseries knows what's up with this fantastic blend of elegance and nature. Simple seating around a stone fire pit is sectioned off for functionality, but still offers plenty of views and a spacious grassy area for plenty of running around.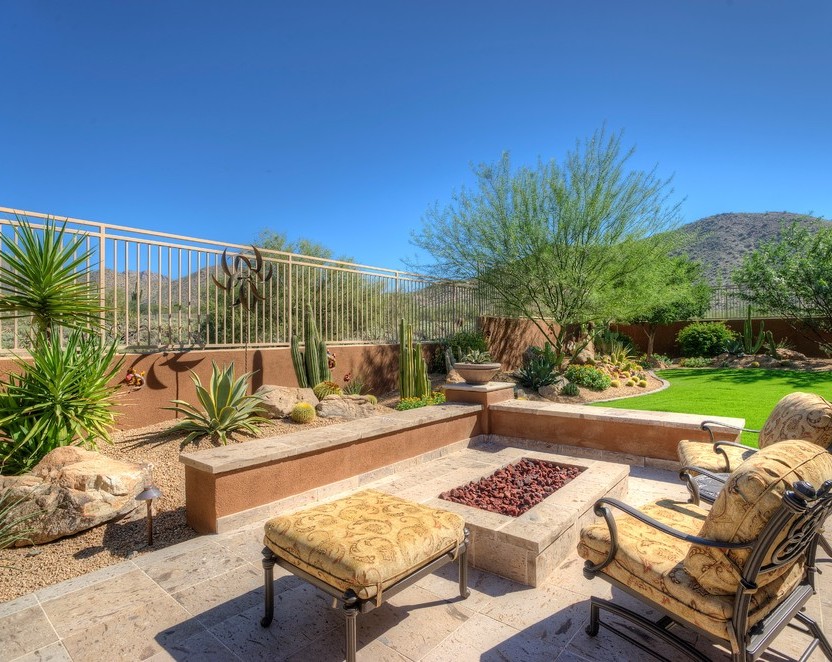 Open Elegance
Pascale Land Design gives us a Mediterranean feel. With beautiful, hardy plant life, plenty of gorgeous trees, a fountain, and plenty of open space, this design is perfect for all types of families.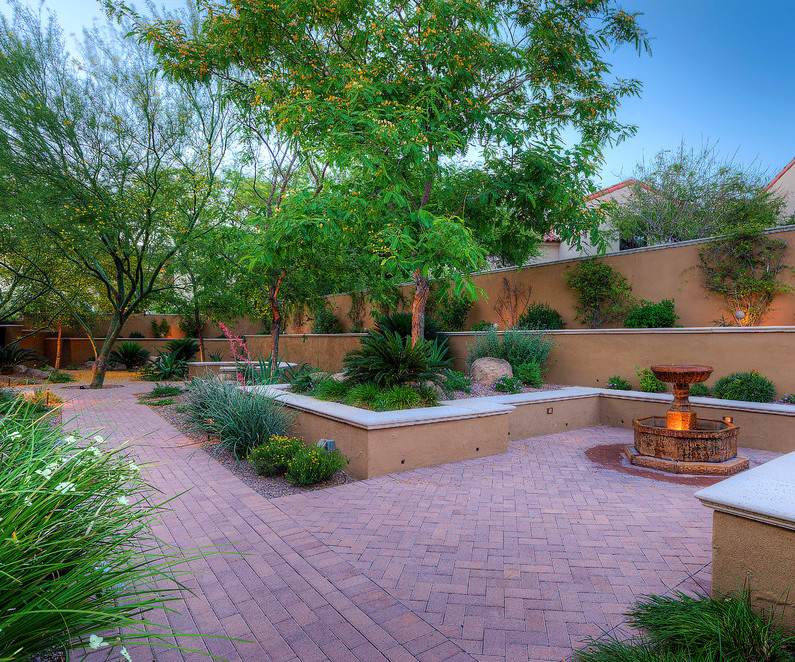 Small & Open
Greenheart Landscapes shows us how to maximize a small yard. With gravel giving life to desert-hardy plants, a patio with cute seating, and a green turf that has a fun walkway, you can enjoy all of your outdoor activities. This is a very budget-friendly design.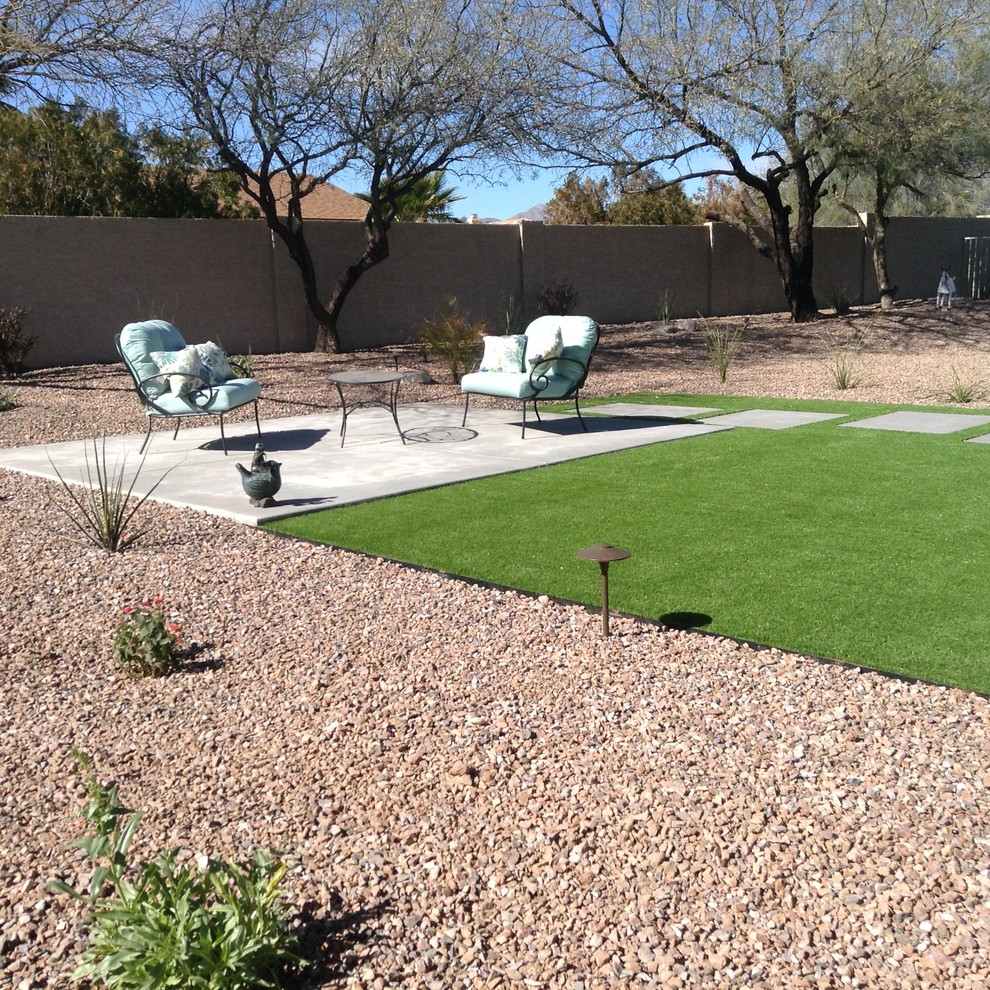 Concrete, Cacti, and Open Skies
Azul-Verde Design Group has a great style when you don't care for artificial turf but still want that natural feel. With a lighted gazebo, outdoor fire pit and patio, plenty of walkways, and an intimate pool, this design maximizes outdoor life for you and mother nature!