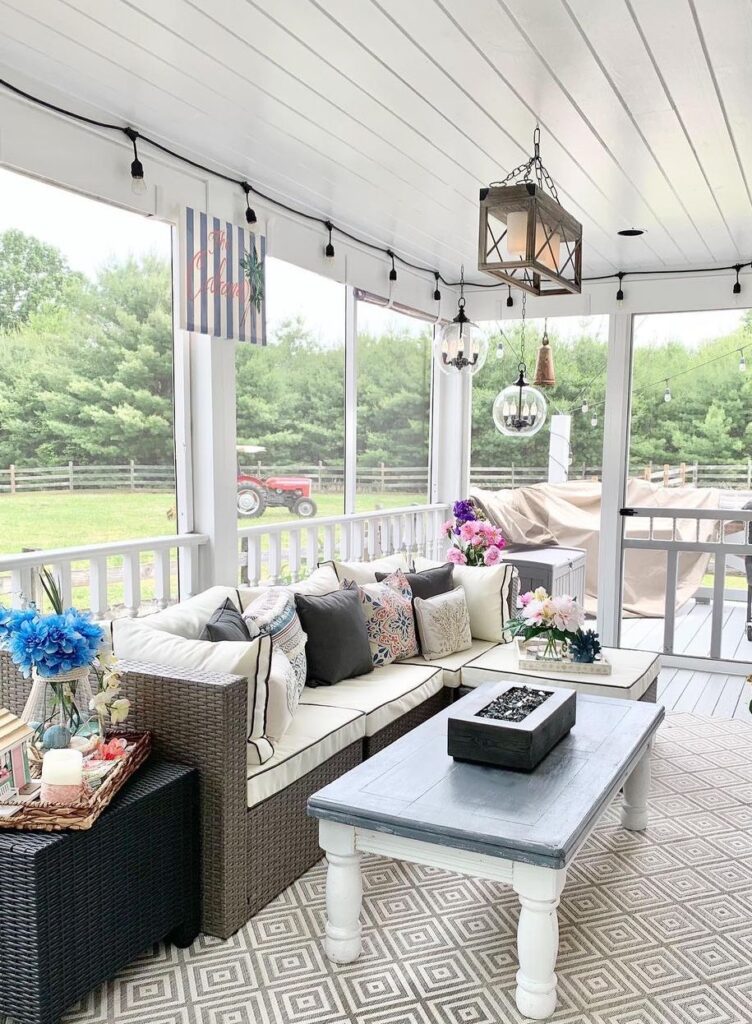 60 Inspirations for Bringing Summer Farmhouse Decor into Your Space
This summer is all about showcasing your own unique style. From lighting to table settings, porches and kitchen counters, these 60 farmhouse decor ideas will help you bring summer into your home.
Colorado Comfort
@OurColoradoHome paired a whitewashed brick fireplace with beadboard and vintage garden touches. The comfortable neutrals are grounded with black industrial light fixtures. Overall, this western home keeps cozy vibes with farmhouse charm.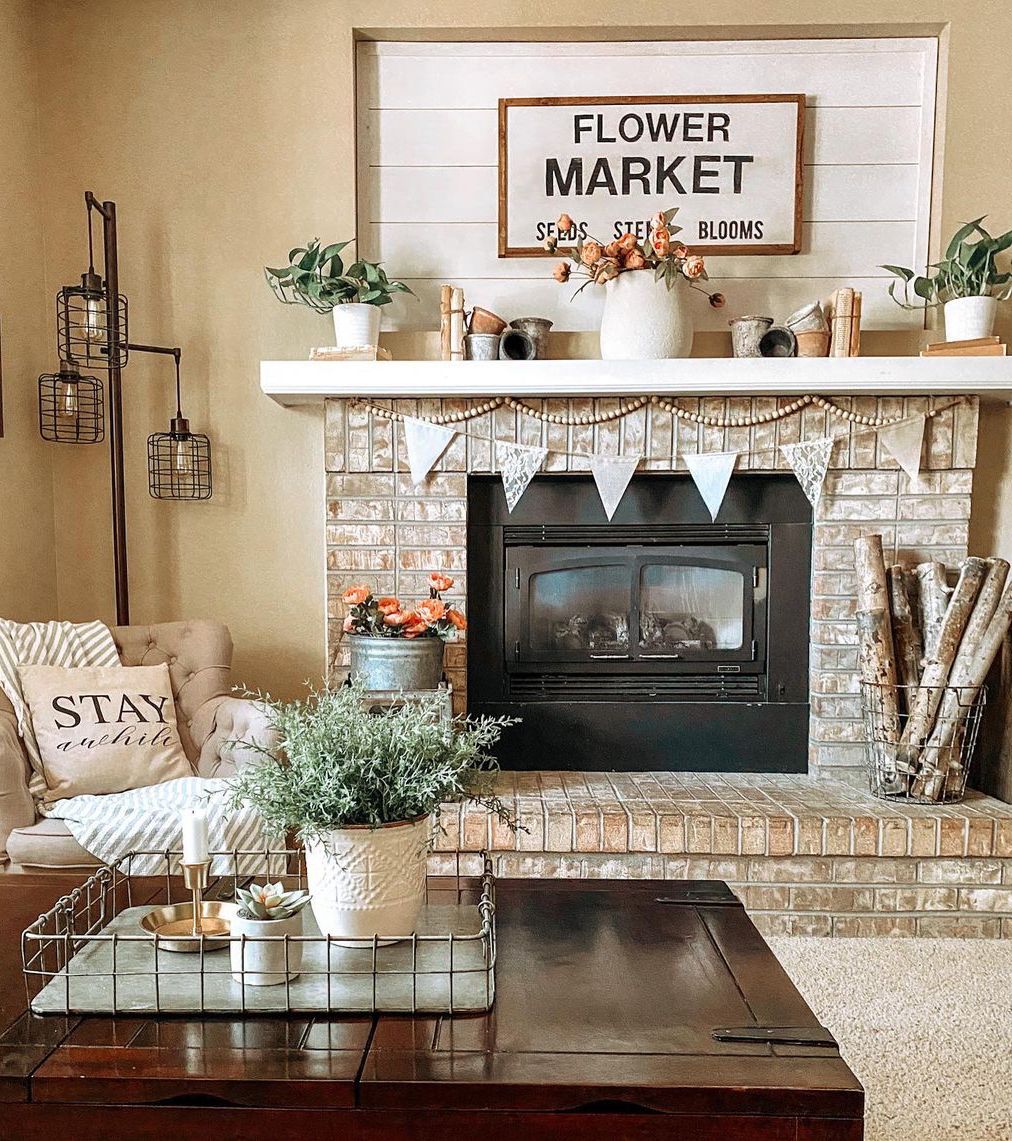 Lemon Love
This cheery kitchen space by @frenchflairfarmhouse embraces a look that is both bright and rustic. The distressed painted brick juxtaposes with the classic granite and pops of color from the lemon accents. An apron-front sink is paired with the white cabinets, with greenery, gingham, and white crockery keeping things classic.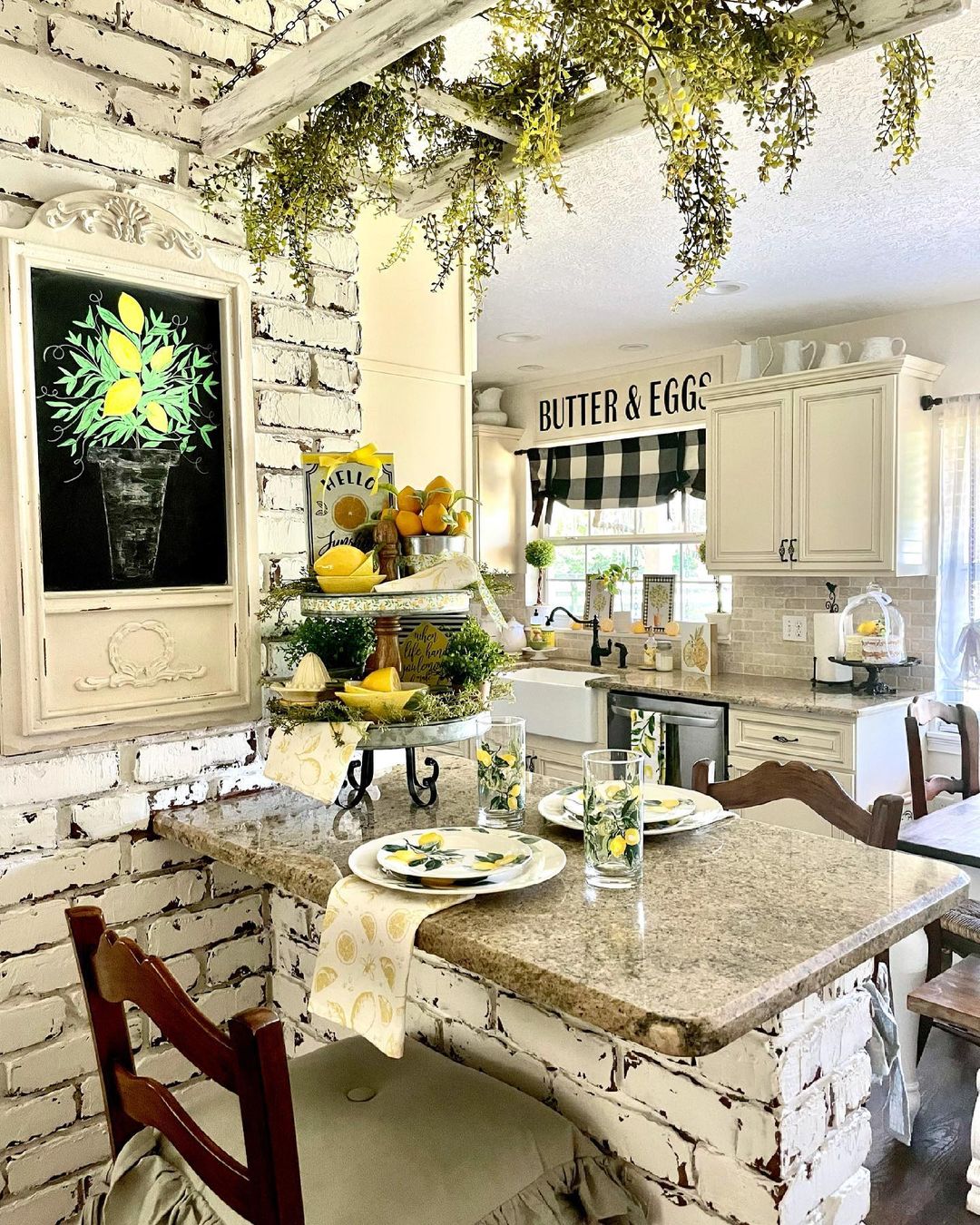 Red, White, and Neutrals
The bones of this airy home by @nissalyninteriors are a soft backdrop for tasteful decor in patriotic tones. Shades of white go from floor to ceiling, with subtle additions of blues in the sofa and rug. The room is grounded by structural features including an antique mirror and unique window frame, and an abundance of candles rounds out the charming space.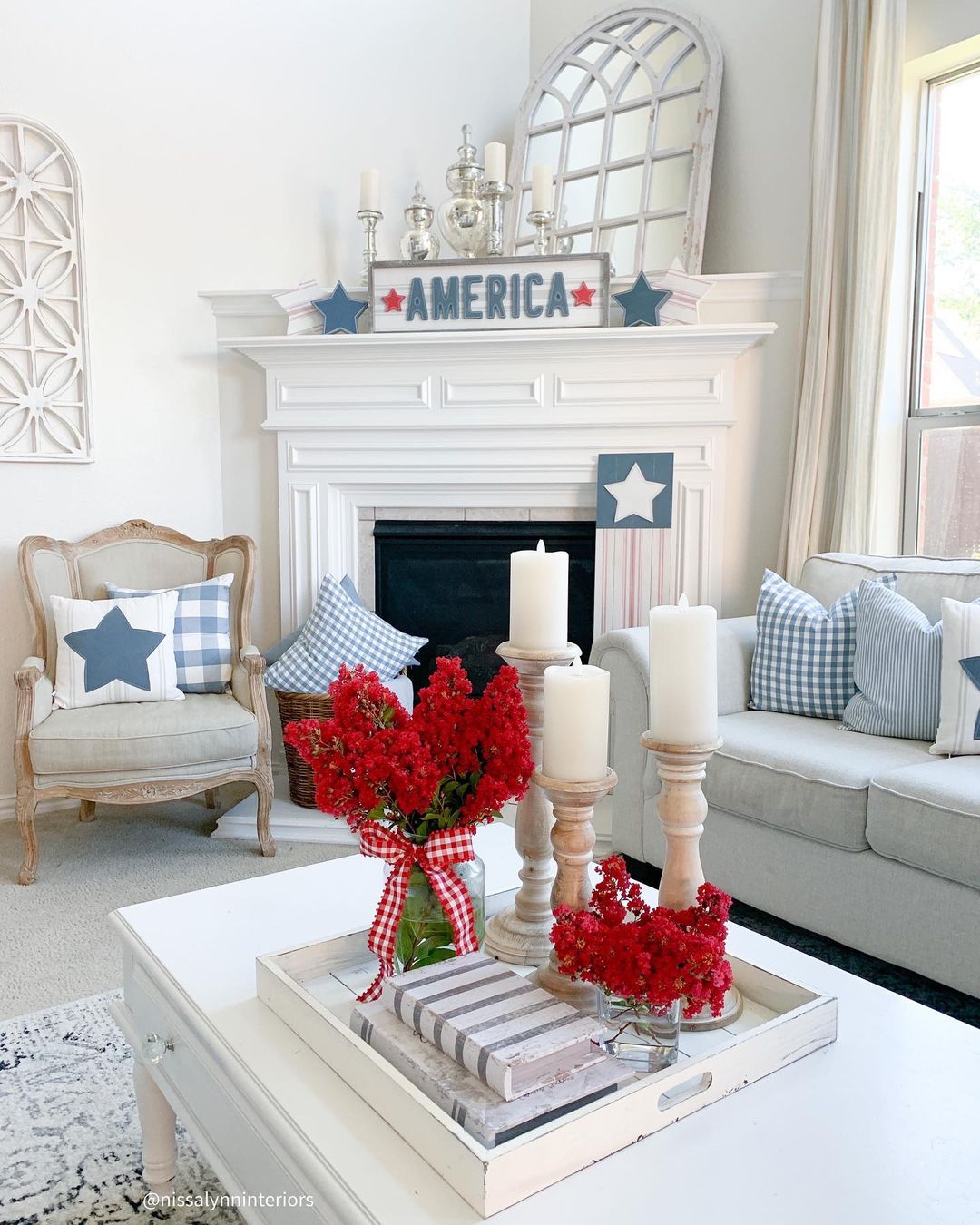 Lazy Porch Afternoons
The sunroom at @theholidayhousedecor is a respite for the farmhouse family. Neutral elements including a patterned rug, woven furniture, and white beadboard contrast with the beautiful green pastures outside. Bright spots shine in the pillows and accent bouquets, and the room is lit up for evenings outside by several interesting lighting fixtures that complete the country charm.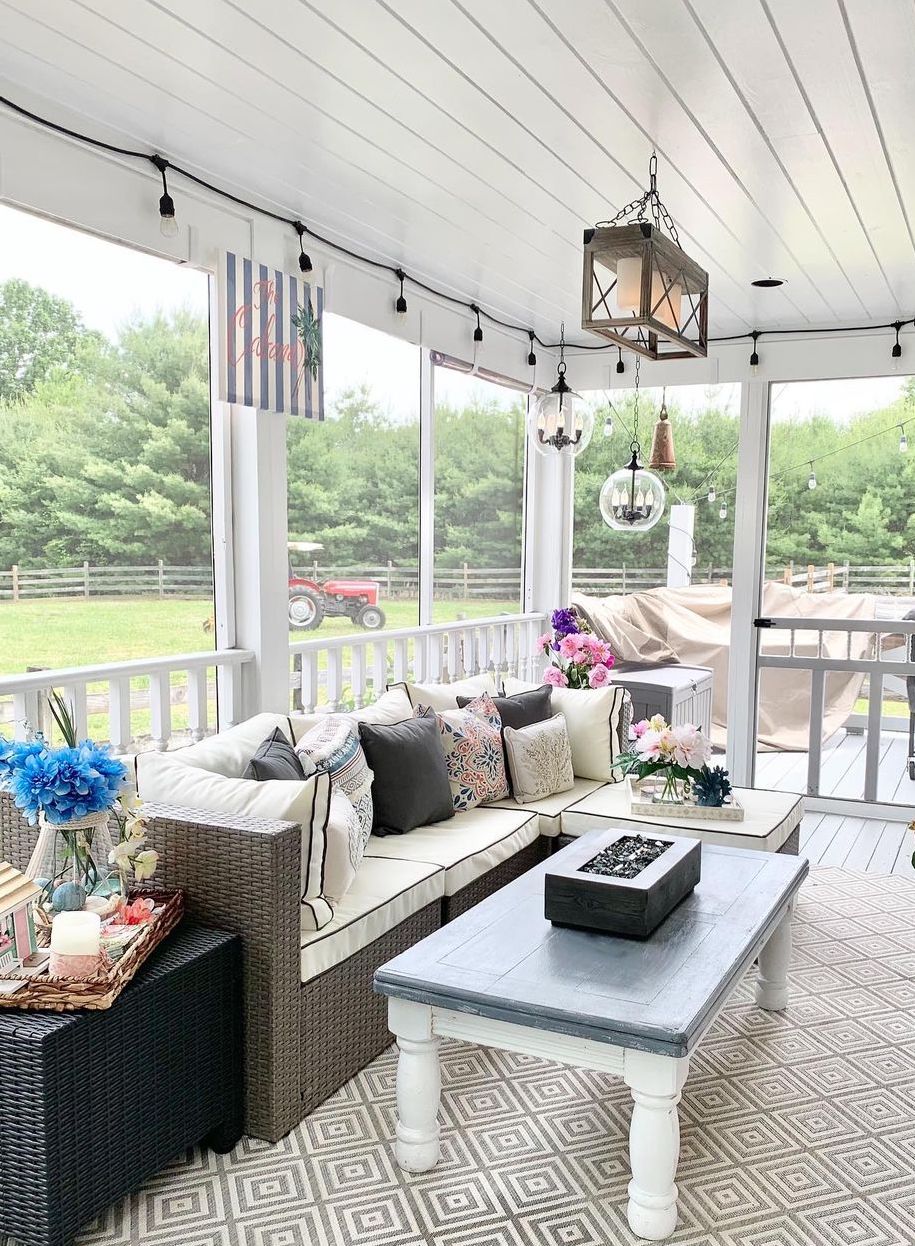 Riveting Reds
All decked out for Memorial Day, @antiquefarmhouse tablescape is ready for celebration. The stylist made use of varying height as she incorporated rustic elements in baskets, wooden accents, and fresh flowers, including bright red geraniums as a stunning centerpiece. Checkered napkins and welcoming wreaths keep the look classic.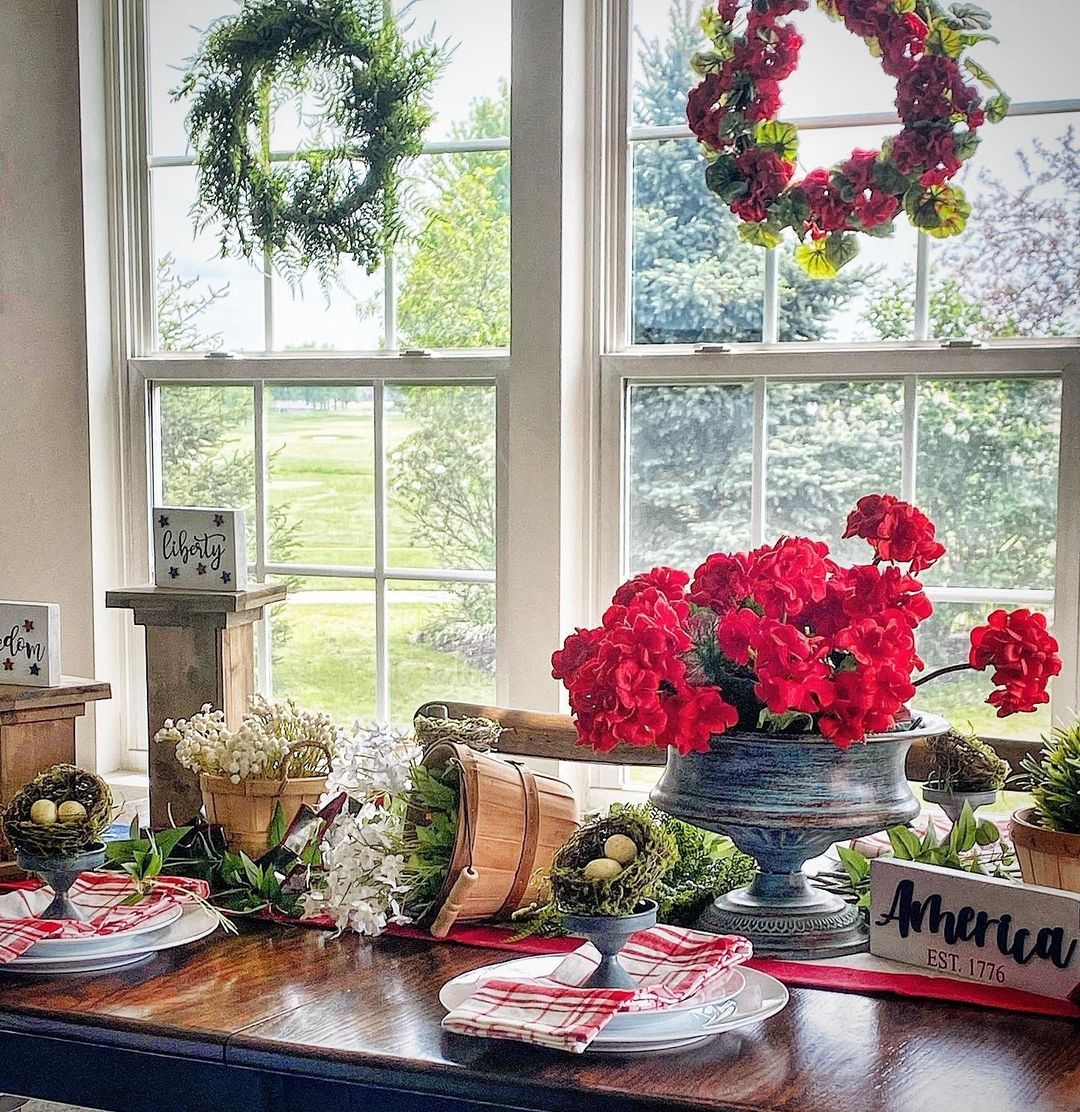 Welcome Home
@drivewaytodreams_crystal knows how to welcome guests. The double doors at her entryway are accented with large green wreaths flanked by ferns. Layered rugs bring interest to the patio, with vertical shiplap drawing the eyes upward. A welcoming sign and a pair of industrial lights round out the look.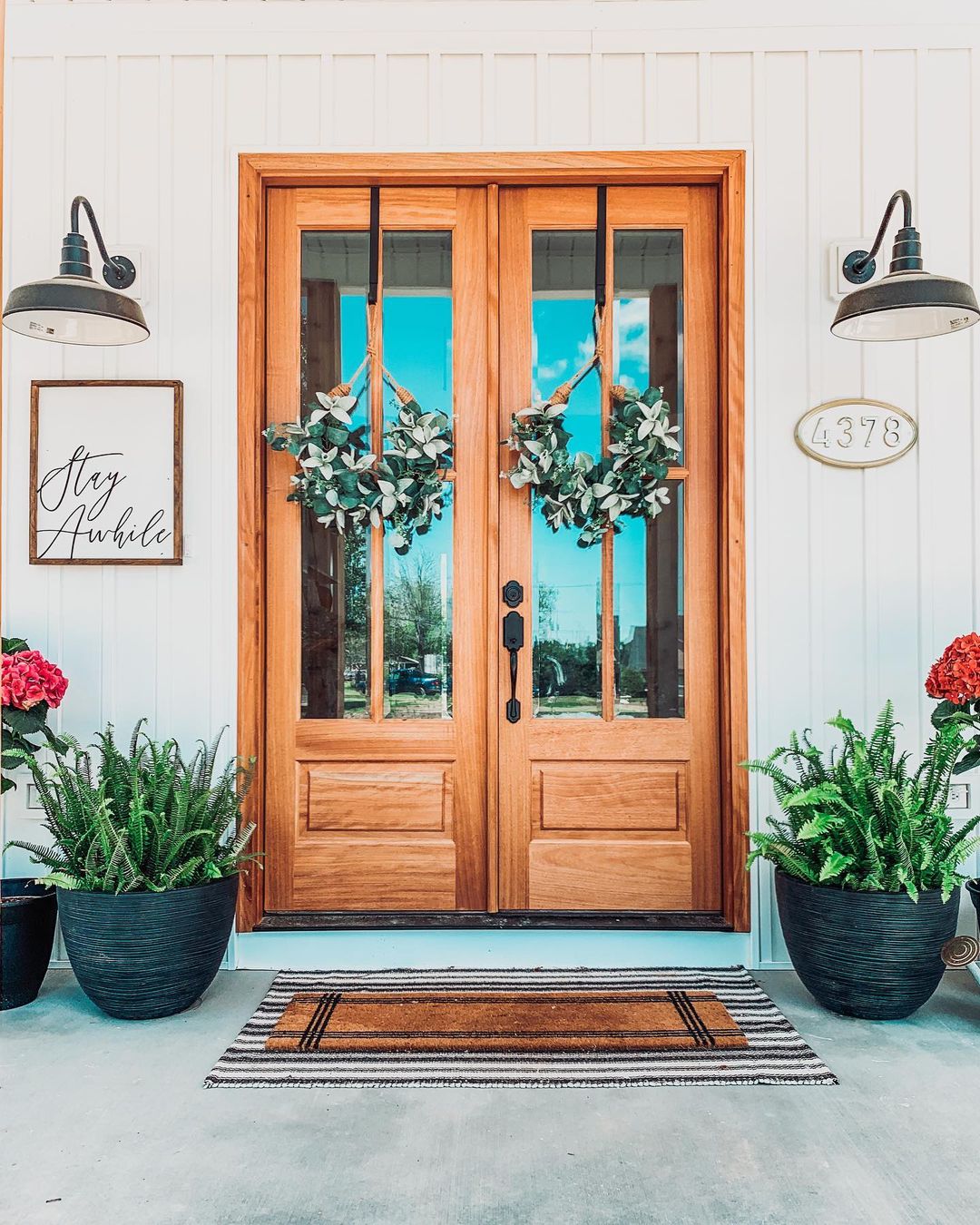 Textural Paradise
The subtle porch styled by @coastal_cass is all about structure. A beautiful backdrop of lush greenery surrounds the white porch with its grand columns. Different styles of woven chairs complement classic white rocking chairs and a teakwood table, with a refreshing green centerpiece in the middle.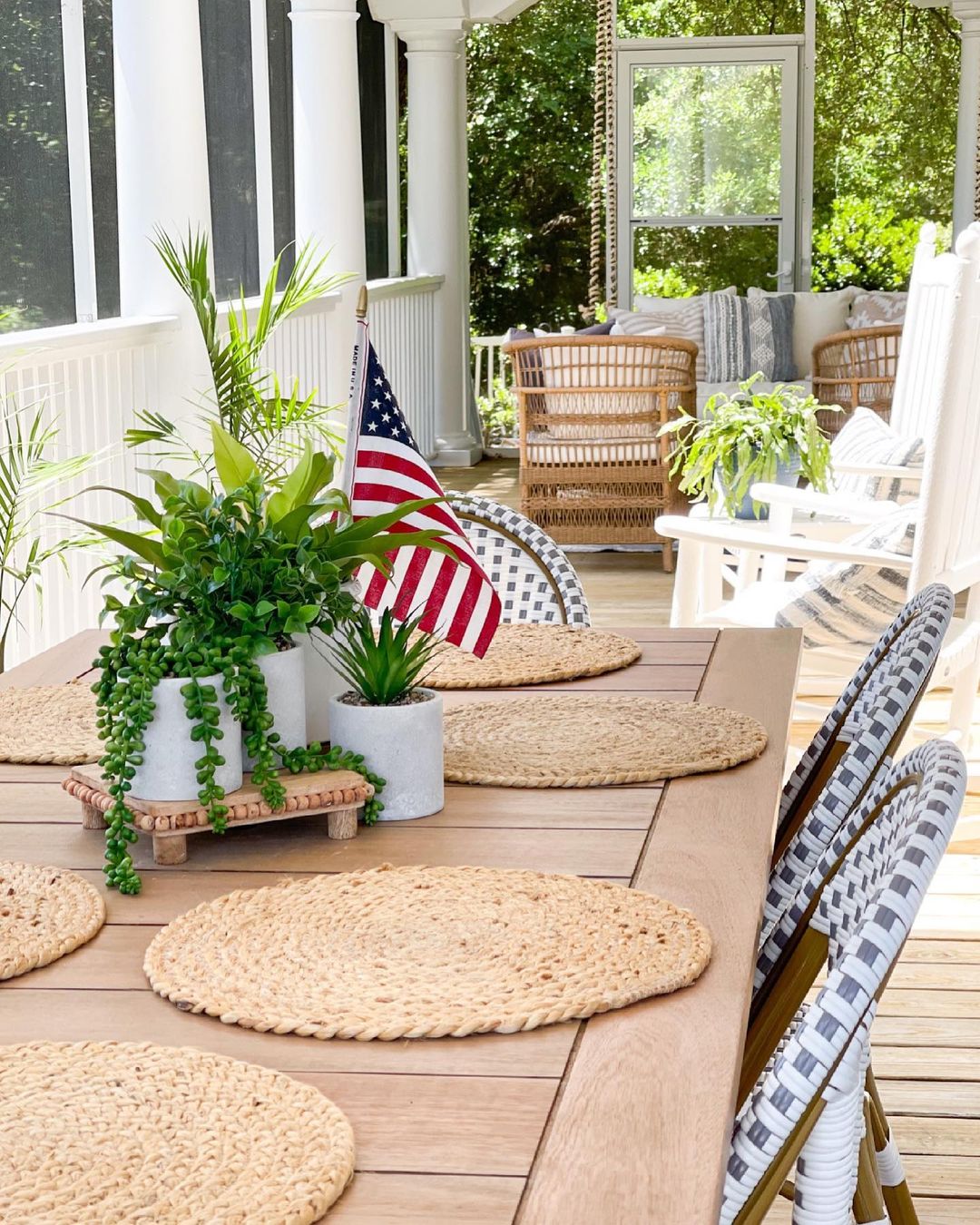 Fresh Whites
This creamy, dreamy vignette has the ultimate farmhouse charm. Playing with textures and pops of color, @kailyn_cash includes wooden and woven elements as she accents with terracotta and lemon yellow. Unique glassware and cozy candles keep the space interesting and calming.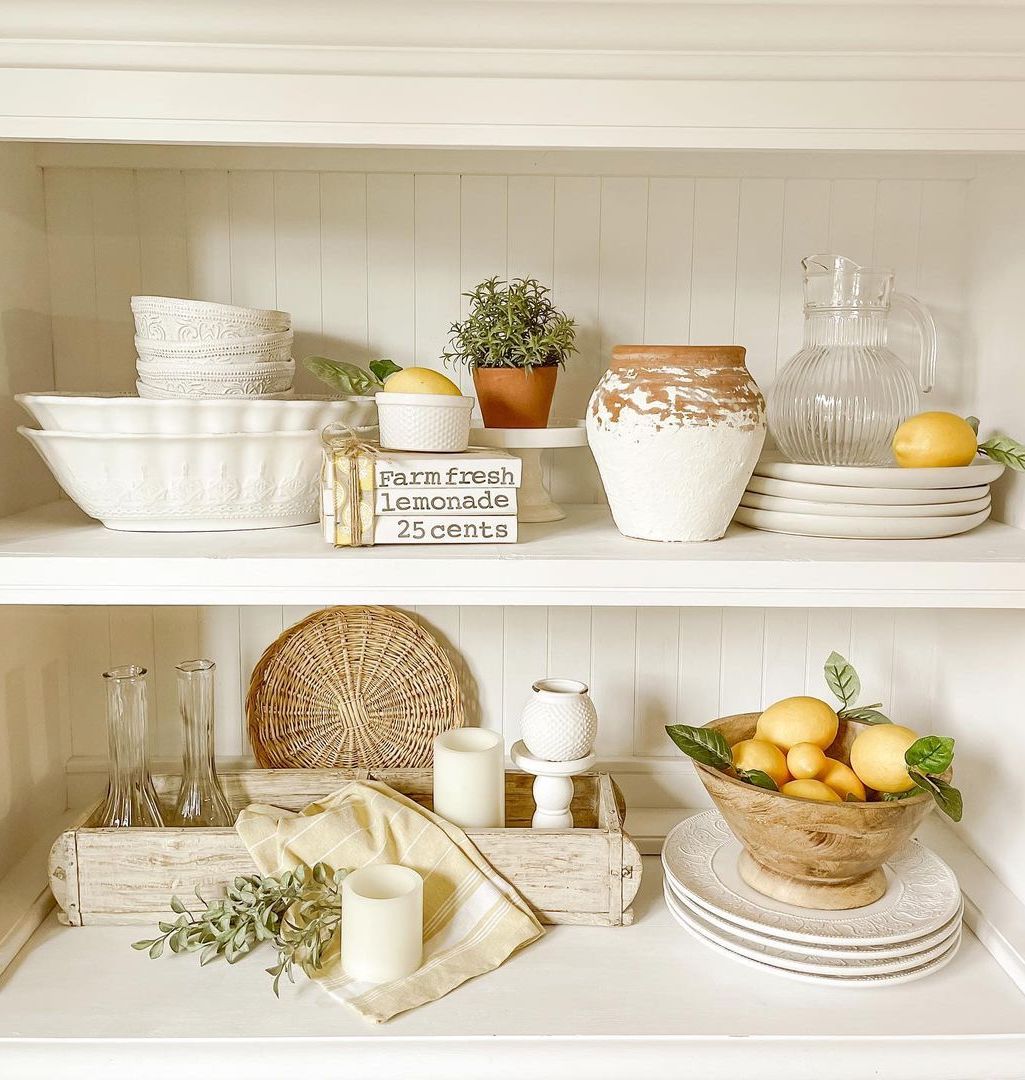 Purple Escape
A weathered porch peeks into the sunlight and the garden beyond. @maisondrei has planted an abundance of greenery and accented her country garden with summery purples. Baskets offer a unique potting option, with lavender, allium, and others brightening the cheery yard.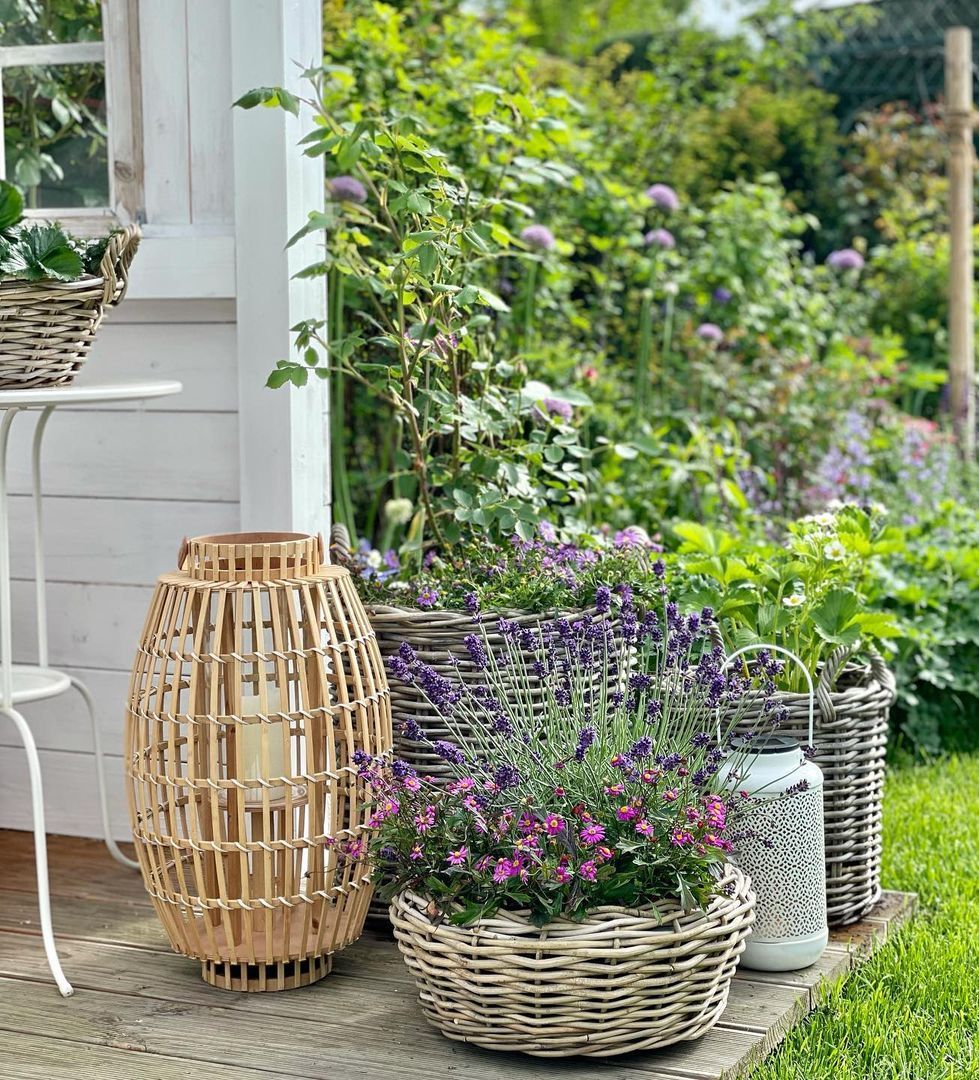 Sweet Georgia
Beautiful blues ground @mysouthern_farmhouse's dining and entryway, keeping the family cool in the summer heat. White plays into the simple palette in areas like the flowing curtains, farmhouse-style dining set, and shiplap accents. Natural elements round out the room with woven placemats, rustic wood flooring, and pretty wreaths.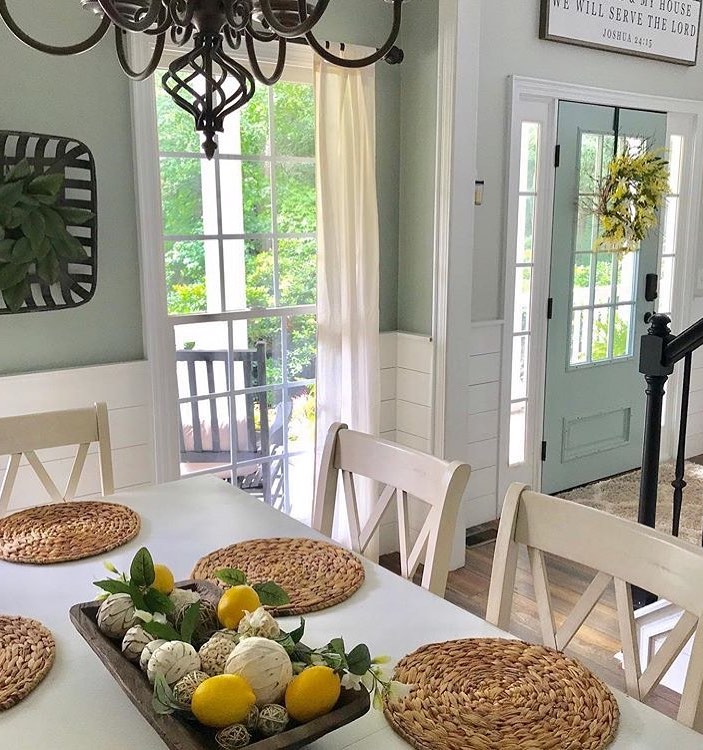 A Patriotic Porch
@homehydrangea has decked out her porch for patriotic summer holidays. Her classic white furniture grounds the area, with subtle black accents in the welcoming signage and unique lamp. Flowers add the finishing touches, reaching over the railing and making their way into baskets and bouquets for a clean summer look.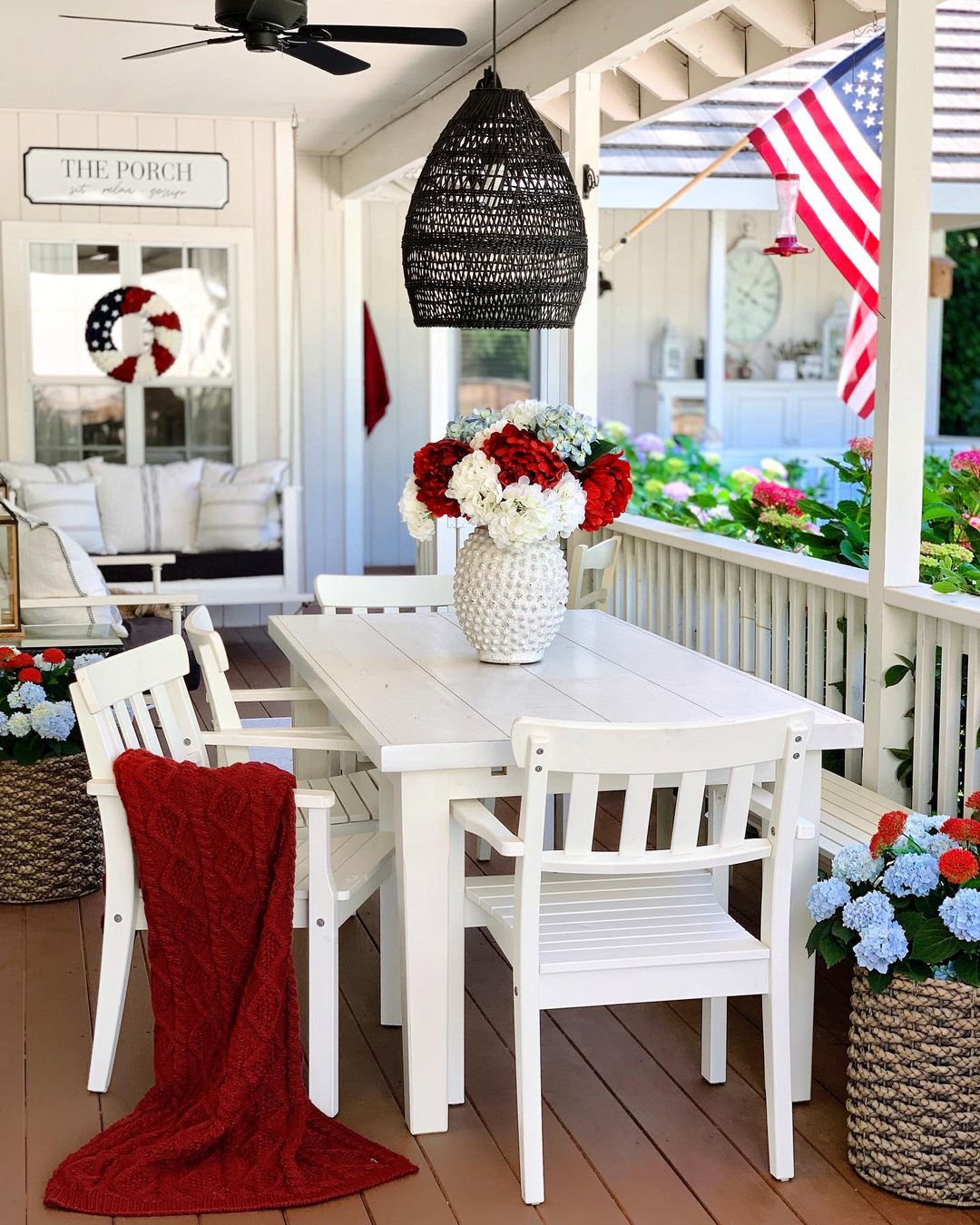 Cotton Candy Summer
@decoratordiva1 had a blast with bursts of color in her summery tablescape. She shows off tropical motifs with pineapples and plenty of flowers. Keeping up the playful spirit are pink-tinged glasses, a bright printed tablecloth, and fun-colored candles. Bring on summer!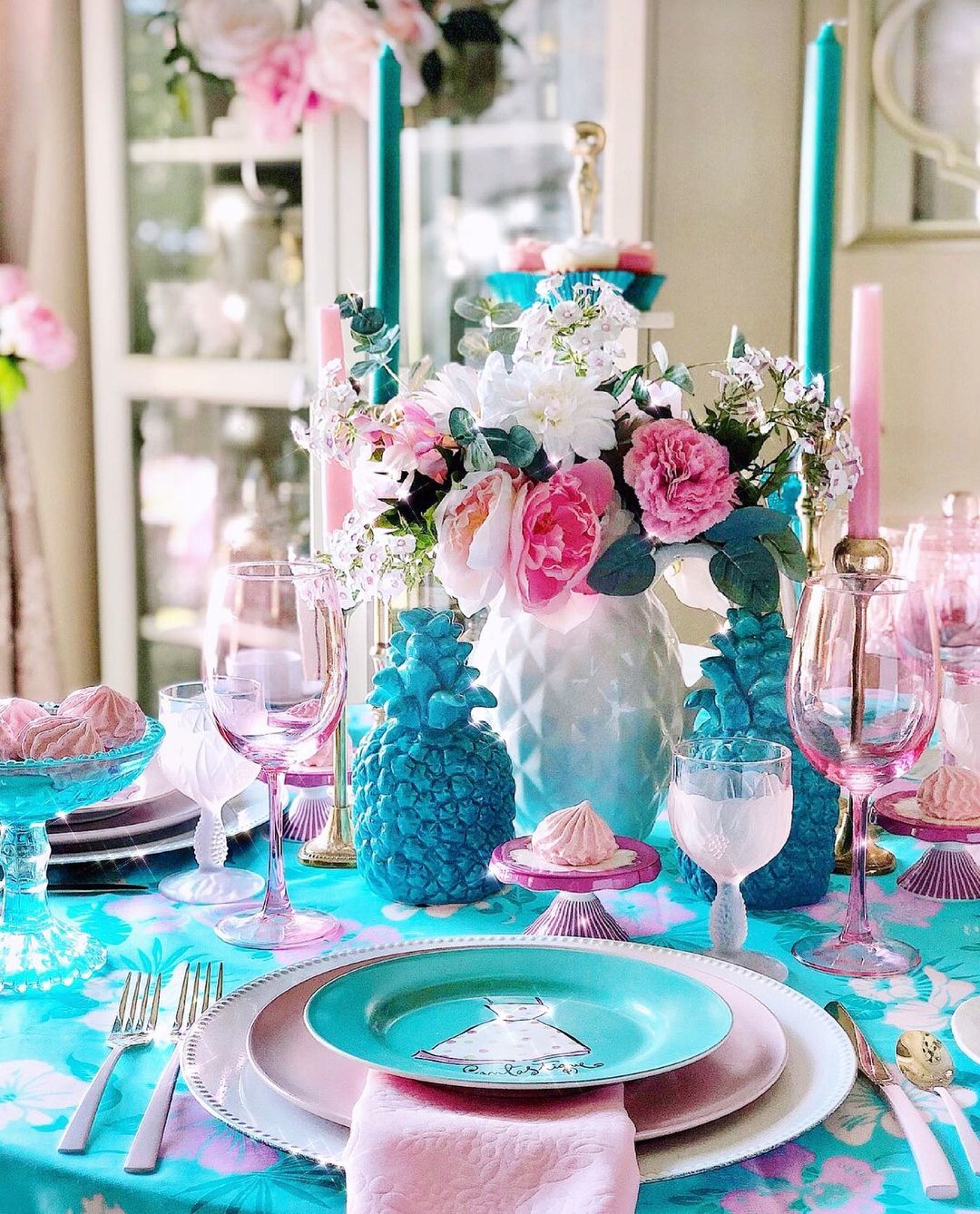 Sources: 1. https://www.instagram.com/p/CPov4Q-rhPi/ 2. https://www.instagram.com/p/CPnhOWNH1UG/ 3. https://www.instagram.com/p/CPf22ZRBEdC/ 4. https://www.instagram.com/p/CPst5mJH3WI/ 5. https://www.instagram.com/p/CPaqwe3L4VI/ 6. https://www.instagram.com/p/CPZKtuPAeke/ 7. https://www.instagram.com/p/CPjC7P3nH1R/ 8. https://www.instagram.com/p/CPq38lrpWwB/ 9. https://www.instagram.com/p/CPnADtuM9vP/ 10. https://www.instagram.com/p/CPW_DNcH792/ 11. https://www.instagram.com/p/CPRN3iPn2vK/ 12. https://www.instagram.com/p/CPmMSyzlHHS/