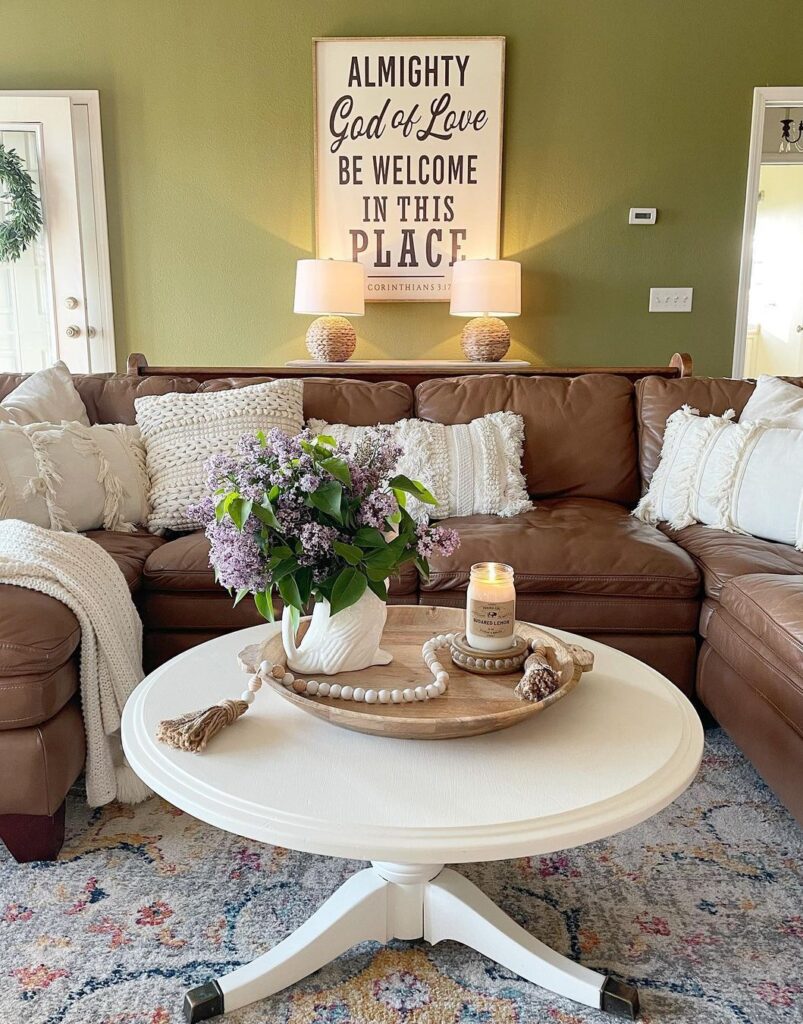 36 Instagram Viral Farmhouse Coffee Table Centerpiece Ideas
Farmhouse style interiors remain a popular aesthetic as more amateur decorators embrace the warm and lived-in nature of the look. Giving the trendy design style a chic finish relies heavily on how you accessorize highly visible areas like your coffee table centerpiece. Here we explore 36 bright and beautiful farmhouse concepts for your most-used living spaces.
Distressed Oak
Julie Blanner's take on the farmhouse living room is all about clean neutrals and natural light. Most of the color in the space is concentrated on the coffee table. The distressed oak stunner features a carefully curated and tightly arranged collection of just five items. A blue and white porcelain ginger jar, a small gold box, a pair of design books, and a fresh white floral arrangement give us a quick snapshot at Julie's overall design sensibilities.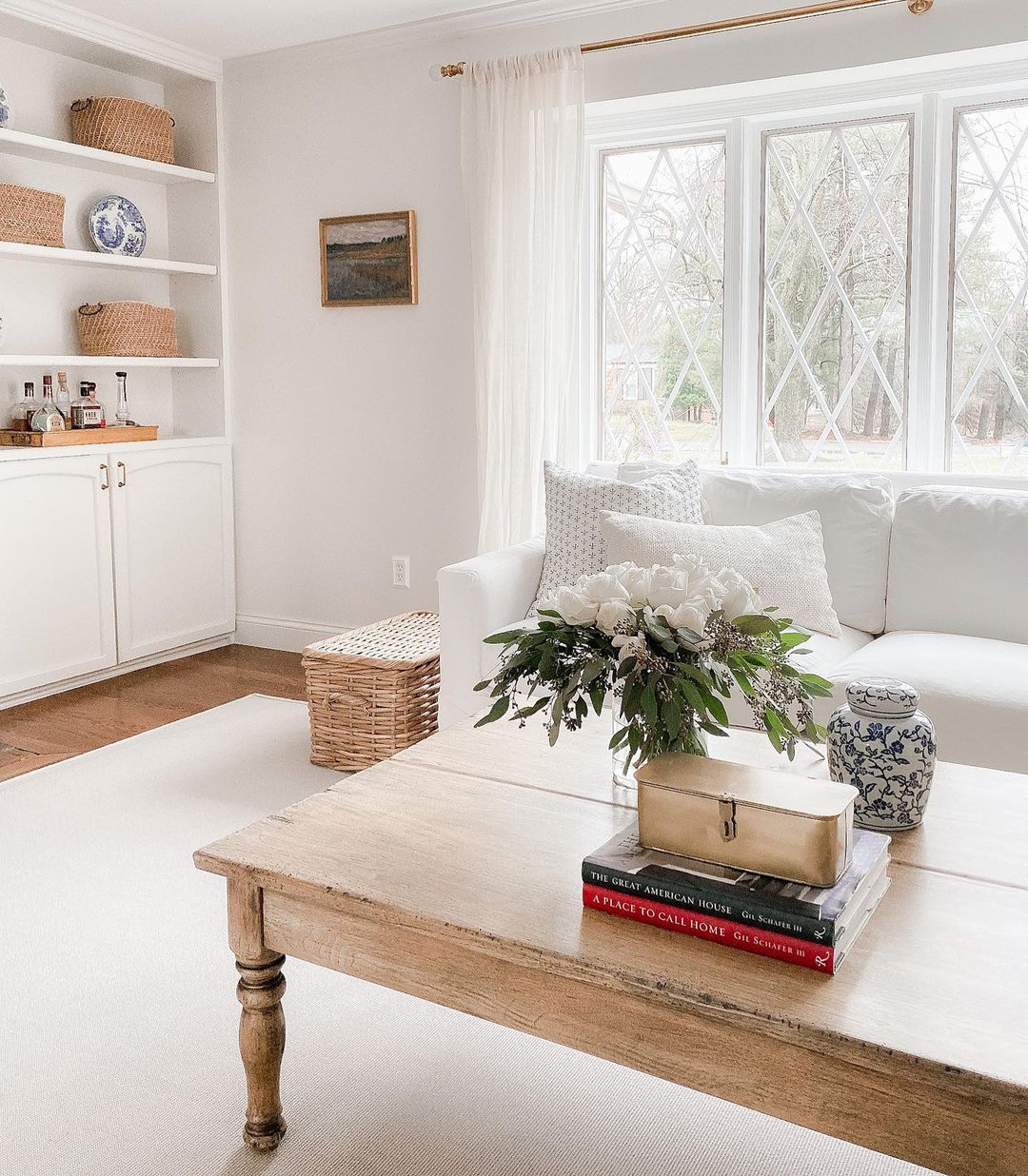 Pottery Barn Find
The Newbuild Newlyweds' newly redesigned living room is a vision in white and gray with hints of warm wood, exposed brick, and sophisticated black accents. Notice how the chunky Pottery Barn coffee table anchors the room, though. Its natural farmhouse finish makes the perfect contrast to the neutral palette and luxe textures of the surrounding decor.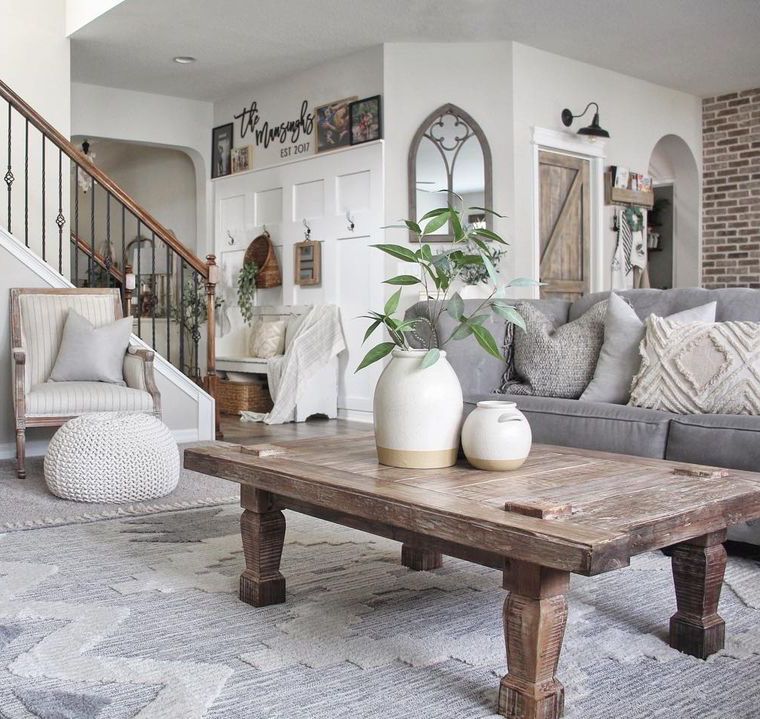 Centerpiece Checklist
Nina from diarysofmyhome gives minimalist fans a quick checklist of her favorite and most versatile smalls. For an effortless coffee table, side table, or entryway assemblage, she recommends investing in: a variety of small boxes with neutral finishes, wood bangles and beads, modernist-inspired vases with clean colors and interesting textures, and a no-mess collection of faux and dried plants.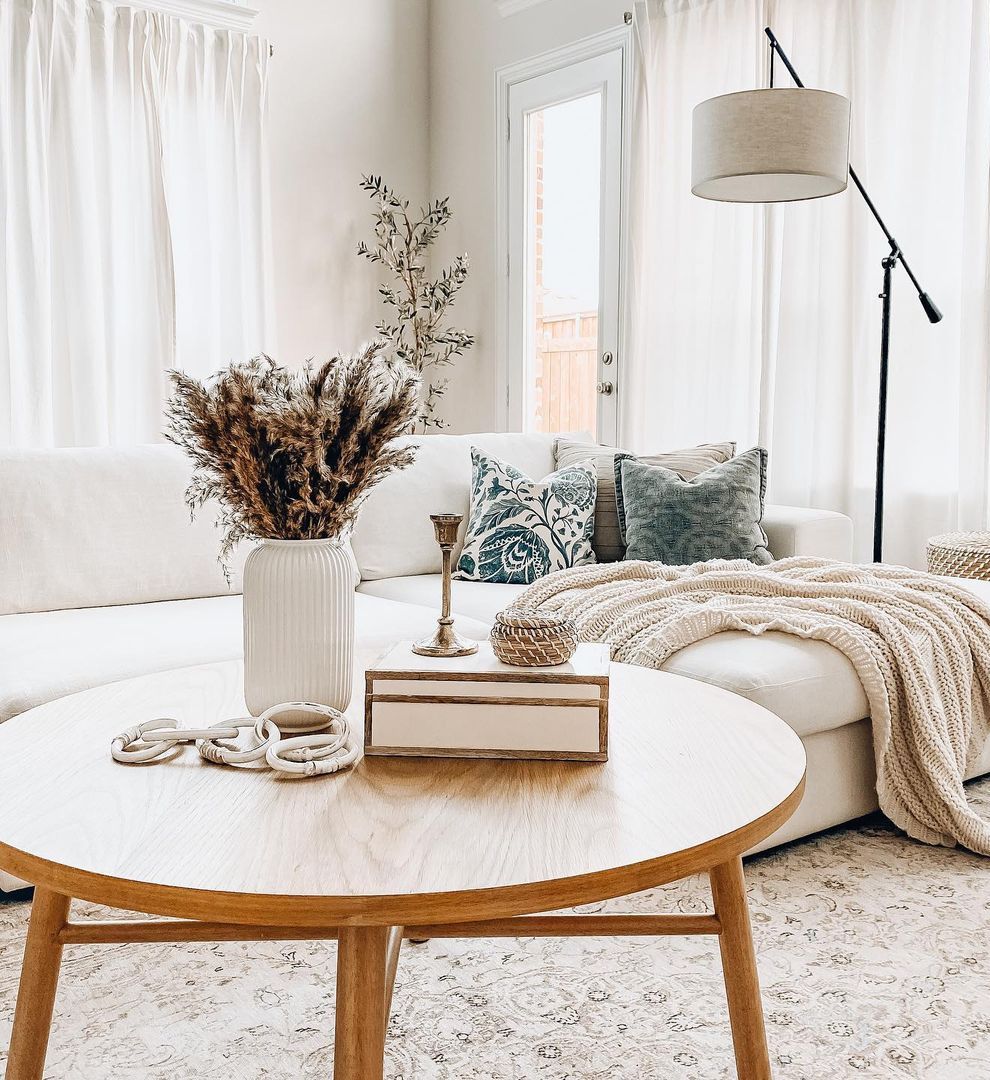 Unexpected Color
Proof that color can work in a farmhouse interior! Jessica of youandme_athome demonstrates how a fresh green repaint can give new life to an otherwise neutral arrangement. Note how her coffee table centerpiece represents the entire room's palette, making everything from the wall color to the wreath to the couch cushions feel cohesive.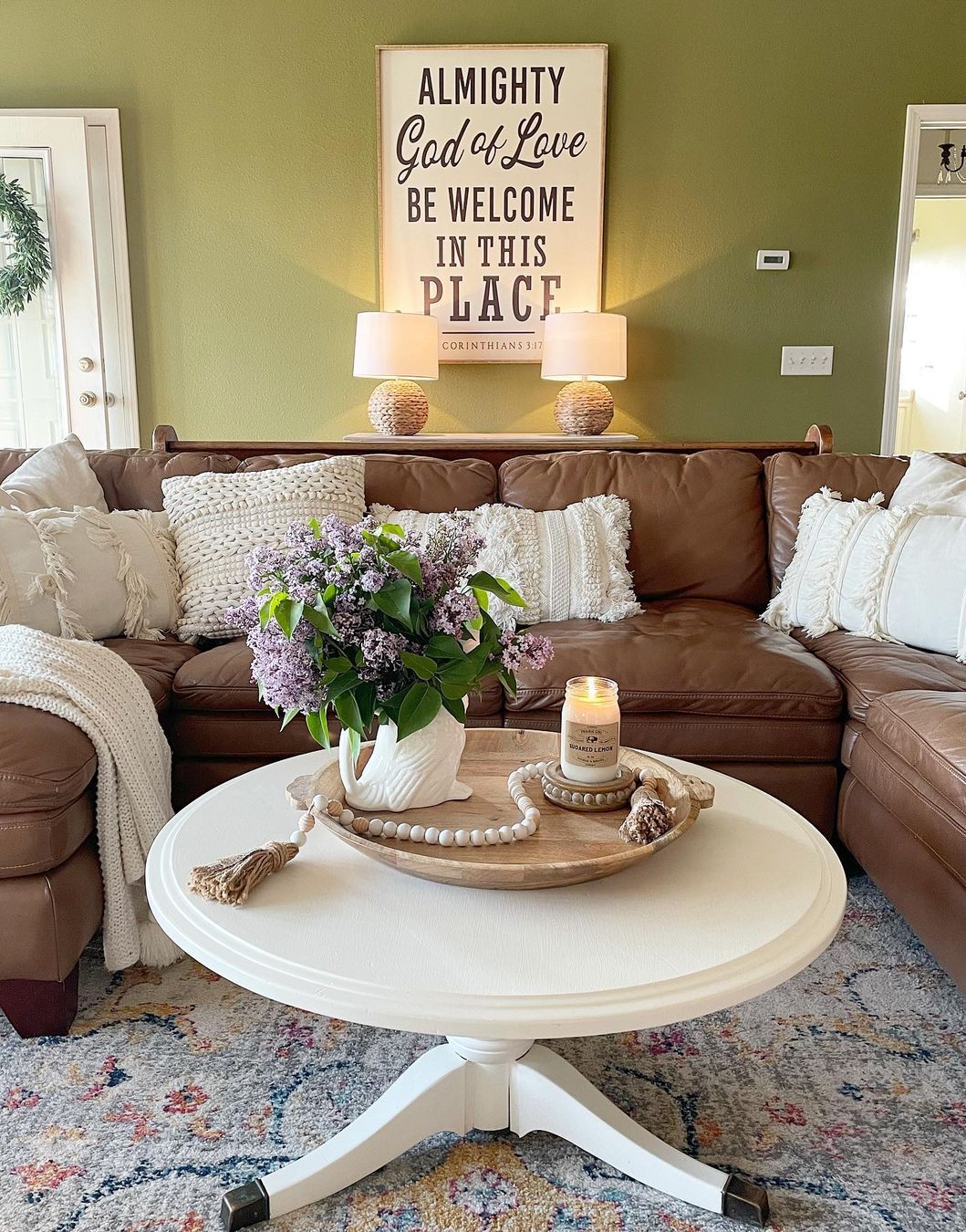 Flower Power
5. Deborah of bvintagestyle hit the lottery when she discovered these original wide-plank floors in her attic. But you don't 100-year-old floors and cathedral ceilings to cop this look in your modern apartment. A huge, elegantly-colored floral arrangement strikes a fine balance on a tiny coffee table. Accessorize with warm wooden accents and unexpected luxury (like the crystal and wrought iron chandelier!).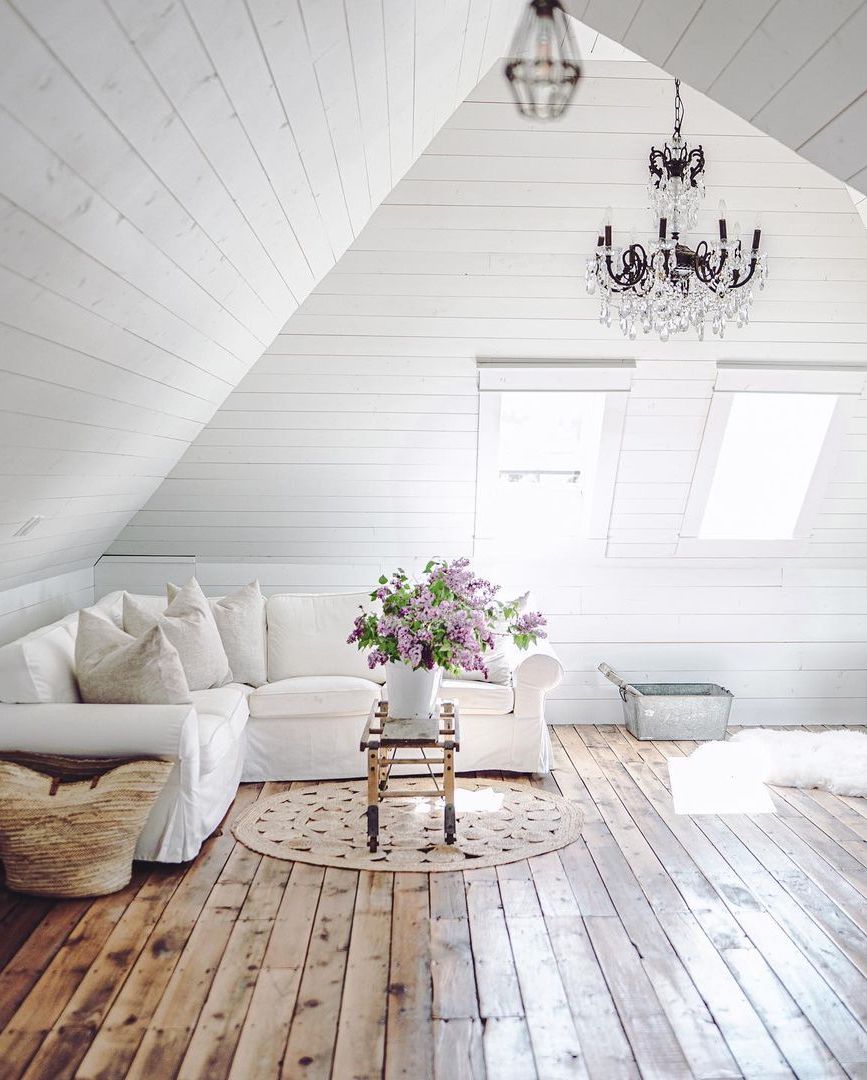 Mix and Match
Here's an up close and personal peek at Jamie of my_pittsburgh_home's centerpiece prowess. A variety of unexpected textures work together seamlessly thanks to his adherence to a monochromatic palette. A gold tray makes an elegant counterpoint while a candle and flowers add natural warmth.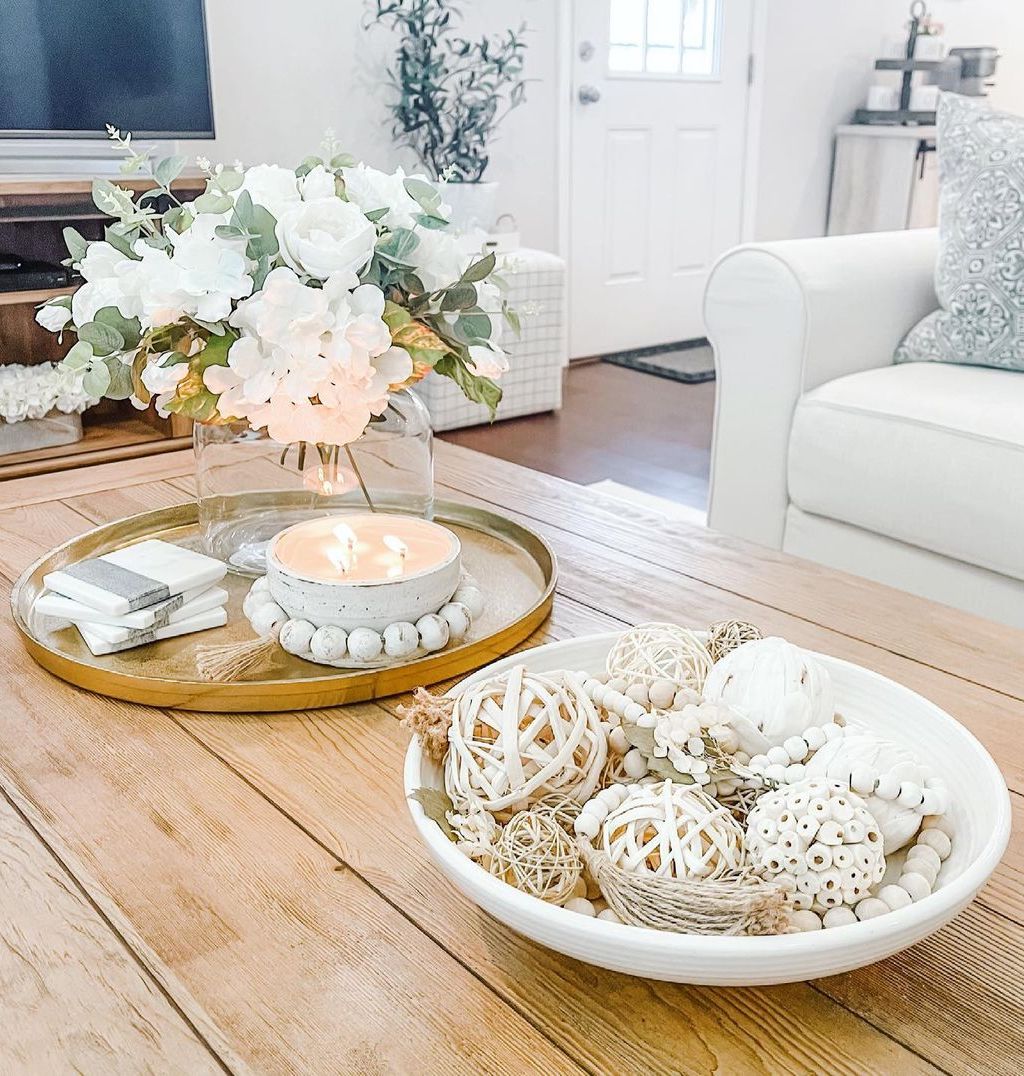 Curated Clutter
Love the cluttered but curated aesthetic? Nicolette's For The Home keeps this look collected by making assemblages in something movable, like this farmhouse breakfast tray. Choosing interesting textural contrasts but sticking to complimentary colors makes piling up a personal and appealing centerpiece easy.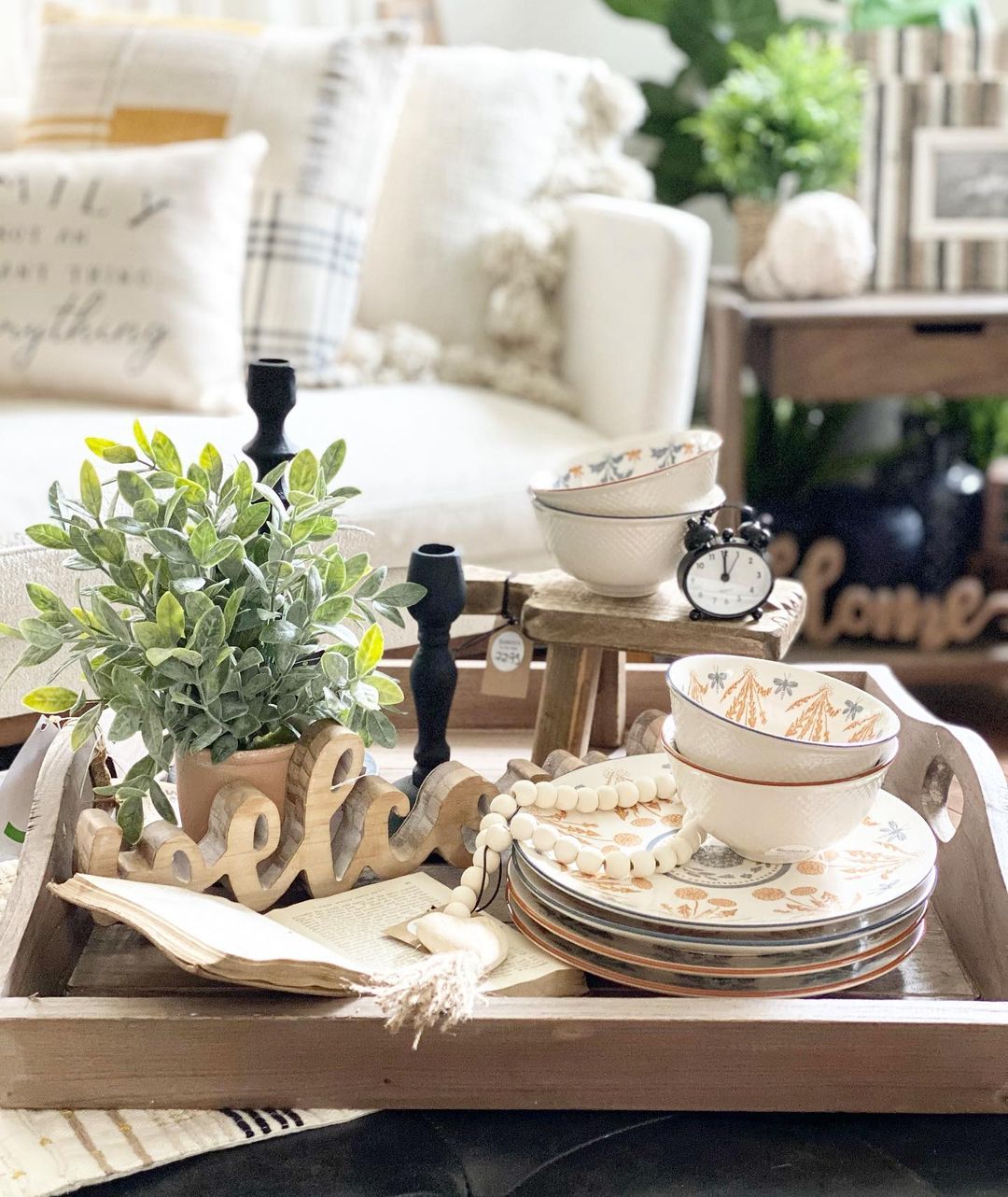 New Modernism
New modernism is all about adding comfortable textures and warm finishes to minimalist design. Braatan_1728's inviting Norwegian living room proves that Scandinavian decorators still do it best. Old world elements on the ceiling and modernist furniture on the floor meet seamlessly in the middle thanks to the clean lines of an unfinished pine coffee table and the timeless appeal of glowing candles.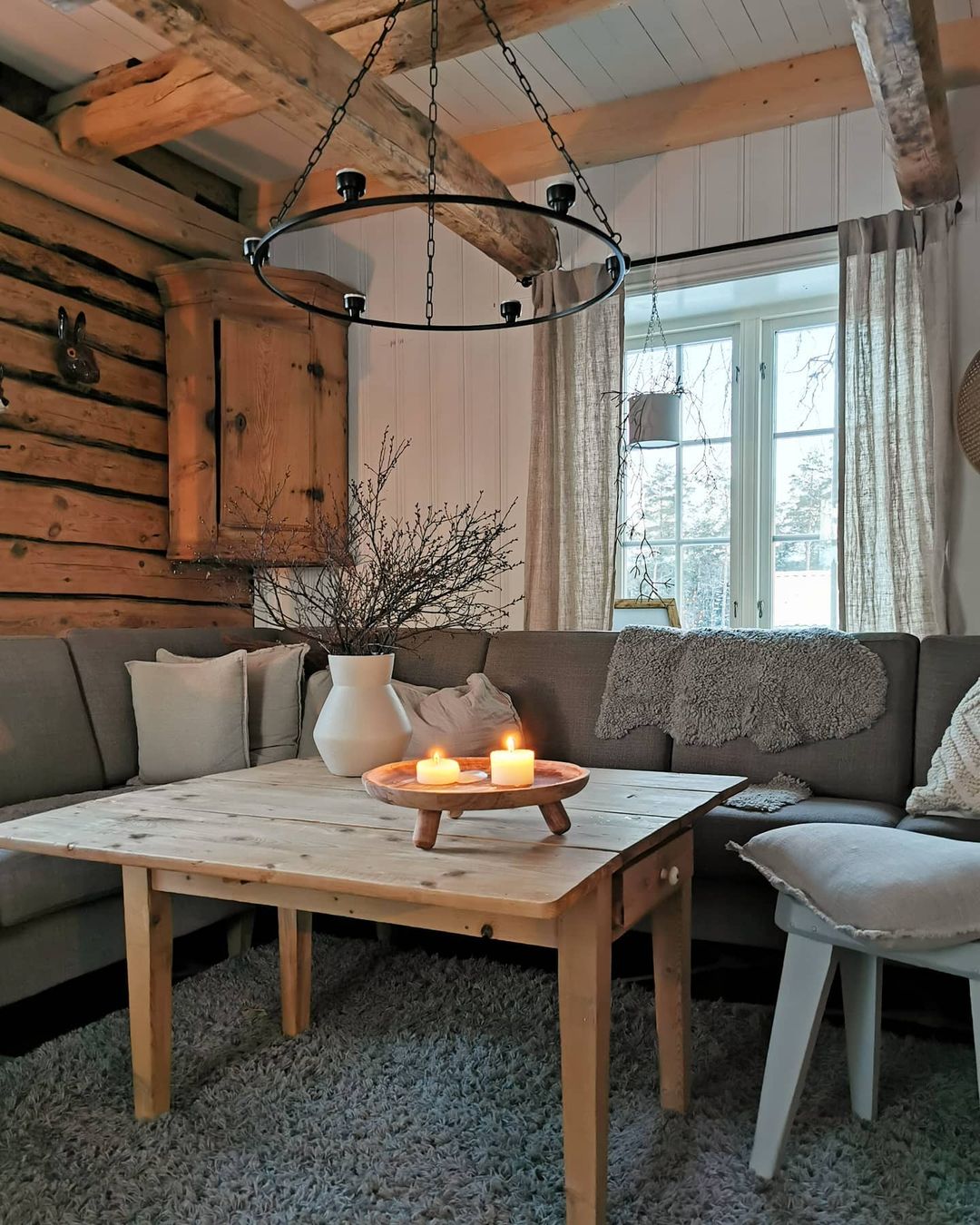 Bold Choices
Brooke Morales doesn't shy away from bold design choices. Her living room is proof that even a stone coffee table can work in a farmhouse interior. A large, weathered vase, a variety of small trays, and low stacks of books create levels and interest all the way down the surface.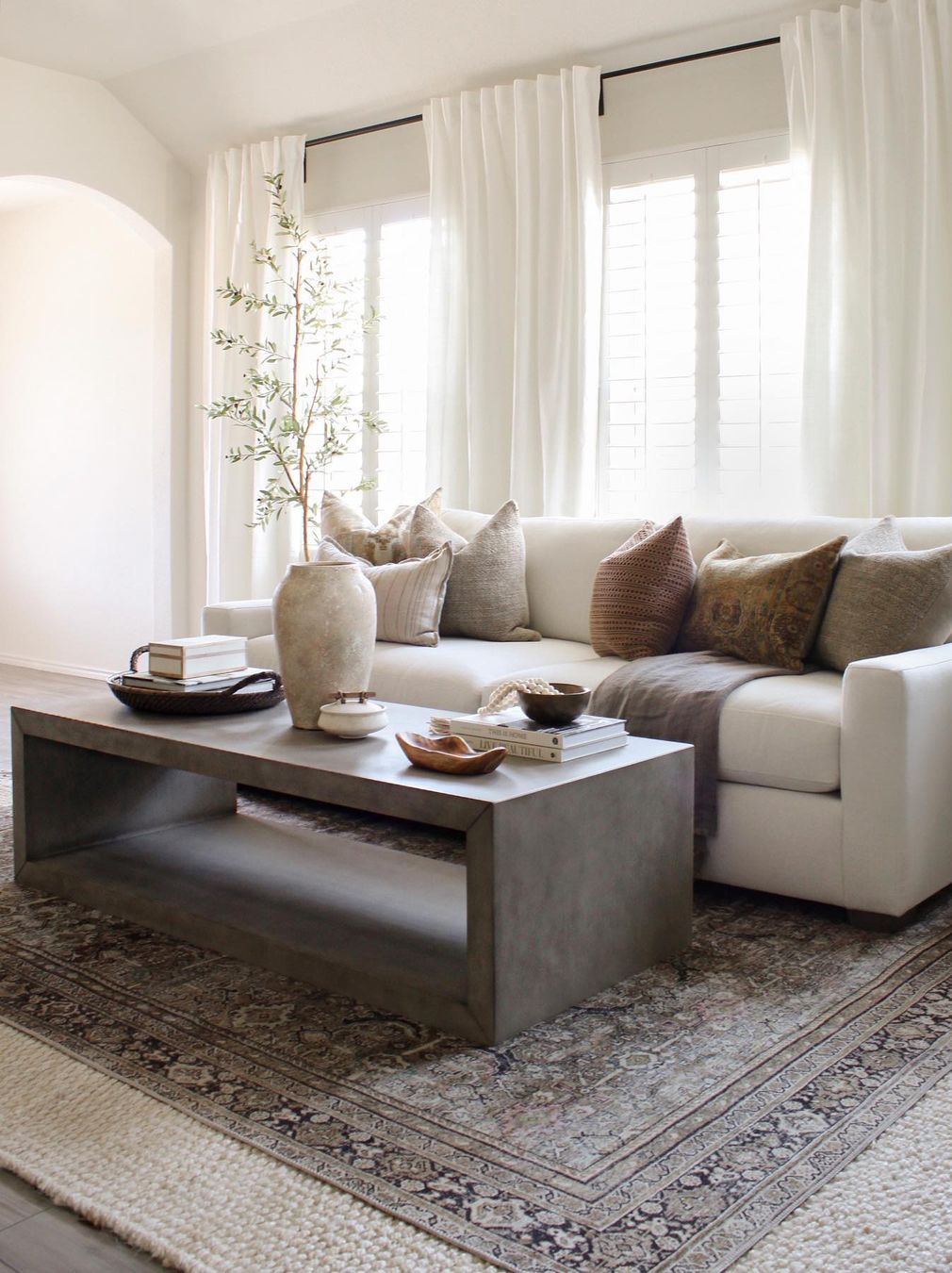 Milk Glass
Jennifer Martin Dodrill of cozycottageoncarriage is a master at integrating vintage finds. Here, an antique trunk serves as both coffee table and storage. A simple tray also does double duty as a movable centerpiece. Want a cheap but chic flea market checklist? Jennifer says look for milk glass which offers fun texture in pretty forms.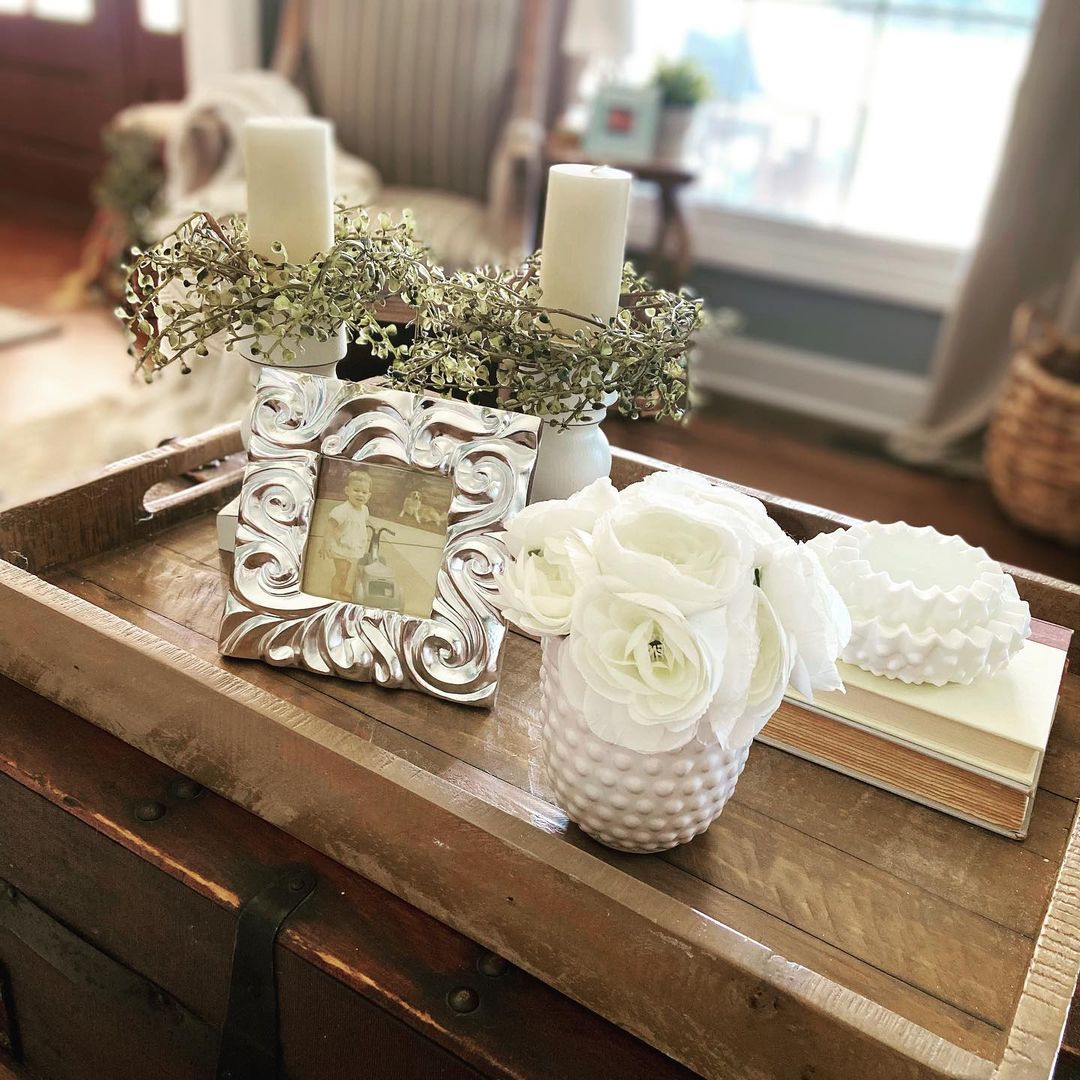 Tray Bien
Trays are a versatile staple of many farmhouse coffee table centerpieces. Lynnae of lynnaeraquelhome landed this gorgeous galvanized steel example by Magnolia on sale at TJ Maxx! A crocheted doily makes a pretty liner while a smoky amber vase and dramatic dried floral arrangement offer major autumn vibes.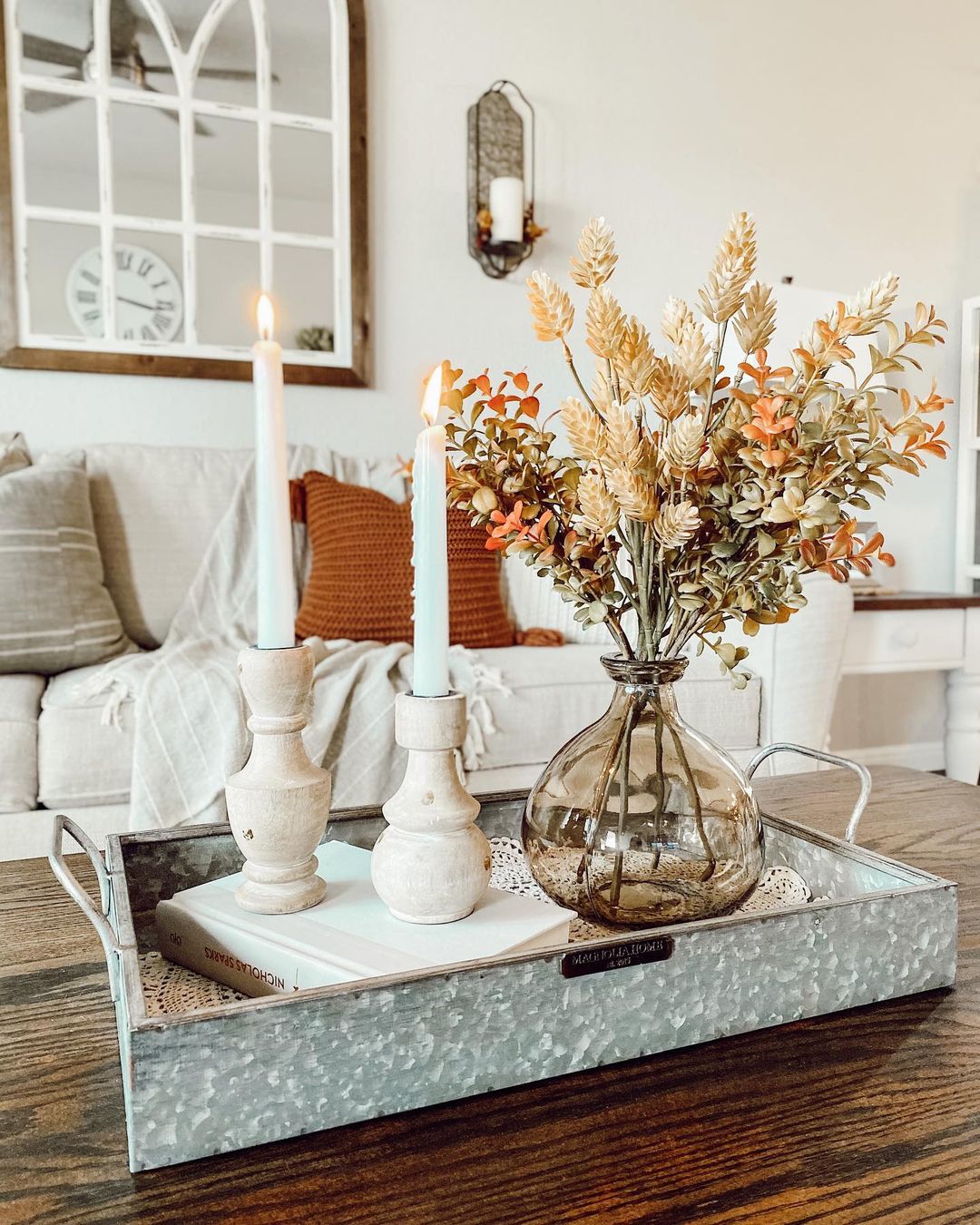 Eclectic Aesthetic
If your farmhouse preferences lean toward shabby chic, then you'll love Danielle Lea's eclectic aesthetic. An Eastlake dresser top is a surprising focal point on the wall. Her antique book collection brings just the right amount of subdued color. A distressed white coffee table stands out for its diminutive size and distinctive shape while a centerpiece tool caddy full of pillar candles is both unique and surprisingly easy to replicate.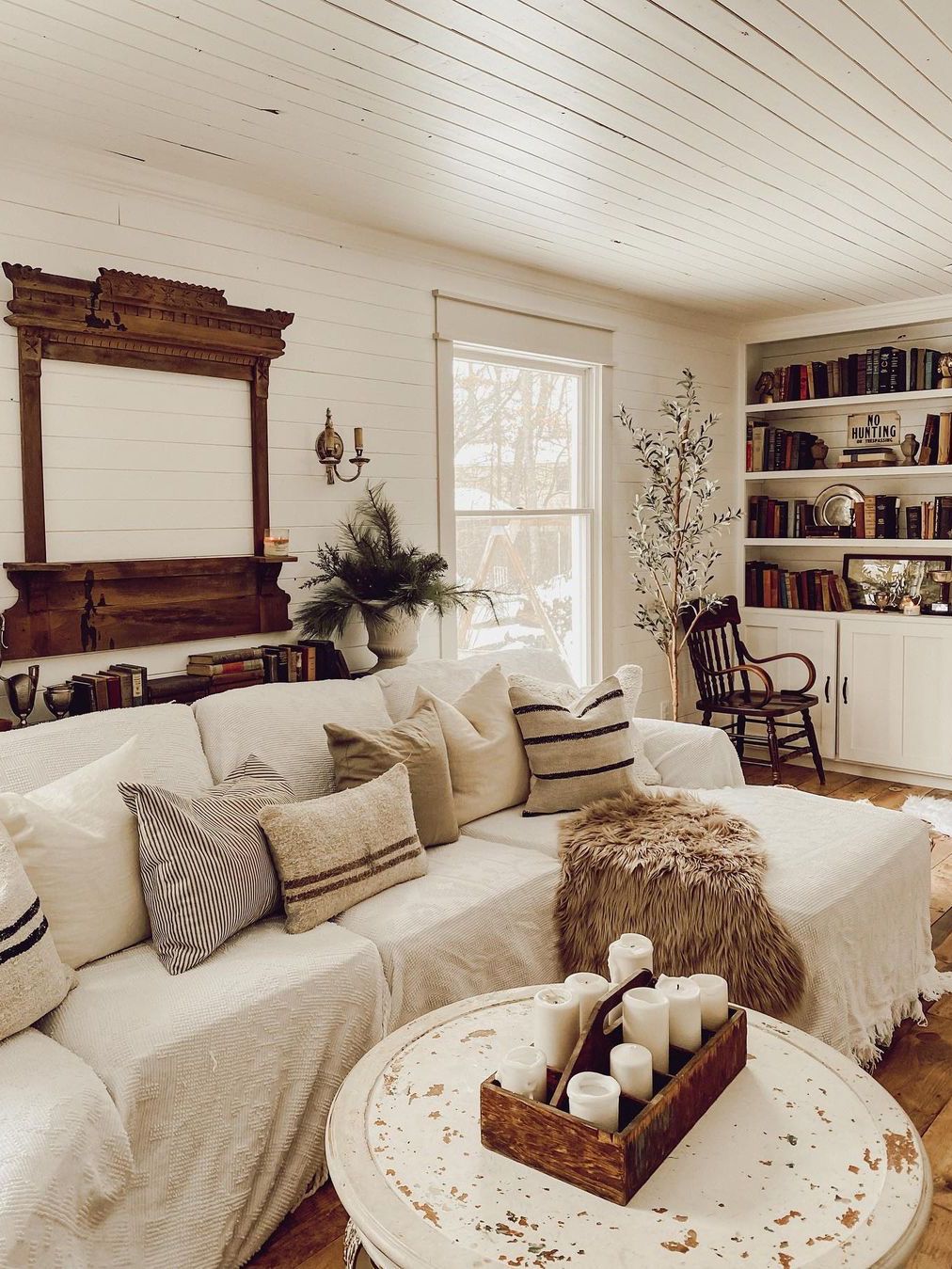 Sources: https://www.instagram.com/p/B8-NYnGhnkk/ 2. https://www.instagram.com/p/CKhthL-H7Sr/ 3. https://www.instagram.com/p/CM0Lqh7nGhm/ 4. https://www.instagram.com/p/CPHaLDUHDul/ 5. https://www.instagram.com/p/COffCyHHudX/ 6. https://www.instagram.com/p/COwAT9lHC-K/ 7. https://www.instagram.com/p/COSlg0OncUj/ 8. https://www.instagram.com/p/CLBd5ltJOQo/ 9. https://www.instagram.com/p/CLEiHuPFqhm/ 10. https://www.instagram.com/p/CKP3cGcDYNu/ 11. https://www.instagram.com/p/CHx1krTnx4o/ 12. https://www.instagram.com/p/CLcVd02HGtF/