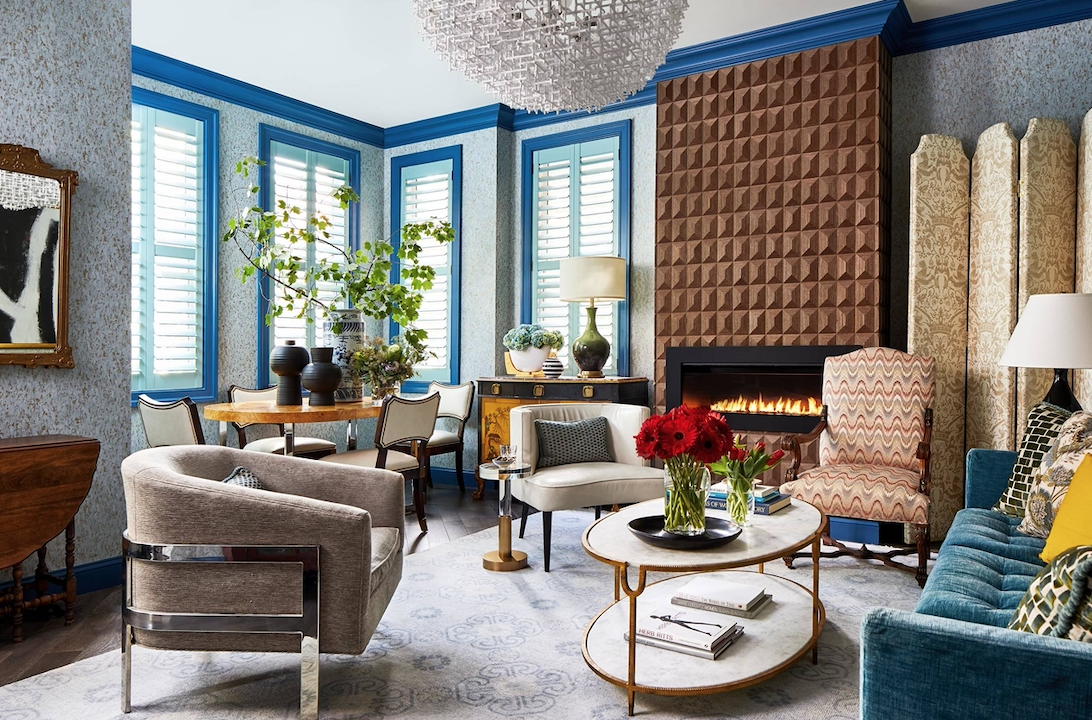 This Quirky Dane Austin Design Townhouse is an Instagrammer's Fantasy
Dane Austin's interior design expertise is informed by his background in fine art and fashion. He founded Dane Austin Design in 2009 in Boston, MA. The award-winning firm services New England and the entire East Coast.
Forget safe neutral palettes and milquetoast trends. Dane Austin's Logan townhouse is a maximalist triumph. Prints and patterns flourish in each room. Touchable textures and jewel-bright hues call out from every corner. Nothing about this interior is boring.
Designers experimented with eclectic influences to create this one-of-a-kind townhouse. They set the mood in each area with bold wallpaper choices. There's chinoiserie in the kitchen, ditzy florals in the living room, and a funky '60s pattern in the small bathroom. Mediterranean blue trim lines the hall and stairs.
Rugs are also essential to the colorful interior. In rooms with striking wallpaper, the rugs are notably more subtle.
Upstairs in the master suite, stony wallpaper and a classic marble bathroom create a quieter atmosphere–but pops of color still abound.
Despite the many clashing elements, this space feels richly eccentric rather than silly. Dane Austin Design achieves this effect by selecting furniture pieces of the highest quality. Accent pieces and even plants are carefully chosen with a painter's eye. The rooms appear intricate, but their lack of clutter is practically minimalist.
Endlessly interesting and irresistibly photogenic, this townhouse looks like it could belong to a world-traveling collector. It exists in that rare sweet spot between whimsical and mature.