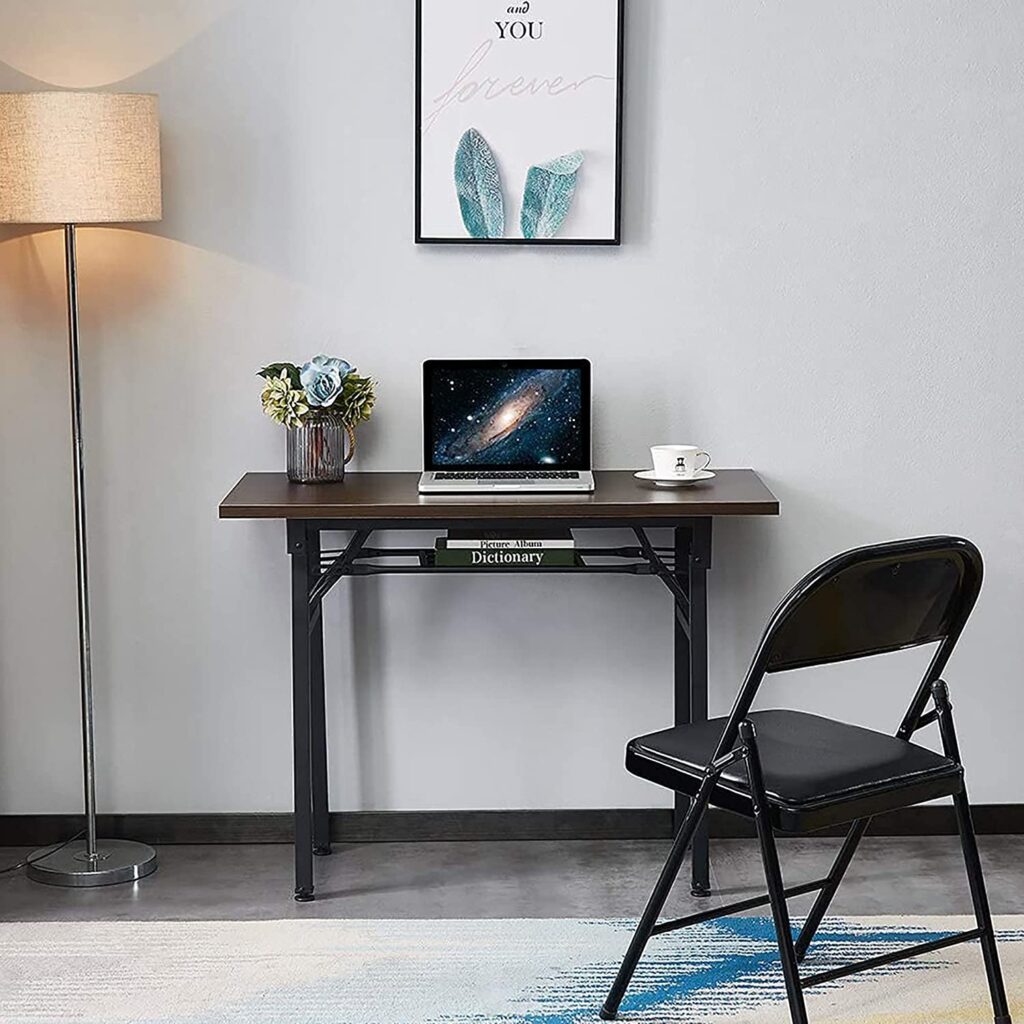 8 Best Affordable Desks Under $100 in Canada, According to Amazon
Getting a good quality desk that is not relatively expensive is quite challenging. Yet, installing a desk at home has become popular since remote working and learning has become common. Also, a desk is essential in completing simple tasks at home that are not work or study-related.
However, most of the affordable desks in the market have terrible reviews. Fortunately, there are quality desks under $100, and the search will be more manageable if you know where to look. The following are eight recommendations for affordable desks based on reviews and ratings on Amazon.
FOME Home Adjustable Mobile Laptop Desk is a durable, stable, and easy to assemble desk great for small spaces. Also, it is functional in various ways, from board games, model puzzles, dining, studying, laptop computer table to writing and drawing. It has a high rating, and 77% of the reviews are positive. In addition, it ranks 18th in the desk and workstation category. This desk is the current best seller for portable desks and was awarded an Amazon's Choice award. Therefore, if you are looking for an affordable and portable desk that you will use for various scenes, FOME Home Adjustable Mobile Laptop Desk is a great choice.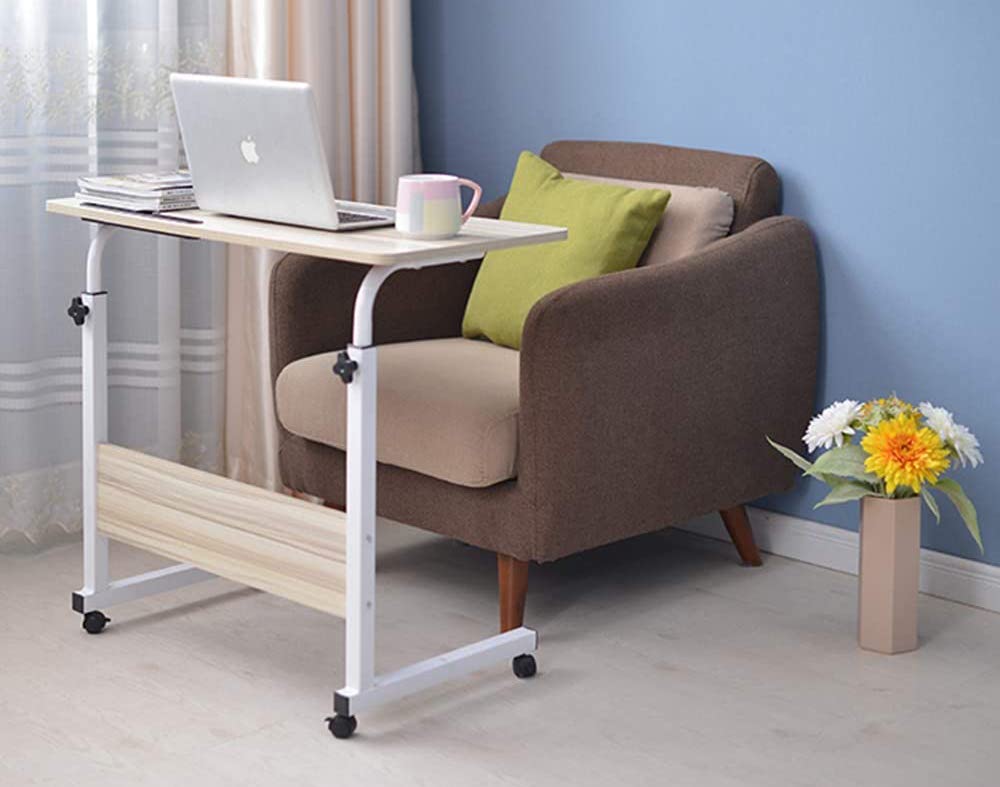 Below are popular reviews we found quite promising & informative:
"I purchased this item for my daughter who works from home. She loves it, enough space for laptop and iPad Pro Max and small accessories and fit perfectly in a smaller room." – Debs
"Very compact and decent looking . Exactly what I was looking for. Helped me with my work from home . Came very fast in the middle of shutdown." – Amazon Customer
Currently, DFW Gaming Computer Desk is the best-selling and affordable gaming desk on Amazon. Its' reviews are almost 600, and interestingly, 80% of the reviews are 5-star rated. Besides affordability, this gaming desk is preferred due to its adequate space, sturdiness, durability, easy to maintain, ease to assemble, and ability to be used for various purposes. In addition, it will save you a lot of space as a multi-functional workstation and allow you to place all items strategically for efficiency. Thus, if you enjoy gaming, this is the best affordable option that provides a comfortable gaming atmosphere to making playing more pleasurable.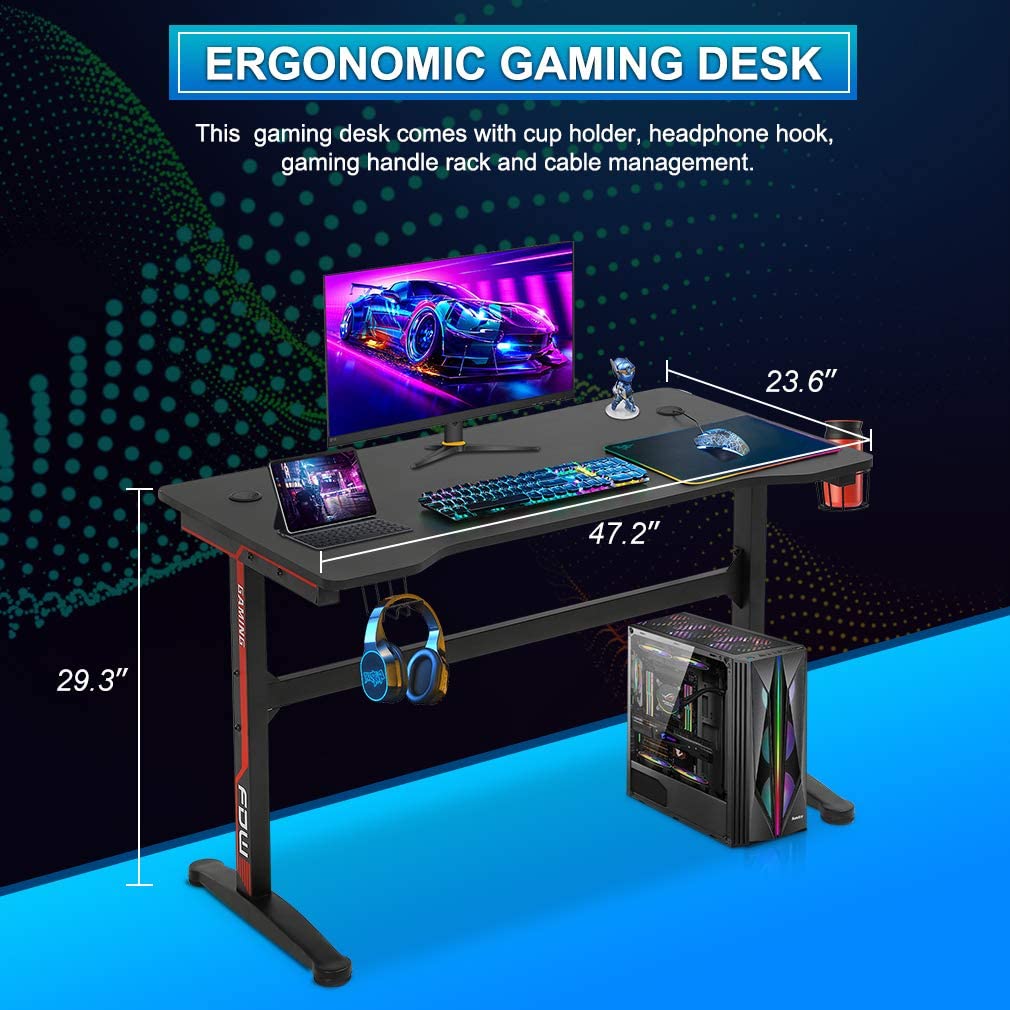 Below are popular reviews we found quite promising & informative:
"Nice desk for the price. Build quality is decent, and it does not feel flimsy once assembled. Out of the box: no damage and no missing parts. The extra long bolt, short bolt and nut were nice to see. The adjustable foot pads, drink holder (looks like it will hold a one-litre bottle) and headphone holder are nice touches. The desk top rack is small. Okay for holding a few standard envelopes or cd's. A few things worth noting about assembly: – can be done by one person, with a bit of planning. – do not over-tighten the bols. The frame is hollow tubing, and the bolts holding the top in place fit into metal inserts. Too tight and you may bend the tubing, or pull the insert out of the particle board. – attaching the top: get all four bolts inserted and started. Once everything is lined up, then tighten. – make sure the floor is clean (or lay a clean blanket down) while assembling. The top is fairly easy to scratch or mark if laid face down. which is the easiest way to attach the legs. – I used my own tools to assemble – the included tools might do the job, but, I found the wrench way too small." – tftf
This is an excellent solution for you if you are looking for a simple and affordable workstation that does not require assembly at all. It works perfectly for small spaces since it is small in size, can be folded and put away if not in use. Sandra Foldable Computer Desk is a best seller foldable desk on Amazon and was awarded the Amazons' Choice award. More than 100 people have rated this desk, and 66% are 5-star rating reviews. Other benefits include durability, a sturdy structure, functional for different purposes and comfortably.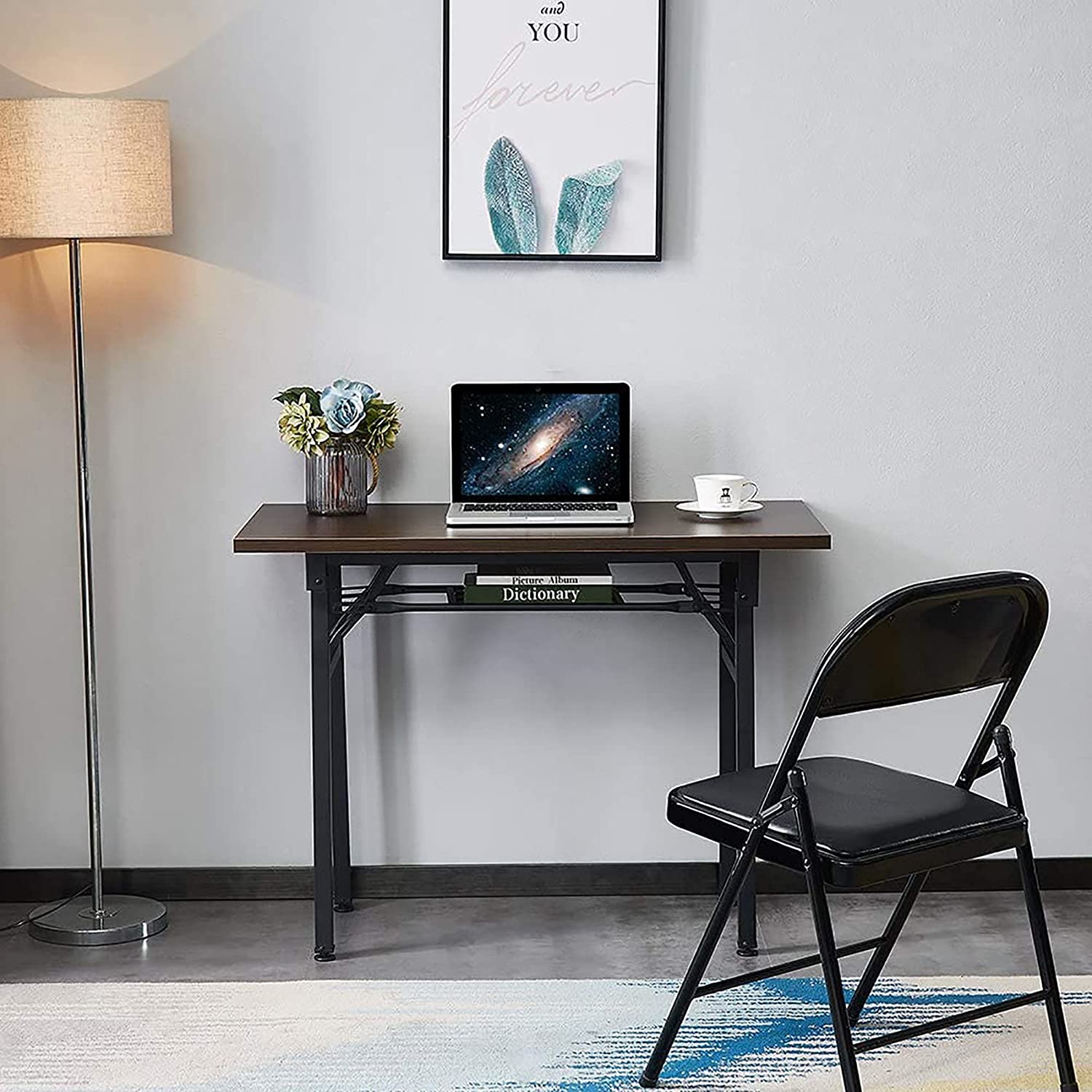 Below are popular reviews we found quite promising & informative:
"Size and design is ideal for small space. Item is easy to put up, no assembly required, very sturdy yet light enough for a little lady to carry. I had considered a 31" desk but I am glad I chose this one, 39" is much more useful. I like the storage tray underneath too. One corner is chipped but no big deal for the price. Hey, life is not perfect! I am happy with this purchase."- F.C.
"I love this desk! Last minute we were told that our classes would be given remotely. My first issue was that I didn't have a space to work at and I also didn't have a desk. I didn't want to work at the kitchen table where it would be noisy. My mom bought a desk and she really liked it so I went on amazon and found the same one but it darker wood. It was super easy to set up and there was nothing to assemble (it wasn't like an ikea desk that takes hours to put together and million parts to look through). It came within a few days of ordering it and was set up in a couple of minutes. It also is a smaller desk that I put in the coroner of my room and I am able to fit a lamp, pen holder, my laptop and a mug warmer and still have room to do work and attend my classes. I couldn't be happier with my purchase." – Stephanie
"Very pleased!! Perfect for my son to do his University schooling on during lockdown !! …and we can fold up and store it easily once the world gets back to normal !! ❤️ Very sturdy and well made and easy to set up !!" – Fance
This is definitely among the top affordable good quality desk options for home and office installation. Soges Furniture Computer Desk with Shelf is currently ranked 17th in the desks and workstations category. A significant number of individuals have reviewed this desk, and of the total reviews, 80% are positive reviews. Its unique panel design makes it a great option for persons looking for a modern minimalistic computer desk still needing space for decorations. This quality desk only requires simple assembly. Besides affordability and design, it is a multi-functional desk and a great option for a stylish office.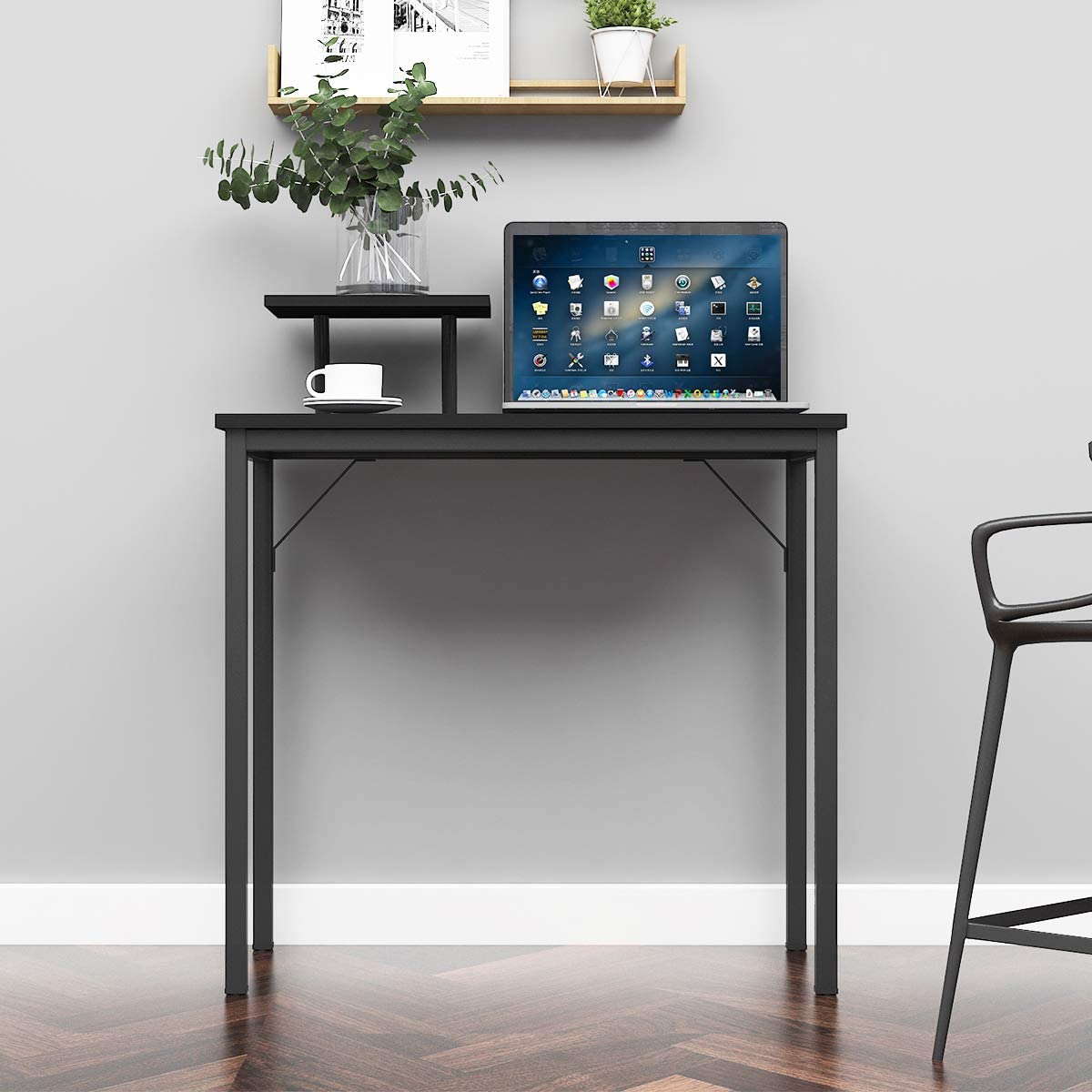 Below are popular reviews we found quite promising & informative:
"When we started working from home, I quickly grew tired of using my dining room table as a desk. So I searched for a compact desk that I could put in my bedroom and this fit the bill 100%. Easy to assemble, end it was the perfect size to accommodate a monitor, and my laptop sits nicely on the small shelf. I even added a standup desk attachment so I don't have to sit all day. I would highly recommend this product." – Liz H
"Small footprint to this desk….just what was needed. Fairly easy to build….took under 20min. Manageable for laptop and second monitor folks. Would be a great kids desk." – Slamofotown
Its design enables it to fit perfectly in small areas, including basement corners. SHW L-Shaped Home Office Corner Desk is a top recommendation for game lovers with limited space. This desk is sturdy, easy to assemble and the footrest bar enhances comfort. Also, it is made with environmentally friendly wood. It is rated by almost 3k people, and 71% of the reviews are 5-star reviews. More importantly, it is the current bestselling L-Shaped desk in the desk and workstation category. Therefore, it is an excellent option for people living in small spaces but still want to attain a desk to make the room stylish and use it for various purposes.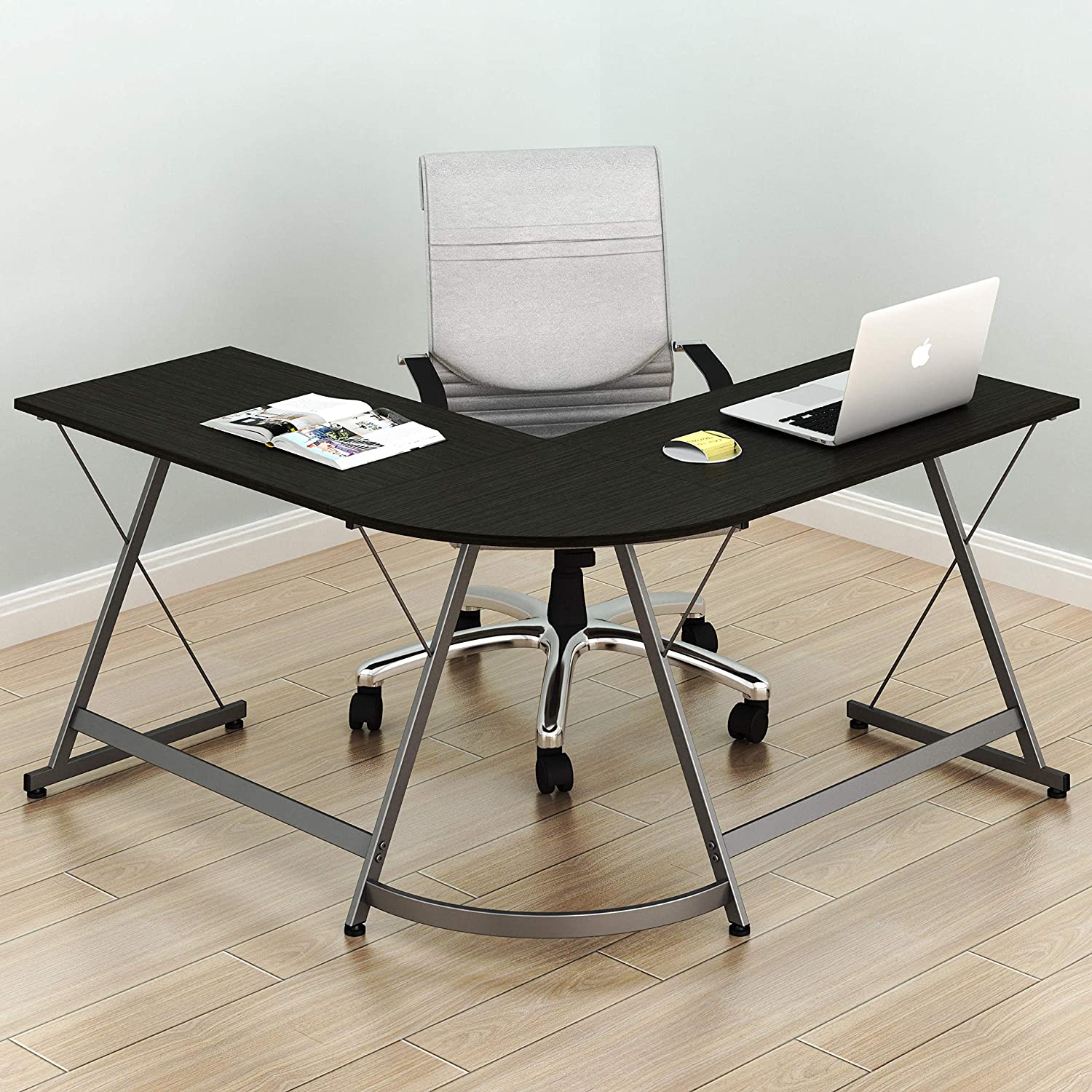 Below are popular reviews we found quite promising & informative:
"I live in a small apt. so it was important I find a functional and good looking desk, this being made for a corner made it an even better choice for me to and ended up dividing a room, seemingly making it feel somehow bigger !? Great looking black, easy to assemble and trust me I'm all thumbs when it comes to this assembly stuff and I am very happy with it's size and many ways to use it. Only slight complaint is the CPU is awkwardly in the middle and I have to remember not to swing in my seat if I am too close to the desk facing forward. Cheers !" – Instig8r
"I like this desk. I can now better organize my office. I work from home due to COVID and was struggling with working with three computers and laptops on one desk. Spending around 100 bucks, I got this well-designed desk and happy of my choice! I should add that I had to contact the customer service for a question and received very quick and positive reply. Will definitely recommend." – Amazon Customer
It is the current bestselling desk with the most storage space. Also, more than 600 people have reviewed the desk, and of the total reviews, 73% are 5-star reviews. The two storage shelves allow you to store items in an easily accessible location and provide safety. Besides, it is stylish, has impressive quality, sturdy & stable, and easy to assemble. Therefore, QooWare Computer Desk with 2 Storage Shelves is the perfect option for working and studying from home and might have limited space.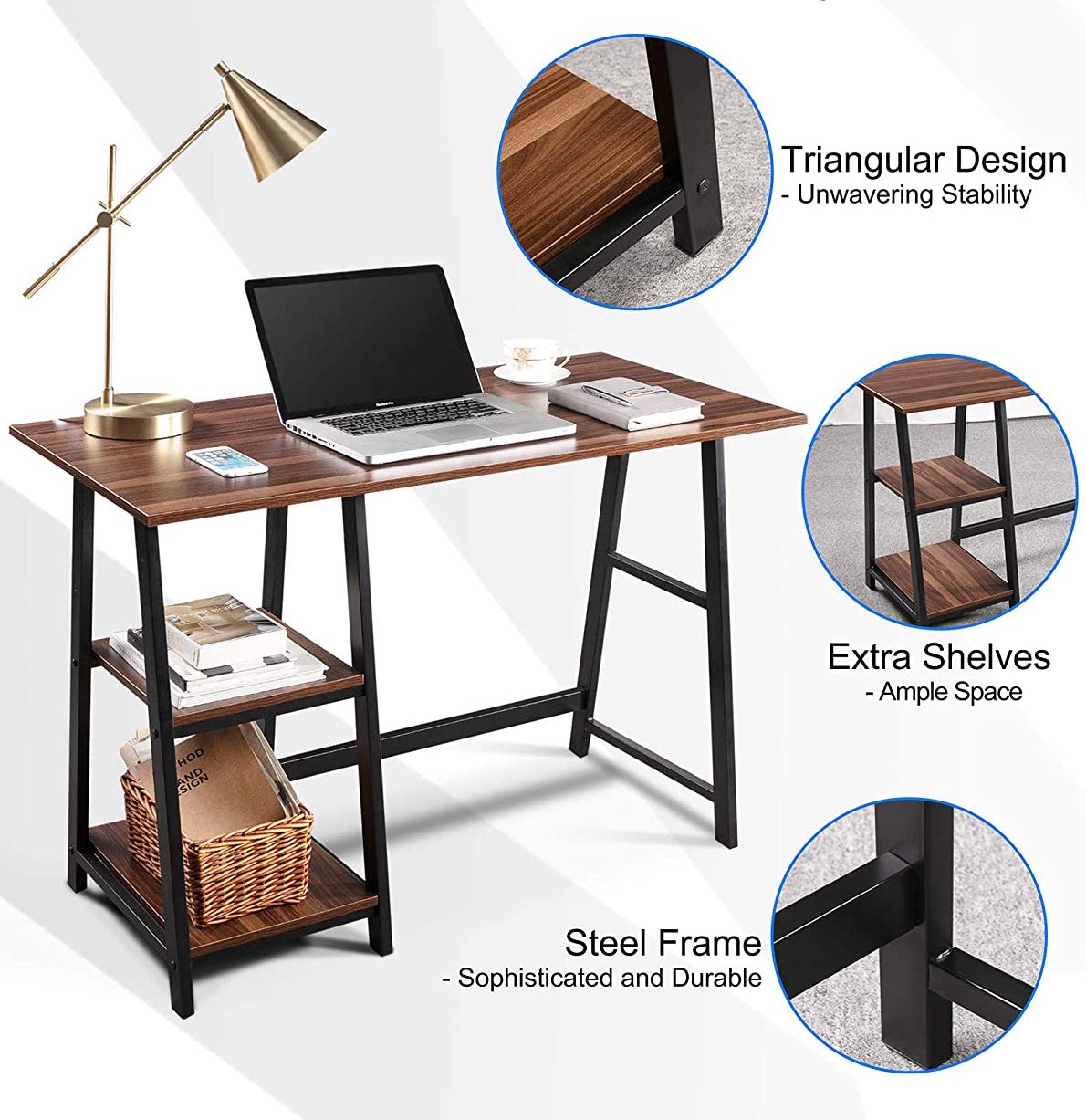 Below are popular reviews we found quite promising & informative:
"5-stars for material and build quality. The main upper top looks like it is a good, solid particle board. There was a tiny chip on the front, which probably happened during shipping. But, it isn't noticeable. So, no worries there. It is a solidly made board. The legs are metal. They are built strong and very precisely. So, the entire unit fits in together quite well. I absolutely love the side pieces that allow me to put a few things, like my glasses and my notebooks and books. The table is strong and you can see from the photos I have also placed my printer on top. It has held well for the last few days and I see no issues in terms of material and build quality. It is all top notch." – Nat
"The material is sturdy, the shelves are customizable and you can even mirror it on the other side. The table itself was easy to assemble, came with clear instructions and labels on what goes where. I was able to assemble this myself in about 15 minutes. The packaging was also good, no signs of damage whatsoever. " – Ramiz
This desk is the second best seller in the desk and workstation category. It is the most diverse in terms of sizes and colors, and thus, it is the best option for a variety of interior designs. More than 6k people have reviewed Foxemart Modern Computer Desk, and 68% of the reviews are 5-stars reviews. It is popularly known due to its large offerings of affordable desks. Thus, you can check for other offerings from their large sections. Additionally, the desk is of premium quality, easy to assemble, best for small spaces, has a 24 months warranty, and budget-friendly.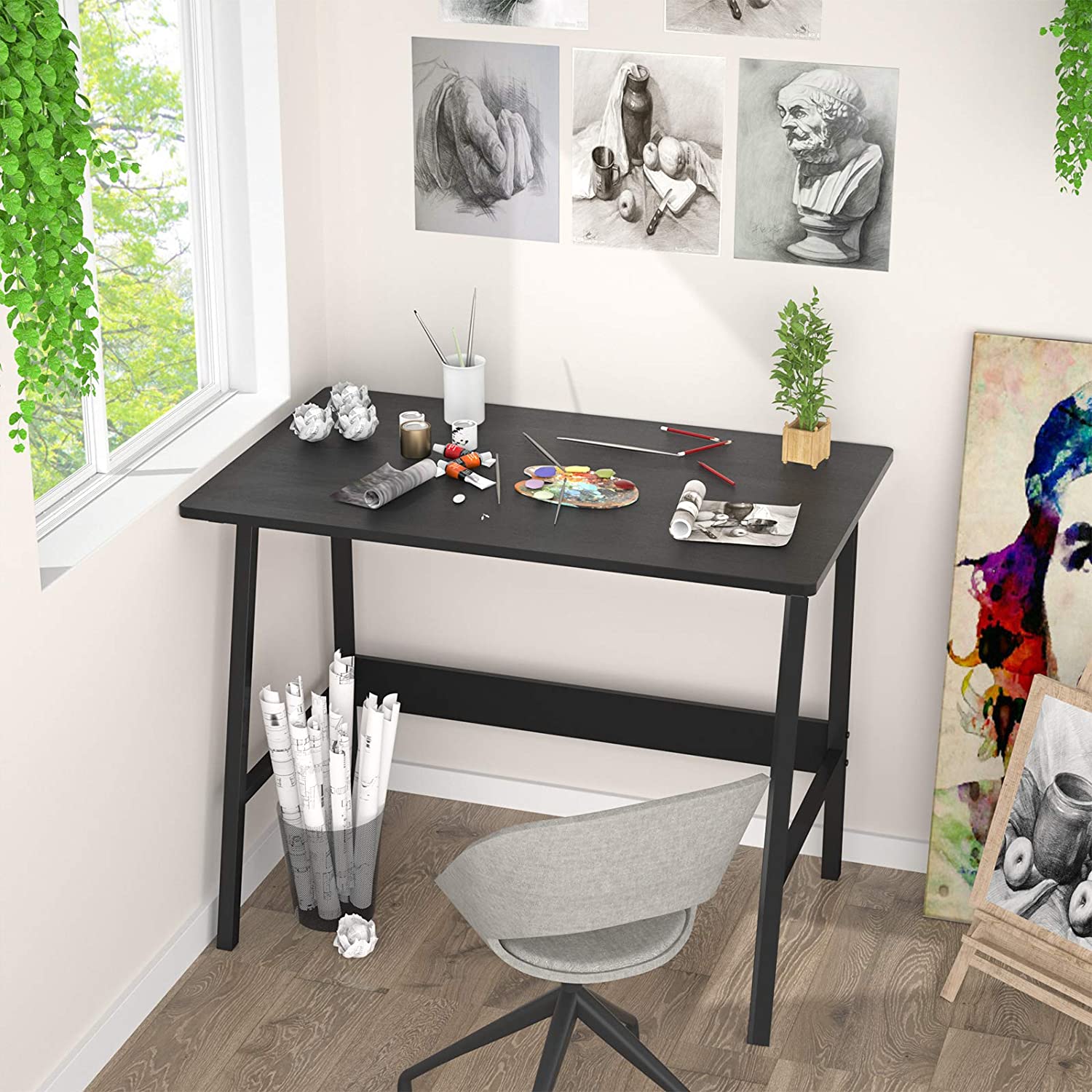 Below are popular reviews we found quite promising & informative:
"I got the 47″ desk and it is great! The desk top itself actually is very high quality. Better than expected. The instructions however came al crumpled up so it was difficult to read, and no parts were numbered so building it would've been more complicated if the pieces weren't so different from each other. Still very good!" – Hayden Cowan
"Arrived on time. Easy to assemble. All hardware included. I purchased it because of the simple design, and I use it as a kitchen table. It fits perfectly in a small space. At a pinch, I can sit 6 people at it, but most of the time, I can stagger 2 chairs so that my grandchildren are not kicking each other under the table. I also used a handrub black stain on the top, allowed 48 hours to cure, then put 2 coats of quick dry urethane on the top. The colour of the table top didn't go with the 2 antique oak chairs I wanted to use with it. Very happy with the results!" – Katarina Vee
This desk has gain popularity over the years and is the top recommendation. SHW Home Office Workstation Desk is the bestselling modern style computer. It has more than 5k reviews on Amazon, of which 75% are 5-star reviews. This stylish design desk can be placed in the office, bedroom, kitchen, and gaming room. Advantages of this desk include affordability, high quality, and ease to assemble. It is excellent for you if you are looking for a desk with a large surface area for dual monitors for a classic home.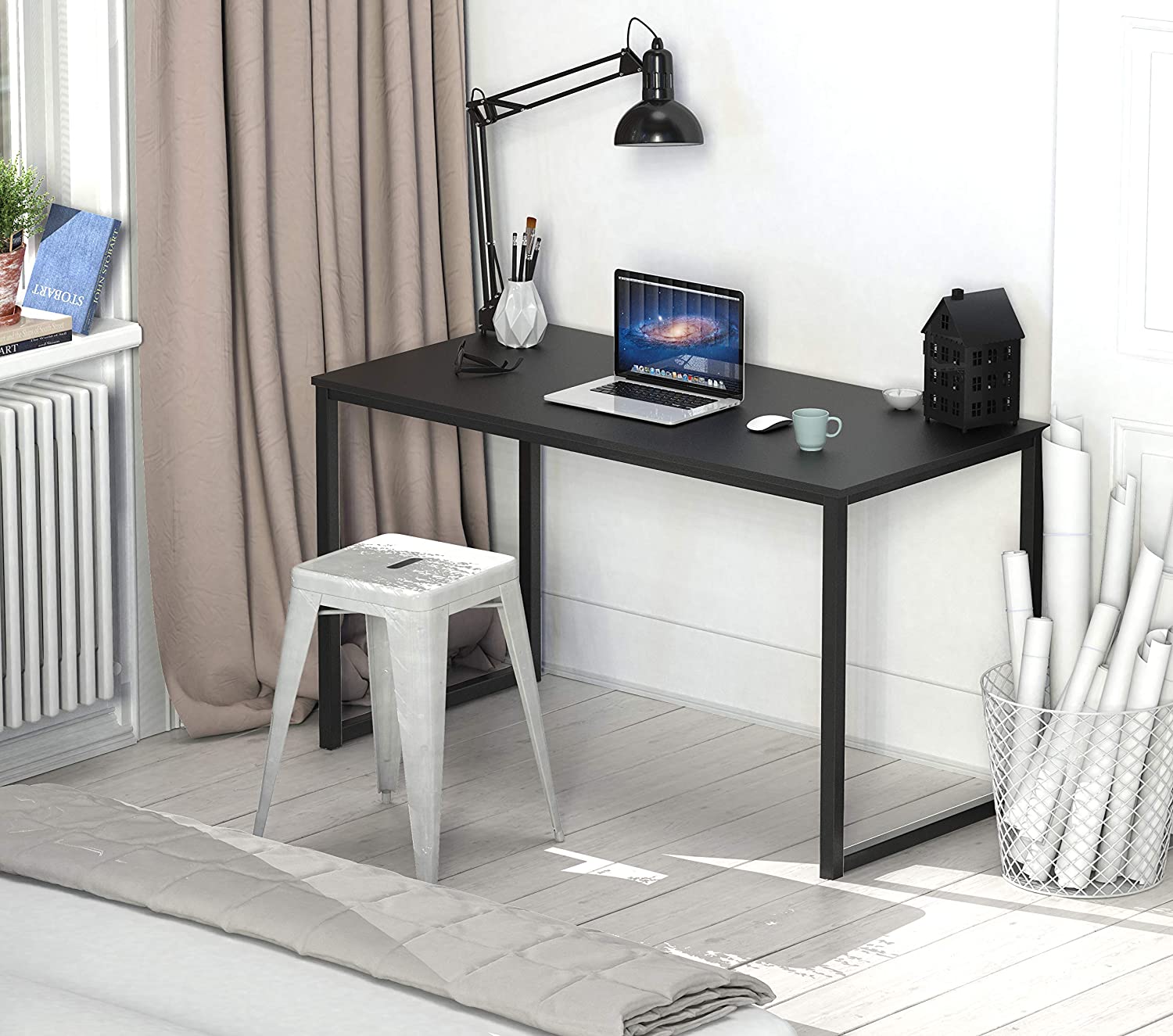 Below are popular reviews we found quite promising & informative:
"Came a day late with a damaged box. Product was still in great shape with no damage regardless. Built the desk in about 20 min and is very sturdy with plenty of space for my Mac and Studio Monitors. Would definitely recommend buying this desk, and I myself would buy another one again." – Kris
"I am so happy with this desk! I wanted a simple desk, that was reasonably priced, as it's for my 6 year old and homeschooling. The setup was SO easy and took me all of 10 minutes. It was literally two steps! The wood is heavy, and feels like great quality. The whole desk is sturdy. I am very happy with this purchase and would definitely buy another!" – Samantha G.
" I am very happy with the product vs the price. I expected lower quality considering the price. This is not my computer desk , but it will be a Craft desk so perfecf for my need. It was very easy to build, i didn't read the instructions . The desk was good protected." – Cliente