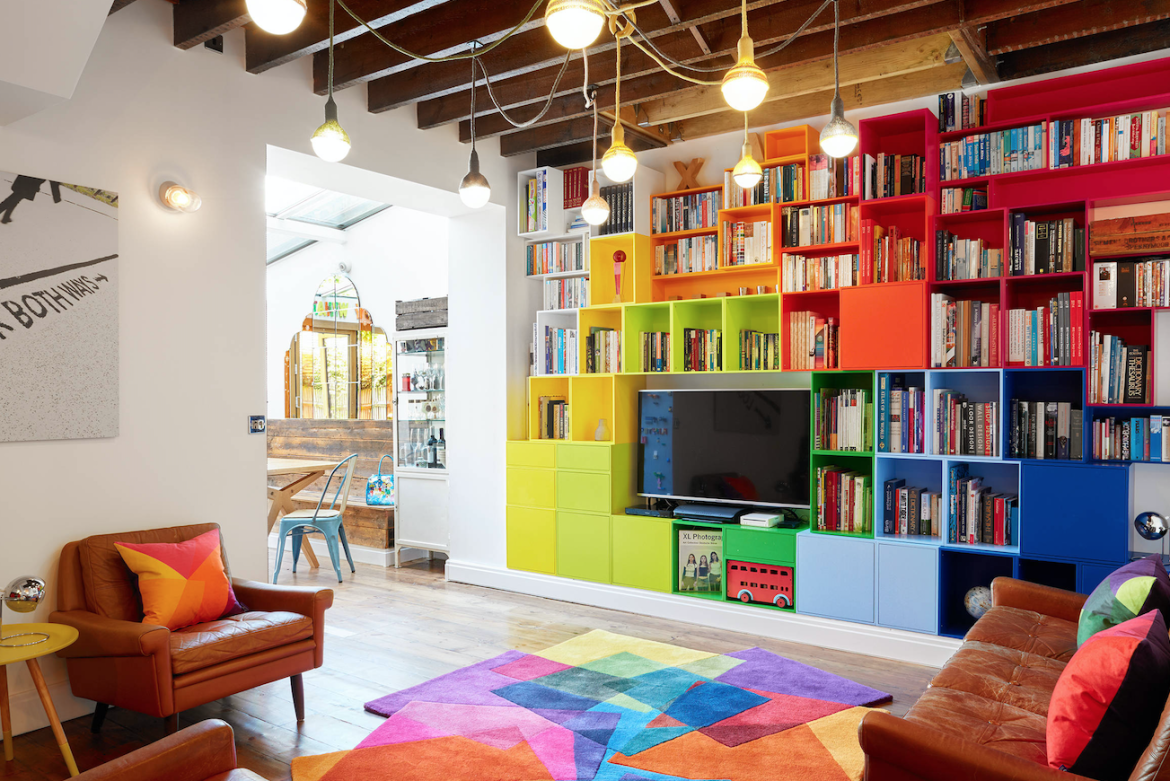 Avocado Sweets Design Turns a Dull Property into a Rainbow Wonderland
Avocado Sweets Design is not known for playing by the rules. The London-based studio specializes in hip, quirky hot spots, from coffee shops to cocktail bars. Founders Evros and Susie Agathou combine their branding and design knowledge to create buzzworthy spaces.
But they don't only work in the hospitality realm. Avocado Sweets transformed a forgotten Islington property into a family home bursting with imagination. They embraced the bones of the place, exposing ceiling beams and rough stone walls. Against this industrial backdrop, eclectic details turn the house into a home.
Flocks of funky pendant lights, cheeky bathroom wallpaper, a sprawling rainbow bookshelf—everything about this interior ripples with energy. An open floor plan increases the impression of space within the small home. Strategically placed mirrors expand the appearance of the smaller rooms.
LEGO and chalkboard walls show that this home is not just "child-proof", but actually child-friendly. A glorious jumble of pattern and texture indicates that creative expression is welcome within these walls. The bedrooms are toned down, featuring crisp white walls that never go out of style. But they still include Avocado Sweets' trademark splashes of color.
In the whimsical English tradition, this home is a treasure trove of knick-knacks, cubby holes and corners. Yet the flood of natural light from the glass cathedral ceiling keeps it from ever feeling stuffy. A garage-sized accordion door opens the dining space onto a mosaic tiled patio and a small yard.
This London family home is unlike anything you've seen before–and that's a good thing.