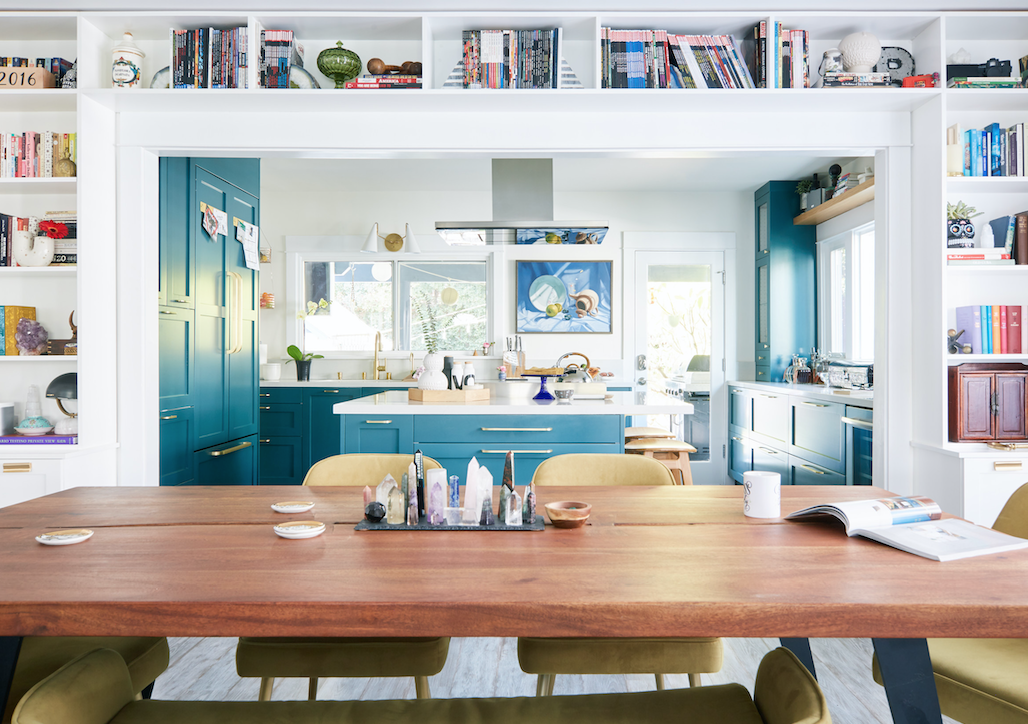 Count the Awesome Details in This Hollywood Bungalow by Studio Palomino
Studio Palomino is the brainchild of interior designer Barbie Palomino, who hails from Miami and originally studied business. The Los Angeles-based studio has its finger on the pulse of contemporary design, as well as a sharp eye for unique flair.
Studio Palomino designed this cheerful West Hollywood haven, complete with a dash of Jazz Age flavor. Surrounded by fresh white walls, vintage jewel tones take center stage. A vibrant teal kitchen gives way to golden dining room armchairs, and then a family room full of velvet throw pillows in peacock colors.
It's the little details that elevate this airy bungalow. None of the rooms look cluttered. But the unexpected art pieces, Persian area rugs, and retro brass accents are worthy of a world traveler looking for a cozy home base.
The master bedroom has a modern Art Deco vibe. A dramatic dark accent wall sets it apart from the rest of the house. With plenty of natural light, designers were able to experiment with bold hues and interesting materials.
Everywhere you look, you notice an enticing accent, from the Victorian-style wallpaper in the nursery to the emerald green sofa in the home office. A 1920s-inspired color palette unites the decor.
These fun details add up to an interior that has class, charm and character.