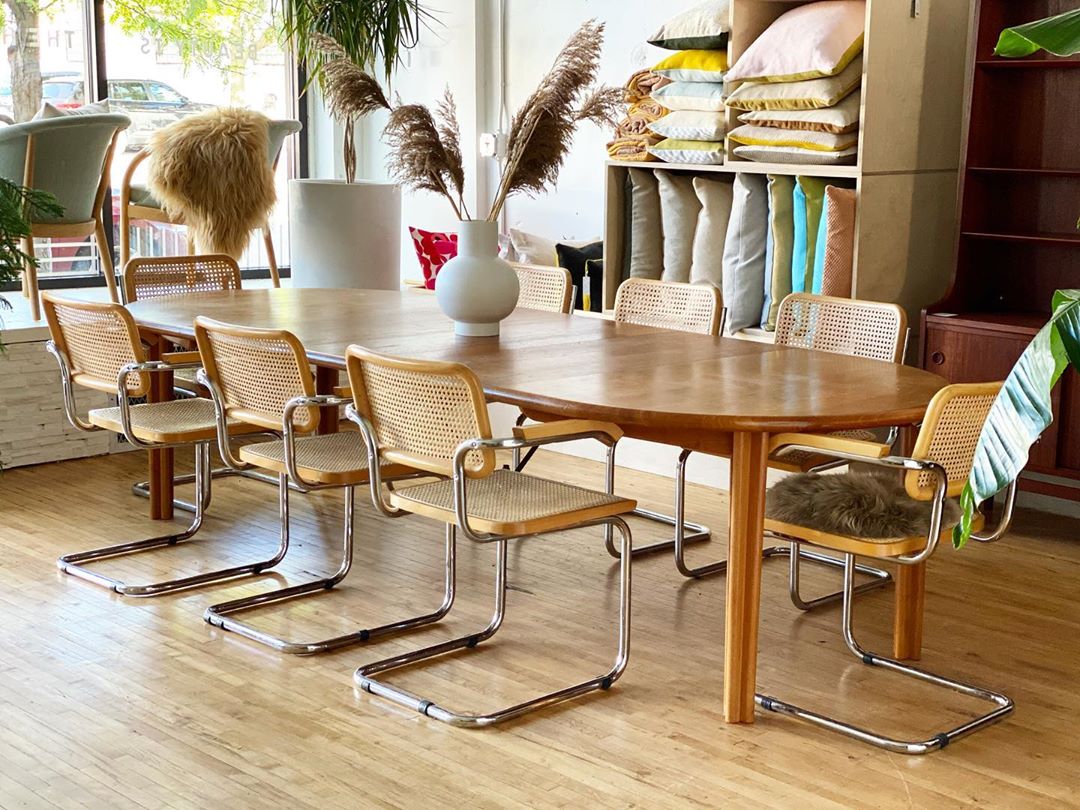 90 Mid Century Modern Dining Room Ideas That Make Meals a Celebration
We're all eating at home a lot more than we have in the past, so a dining room that is both easy to care for and enjoyable to live in is critical to keeping the household happy. If your table is doing double duty, you may need to update the space to allow for both study and eating. Finally, you'll want to define the space without damaging the flow of your home.
Accent Wall of Travel Goals
Consider a bold accent wall of lush green to pop the paintings and posters of travel goals, or whatever thematic images you enjoy. A simple table with comfy chairs and a washable rug means your dining space can dress up or down to suit your needs.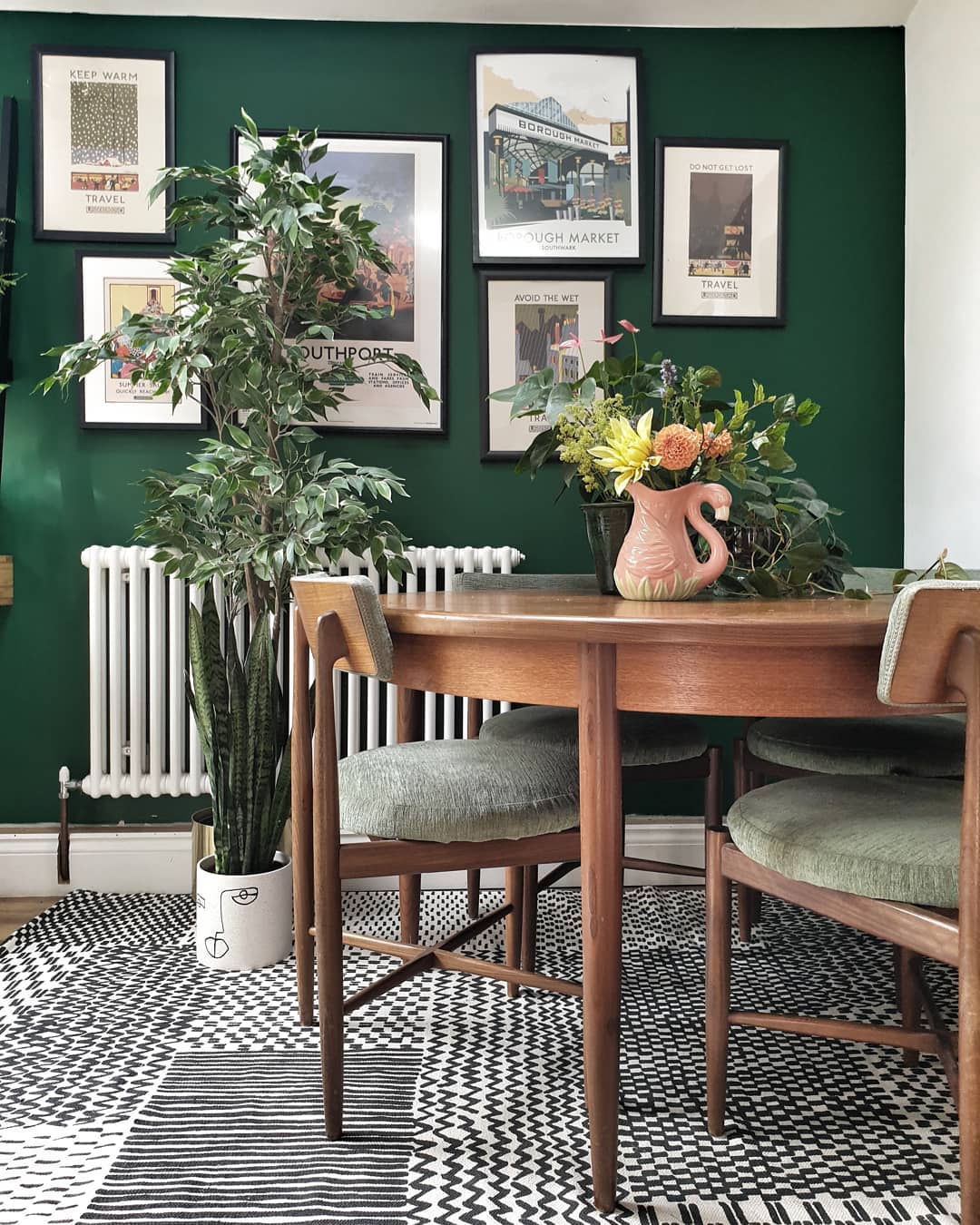 Team Up with Color
Your open concept house can easily be divided into spaces with colors unique to each area. The fun orange chairs pair well with the cream and orange rug, and the silver plant accent stands out against the orange and brown crock. Together, this dining set is a perfect island of great food, good friends and amazing conversation.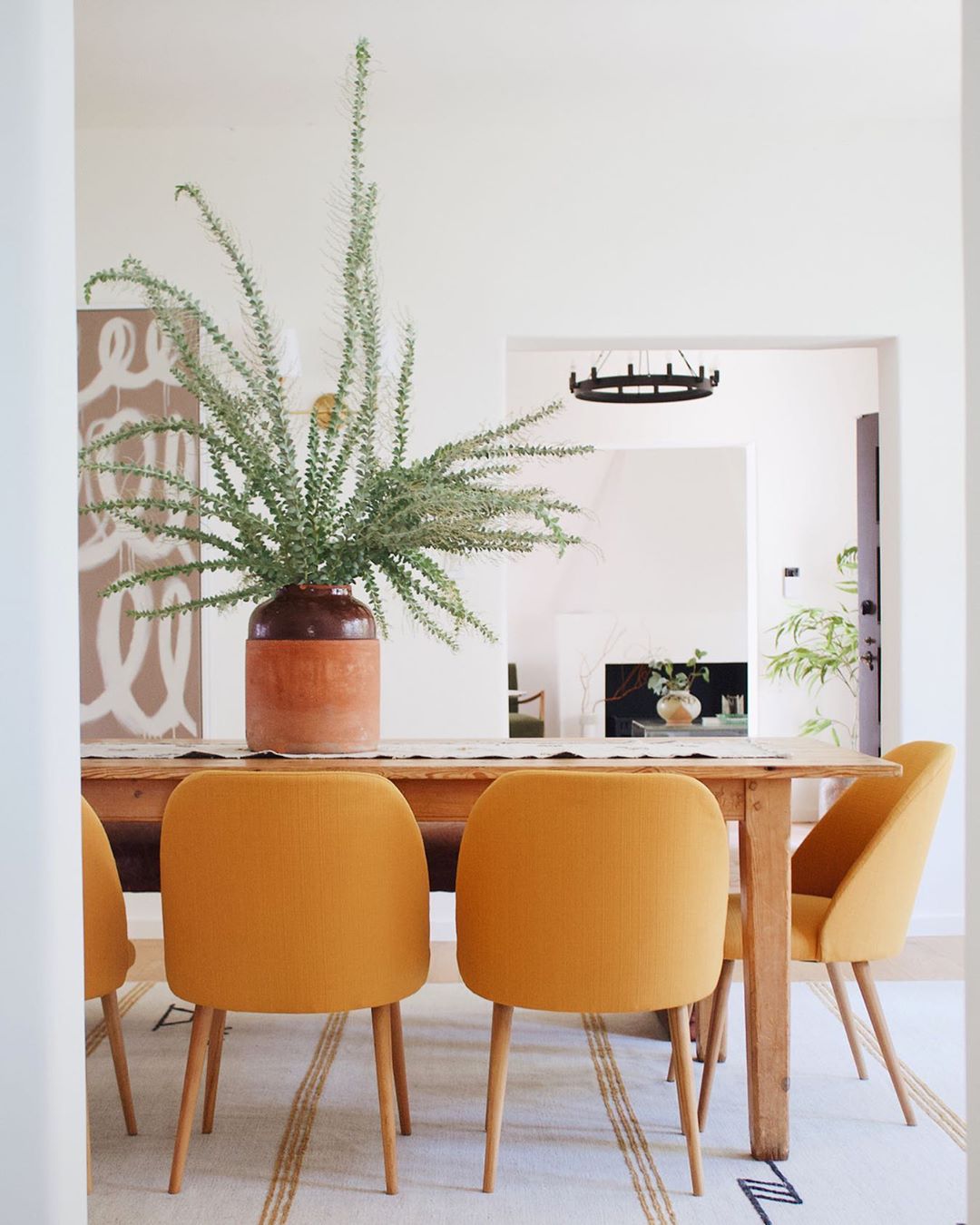 Cozy and Classic
The fireplace in this image adds warmth and coziness to an elegant and thoroughly modern table and chairs. The marble topped table could easily move from "coffee and newspaper" to "dinner by candlelight" and this room would only sparkle a bit more. The pitchers and accent plants tie the old to the new, as does the white hanging lamp.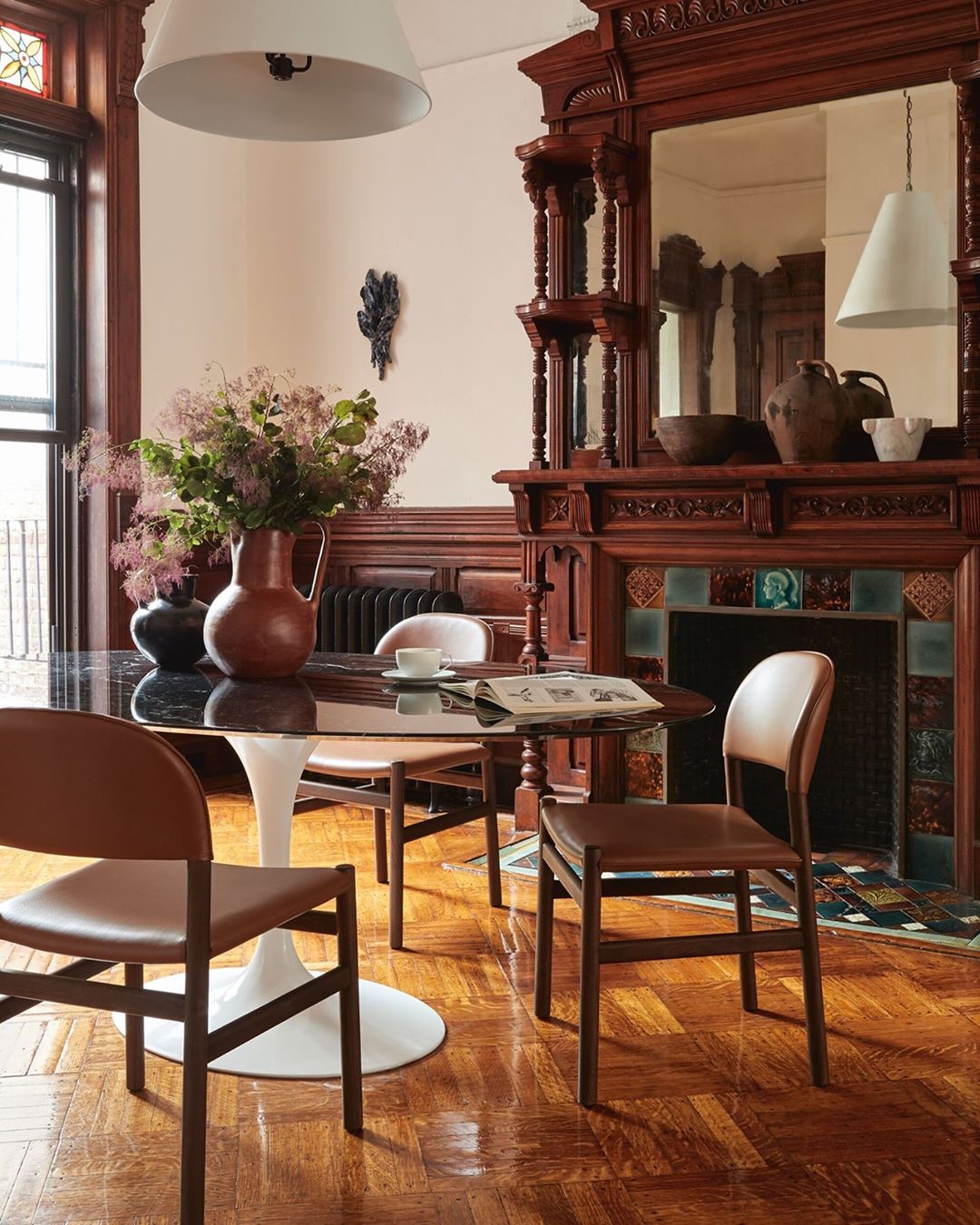 A Natural Oasis
This kitchen and dining space combo is joined by a pretty blue floor and a rust colored ceiling, so the wooden table and simple chairs provide an oasis of natural color. The tripod design of the table legs and the straightforward chairs allow this bright and beautiful space to maintain a minimalist feel with maximum color punch.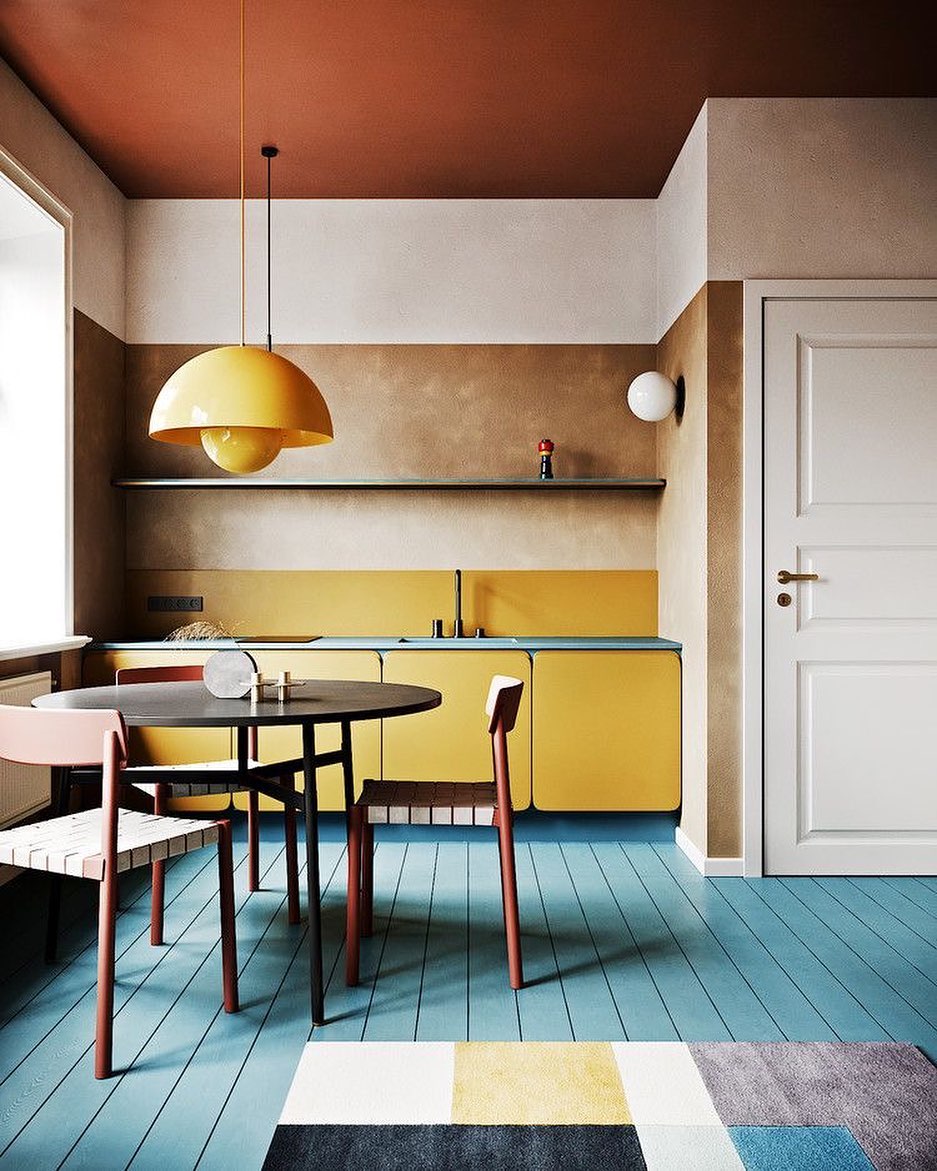 Quirky Elegance
Burgundy is a lush color for cushions and these stand out magnificently against the buttery cream wire mesh of the chair frames. Lemons resting gently in the hand sculpture on the glass table draw the eye to the yellow floor treatment. A rich slotted ceiling and unique white floor make this dining set the focal point of the space.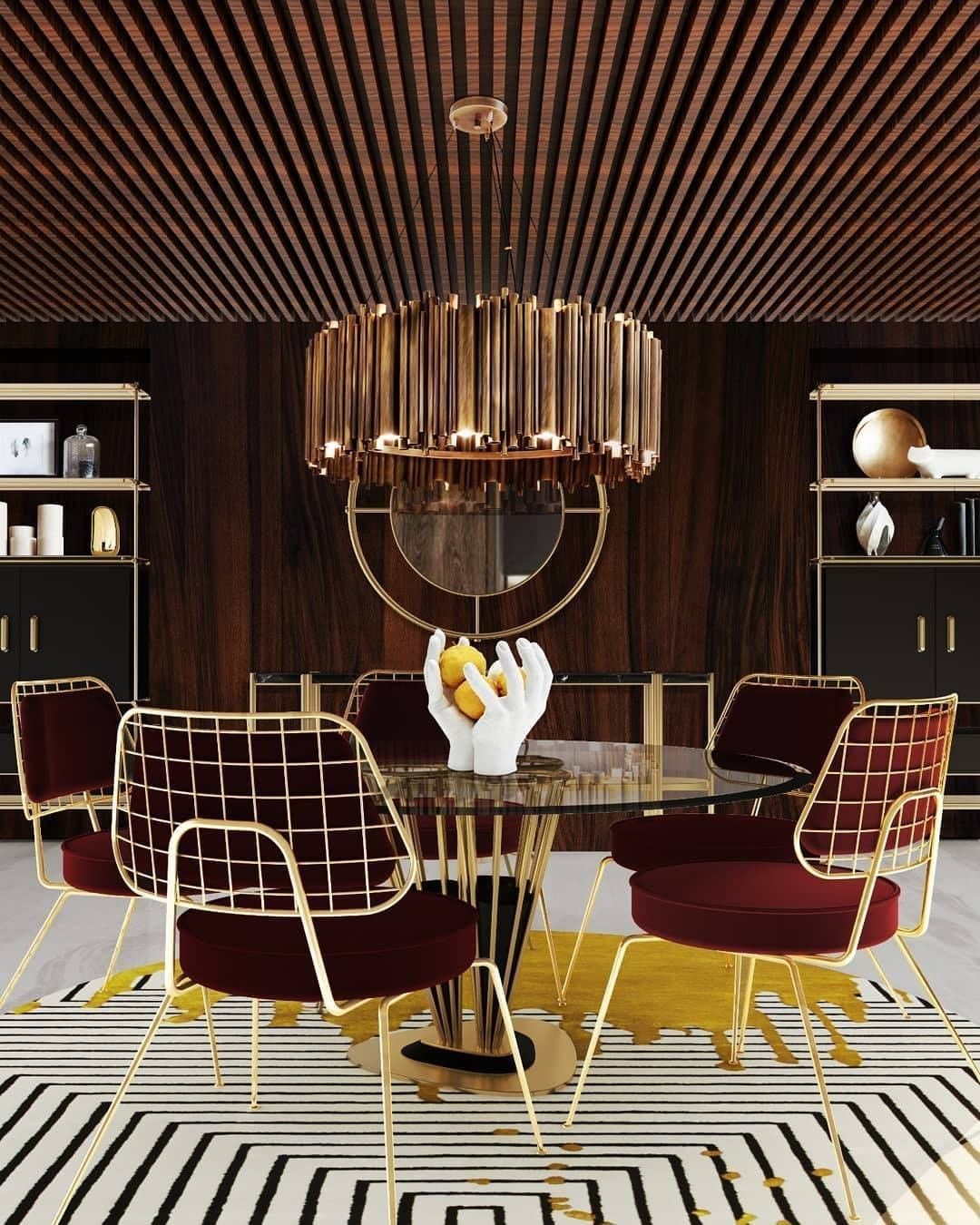 Celery!
The bright celery green cushions on the stainless steel chairs of this set, combined with the marble table and base, give quirkiness to an elegant pairing. Dishes of any style and tone would work extremely well on this table, and the green glasses and yellow plates and napkins invite guests in for a bright, cheery meal.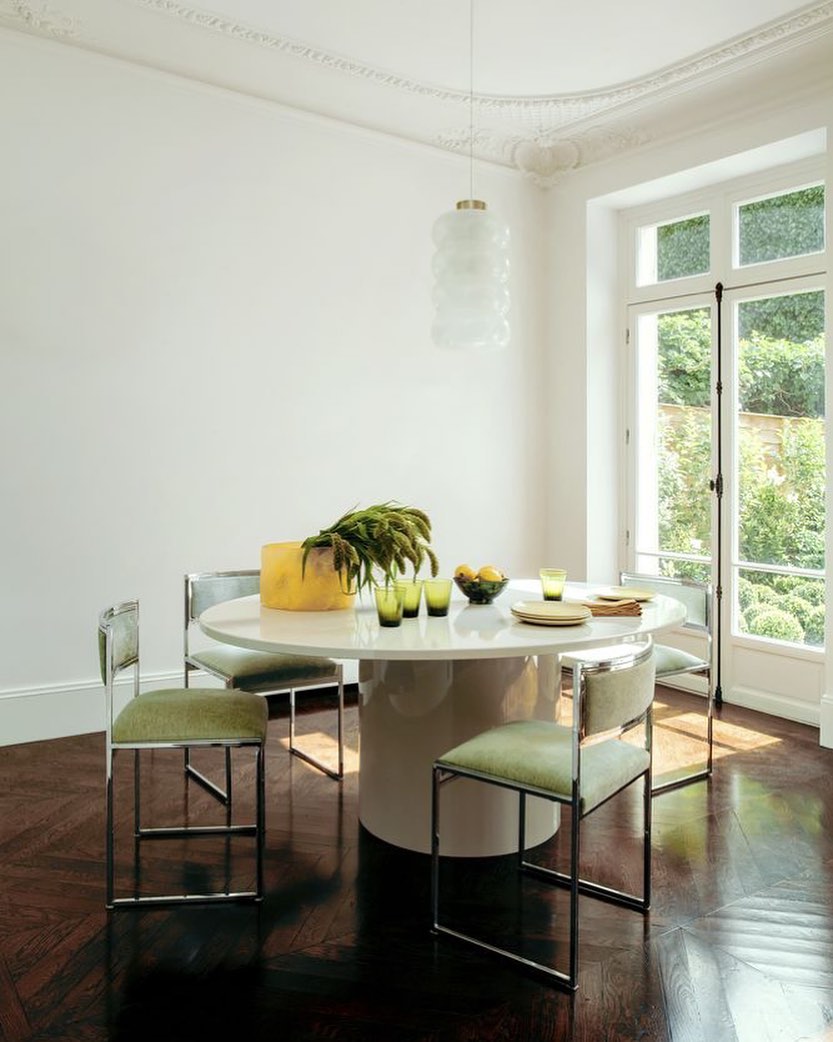 Shaker Styling
The shaker styling of this simple table, combined with the wooden floor and the bentwood chairs, make this dining area a remarkably restful spot for the eyes and for the body. Here you could gather for a humble soup and bread supper and feel that you are home. The simple fabric-covered lamp along the wall would create a pool of light as the natural light fades, and the unique stoneware platter would be a great spot for a simple snack.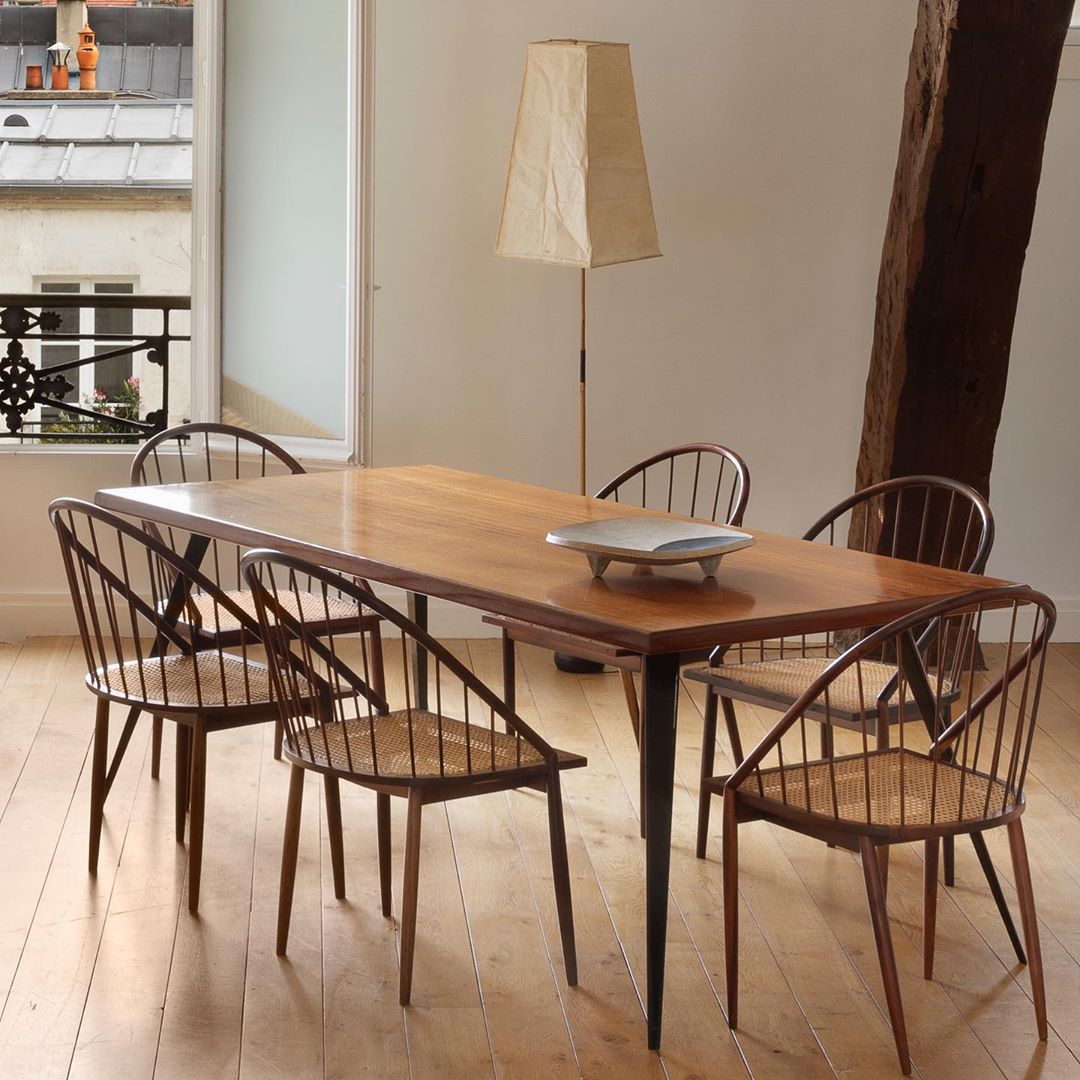 Striking Bentwood
The black bentwood chairs are both spare and sturdy, offering a comfy spot to sit and enjoy a meal at the simple pine table. Along the wall, a serviceable sideboard topped by two hearty floating shelves provides storage and a nice anchor for the space. This is a dining room that will serve this home for years to come.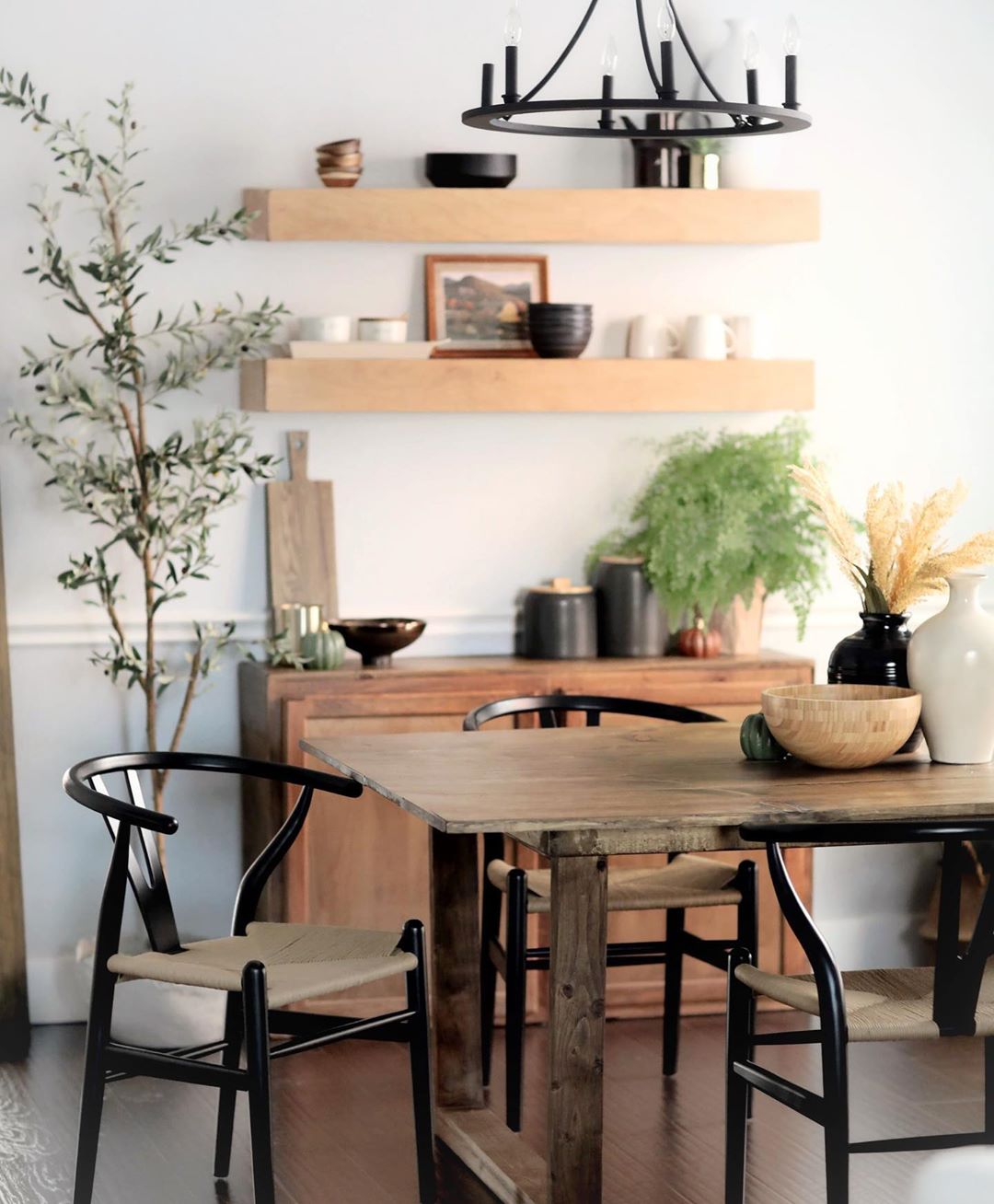 Bring the Garden In
A flexible combination of white chairs paired with a simple plank table makes this dining area a fun spot for a buffet, a potluck or a sit-down meal. The gladiolas appear to be just-picked-fresh, and the fabric hanging lamp is soft and unobtrusive but there in a pinch! The sideboard is serviceable and appears to be an easy spot to store all the party dishes.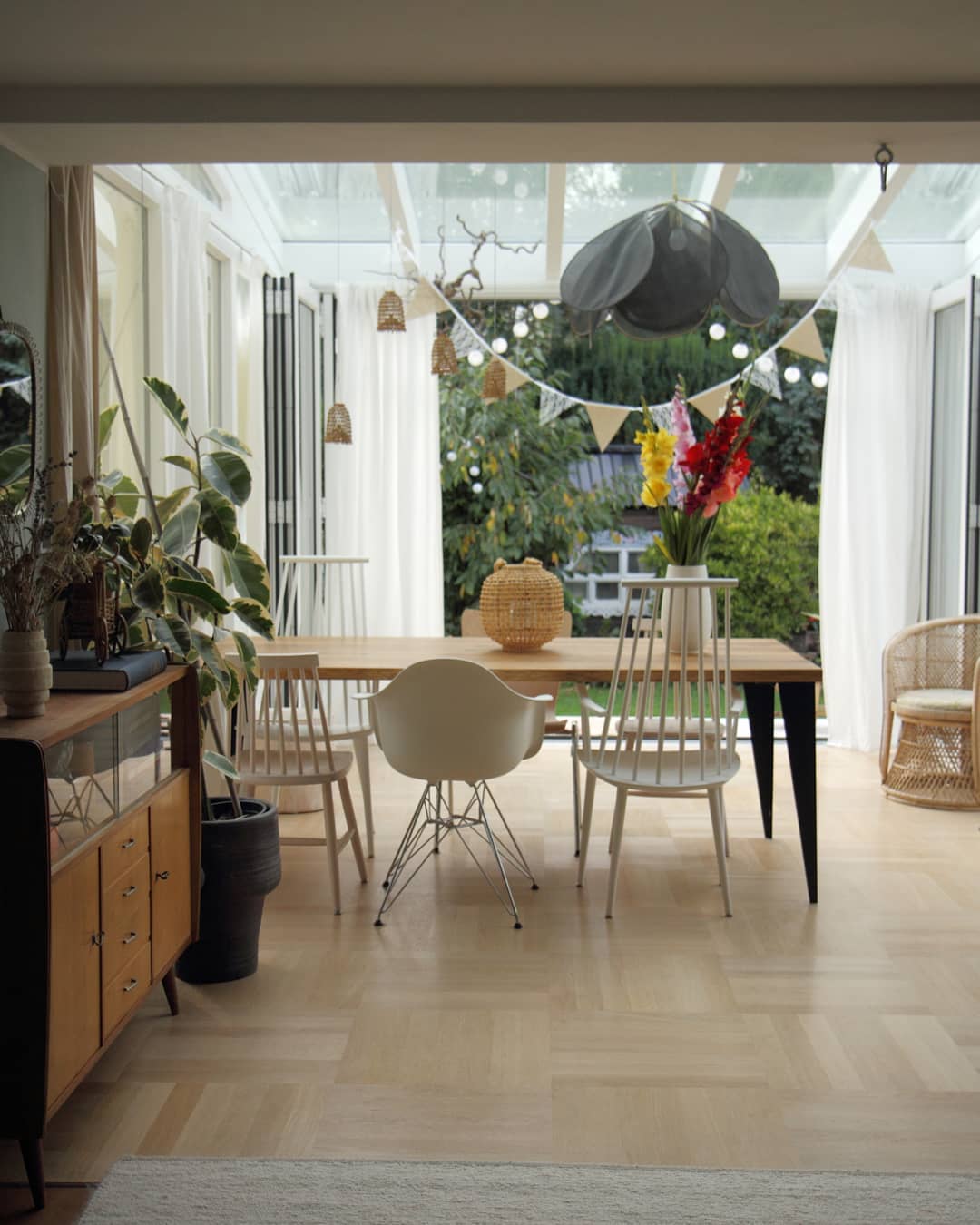 Built-in Cozy
Visitors to this dining room will need to come hungry, because this space is built for comfort and conversation. The simple, stackable wicker chairs offers flexibility, while the built-in provides guests the chance to get comfy and sit back on a crisp navy and white array of cushions. Built in storage shelving completes the look.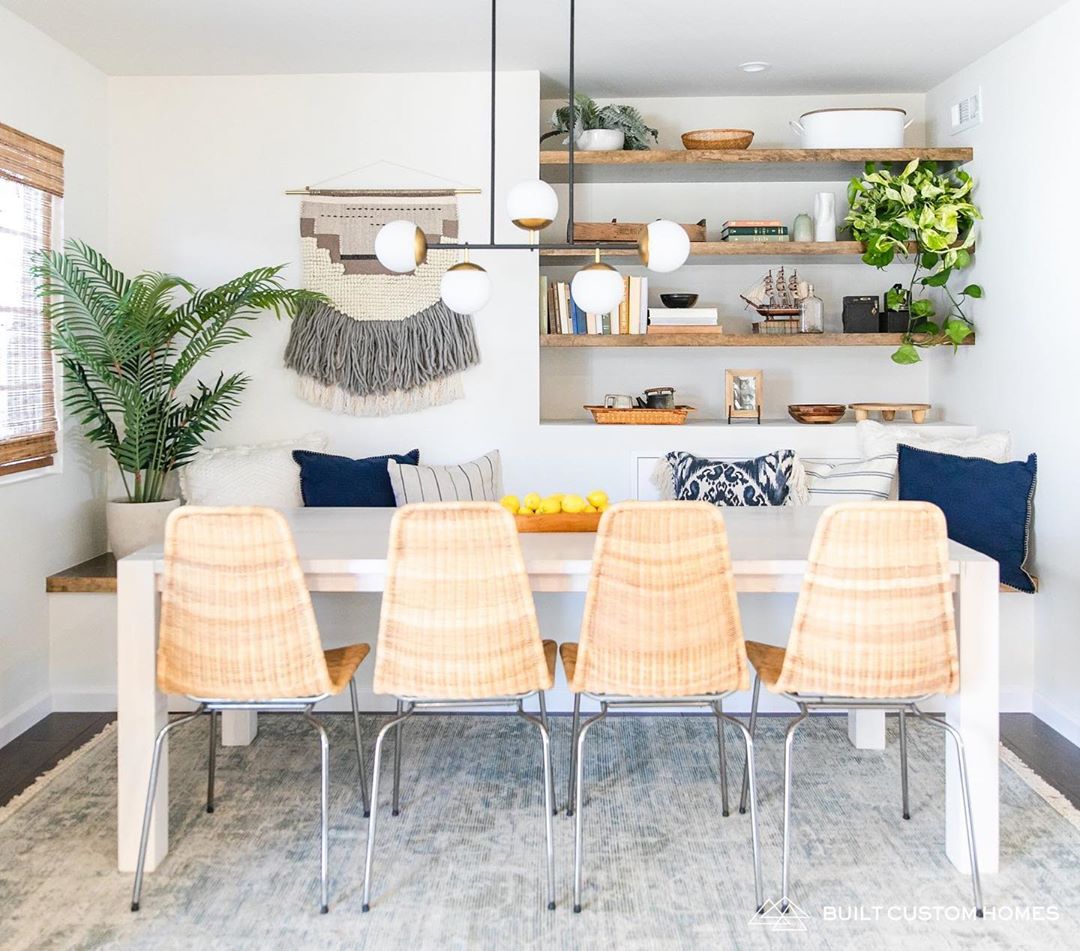 A Spot for Sated Diners
Chairs that allow you to lean back and relax with space for your arms are not that common anymore, so this dining set is for the truly dedicated! The graceful oval table is designed to expand to suit many diners and the white clay jar is an ideal spot for fresh or dried flowers.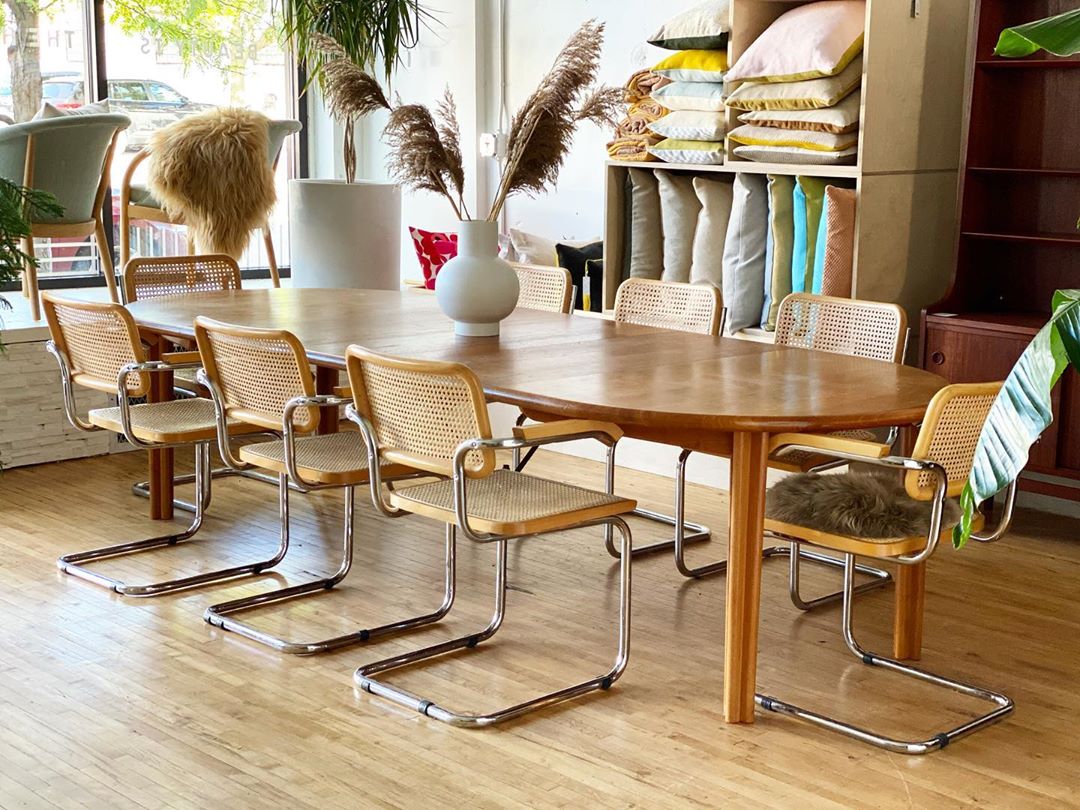 Expansion Options
A simple wooden dining set on a wooden floor doesn't have to be dull. In fact, this set offers graceful and hearty chairs as well as a unique leaf addition that makes it obvious that this set can seat many loved ones.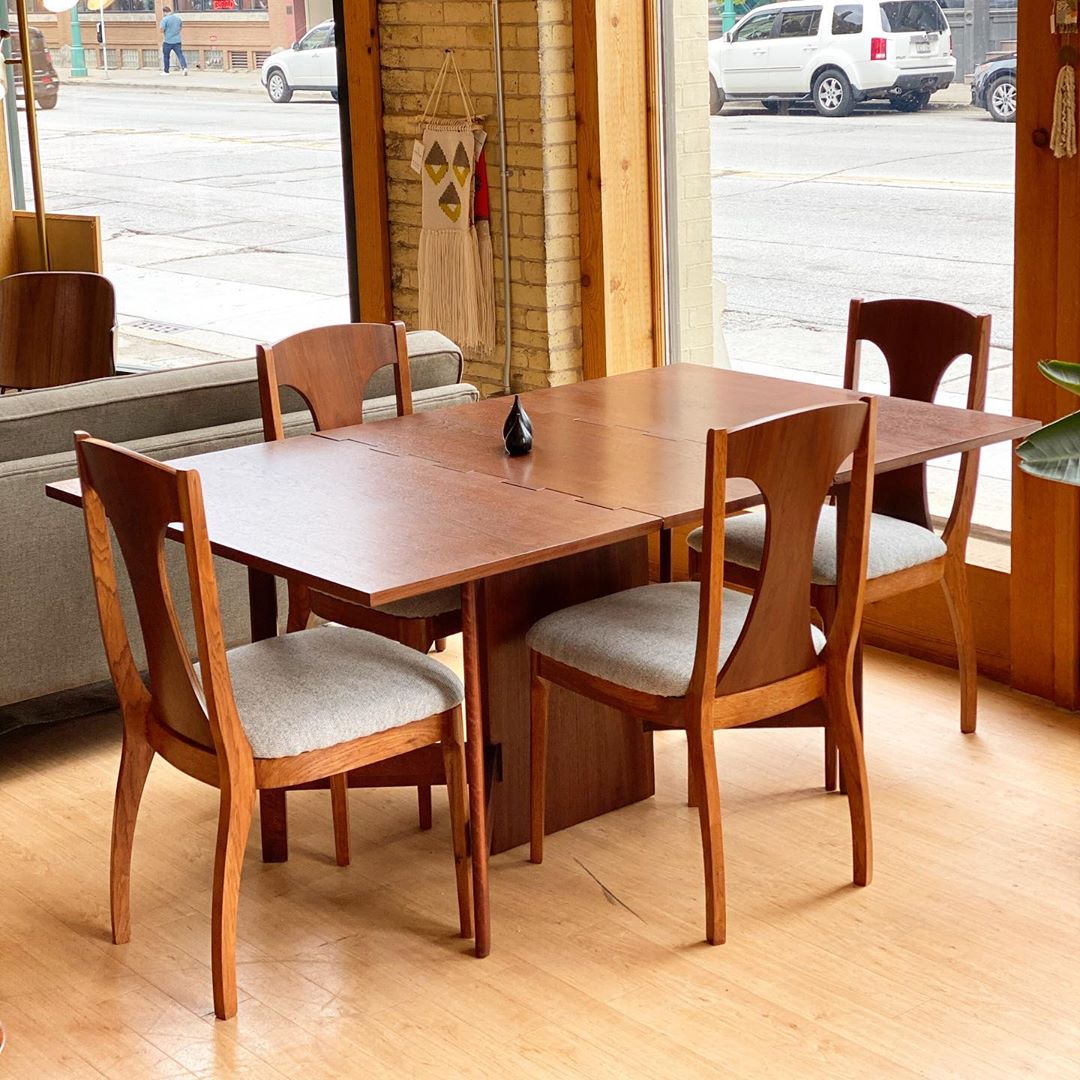 Bright White
White formed plastic chairs give flexibility to this lovely sage-green dining space. White hanging lamps will brighten the spot after dark, and the simple slab table with iron base will travel as needed. Finally, the wooden sideboard stands out and serves both as storage and display.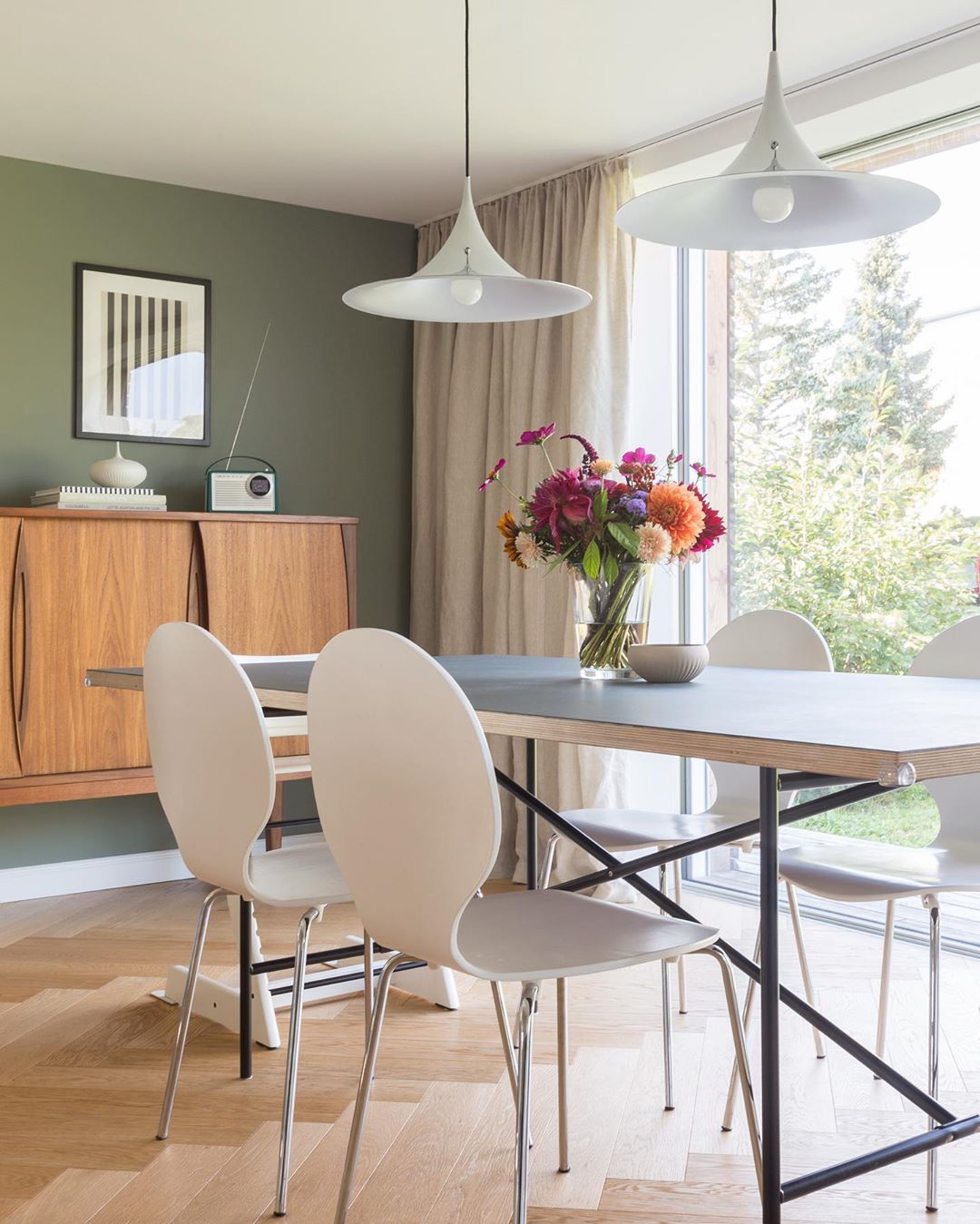 Flowers Abound
From the gorgeous wallpaper to the pink roses on the table, this space is about beauty and light. The chairs feature a crisp white and blue fabric cushion and the white marble table, gracefully supported by curved gold legs, add elegance. A white sideboard topped with pink and white lamps rounds off the charm nicely.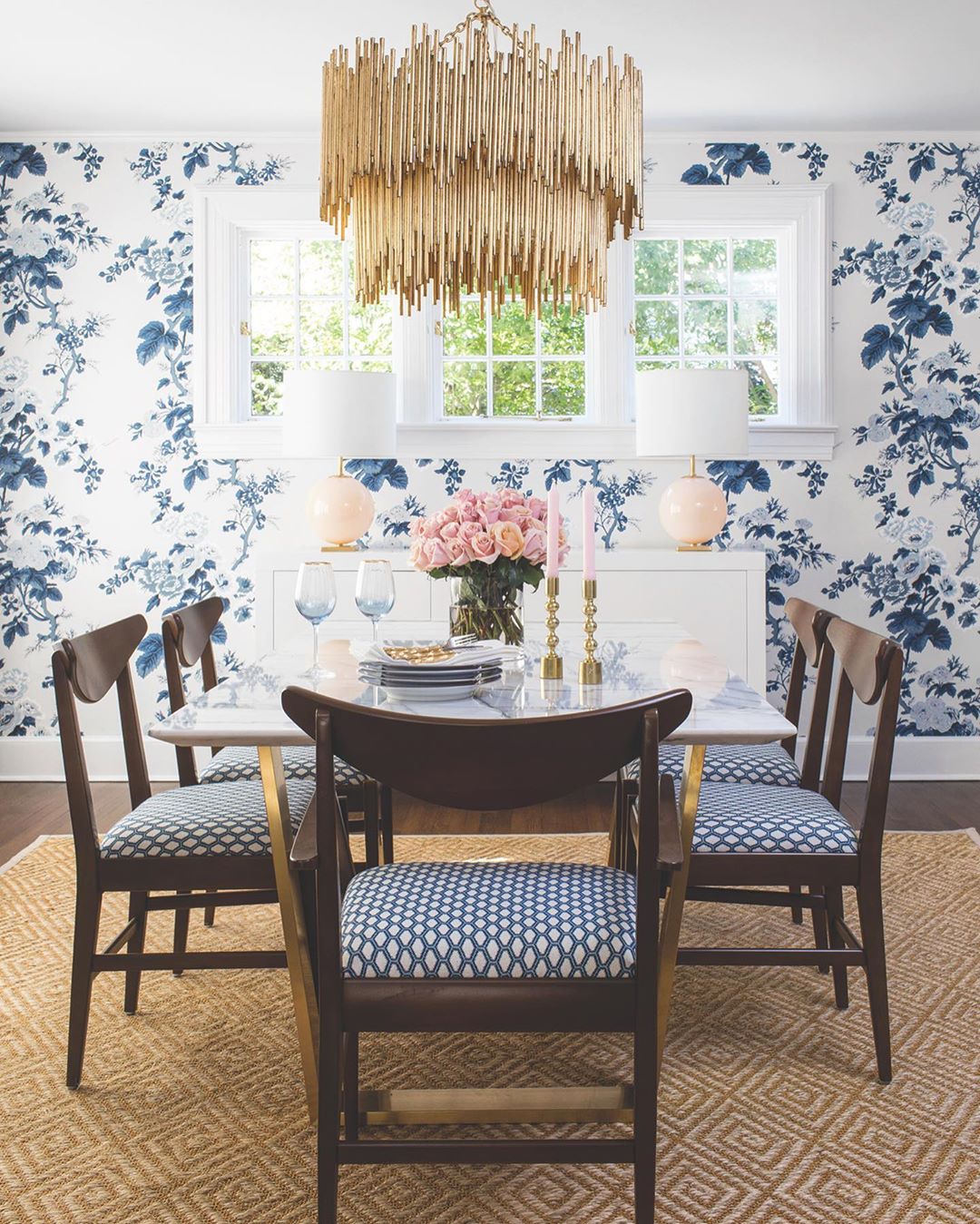 Rounded Edges Suit
This large circular dining table is lit by a lamp that incorporates a seashell theme. The chairs offer comfortable woven seats on rounded leg supports and a curved back. The set, when placed against a black-framed wall of glass, has a "day at the beach" feel and suits the space well.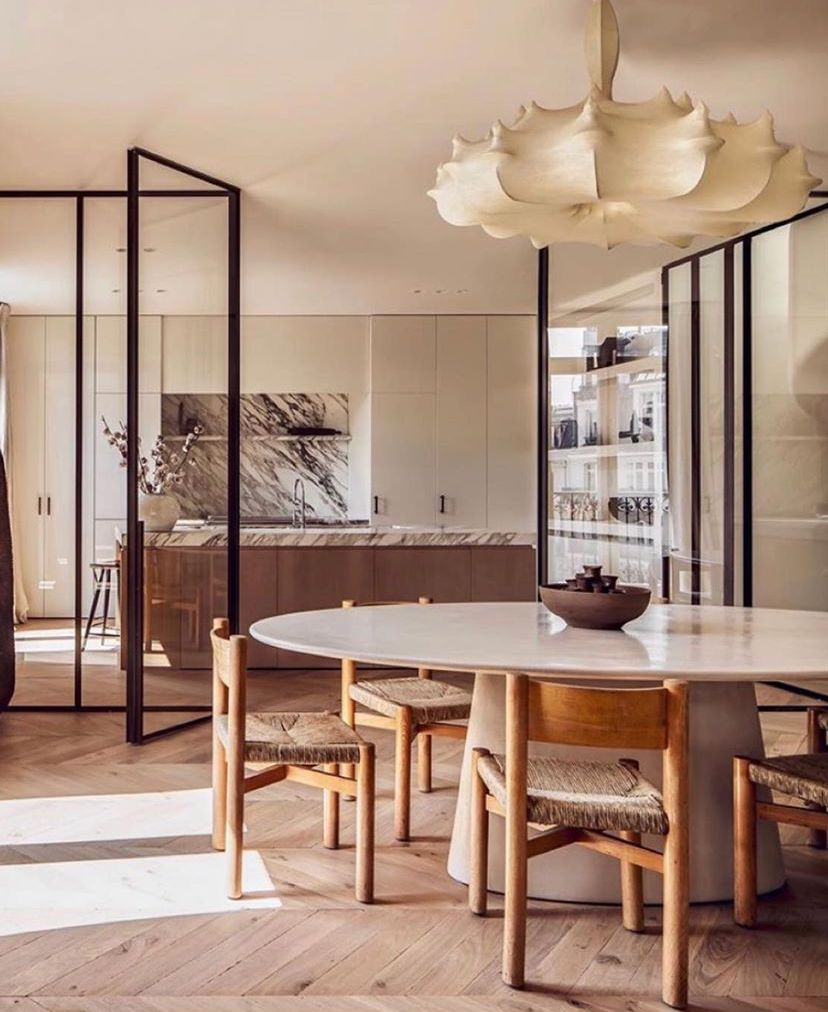 Bent Metal Comfort
The bent metal legs of the chairs of this dining set add to the plushness of the room. The checkerboard rug invites bare feet to snuggle in under the slab table. Decor pieces in black and white and a black iron chandelier make this space a marvelous spot to linger over coffee or savor dessert.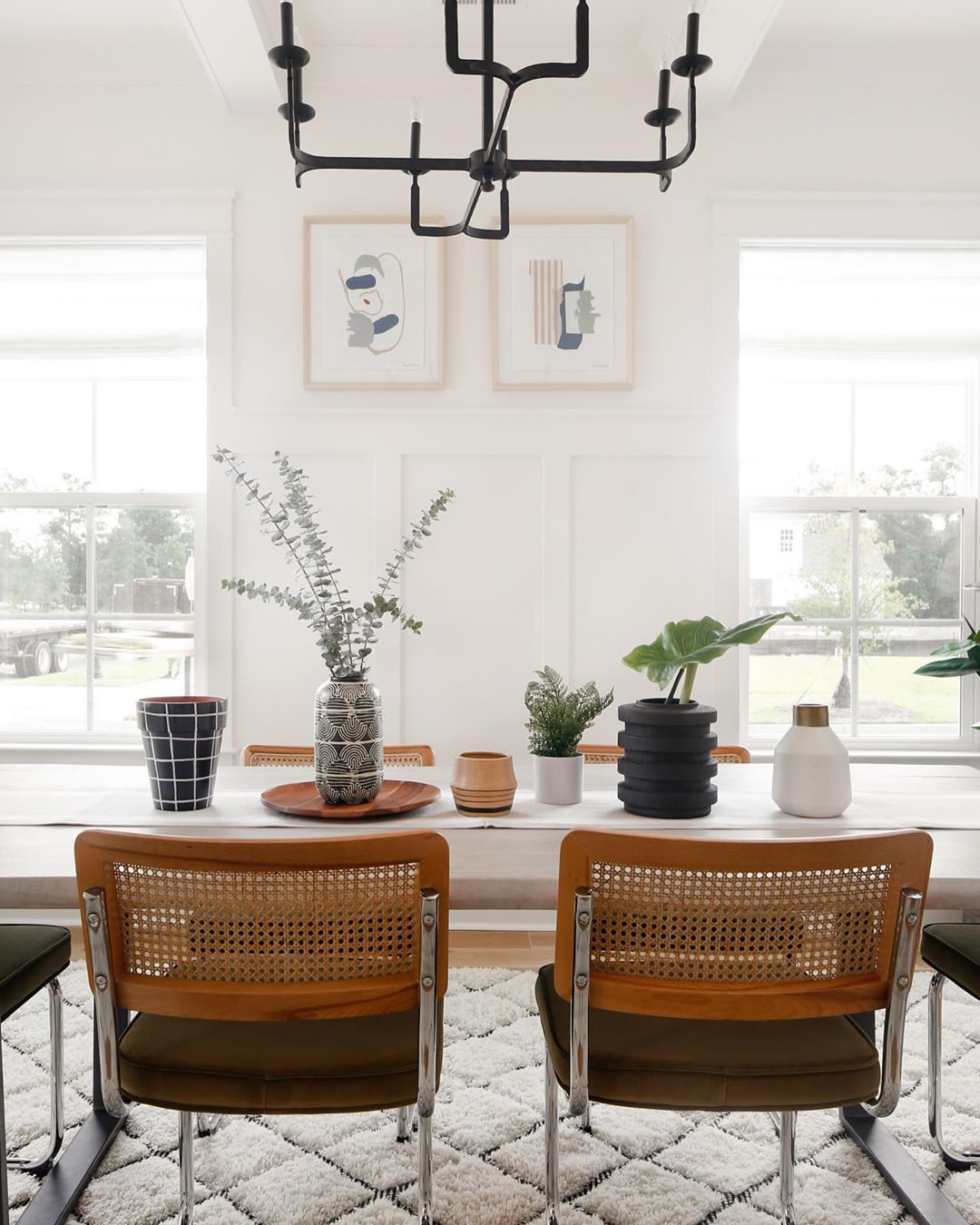 Gold, Glass and Elegance
The striking styling of the wood-based table sets of the t-back supports of the chairs beautifully. The table is topped by a large gold glass platter, which highlights the gold and glass daisy lamp above the table and the gold sphere above the sideboard. Elegant, simple, and perfectly sized for the space.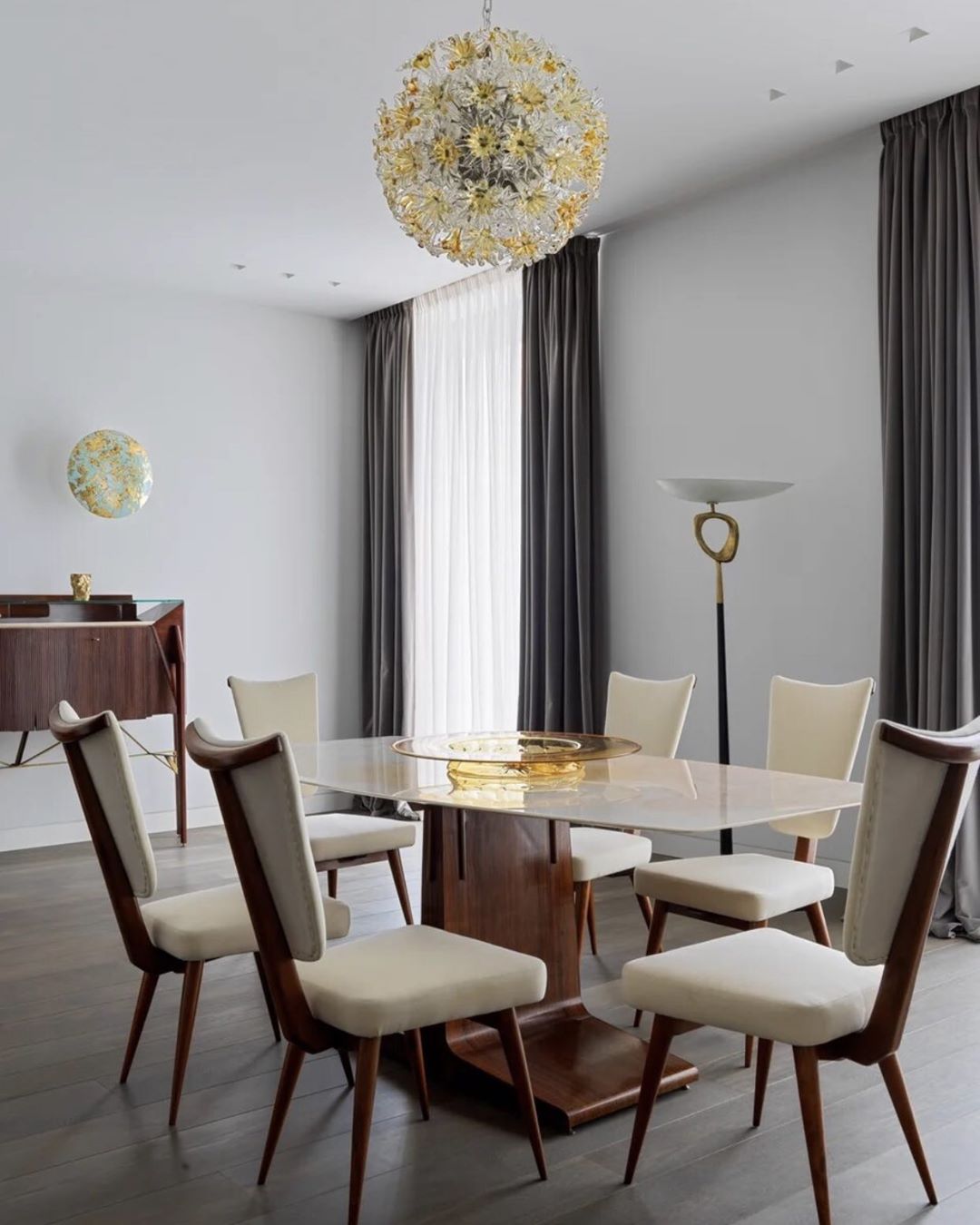 Shades of Autumn
Bright orange plastic chairs are delightfully restful in this small but cozy dining room. A simple plank table with iron legs is paired easily with a matching bench, and the sideboard offers unobtrusive, useful storage. Topped by a white hanging lamp, this dining area offers comfort and simplicity.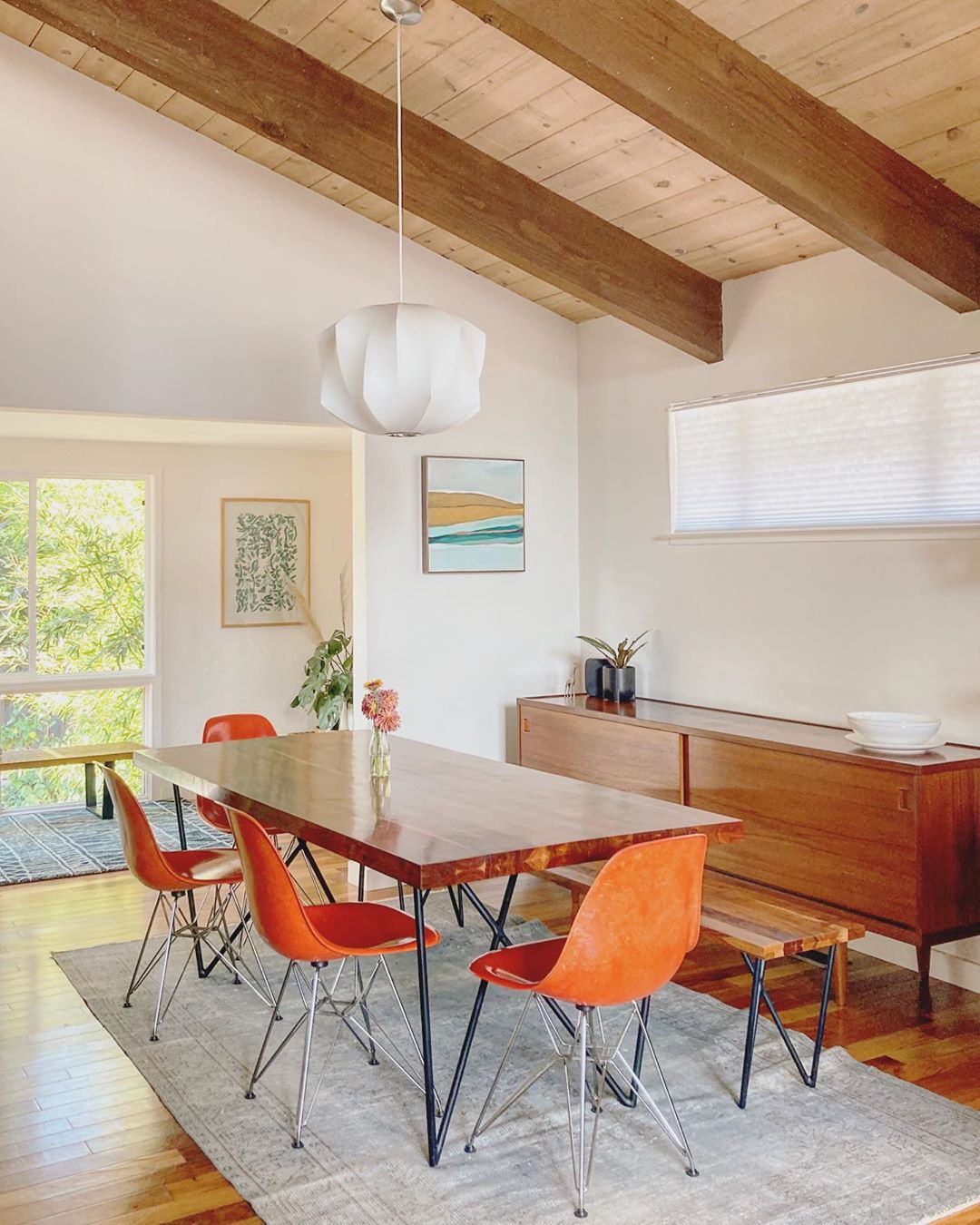 Blue and Gold
A maple table and sideboard are well highlighted against a solid beige floor and deep blue dining room wall. Harvest gold plastic chairs offer an ideal color pairing, making this dining area very restful to the eye.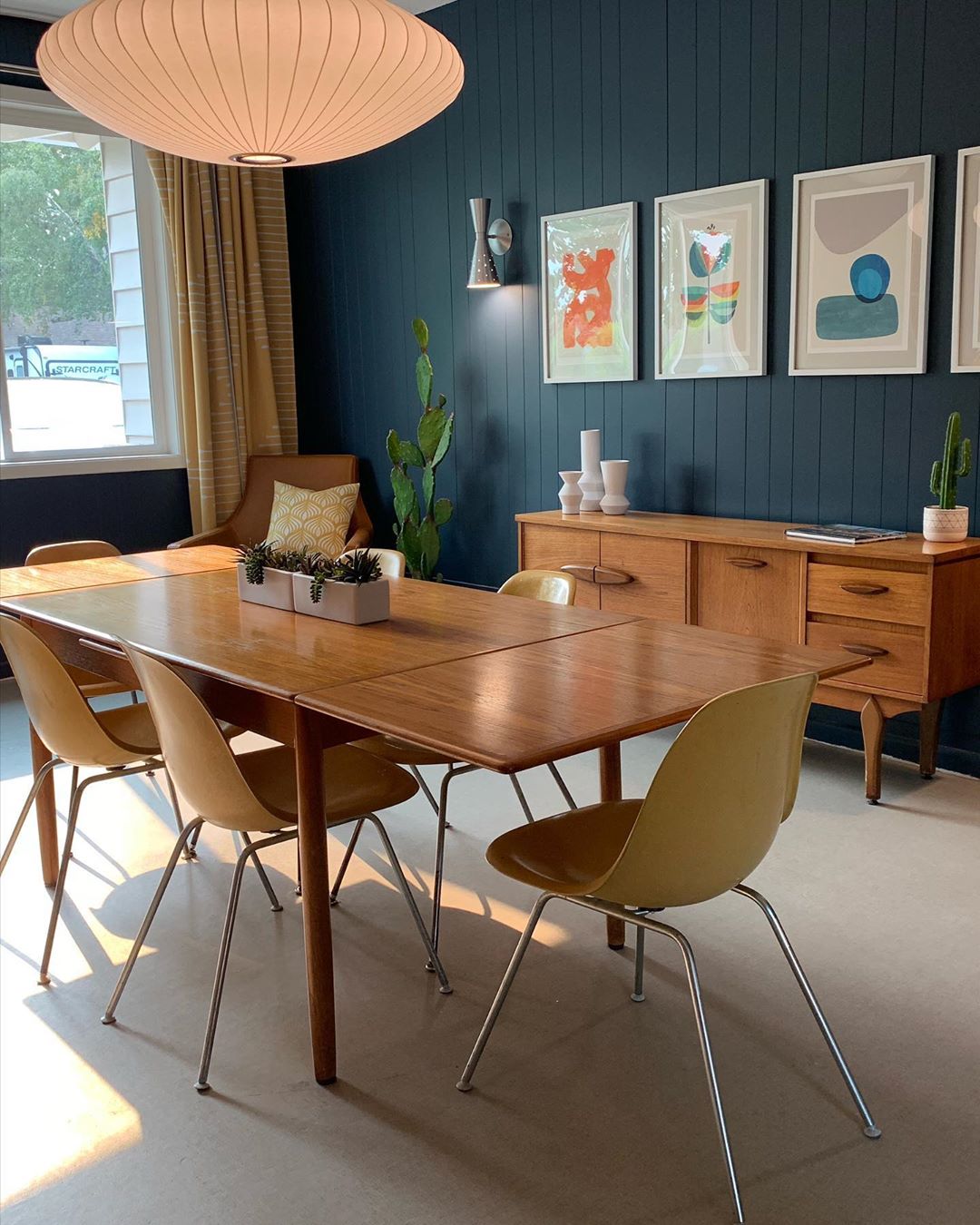 Saucers Rule!
This small round table, paired with comfy bent metal chairs and curved, covered seating remind us that a space doesn't have to match to be amazing. The bright flowers on a brass tray make the space sparkle, as does the orange hanging lamp.