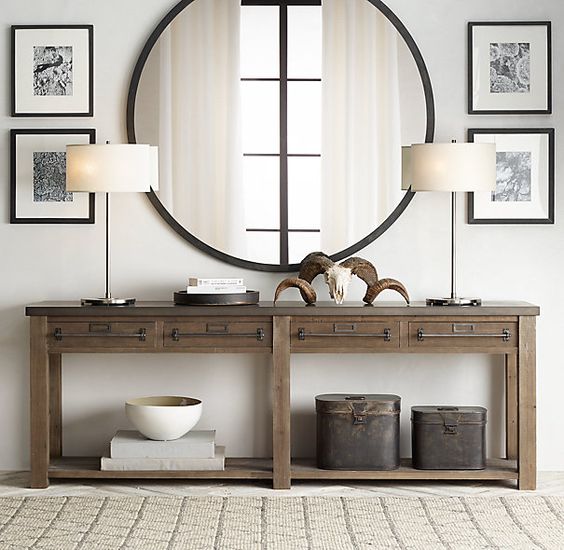 Create a "Wow!" Welcome With These Entryway Decor Ideas
You don't need a lot of space in your front entryway to create a beautiful statement that makes the rest of your home shine, Incorporate some light and a few natural elements to turn your entryway into a grand entrance for your family and friends!
Seating for the Win
Having a place to sit down and slip off your shoes is a terrific boost to any entryway, and this charming shaker style parson's bench is a great piece. Small cushions make the utilitarian bench comfy and add warmth. Simple wire storage bins look wonderful beside the wire coat rack, and the framing depth of the horse print and the mirror match beautifully, despite being different shapes. Natural fiber rugs make the whole space cozy and bright.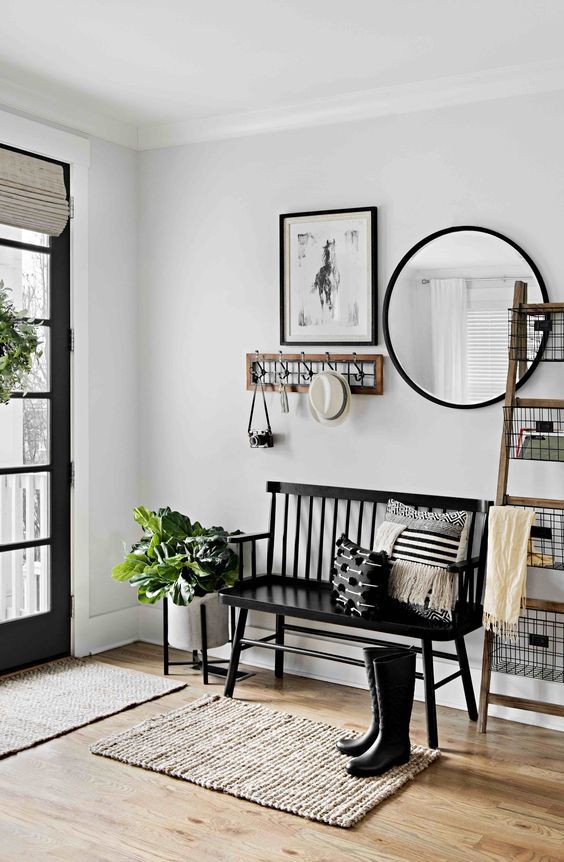 Your Walkway can Still Serve as Entryway
If your front door allows little wall clearance for a seating space, be sure and put up hooks for hanging jackets and purses. The deep cobalt wainscot is taller than usual and topped by the wooden hook bar. Bright white trim looks terrific against all of hte colors that sparkle in this space. Above the hooks, striking orange and black prints highlighted with black frames stand out against grey wallpaper. If you've got little ones, consider using chalkboard paint for the wainscoting for a family message board!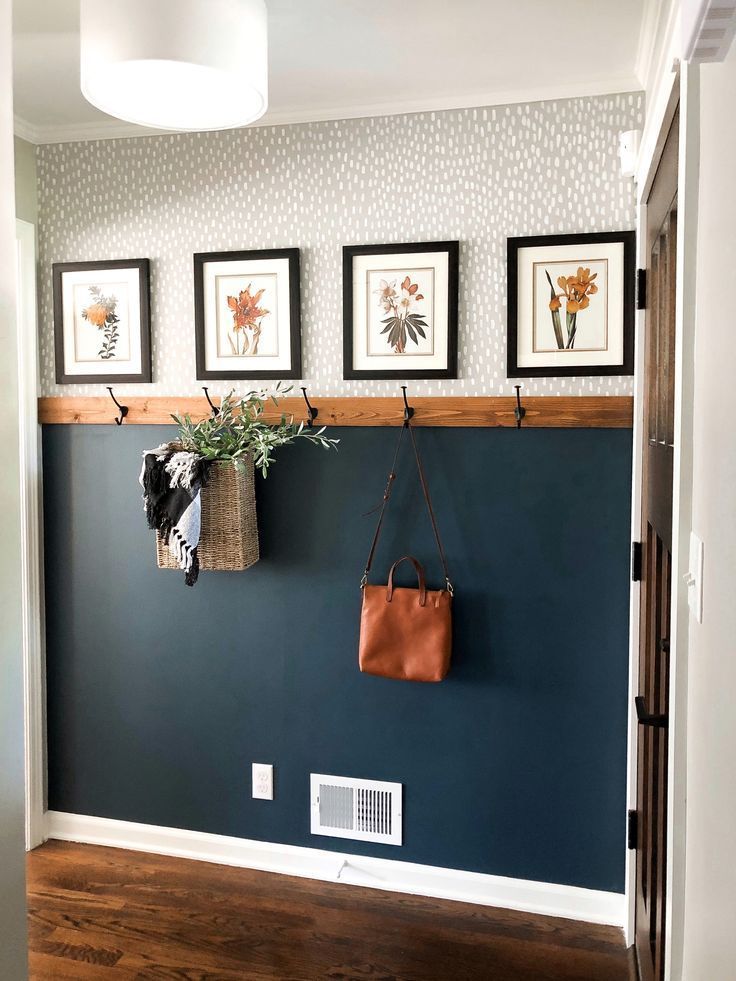 The Nonexistent Entryway
With a nonexistent entryway, you can still have a place where you can quickly drop or just keep your keys, so you don't have to keep remembering where they are. You can have a strategically positioned bench that creates a tidy drop zone. A rough piece of wood will add more aesthetic appeal.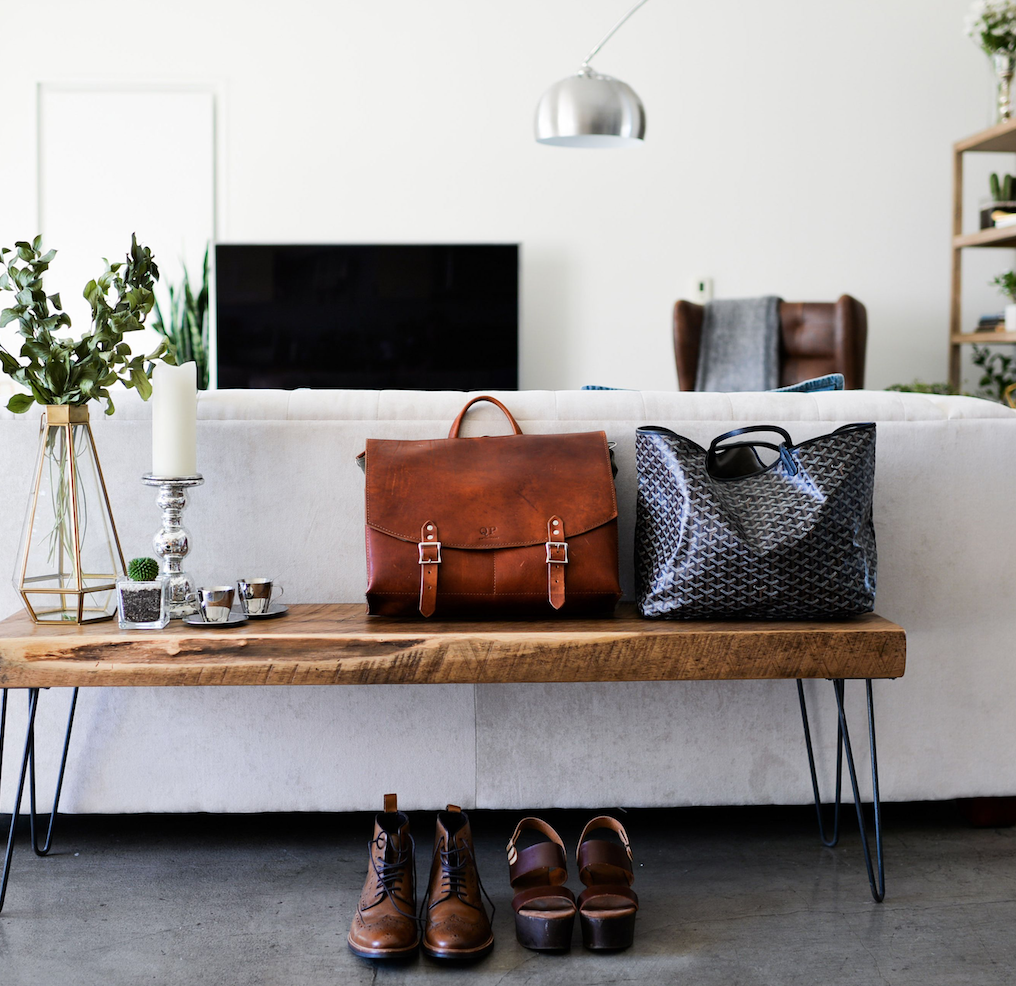 Feature a Console
One of the nicest things to have just inside the door is a console table. Covered storage is a great spot for mail to be sorted, seasonal storage and sanitizer products to protect family and friends. This entryway design also includes a flower arrangement in a white vase and a plant in a black pot. Of course, a simple round mirror bounces light across the room, and candles are an elegant touch.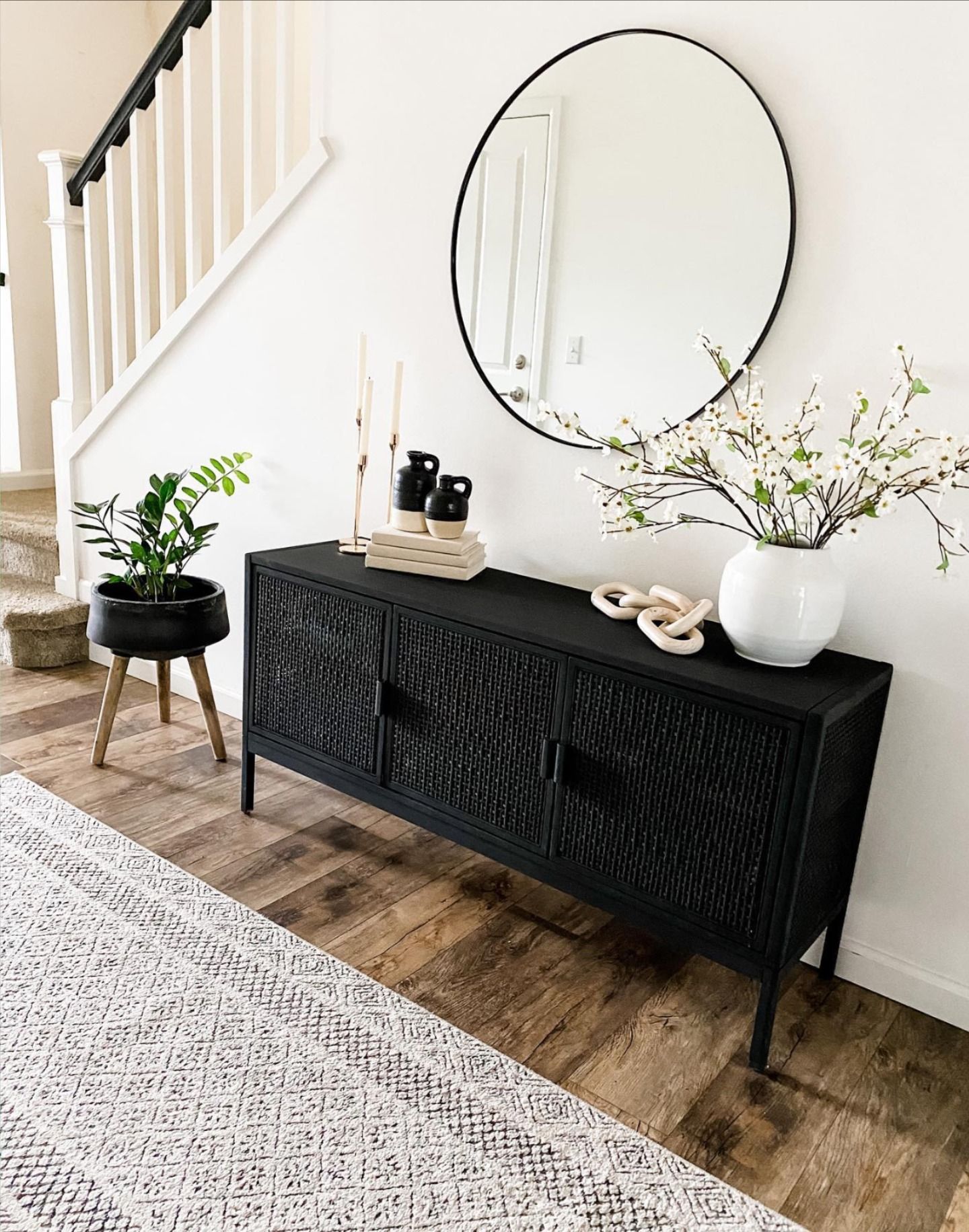 "Welcome" Says it All
Creating a space with utilitarian benefits that's still gorgeous to look at takes time and focus, and this entryway design uses every aspect of the existing room. The paneled wall becomes a hanging bar for hooks, the patterned bench becomes a spot to sit and remove your shoes, but you can also use it for display. Photos above the wall feature children in ageless black and white styling. A simple basket below the bench is a wonderful spot for hats, gloves and scarves, and the wire bin can serve as decor or a useful wood storage spot.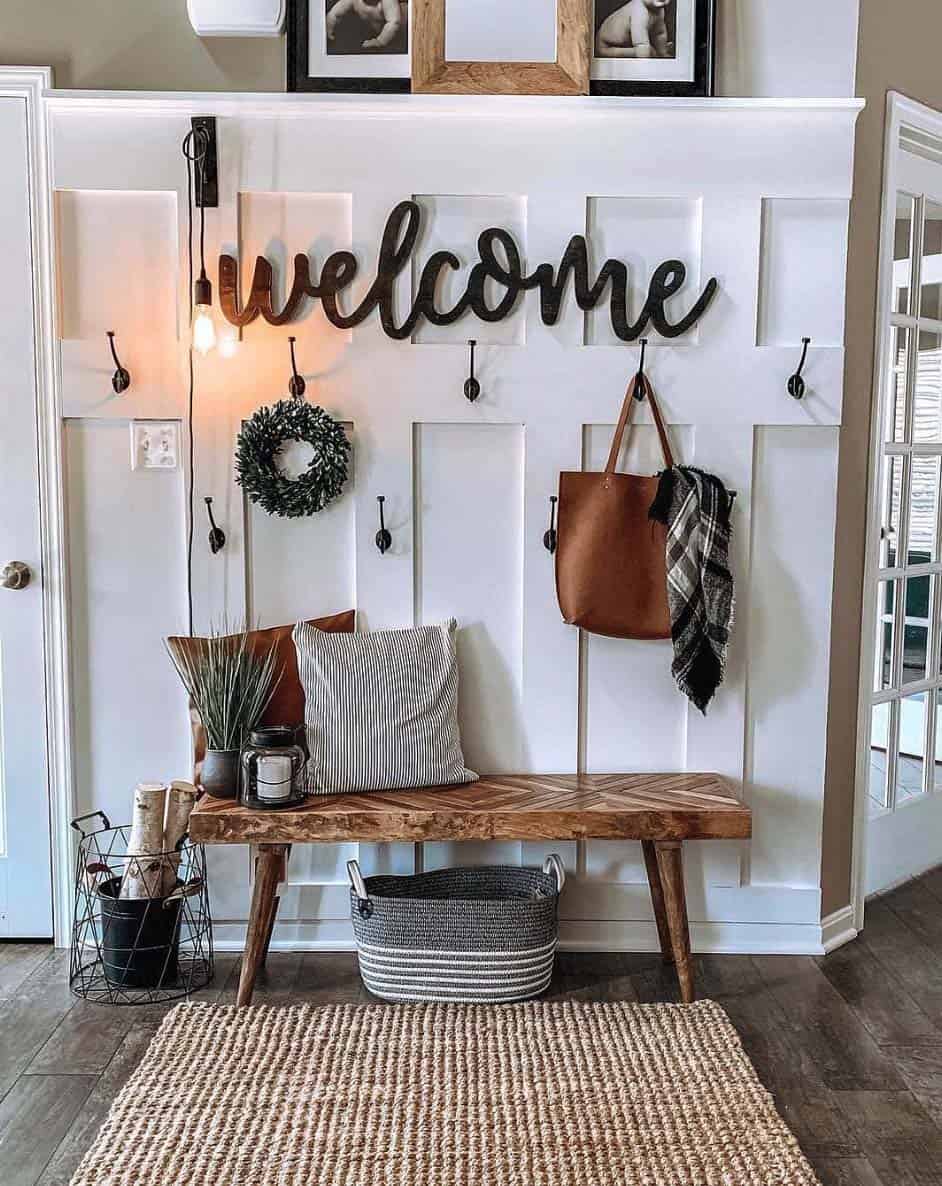 Colorful Tiled Entryway
With porcelain tiles, you can transform those cookie-cutter type apartment foyers into a colorful entryway. This idea came from Daniel Heckscher, a Swedish interior designer from Note Design Studio. It involves covering the floor and walls to create a single moisture-resistant space, then using square tiles to create a repetitive diamond design on the walls. You can also layout the brick-inspired tiles on the floor to form a herringbone design. Finally, grout in complementing colors to enhance the structures.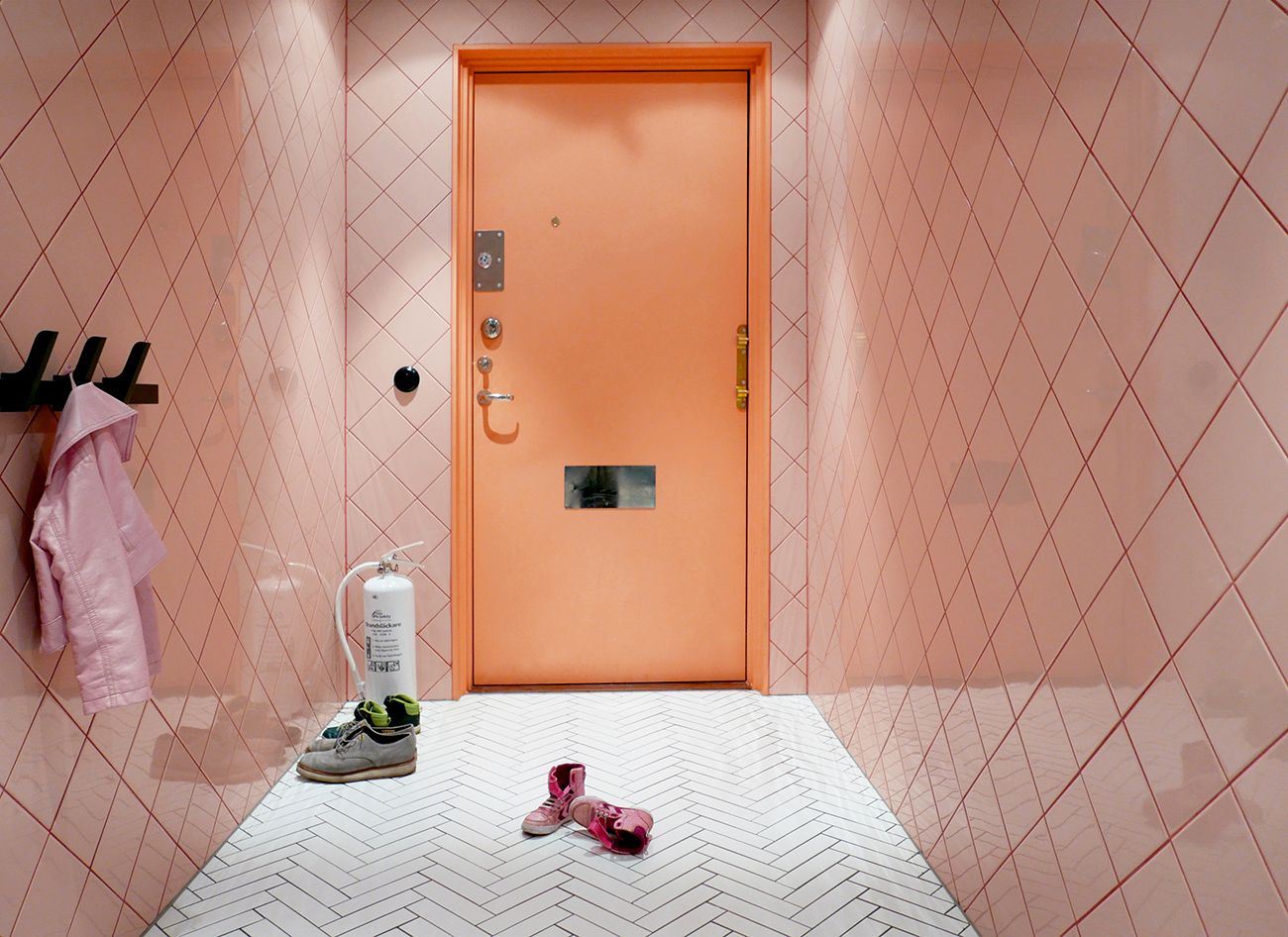 Natural Entryways and Natural Materials
With beautiful pieces from natural materials, you can create an inviting entryway just like the one by Studio McGee on the outskirts of Utah. It has a light wood flooring known as Alta Vista, designed by Hallmark Floors. 
Gray washed Douglas fir is the unique console used for both bags and keys. The natural grain creates a rustic and sophisticated touch for the foyer, and the assortment of woven baskets provides additional storage space. To break that matchy-matchy look, an overhead chandelier hangs above to add some contrast.
Stair Corner Entry Features
A stair corner near an entryway can become a gorgeous private seating area. There's a lamp for reading and a side table for your favorite books. Consider using a comfy armchair to anchor the space, then add a throw for chilly days. A mirror will brighten the area and storage bins in a natural fiber will give you space for outdoor items only needed seasonally. Finally, natural and dried flowers make a great addition to the side table.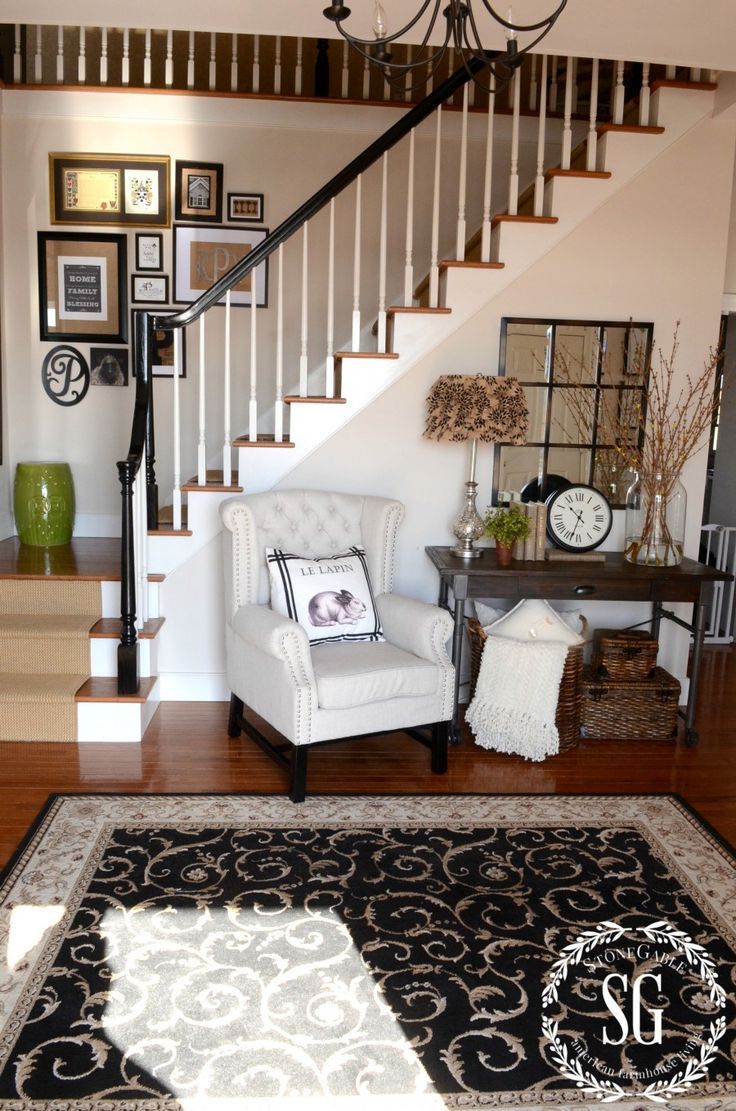 Streamlined Entry Way For A Swedish Apartment
With no closet in the foyer, a deep recessed wall with sufficient shelves, 10 inches (25.4 cm) can be integrated. They will offer space to hang coats and keep shoes. Like in that Swedish apartment on Alyhem, a small seat, sizable gilded mirror, and pendant lights provide a practical function. The square ceramic tiles on the floor withstand wet shoes.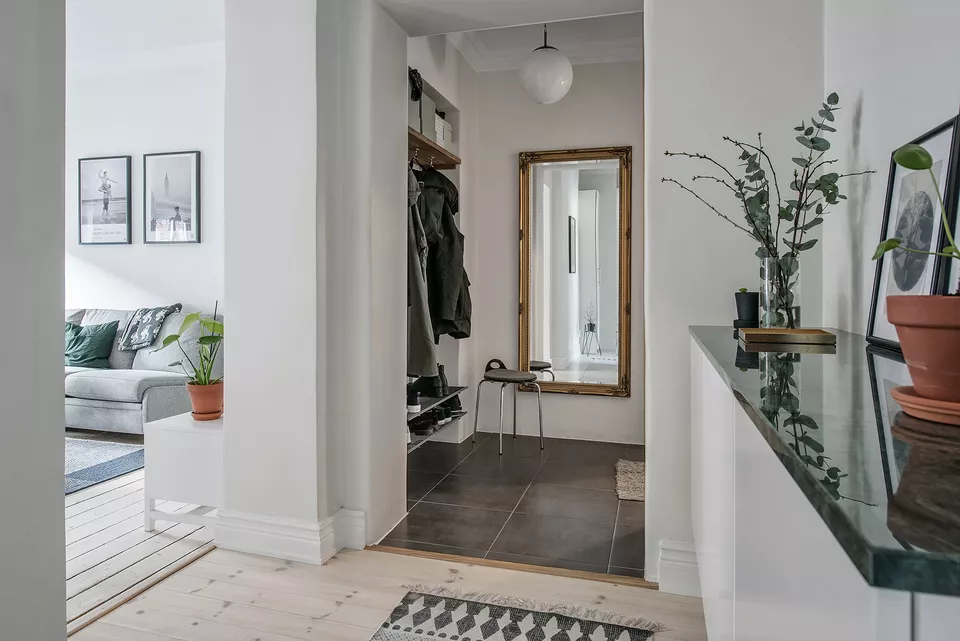 Modern Entryway For Improved Tidiness
Having a well-decorated entryway fitted with enough practical storage will encourage you to be neat. You will learn to keep stuff in order. Look at the Homepolish foyer. Its modern black porcelain tile floor with a white pattern is very welcoming. The antique shag rug brightens the room. Shoes slipped on the rustic wood bench. Additional storage comes from the modern wood console, and the black ceramic table provides a soft glow during the night when too much brightness isn't needed.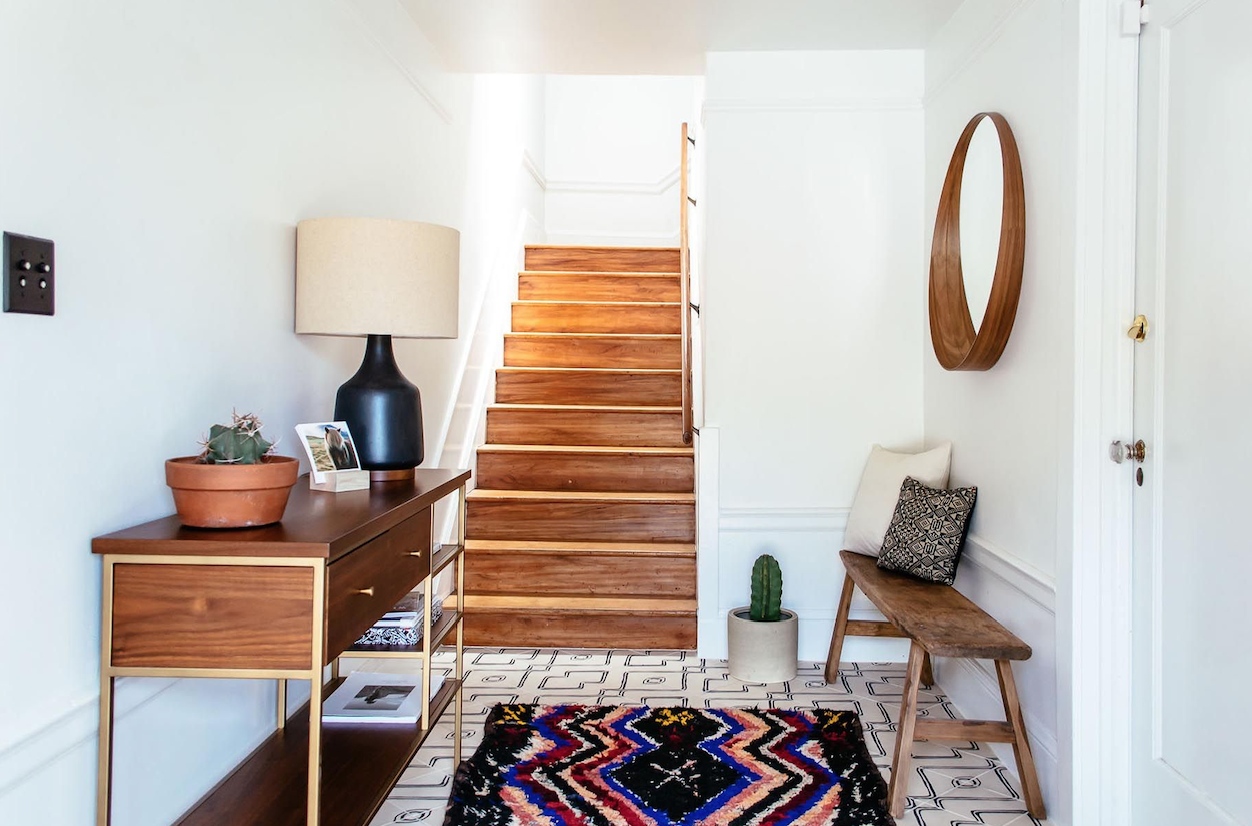 From Tight Corner to Terrific Display
If your entryway doesn't allow a lot of square footage, set up a shelf for display, electronics drop off, and other uses. Mount an eye-catching mirror and leave a spot below the shelf for shoes and umbrellas. The frame on this mirror gives designers the chance to add a pop of color that could work to tie into other features in this open space. You don't need a lot of square footage to enjoy a versatile and attractive entryway!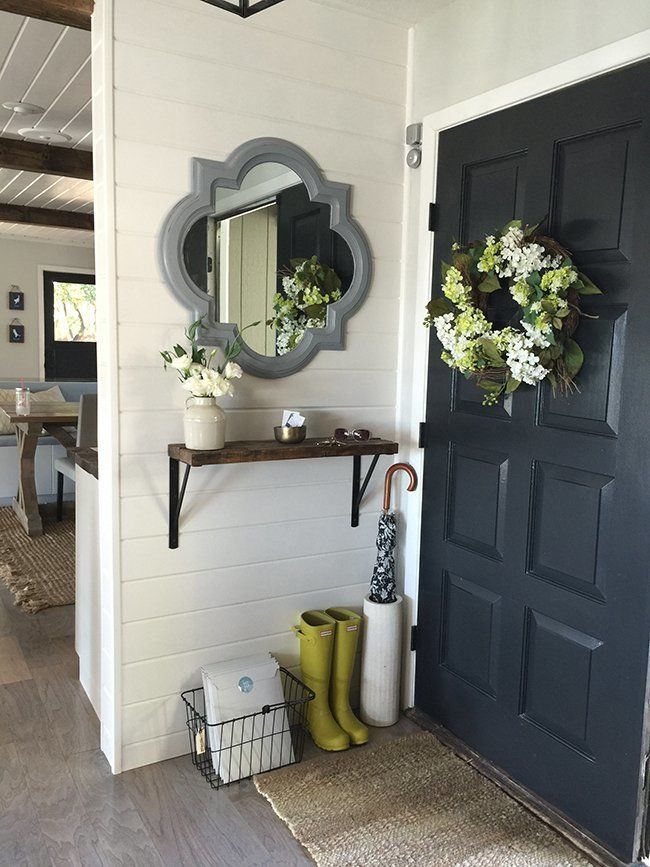 Oversized Mirror Entryway
An oversized mirror amplifies natural light; it will eliminate the dark hole feeling in your entryway during the daytime. With the low profile bench, it becomes easier to drop off bags or pull on shoes.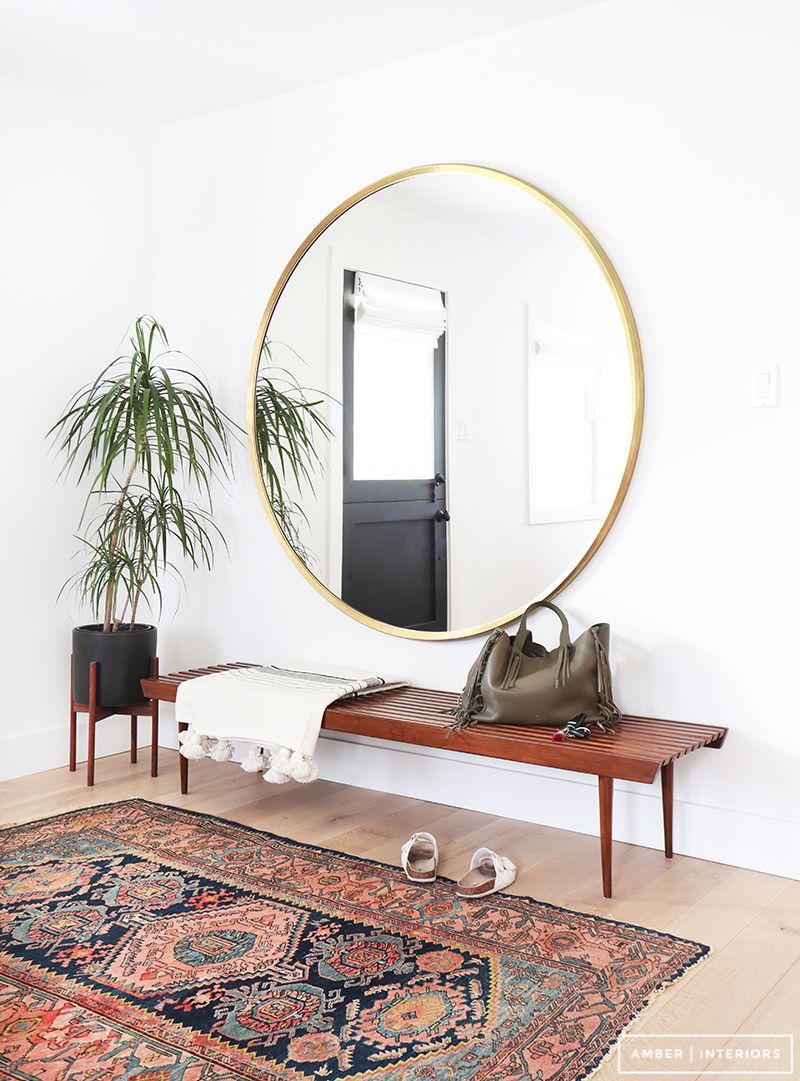 Small Classic Style Entryway
Perfect for a little hallway. With a tray on the top and an underneath basket, your grab and go items will tidy. This entryway showcases the beauty of French-inspired décor.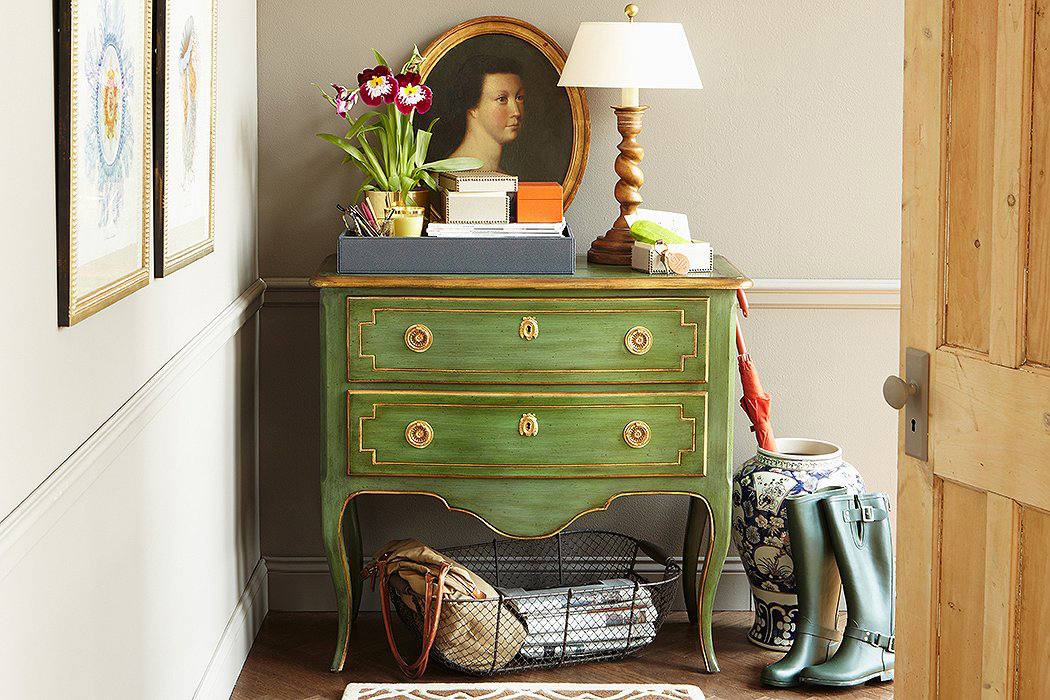 Storage Wall Entryway
Don't let that vertical storage space go to waste. Transform it into an outstanding entryway and sitting room feature wall. Make the most out of this pegboard storage idea.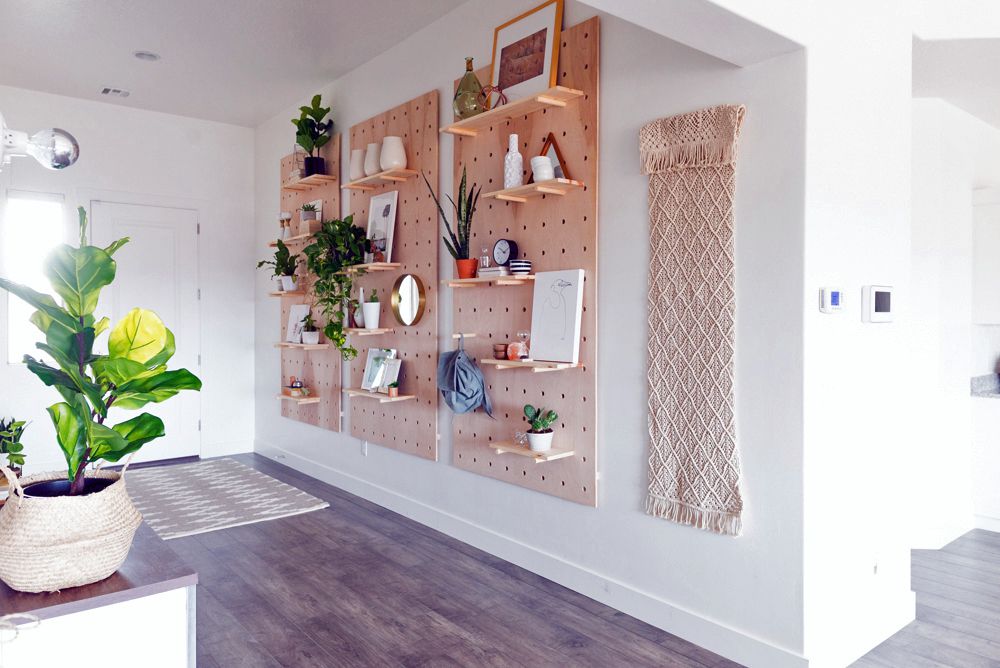 Faux Entryway
Faux entryways suit palm spring homes since it not only provides an excellent first impression but also blends easily with the sitting room. To ensure a perfect visual transition within the spaces, you must use an identical color scheme.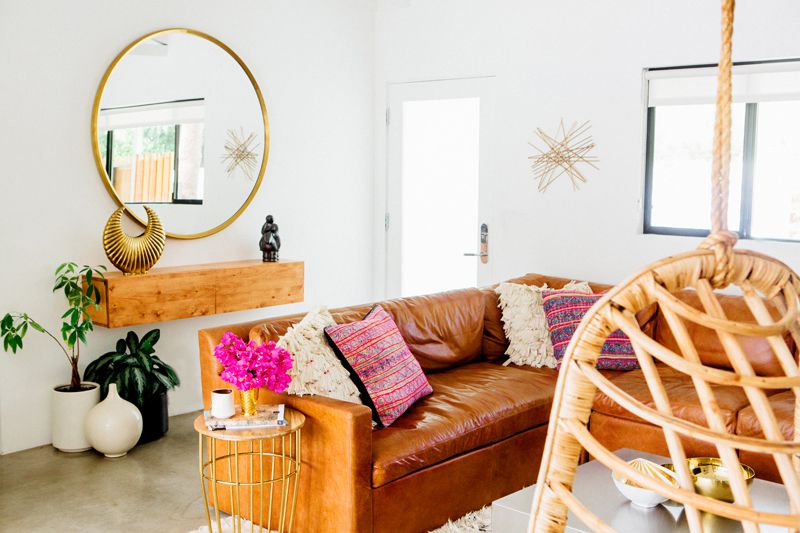 Natural Features
A unique wooden table made of distressed beams serves as a sizable anchor for this entryway. Simple wrought iron candle holders and an understated mirror hook show off strength with no fuss, and a large vase showing off dried grasses ties the whole display to the sisal rug. This whole entryway design could easily serve in any season.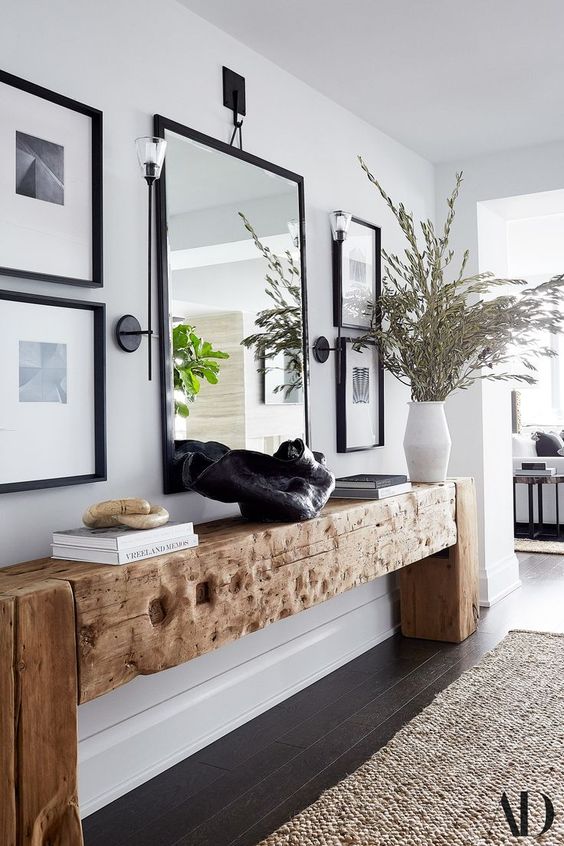 Family-Friendly and Colorful Entryway
A welcoming entryway can be stylish, as seen in the Copenhagen apartment. Using practical solutions such as coat racks like the Eames Hang-It-All and IKEA Tones, coupled with attractive features such as painted copper fixtures and floor, the chic contrast becomes apparent.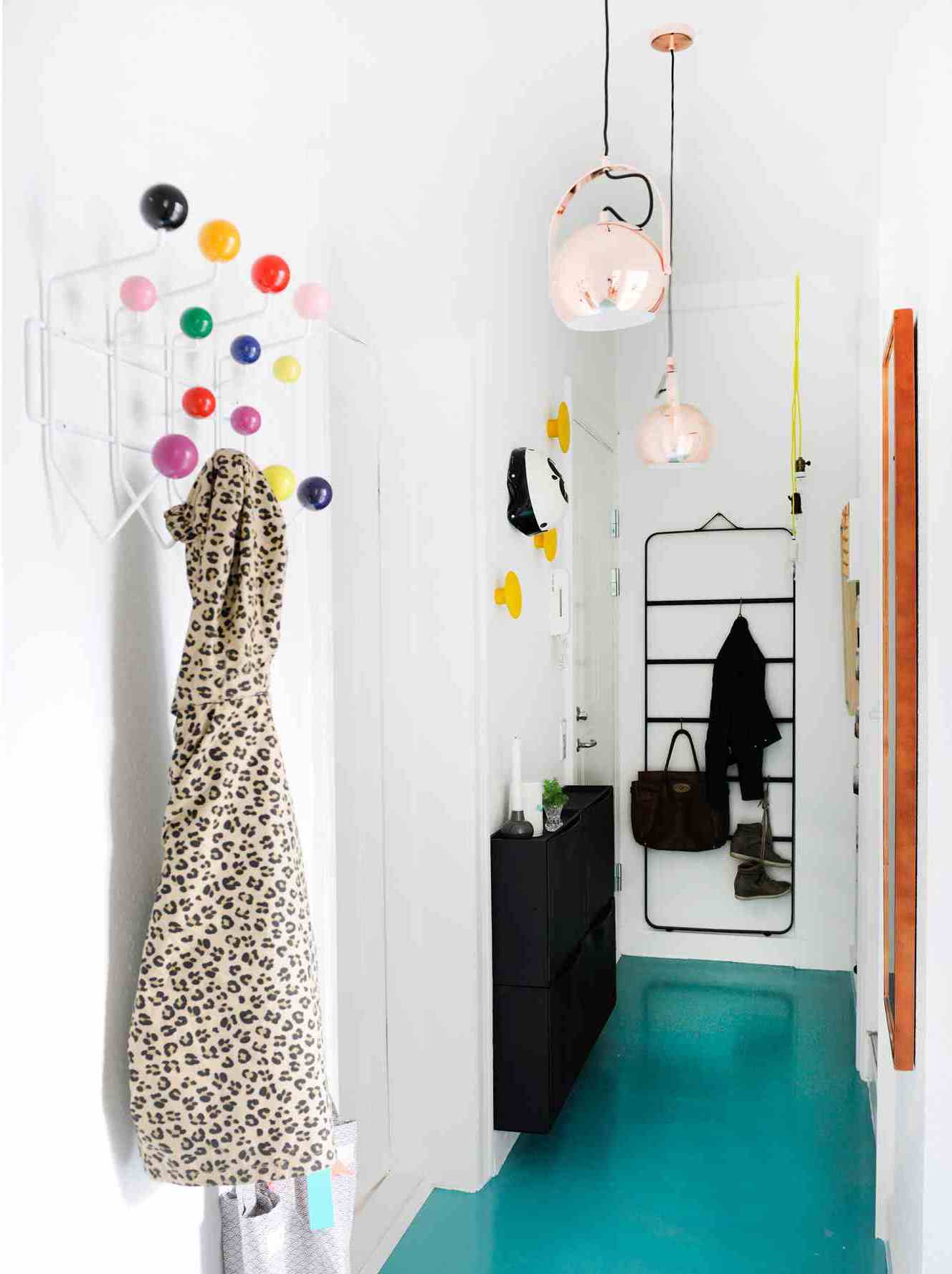 Mirror, Mirror Is The Whole Wall!
A very large mirror square serves as the whole entryway feature in this unique design. Multiple gorgeous plants in plain white pots and stood on solid wooden stumps provide fresh air to the house and the white natural rug offers a spot to stop, check your clothes and makeup, and then answer the door.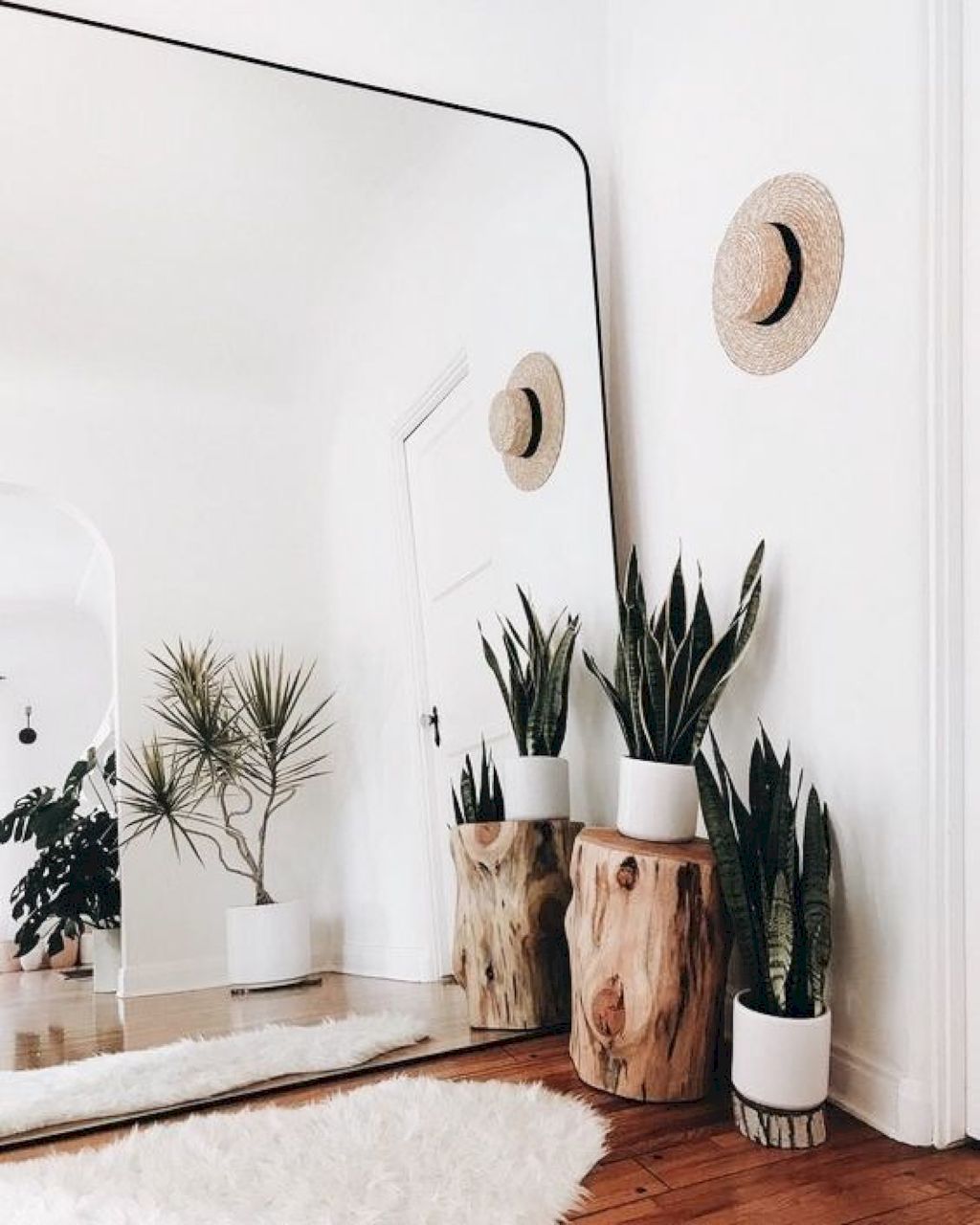 Tiny Space Entryway
If you have little storage space, this idea can work for you. It will create room for handbags, shoes, and outwear on the small wall space.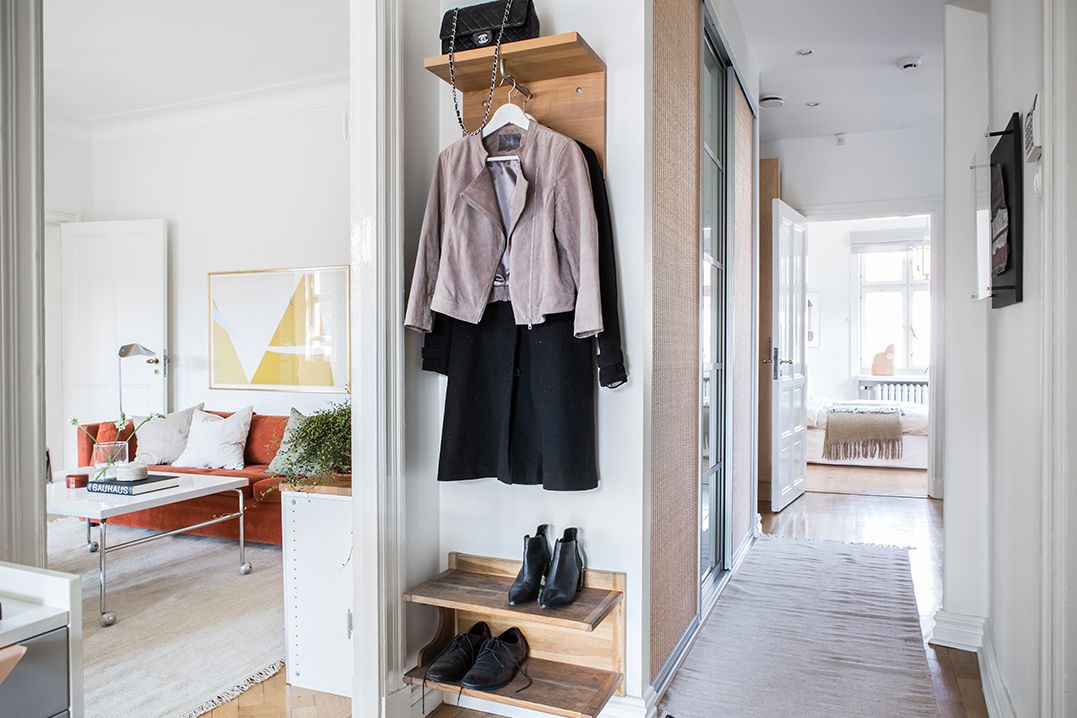 Super Sleek Entryway
Natural wood console, snow-white mirror, knitted poufs, and trellis wallpaper will help you create not only a modern but also shabby chic entryway.