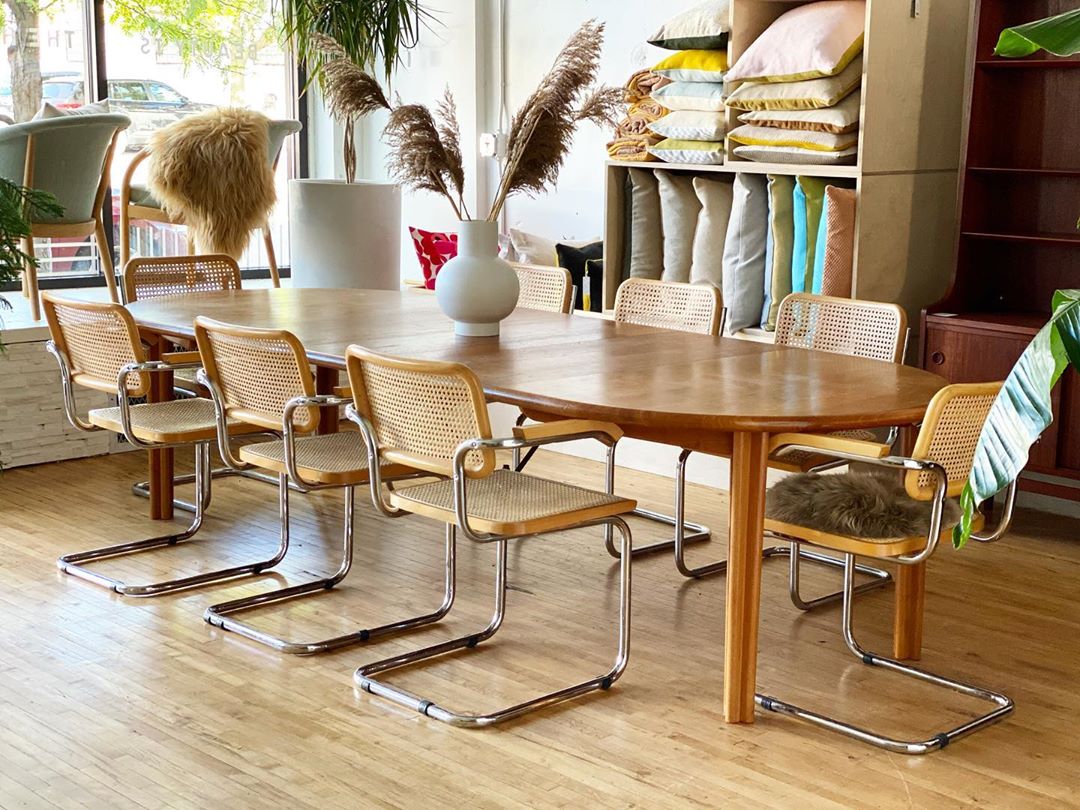 90 Mid Century Modern Dining Room Ideas That Make Meals a Celebration
Classic Blonde
This graceful blonde wood dining room set includes a squared off sideboard offering glass display spaces, covered storage and clean, straight corners. The table and chairs offer the same wood tone but not square corners. The wood tones bring the whole room together, and the blue patterned chair covers offer whimsy matched in the wall hangings and the silhouette clock.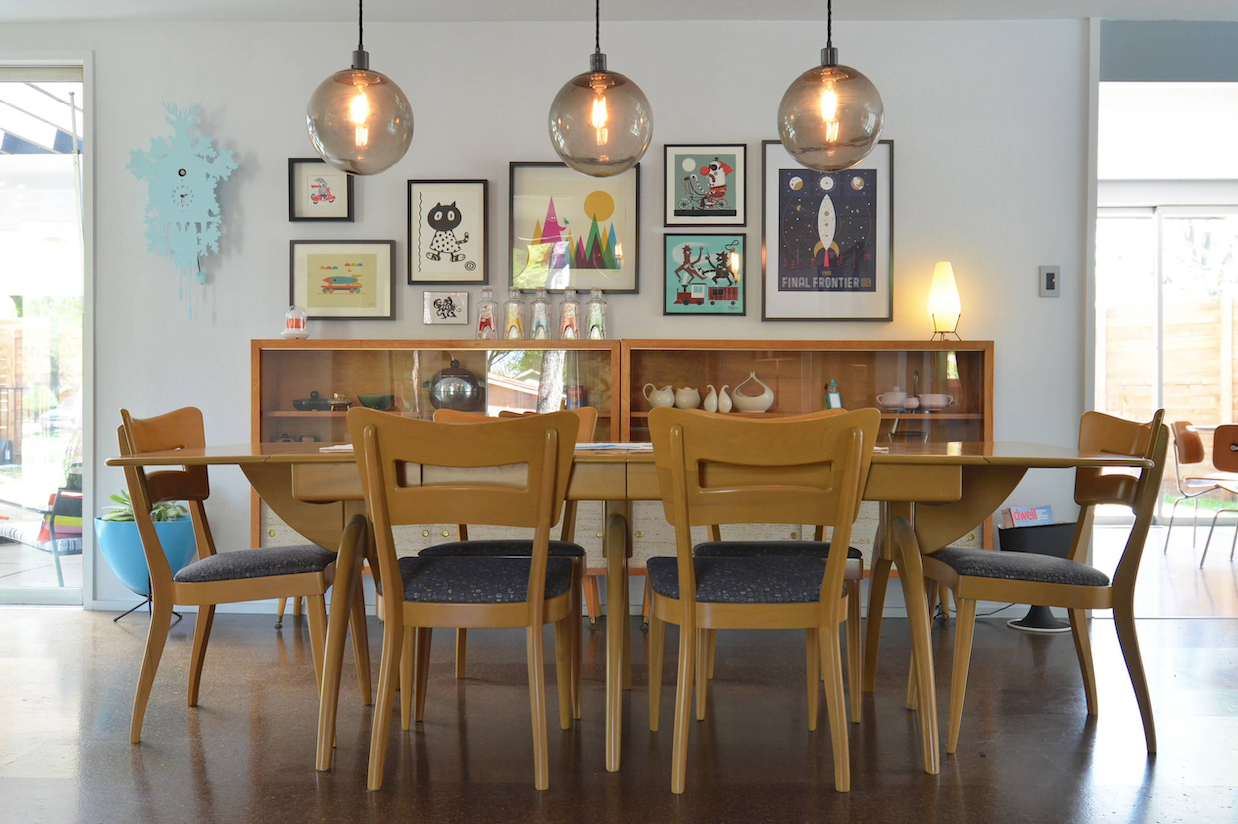 Bringing the Outdoors In
Everything about this room calls for fresh air and light, which it offers in abundance. From the elegant crown molding to the curved chairs, this space encourages all to pull up a chair, dine well and stay for a while. The long, low sideboard also draws the eye to the window.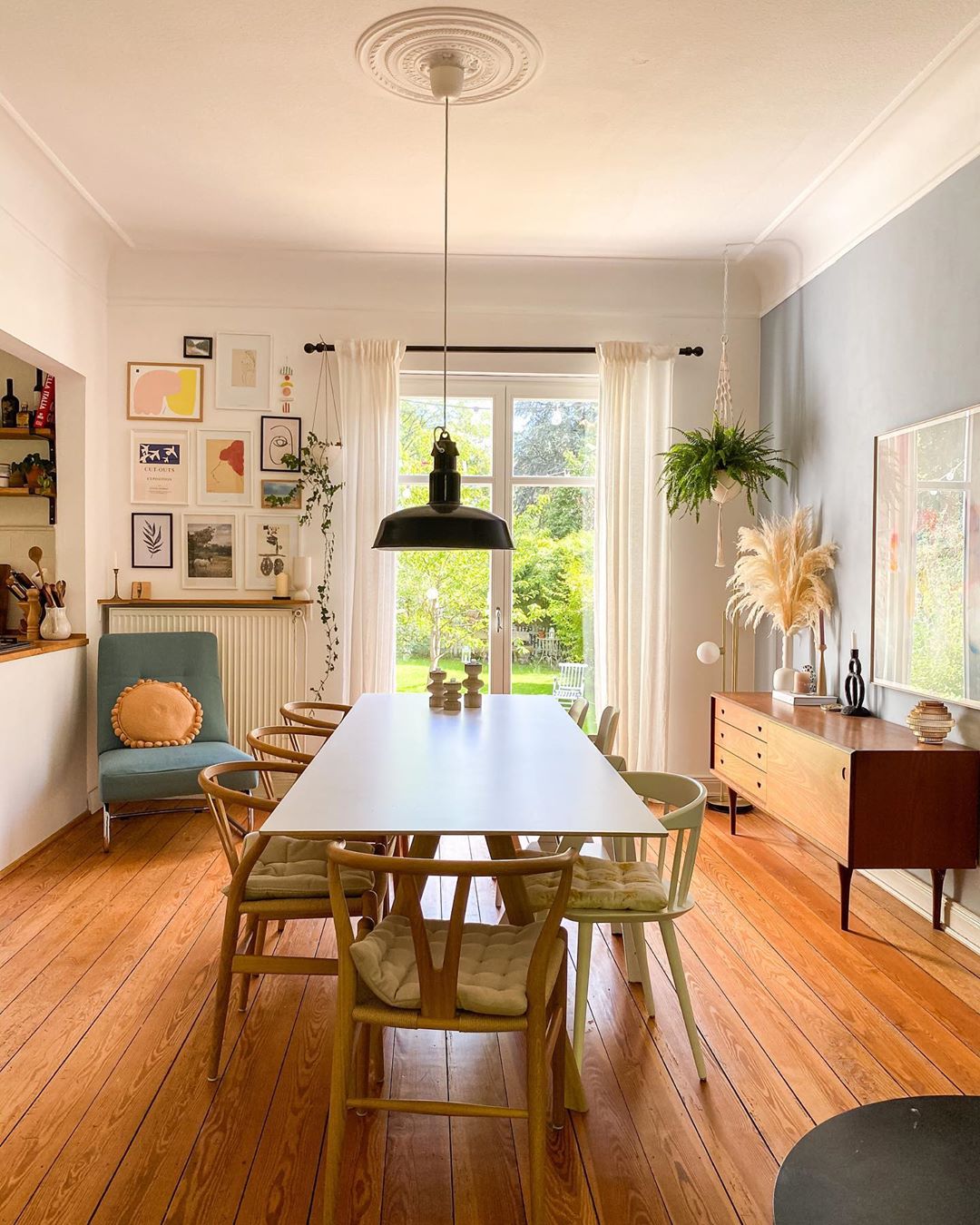 Uniquely Curved
This round table and matching curved back chairs pairs beautifully with the bright hanging lamps and the curlicue flower vases. Against the stiff-backed bookcases, this whimsical dining space invites folks to linger and offer a pool in intimacy in a broad, spacious room.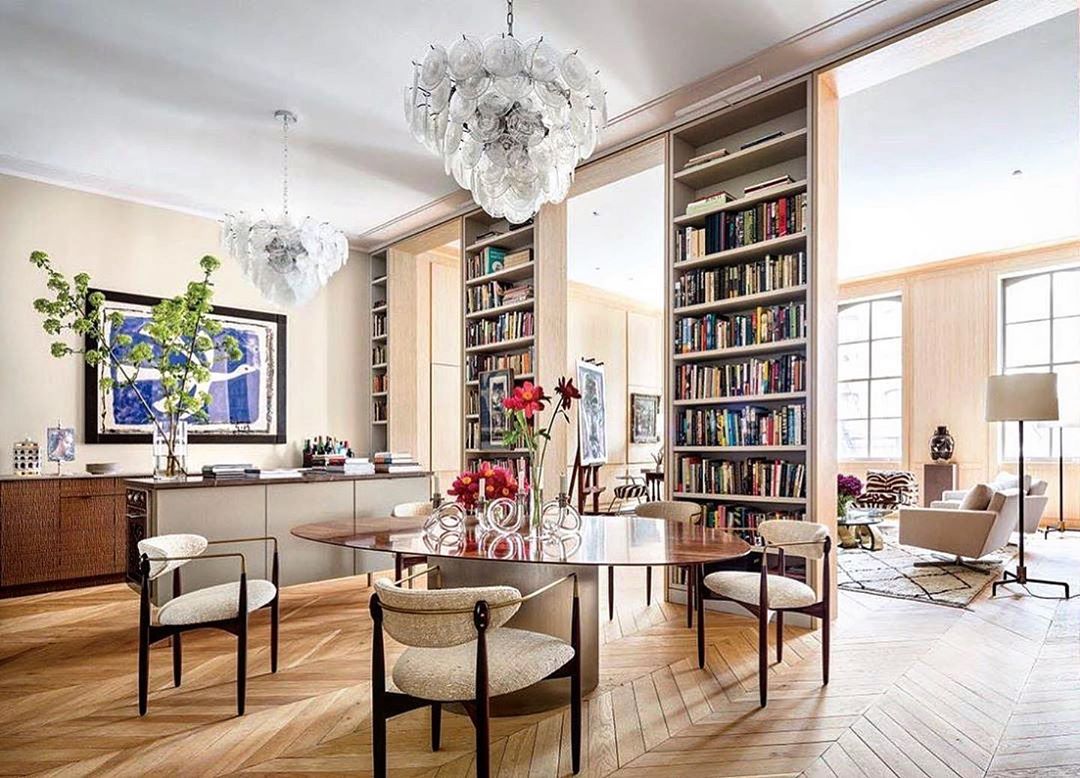 Marble Rules
Everything about this space screams "elegance"! Plush burgundy velvet on the chairs? Check. Marble topped table with slim metal legs? Check. Striking chrome side table for unique display objects plus remarkable hanging lamp of multiple globes? Check.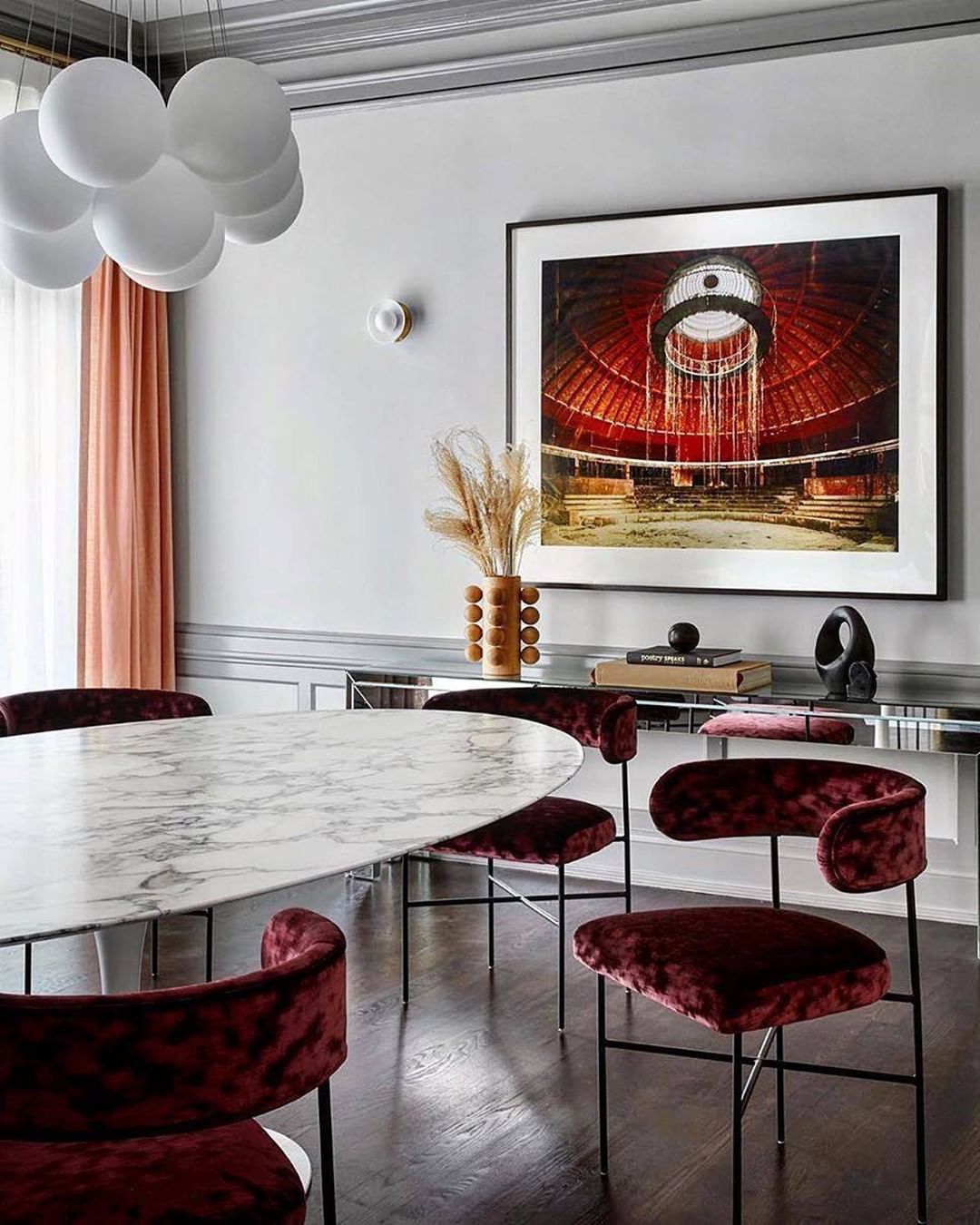 Saturated with Color
If you are looking for one lush color to love, fall for this teal dining set with lush wood trim and matching table. The white lamp sets off the space beautifully, and the print of teal , peach and silver grey is an excellent touch. Peach roses and a silver rug make this room an ideal spot for a dinner party.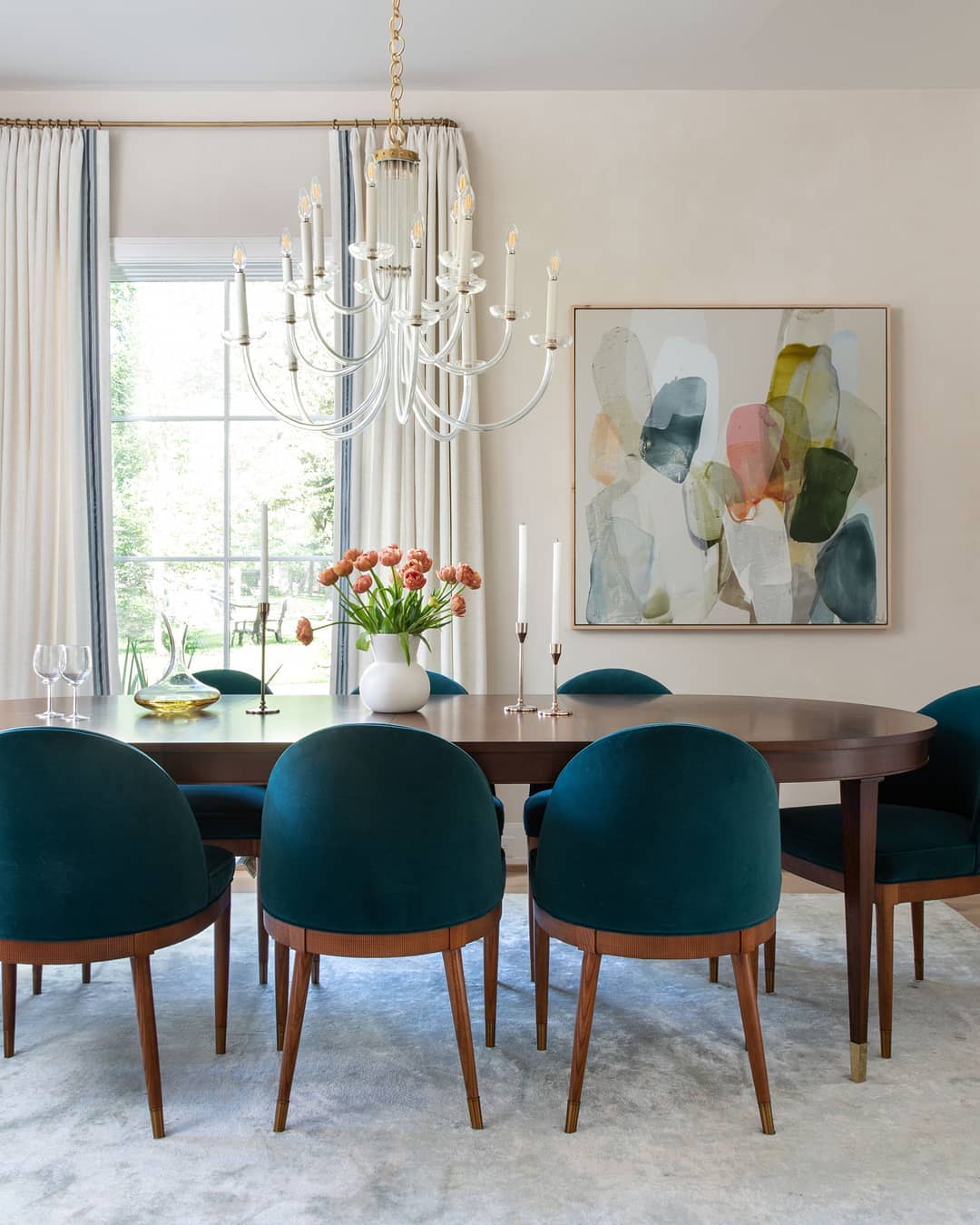 Create A Banquette
Break the monotony of using a bench and a build out a banquette. This will add a retro look and revitalize your dining room on top of adding more storage.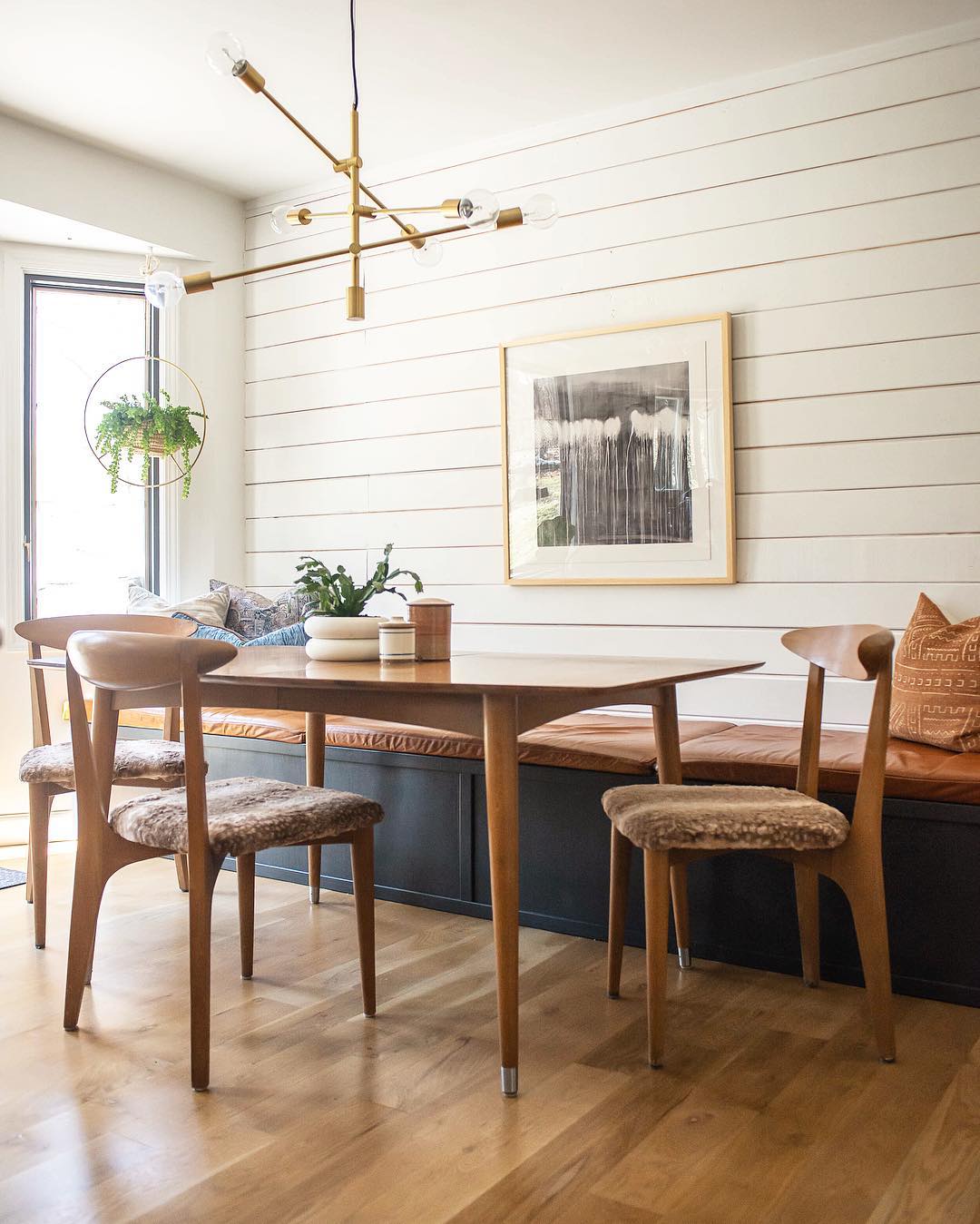 Integrate Rounded Mirrors
We know mirrors make rooms appear bigger. When a mirror is added to a dining room, you will open up the dining room to make it look more elegant when having a meal.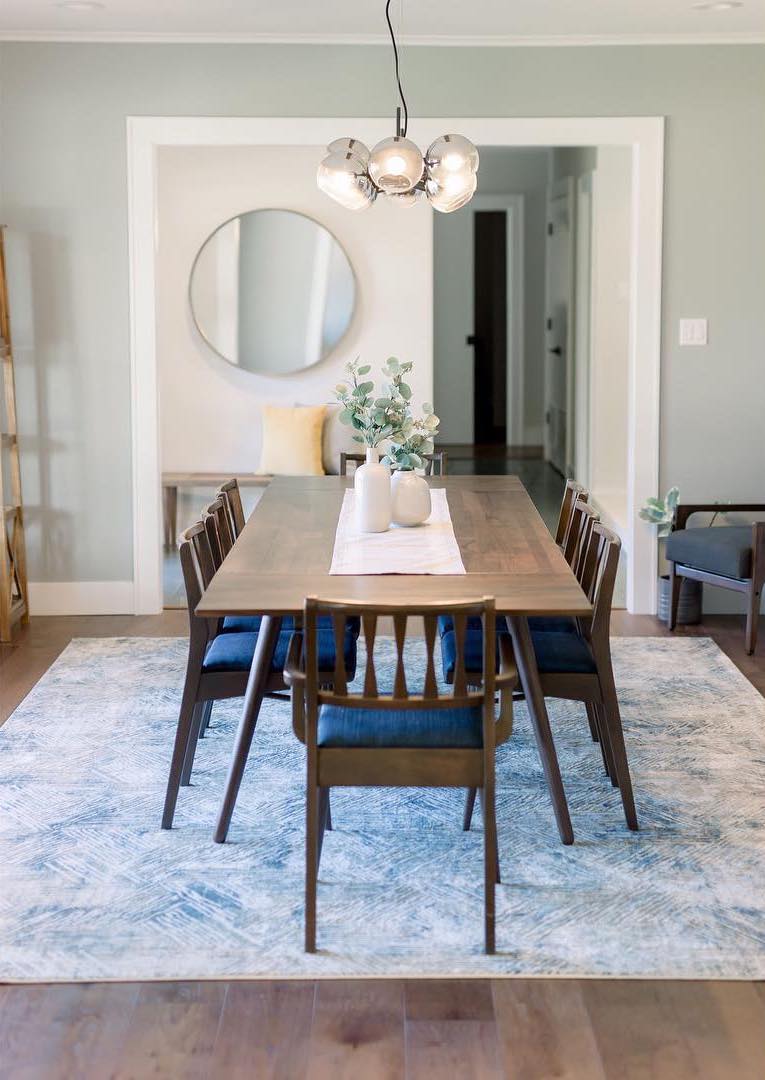 Be Natural
A natural look is simple but comes with an elegant look. Take, for example, the wishbone chairs, raw beams, and woven light fixtures; they will bring beauty and balance to your dining room.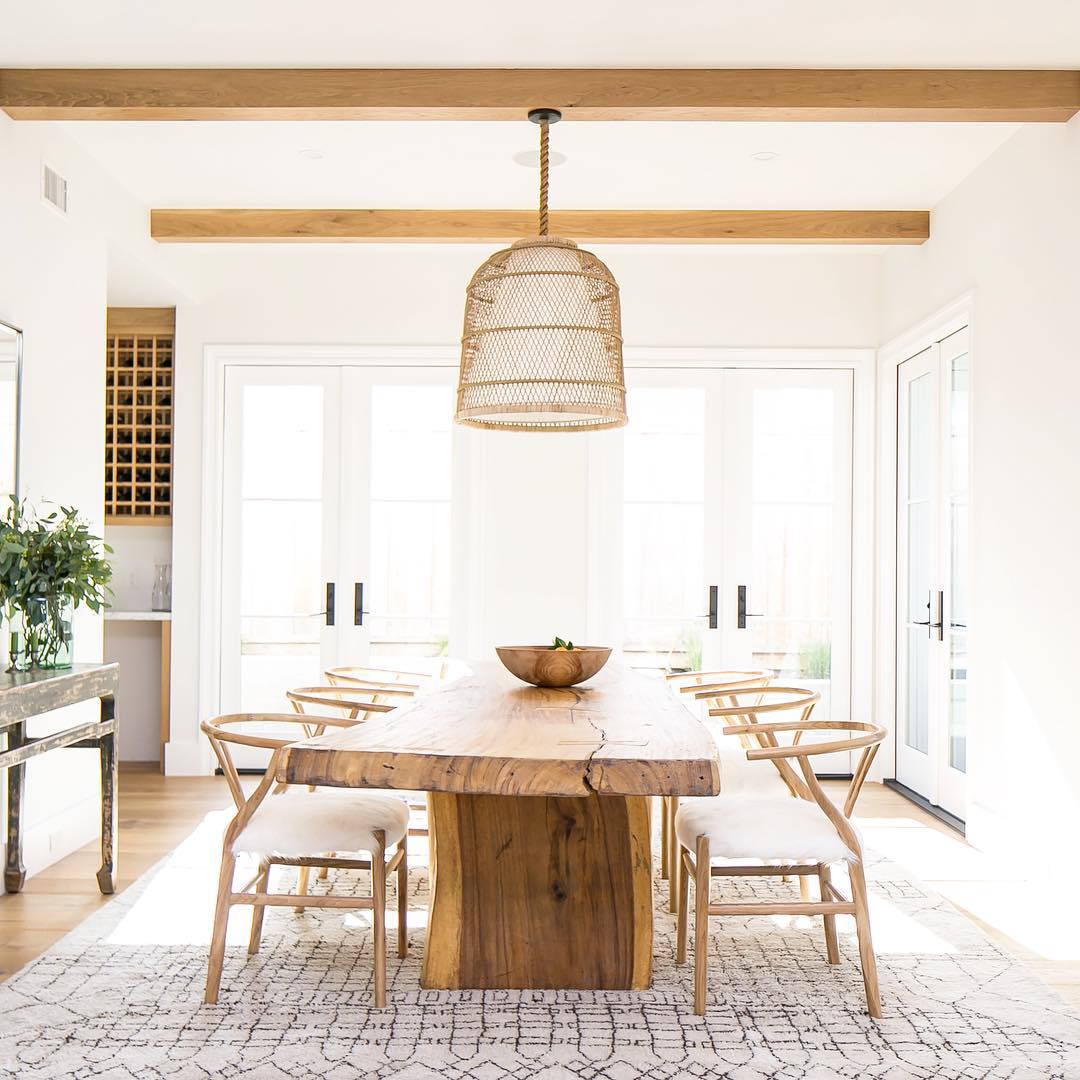 Capitalize On Vintage Art
Vintage Art will introduce an authentic vibe into your dining room. This approach entails the use of kitschy-cool paints or subtle parts, which are well coordinated.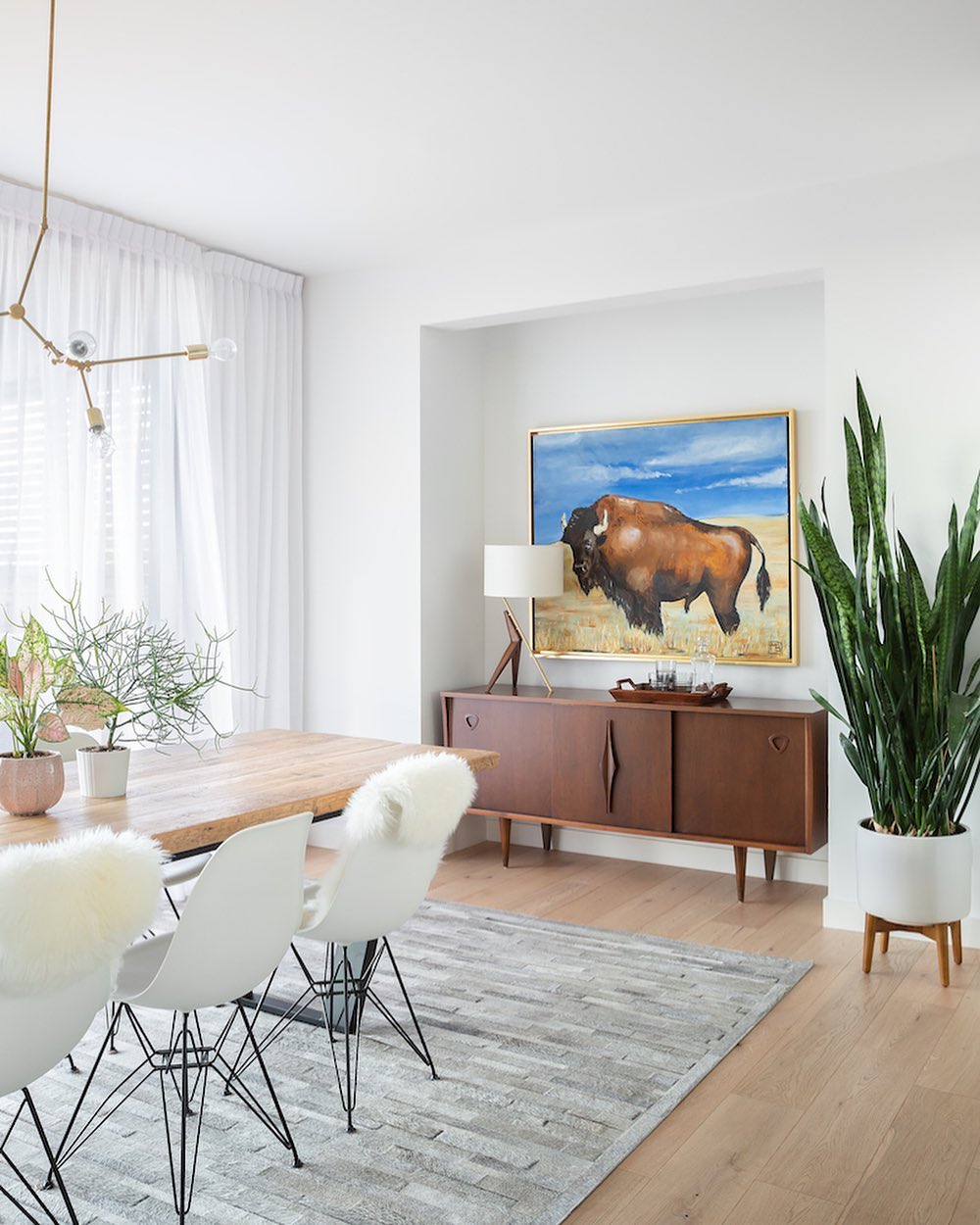 Embrace Traditional Elements
The Shaker style chairs, glass-front built-ins, and other related styles can be integrated beautifully into the dining area. They offer a fantastic geometric bent. You can add an MCM light fitting to achieve a balance and introduce that significant traditional aspect to your dining room.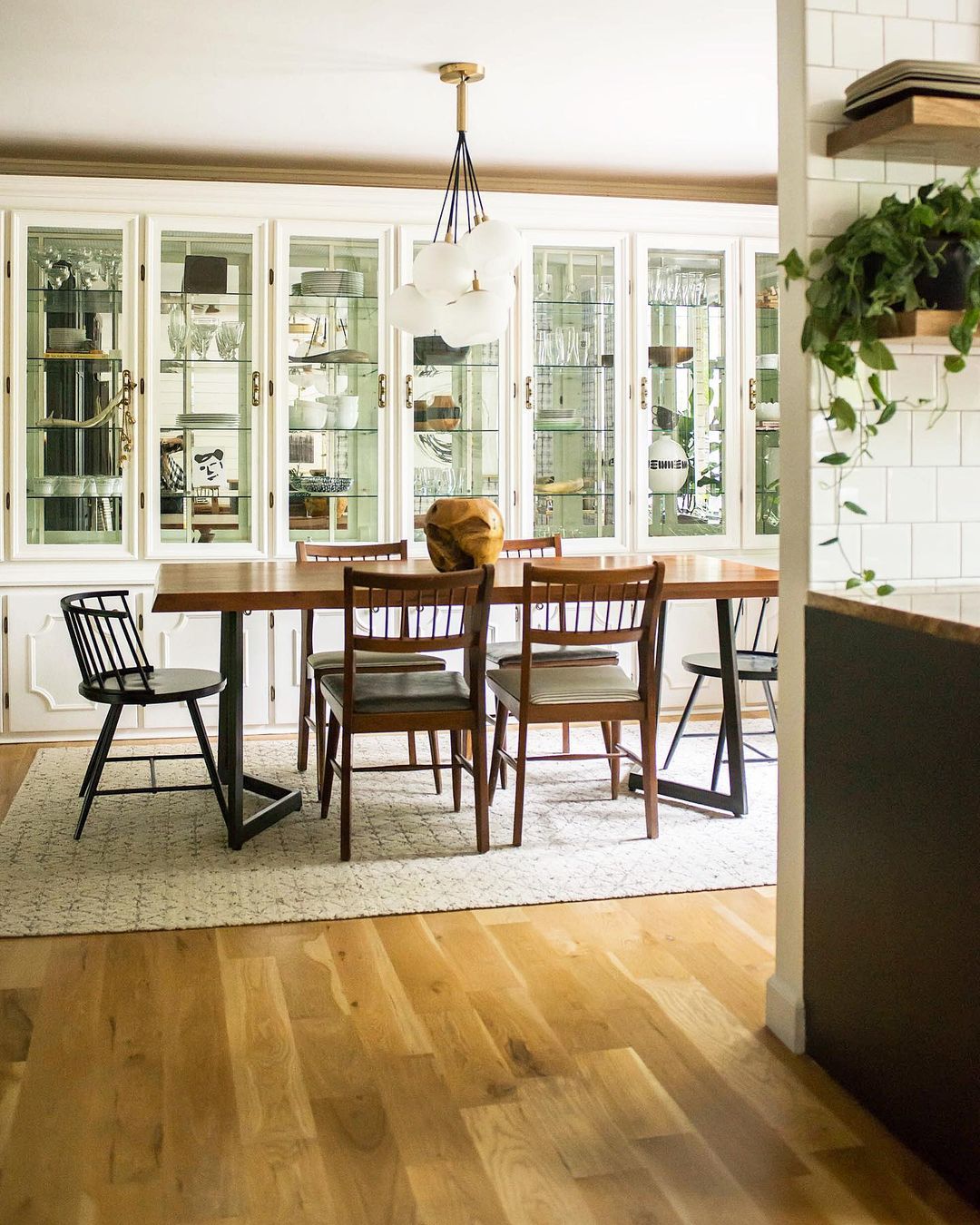 Work With Artisans
Most of the mid-century designers got their inspiration from traditional Japanese artistry. Suppose you want to enhance your dining area's aesthetic appeal using handicrafts, you will need to work with an artisan. Your dining space can be modified using wabi-sabi centerpiece and textural tassel art to make it more appealing to the eye.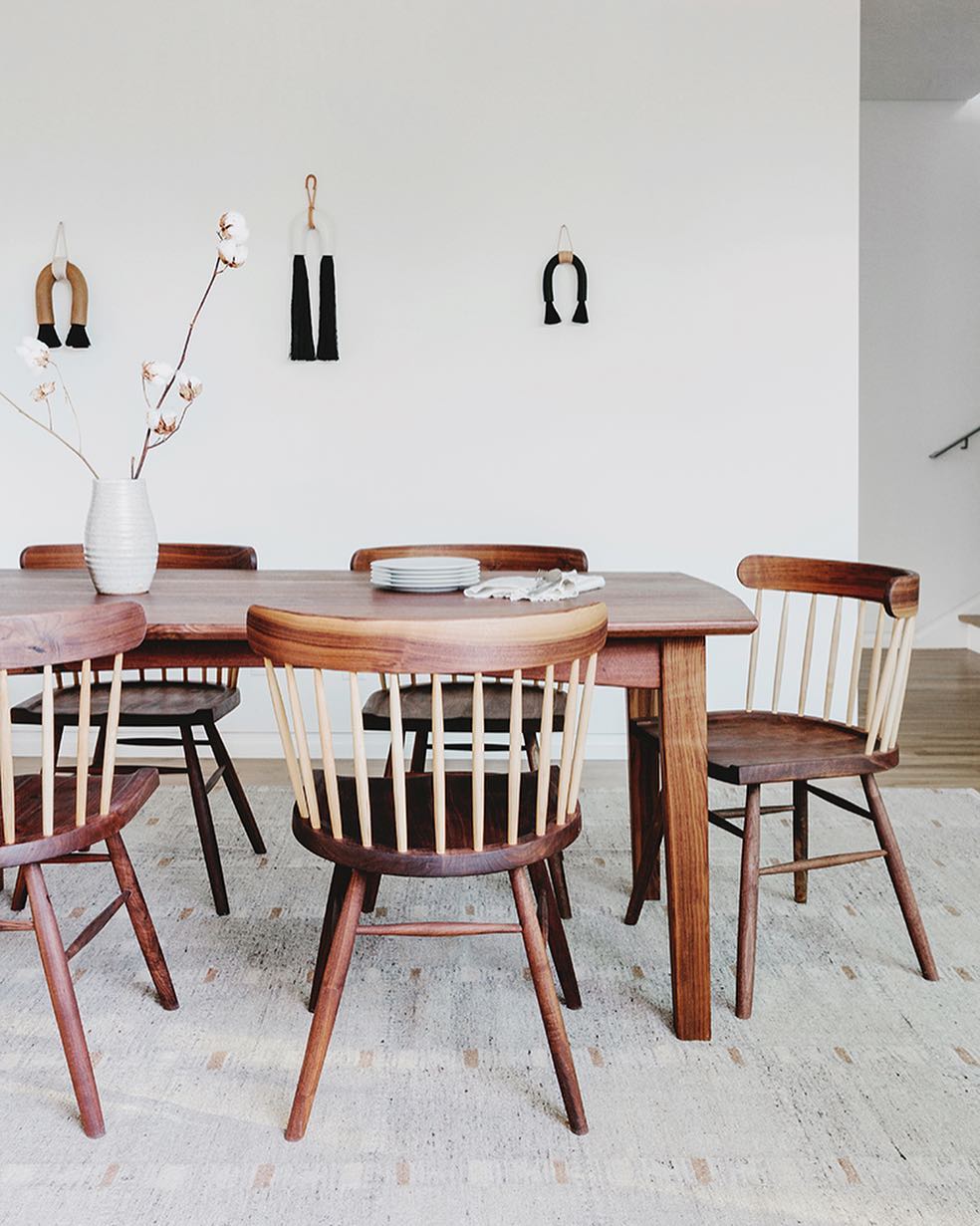 Other Popular Ideas on Pinterest