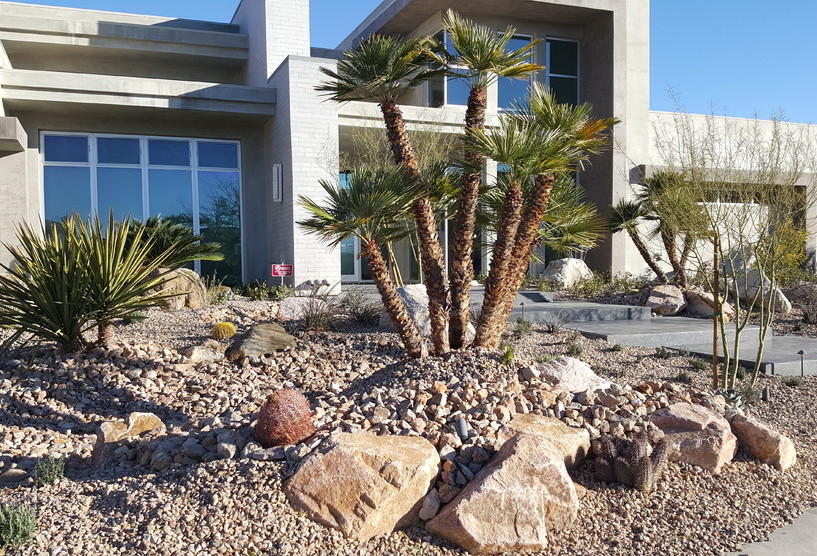 30 Desert Front Yard Landscaping Designs From Top Las Vegas Contractors
The first thing that draws you to any home, even before you get into the driveway, is the front yard landscaping. This creates the setting and builds up curiosity as to whether one would like to see what more is offered in the inside of the home, the décor, and tasteful furnishings and general design. Paying a lot more detail and thoughtfulness into your front yard design will have your neighbors envious in days. To guide you on the right path, here are 30 splendid desert front yard landscaping design ideas from top contractors and landscapers in Las Vegas that will instantly transform your home.
Pebble Cradle
This front yard design by Sage Design Studios, Inc. is a unique pebbly piece with strategically placed flowers among them to add life and color to the earthly colored stones. The vegetation is thoughtfully planted to create coolness and make the setting as natural as possible. The haphazard steps design eliminates the monotony of a straight-lined walkway.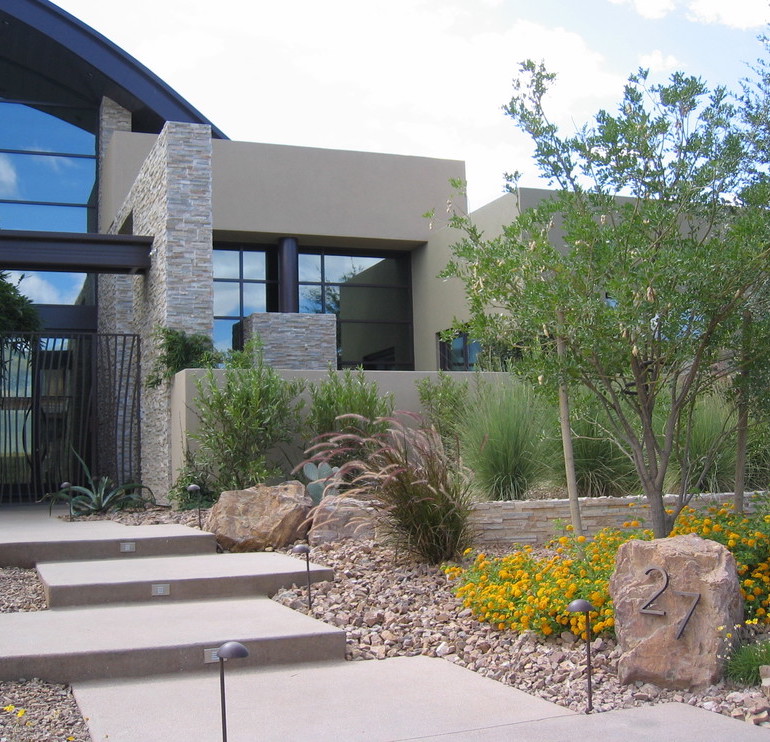 Wet n' Wild
CHIP-N-DALE'S CUSTOM LANDSCAPING has gone all out in this spacious Mediterranean landscape. It combines stone and natural vegetation in a welcoming manner, creating the feel of year-round bloom. The abundance of trees, shrubbery, and flowers make the yard seem tolerant to drought.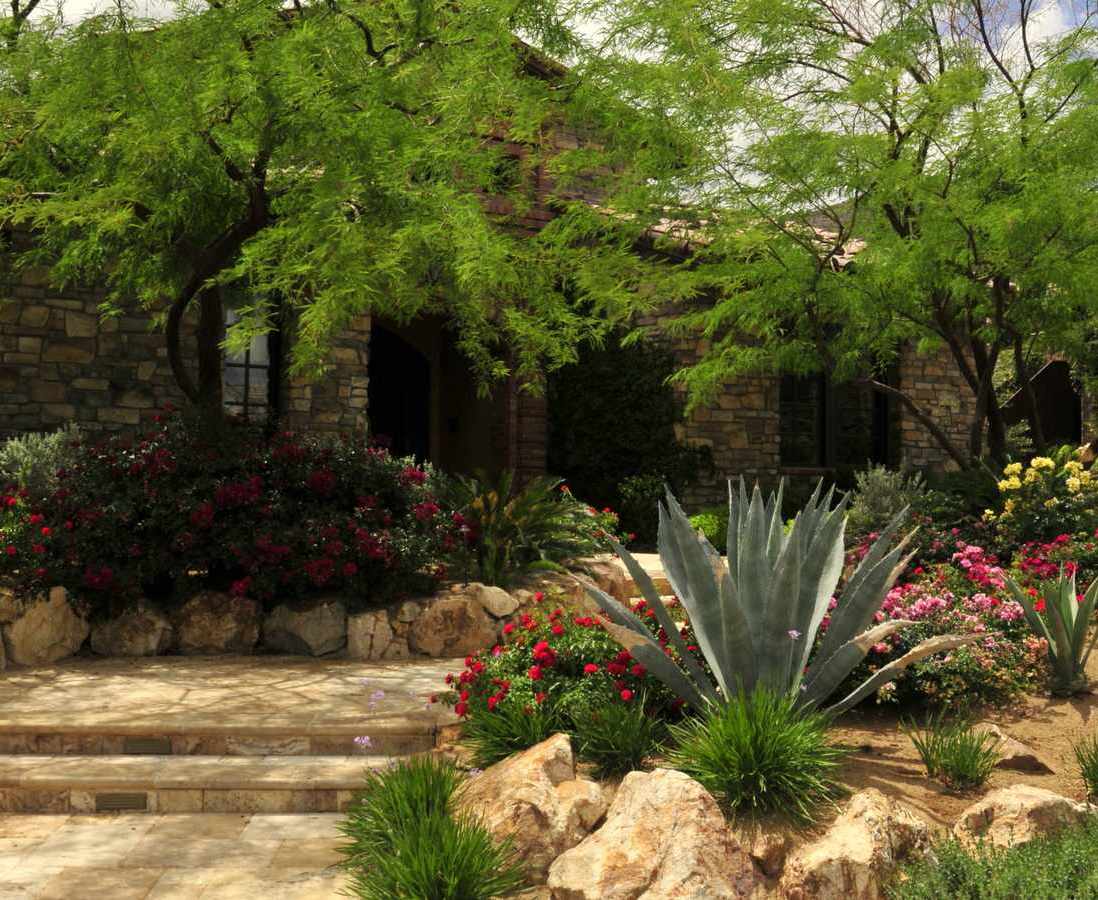 Stone Grove
Another unique creation by CHIP-N-DALE'S CUSTOM LANDSCAPING, this stone grove yard oozes off a lovely balance of beautifully designed stone, laid out ever so thoughtfully, with plants and flowers intricately positioned. This concrete paved yard warmly welcomes you into the home with its symmetrical layout.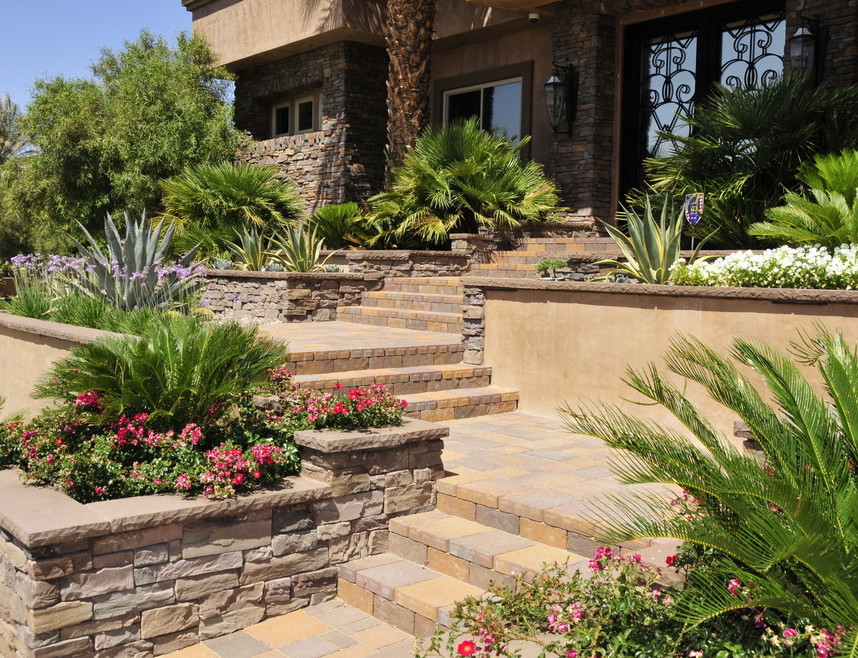 Bliss n' Peace
This contemporary gravel-filled yard by Ascaya is truly inviting and speaks of a blissful, peaceful space. The inimitable addition of a cloud chaser open aerial view space adds calm to the entire set-up. It is well laid out, indicative of precision and perfection. It draws you to want to see what the inside of the house looks like if this is just the yard.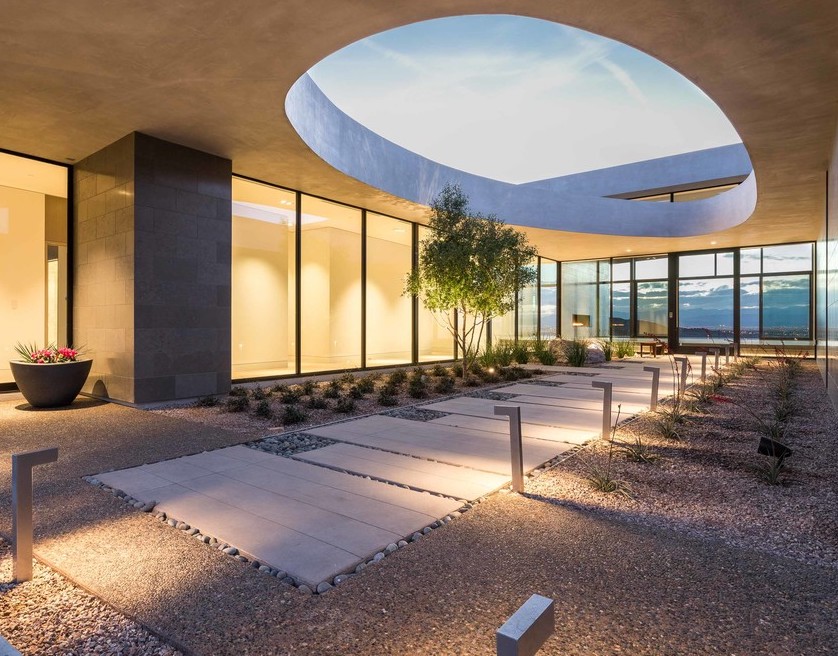 Bridge Over Troubled Water
Taylormade Landscapes, LLC has created a river bed out of white stone that sits so delicately between lush green grass, with a strategically placed bridge to cross over. The white picket fence on the side-lines completes the white river, which is further complemented by the brick walkway, equally balancing it all out. The yard gives off a superiorly organized space setting, ideal for hosting.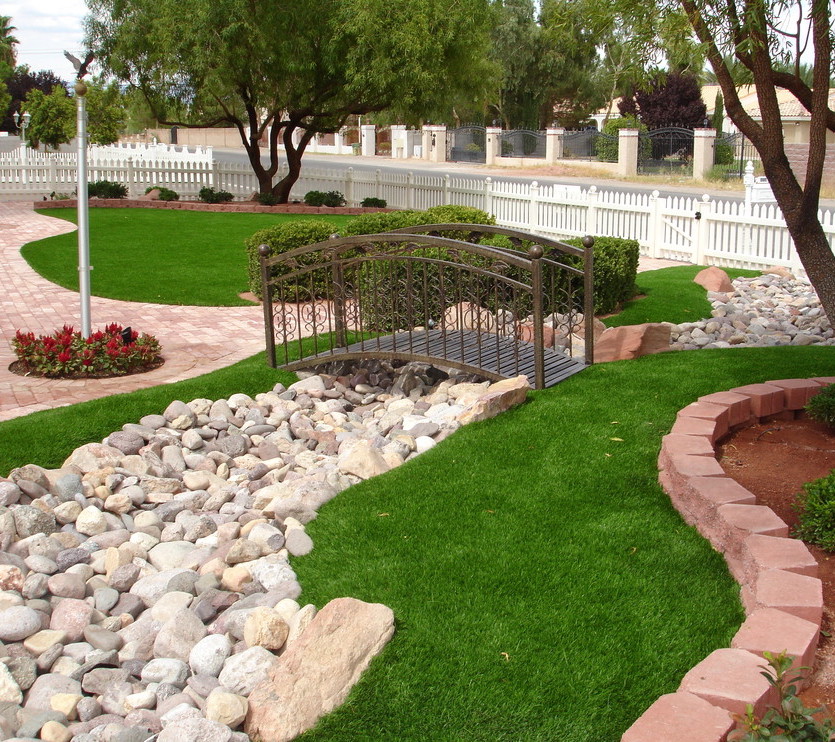 Palm Beach
This Proficient Patios yard design gives off a super summer vibe, brought about by the choice of vegetation and marble-like steps. The rectangular lights in the steps add a great twist to the curviness of the steps, almost like they are dancing to the summer sun. The white pebbles at the base of the vegetation act as a go-between mediator between the vegetation and the walkway.