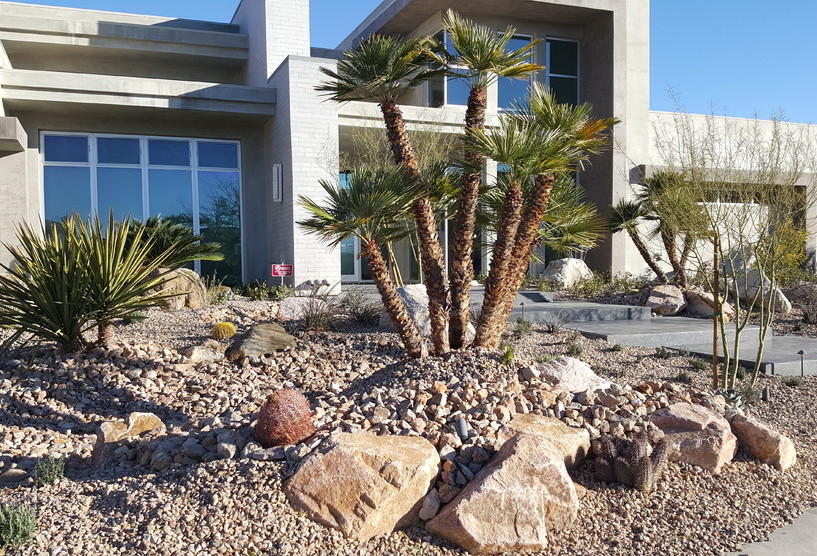 30 Desert Front Yard Landscaping Designs From Top Las Vegas Contractors
White Purply Palace
CHIP-N-DALE'S CUSTOM LANDSCAPING has done it again! The beautiful purple hues of the flowers aligned delicately along the brick stone walls is a brilliant play with colors. The stand-alone trees complement the whole look and seem to embrace you as you walk up the white, immaculate steps.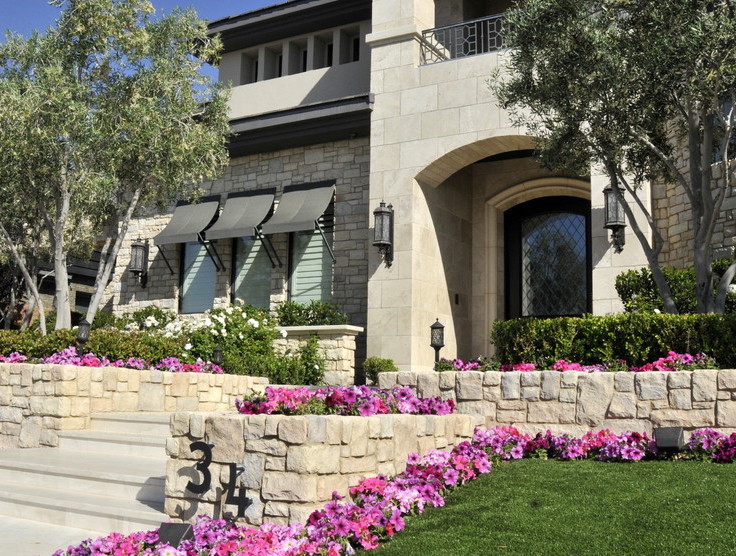 Simply Green
This simple, green yet thoughtful yard design by Private Greens of Nevada is for those who prefer to steer clear of lavish. The vegetation is well-spaced out, eliminating a feeling of clutter. The tree by the window provides shade without blocking out natural light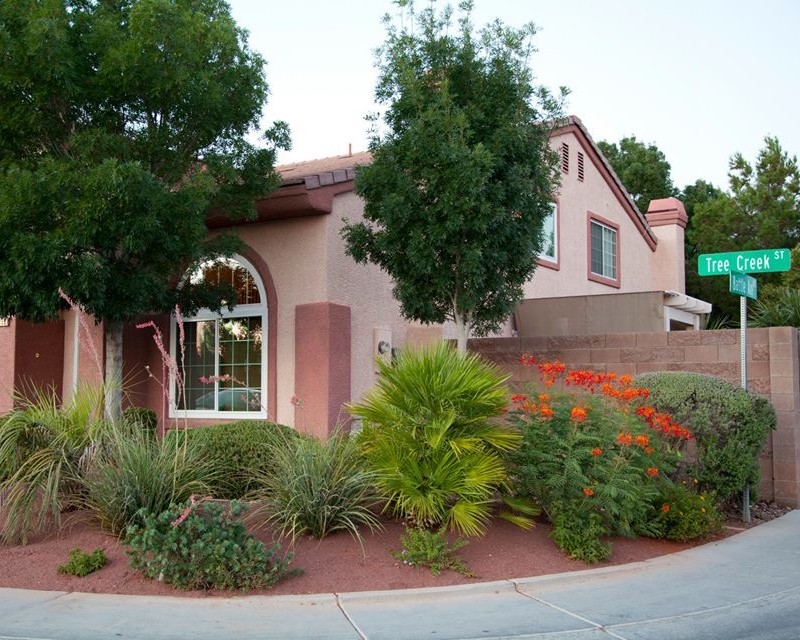 Beckon the Sun
This Pierros Landscape and Maintenance front yard design is filled with whitish-brownish pebbles that seem to beckon the sun to come out and play. The isolated tree in the middle gives off an island feel – giving the place a holiday home kind of atmosphere.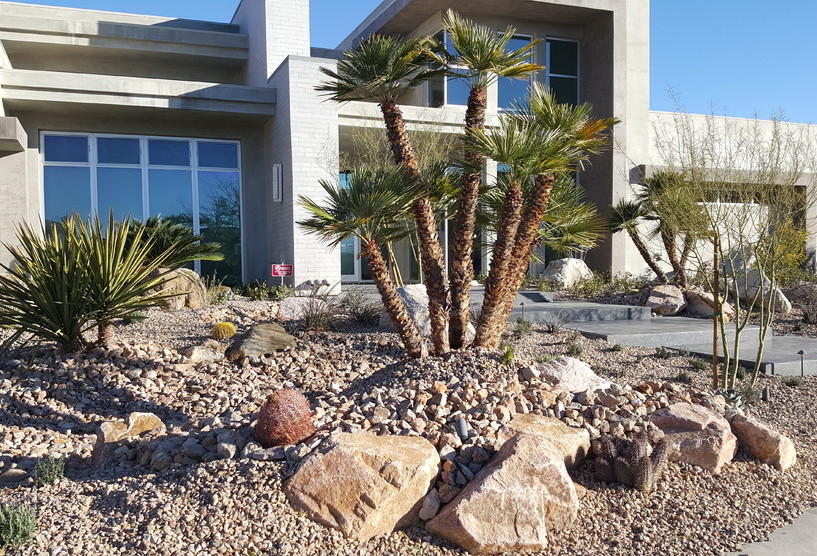 Paver Craver
This open-air space creates a limitless feel to this front yard by Attanasio Landscape Architecture. The tiny little trees at the forefront are well arranged, almost like they are forming some sort of equation. The pebbles complement the concrete pavement, adding a great blend to the vegetation, giving off an overall balanced look.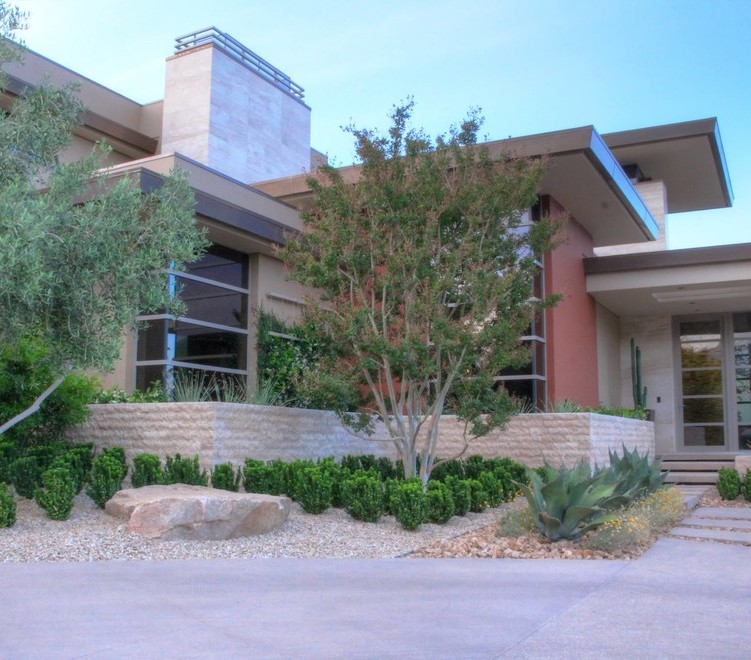 Elegantly Perfect
This elegantly perfect front yard by Assemblage Studio oozes off a luxurious atmosphere. Its minimal plant life doesn't hinder it from seeming alive and natural despite the extensive use of concrete. The raised beds add a brilliant twist to the setting, eliminating the monotony of a flat surface.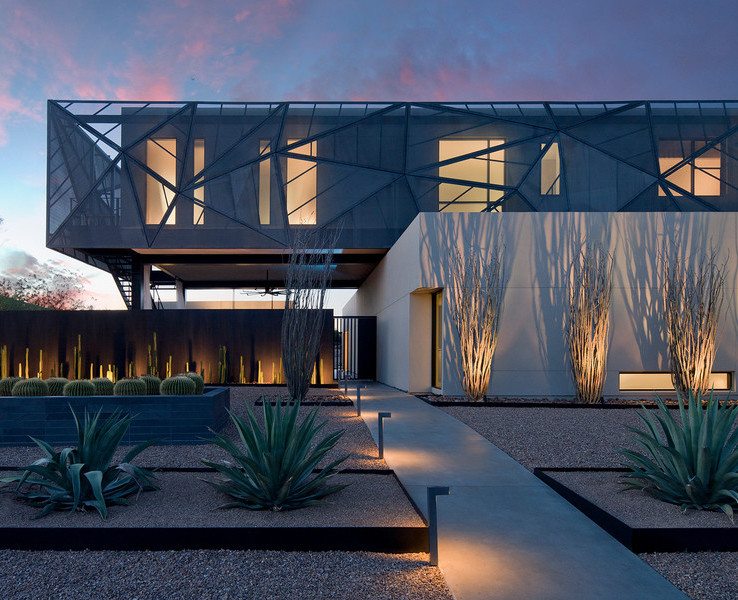 Green Gleam
Sunset Oasis Landscapes bring this yard alive with this design of an intensive choice of greenery by the addition of vegetation to grass. To break any wearisomeness that may be created by the greens, large pieces of white-brown rock are placed between them acting as a barrier and support of the night lamps. The setting gives off the feel of a drought-free zone.