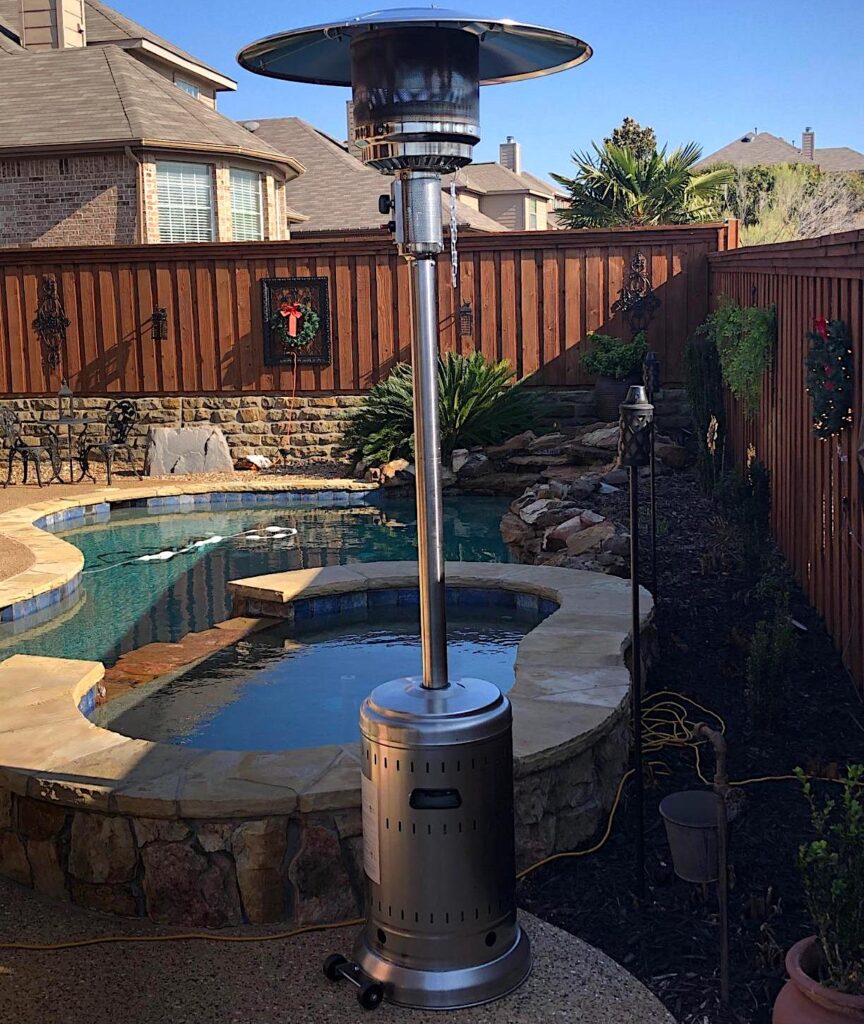 9 Reasons Amazon Basics Has The Best Gas Patio Heater in Canada
Living in Canada, you want to enjoy the outdoors, but you also don't want to freeze doing it. There are only so many days above 17 degrees (Celsius) that are warm enough to go about without trying to find ways to stay warm. If you like to entertain guests outdoors, you can extend the warmer days just a little with AmazonBasics's propane patio heaters. Here's why these particular patio heaters are the best you can buy for those chillier Canadian evenings when you still want to sit outside and visit with friends.
#1 AmazonBasics Is Amazon's Store Brand of Products for Less Money
Think of Costco, or any other "club store," and you know that they have their own generic brand of products. Amazon really didn't jump on this wagon for some time, but now that they have, they have tons of really good, high quality merchandise under their AmazonBasics brand. These products are exactly what you would buy from other brand names, sometimes even better, and for far less money. Buying AmazonBasics products means you save even more money and the products are backed by Amazon's excellent customer service polices and guarantees.
The pricing on these products is an even better deal if you're a Prime member, but if you aren't tempted to buy a membership, the prices on AmazonBasics is still for everyone. The difference is the free shipping and inventory guarantee for Prime members.
#2 Amazon's Mass Quantities Approach Means They Are Rarely out of Stock on These Heaters
Even as cooler weather in Canada approaches, Amazon's inventory remains high. They buy in massive bulk quantities to ensure that products are available even in season when the demand is high. Whether you like the looks of the Bahama Blue propane patio heaters or the polished stainless steel ones, you know that you can get what you want when you want it with Amazon. It's unlikely you will be able to get these same products anywhere else when autumn hits and everyone is going to hardware stores to buy up propane heaters!
#3 High Demand, High Satisfaction
This patio heater is in high demand the world over. Over 1,000 reviews speak to the quality and level at which customers like you think this product is worth the money. Over 70% of the 1,000+ reviews in Canada and 5000+ reviews in the US rate this product at 4.5 out of 5 stars. With so little room for improvement, you know you're getting a high quality propane patio heater for the price. It is currently a #1 bestseller at Amazon (See the current ranking here for a quick fact check), making it an ideal product for your patio or deck.
#4 Quick and Easy to Assemble
There are less than six components coming out of the box. It slips together with ease and a couple of screws secure the pole. They do not ship with propane tanks for safety reasons and postal restrictions, but you can buy propane tanks just about anywhere in Canada anyway. Once hooked up to a propane tank, they provide several long hours of warmth when you sit under or close to them. A set of wheels is also available for assembly if needed.
#5 Multiple Colors and Finishes
Not everybody is a "basic black" type of person, which is why Amazon chose to make these propane heaters in five powder coated colors and two stainless steel colors. Bahama Blue is probably the most exotic, but if you want to throw a tropical luau party at the end of summer, this color of propane heater will fit right in. The black, charcoal, stainless, slate gray, and sable brown colors are made to match or compliment your patio or deck furniture.
#6 The Free One-Year Limited Warranty
A lot of other products expect you to purchase a separate and/or extended warranty. Amazon actually gives you the one-year limited warranty on this propane heater for free. They don't offer additional warranties, but considering their already generous return policy, you don't need to buy anything extra.
#7 How Warm Is It? How About 46,000 BTUs and a Nine Foot Radius?
A lot of customers think, "Oh, that little thing can't possibly produce enough heat!" They're wrong. These propane patio heaters put out 46,000 BTUs of heat, the equivalent to turning on ALL of your range top's four burners and setting them to the max temperature! It distributes this heat up to nine feet in diameter around the heater, creating a nice cozy circle on a deck or patio. Some people even take the heaters camping with them in late fall before the first snow hits because they are that effective at helping you stay warm.
#8 Amazon's Customer Service: Need We Say More?
Amazon's founder and owner Jeff Bezos knew that keeping customers happy and satisfied keeps customers coming back for more stuff. Amazon's customer service is far and away one of the best out there. Their representatives will either find you a replacement item you like or offer a full refund or store credit if you don't like these propane heaters. Return them after zero uses or 100 uses; Amazon will take them back regardless.
#9 Fake Reviews? Not Here
Amazon does such an amazing job with their products that they don't need to buy fake reviews like other companies. So many millions of satisfied customers post their own reviews of products, and if a customer doesn't like a product, Amazon doesn't edit that out! They know that not every single customer will be happy, but they certainly don't try to hide that. You can trust the reviews about these patio heaters because the reviews are real. This particular patio heater already has dozens of reviews ranging from one star to five stars. Check it out for yourself.
We also abstracted the current top reviews below to save you time:
"Amazing Heater! Could suntan under it lol….. it is VERY tall (it's commercial height) so I did what another customer did and cut the top PIPE down by 9 inches so it could be used between two outside rockers. His review is on Amazon. The cutting of the PIPE was easy with a metal hacksaw and a cheap mitrebox, drilling the holes was harder (used a drill press). If anyone else does this make sure to make the new holes a little bit oblong like the original holes because it allows for adjustment. I am a 59 year old grandmother and I put it together by myself." – DawneJ
"Just received this today and put it together myself in an hour (at most). I did need my mom (who is 75) to hold things/ pass me things but really it went together REALLY easily just followed the directions exactly. It is big so be prepared for the height…its perfect on my deck. It could throw a bit more heat HOWEVER its certainly toasty enough that I have enjoyed my deck all evening and I would NOT have without it! Cant speak to the durability of it, as I just got it but other than that, really pleased! Would buy again" – Joellen Landry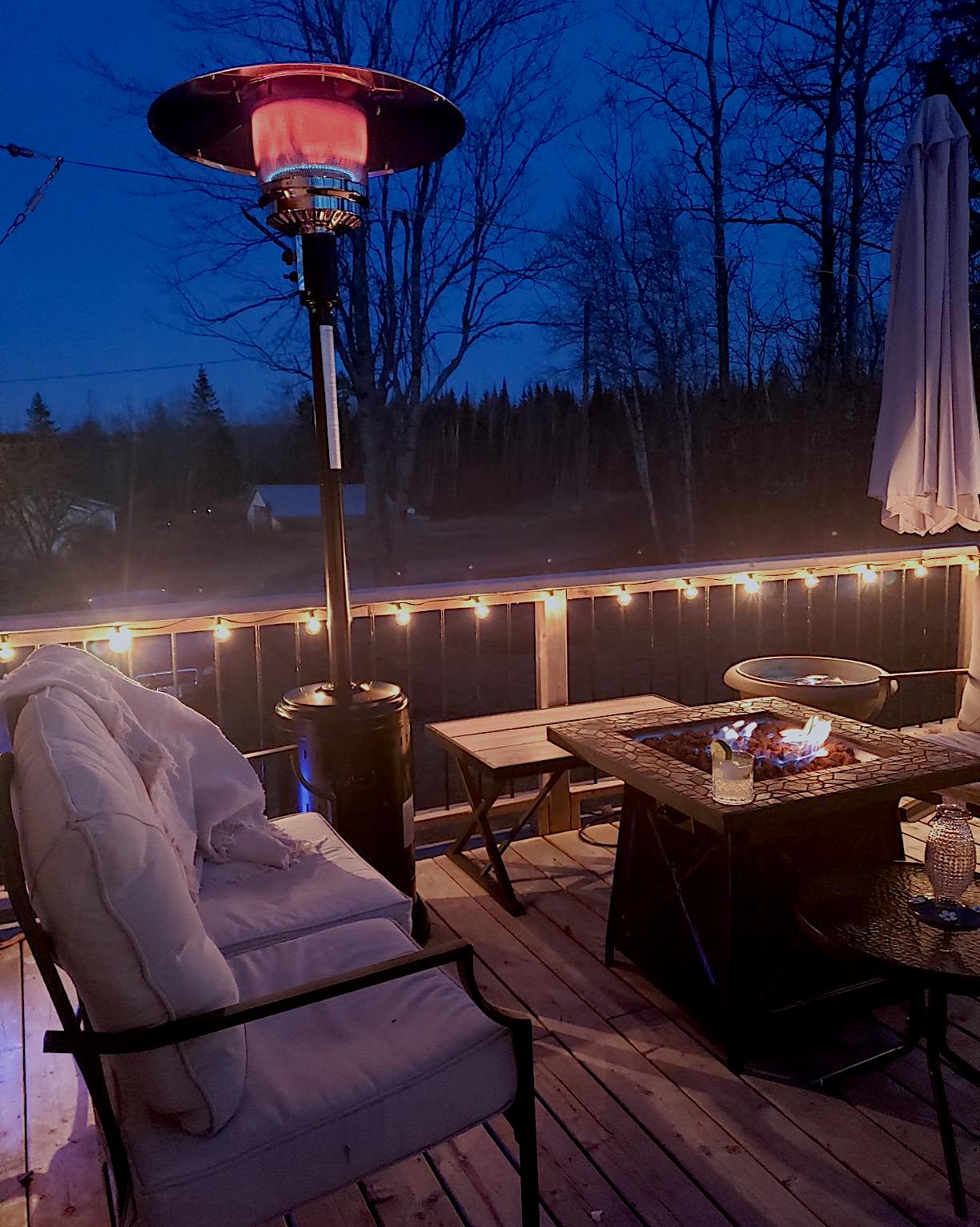 "I bought this for my husband for when the weather is colder he can still go outside to smoke as he can't in the house. He says it works great so we both love it. It gives out a lot of heat, I just wish it was a bit shorter. We may do what others have done and have it cut down some so it is shorter. Other than that works great and we find a propane bottle lasts about 9-10 hours of use. Not bad." – Amazon Customer
"Good looking Patio lantern that really throws out the heat! My only suggestion would be to make the mast segmented so that you could use it at either its full height or at a height perhaps about 10" shorter as I do find (like other customers have pointed out in their reviews) that the lantern is a little too tall. Other than than it is a good product but being able to adjust its height without having to take it to a machine shop to have it altered would make it perfect!" – Christopher Veenstra
"We ordered two of these while they were available. They were fairly easy to assemble – a couple more f the pieces were under all the styrofoam, so make sure to empty the entire box. We ordered Havana bronze as I'm not a fan of how stainless steel looks when it gets wet or dirty. The Havana bronze looks awesome! I would say it is more of a satin black finish. We just used them and had two heaters in a 13×13-ft area on a day that was around 6-8° c. We had them running on low to medium low, and were extremely comfortable. (This included one person who is a self-declared 'always cold' person.) Very happy with the purchase." – Chrystal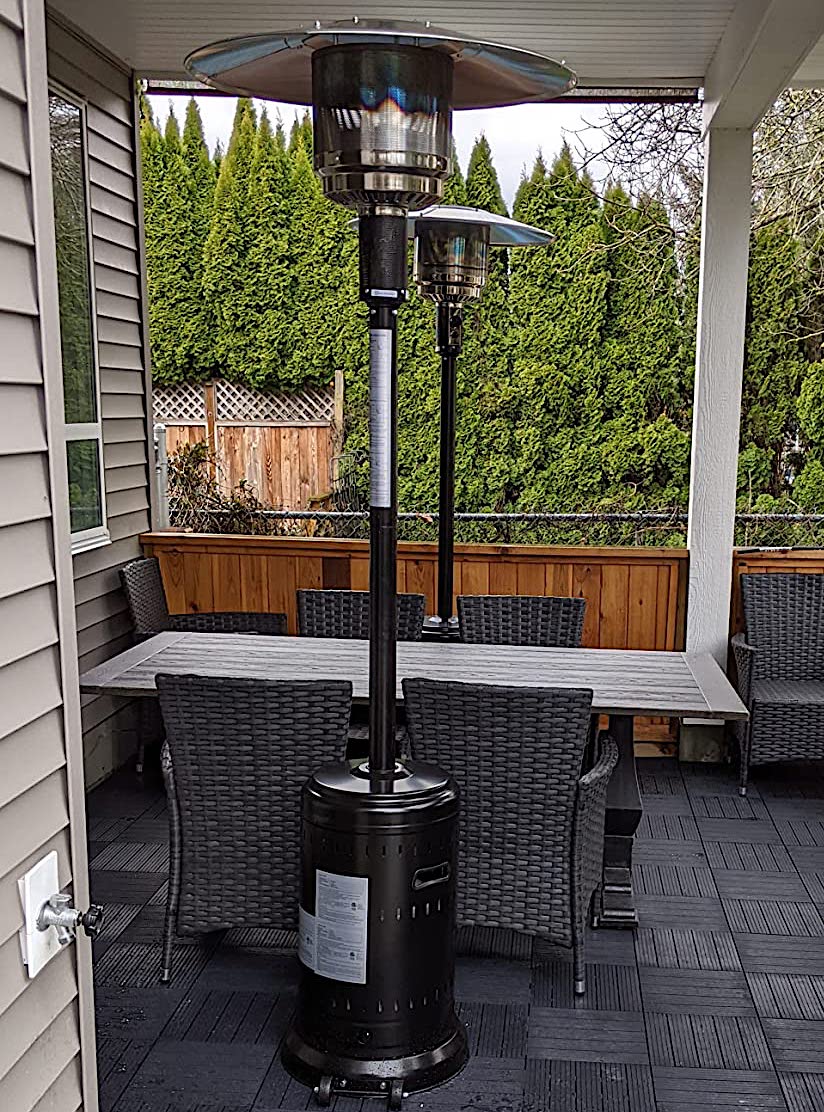 "Didn't expect it to last beyond 1 or 2 seasons, but here it is, still going strong. I don't put it away in the winter, it just sits on the back yard, snow or rain. There is no rust, the shield at the top is pristine, and the unit works just as well as it did when new. It does use up the whole tank for one evening (4+ hours at max heat), but it's a life-saver for throwing a party in the yard in the cold." – gta_shopper
"I bought this patio heater to replace an old one that I paid more that $1000 for. I don't see any significant difference between this and the $1000+ unit. It looks good and always lights with the first push of the igniter button. Very happy." – Ween
Top reviews with images from the USA listing below:
"I've been looking at these online and in big box stores and decided on Amazon's Basics model based on 3,000+ reviews and the wide array of color selections. Chose slate gray to coordinate with patio tile and overall color scheme. Easy assembly by myself, took about 1 1/2 hrs. Worked great on first ignition try. NOTE: upon lighting the first time you will get some burn off of oil and manufacturing dust. It will only last about 3 minutes. The manual also mentions this. Highly recommend this item." – The Rio Rancho Kid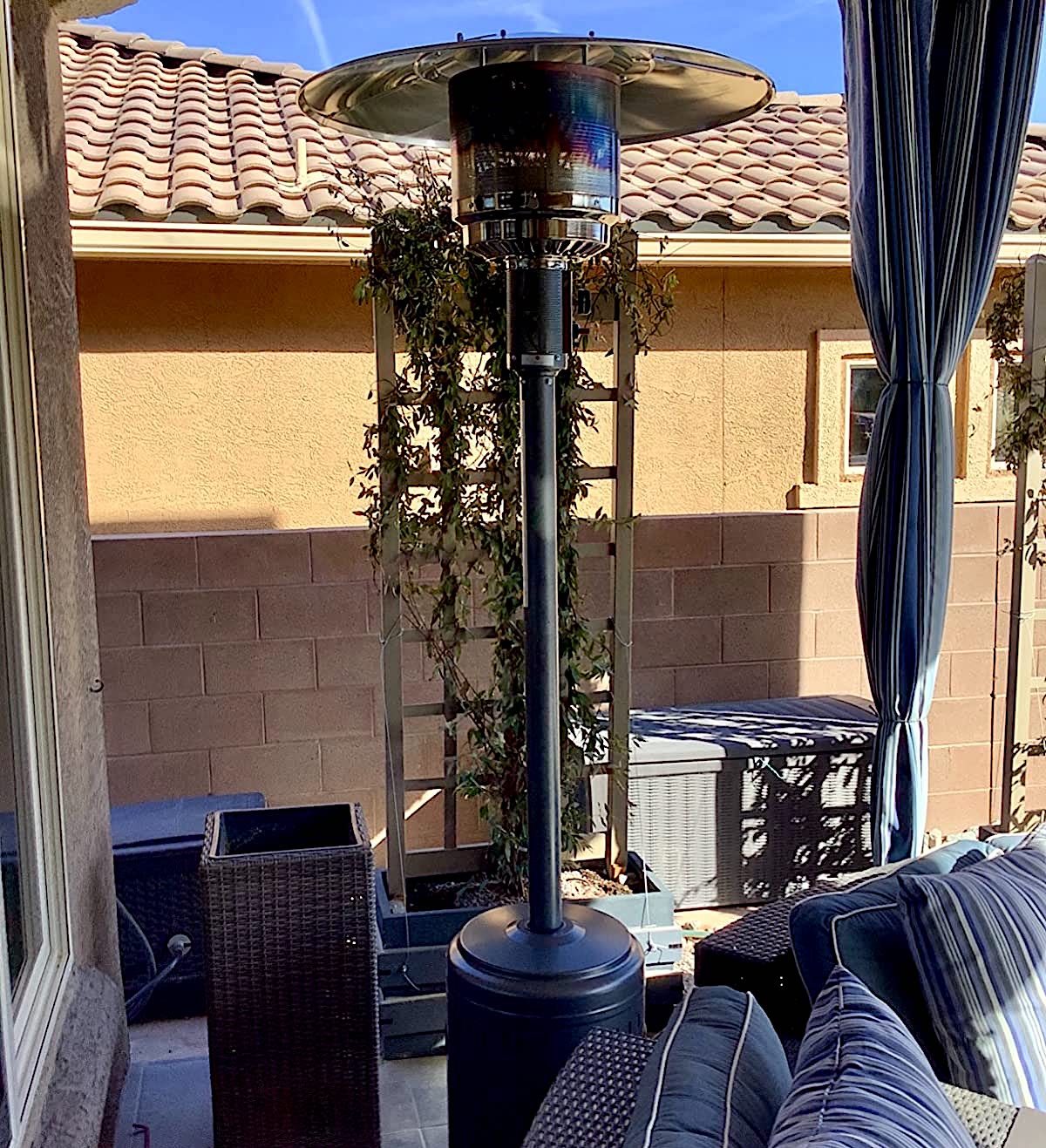 "Quality pieces, great instruction booklet. It probably took me an 1 hour to fully assemble. We had purchased the stainless steel finish, about 10 minutes of that hour is spent peeling the protective film off the stainless. This is a very attractive piece." – Dean Kershner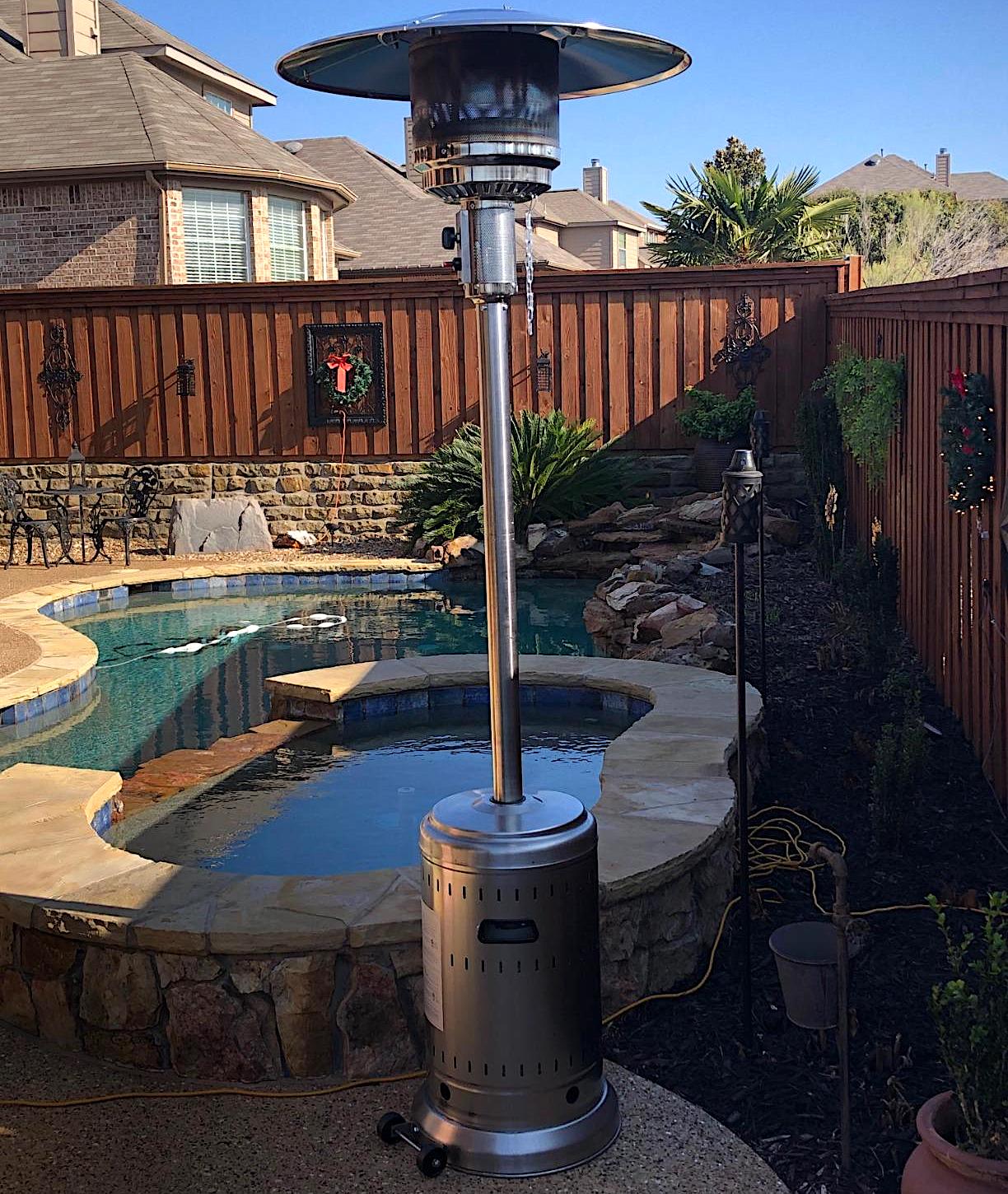 "I have a strong preference for AmazonBasics brand items, so when I was looking for a patio heater and found at AmazonBasics had a commercial grade offering I knew this was the unit I would buy. I have been very pleased with this purchase and highly recommend this unit." – Doug Testing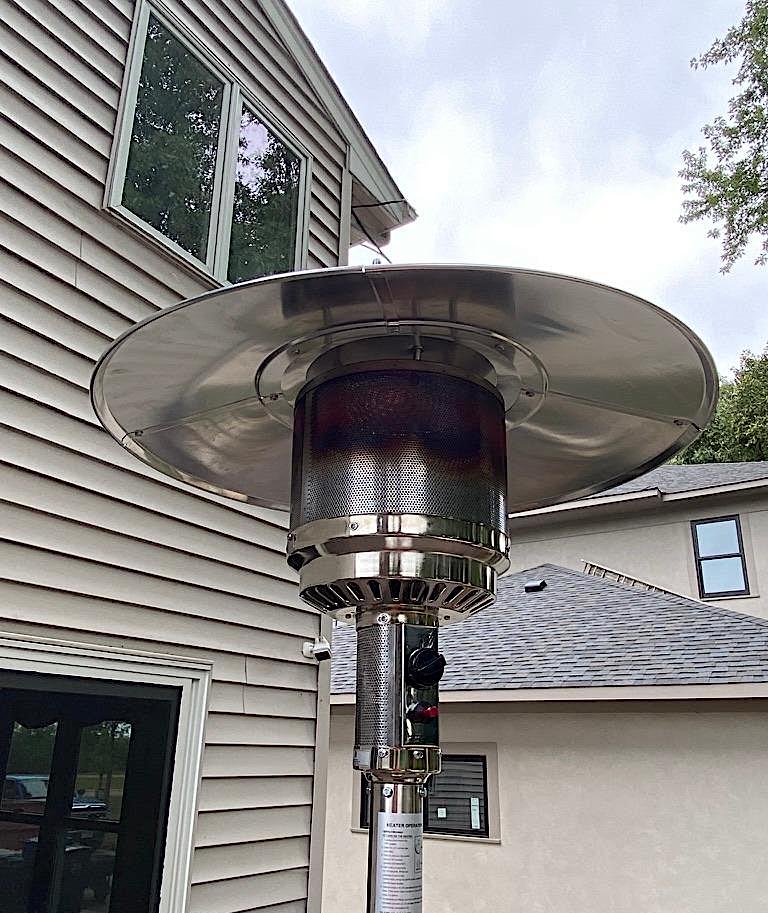 "Easy to put together as long as you take it slow and read directions carefully! Lit right up and put off a lot of heat!" – Laura Andrews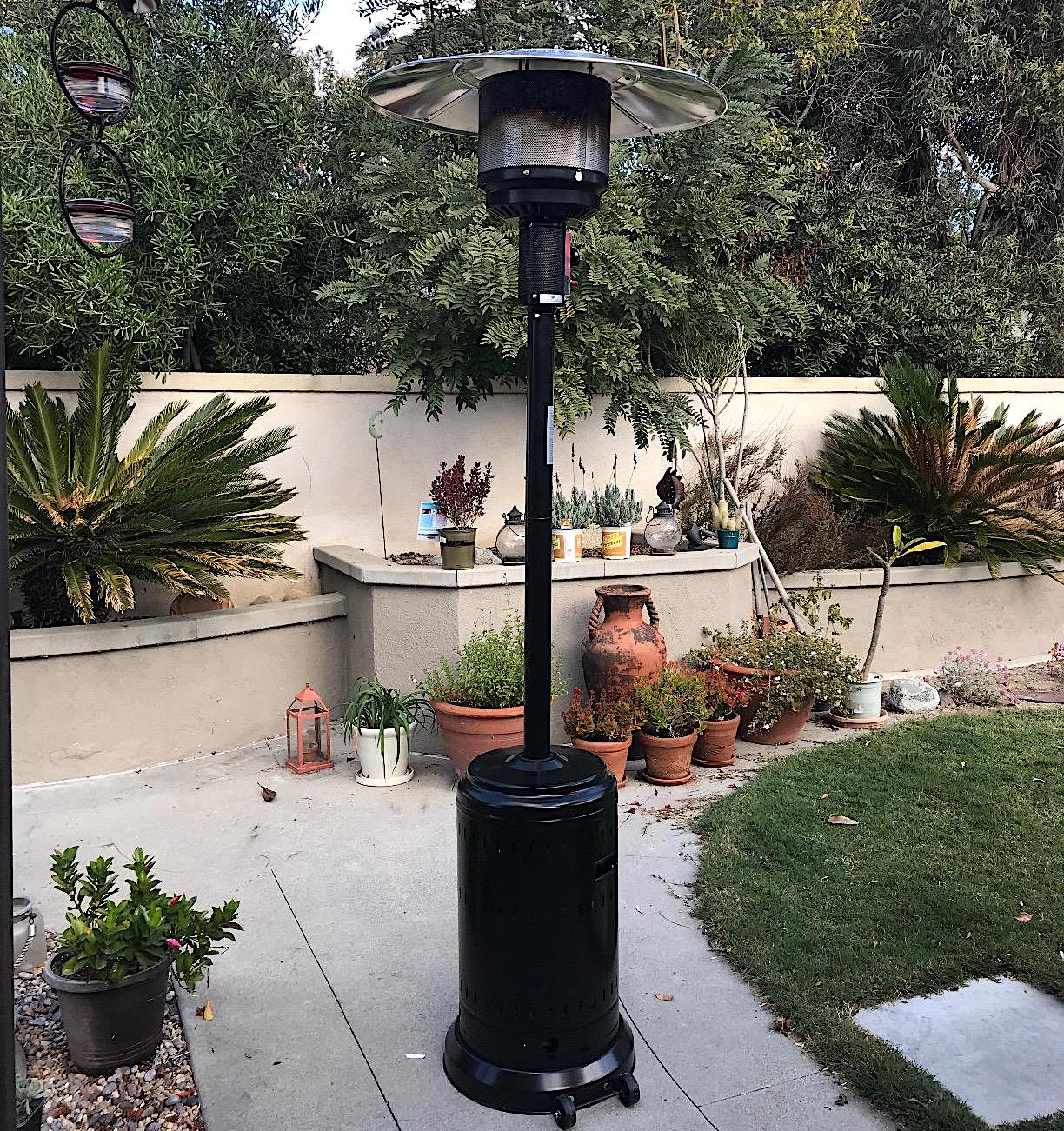 "Assembly was pretty straight forward. Easier by 2 people. Quality is quite good considering price. Nice add-on to our patio." – Jason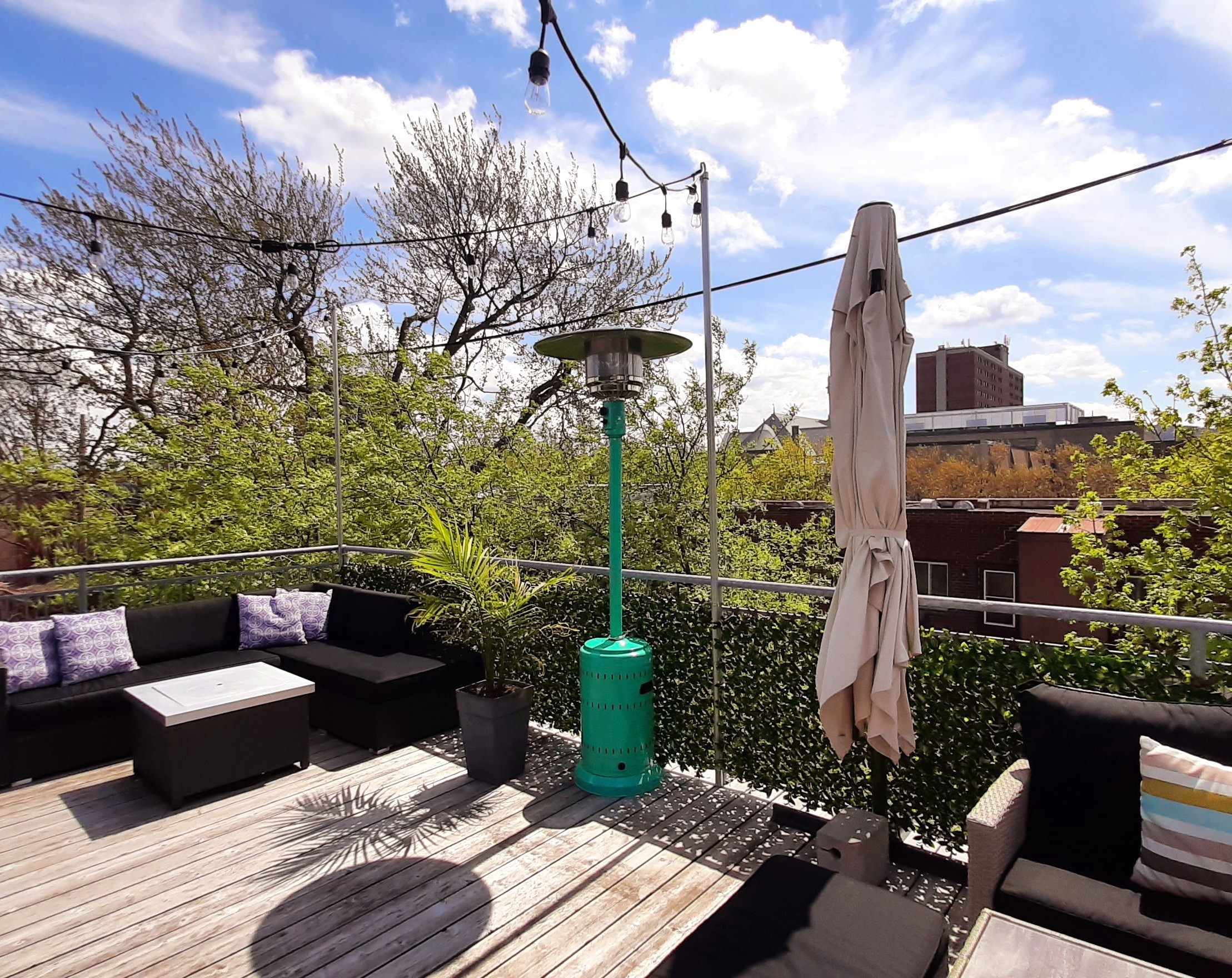 ---
Check the latest price on Amazon now
---