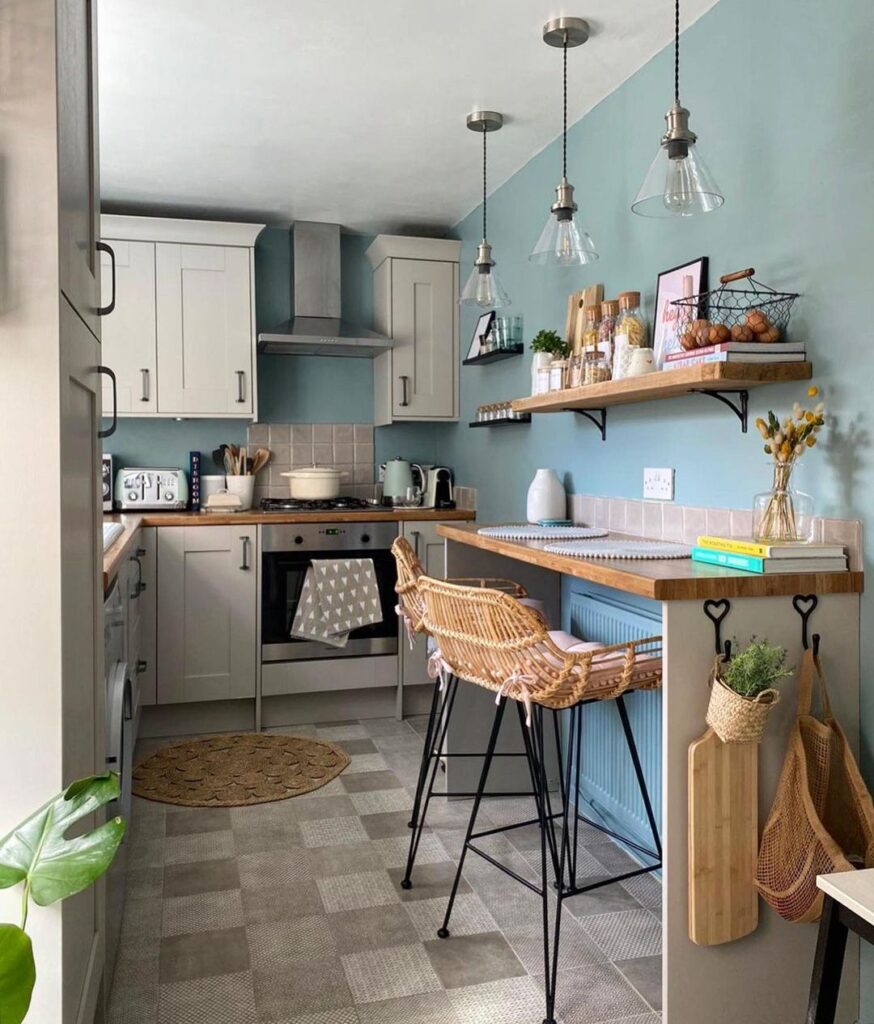 48 Instagram Viral Wall Decor Ideas For A Small Dining Room
Small dining rooms all have one thing in common (besides being small); they have limited wall space to decorate. That certainly did not stop the following talented decorating influencers on Instagram from taking their ideas viral. Check out what they did with their limited wall space in their dining rooms!
Shelves With a Cafe Feel
Lots of shelves of equal length decorated with kitchen items with a sort of cafe-style feel is exactly what @Ebie.Ebi went for. The soothing green paint on the walls is a nice touch too.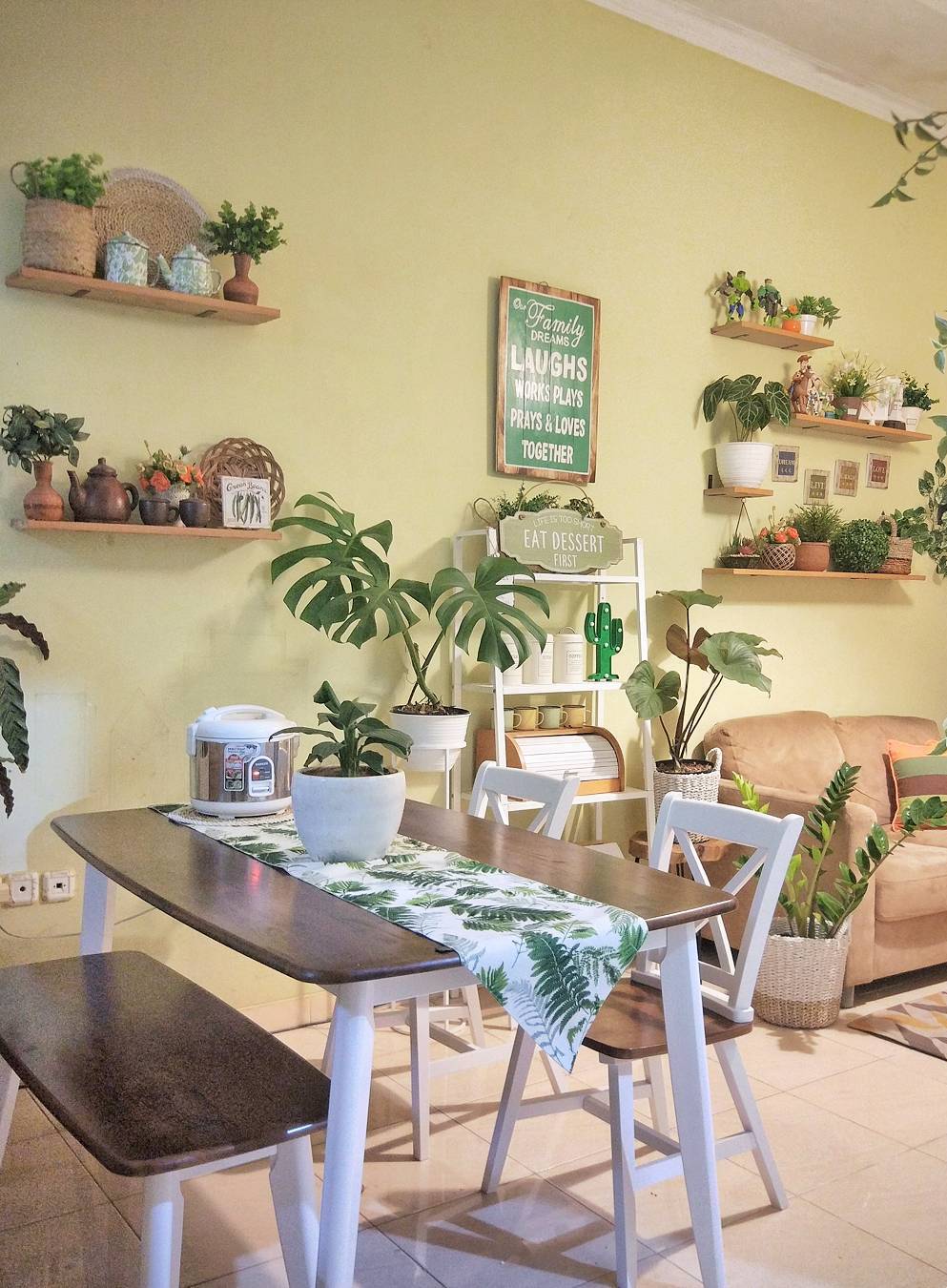 A Little Vintage, a Little Rattan
Here we see some vintage pieces, like the sun mirror and '70's style accent pieces mixed with woven rattan and macrame. It is a great mix of details by @marta_wojtysiak.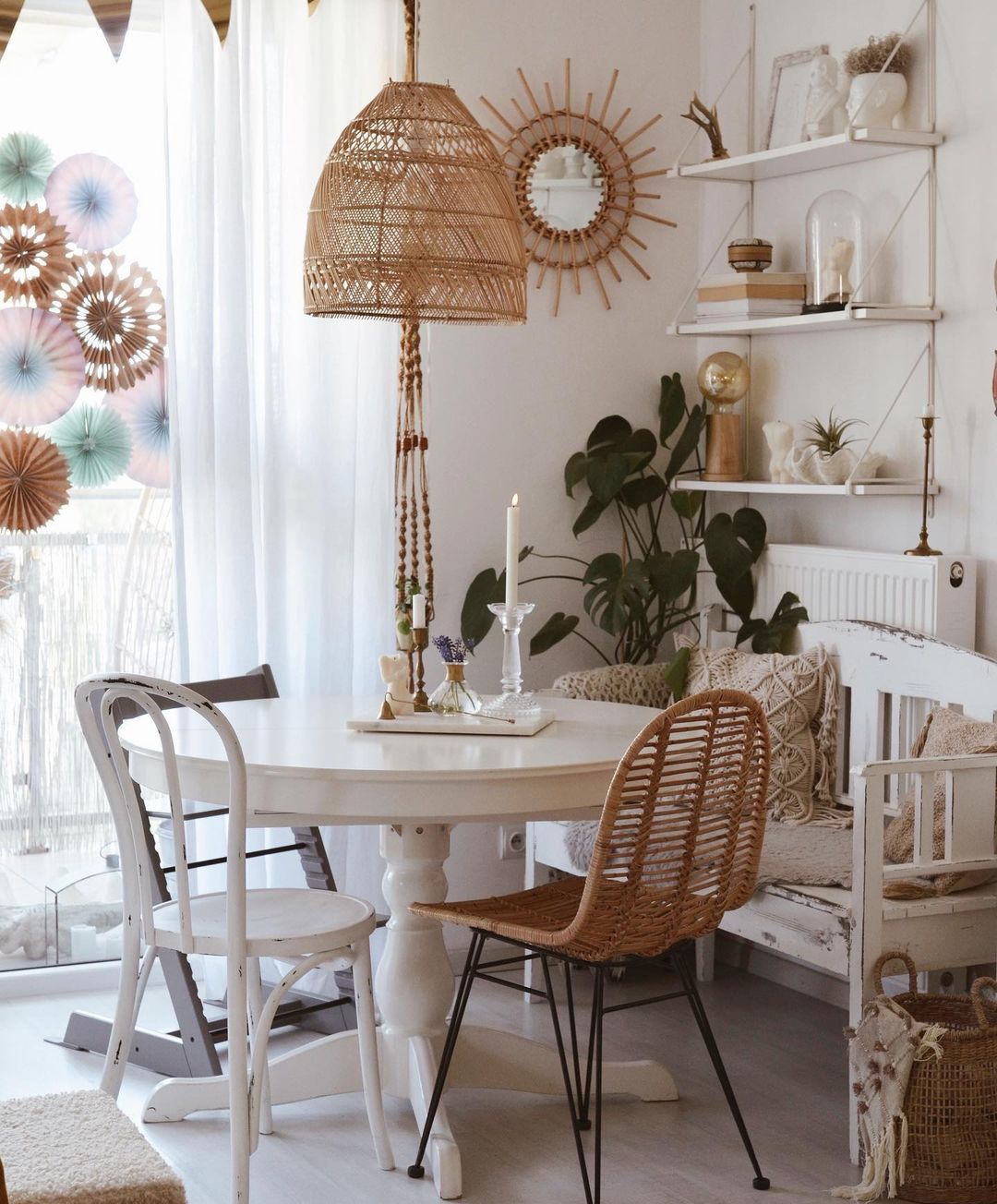 Contemporary More Is Less
Black and white with a little gray, and minimal pieces on the wall is how @georginajameshome rolls. The most dramatic piece is the large round mirror with black frame that provides a visual effect of a larger dining room.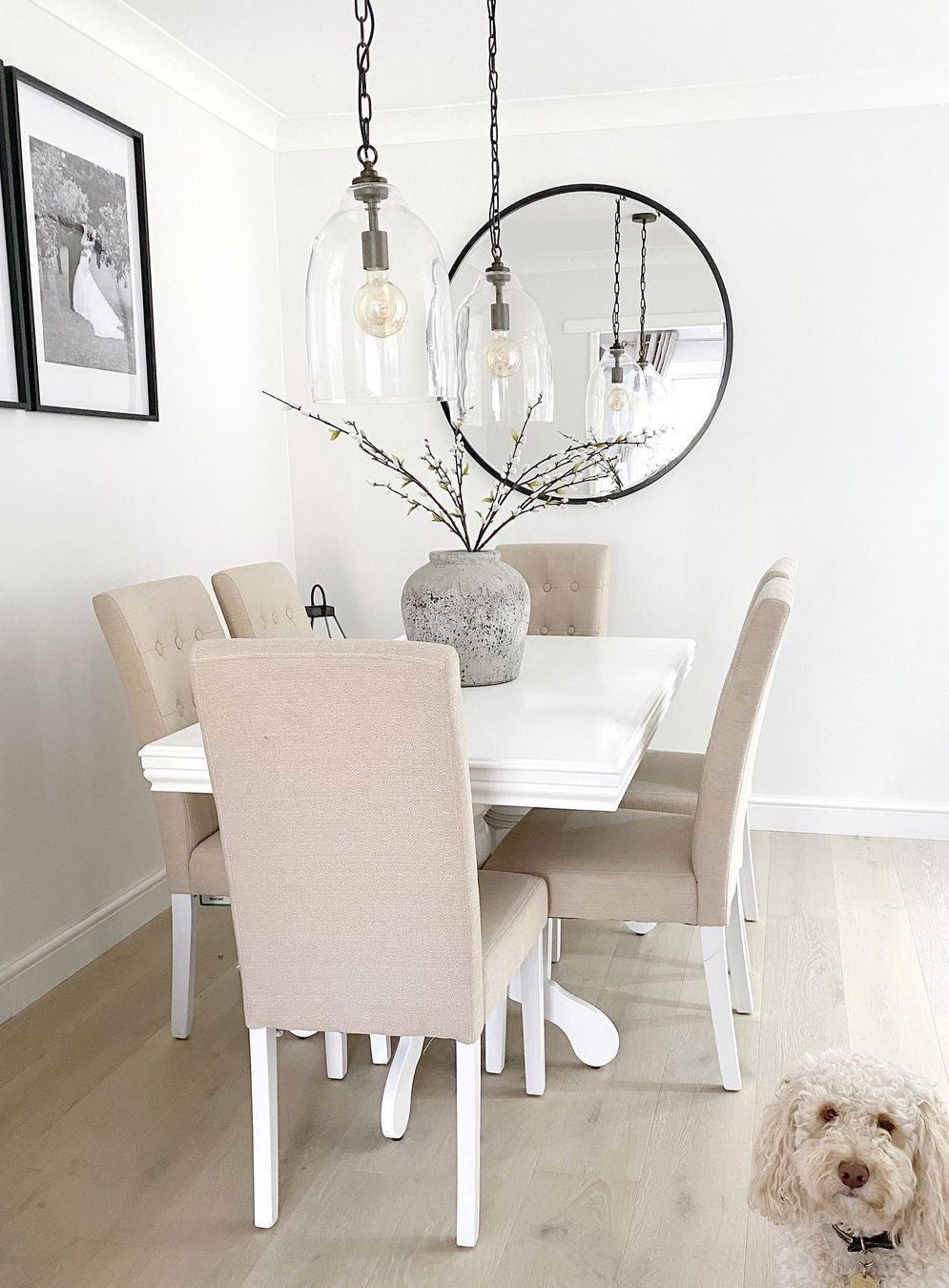 Dedication to Storage
When you have just one section of wall to work with, and your home is already tiny, maybe you want a large storage cabinet or hutch. That's the idea behind @janki.home's inspiration. Smaller details like a woven wall hanging on the half side wall are nice touches too.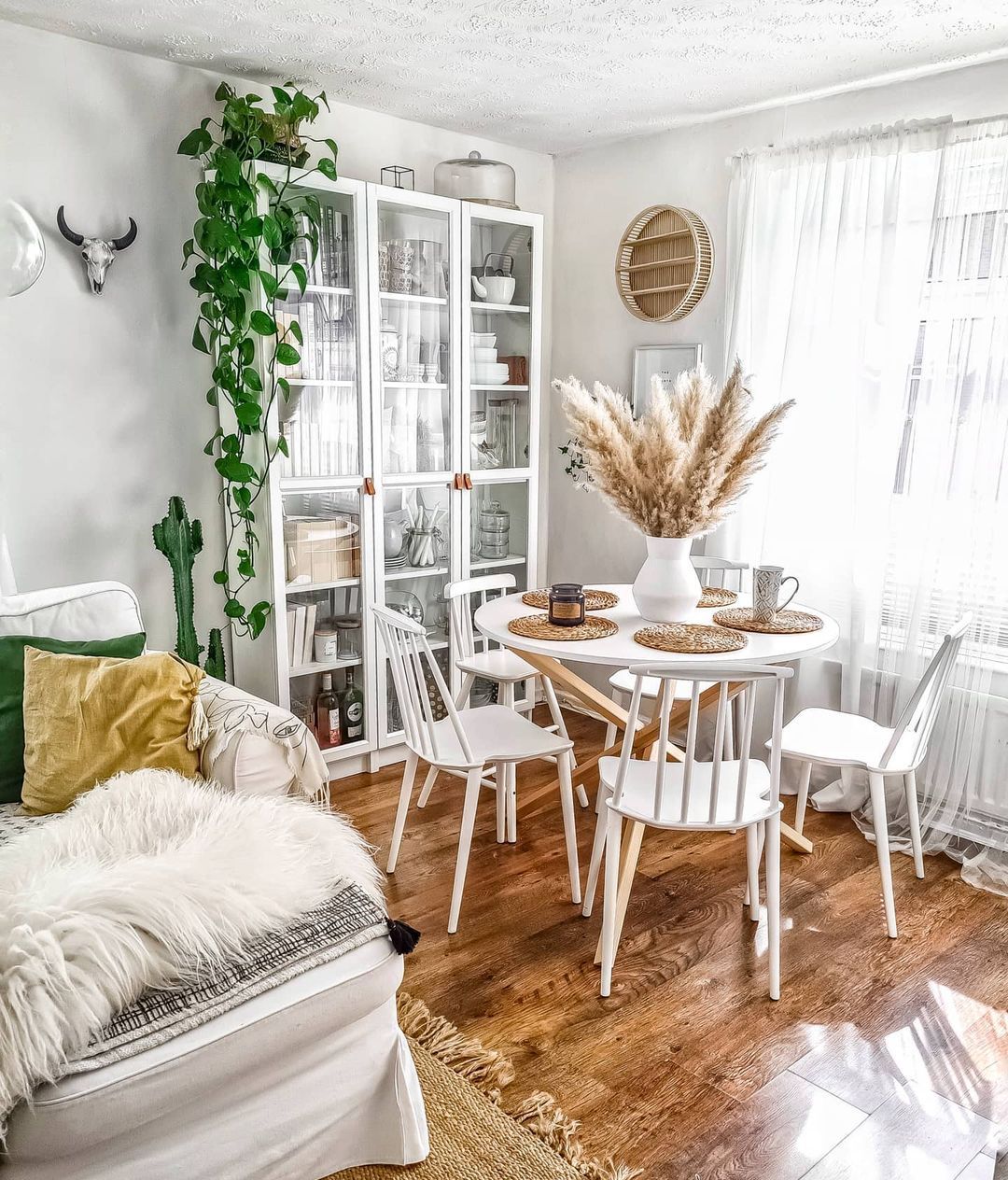 Beige, Taupe, Sepia "Tiles"
To create an interesting assembly of photos in sepia wash and then frame them in beige, taupe, and tan frames is how @fasolkowo creates a topic of conversation while sitting with guests at the table.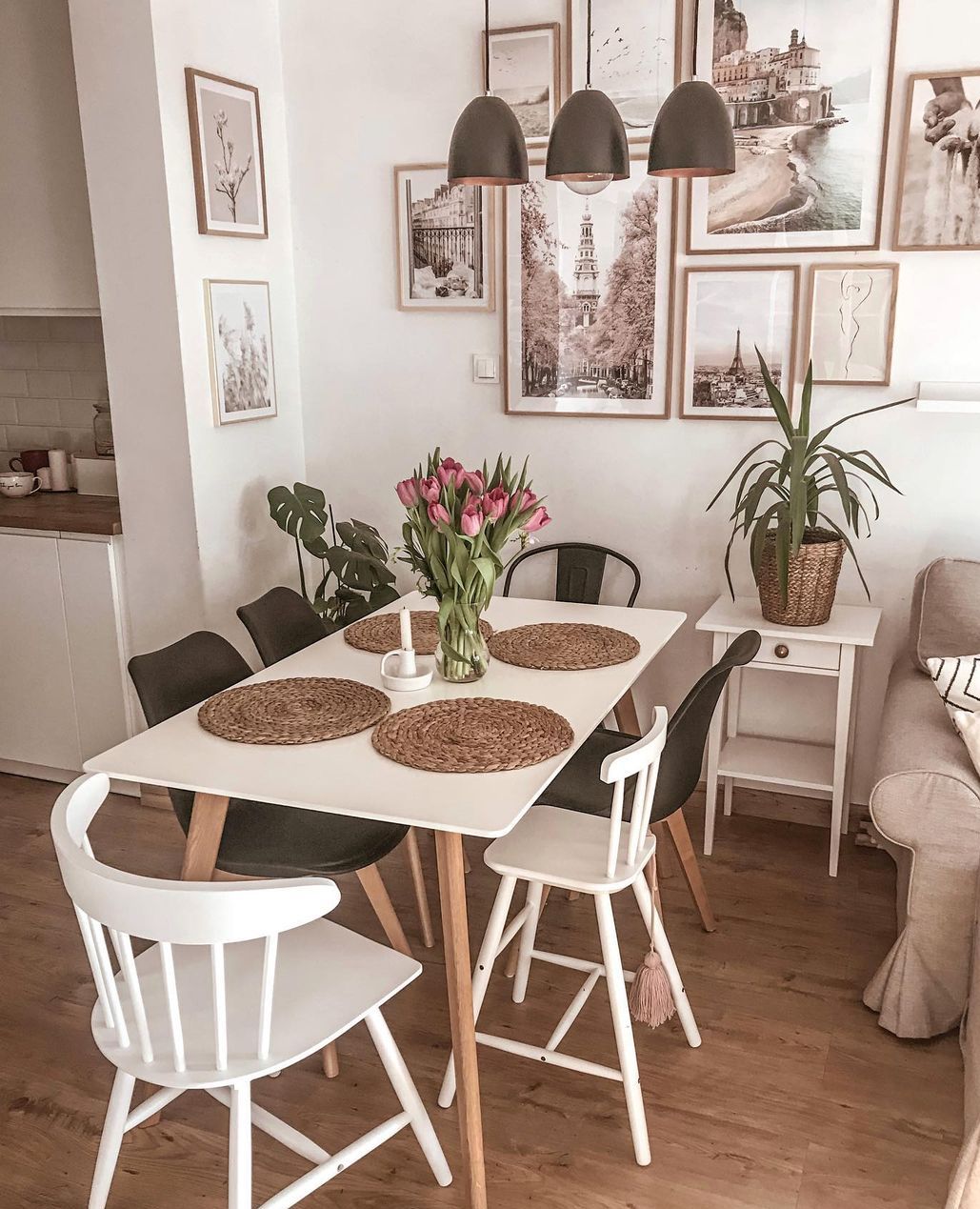 A Single Wall Hanging
When you literally have a single half wall as your dining room wall, you might take a cue from @mojedolcevitablog and add a poster-sized framed print as decoration.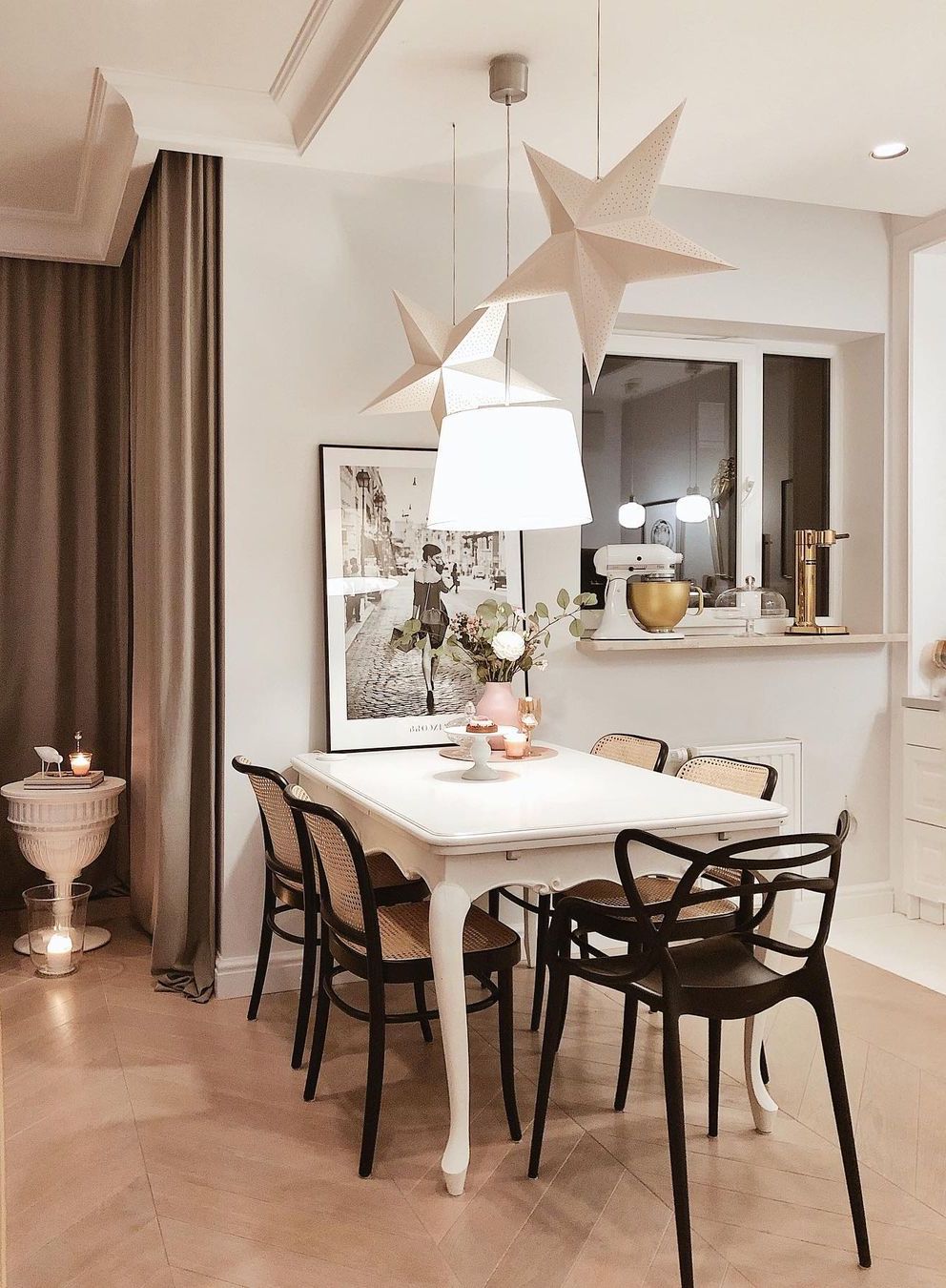 Filling a Long Wall
Of course, framed art is just as attractive on a long wall as it is on a very narrow wall, as you can see in @my_little_home_pl's decor ideas.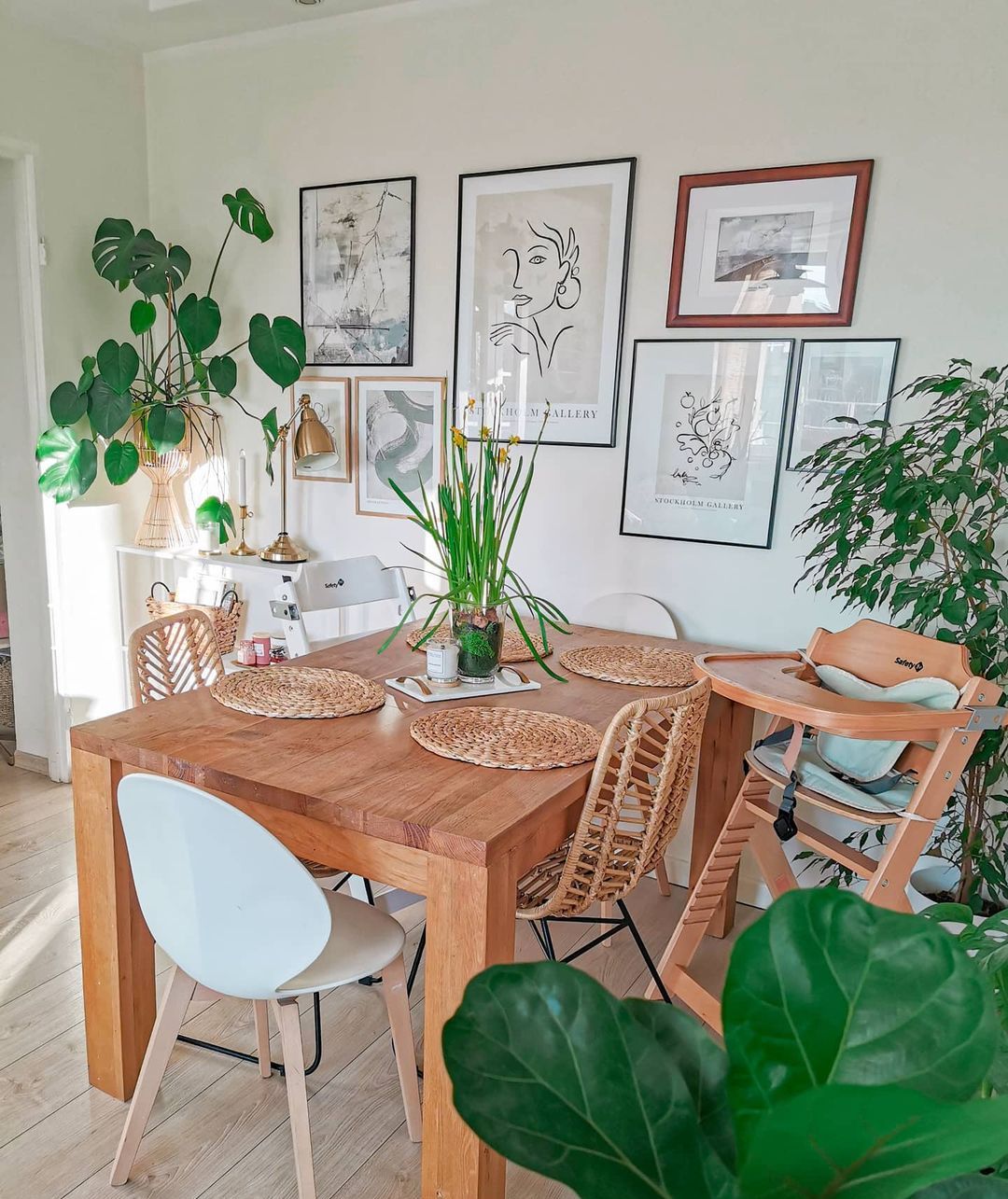 True Minimalism
Here there are but two shelves on a long stretch of wall. Baskets and faux greenery top the shelves, but @vanjazorman has left the rest of the dining room walls bare to draw focus on the table and chairs.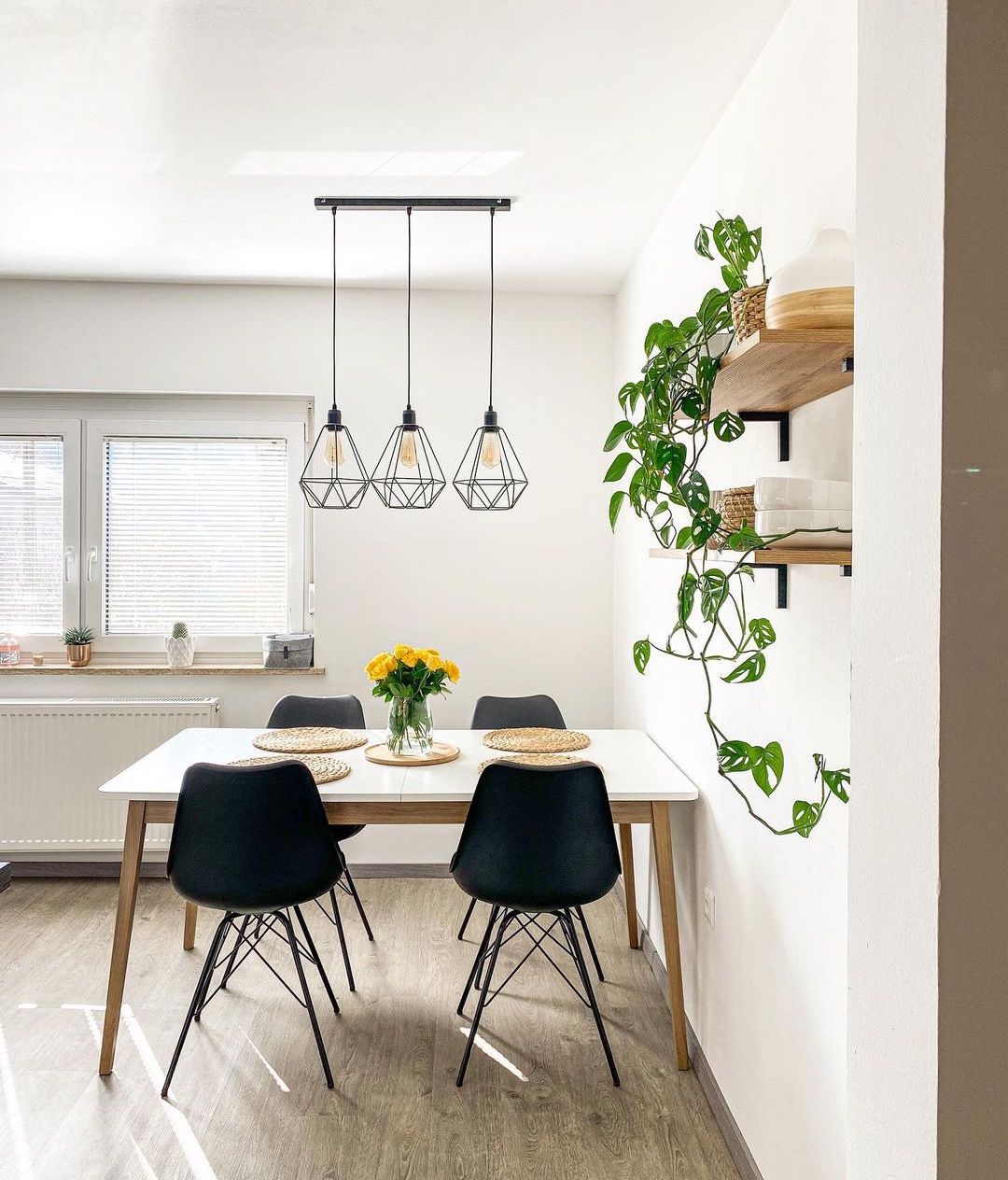 The Long Shelf Over the Long Breakfast Bar
When your kitchen only has enough room for a breakfast bar, and the long wall above it is bare, a long shelf is in order. Take your cue from @elm_terrace_interior to see how the long shelf can work in your eat-in kitchen with breakfast bar.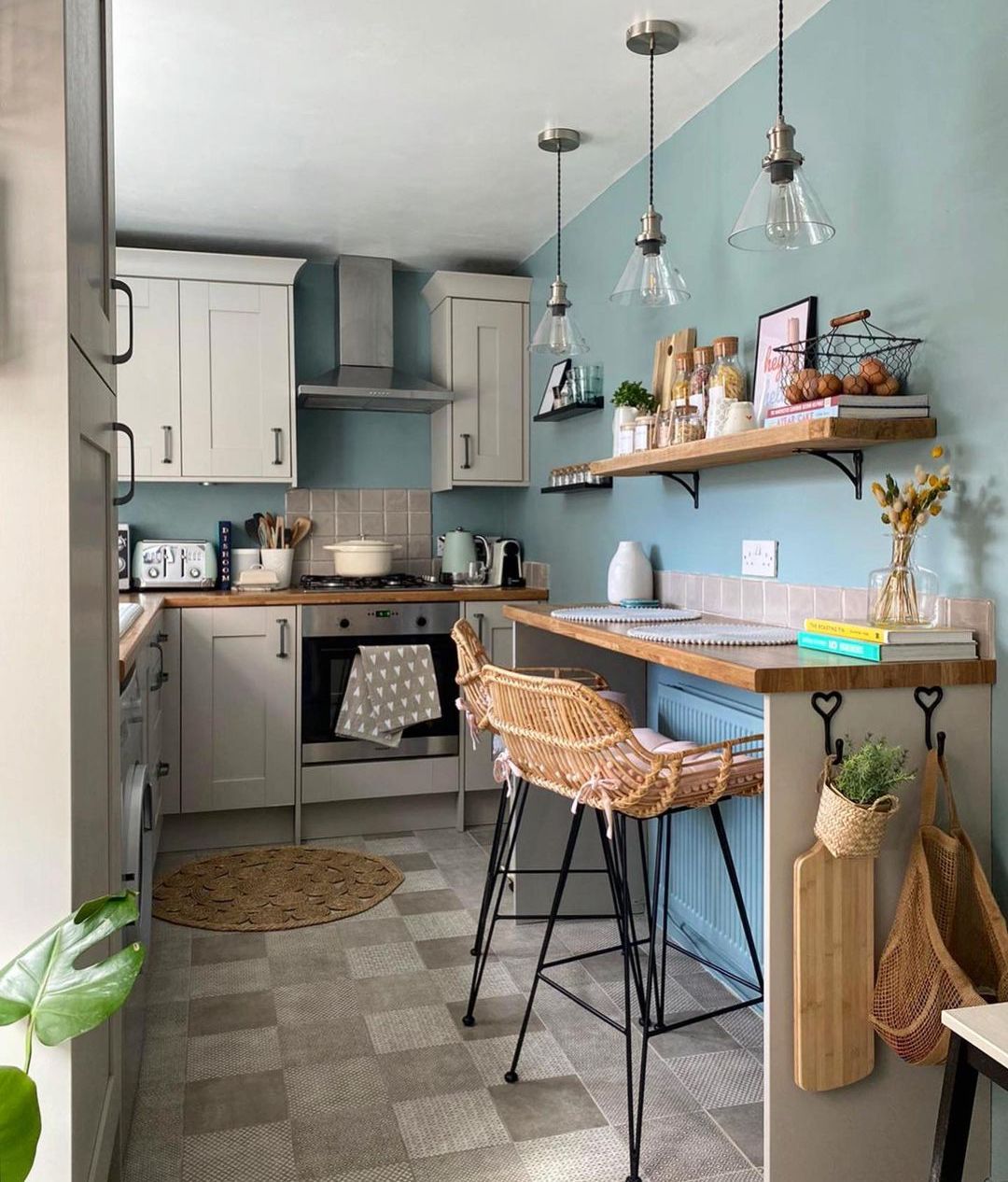 Matching Wall Decor to Furniture
A natural wood tabletop with white painted legs and white and black chairs is echoed in @ocaroline.blog's choice of two framed white art prints in black frames. A natural wood cupboard over the table on the same wall stores table necessities.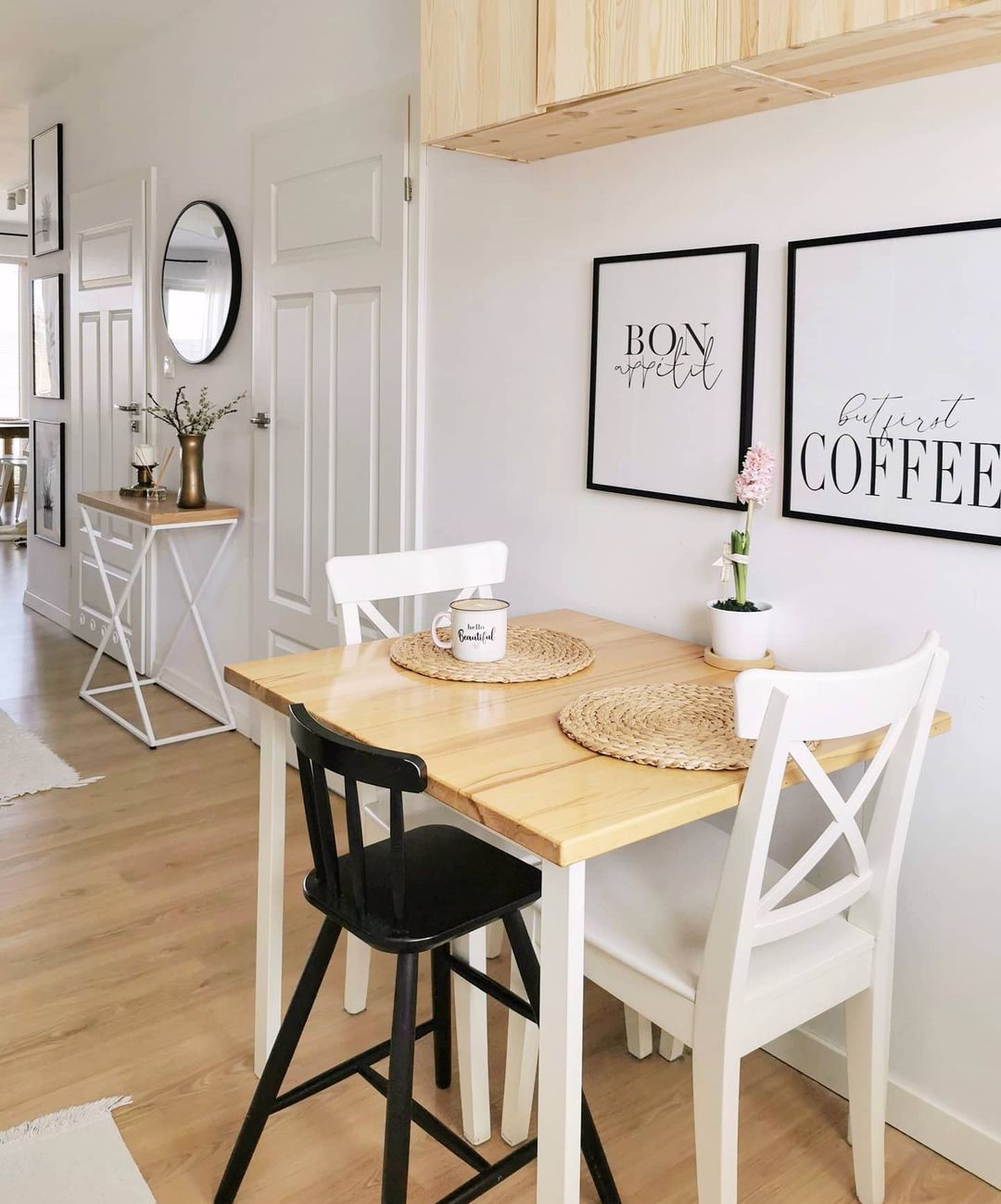 Floating Shelves
More examples of floating shelves for kitchen storage appear on the walls of @altbau.charme's home.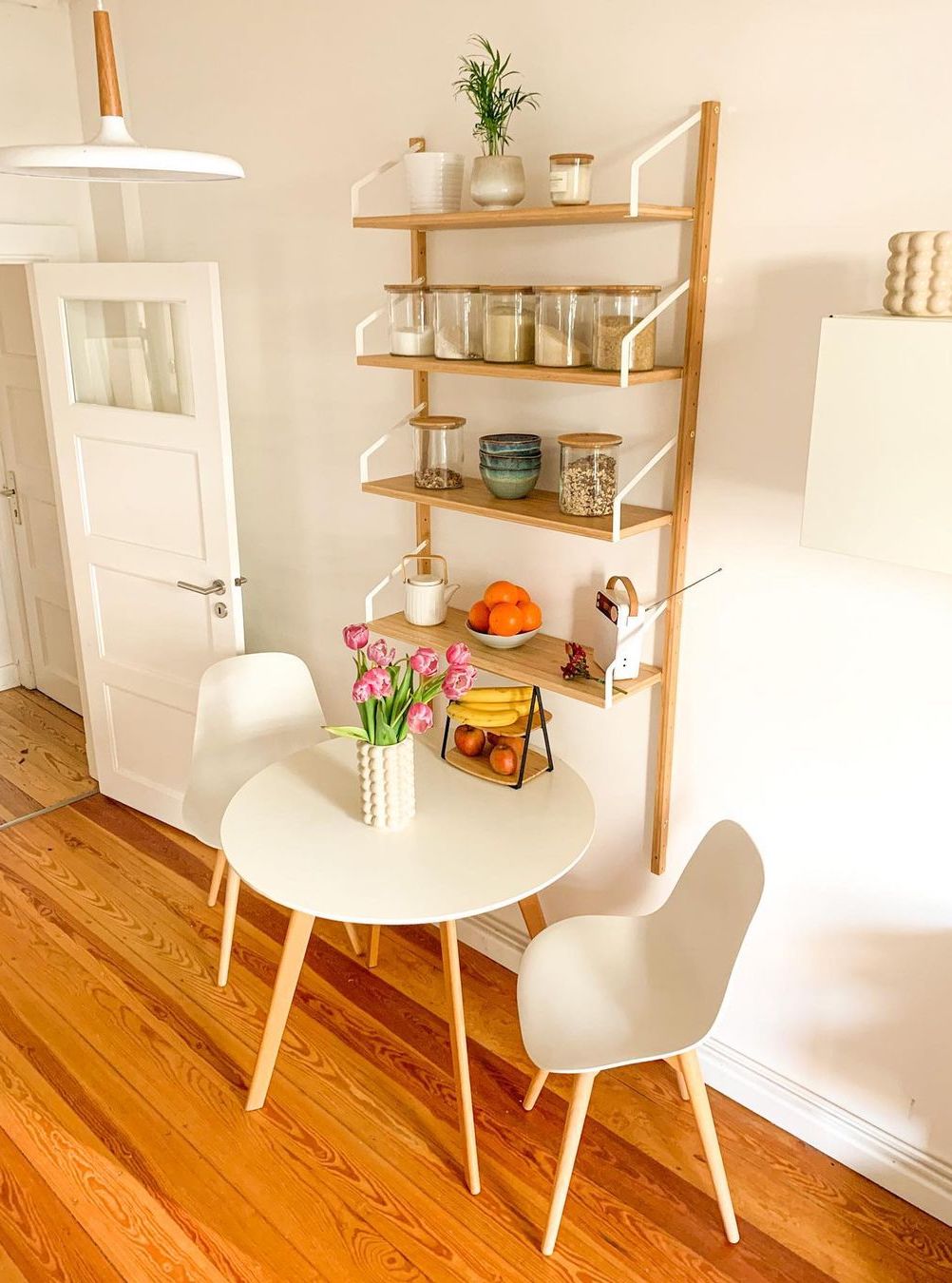 White, Wood, and Gilded
A round gilded edge mirror aligns with two columns of art prints in white or wood frames on the dining room wall of @reserve_home.