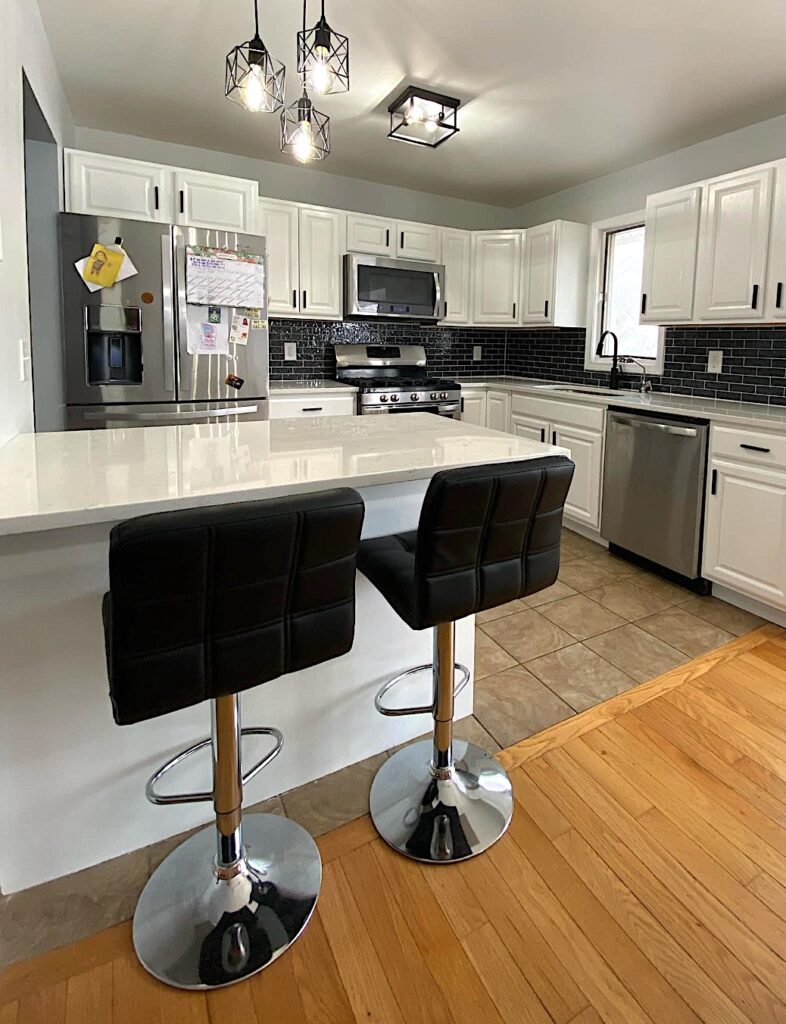 8 Best Modern Kitchen Bar Stools in Canada, According to Amazon's Data
Bar owners and home bar owners in Canada are really into these modern bar stools. In fact, there are currently 8 top-selling stools on Amazon that Canadians are buying up faster than you can flip flapjacks. If you want to bring a little trendy bar scene into your home or into your own new bar, here are the 8 must-have stools and why they are such hot sellers.
Armen Living is a well-known brand for mid-century furniture. This particular stool is exceptional in that the seat pivots all the way around and provides lower back support, something many bar stools do not offer. It is currently #49 in Amazon's bar stool rankings, but #8 in the consumer purchases by Canadians. Close to 90% of the reviews are very positive, and not just by Canadians; Americans love this stool too.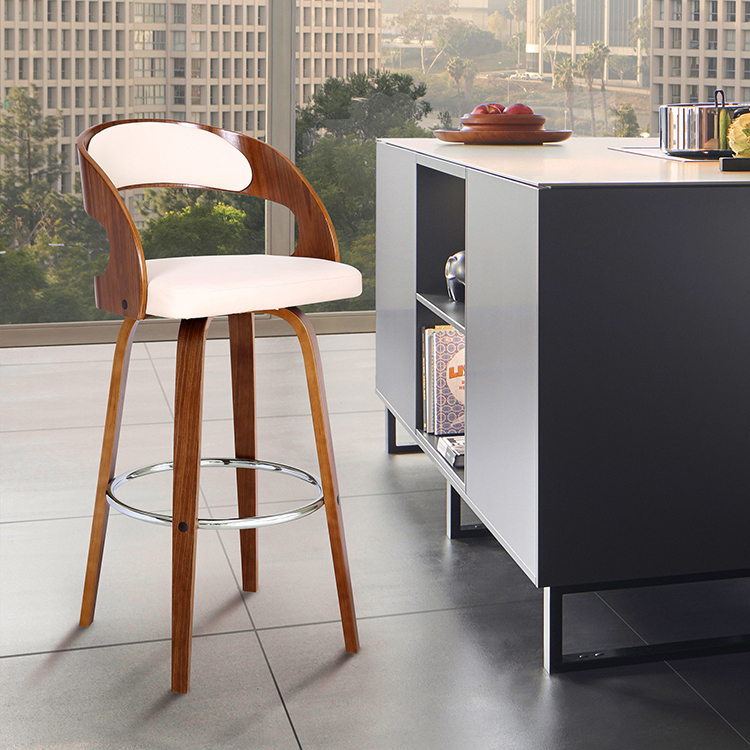 Below are some top reviews on Amazon we found quite promising & informative:
"Prettiest stools I could find on the market. Very easy to assemble, sturdy and NICE finish. Did a quick research and found out it's an Armenian product which makes it more authentic to me. They are not heavy even before unboxing, you can lift the box easily . The seller left a paper in the box with a phone number and an email for possible missing parts or damages. Also reasonable budgetwise .Will purchase other items from the same seller.Very much recommended. Shad abres Armen!" – Almara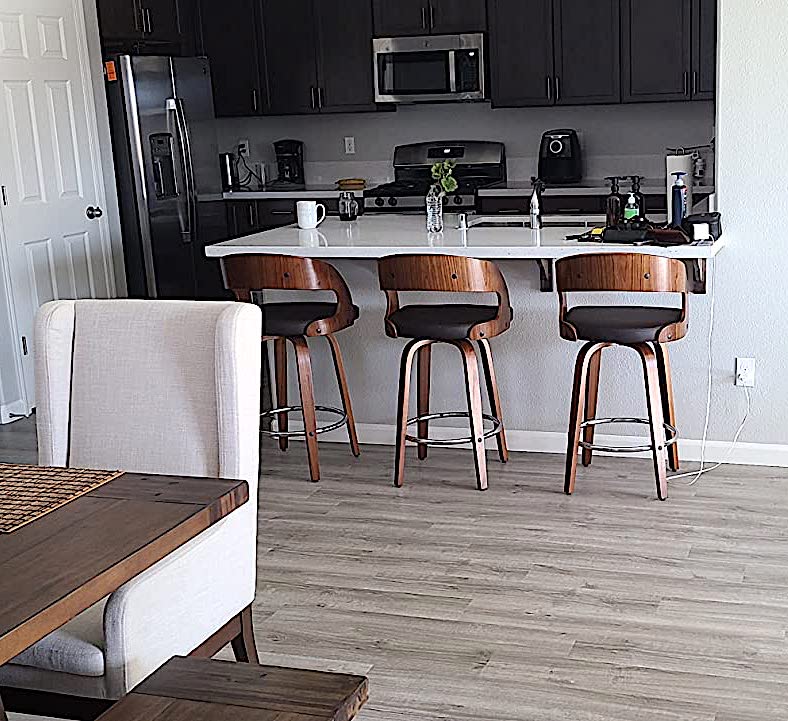 "Very well packaged, all you have to do is attach seat with 4 bolts, nice wide seat, comfortable and beautiful. Highly recommend. We have 44″ top and 30″ stools" – Deirdre Griffin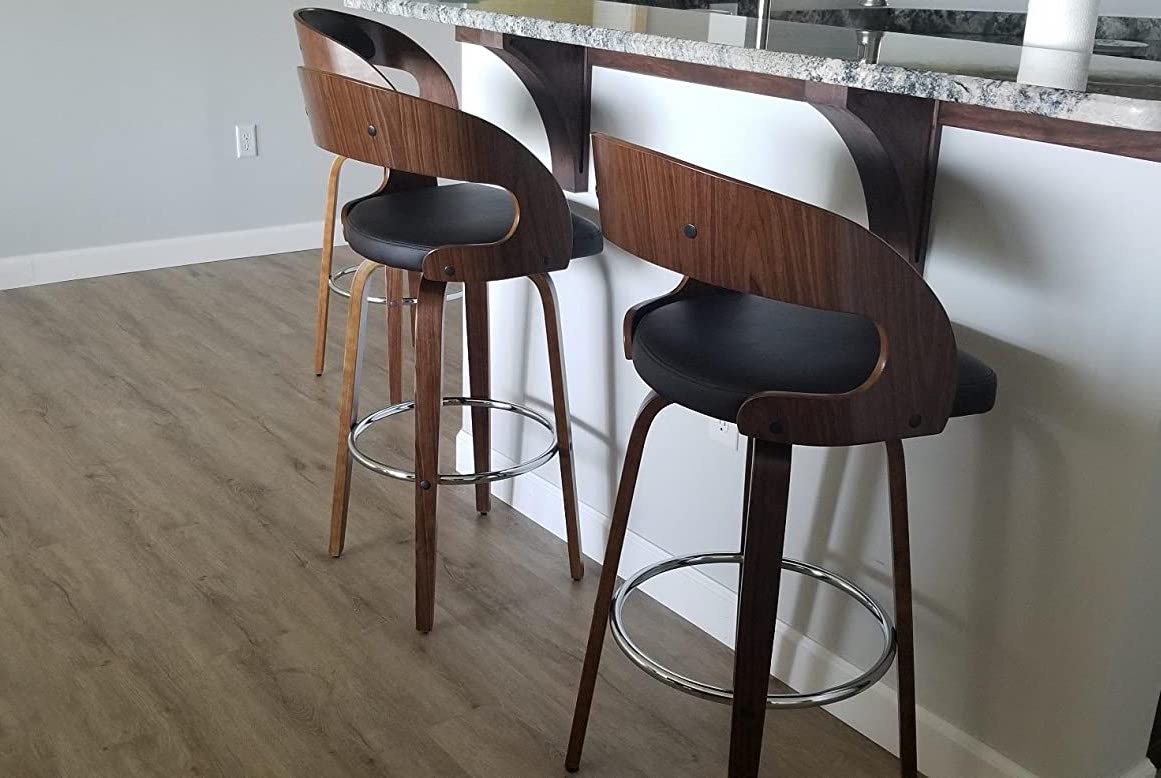 "These bar stools are gorgeous! And comfortable! I had my eye on them for months. I finally decided to buy them. I'm so glad I did!" – Amazon Customer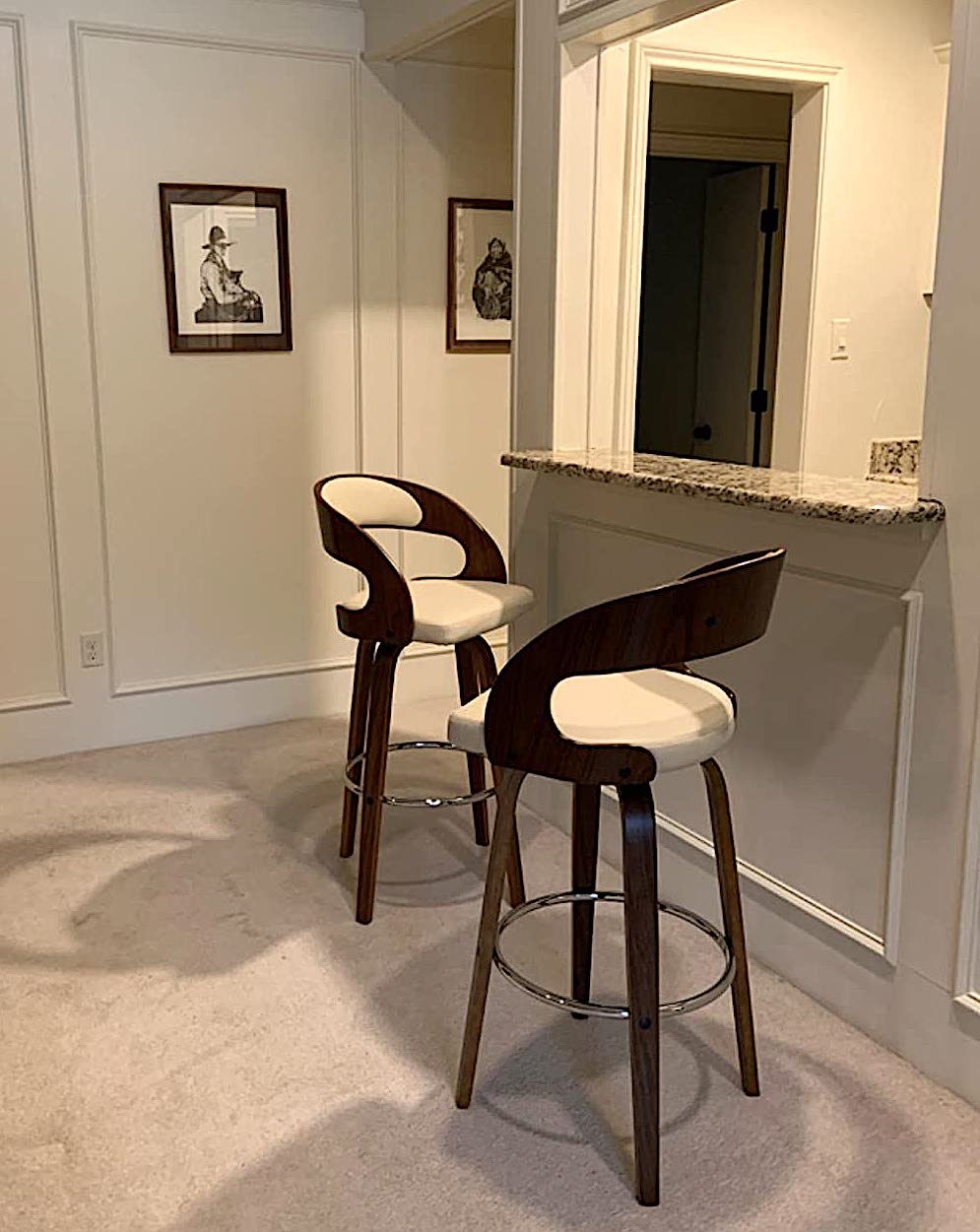 These BestOffice counter height bar stools appear very elegant. Their quilted seating and lower back support makes them quite comfortable, and you can buy either the black or the red faux leather. The brand is best known for their very affordable tables and chairs, and in this case you are paying the typical single bar stool price but getting a pair of stools instead. They are ranked high and loved by both Americans and Canadians. More than 2500 reviews on Amazon with an 80% positivity rate means that you will be happy with purchasing these stools too.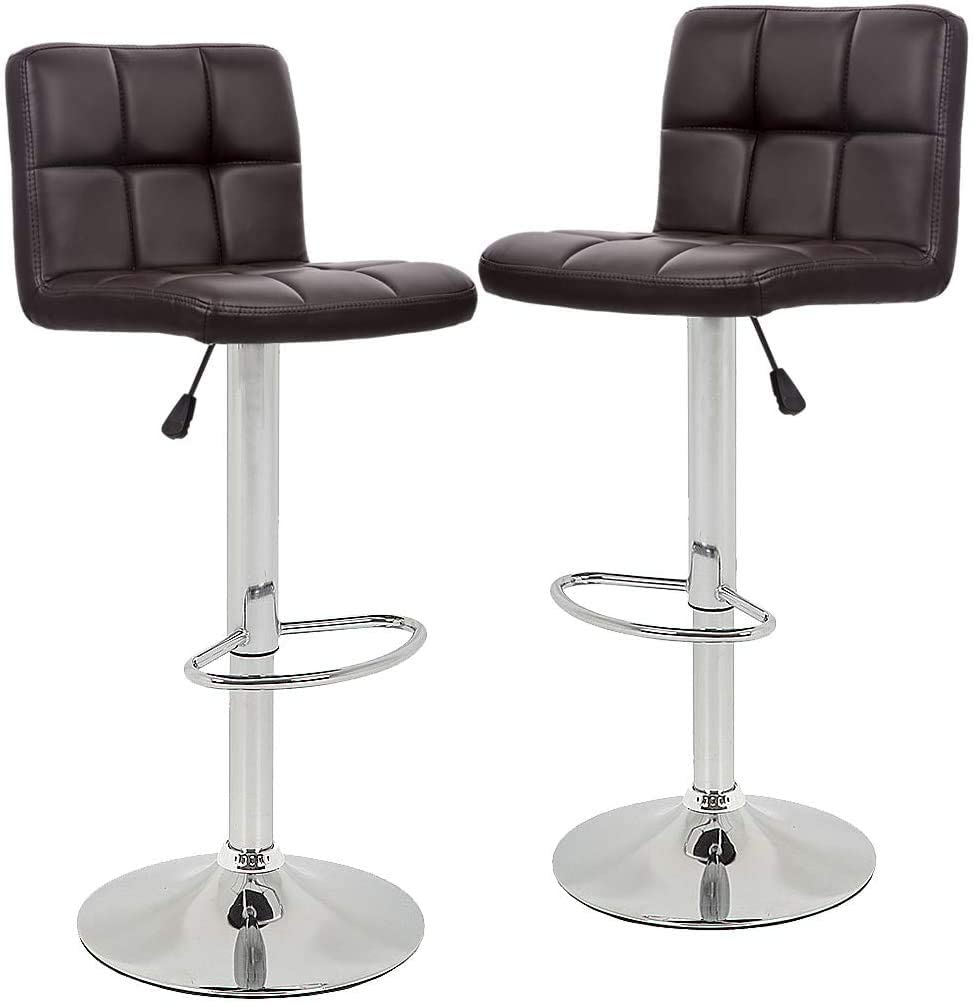 Below are some top reviews on Amazon we found quite promising & informative:
"I love these. We recently finished our basment and added a little bar in there so we wanted stools that were adjustable but also comfy. These ones are perfect and look so nice. Super easy to put together as well and the quality is really good." – Sarah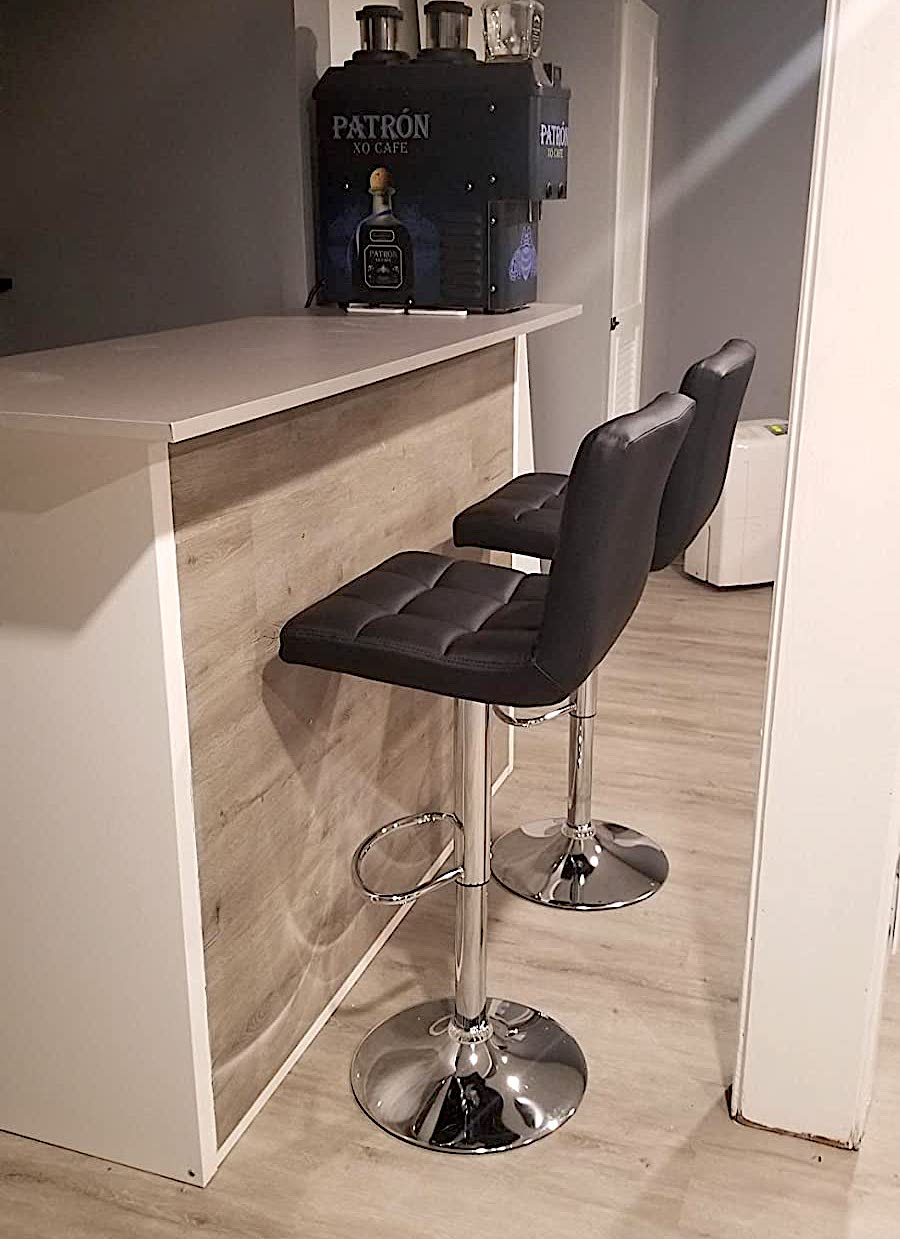 "Love the look and sturdiness of these stools! Easy to adjust & super comfy. Easy to clean, too! Exactly what we were looking for to compliment our kitchen remodel." – Nicky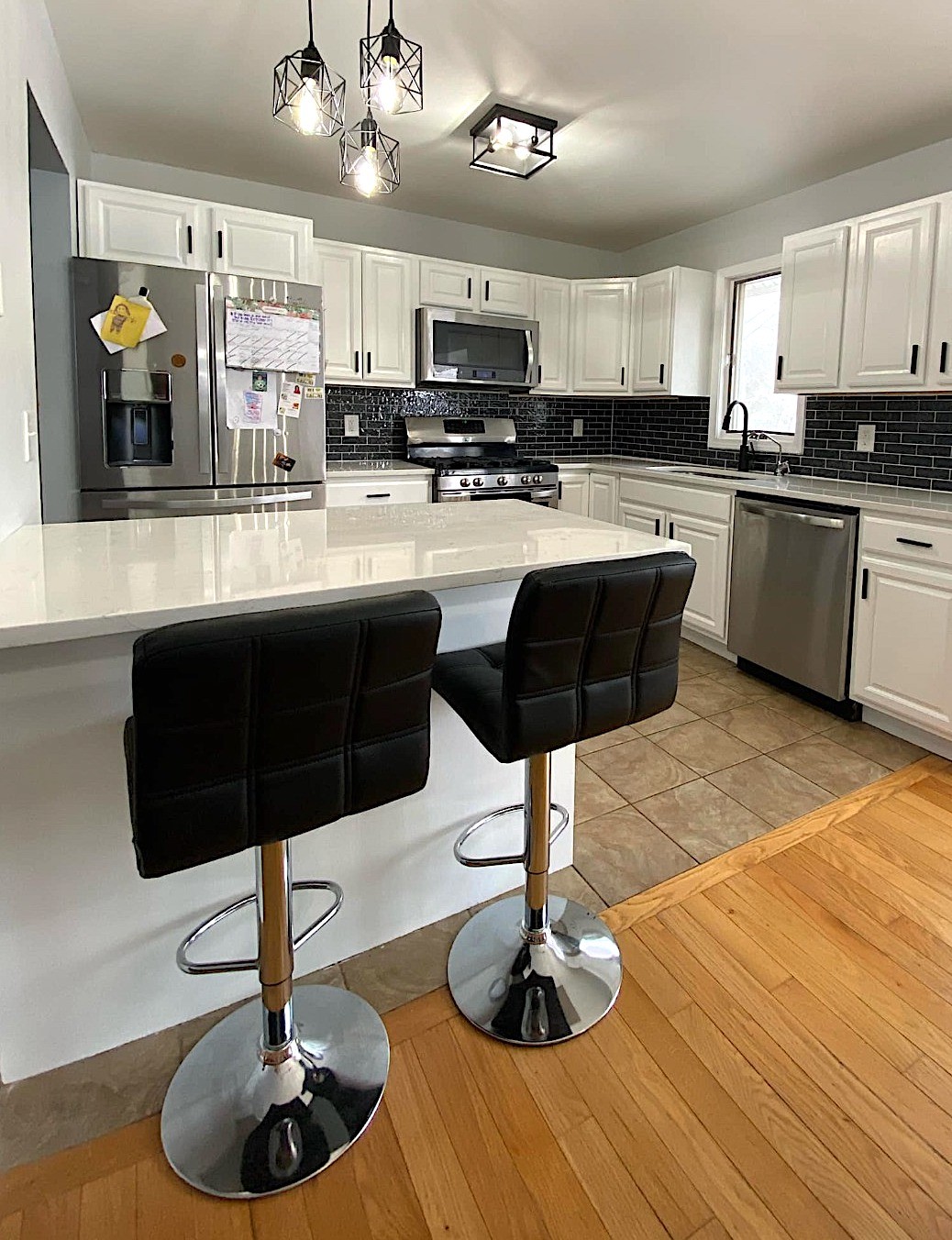 Because most of the color options for these stools are entirely metal, you can use these stools indoors or out. A lot of people entertain outside and have a bar outside, which makes these stools ideal. They are also able to support over 300 pounds of weight (or more than 136kg!), meaning that even the largest of guests or bar customers can sit on these with confidence.
There are 8 different color options, including rustic gun metal with a wooden seat if you would rather not sit on bare metal. Almost two thousand reviews and close to 100% of those reviews giving these stools 4 stars, this is one of the most popular bar stools available on Amazon. In fact, it's the fourth best-selling kitchen bar stool on all of Amazon.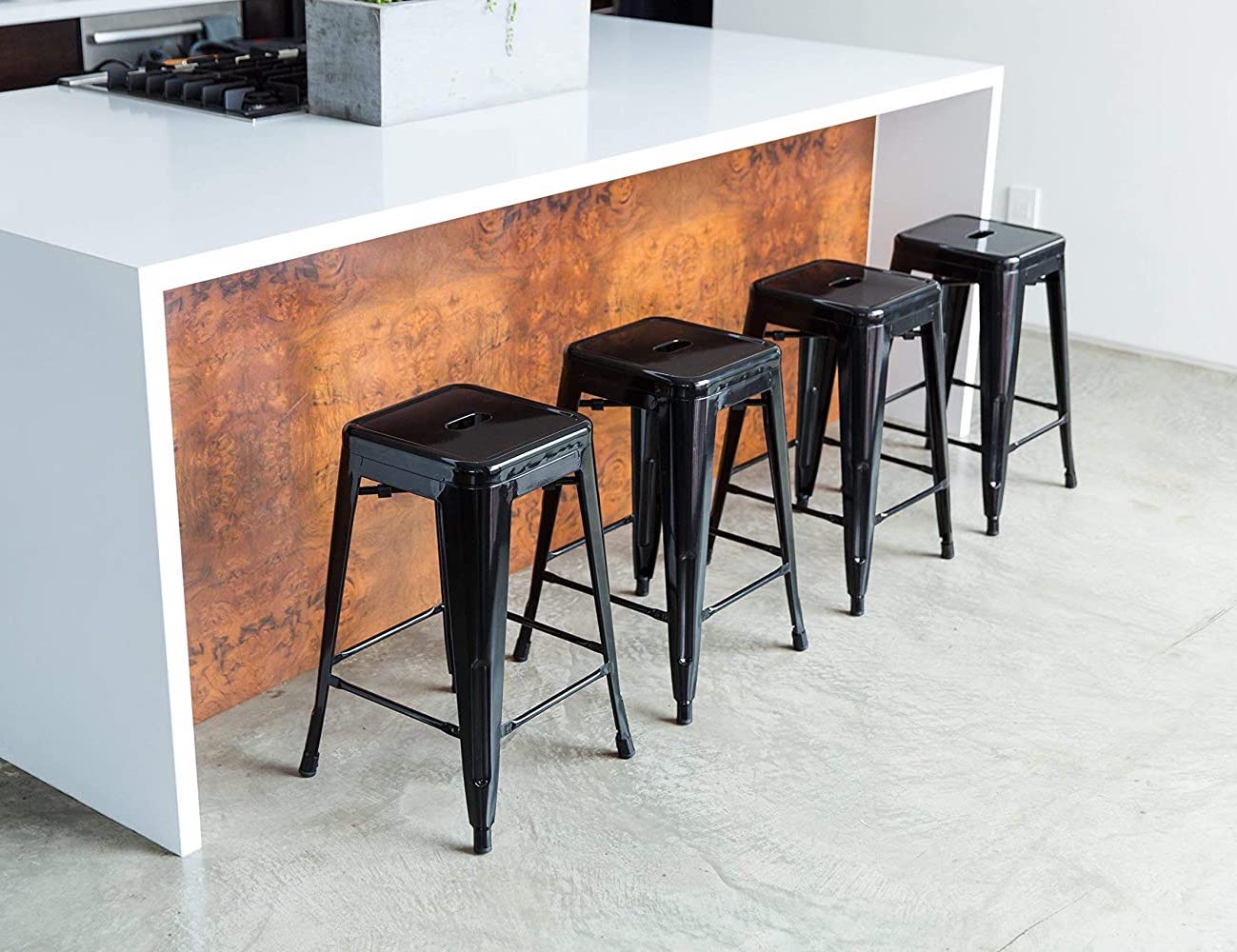 Below are some top reviews on Amazon we found quite promising & informative:
"I really love these. My husband and I built a new island and I really wanted metal stools to break up all the wood. Originally I bought these to paint them a fun pop of color but upon seeing them, I really love the black and white contrast! Eventually all my cabinets will be white and I think they're going to look great in my farmhouse kitchen!" – A. Sylvester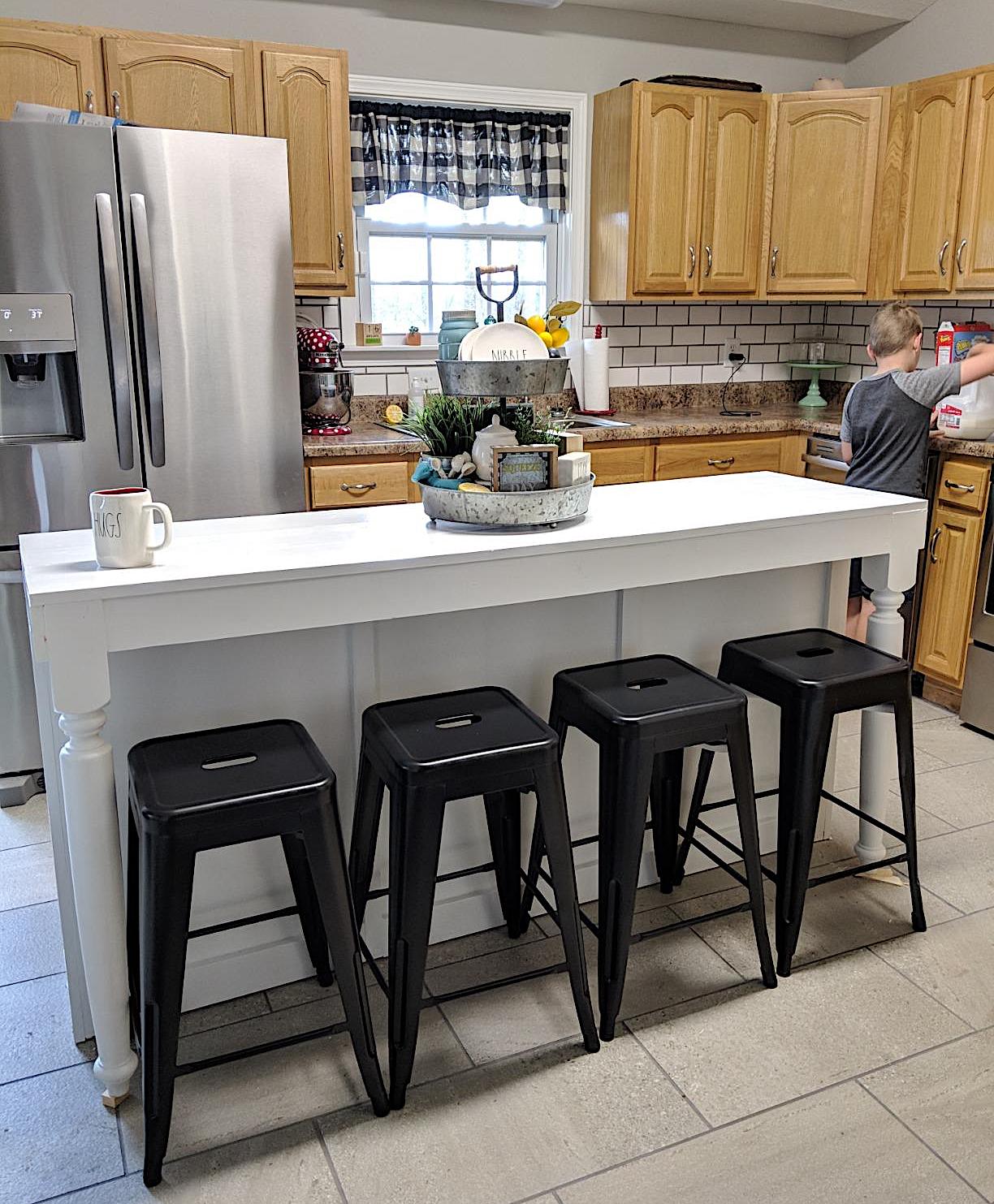 "BEAUTIFUL! Exactly what I wanted! They are more of a matte black and not shiny like the picture which is perfect because I did not want shiny! I love love love it!" – Dayanne Quito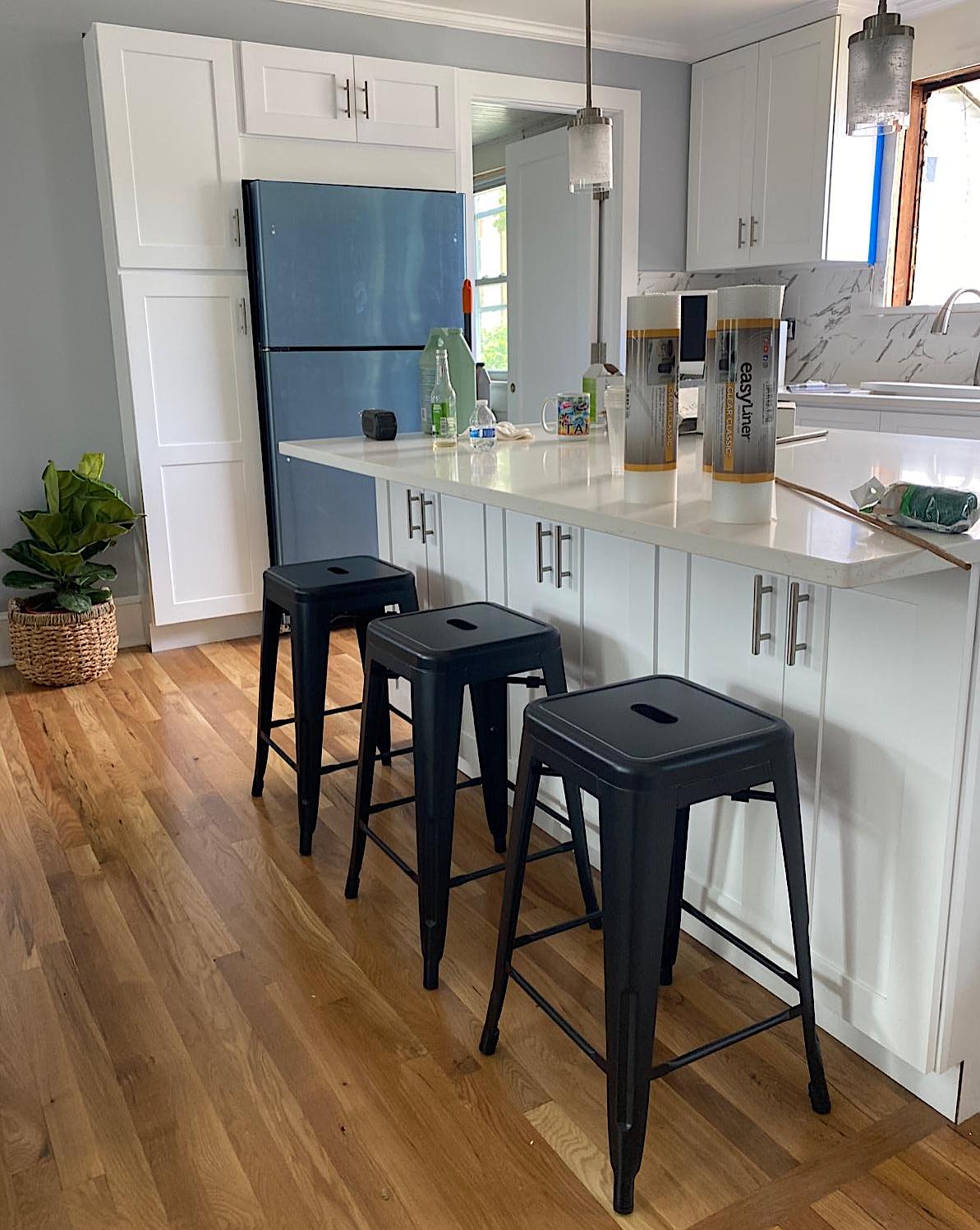 The Nathan James brand is very popular among social media influencers, and it isn't just the style of the furniture that excites them. The lifetime manufacturer's warranty is a big draw too. This particular backless, low to the floor stool has over 2,000 reviews on Amazon of which 90% are very positive.
It ranks as #28 in the most popular of all bar stools on Amazon. It is also available in more seat colors and wooden leg finishes than almost any other bar stool Amazon sells. Since they are mostly organic, people gravitating towards the strictly organic lifestyle find them an agreeable decorating addition to their homes.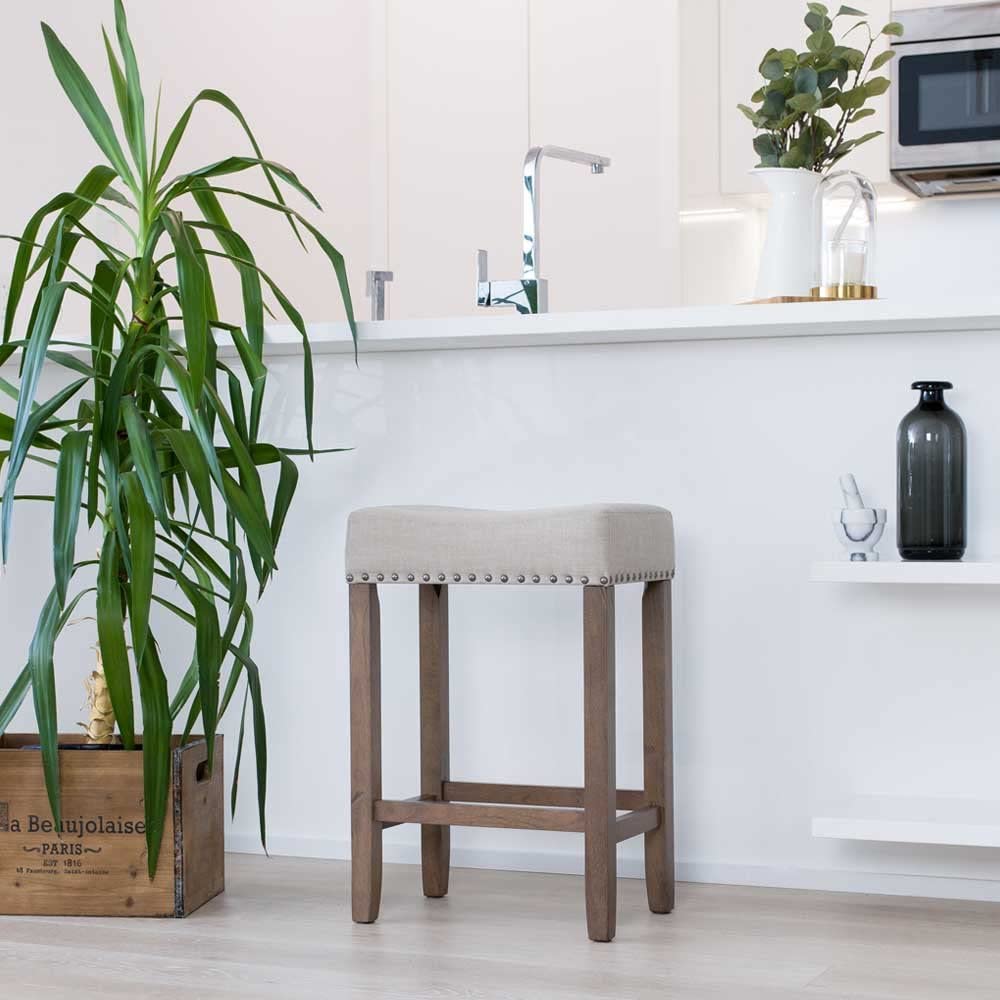 Below are some top reviews on Amazon we found quite promising & informative:
"Ordered 3, one arrived without nailheads. Contacted customer support and they promptly sent a new stool free of charge. They followed-up to ensure the replacement stool arrived and was correct, they even sent a box of Lindt truffles with a card! An incredible family-owned company that actually cares about their product and customer satisfaction. They are a rare find these days. The stools are beautiful and easy to assemble. I will definitely recommend them and be buying many things in the future. 10 out of 5 stars." – NamwenL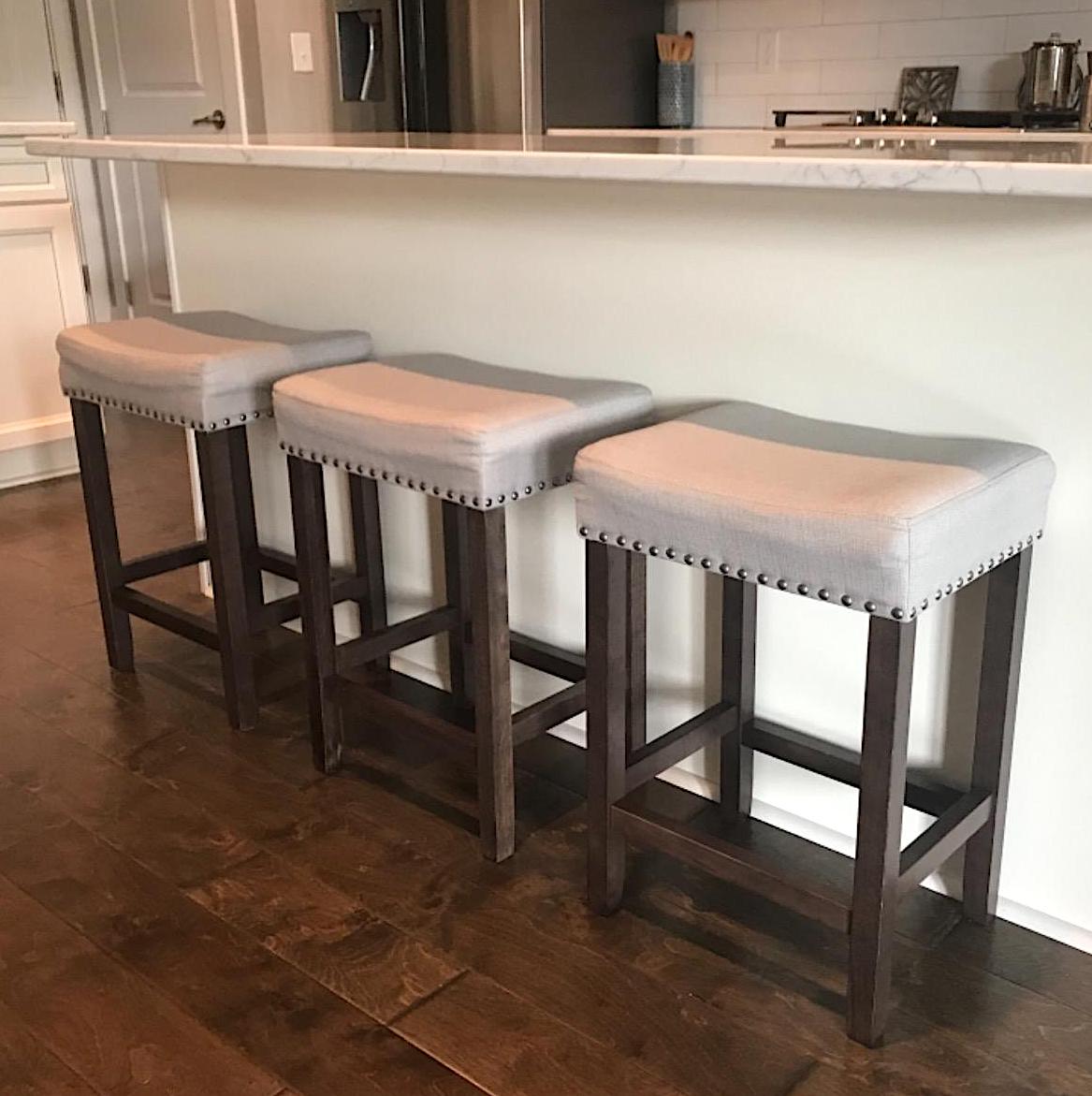 "These stools are perfection! They are very well made, super easy to put together and comfortable! The material is a greyish beige colour, but I have grey floors and they look amazing. I searched and searched for the perfect counter height stool and this is it! I bought two but I'm thinking I may get a third one. Oh and the instructions are funny, suggesting pizza and Netflix once your done putting them together…don't mind if I do!" – Sarah S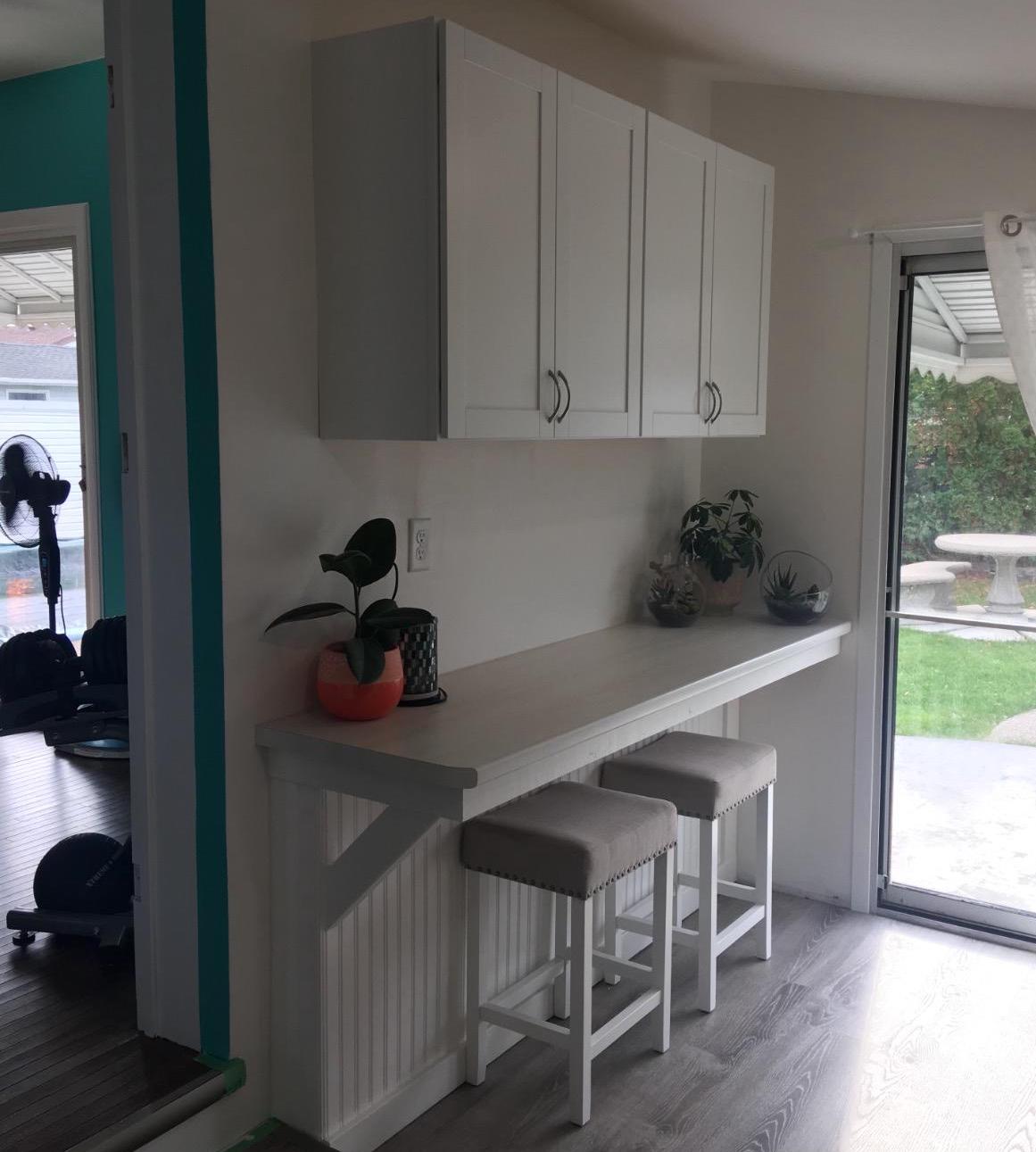 "If you're on the fence, you MUST buy these stools. First and most importantly, the price is great and they're comfortable. Secondly, these guys are easy to assemble–I just moved and have assembled almost all the furniture in my apartment (my bed, my couch, my balcony set, my TV stand, etc.), and these stools had by far the easiest instructions to understand and even came with a link to a really helpful video showing the assembly. Estimated assembly time is ~15 mins; the first stool took me a little more than that, but the second one took way less because I knew what I was doing." – Caitlin P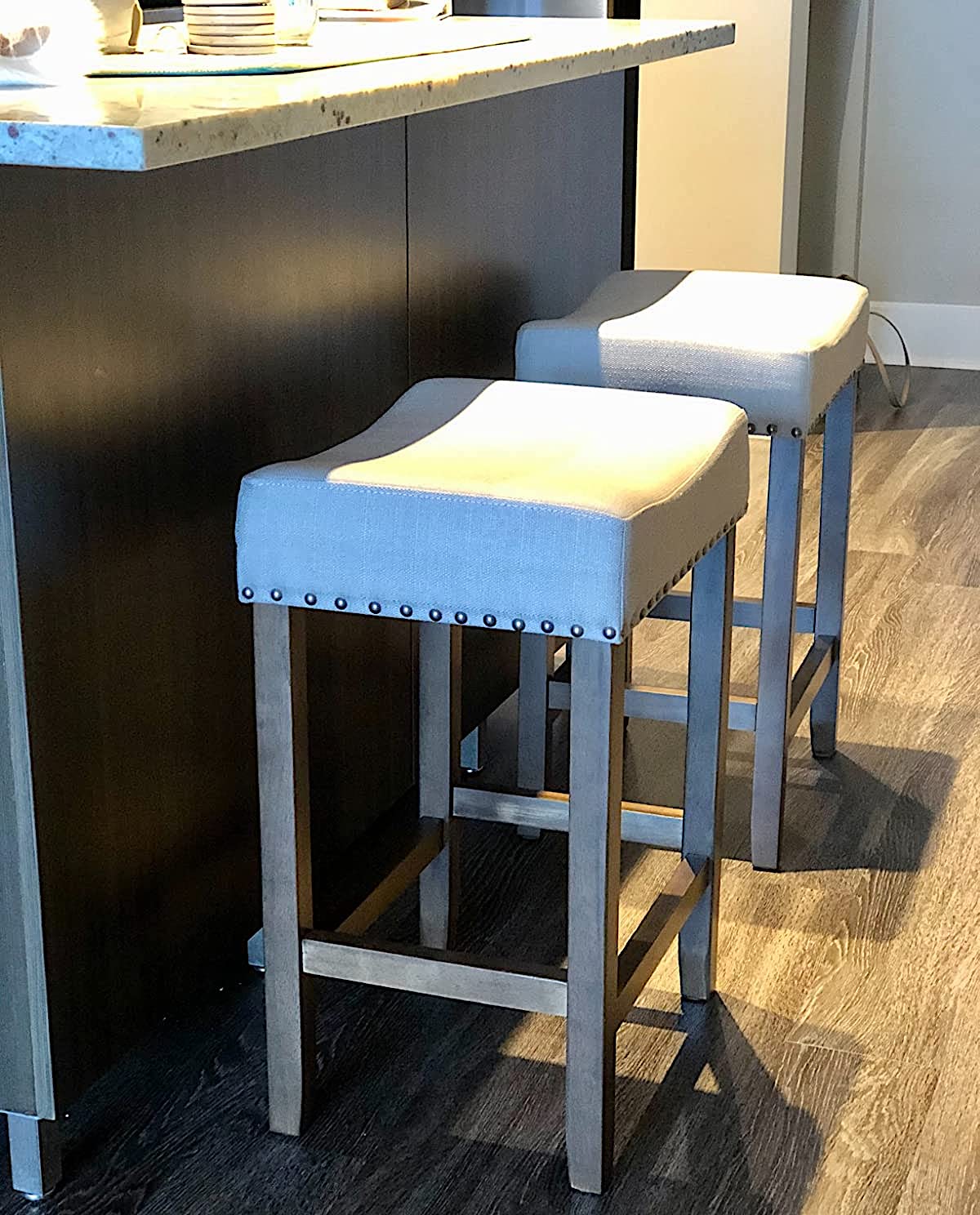 Rattan, am I right? These bar stools have a mid-century twist with their rattan seats and barbershop chrome foot rests. The 100+ reviews showing an overall 90% positivity rating is in synchrony with the 23rd place ranking for Amazon's bar stools. The rattan hearkens back to a Boho era with a strong '70's vibe, which makes these stools popular with the older and younger generations alike right now.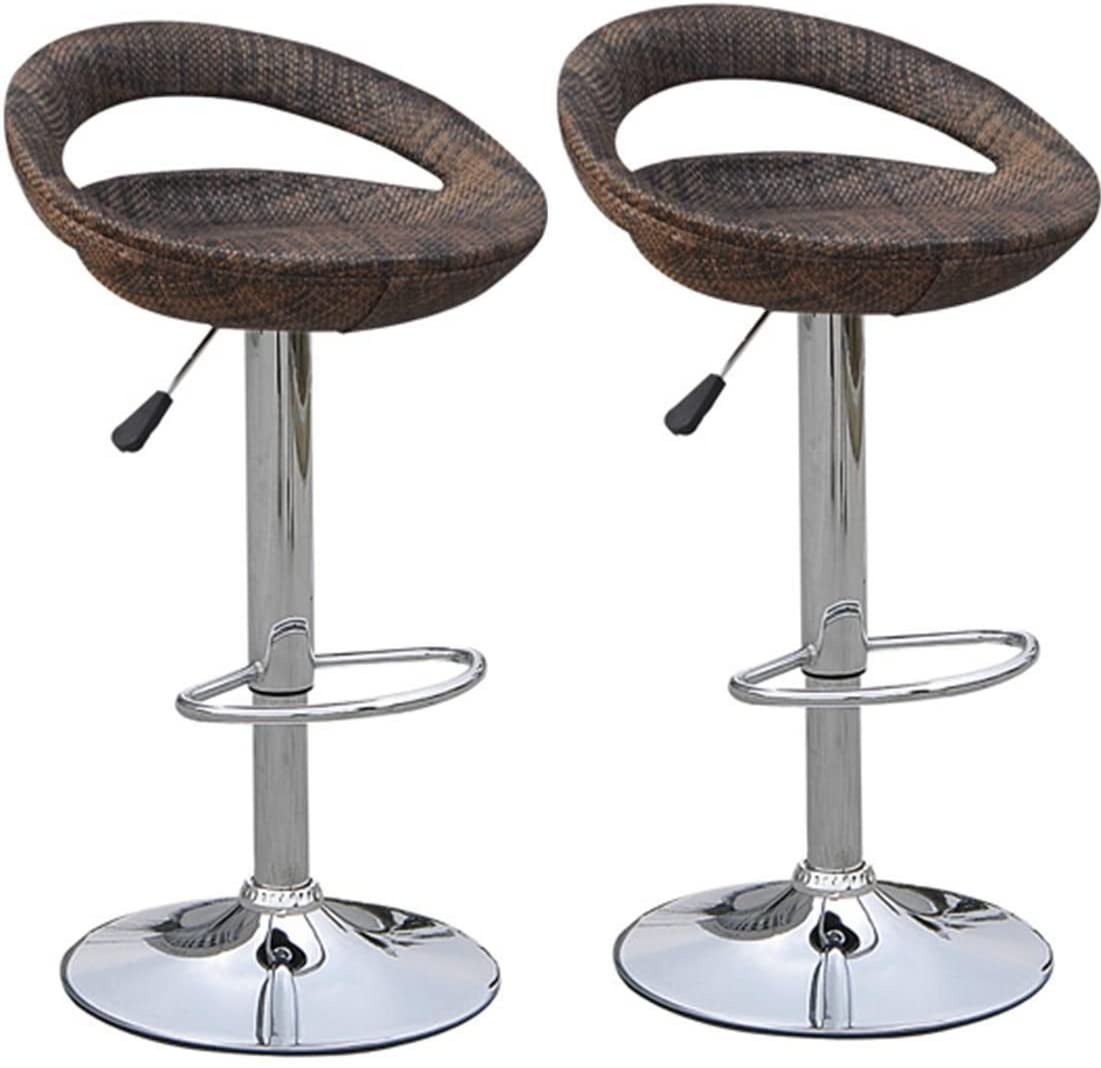 Below are some top reviews on Amazon we found quite promising & informative:
"They are awesome! I can't believe the quality for this price. I'm a woman, and from delivery to set-up it took an hour. Easy instructions, well made, expensive looking, and so stylish. You won't go wrong with these, and faster delivery than expected. I'm so happy with these!" – Amanda Santiago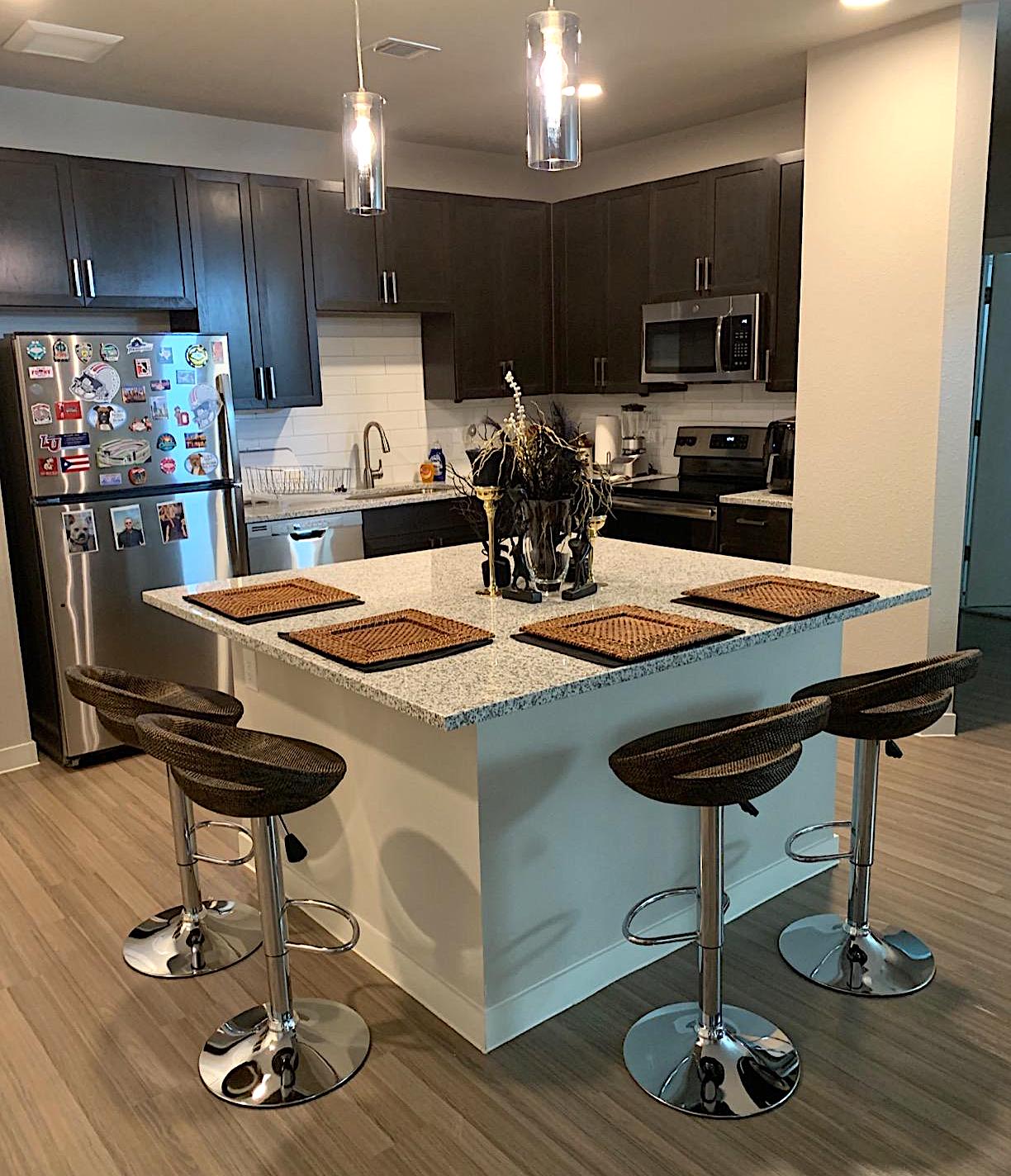 "These stools are super easy to build. They are also easy to raise and lower, but the smaller kids need help getting them down because their weight is not heavy enough, ha! The seat itself is not cushiony at all, but when you sit down, there is like a pneumatic feeling that gives a little bit. The seats are easy to wipe clean –if you have kids who are hard on the ones that a fabric or spill a lot, these are a great addition!" – Kristin M.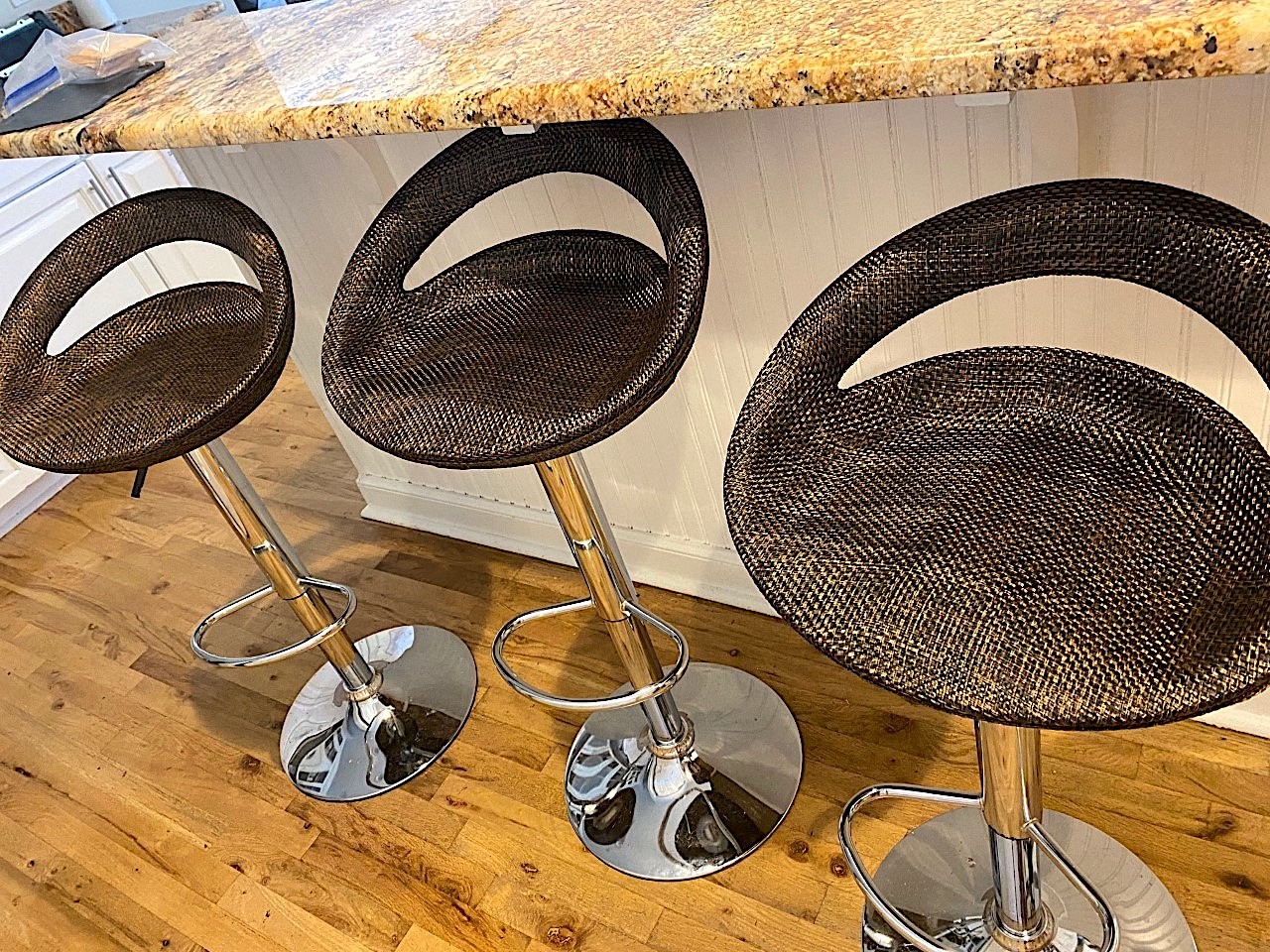 "Super happy with our purchase! Easy to put together and aren't too light or too heavy. Feels solid for me and the foot rest feels right, I am 5'2″ and sometimes can hardly reach the foot rest! This is an extremely good deal for some quite nice bar stools! I only want to use 3 at the bar so I have lowered the 4th barstool to the lowest level and will use it as my vanity stool… Love love love love love" – Claudette Brumit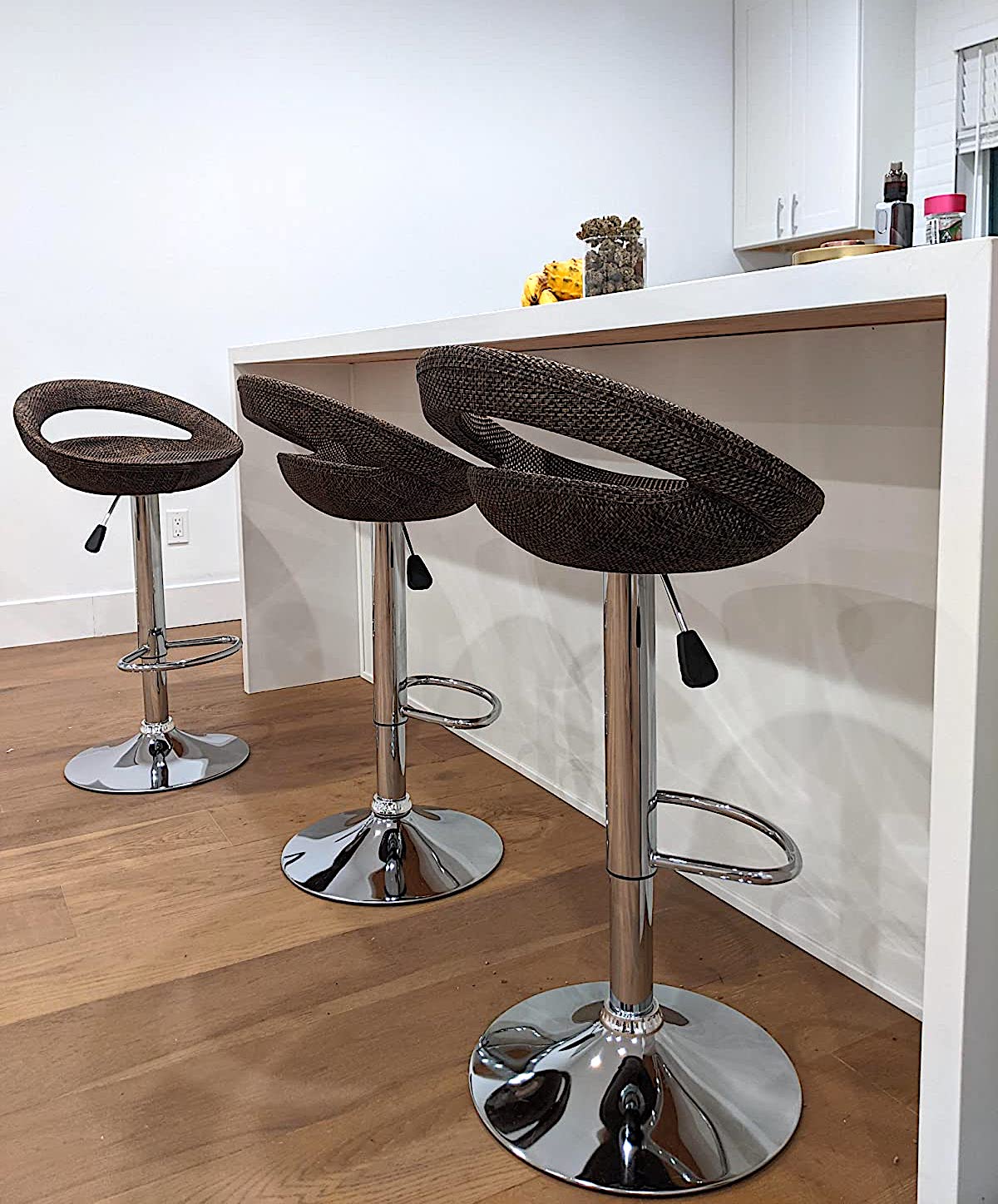 When you look at these faux leather bar stools with their triangular geometric padded seats and back supports, you can easily see why they reached Amazon's number 10 placement in ranking. Classy and classic details make these stools look like something straight out of a James Bond martini bar! Adjustable and fully swivel-able, SK Depot does it again, and again, and again, in case you're interested in seeing more of the classic and affordable shellback bar stools they make.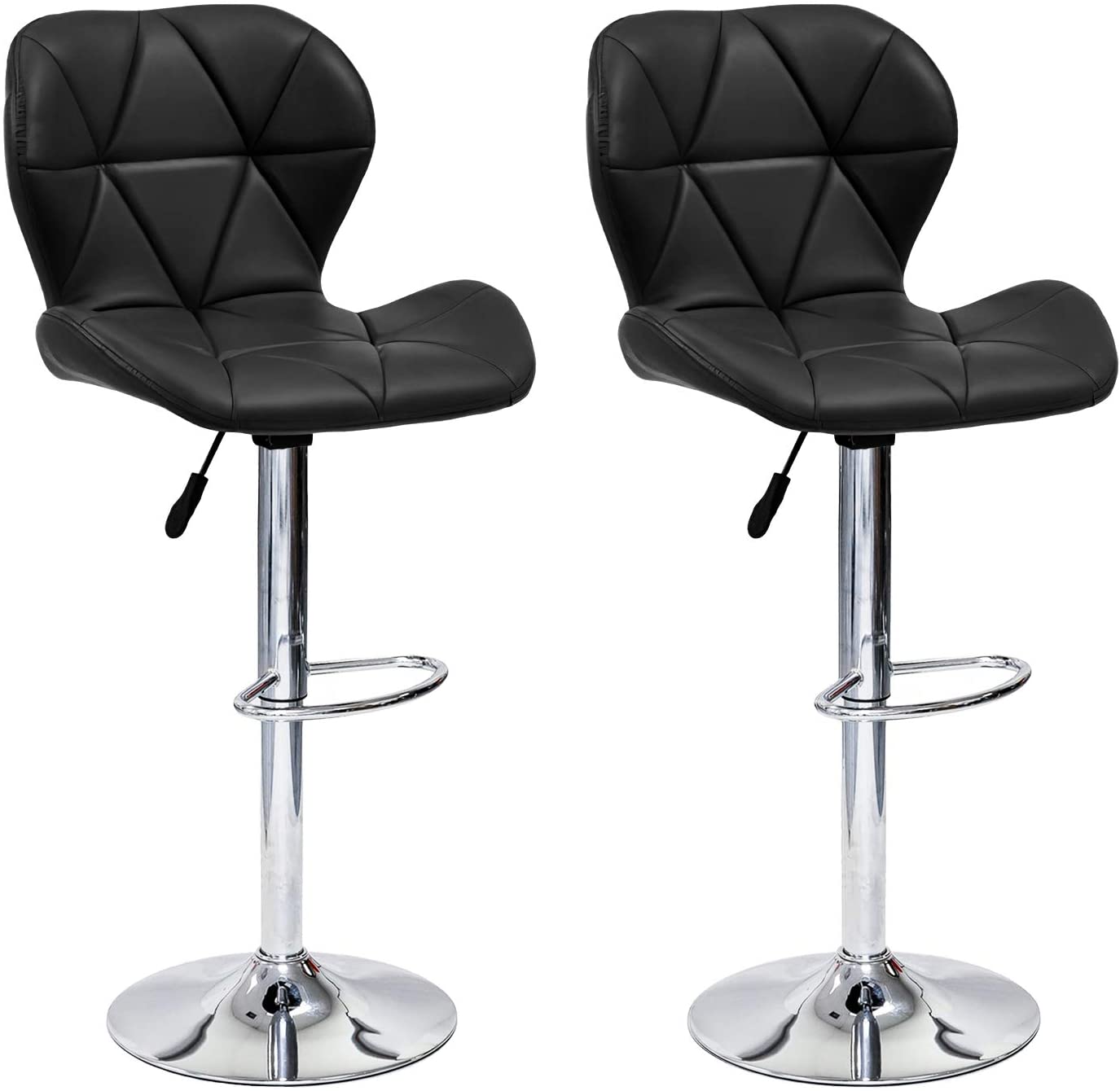 Below are some top reviews on Amazon we found quite promising & informative:
"These stools are a steal at $70 each. Very easy to assemble. You have to remove the black cap covering the hydraulic end because if you don't, the chair won't go up and down. I didn't know that and left the cap on and it got stuck in the chair shaft after assembly. The seller was great to work with, sent me a replacement part quickly and was very accommodating. I notice another reviewer said the black lever didn't do anything and that's probably because they didn't remove the black cap. The instructions don't tell you to do that so I imagine quite a few people left it on. Highly recommend the chairs and the seller." – G-Man
If you liked the idea of metal bar stools (see #6 above), but you want something with a lot more back support, then the DHP Luxor metal counter stool is what you're looking for. It has many of the same great features and quality construction of UrbanMod's metal kitchen stools, except that these have a full back attached to the stool for back comfort. It ranks #16 by Amazon in all bar stools, but it is the #1 most popular metal bar stool Amazon sells.
Evidence of its high quality and durability are revealed in its 1600+ reviews that are more than 90% positive. Four color options help you give your kitchen, outdoor bar, or actual public bar an iconic industrial look.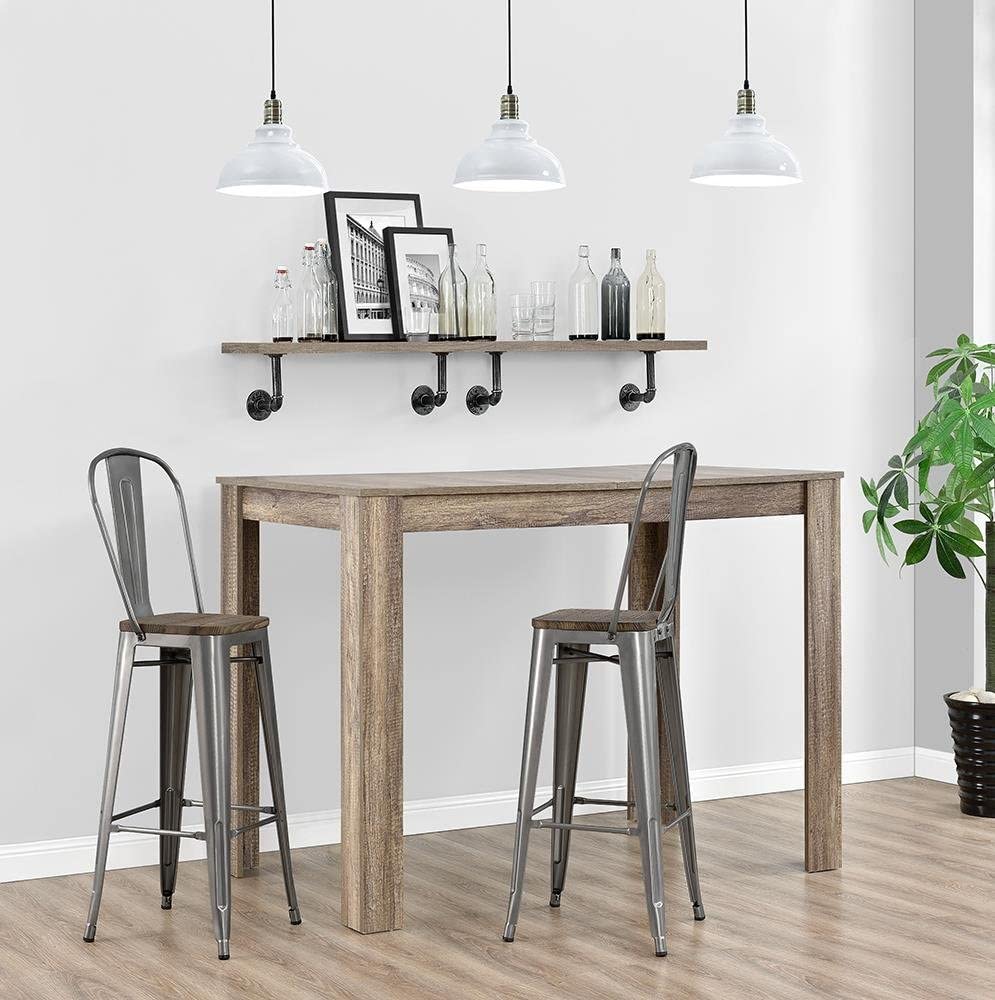 Below are some top reviews on Amazon we found quite promising & informative:
"Love these bar stools! They're very farmhouse. I know some reviewers said theirs were scratched or dinged but mine were fine. Someone else said that they were small. I replaced other barstools with ease and the seat was the exact same size. I think the seat is a pretty standard size. They came in two pieces so you just have to screw four screws in. They even came with the Allen wrench to do it. The color is a little bit darker than I thought it was going to be but I love it. They also shipped a lot faster than it said when I bought them." – Hillary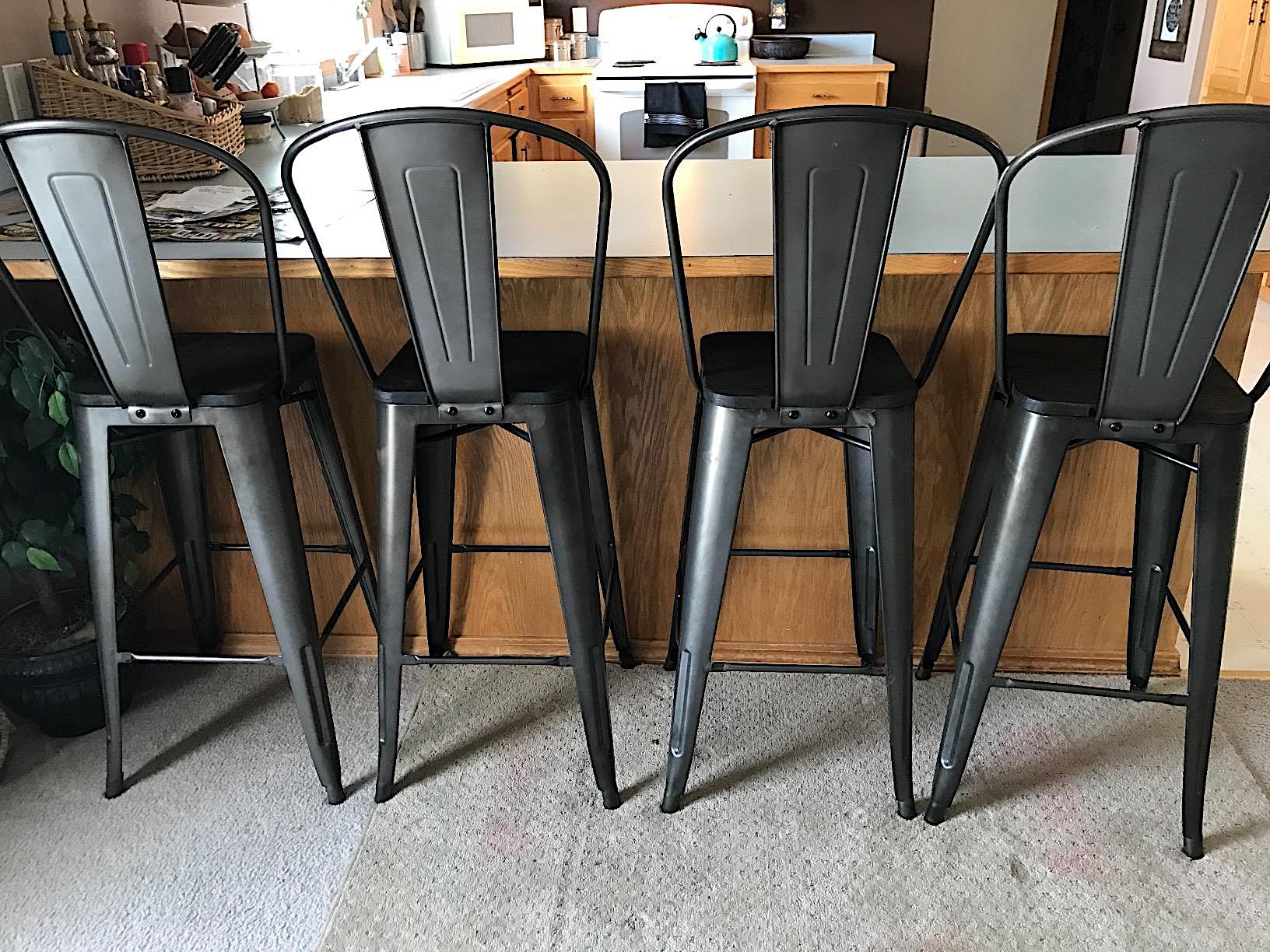 "I specifically looked for this brand DHP because I ordered a set of Eames style chairs on a whim. The quality, value and speedy shipment were definitely the reasons I opted to look for their brand furnishings. As far as the bar stools the same applies. I received the shipment packaged perfectly and super speedy. Way before the expected delivery date. I put them together quickly (I ordered 2 sets) it took me less than 20 minutes to put together. All the screws, Allen key and parts were there and aligned correctly. The chairs are beautiful and are a great addition to my home." – Michelle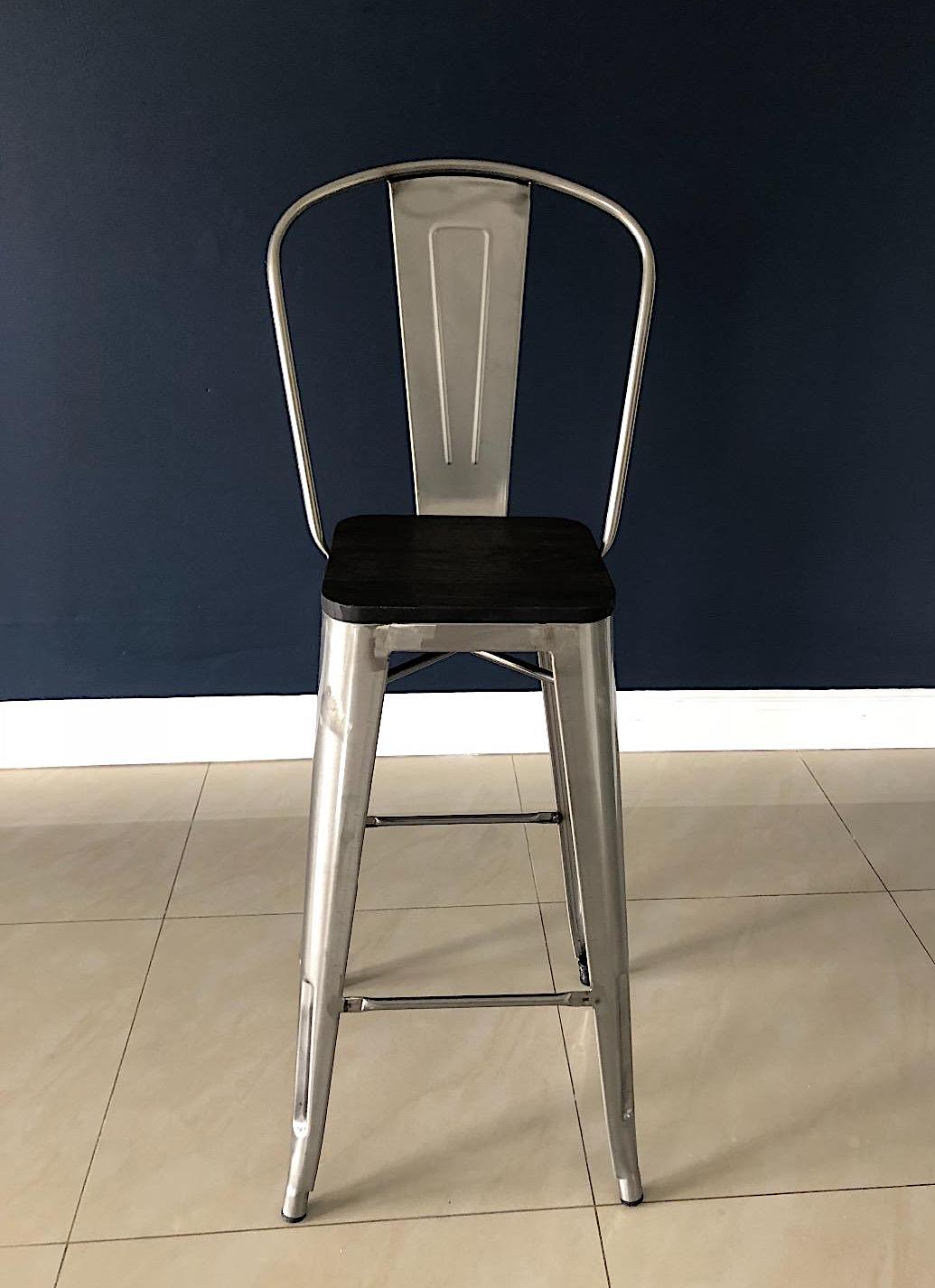 This last set (yes, they are sold as a set of two!) of stools reminds one of a jazz club. Their low seat profile with shiny chrome bases makes you imagine a a piano and jazz saxophone playing soft and low in a spotlight on stage while people in flapper dresses and zoot suits listen and enjoy drinks at the bar. For $100, you get the pair of stools at a steal of a price. It's the second best selling stool on Amazon because of the low sticker price.
These stools are ergonomically designed with an adjustable height and a minimalistic look. The 5-year protection plan is less than $20, which means that you can have them indefinitely without worrying about them breaking. One might even argue that you will probably get bored with them and swap them out for something else before these stools ever break, but that's up to you.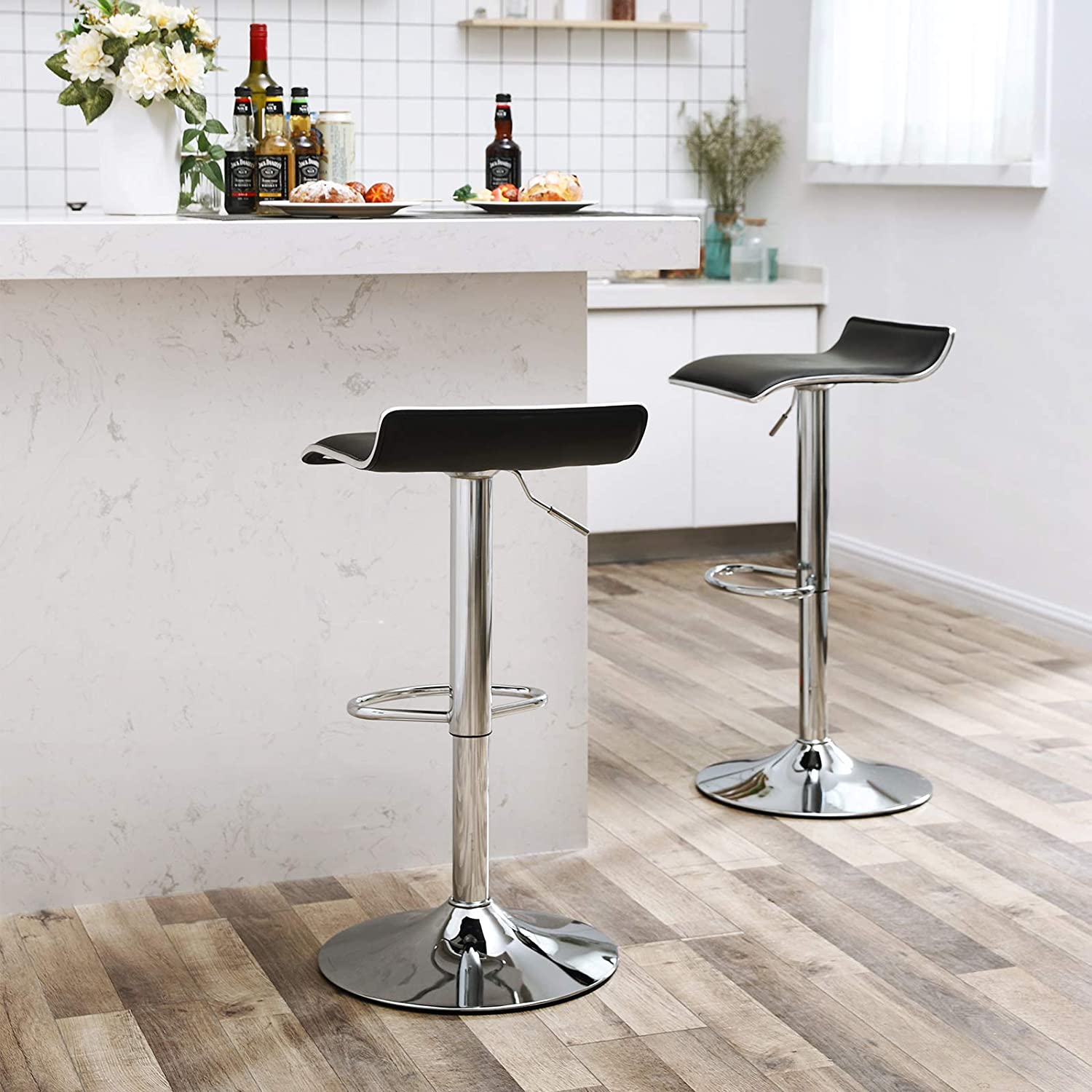 Below are some top reviews on Amazon we found quite promising & informative:
"Great price, very modern. Easy to assemble and ultimately perfect if you want to tuck the stools under your bar table like me." – Hasib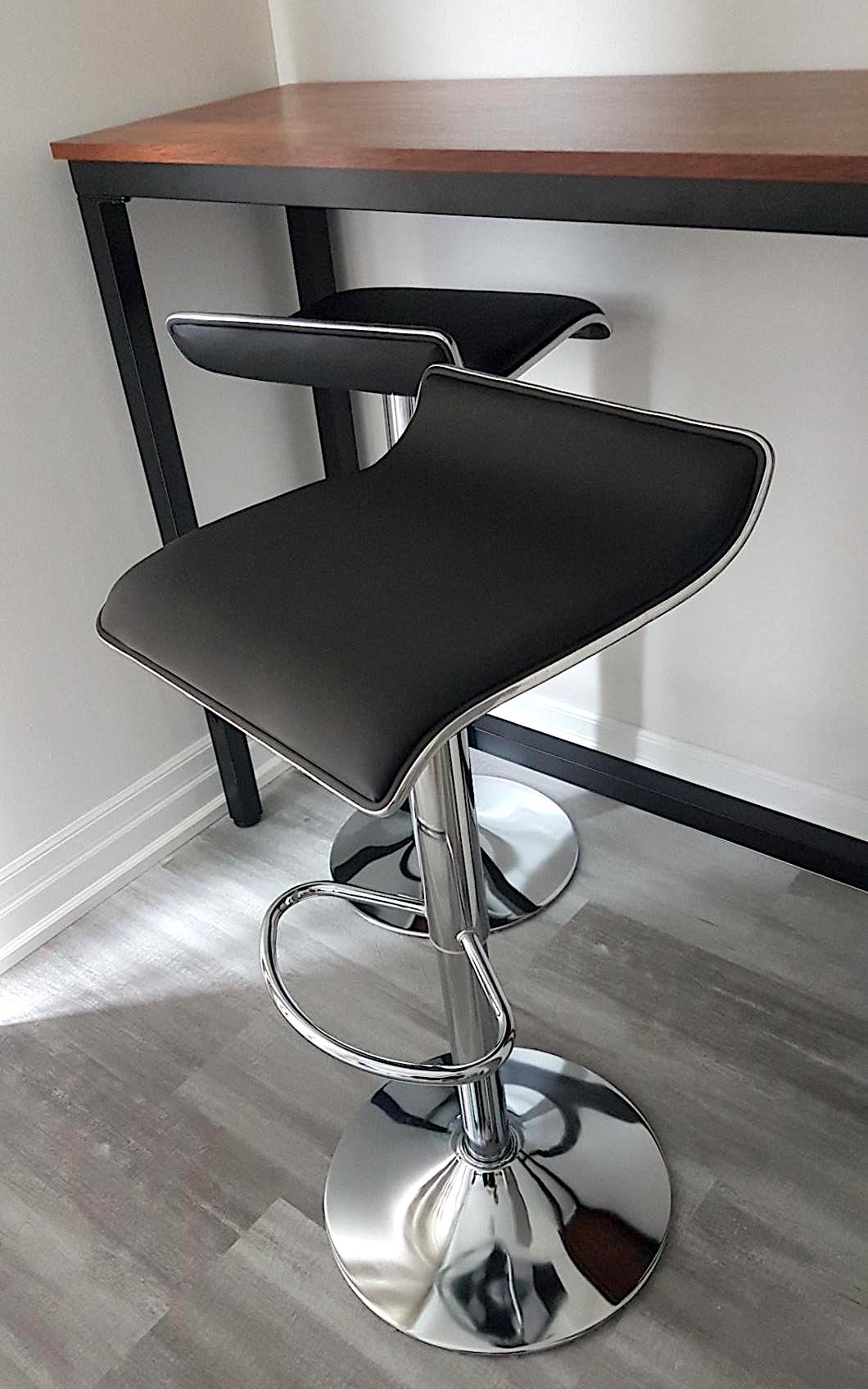 "These chairs arrived well packed and secure, and the pieces came out looking perfect – no scratches, scuffs or dents. They were put together within 10 minutes, very few parts. The chairs actually look great! They go pretty high, and compliment high/tall counter heights. And they also go as low as a standard kitchen counter. They compliment my other furniture perfectly and look very high end." – Hazel Noe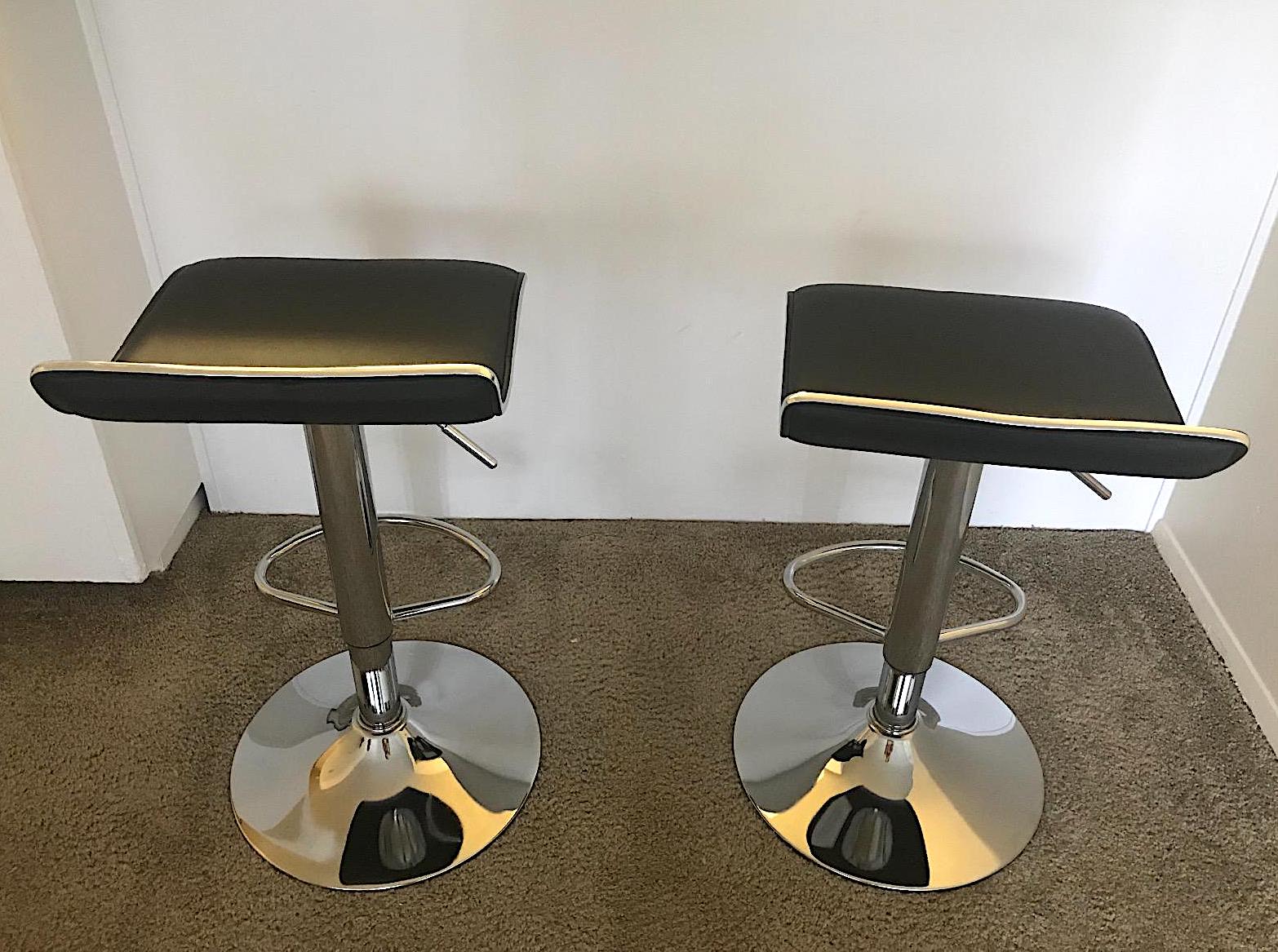 The affordability, the free shipping, and the no-hassle returns means that you could try out every last one of these eight stools that are popular in Canada and still send them back. However, we're betting you'll find at least one style and brand of bar stool in the bunch that you can't imagine sending back, ever.