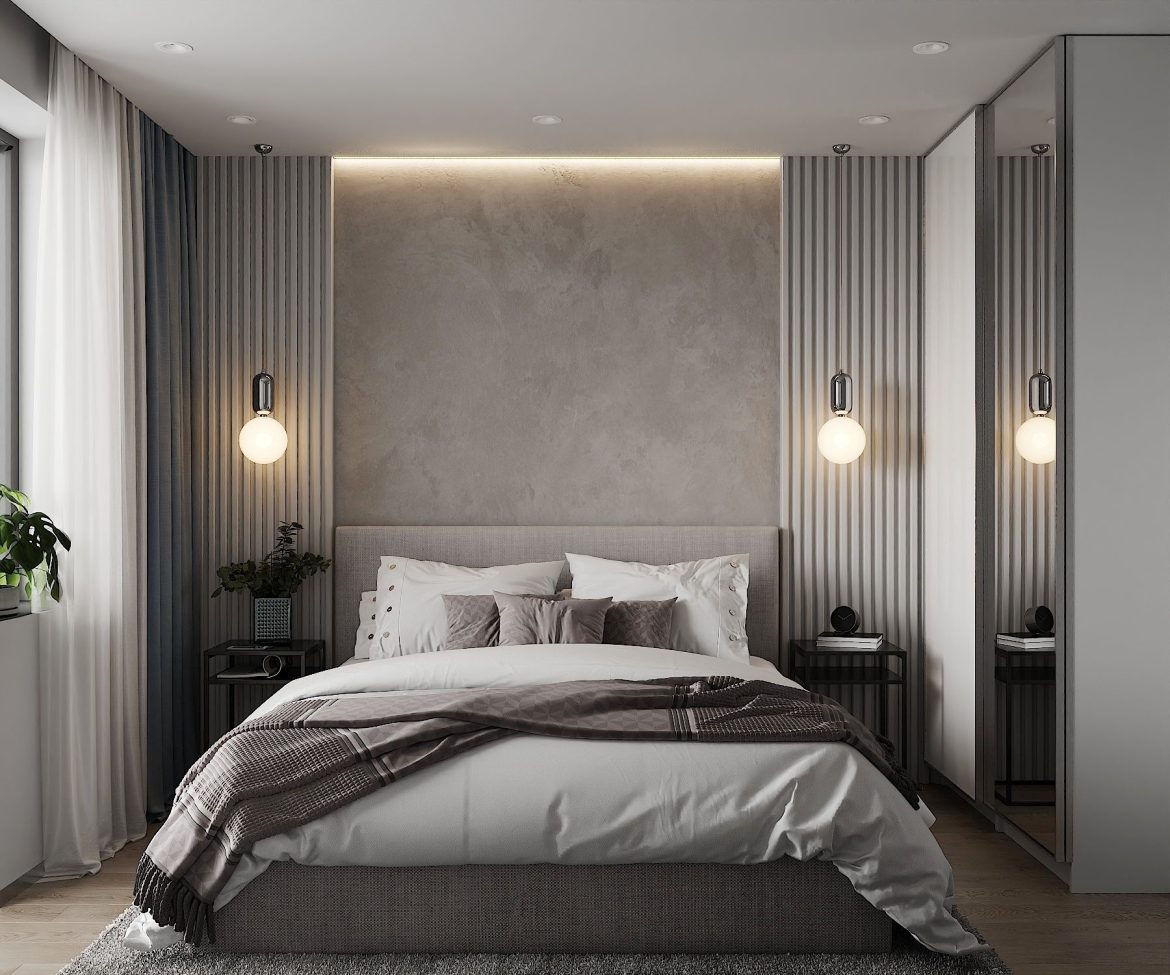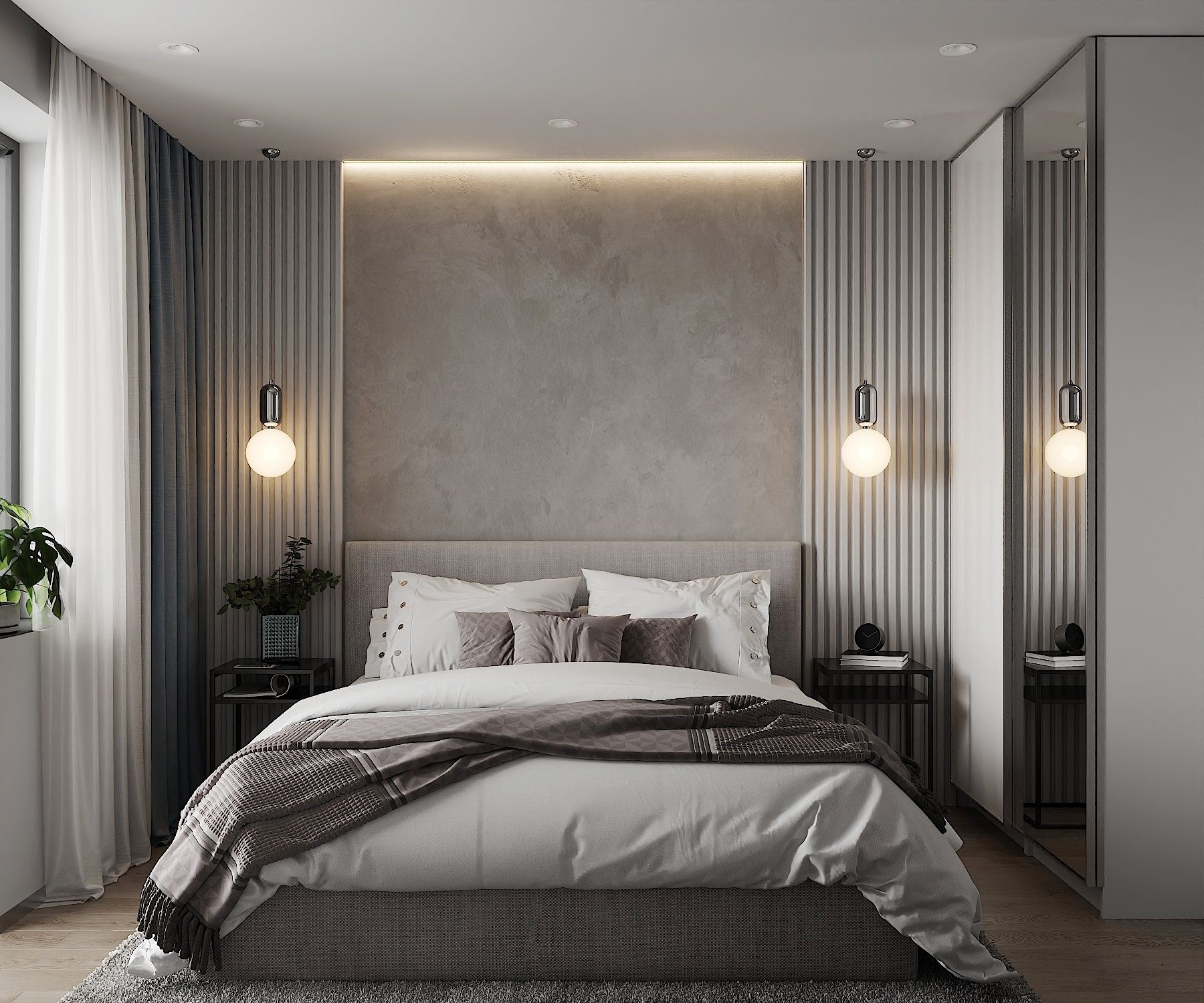 80 Chic and Modern Lighting Ideas that will Light Up Your Life… and Bedroom!
Your bedroom is the space in your home where you go to relax, unwind, and let go of all your burdens and stresses from the day. It is truly your sanctuary and without the right lighting, it is difficult to achieve the level of pure ease and relaxation your mind and body needs to fully recharge each evening. How you like to recharge is different from the next person, so it is important to choose lighting that reflects your own sense of individuality while providing just the right amount of light for your personal tastes. These wildly popular bedroom designs should give you the ideas and inspiration needed to find just the right lighting for not only your needs, but also your unique decorating style.
A Beam of Class
You will find yourself showered in light with this gentle and elegant bedroom lighting. Grey textured wallpaper provides a simple backdrop for dual white lamps that are attached to shelving on both sides of the bed. At the top, recessed lighting shines down from above providing more light. Whether reading or simply relaxing, this soothing style has you covered.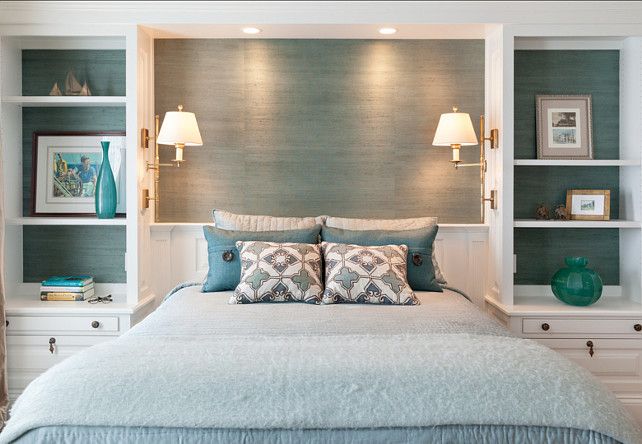 The Light from Above
If you are looking for a simple do-it-yourself lighting project for your bedroom, this design is definitely the way to go! You can install a shelf above your bed and attached small lights to the bottom of the shelf. In this design, the grey lights blend in seamlessly with the nearly all white decor. The decor is very classic indeed!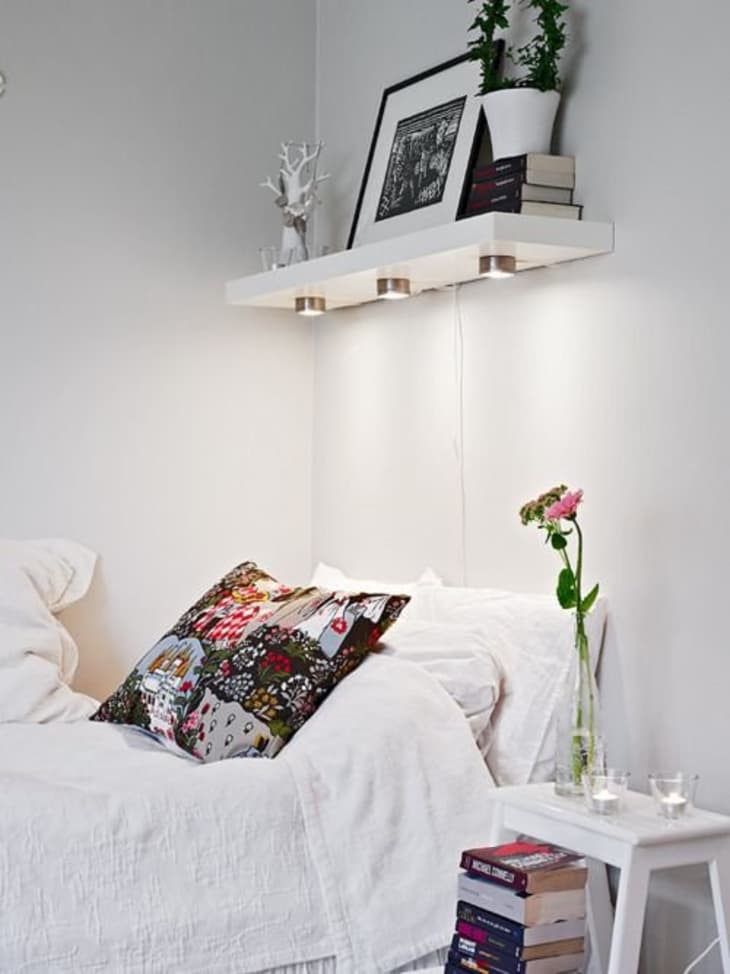 Star Light, Star Bright
This sweet and whimsical lighting arrangement will bring you to sweet dreams each night. Projected onto the ceiling, these lovely lights will have you continually looking up in awe and amazement. The white and cream-colored design of the bedroom, along with the soft lighting, creates the perfect ambiance for a kid's room or baby's nursery.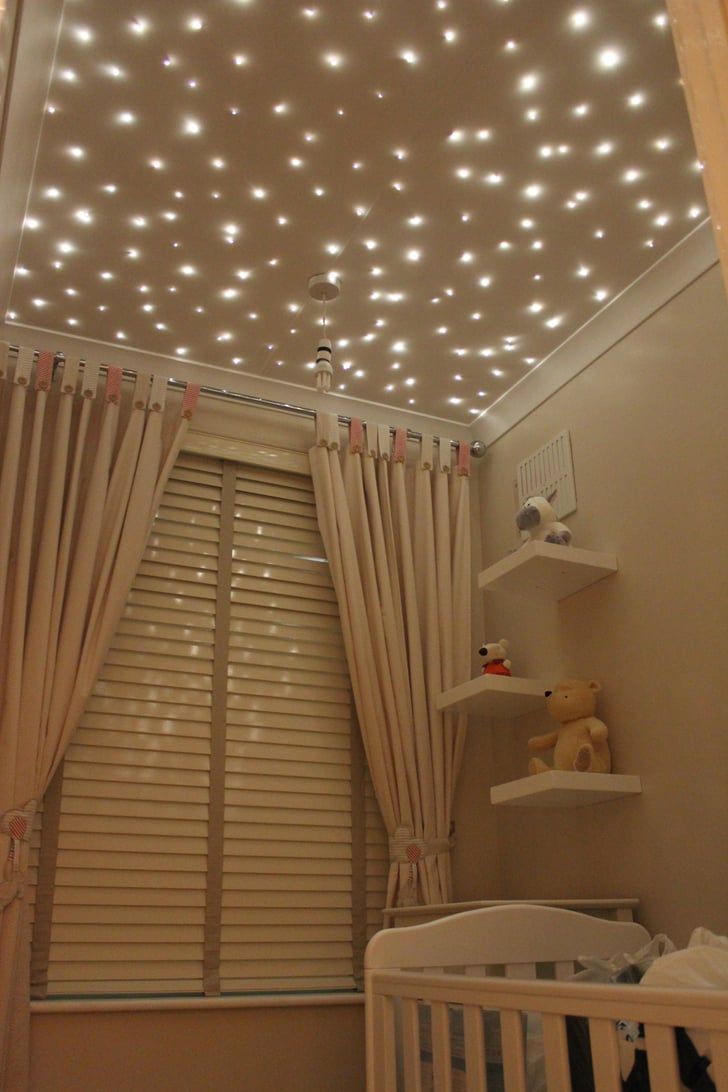 Step Up to Light
Crowning the top of these unique foot ladder end tables are two globe shaped orb lamps. This lighting is very soft, providing a peaceful and relaxing energy that every bedroom needs. From the ceiling hangs a majestic gold colored light fixture to bring brighter, more regal light to the room when it is necessary.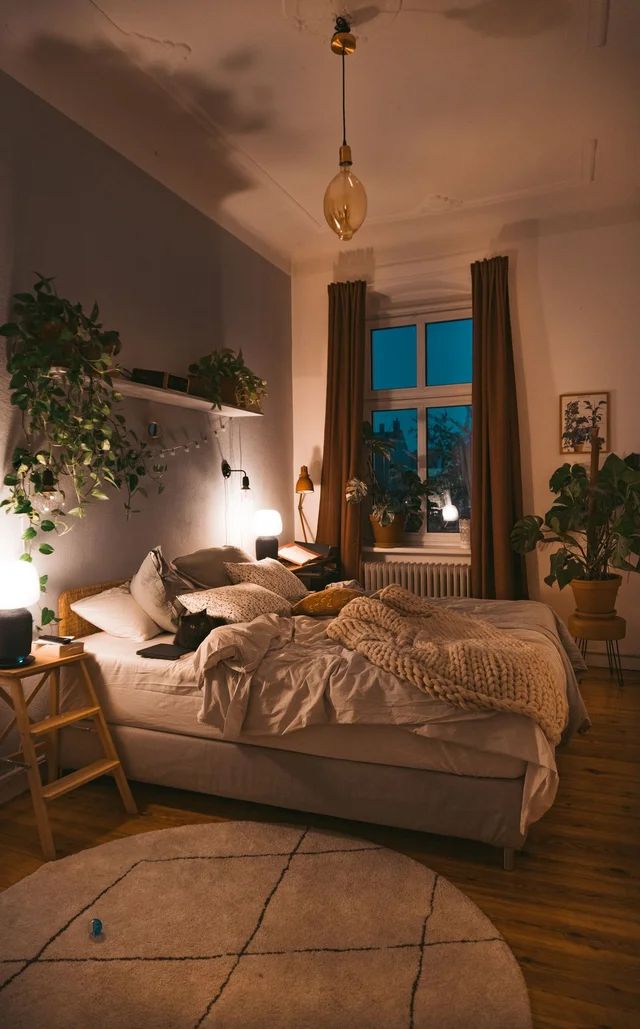 Truly Classic
Need something stylish yet graceful to decorate your bedroom's end table? This delightful lamp should do the trick. Three big clear knobs stack upon the base of this lamp creating its stand. A large white, square-shaped lamp shade completes this elegantly simple look.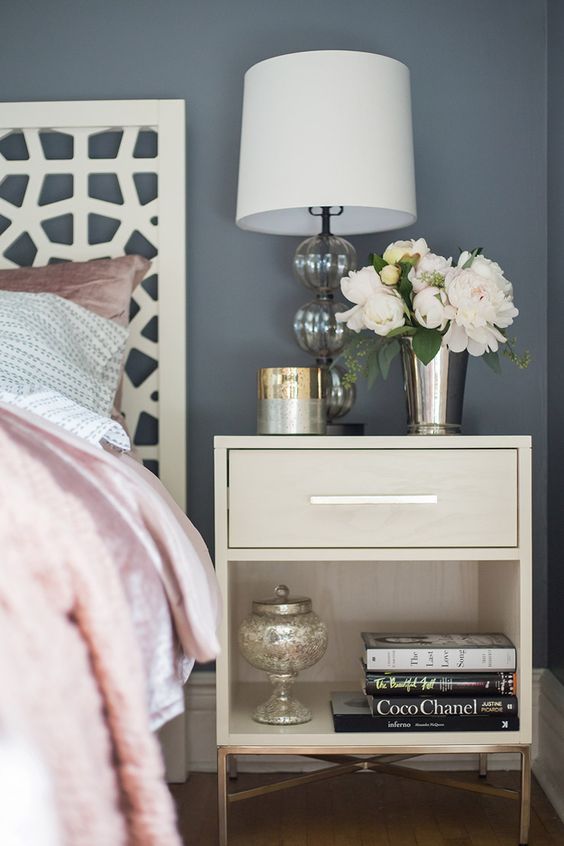 Illuminated Pieces
This dramatic wall lighting will leave you in magnificent awe each time you enter your bedroom. The wall behind the bed provides smooth lighting to the entire room through what resembles cracks or giant wooden geometric shapes. Adding to the decor, two dark grey reading lamps adorn the end tables. Quite a masterpiece of lighting!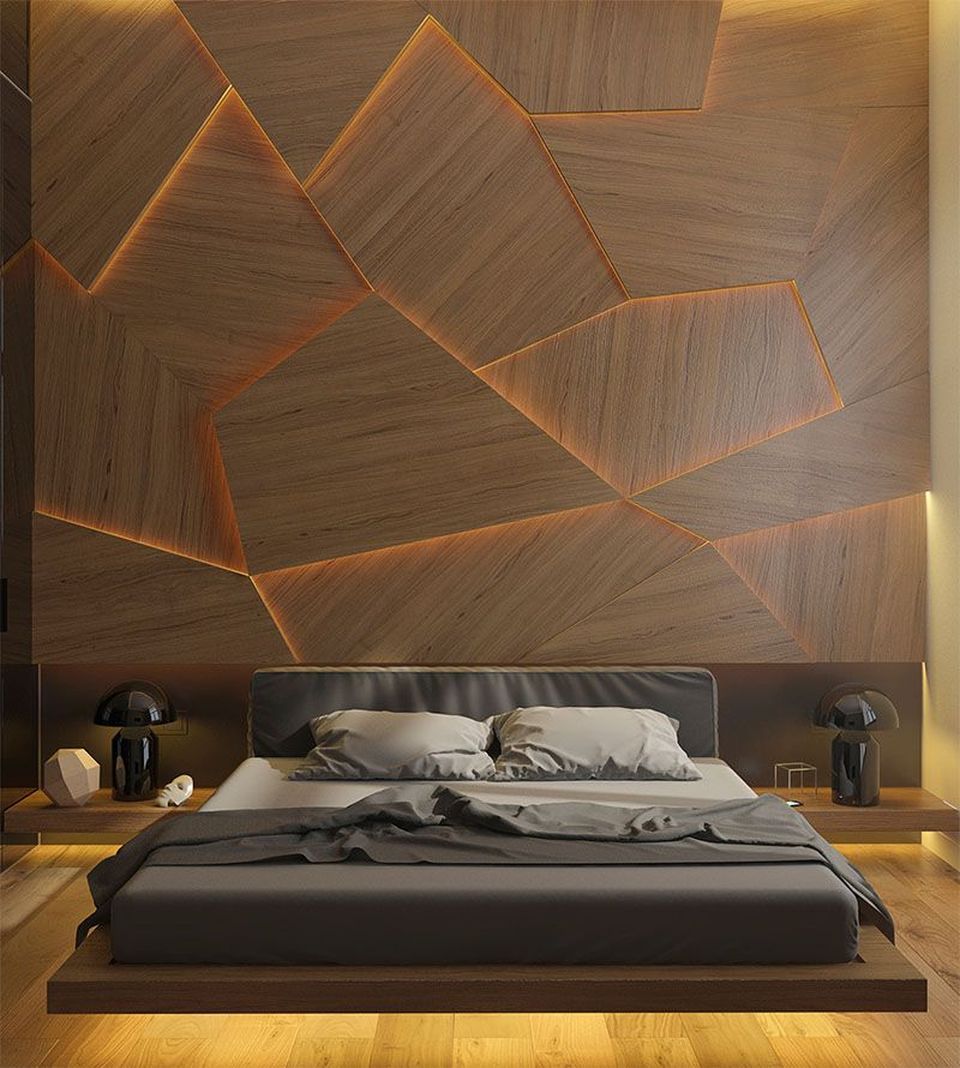 Floating on Light
For a truly inspired appearance, install recessed lighting beneath your platform bed. This simple design is perfect for contemporary home decor. Your bed will look as if it is floating on a beam of light! For more light to the side of the bed, you have a slender lamp attached to the wall. The overall look is simple and modern.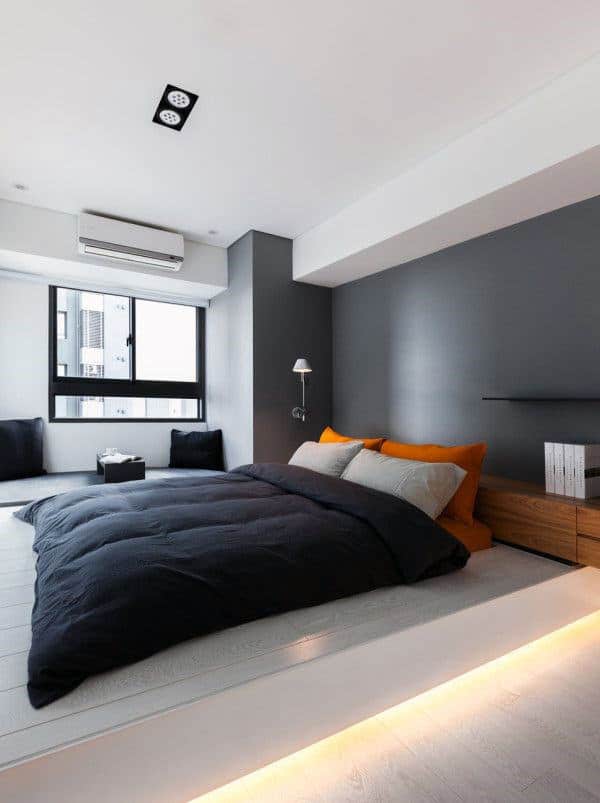 Tree of Lights
This totally distinctive light fixture will bring rustic eccentricity to your bedroom's design. Corded light bulbs are wrapped around and hang down from a large, slender branch. The branch hangs from the ceiling with the use of thick ropes wrapped tightly around it. This magnificently rare light fixture will grab your attention as soon as you walk through the door!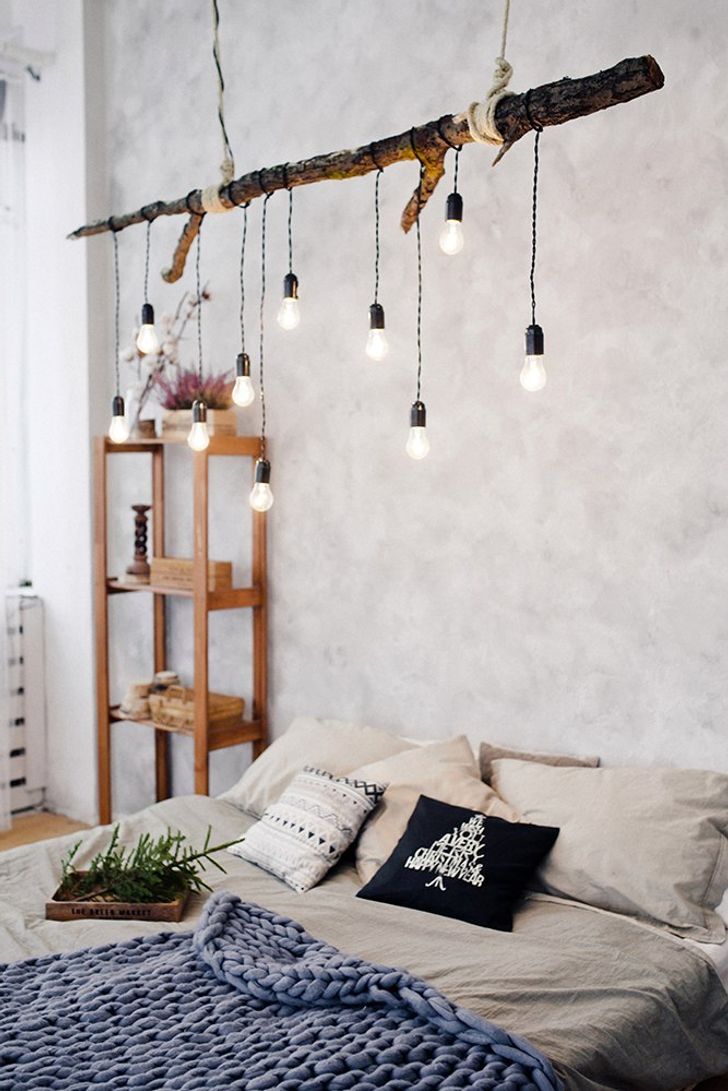 Lights, Camera, Action!
This tall, slim lamp fixture is certainly ready for its closeup! Constructed with a slender pole that is embellished with small white and grey orb lights going from top to bottom, this fixture will provide ample light to an entire room. Effortlessly, this lamp fixture both blends in and stands out from the decor of the room.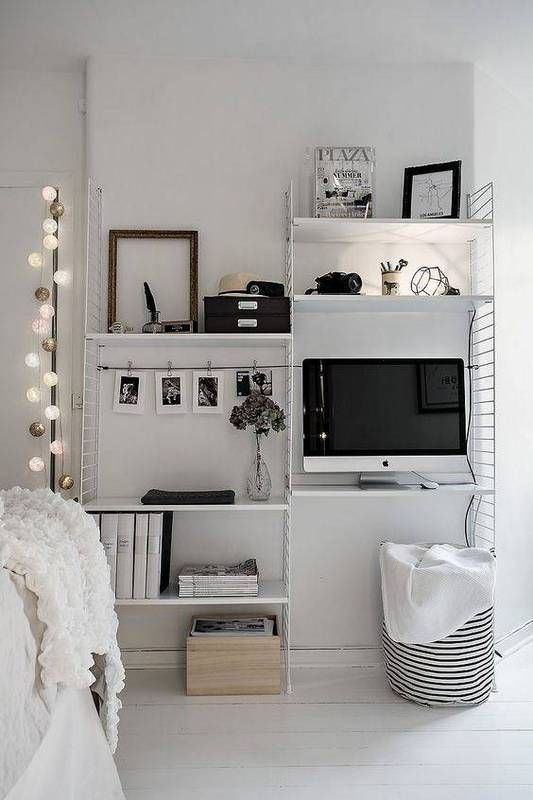 Lovely Highlights
In this bedroom design, your room is covered at every angle with elegant and gentle lighting. You can find light beneath the wall shelving, above the display shelf and all around the bed frame. From the recessed lighted ceiling, you have even more recessed lighting shining from overhead. You will never be in the dark in this room!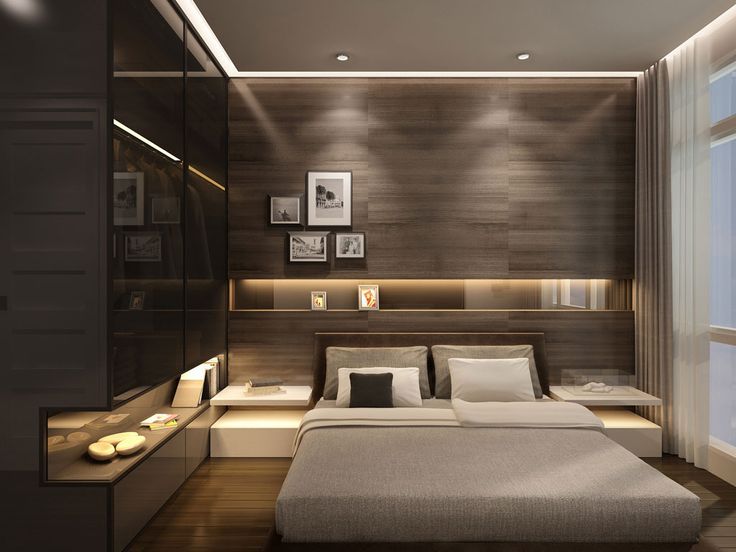 Shimmer and Shine
Hanging from above your bed, you can enjoy a beautiful cascade of white string lights. The sheer curtain around it adds a sweetly delightful energy to your sleeping space. Staring up at this exceptional light show every night will bring you into easy relaxation no matter how hectic and stressful your daily life may be.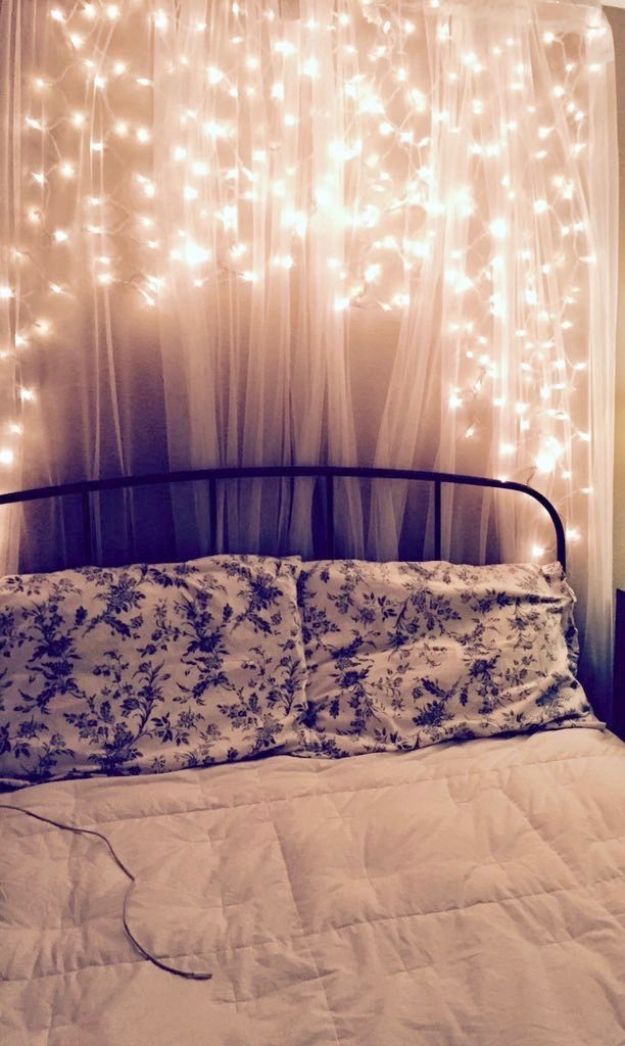 Simplistic Chic
Simple and chic are what comes to mind when looking at this light fixture. If you are searching for a minimalist design for your bedroom lighting, look no further! A single white orb light bulb hangs from the ceiling by a black cord. This understated light fixture will provide ample brightness to light your entire room.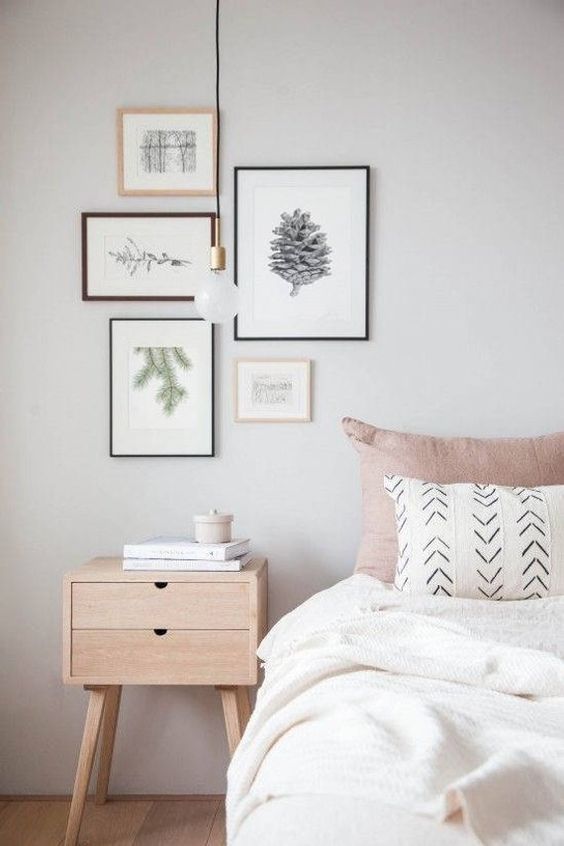 An Oasis of Light
There is ample lighting to be found in this rustic meets clean and understated bedroom design. Light glows from behind and underneath the large wooden platform bed. Two lamps with wooded branch stands rest upon the built-in end tables. From the ceiling are more recessed lighting shining down into the room. The tan and white color of the room complement each other in an effortless way making the lighting in the room effortless and clean.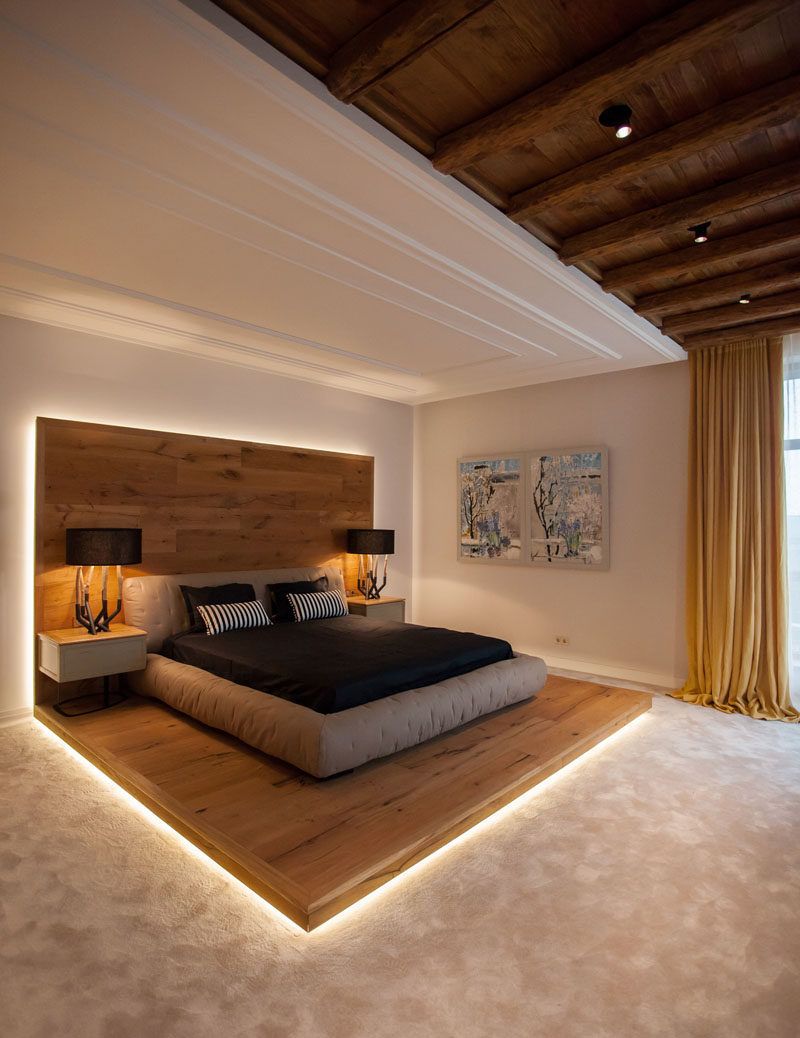 Lines and Lights
Precise white and grey vertical lines serve as the backdrop for two white orb light fixtures that hang from the ceiling. Additional lighting can be found beaming gently from the top of the recessed wall. Recessed lighting is in the ceiling of the room for when more light to the area is required. This is quite a simple yet striking bedroom lighting design!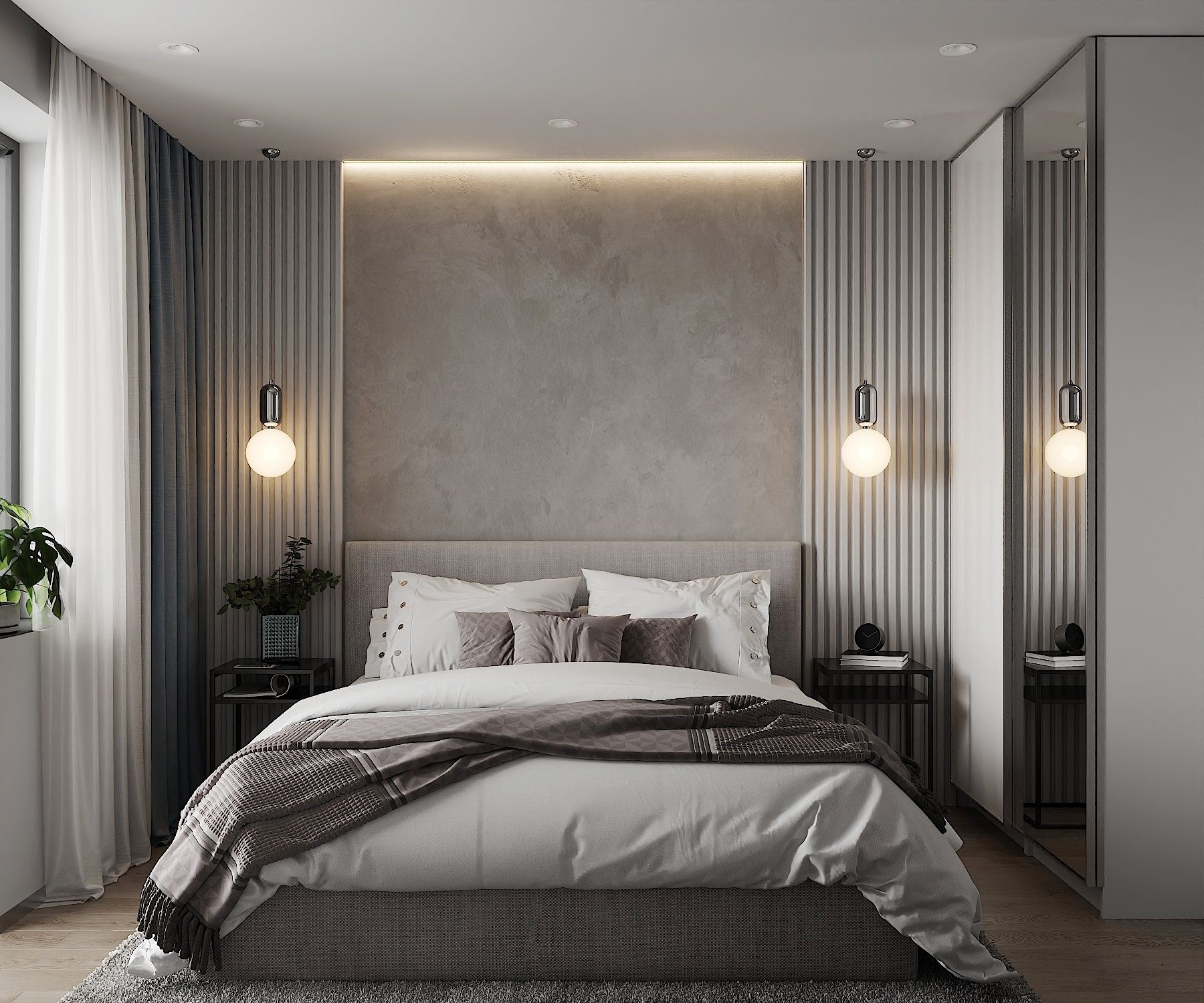 A String Dream
If you are looking to add some fun and fanciful lighting to your sleep space, string lights make for an easy yet eye-catching solution. Simple to install, you can hang them from the wall that surround your bed. They provide gentle lighting for the ultimate relaxing, meditative experience.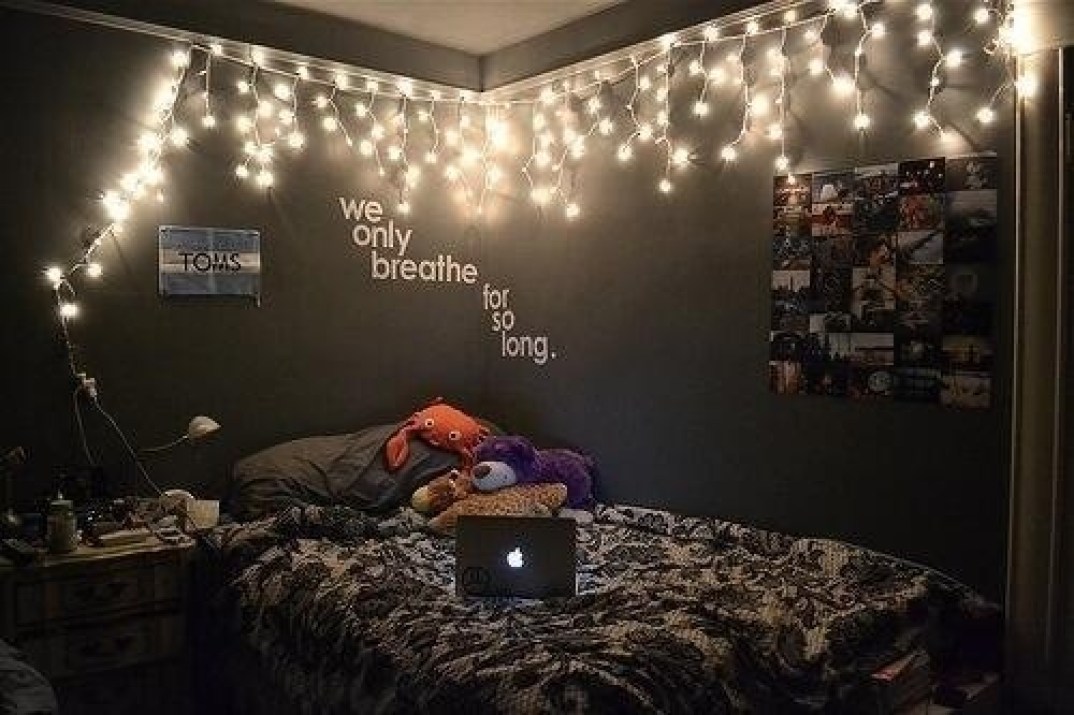 More Popular Ideas on Pinterest