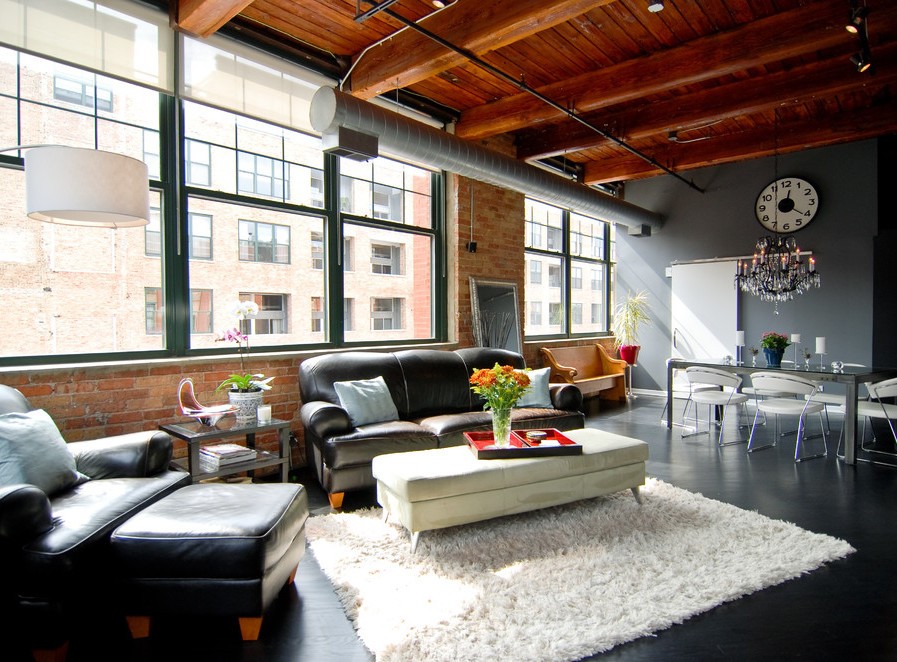 50 Pinterest Viral Industrial Living Room Designs You Don't Wanna Miss
Industrial-style décor places minimalistic design and hygge style before the unconcealed architectural backdrop of warehouse and factory settings. You'll find backgrounds with large, open floor spaces and high ceilings that may include wood or metal beams and hanging light fixtures, concrete or worn wood floors, and exposed brick walls, plumbing pipes, and HVAC ducts.
For an industrial-style look to compliment this backdrop, choose comfortable furniture with simple square or rectangular block shapes and group it to break up the surrounding space. Combine stones like marble for counter- and table-tops, woods, and a variety of metals like copper, aluminum, iron, and steel. Use pendant lighting or multi-directional floor lamps to provide lighting. Select utilitarian upholstery fabrics, and, overall, maintain a neutral color palette of black, gray, and white.
Browse antique shops and reclamation yards for furniture, lighting, and unique accessories that recall the industrial period. Use accessories and artwork to introduce color, softer textures, and curved lines to soften, brighten, and add personal touches to the cool, hard-edge, masculine feel of this décor style.
Below are some of the most popular industrial designs if you need more creativity for your living room design.
Casual Industrial-style Living Room
The features of this space include a brick wall, triple-high windows, a wood beam ceiling, and a metal spiral staircase. To enhance the industrial-style decor a commercial-style ceiling fan, a light-bulb chandelier, a pendant lamp, and a vintage round clock were added. In addition, casual furniture and touches such as the flat bed coffee table were added giving the room a casual feel.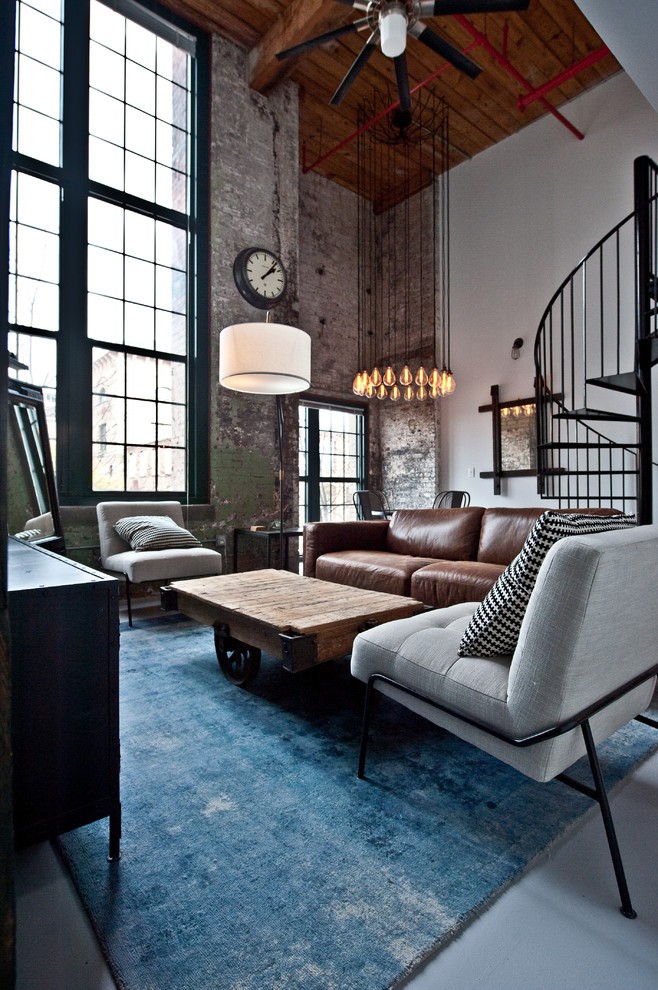 Large Open Industrial-style Living Room
This industrial-style living room features a large open space and a balcony that provides an expansive view. However, the open space isn't overwhelming due to the wall-to-ceiling concrete fireplace with the three vertical bins for storing wood. The impressive fireplace is supported by the traditional furnishings. The dark beam ceiling with the exposed pipe complements the decor of the room.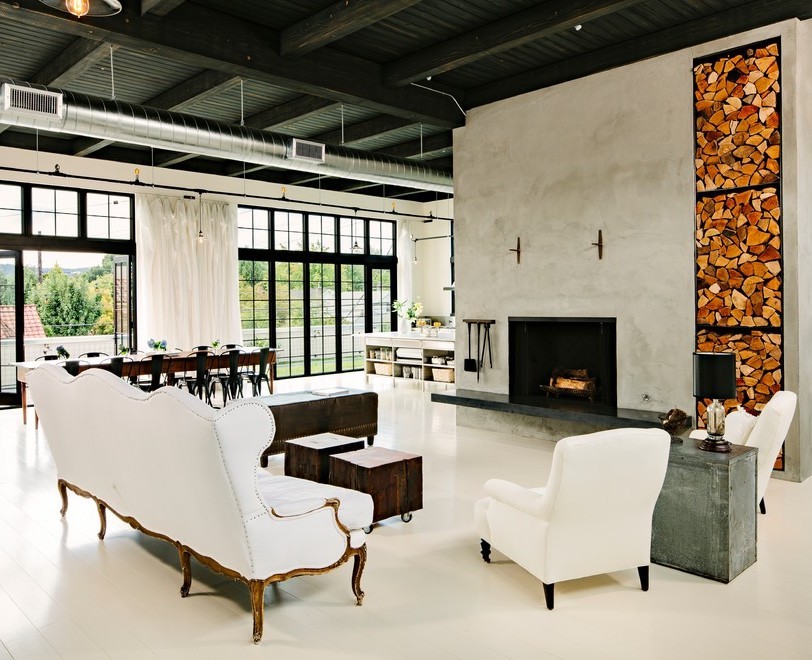 A Colorful Industrial-style Living Room
Most industrial-style living rooms are done in neutral colors. However, this living room has a wall painted in a bright eye-catching color, and a colorful rug has been added. Pillows and artwork have been chosen to coordinate with the walls. This is a fun industrial-style loft living room.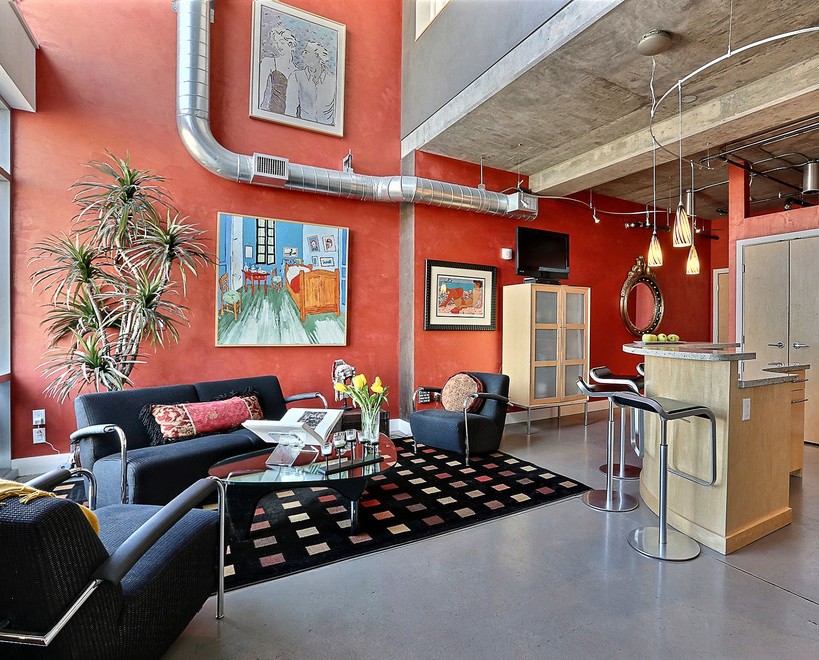 A Corner Office Converted to a Corner Living Room
The view from and in this corner living room is spectacular. Corner offices are supposed to be deluxe, and this corner living room is deluxe. The room is large enough for a sofa, three comfortable chairs, three ottomans, a coffee table, a side table, a fireplace, a tv, and two cabinets that can be used for books or bar space. This deluxe corner living room has industrial-style features such as a brick wall, a concrete column, an unfinished ceiling, and exposed pipes. Proof that any former commercial space can be converted to living space.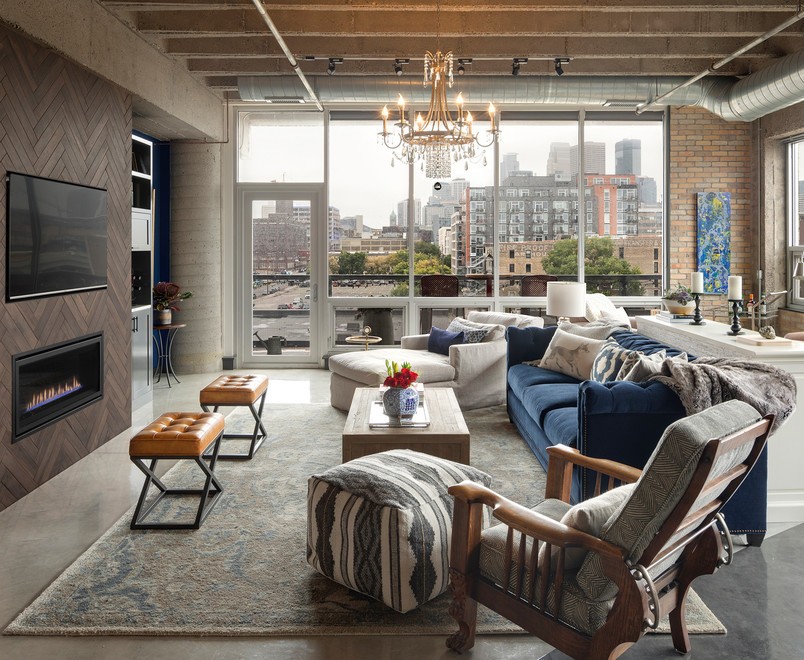 A Small Industrial-style Living Room
This space has limited room, so using vertical space incorporates wall-to-ceiling bookshelves with a ladder. Two sofas define the living room. Strings of lights illuminate the living room. While the room is packed, it's not cluttered.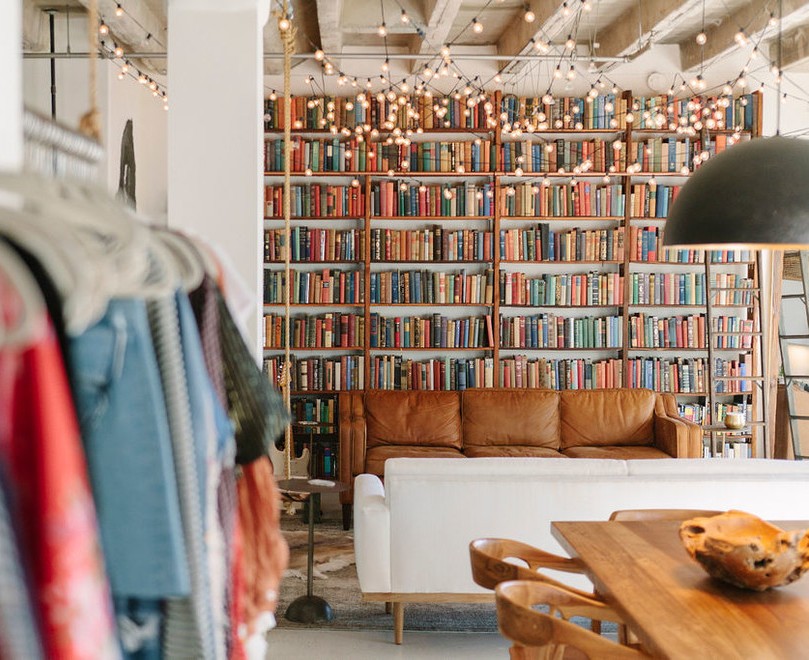 A Fun Industrial-style Living Room
This living room offers a fun, unplanned look. The sofa has a throw and a bunch of pillows. Above the sofa is a unique textile artwork. A chair and a couple of ottomans have been added. It gives the living room a casual feel.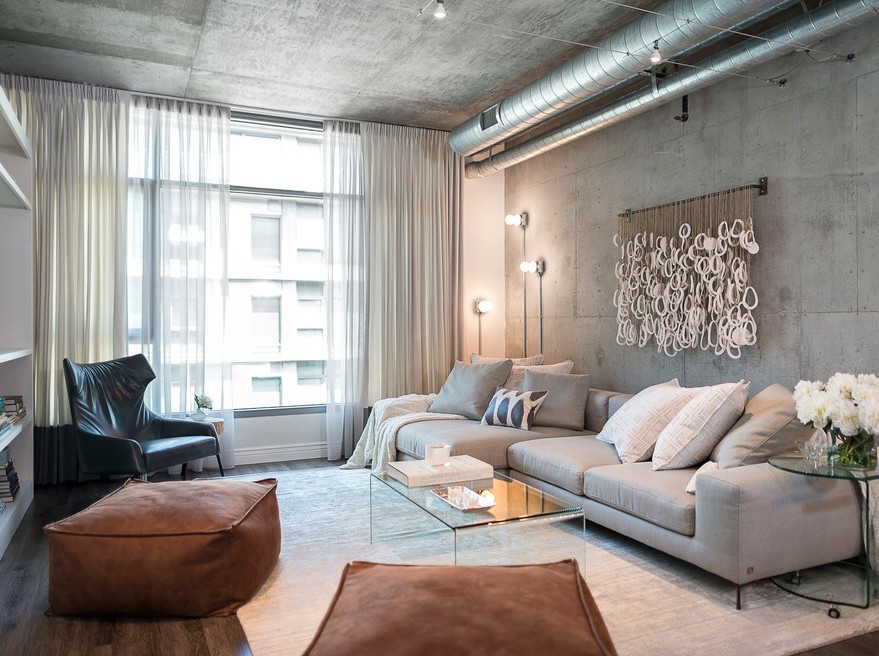 A Commercial-look Industrial-style Living Space
This space includes commercial space features such as a metal stairway, an unfinished ceiling, brick walls, and commercial-style windows. The room has been decorated in a manner that hints at commercial style. The kitchen area looks like a restaurant counter. The living room looks like a library reading area. It's a fun, playful way to decorate a commercial space.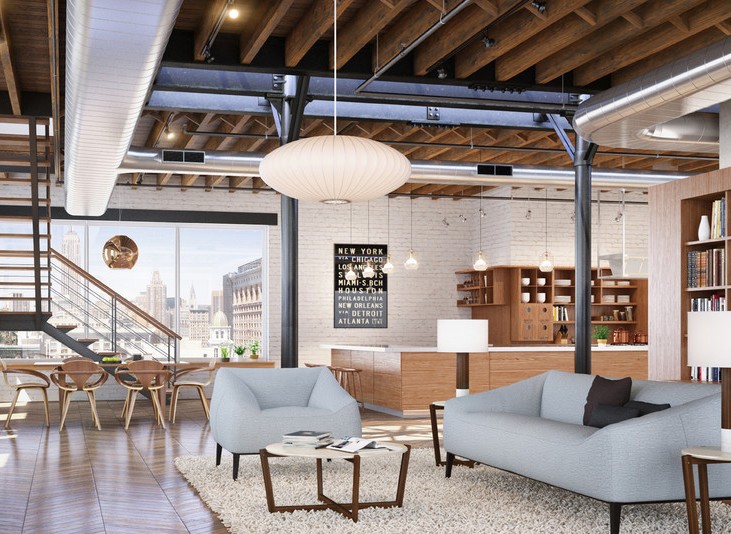 Blending Contemporary Furniture with Former Commercial Space
This former commercial space has all the standard features such as brick walls, commercial windows, exposed pipes, and a concrete floor. Using contemporary furniture in this setting works because the furniture has clean, efficient lines that enhance the room. The furnishings don't conflict with the features but allow the features to be highlighted.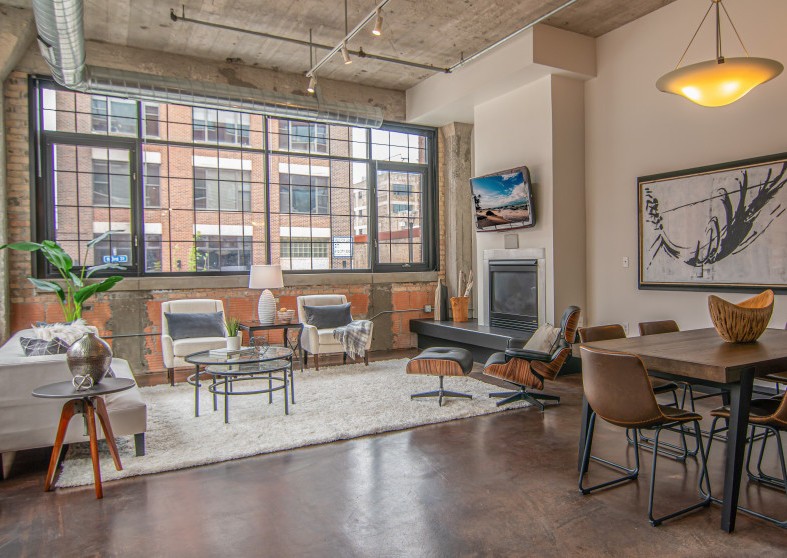 Upscale Modern Industrial-style Living Room
This long narrow space has the features of a former commercial space with a block fireplace, concrete walls, exposed pipes, industrial-style windows, and cement floor. However, the furniture placement breaks up the long narrow low with three groupings. The sofa, chair, throw, and fireplace create a warm and inviting look in the living room. The flatbed coffee table ties into the industrial-style decor. The overall effect is an upscale modern look.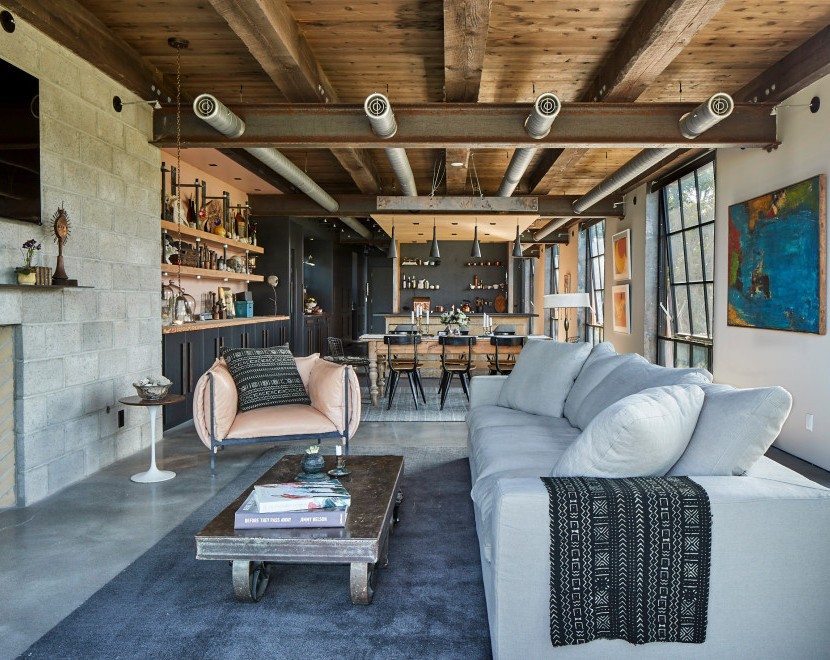 A Brick Wall Can be Your Decorating Canvas
This room has contemporary architectural features. However, furnishings and accessories have been selected to create industrial-style decor. The rug and furniture placement help define the living room area. The sofa and chairs are contemporary and casual. The large wooden coffee table and the large wall clock contribute to a vintage feel. The shelving and the table behind the sofa provide the Industrial-style touch. You don't have to have a former commercial space to create an industrial-style living room.