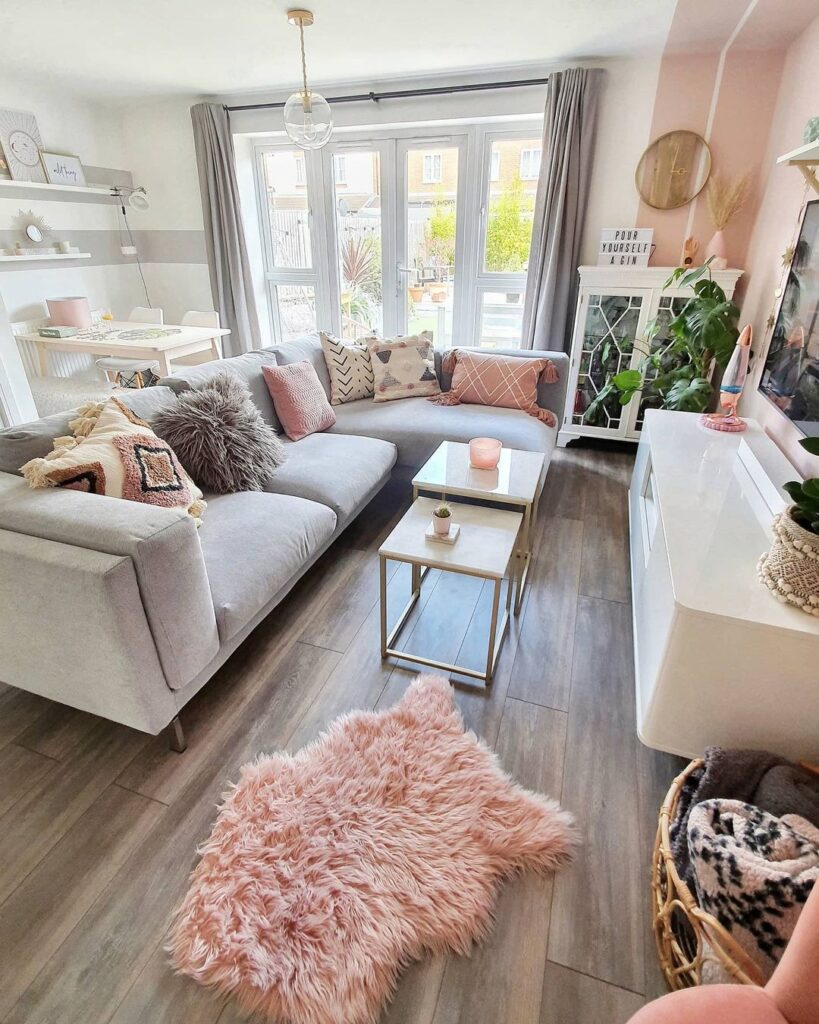 Macrame and Foliage Create a Cozy Boho Chic Vibe in Gemma's new-build home
Gemma is a veterinary nurse who lives in Hampshire, England. Her hobbies include macrame and home decor is her passion.
Her personality is strongly reflected in the boho chic decor of her home. Shades of pink and generous splashes of greenery underline the overall style of her home. Her living space undergoes frequent revamps, due to her passion for DIY. White walls and pastel shades brighten her new-build home. Plush and furry rugs and throw pillows are juxtaposed with geometric-patterned area rugs and furniture veneers.
Gemma brings a strong hint of Hollywood regency into her decor with greek-patterned rugs, gold-trimmed accessories and sunburst mirrors. The rooms are peppered with graceful figurines for a touch of whimsy and artistry. Framed prints that match the theme of each room add more depth to the decor. She has created an inviting and cozy outdoor space in her backyard in shades of pink and grey, with a shed, decking, plants and comfortable furniture. Gemma's macrame creations are as ubiquitous as plants in her home. They can be seen in the form of wall hangings, planter covers, cushion covers, lampshades and decorative tchotchkes.
Gemma has transformed a run-of-the-mill new-build home into a cozy boho chic space by lending it her own unique style, greenery and plenty of quirky touches.