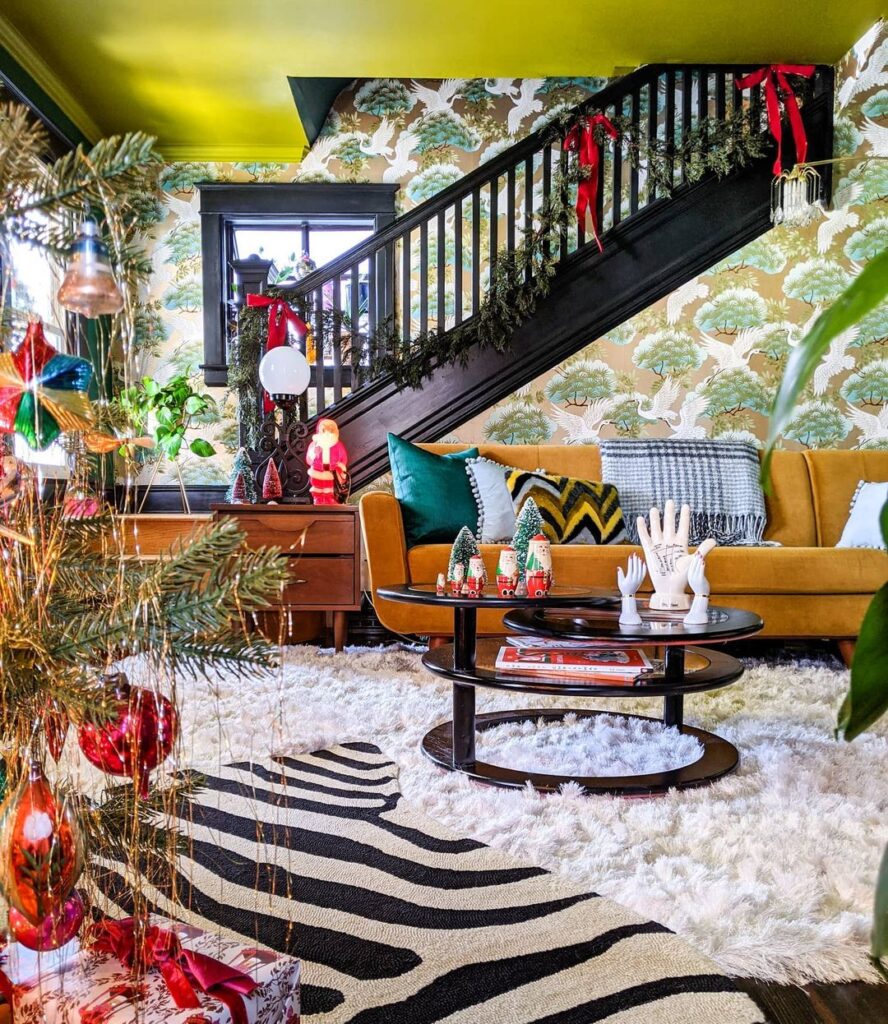 Old Hollywood Regency Glamor Comes Alive in Erika Kikola's 1917 Home
Erika Kikola lives in York, Pennsylvania with her husband and two children. She is a home decor DIY-er and thrifter. Her specialties are creating fringe chandeliers and selling vintage wreaths. She lives in a 1917 house that she has owned for the past seven years and to which she has been gradually adding her unmistakable touch.
The style that defines Erika's home decor is bold. She is not shy to use high contrasts in her color palettes, patterns and textures. But beyond bold, the other facets of her decor are also glamorous, vintage and whimsical. Although every room has a unique look that is all its own, the common thread that flows through all the living spaces is old Hollywood glamor.
The living room oozes drama with a 1970s theme. Boldly patterned wallpaper is surrounded by black window trim and staircase. A chartreuse ceiling, a gold sunburst mirror frame, and a pale mustard couch accurately set the vibe of the era. A plush white faux fur area rug adds the touch of glamour that is evident throughout the home. The dining room has the same touches of gold, plush velvet and deep gem tones that characterize the Hollywood regency style. In keeping with the concept, a zebra-print rug ties the room together. It matches the black wavy pattern hand-painted by Erika around the window seat niche, which adds the ubiquitous touch of whimsy.
The bedroom is possibly the best setting for Hollywood regency in Erika's home. The pink walls and upholstered headboard, leopard prints and jewel tones are accompanied by one of her own creations, a fringe chandelier.
The room is also the best showcase for her passion for DIY and thrifting. An upcycled antique dresser is accompanied by revamped gold-framed mirrors that are decorated with dried wreaths, another one of her lovely creations.
Erika's home is a stage for old Hollywood Regency glamor and whimsical thrift finds that have been lovingly upcycled to create a home that is both dramatic and inviting.