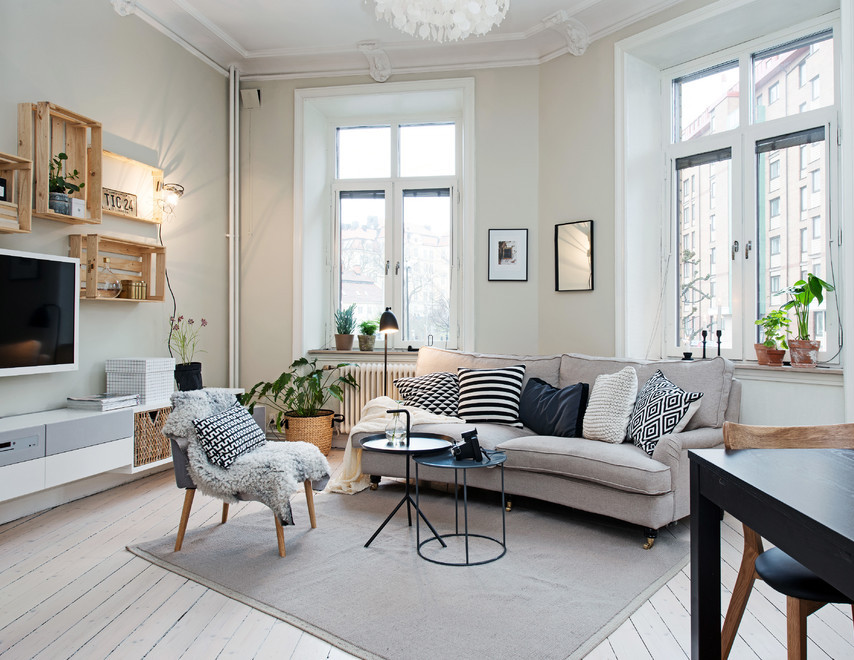 120 Clean and Warm Scandinavian Living Room Ideas That are Popular on Houzz & Pinterest
Scandinavian design is generally focused on simplicity and comfort. If you need a snuggly throw, it should be plush, warm and beautiful. It should also be a solo piece; a trunk full would be too much. The examples listed here show just how comfortable the combination of simple colors and cozy fabrics can work to make a beautiful home.
Ice and Moonlight
This pale grey room features an accent wall loaded with rich texture. The space offers hearty furnishings with lightly designed side tables; an ideal spot to enjoy an engaging book and a cup of warm tea.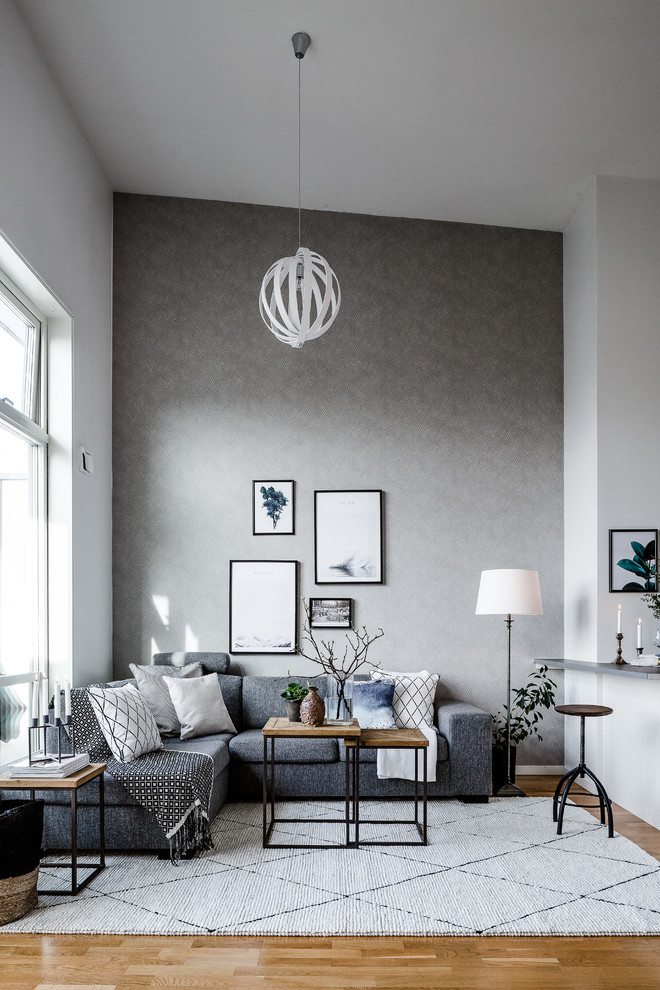 An Isolated Rainbow
This pearl grey sofa, loaded with plush cushions that just call to be used, is the anchor of a seating space well defined by a black and white geometric rug. The peach flowers and simple candles in the dual-sided fireplace add brightness and warmth to this summer image.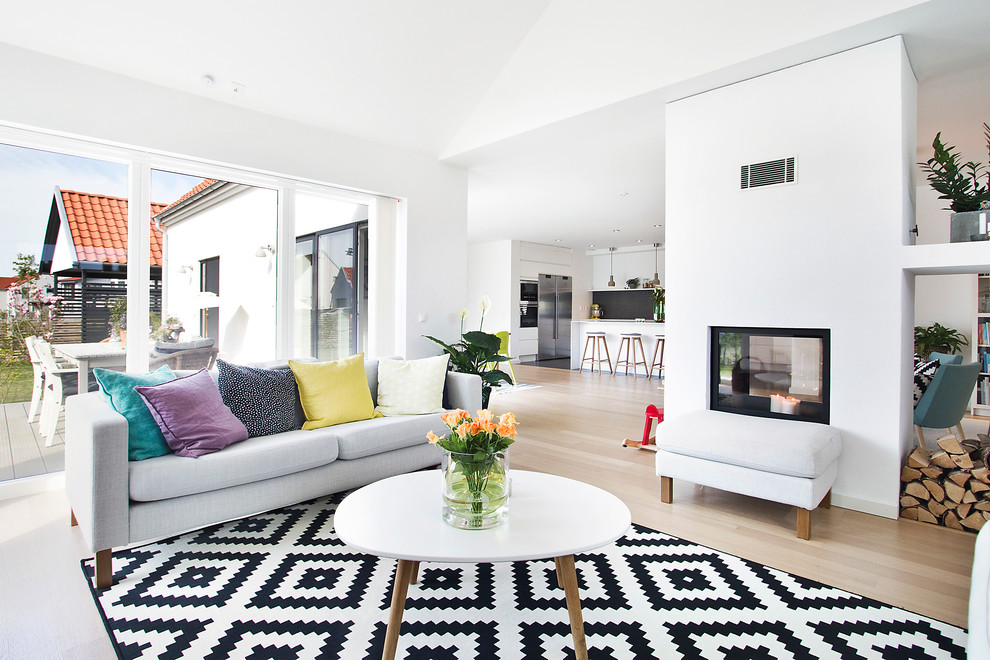 Lipstick Red
A pale grey room with white trim and a white loveseat may sound sterile, but the lipstick red accents on the wall art, clock and barstools create pops of color that can't be compromised. Pale peach cushions and a spring green loveseat cushion create even more visual interest.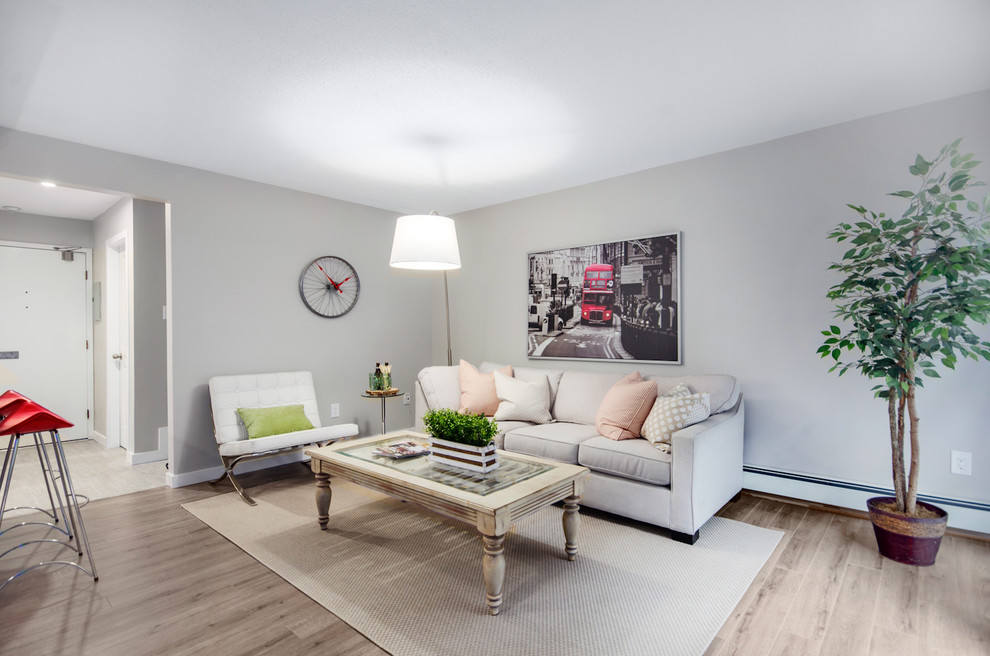 Gather and Stay!
The plush leather sofa and wide armchairs make this a family friendly spot. The coffee table pairing also offers a curved set of corners, ideally spaced to allow little ones to toddle around this space. A vaulted ceiling and simple natural wood trim increase the comfort of this space, as does the colorful wall art.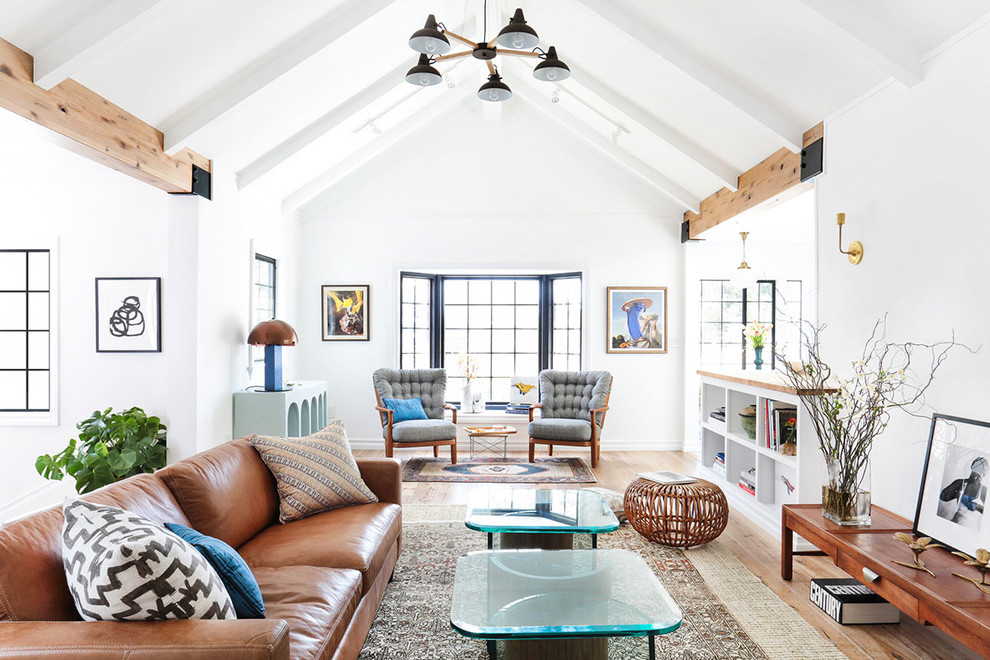 Books Make This Design
This spectacular grey apartment offers the urban dweller the chance to enjoy a bit of privacy with the creation of a book wall between the living room and the sleeping area. Full teal drapes add a spot of color and warmth in the sleeping area and the plush shag rug invites guests to pull up a big of floor and enjoy a game or puzzle on the coffee table.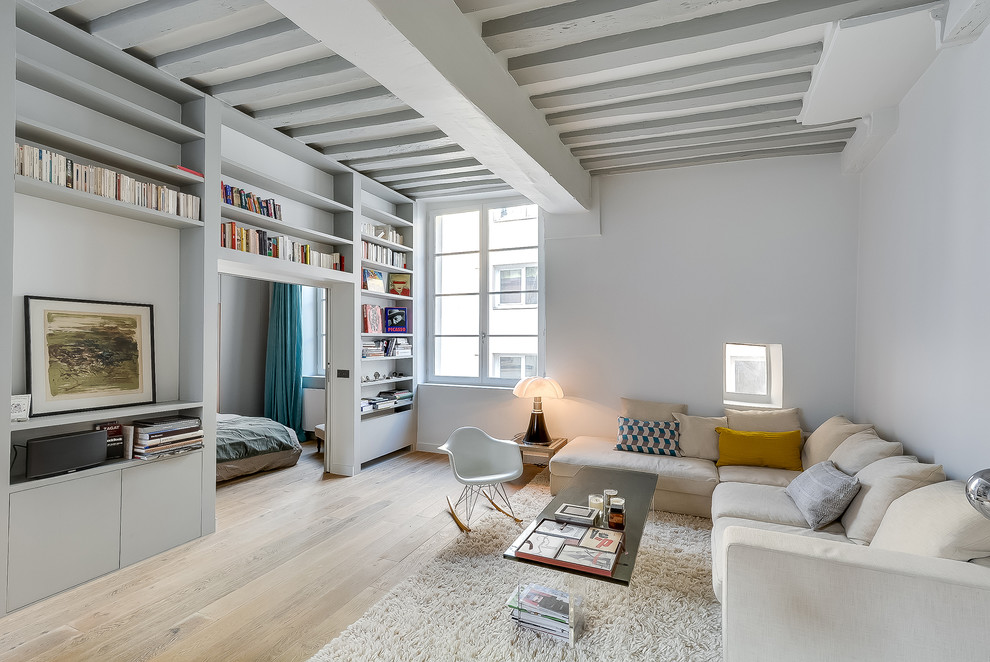 Efficient and Comfy
This space offers guests and visitors a comfy spot to hang out and grab a book or enjoy a fresh piece of fruit. Simple white bowls look wonderful on the aged coffee table and hanging lamps create a fun reading nook.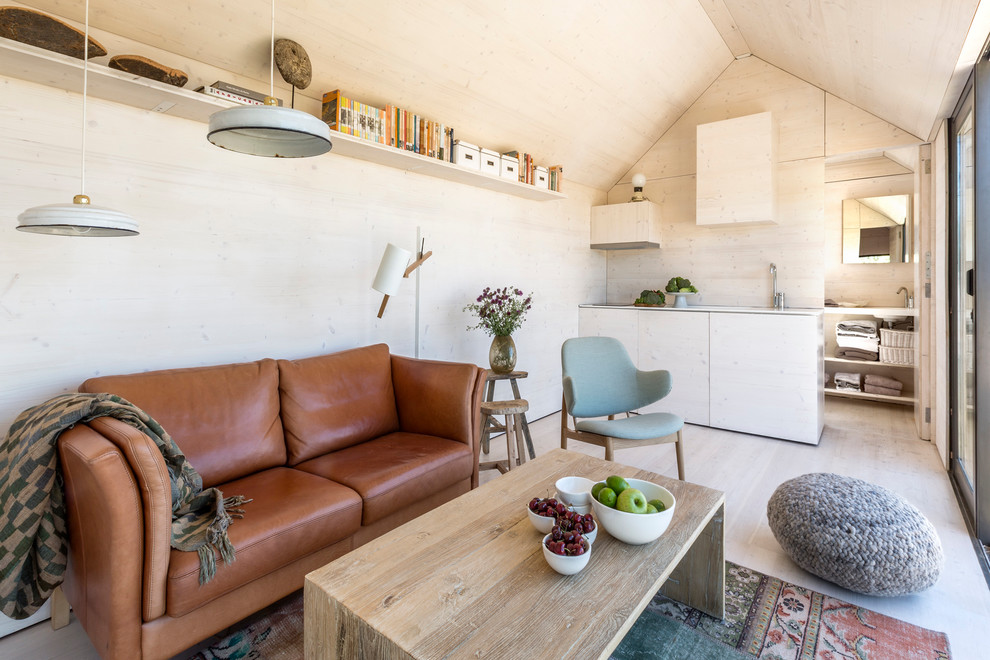 Striking Lines
Dark wood and a plush charcoal sofa with large seating ottoman make this cozy spot, warmed by a fireplace, an ideal spot to wind down on a snowy afternoon. White painted brick and a very tall mopboard give this space a clean, industrial look.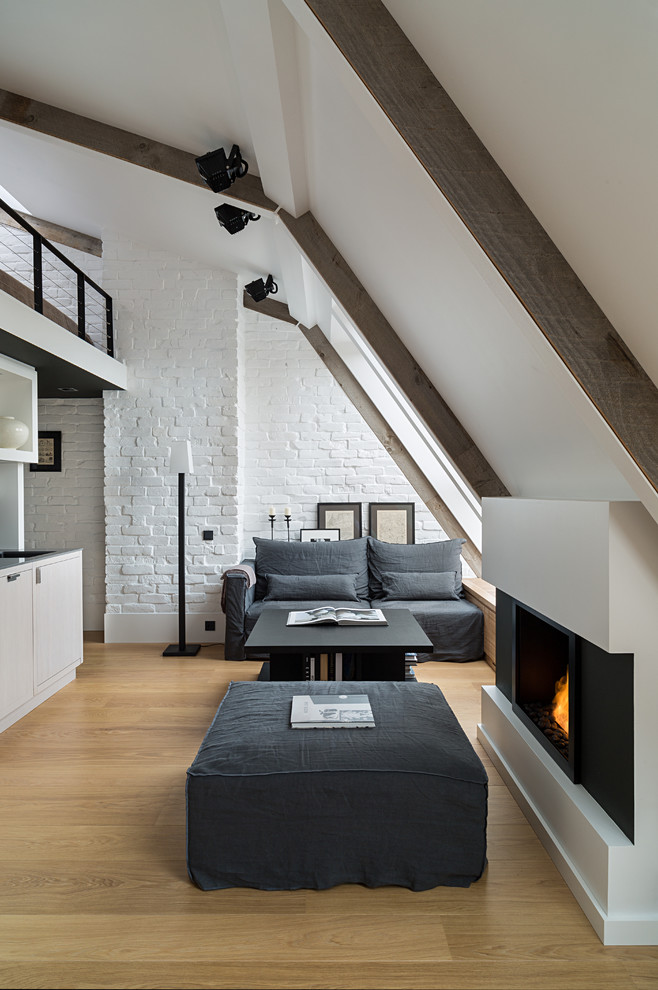 Comfortable Austerity
Every inch of this long room can be a spot to enjoy a bit of privacy or a spot to hang out together. The rug in front of the fireplace could be a spot for reading or a place to snuggle with a loved one. The austere bench offers cushion and a throw, or could be used as a coffee table, and the plush smoky charcoal sofa is an ideal spot to curl up with a book.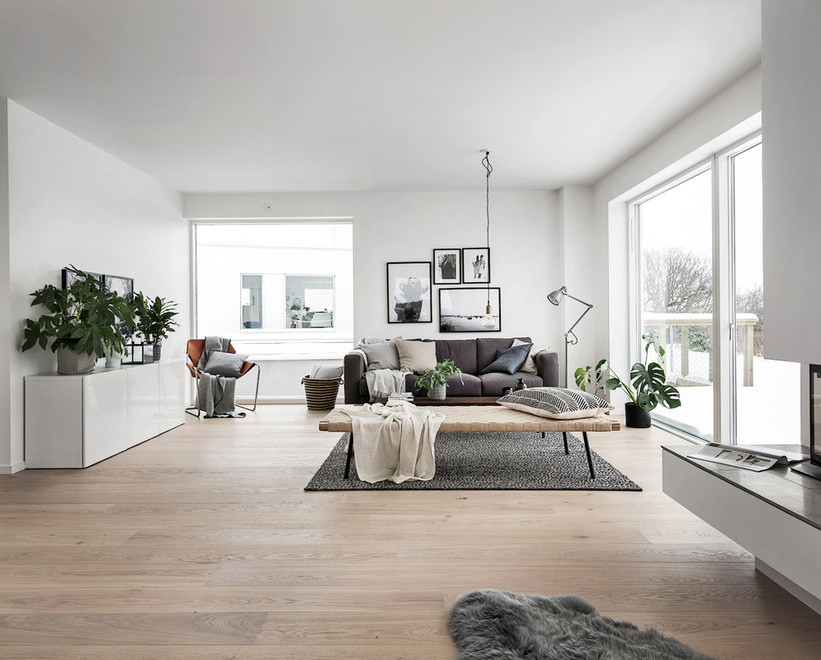 Barn Wood Paneling
Dark charcoal paneling makes every piece of wall art a unique gift to the space. The wheat-toned sofa, draped in dark grey and deep chocolate cushions, gives you a space to settle in and relax or study the art.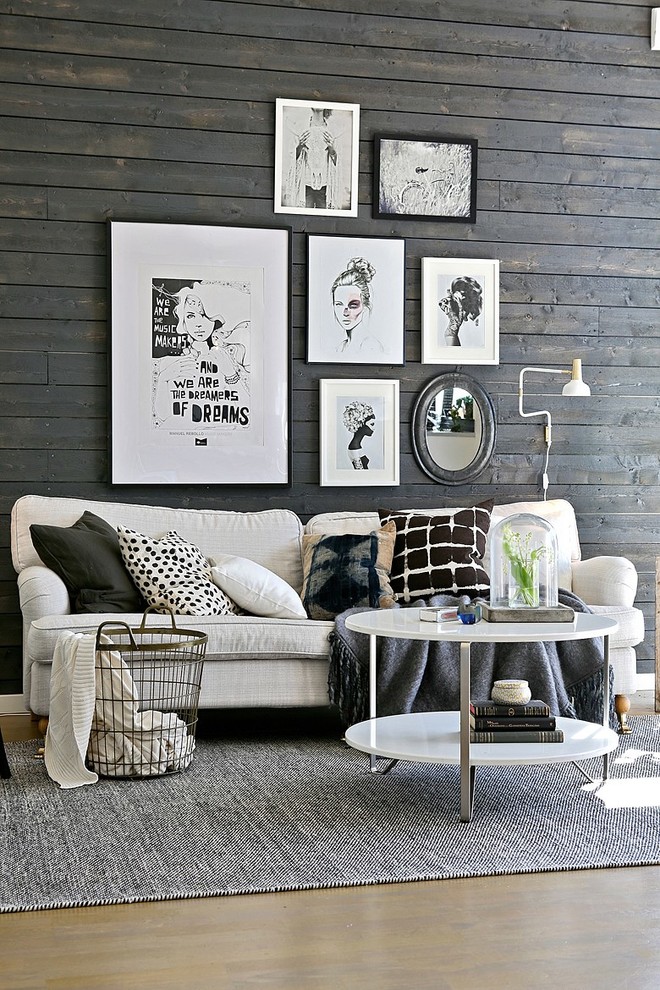 Unique Flooring Tones
The deep browns and greys of this floor give this room a solid, stable footing. Grey furniture adorned with pretty rose cushions and natural wood along the fireplace wall makes the whole space into a comfortable and utilitarian room you can live in.