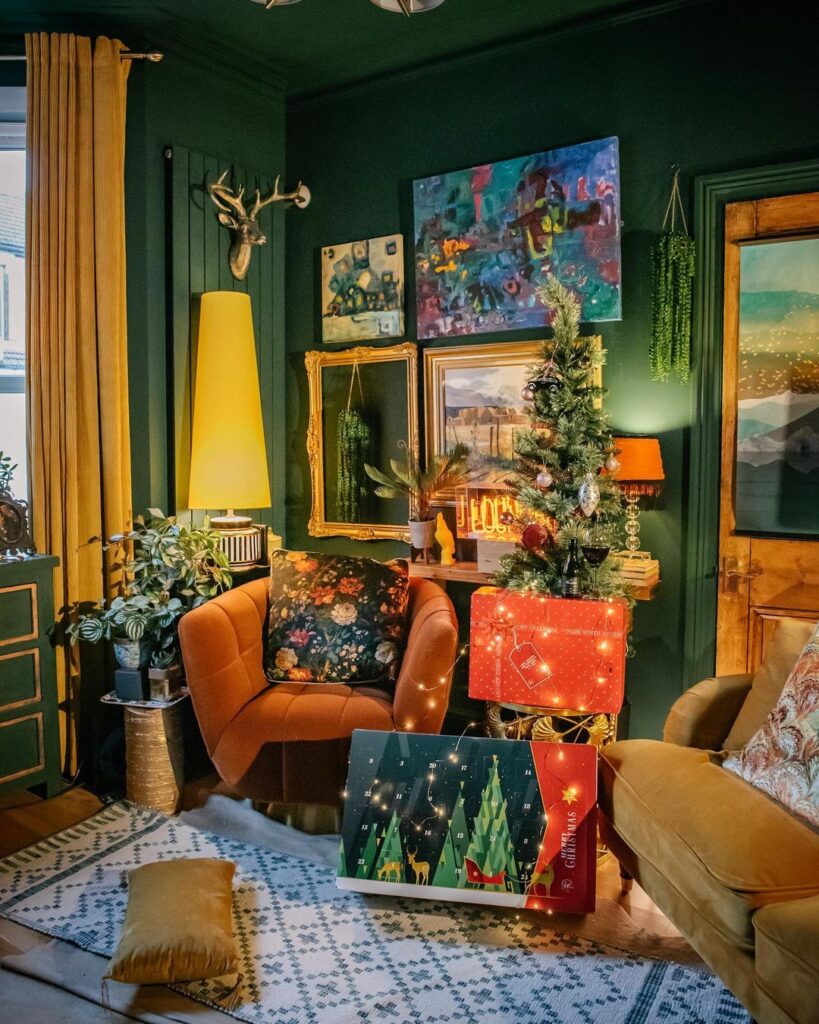 A Layered Home Done in Maximalist Style by Lily Sawyer Interiors
This home in London decorated by Lily Sawyer of Lily Sawyer Interiors features maximalist-style décor. Maximalism is not a cluttered opposite of minimalism. It is a planned, layered look that mixes colors, patterns, textures, and a variety of decorative items. The key is how you group and layer items such as multiple pillows, throws, pictures, vases, books, accessories, furniture, fabrics, and rugs. These should be items to which you have a personal attachment. To coordinate the multiple items, repetition of colors, patterns, and one-of-a-kind items are used. Basically, maximalism is best accomplished by building layers and slowly adding colors, patterns, and sentimental décor items. If it starts looking cluttered, stop and remove some items. Layering can be as simple as sitting a favorite item on a stack of books. Bookcases can be a great display area.
For her home, Lily Sawyer realized that the low light in the entryway hall made bright colors look dull. On the other hand, dark walls made the hall feel larger and less dull. The dark walls provided the illusion of depth. The living room has a lot of items that draw your eye, but they don't compete for attention. The gold in the chair, the drapes, the lamp and elsewhere in the room draws your eye around the room. The blue in the rug, the throw, and the chair complement the wall paper around the fireplace and also pulls the room together. The pictures on the wall provide a good background for the room. The varied wall art displayed in the dining room creates an interesting and enjoyable atmosphere. The shelving in the kitchen allows layering of dishes, photographs, plants, and accessories. The main bedroom features a rug that provides a range of colors. The blue in the bedding blends with the rug and is echoed by the horse head sculpture and the fringed lampshade. The pillows on the bed complement the bedding. The items on the floor are arranged to created a coordinated grouping. This is a good example of uncluttered layering. The blue wall in the second bedroom is complemented by lighter blue accessories. The wall art and the items on the shelves are arranged to create interest and not distract. The items show the personality of the occupant. This house will give you a lot of ideas on how to layer.
Lily Sawyer, decorator of the home, has a BA and MA in Fine Art as well as a Post Graduate Certificate in Learning and Teaching. She is also an Instagram influencer.