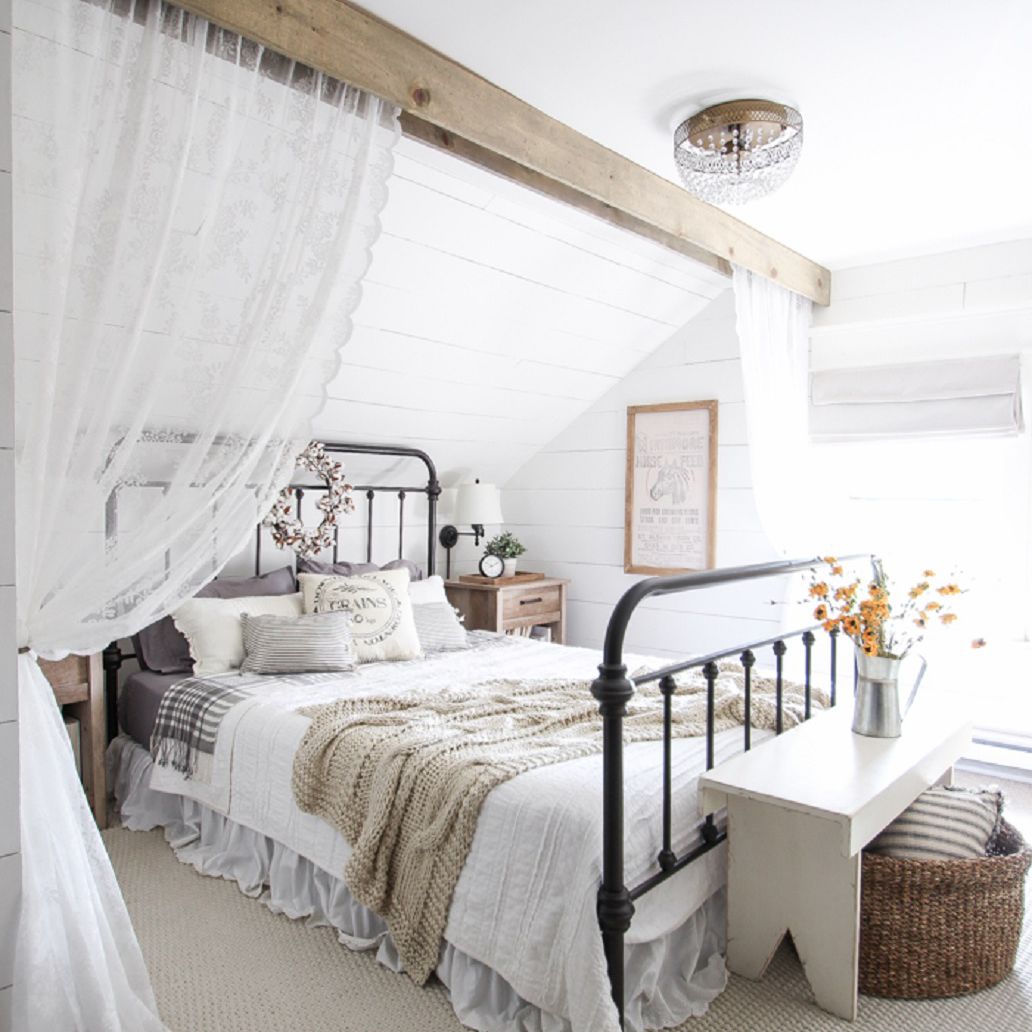 144 Farmhouse Style Decorating Ideas and Tips to Bring Comfort and Nostalgia to Your Master Bedroom
Farmhouse-style master bedroom decorating styles hearken back to a time when life was lived in a much simpler manner. Members of the household woke up to the crow of the rooster and to the smell of eggs and bacon cooking on the wood stove. Farm life required hard work and discipline, and such a life demanded that the inhabitants of the house had someplace comfortable and safe to retire to at the end of the day. Farmhouse-style decorating captures the nostalgia and simple beauty of the this decorating style. The following tips capture some of the best ideas for decorating a bedroom in this style.
Picture Frames Made From Antique Windows
Farmhouse decor often comes from found objects that are used in a new way, and that's the premise behind using an old paned-glass window as a picture frame.
To make this clever frame, just place a picture or pictures behind the panes of an old window. The glass panes allow you to see through to the picture/s behind the glass. It looks even more "country-ish" if the paned-glass window is a bit distressed, which brings a shabby chic element to a farmhouse-style master bedroom design.
Fireplaces in the Bedrooms
Another common element in farmhouse master bedroom designs are fireplaces in the bedroom. Once upon a time, homes didn't have central heating, so having a fireplace in the bedroom was necessary to keep the bedroom warm.
In modern farmhouse bedrooms, the addition of a fireplace serves as a reminder of this architectural element of the past. Home decorators can add interesting elements to this set up by stacking chopped wood by the fireplace and by decorating the mantel, with items like mini-pumpkins, baby's breath in Mason jars and black and white family portraits.
A Variety of Textures
A common element in farmhouse decorating styles is the mixing of different textures. This tendency comes from the utilitarian approach that home decorators take, meaning that many of the decorative items serve a purpose. They don't necessarily have to match whatever else is in the master bedroom because this isn't a style that's planned out much. Instead, pieces are acquired over time and made to fit in with the other items that are already in the room. That's why so many different textures, like burlap, linen, velvet and cotton, can end up the same room.
Barn Doors
Using sliding barn doors in place of a standard door is another popular trend that's seen in farmhouse-style master bedroom designs. Typically, the barn door is distressed. The doors are mounted on the wall and slide open, like a sliding-glass door.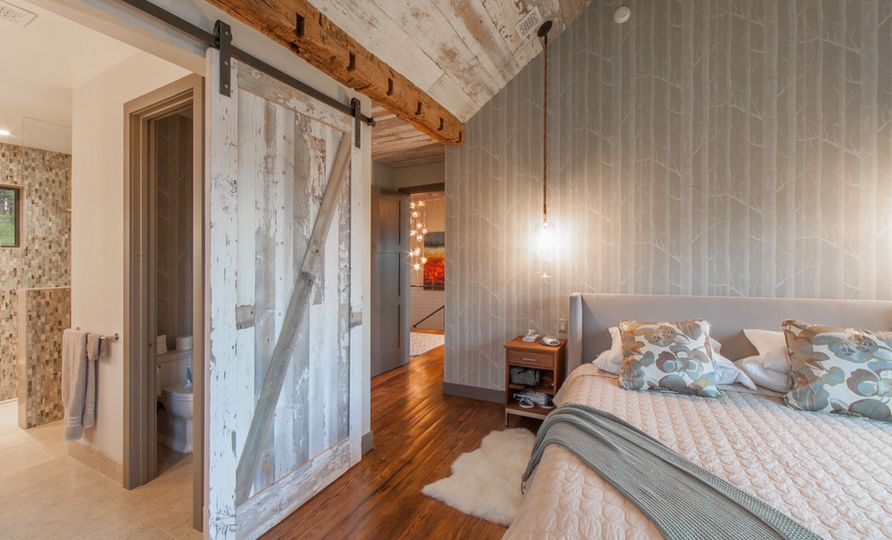 What's nice about this style of door, aside from the fact that it's thematically correct, is that the wider door design allows for a wider door frame. This makes moving furniture and other large objects in and out of the room much easier.
Wooden Crate Headboard
Heavy cargo usually travels on trains or boats stored in wooden crates. Many of these crates are very large, depending on what's inside the crate. Because of their large sizes, home decorators can repurpose the sides of these crates: Many are wide enough to become a headboard for the bed once the crate has been broken apart.
The wood that these crates are constructed from is often rough and filled with splatters of paint, travel stamps and other interesting elements. All of this makes for an interesting headboard for the bed that's a one-of-a-kind.
Padded Quilts
Padded quilts also count as a staple decorative item in a farmhouse-style bedroom. Although it's possible to decorate with newer quilts, adding a vintage quilt that was found at an auction or estate sale brings another level of authenticity to the design element in the room.
Soft Yellow Paint
Many farmhouses feature yellow paint, due to how the color brightens the room. It's best to choose a soft yellow, like a matte butter yellow, to keep the glare down.
Plank Ladder Shelf
Those small stepladders with wide planks get new life when they're turned into beside shelves. Most of the time, the planks that make up the ladder's rungs are wide enough to place magazines, books, small lamps and other necessary items on. They also take up less floor space than a larger bedside table would, while providing the same amount of storage space.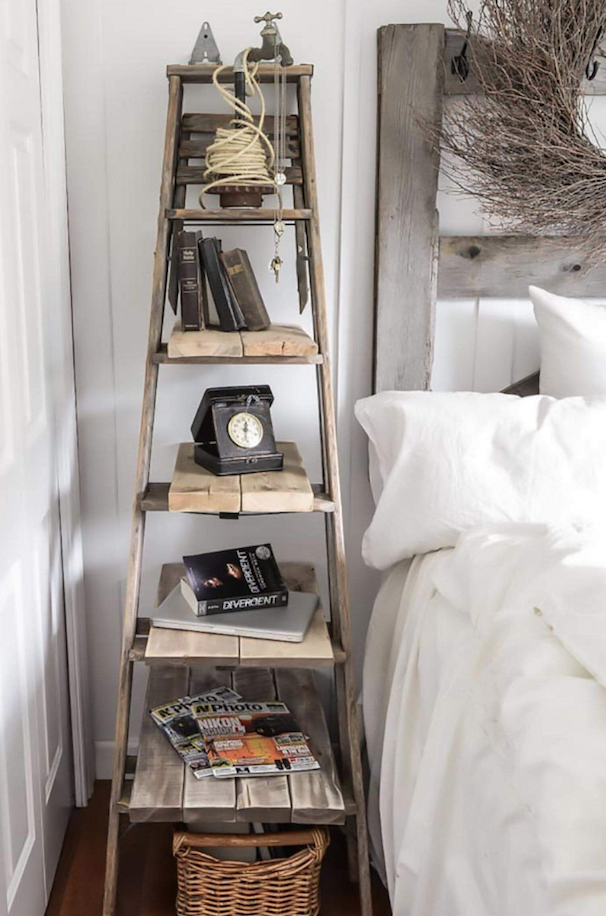 Old Wooden or Metal Advertising Signs as Wall Decor
Anyone who has grown up in farm country is probably used to seeing old advertising signs made from wood or metal. These signs usually advertised the goods from nearby orchards, old cars or hamburgers for a dollar at the roadside cafe. These types of advertisements are typical Americana fare that made their way into farmhouses as a way to decorate the walls. They're still popular today with homeowners, due to their handcrafted beauty and their ability to kick up more than a small amount of nostalgia.
Four-Poster Bed
The bed is the central focal point in most rooms. As such, it plays an important role in setting the decorative tone for the room. In farmhouse decor, nothing is more common than the four-poster bed. This piece was usually laden with heavy quilts, fluffy pillows and throw blankets at the end of the bed.
Some homeowners like to put the bed in a nook that they separate from the rest of the room with a gauzy curtain. Others will embellish the visual role that the bed plays in the space by putting an old steamer trunk at the end of the bed, which can be used to store quilts, clothing and other items. Regardless of what items are placed on or around the bed, each element around the bed should be carefully chosen to enhance the visual dominance of the bed in the room's design.
Popular Ideas on Pinterest
Decorating a master bedroom in a farmhouse style decorating style adds feelings of warmth and comfort to the space. It's an easy style to adopt because decorative items are added as they're acquired. They're also often repurposed, making each decorative piece a one-of-a-kind element in the room. If you like to know more about how other people create their farmhouse style bedroom. Here are some of the most popular ideas on Pinterest.