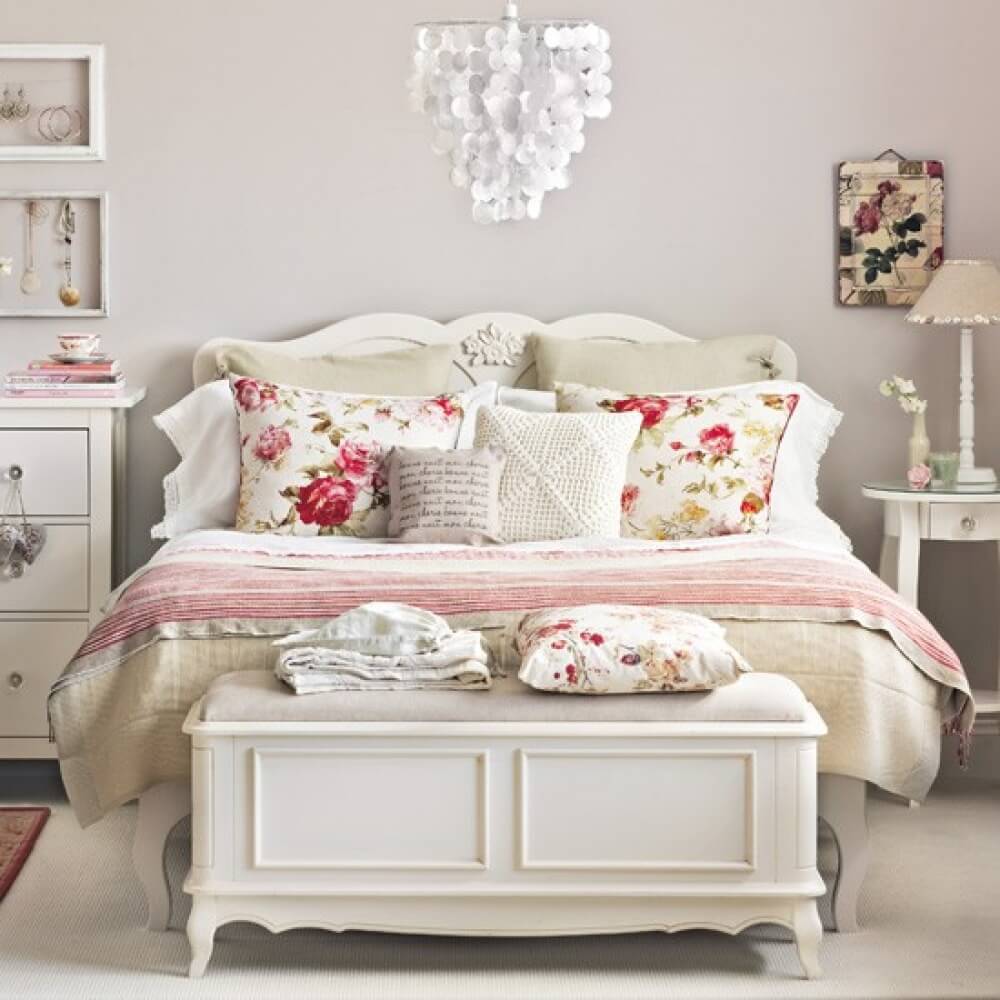 334 Vintage Bedroom Ideas for Your Home Improvement Project This Fall
Vintage items are not only budget-friendly but also versatile: They will give a room that romantic, casual, quirky, individualistic, and old-fashioned look. You will express your creativity and maintain a simple but yet sophisticated look in your room. 
Vintage style bedrooms involve the use of colors, accessories, fabrics, and furnishings popular in the 1940s and the 1950s. Items that existed at least 20 years but not over 100 years are considered Vintage. Such items cant be referred to as antiques but make you feel nostalgic. 
Below are some ideas and tips for your vintage bedroom project:
Find The Right Vintage Items
Finding vintage items isn't always easy. Don't expect to see these items in your local shop. You have to hunt for these furnishings. Some of the best places you can check-in include garage sales, Craigslist, second-hand markets, flea markets, antique shops, and malls.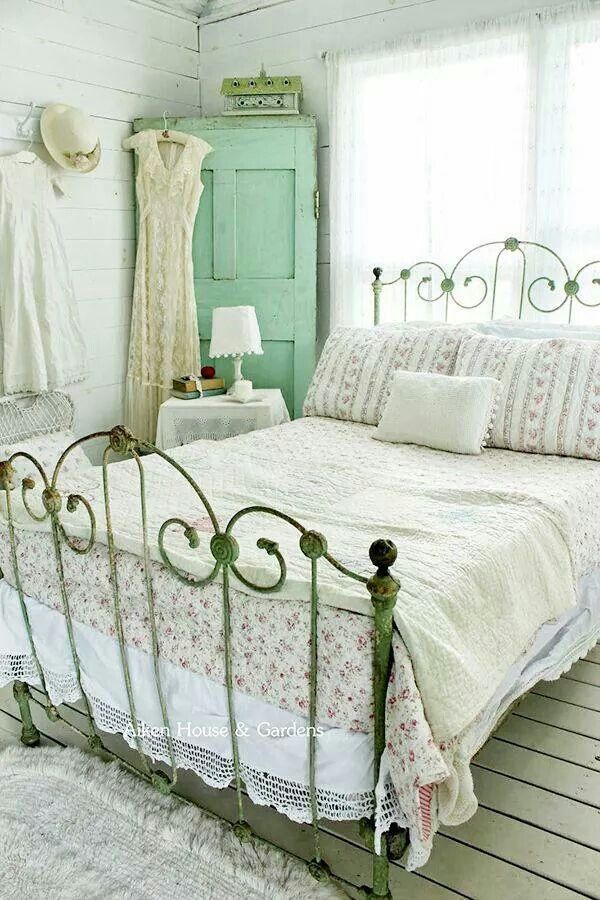 Be Creative
Vintage items allow you to be creative because the style does not follow specific rules, predictable décor, or matching furniture. Deviate from the norm and do something different, like setting an exquisite mirror on the floor, adding a vintage calendar on the wall, or converting a folding chair into your bedside table. With vintage items, be you. Rely on your creativity.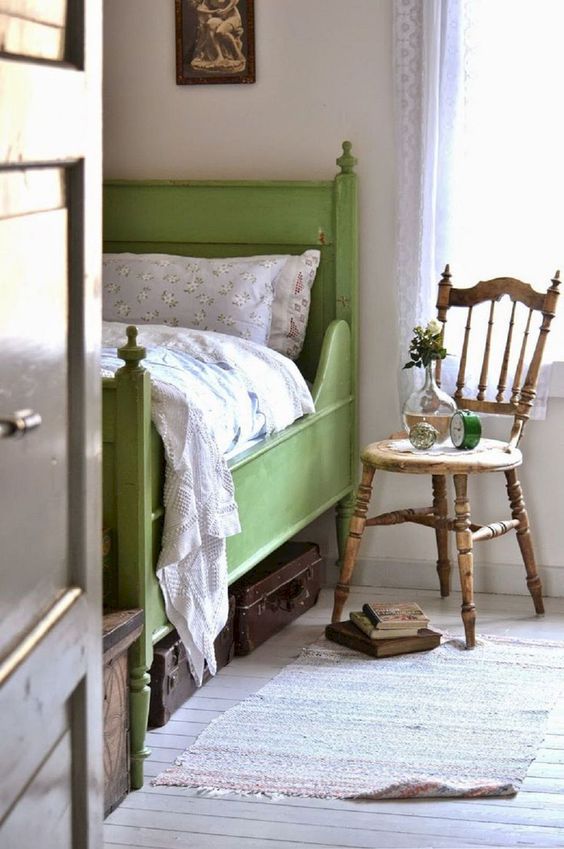 Vintage Bedding is Must
Vintage bedding gives your bedroom that charming and unique old-fashioned look. However, getting the right match can be tricky. Vintage fabric is delicate; be extra careful with the bedding. You can get this textile treasure from antique shops, thrift stores, and online stores like eBay or Etsy.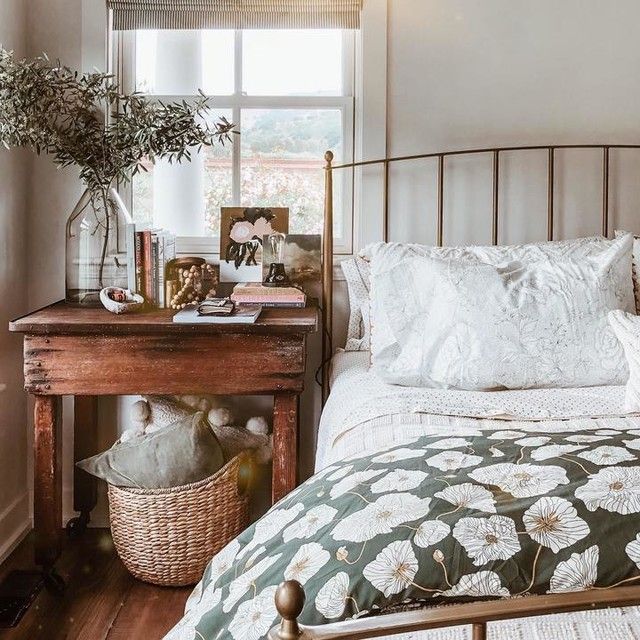 Mind Your Serenity
A great vintage bedroom must give you unmatched tranquillity and serenity, peace of mind; achieve this by using a soft color scheme or slightly brighter accent colors in your bedroom.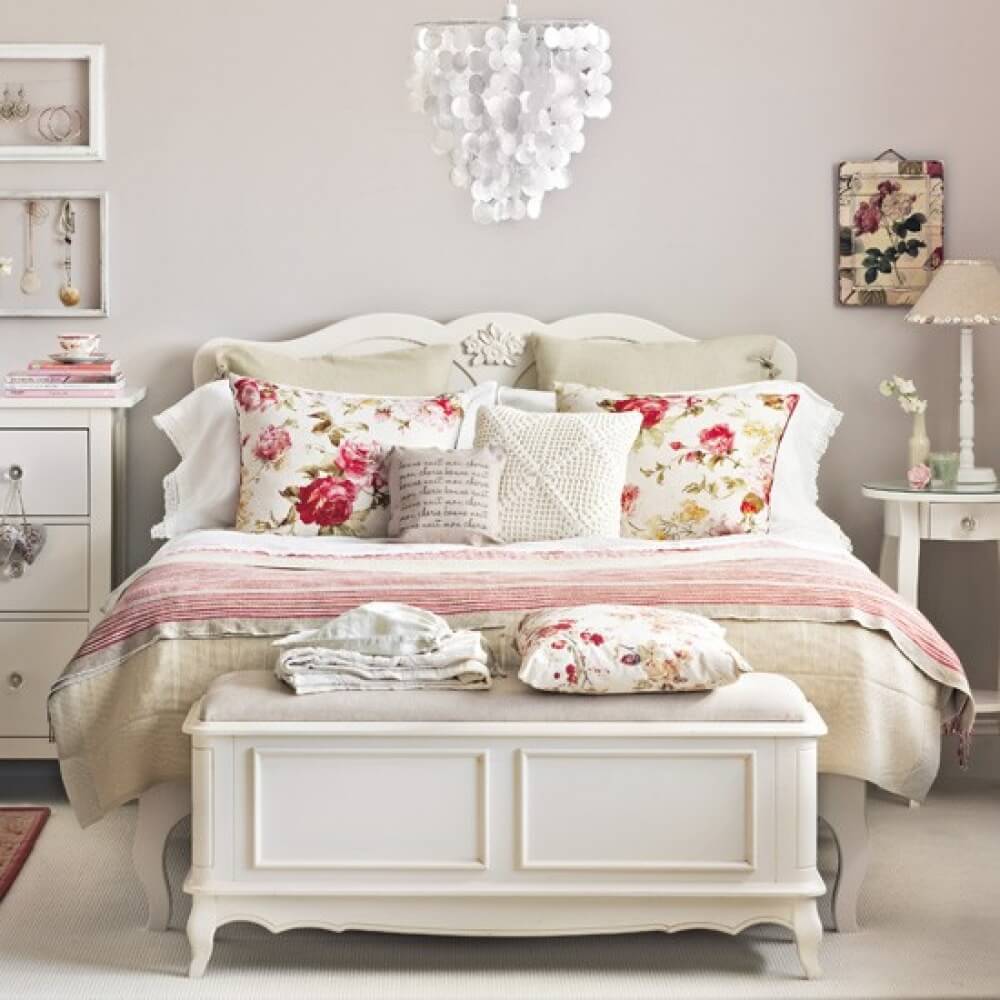 Paint the Vintage items
By using vintage furnishings in your bedroom, painting them can produce amazing results. If vintage items are stained or scuffed, colorful paint will give them a complete makeover.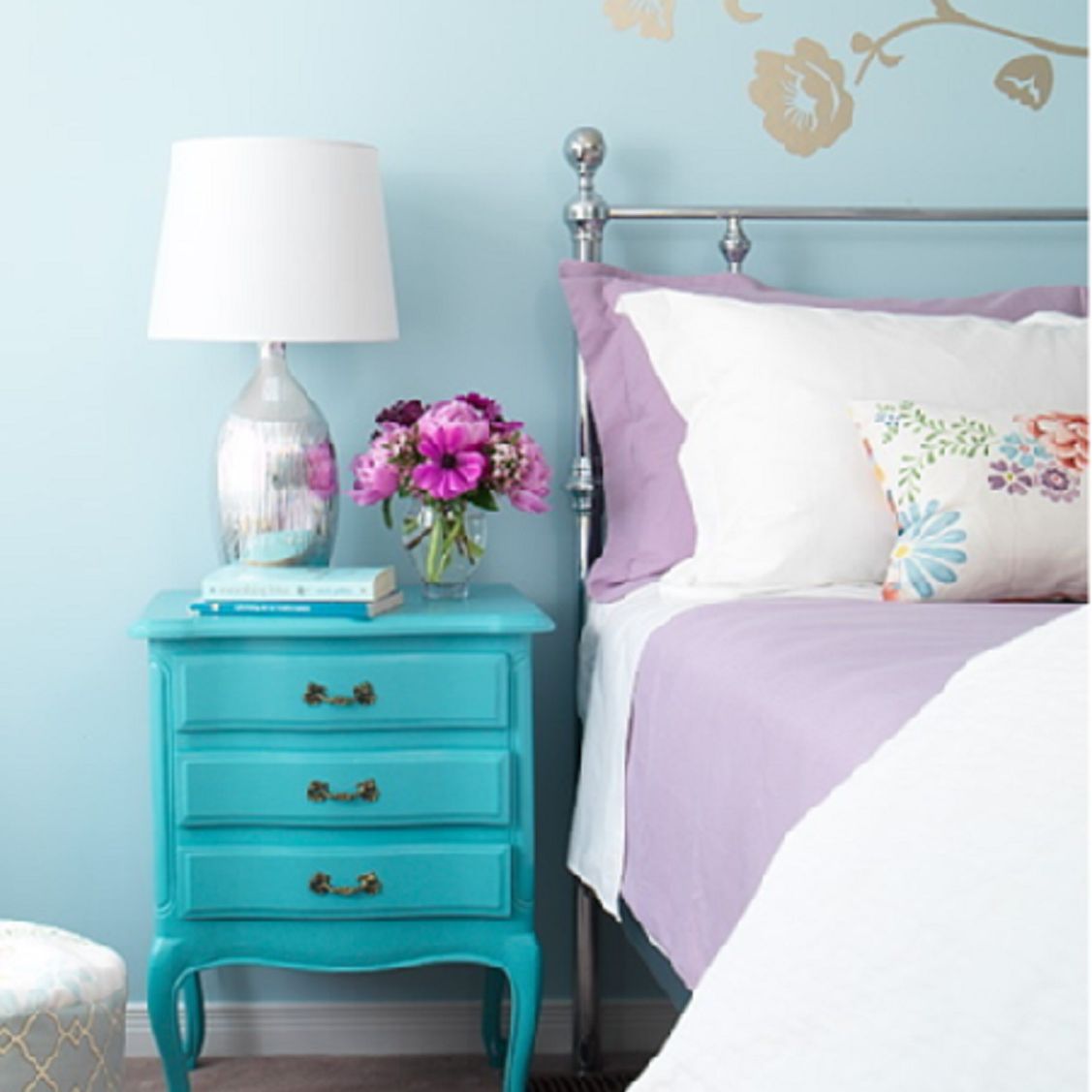 Be Unpredictable
Vintage items give you a chance to experiment. You are free to decorate your bedroom in a way that suits you by using vintage furnishings. Go into a decorating store of your choice, look at the vintage items available, and note them down. In most cases, vintage ceramic cats or dogs, dolls, hats, glove forms, or old globes will be worth collecting.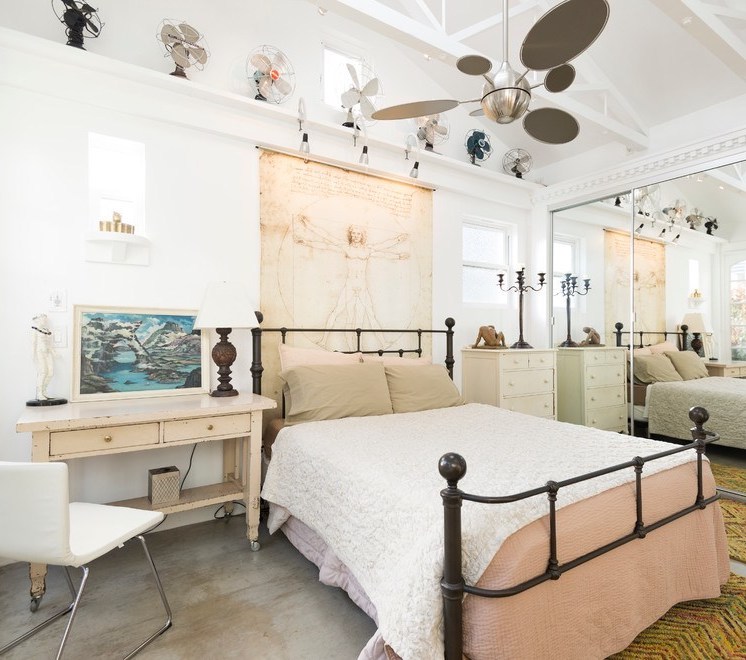 Mix Different Furnishings
Rigidity is something you should avoid when decorating your bedroom with vintage items. Do not just stick to the old furnishings. Mix both the old and new decorating items to achieve an exceptional appearance for the room.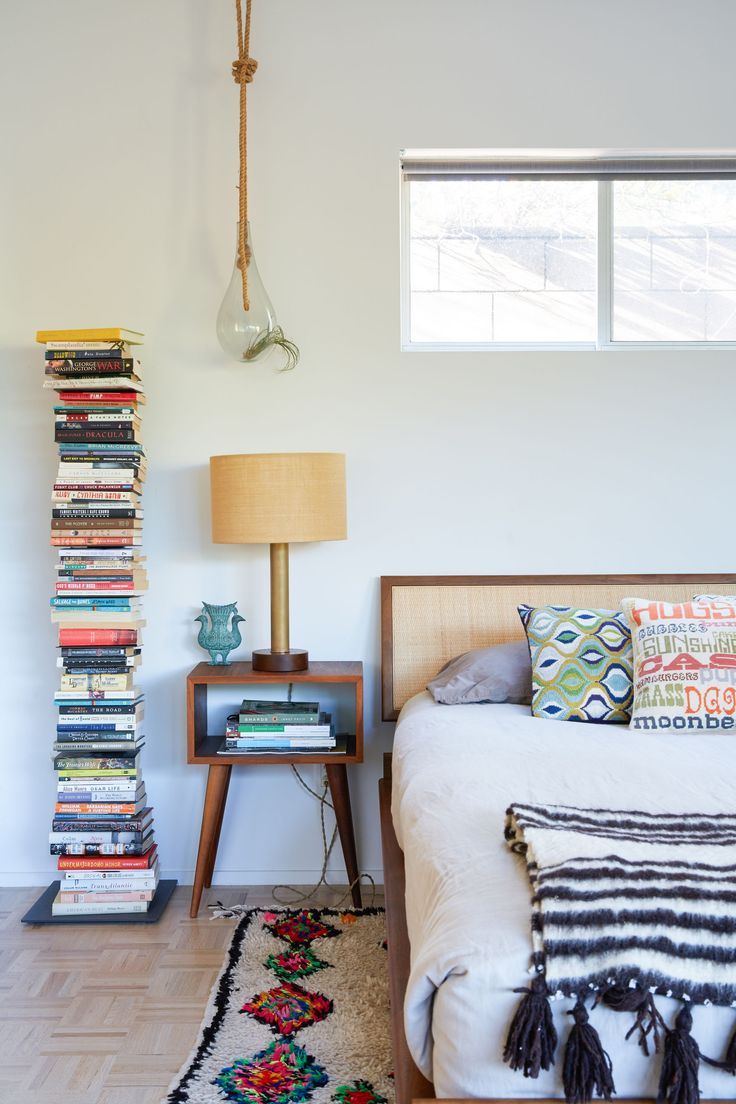 Go Hollywood Regency
Glamorous vintage furniture like that of Hollywood Regency will give your bedroom an elegant, expensive, and sophisticated look.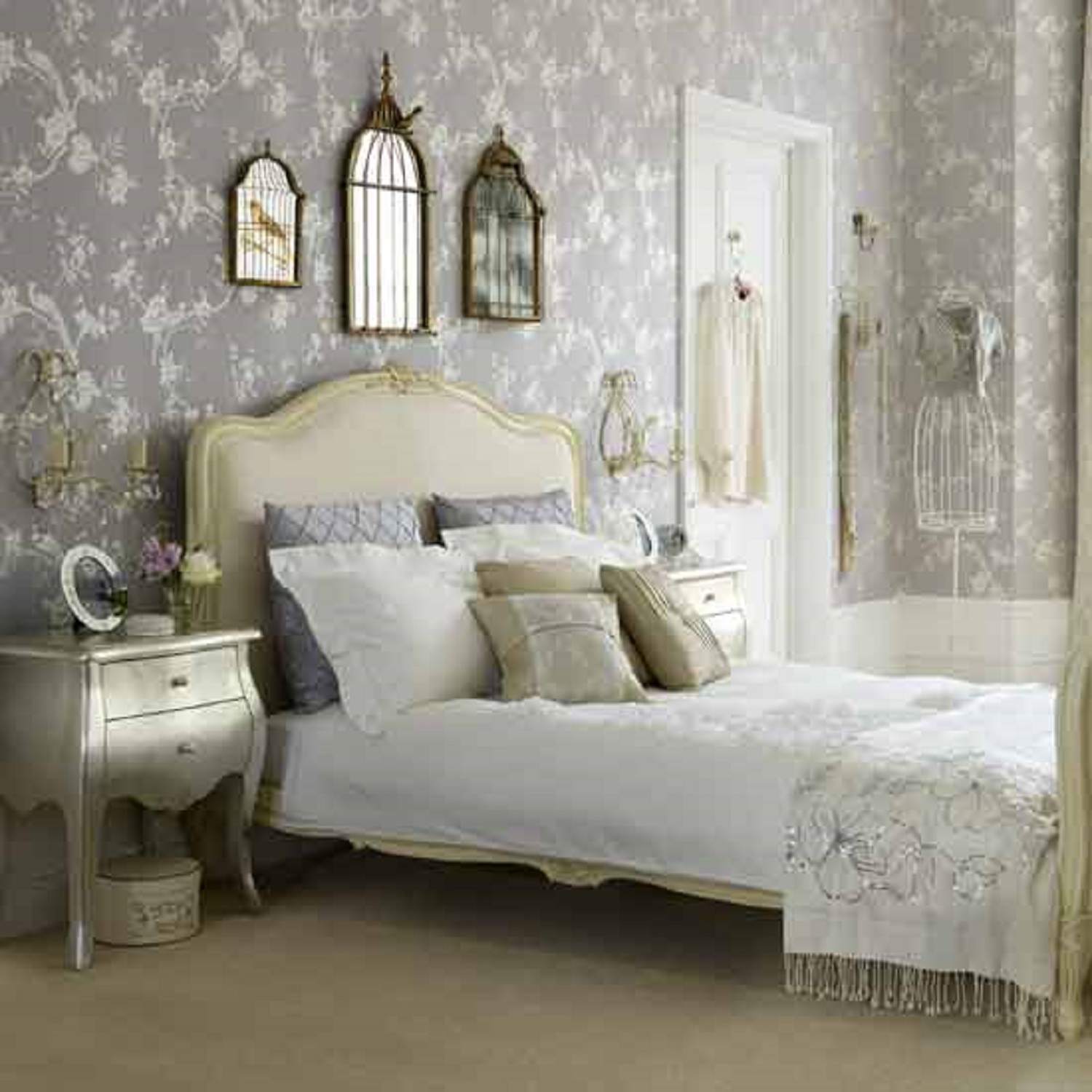 Capitalize On The Shortcomings of DIY
Decorating your bedroom with vintage items can lead to mismatched or a few uneven floors or walls. Make the most of it by appreciating these drawbacks as part of your new style. Those old shutters covering your walls are a unique style, add in some creativity, and it will work to your advantage.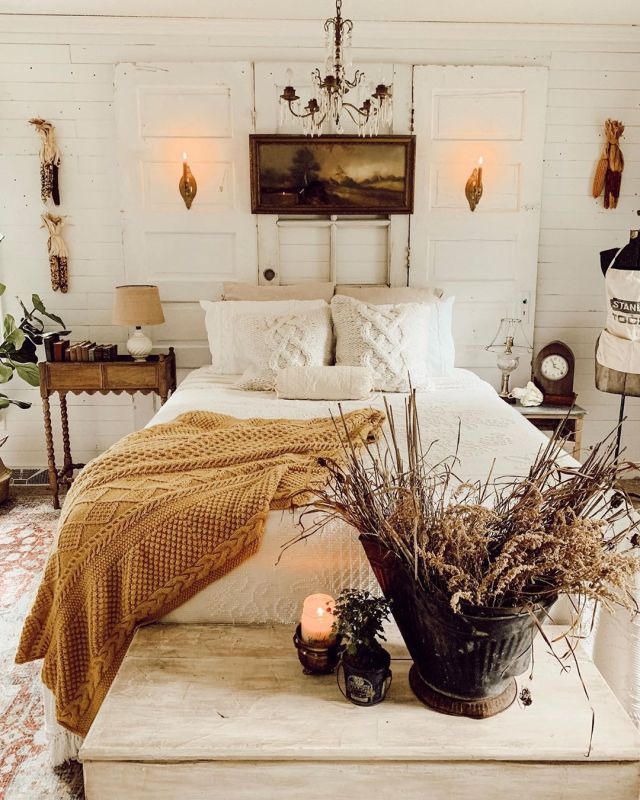 Choose the Right Color
Painting vintage items requires some delicate creativity. You need to have the right mixing colors or patterns that will produce an excellent vintage décor. Creamy white coupled with mint, moss green, buttery yellow, the palest lavender, soft blue, or pink can be a fantastic choice. Botanical like floras, idyllic 1940s scenes, or butterflies and birds are some patterns you can incorporate into your bedroom.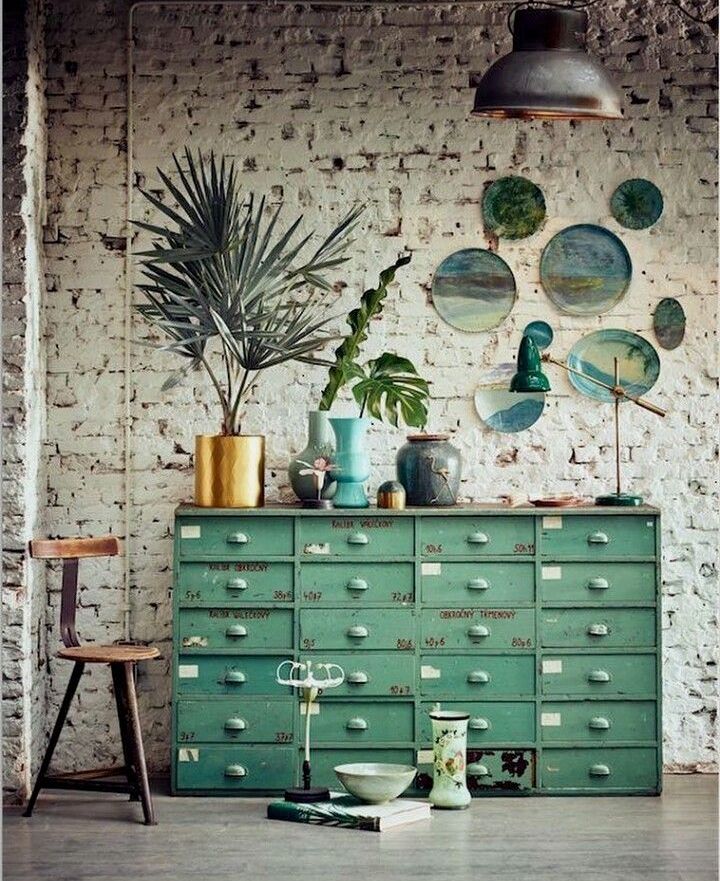 Folk Textiles and Floral Themes Bring Out The American Farmhouse Style
Create your version of an American farmhouse. Checked classic quilts, stripped beddings, and floral themed wallpaper complemented by vintage artwork will bring out an old American rural Midwest look in your home.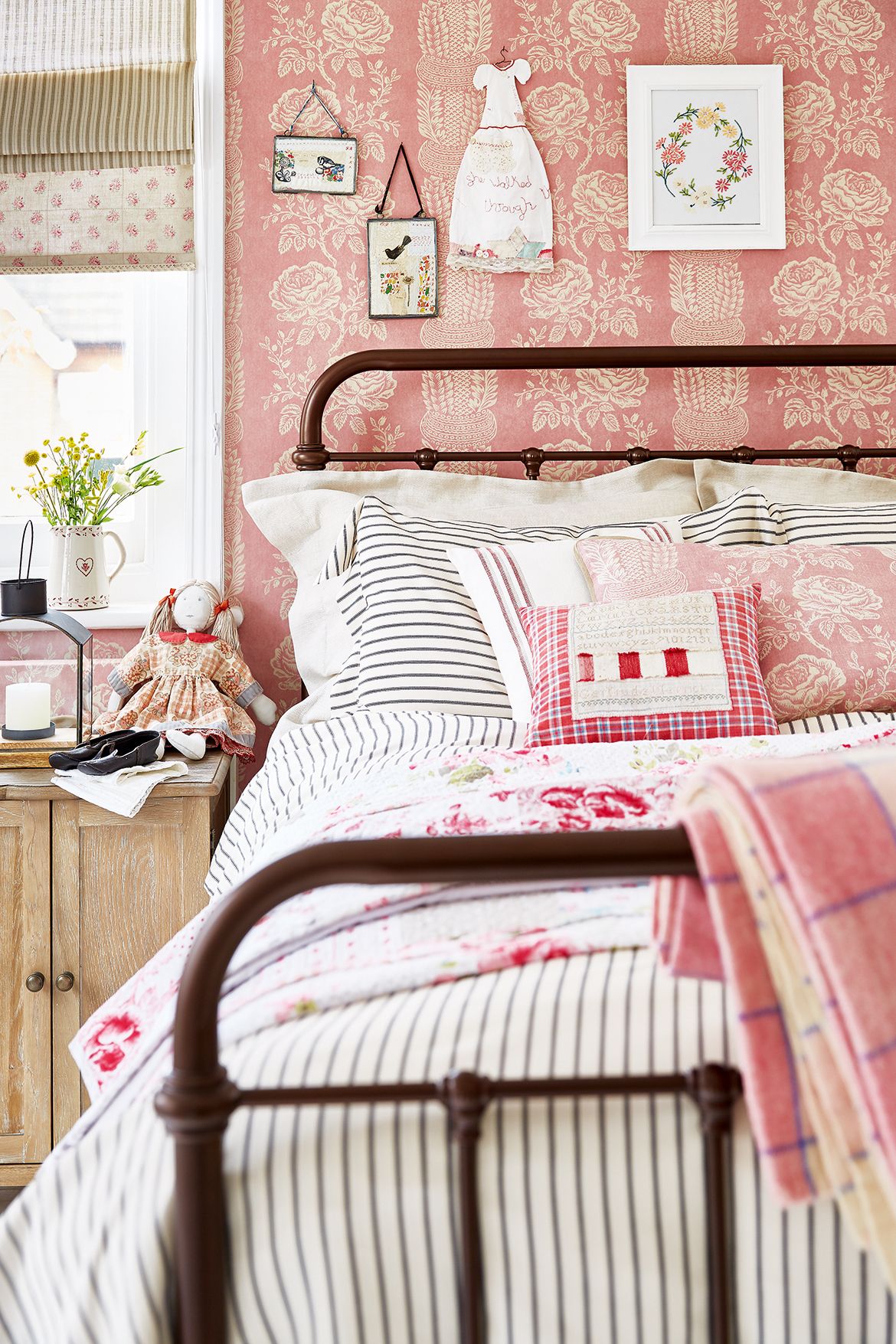 Feature Wall Sophistication Using Paneling
Exposing the original floorboards of your townhouse and integrating MDF panelling will give your townhouse a vintage identity. Faux flowers hanging from the wall and ornate gilt frames complement the one of a kind gallery wall structured by the integrated panelling.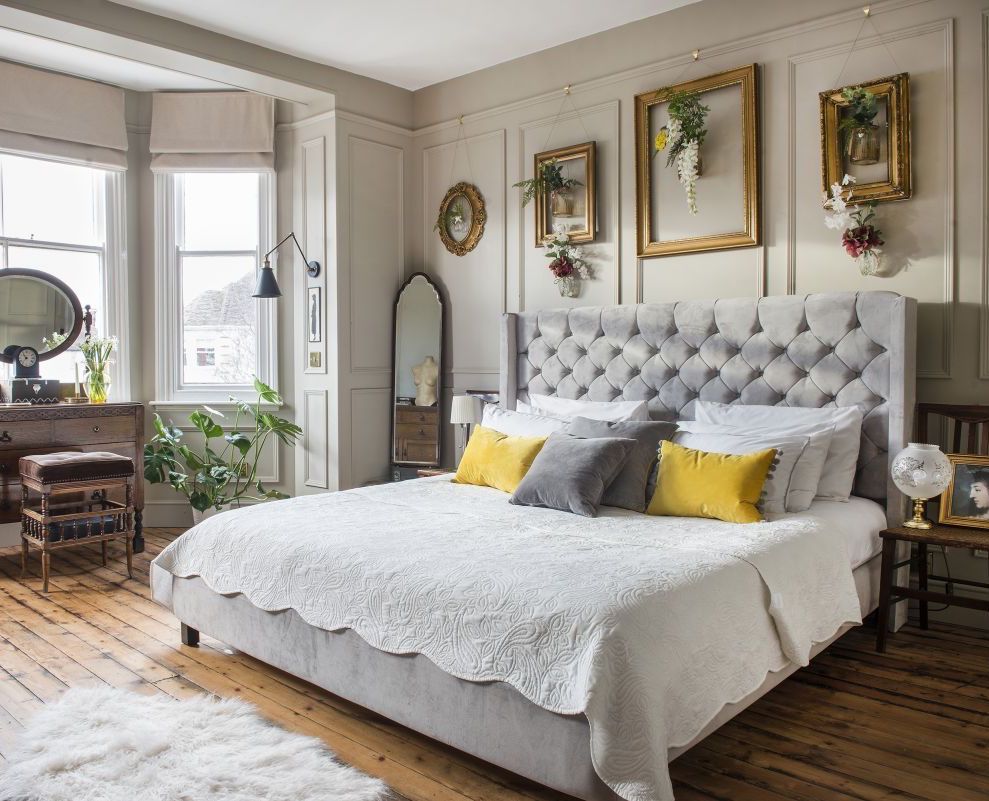 Get the Authentic and Romantic French Feel with A Faded Floral Theme
Sarah Hardaker inspires with this vintage design style. A ditsy design and selecting delicate trails will complete a classic style highlighted by vintage-themed soft pastel bed linen, quilts and cozy cushions.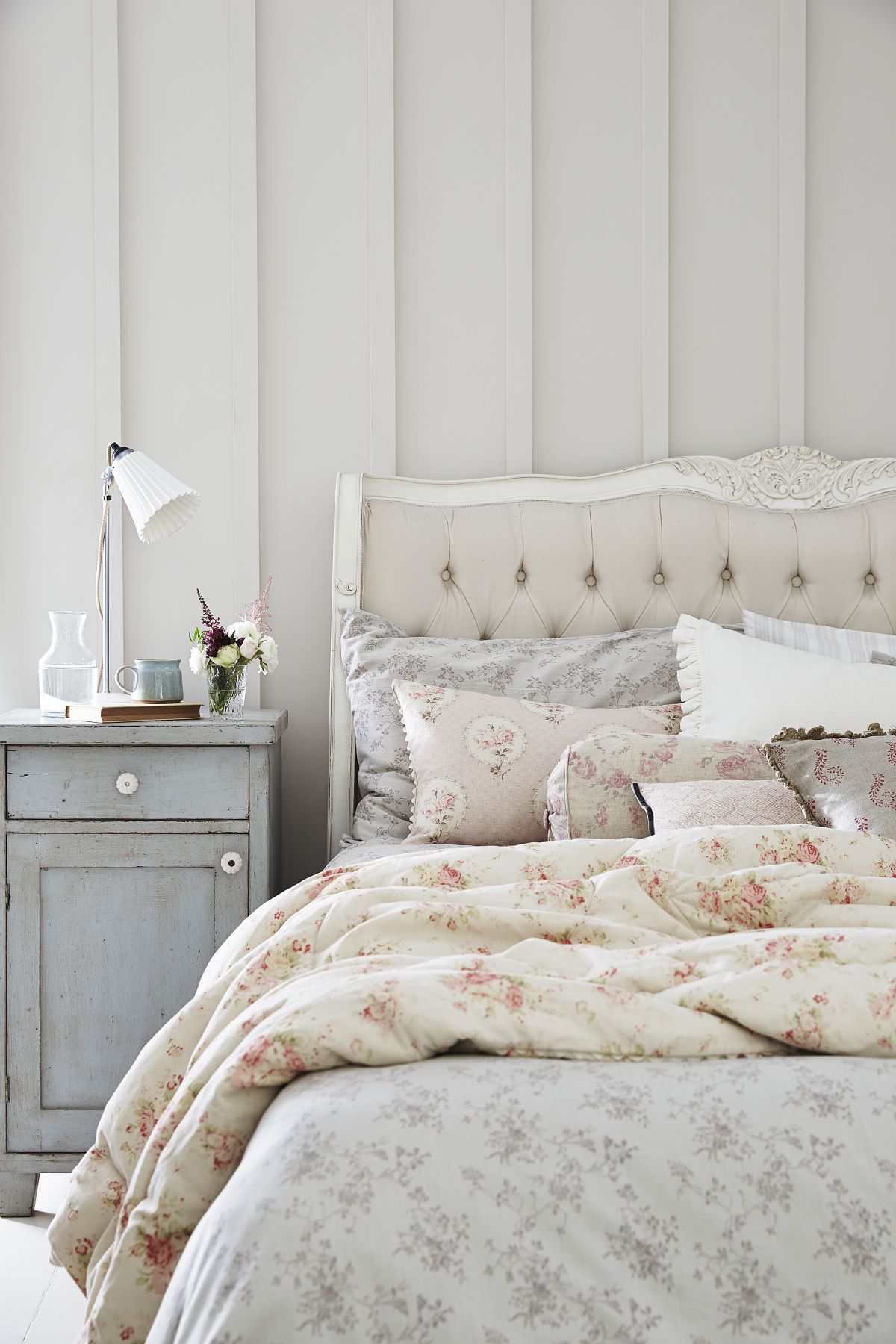 Go with The Vintage Industrial Theme
Get creative with your space to achieve the perfect vintage industrial look. Drawing inspiration from this refurbished postwar home, accessories such as old luggage for storage, clamps and scaffolding pipes for a bed structure and light fittings from car boot sales will bring out an old rustic-themed factory-based look.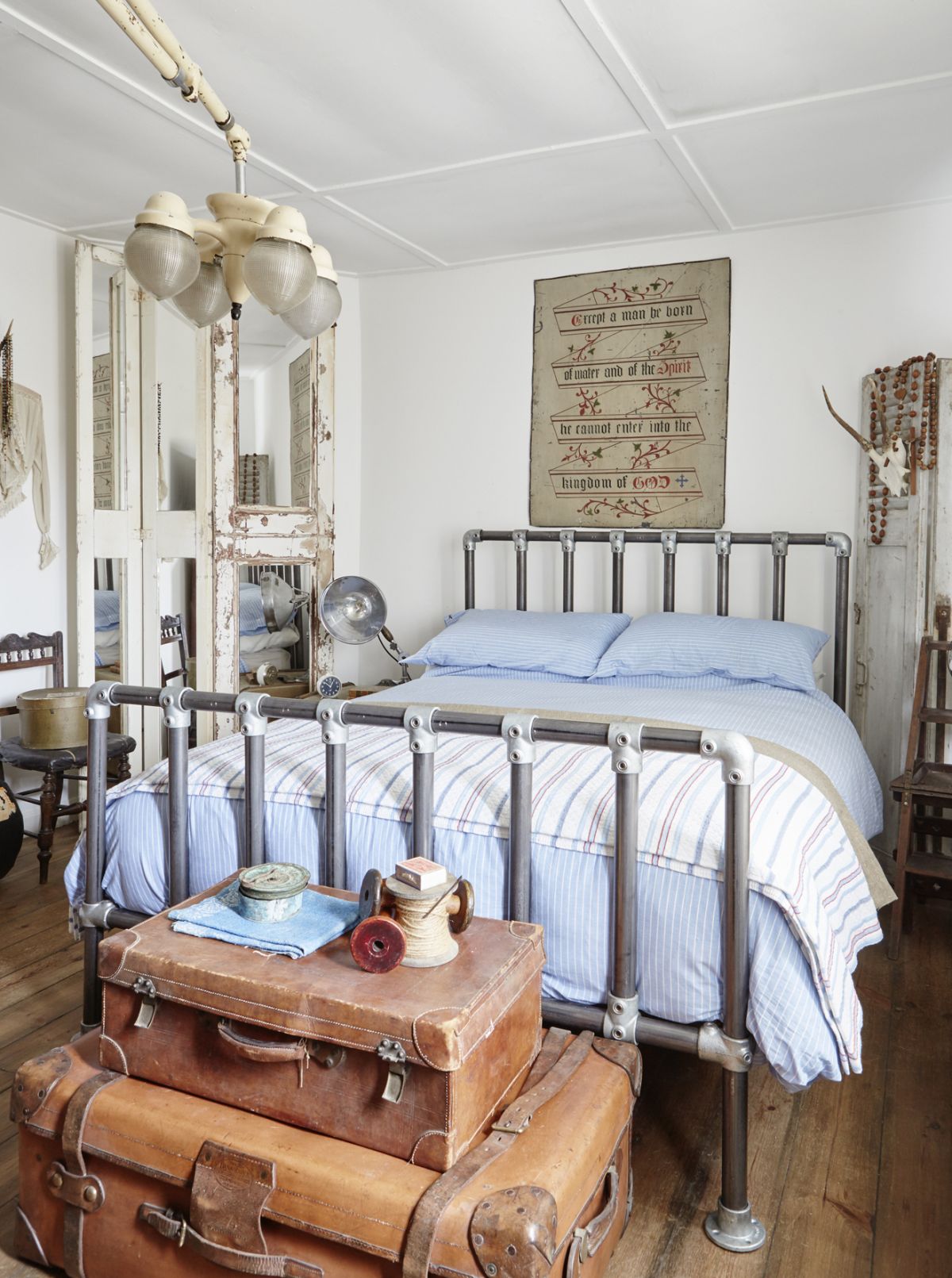 Ultimate Orchard Ladder Repurposing
With a few simple adjustments to your ordinary orchard ladder, you could have an ingenious nightstand that will help optimize your space and enhance that sophisticated look because of the creative repurposing of the ladder. Attaching a board at the back of the ladder maintaining level with each step will give you a more versatile nightstand than your ordinary nightstand.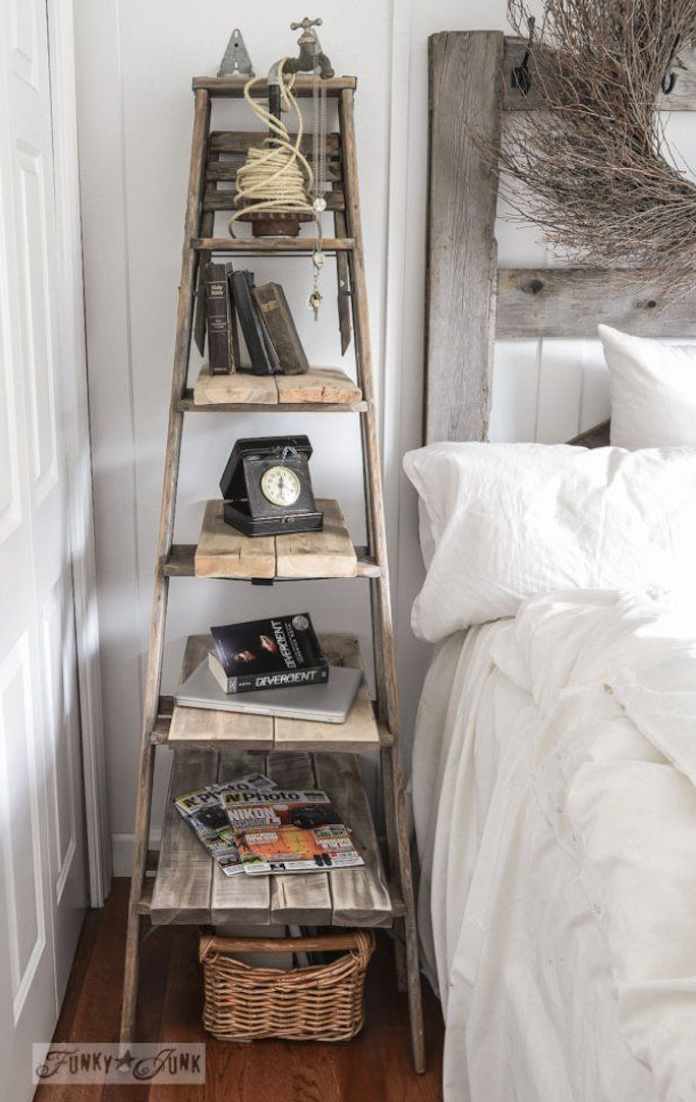 Door to Headboard Repurposing
It's incredible how this door has been cleverly put to use as a repurposed headboard. Its weathered condition gives it a vintage look. Its application as a headboard with a shelf above gives it versatility. It allows for displays of flower wreaths or candles that beautifully reflect off the horizontal mirror.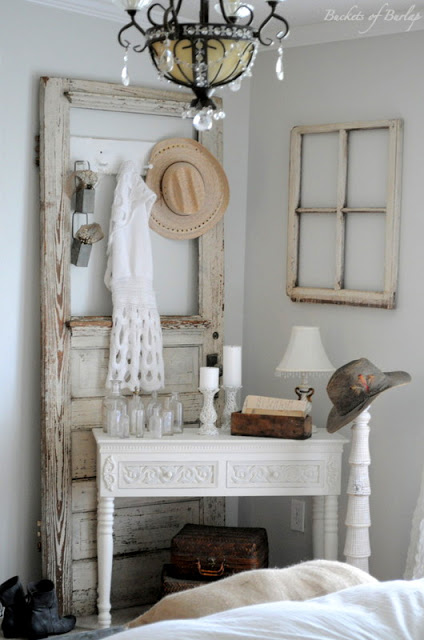 A Modern-Vintage Combo
With the focus point of this style being the use of modern accessories and furniture highlighted by ornate details and engravings to bring out a vintage identity, you don't have to rely on repurposed items or accessories to create that vintage look you've always wanted. Featuring fewer elements within the bedroom, this style is completed by a mirror and selects decorative items on the nightstand.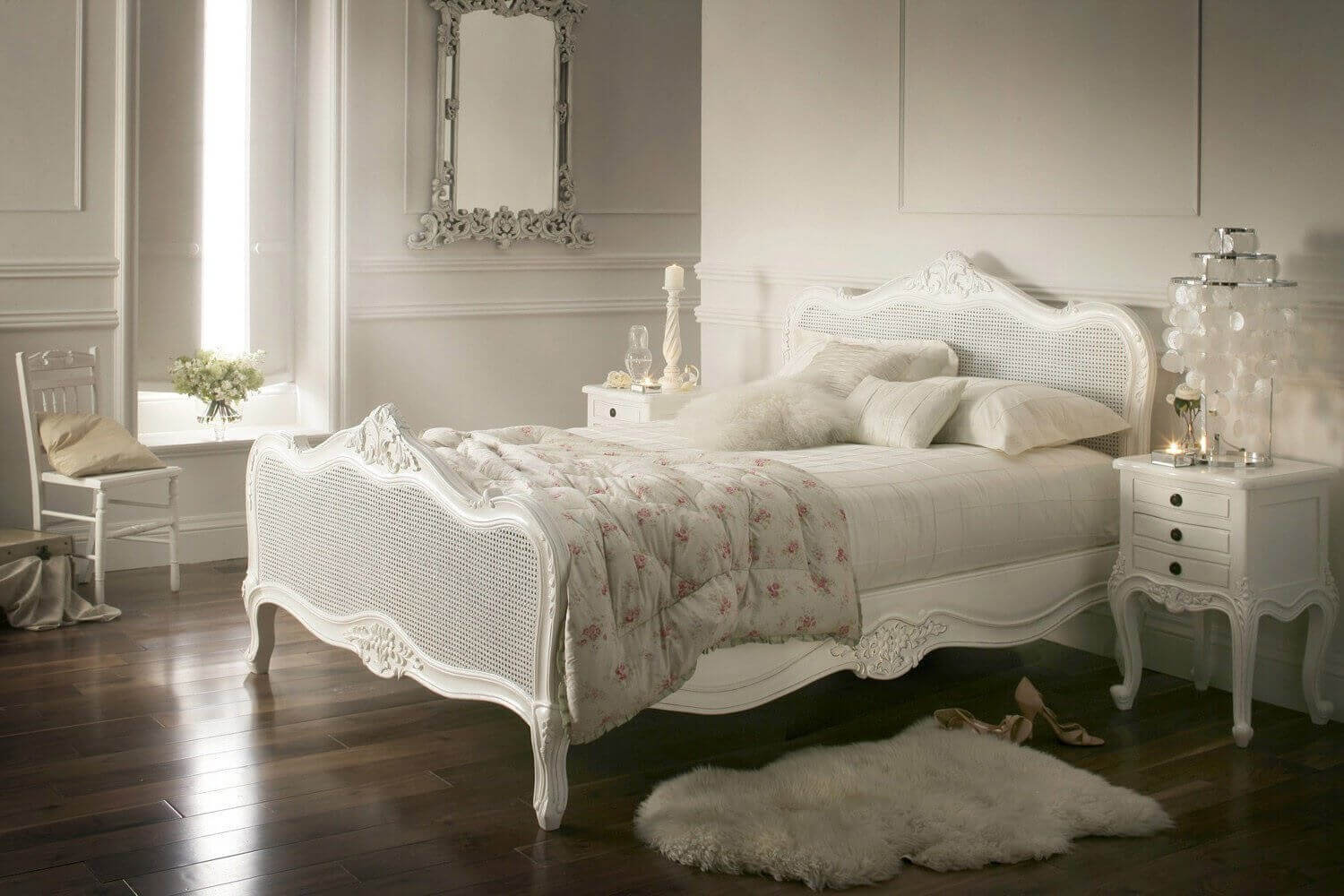 What's Beneath Your Feet?
It would surprise you at just how much of an impact a vintage rug would create. An ideal faded rug will add character to your space, complementing your flooring choice and  completing your antique design. Achieve an efficient long-term vintage design with an ideal vintage rug under your wrought-iron bed-frame.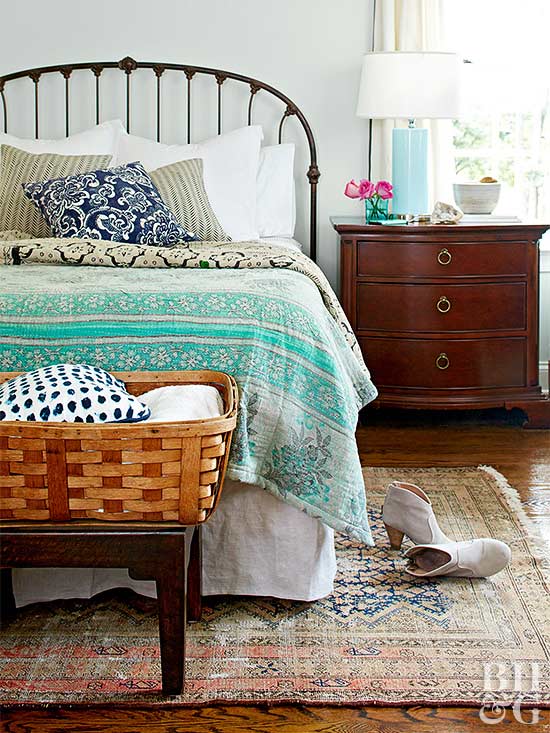 You Can't Go Wrong with Flora and Fauna
In the past, it was common to use floral designs to decorate, which was overwhelming sometimes; this style narrows it down to selecting just a few features to complement floral themes. The print of soft wallpaper complements the vintage lamp and headboard.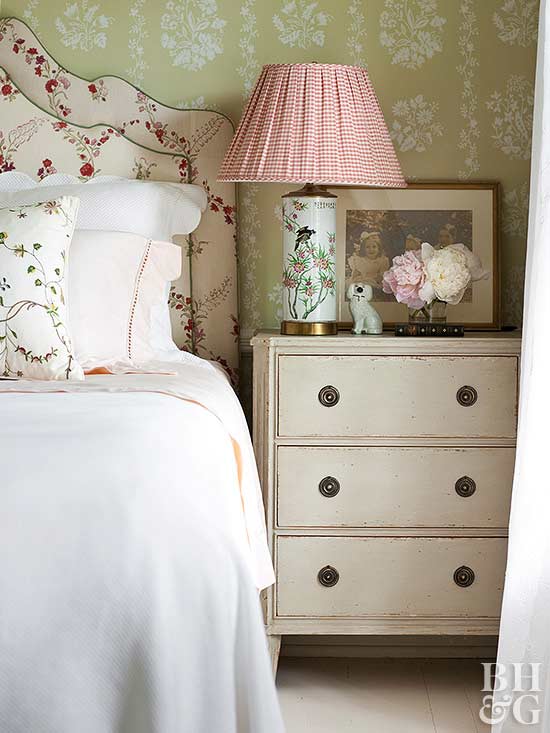 Maintain a Single Tone
Highlighted by the rice paper pendant lights, this design inspired by Leanne Ford Interiors brings to fruition a versatile style combining the Wabi-Sabi, contemporary and shabby chic styles. The technique captures trendy looks completed by visual white-dipped materials and French linen slipcovers.