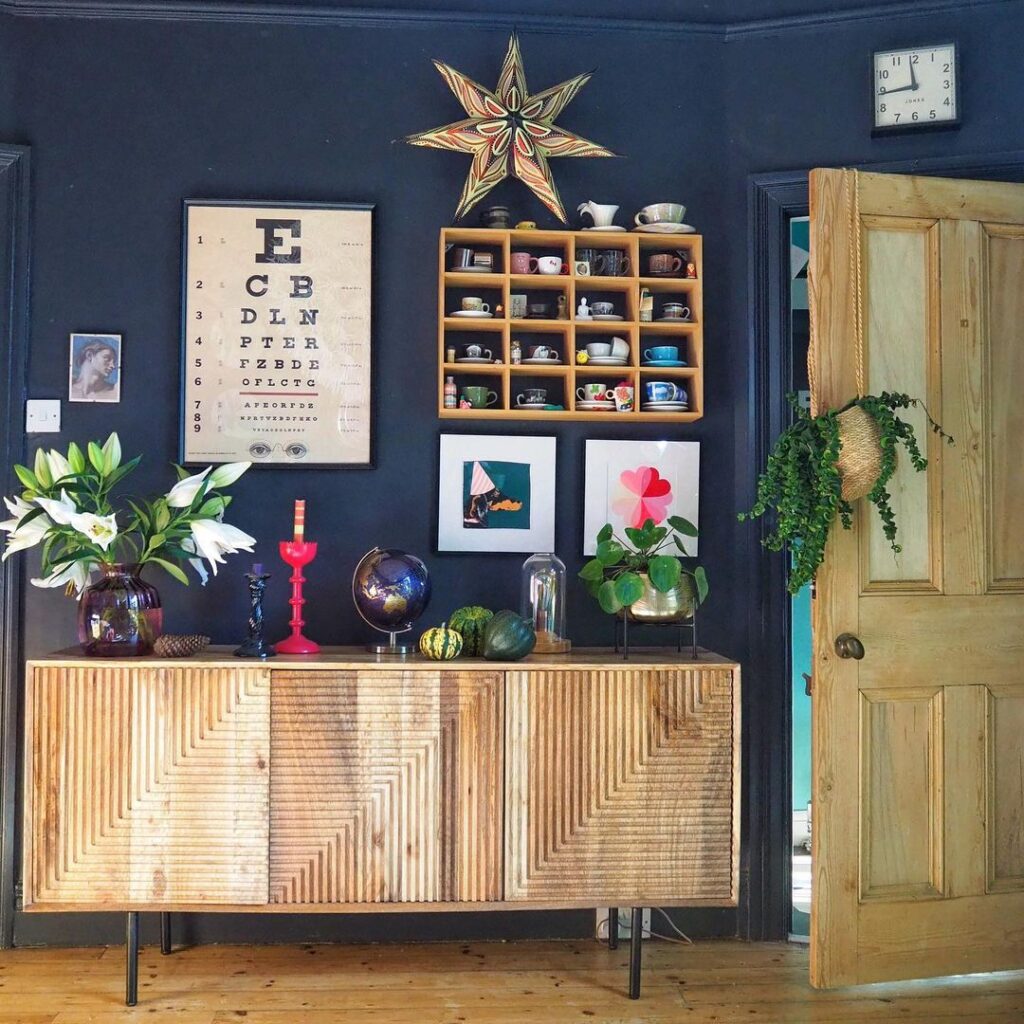 An Eclectic Edwardian Home by Joanne Hardcastle of Hardcastle Towers
This eclectic Edwardian décor-style home was decorated by Joanne Hardcastle of Hardcastle Towers. Edwardian-style décor followed Victorian-style décor. Edwardian homes are red brick with wood-trimmed porches and Tudor-style cladding and timbers at the roofline. They feature wider and brighter rooms, wide hallways, parquet floors, and simple decorative features. The furniture is more modern, less ornate, and lighter than Victorian furniture. It features inlaid designs, mahogany, maple, satinwood, wicker, bamboo, and an airy feel. Edwardian style adapted medieval, Georgian, and Tudor styles into a fresh and softer look with lighter colors and white woodwork. The furniture reproduced baroque, rococo, and empire styles. Upholstery used lighter fabrics such as Chintz and damask, lighter colors, and designs that were less intricate. Winged-back chairs were popular, and fresh flowers echoed the upholstery designs.
The eclectic-style décor in this home offers a colorful twist. The entryway and stairway area clues you in that this home has historical touches with the arch over the stairs and the radiator. The living room features a fireplace, a sofa with pillows and throws, a built-in bookcase, and an Edwardian-style lamp with a fringed shade. The dining room has a wood-burning stove sitting inside of a fireplace, a trestle table with a bench, a damask upholstered chair, a parquet-front buffet, and a lighter wood Edwardian-style cupboard. The kitchen uses light modern colors and includes Edwardian-style chairs. In the bedroom, another light, eclectic color scheme is used. The bed, bedding, and pillows suggest Edwardian style. A second bedroom has a metal rail headboard. A little girls room has bright, colorful wall paper. The bathroom features an old-fashioned sink, tub, and medicine cabinet as well as a light wood door. The patio continues the colorful palette with a blue fence, wicker furniture, and a colorful table setting including floral arrangements.
Joanne Hardcastle, the designer of this home, is a full-time mother, blogger, and influencer. She also cohosts the popular Story of My Home page on Instagram.