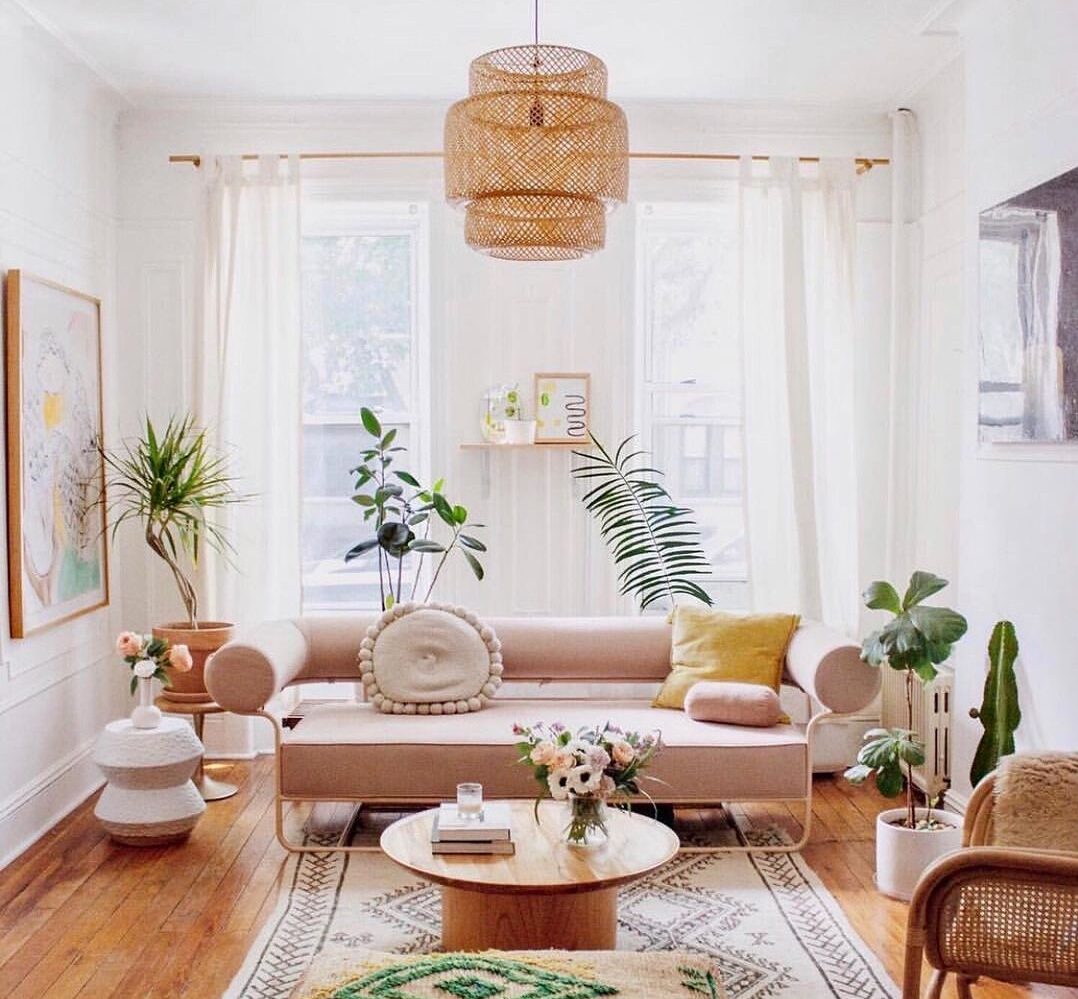 48 Popular Eclectic Decor Ideas Trending for February
Eclectic means "many different tastes or styles collected together in the same person or space." For example, you might have a Rococo style fainting couch underneath the Baroque style mirror in your sitting room, next to a Neoclassical marble table on which is perched a knock-off Ming Dynasty vase. This is an example of very eclectic tastes in furnishings and decor.
If you love a little bit of everything in terms of decoration for your home, then you yourself are most definitely eclectic. The following eclectic decor ideas are extremely popular right now. You may want to add a few to your own home or office space.
Lots of Patterned Pillows, Lots of Framed Pictures on the Walls
A view of this look provides you with what seems like a basic leather couch in a simple color with a half dozen differently-sized throw pillows in no real matching patterns at all. On the wall behind the couch are several differently-sized picture frames, some gilded, with all kinds of weird and interesting prints. The unifying theme here, of course, is the strangeness of the prints juxtaposed with the strangeness of the pillow patterns and the many different sizes of both pillows and framed wall art.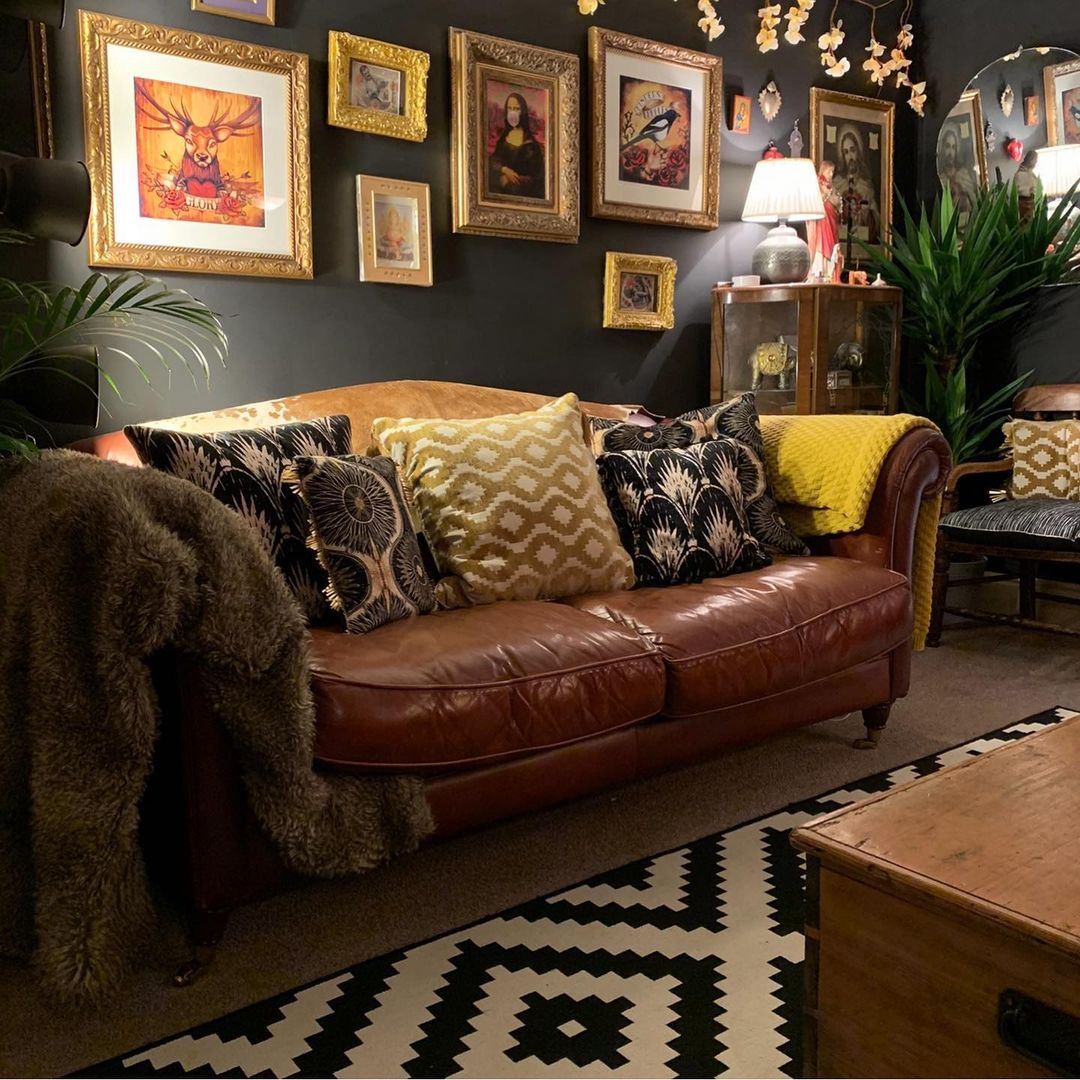 Pink Mid-Century Pieces and Potted Plants
Mid-Century design is back with a vengeance! From buffet tables to dresser drawers, these pieces get a makeover with whorls of unusual colors and topped with lots of potted plants. The bronze or brass hardware really makes everything stand out.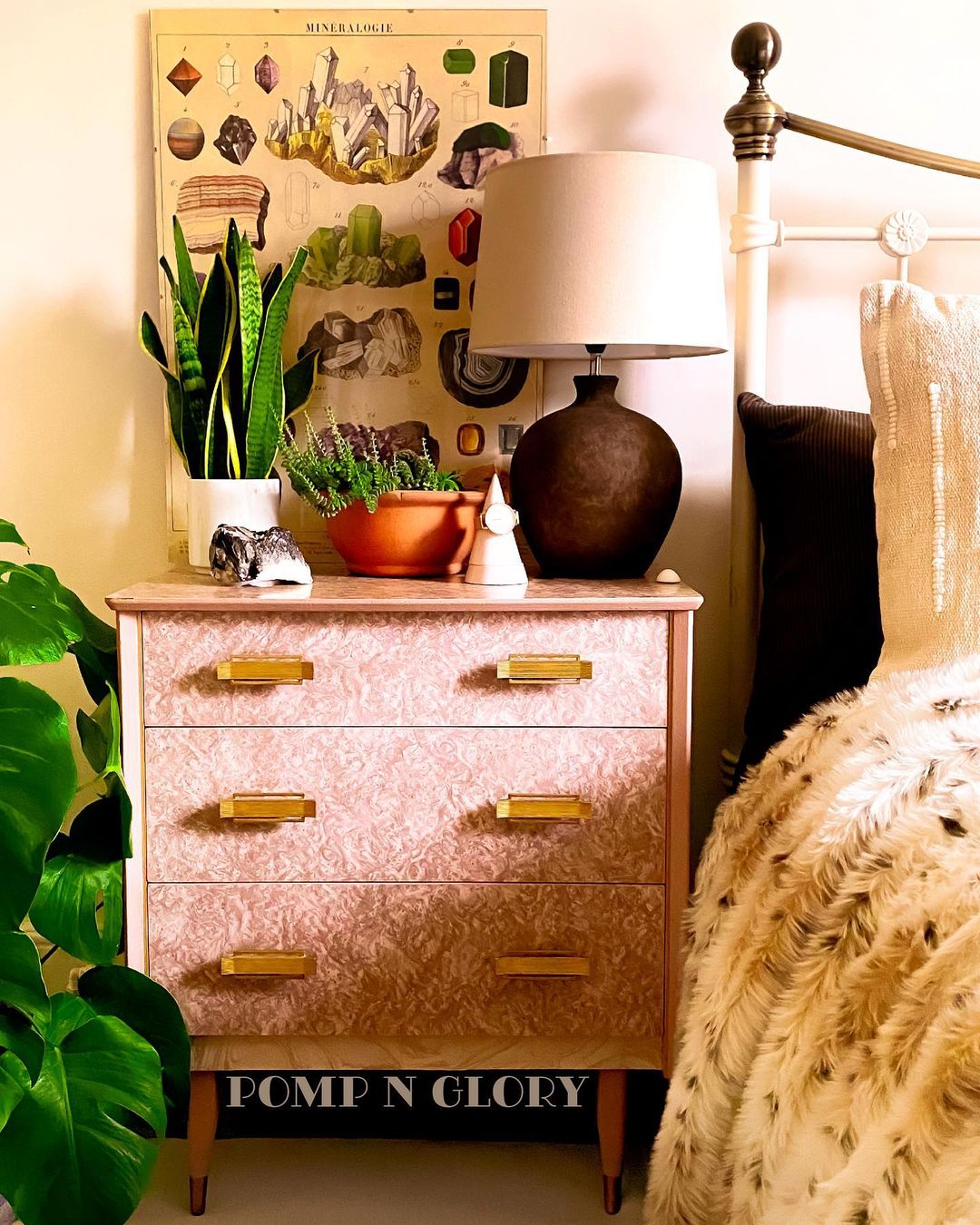 Non-Matching Nook Furniture
Small tables paired with random chairs are the epitome of eclectic. Nook spaces in your home or office are filled with cozy corner tables and random chairs of various types for personalized levels of comfort. Make the furniture as random as possible.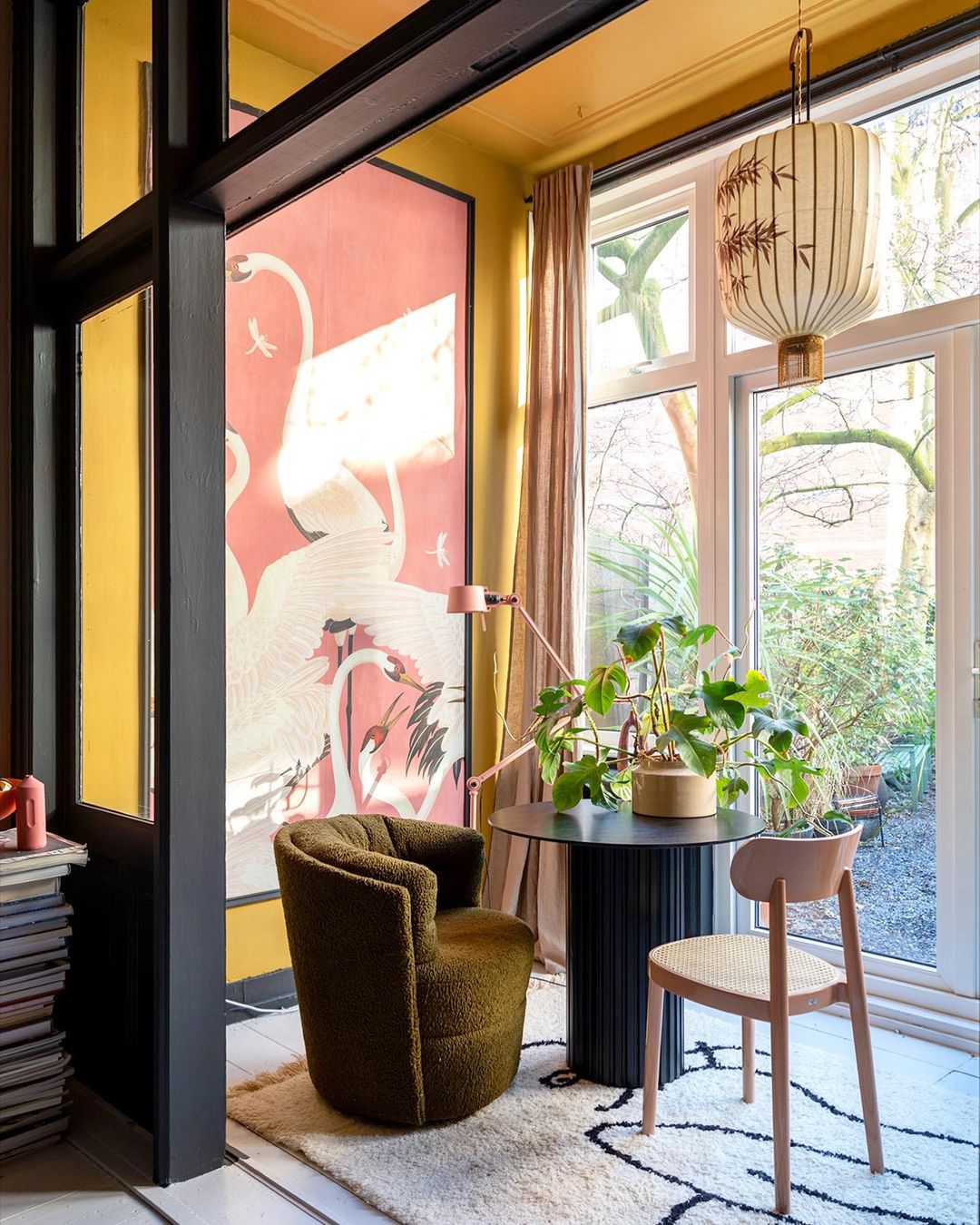 Nesting Tables, Modern Shag Rug, and Dark Wall Shelves for Decor
Modern shag rug in a neutral color on a bare floor feels good under your feet. Nesting concentric circular tables provide resting space for books and plants. Dark wall shelves lend a decorative and functional effect for both organization and objets d'art display.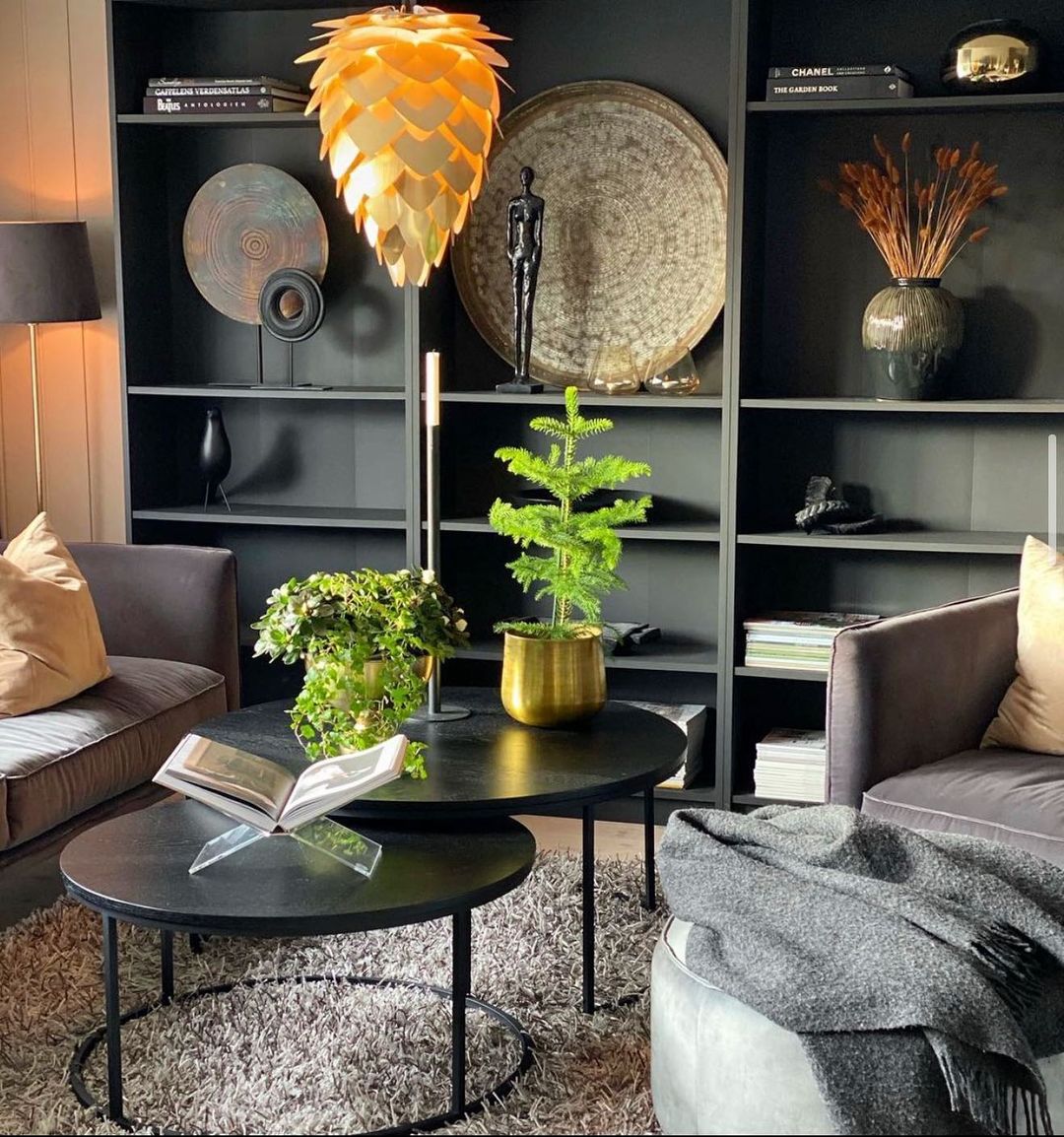 A Marriage of Modern, Classical, and Asian-Inspired Decor
Asian art on the wall, and an Asian-inspired floor rug pop out of the scene with vibrant color. Modern mirrors, vase, and candlesticks act as accents. Classical furniture and glass items complete the look.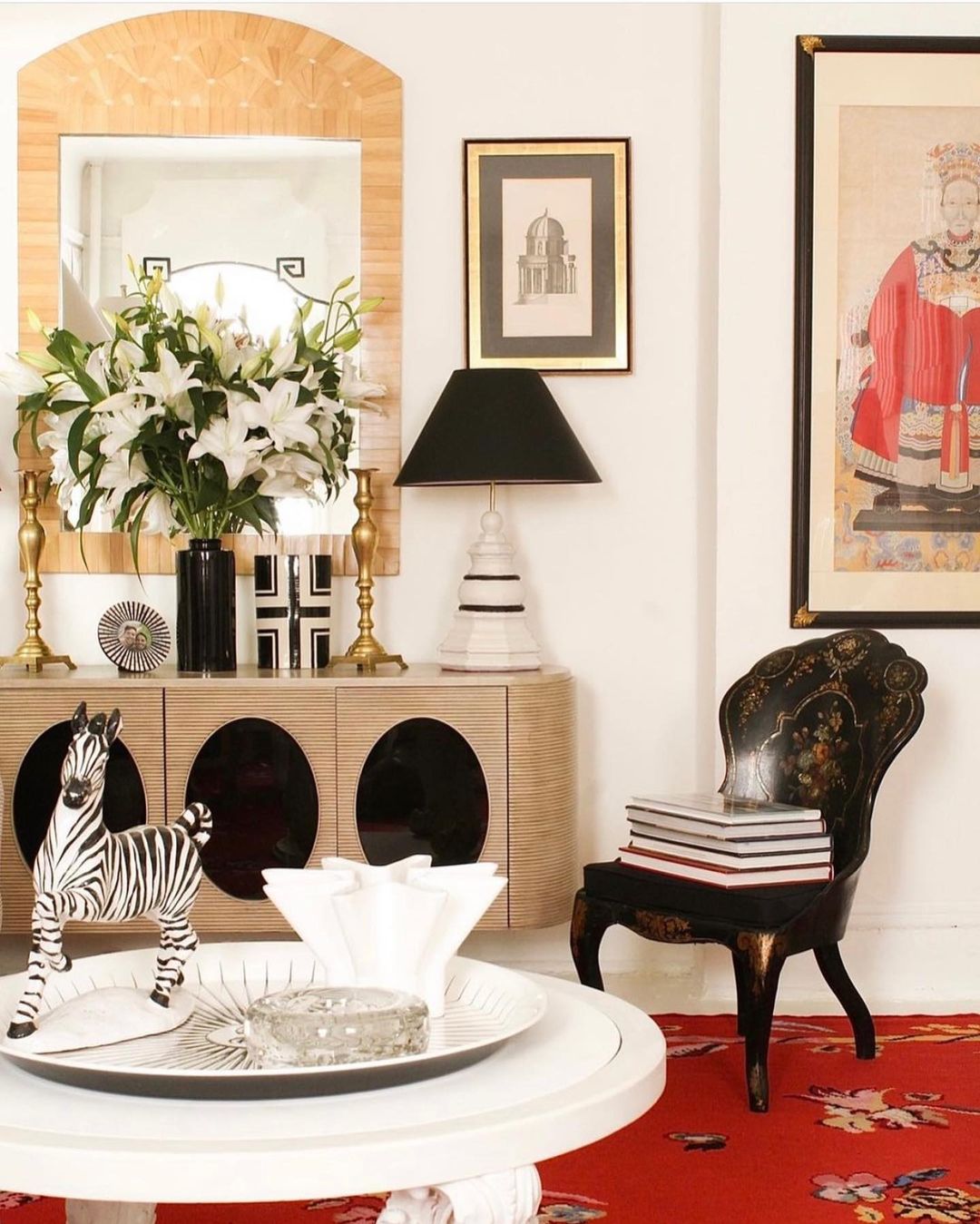 Classic Country Farmhouse Meets Industrial
The worn country dining room chairs and table take center stage. The industrial lighting over the table and in the hallways leading into this room are not in step with the table, but somehow it works. Curio cabinets hold dinnerware and objects of interest, while a Picasso cubist print on the wall fascinates guests.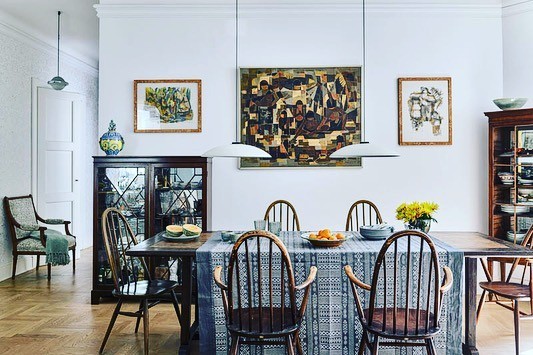 Cozy, Colorful, and Full of Life
Small apartments typically cannot afford tenants room for a garden. That is where this decorating style can take root. A couch with plant-inspired throw pillows, a plant stand with living plants, and lots of flowers (fake or real) add life and color to a cozy area in the sun. Add accents with bold colors, and you've nailed this.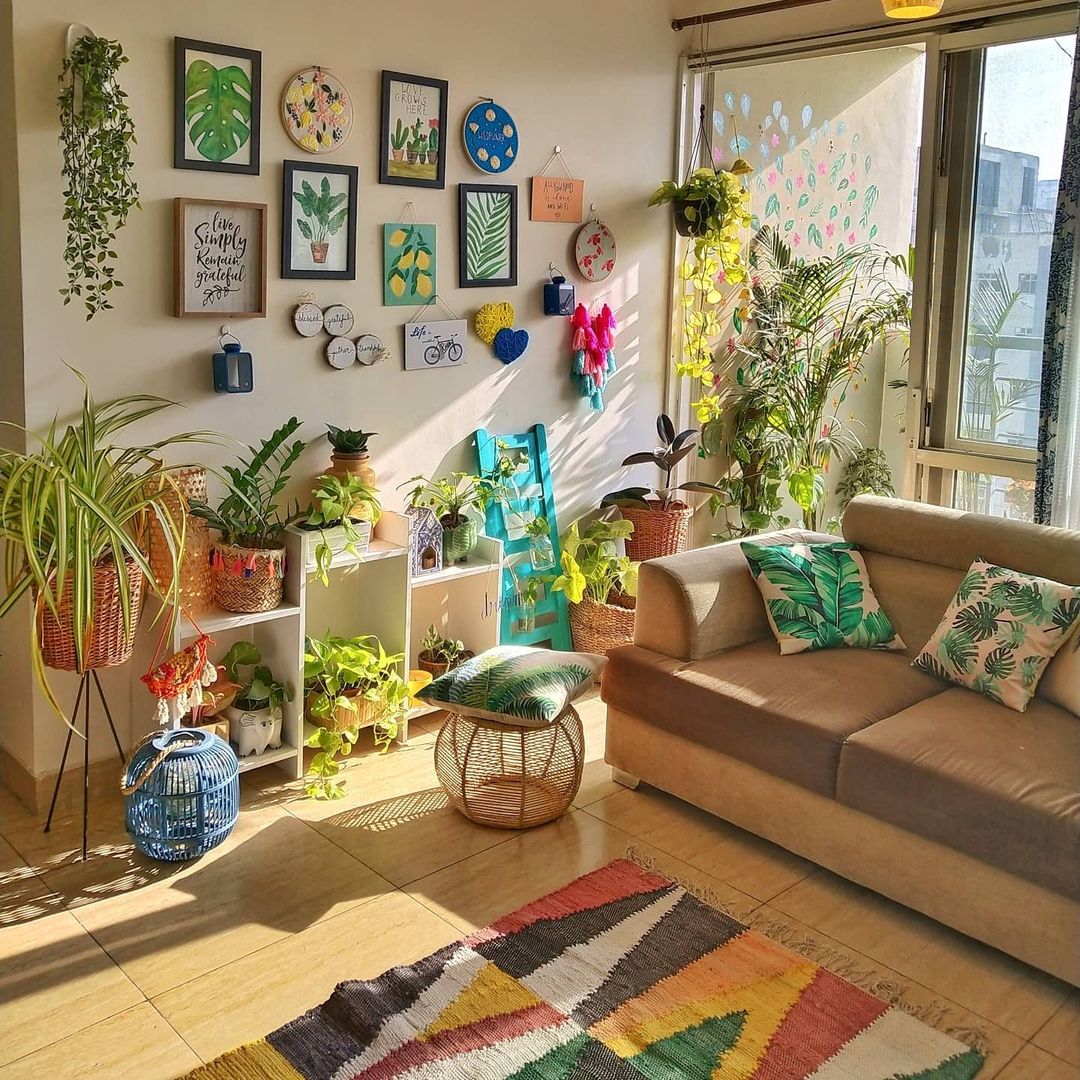 Warm and Retreating Bedroom Decor
Bedrooms are safe havens of comfort. Warm plush duvets with throw pillows are so inviting. Dark colors on the floors and walls dim the light so you can sleep peacefully. Accents on the walls include a silver-framed mirror that is either hammered metal or engraved, and multiple woven objects to hang over the bed. A Persian-style rug runner at the foot of the brass bed completes the scene.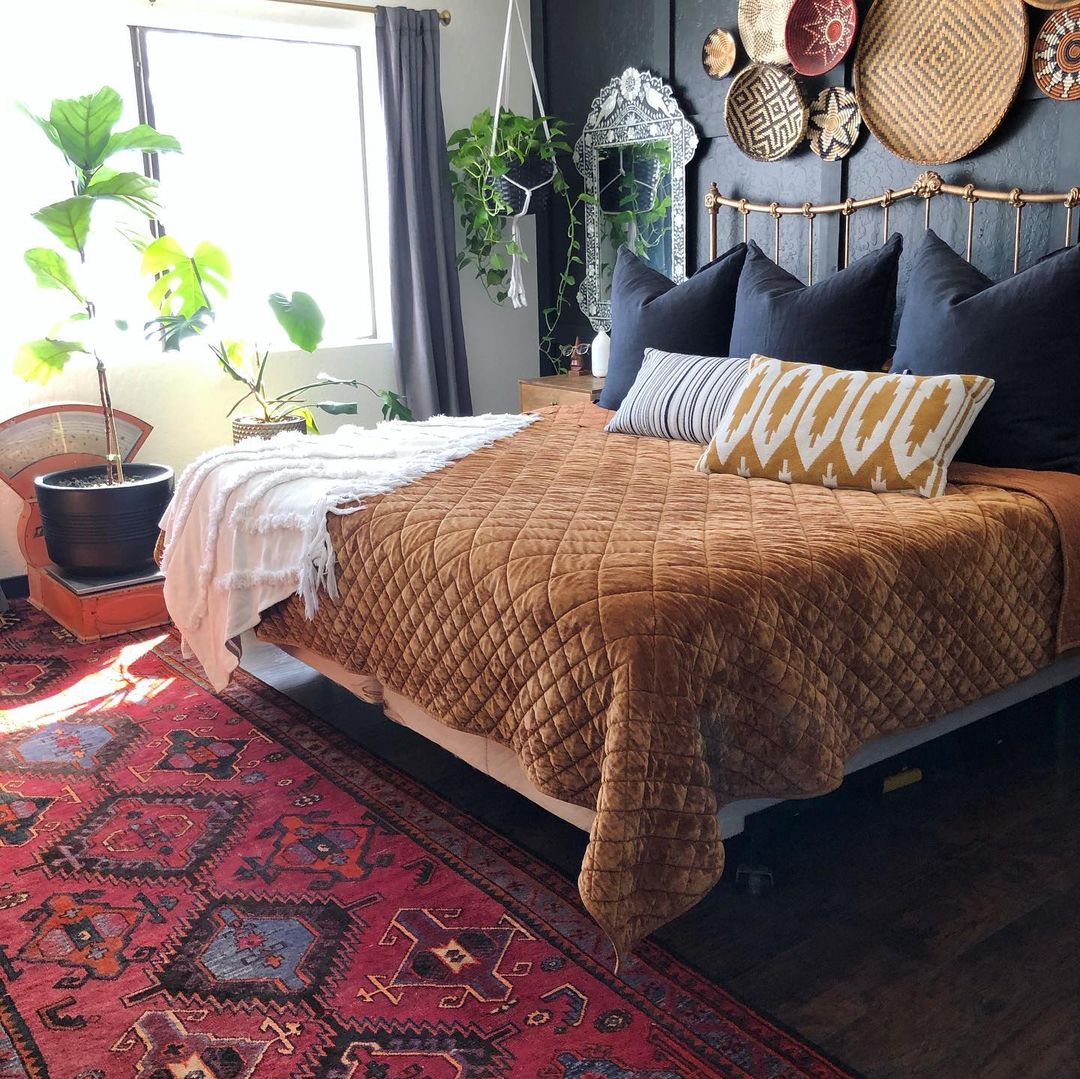 Random Angularity
Sometimes eclectic decor is all about circles. Sometimes it's all about angles, as you can see here. Random chairs with angled legs, unique angled lighting, table with multiple angles on the top and the pedestal foot underneath, and angular accessories and wall decor appear throughout.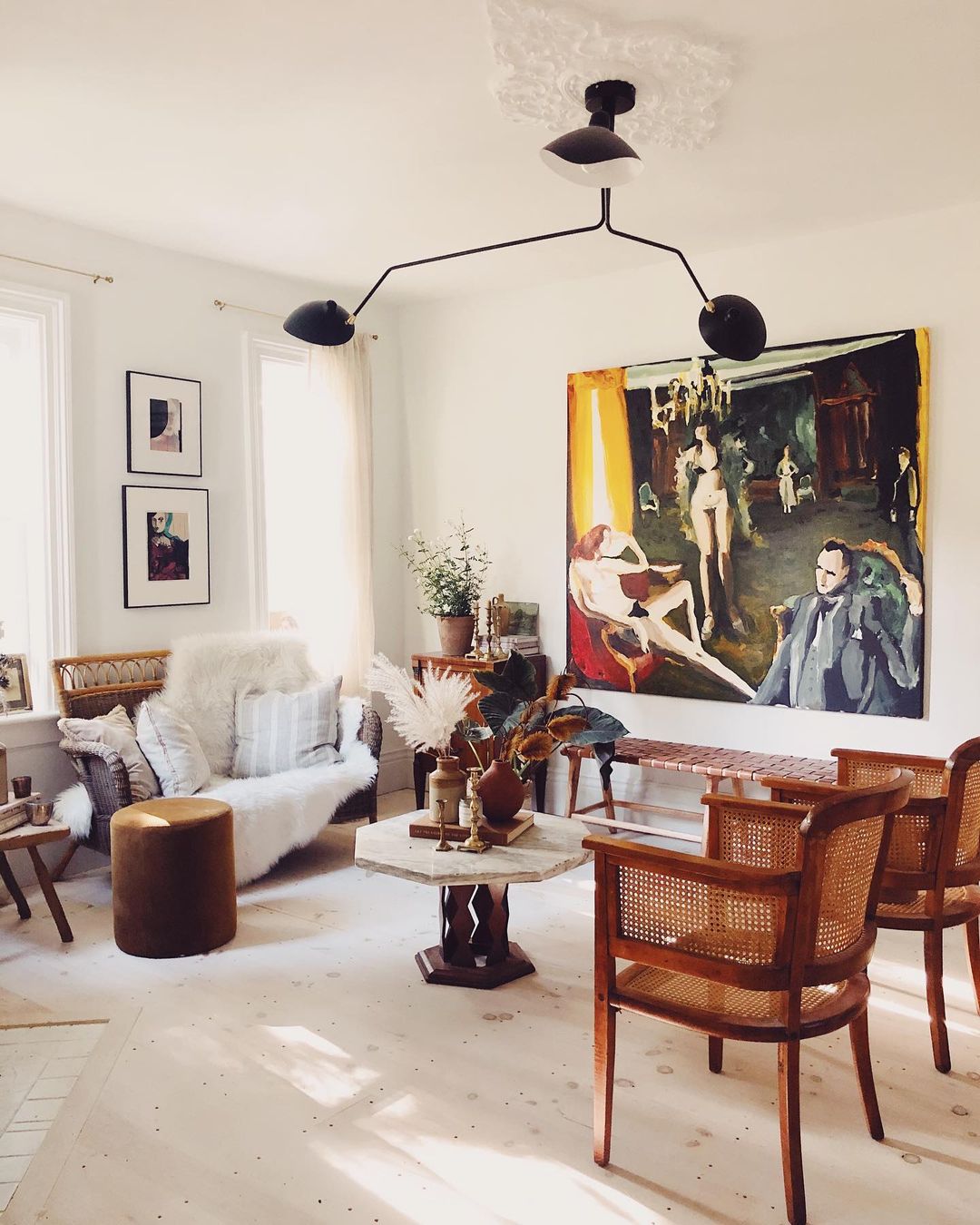 Color and Shape Multiplied
Sometimes eclectic decor doesn't shy away from matching colors or matching shapes, and it just seems to work well together. In this case, hexagons are present as floor tile, wall mirrors, and in the pattern of the floor rug. Black, white, and warm reddish tones dominate the look. Boho, Mid-Century, and Modern mix well in this unintentionally matched decor.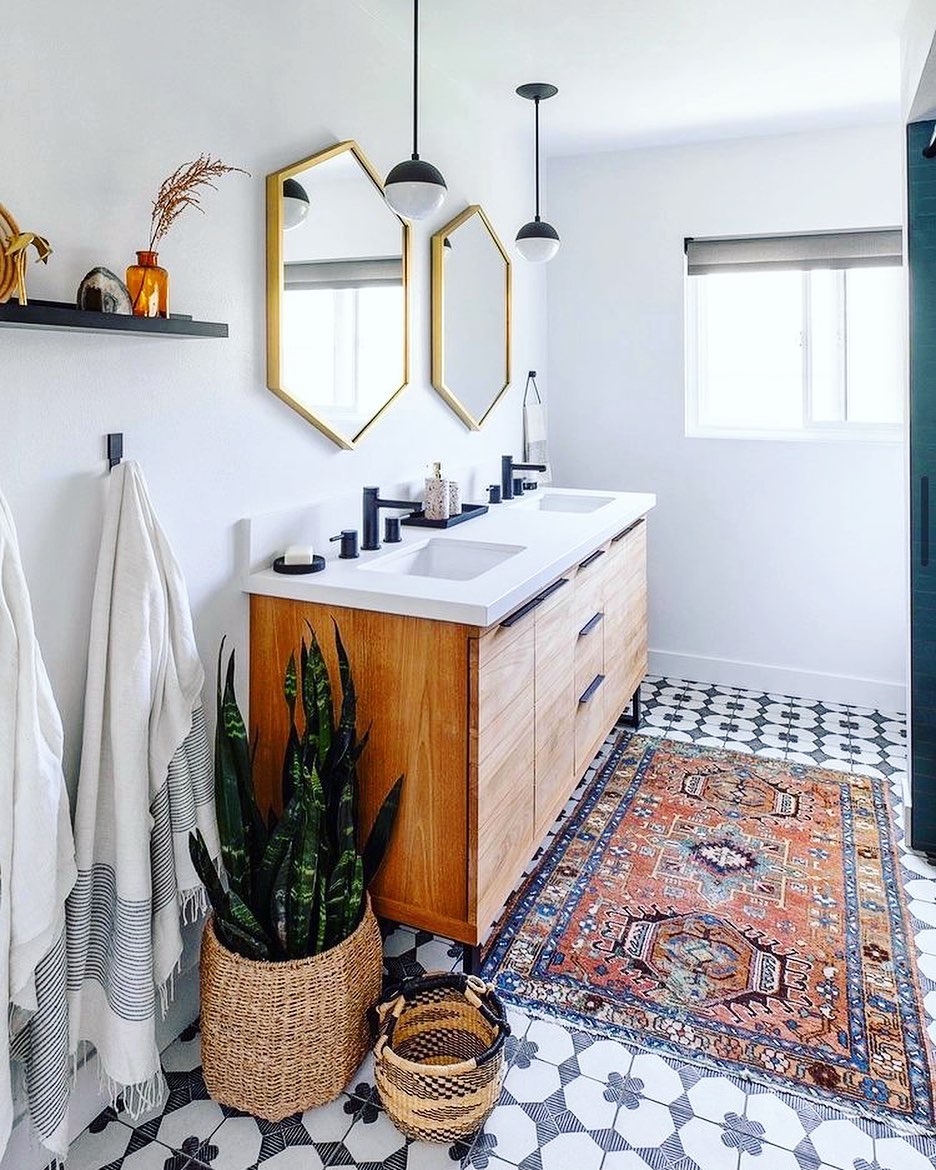 Mid-Century Modern, Bohemian, and Rustic Rainforest Merge
Mid-Century Modern cabinets and drawers as well as tables and chairs fill out part of this space. Bohemian comes in the guise of a woven swing chair and hand-braided woven rug underneath. Rustic rainforest emerges with lots of potted plants everywhere, and bare plank, white-washed wooden flooring.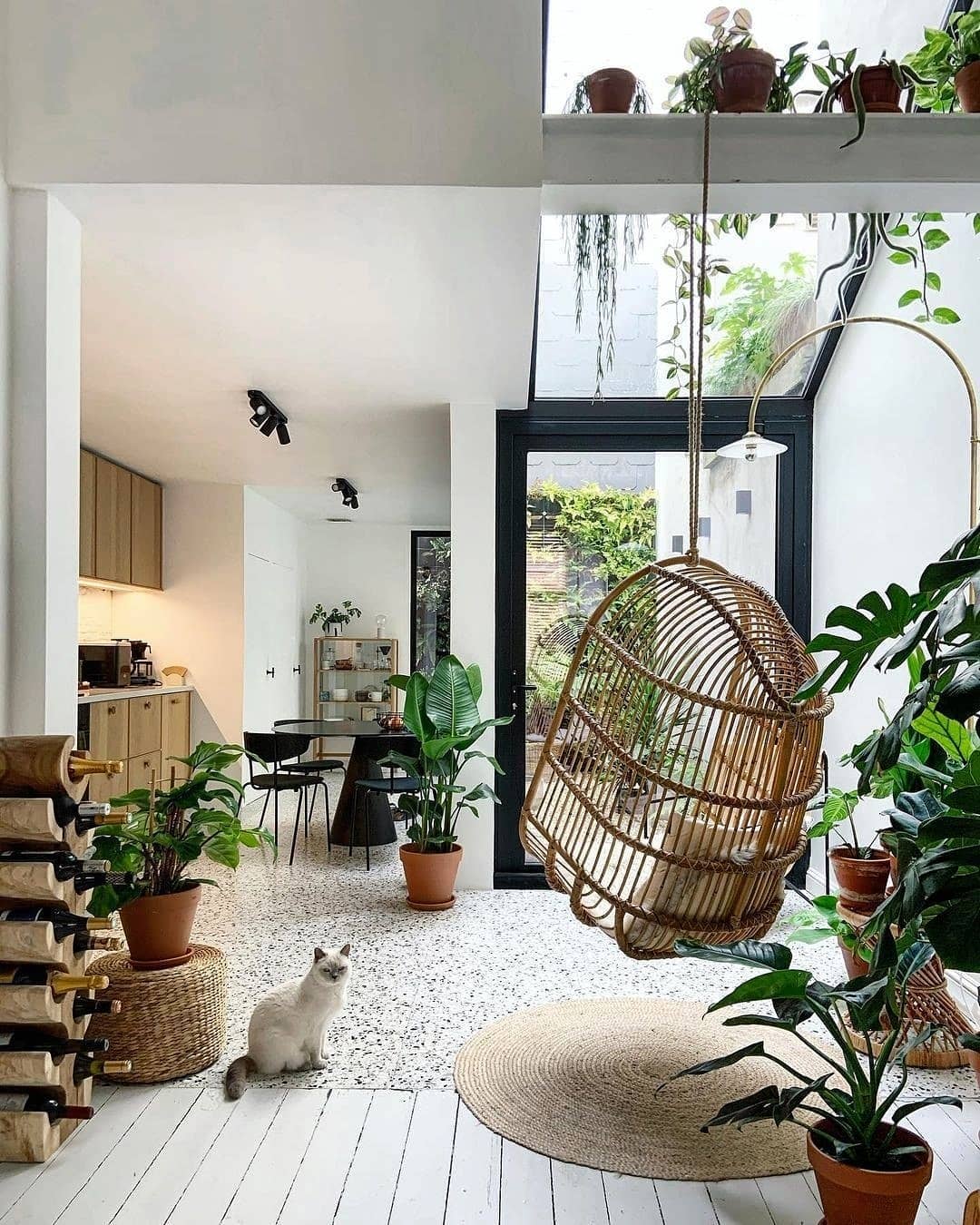 The Fun Black Bedroom
People don't usually paint bedrooms black, but when they do they can accessorize it in wild and fun pop culture ways. A duvet in soft animal print creates a sharp contrast to black walls. The throw pillows are all kinds of pop culture and fun references, as are the selected and framed wall prints.