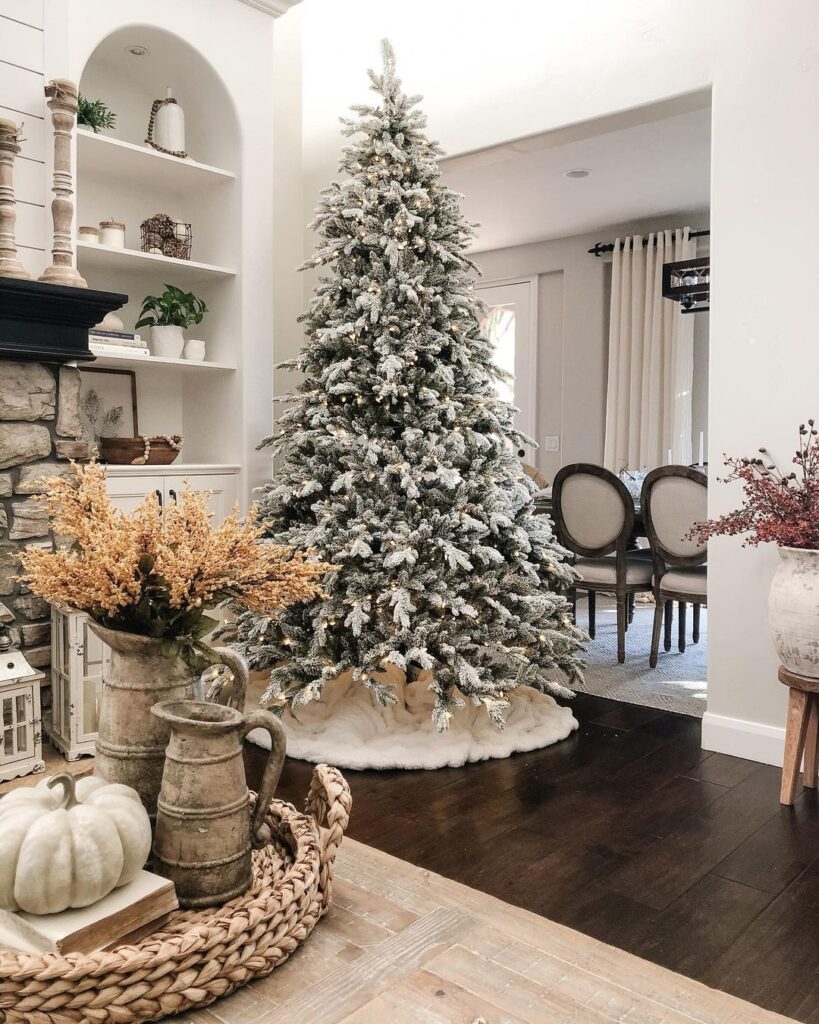 60 Welcoming and Cozy Christmas Farmhouse Decor Ideas That Work Extremely Well
Home for the holidays has a whole new meaning in 2020. The way we dress our homes for the holidays should inspire warmth, togetherness, and the magic of the season. The farmhouse style, with its cozy, welcoming feel, is especially beautiful bedecked for Christmas. If you're looking for new, trendy decorating inspiration for the holidays, look no further. Here are some cheery farmhouse Christmas decor ideas from some of our favorite designers.
Country Sparkle
Andrea's use of chunky knit and festive plaid blankets brings a cozy vibe to her Christmas living room. The large leaning mirror reflects the Christmas lights and adds even more sparkle to the space.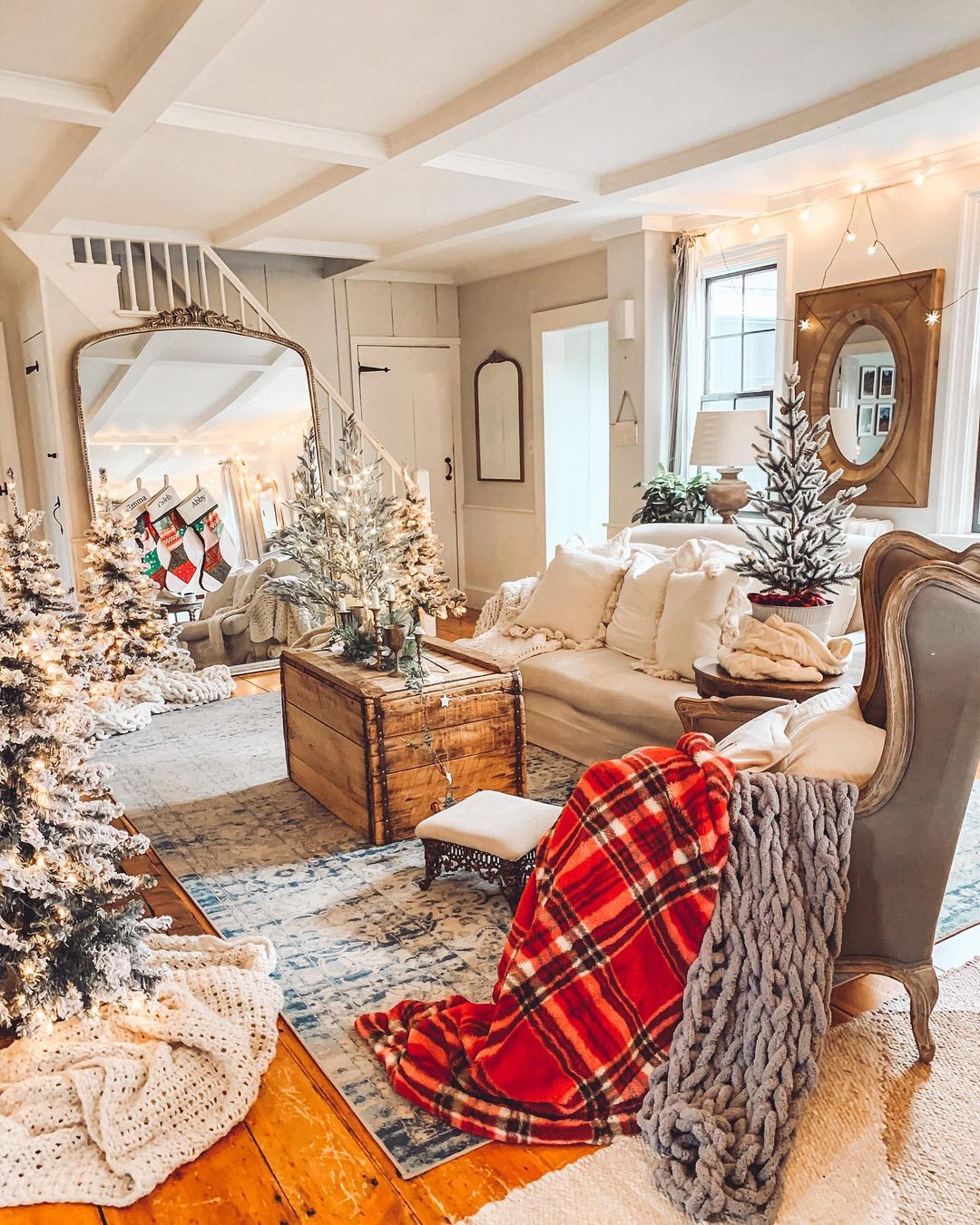 Bold with Buffalo Plaid
Buffalo plaid together with greenery creates a fresh look for Julie's dining room tablescape, along with farmhouse staple, burlap. A Christmas tree topiary centers the table and adds a natural touch.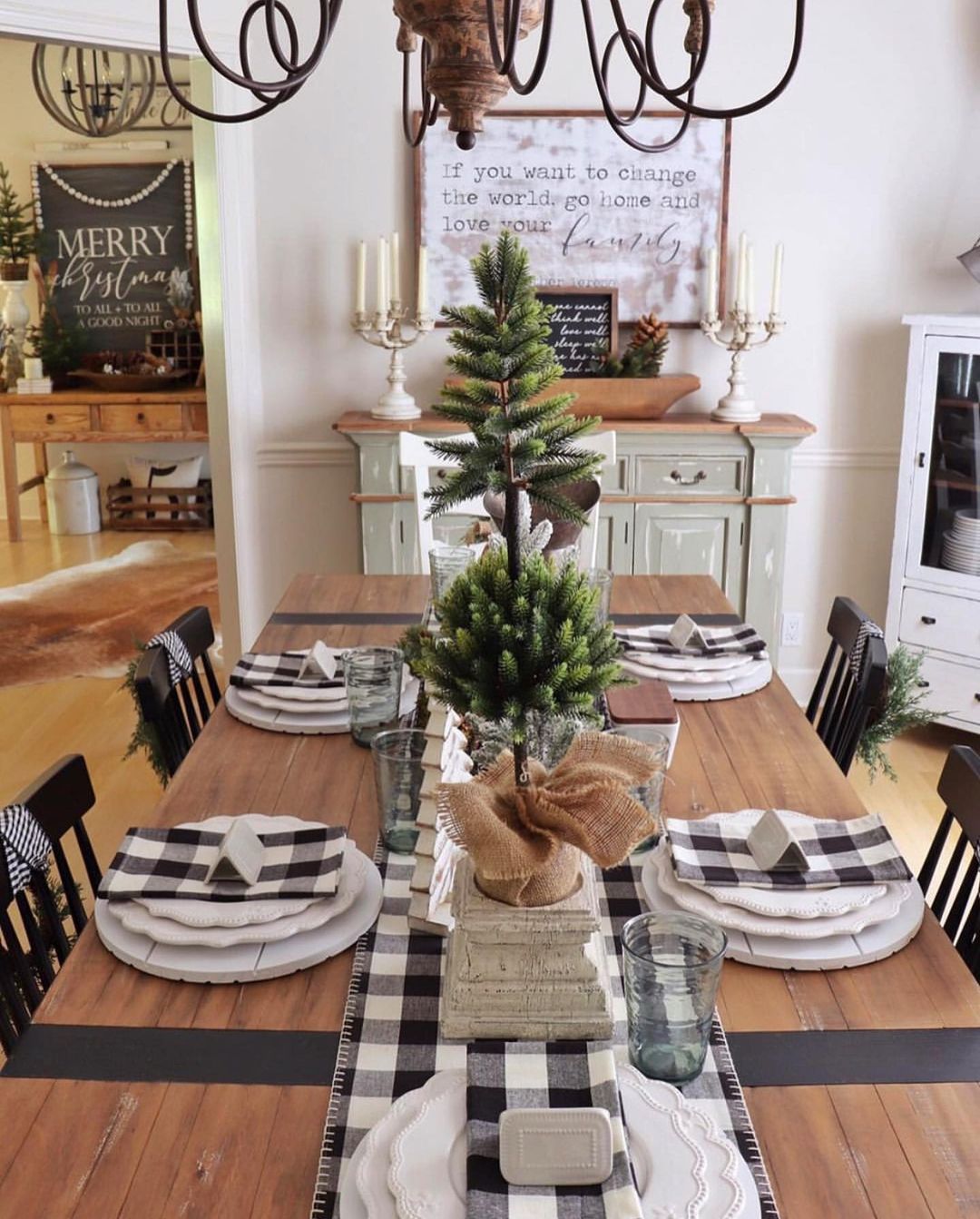 Rustic Outdoor Cheer
It may be cold outside, but Elaine's snug outdoor fireplace is ready for some holiday cuddles! A classic wreath and garland adorn the mantle above two festive lanterns on the hearth. Cozy pillows on the chairs complete this outdoor space to ring in Christmas. S'mores anyone?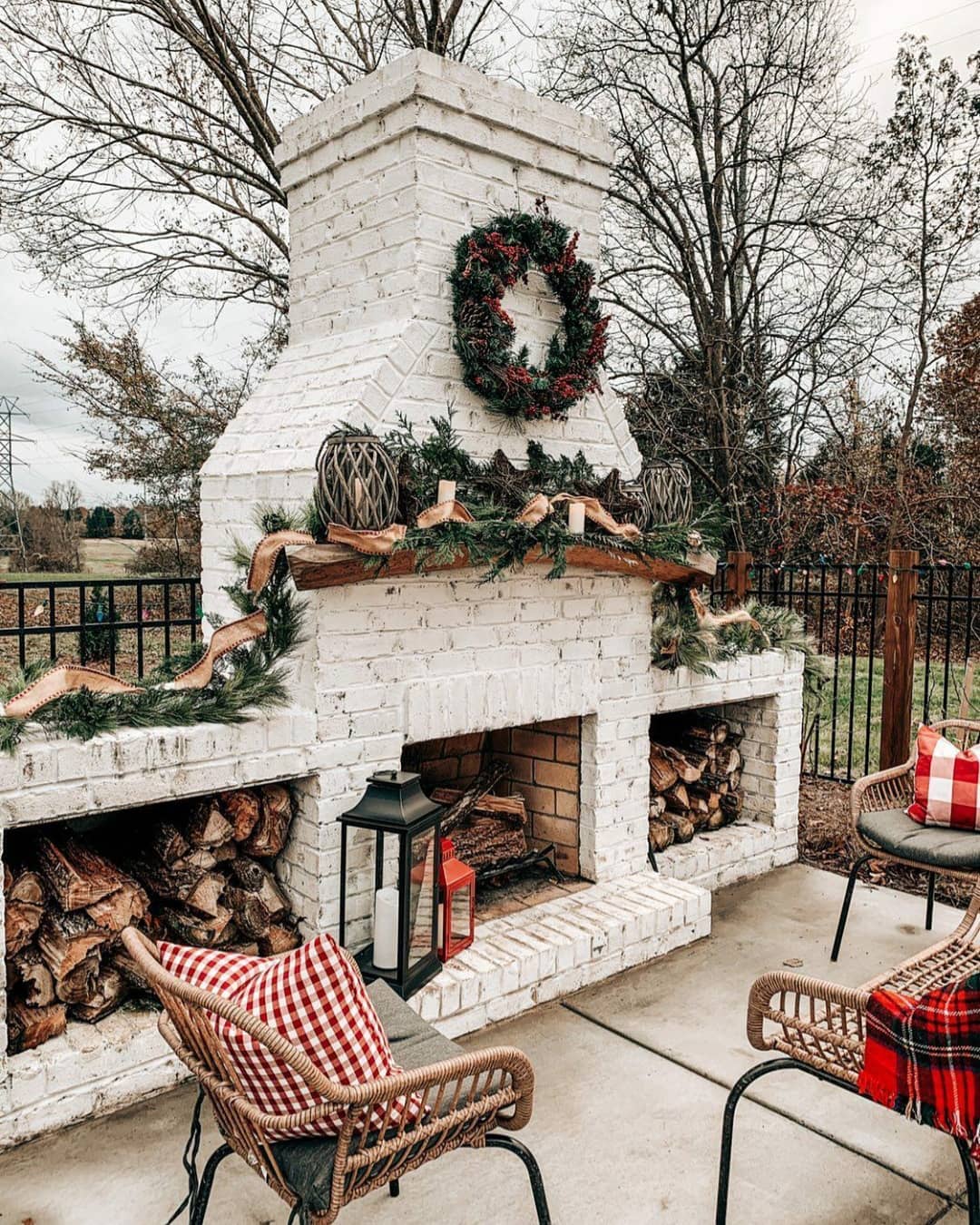 Evergreen Embellishment
Katie's fresh living room is understated and sophisticated with its greenery really standing out against the winter white walls. The garland trailing up the staircase draws the eye up to the high ceiling and windows letting in natural light to brighten this sunny holiday scene.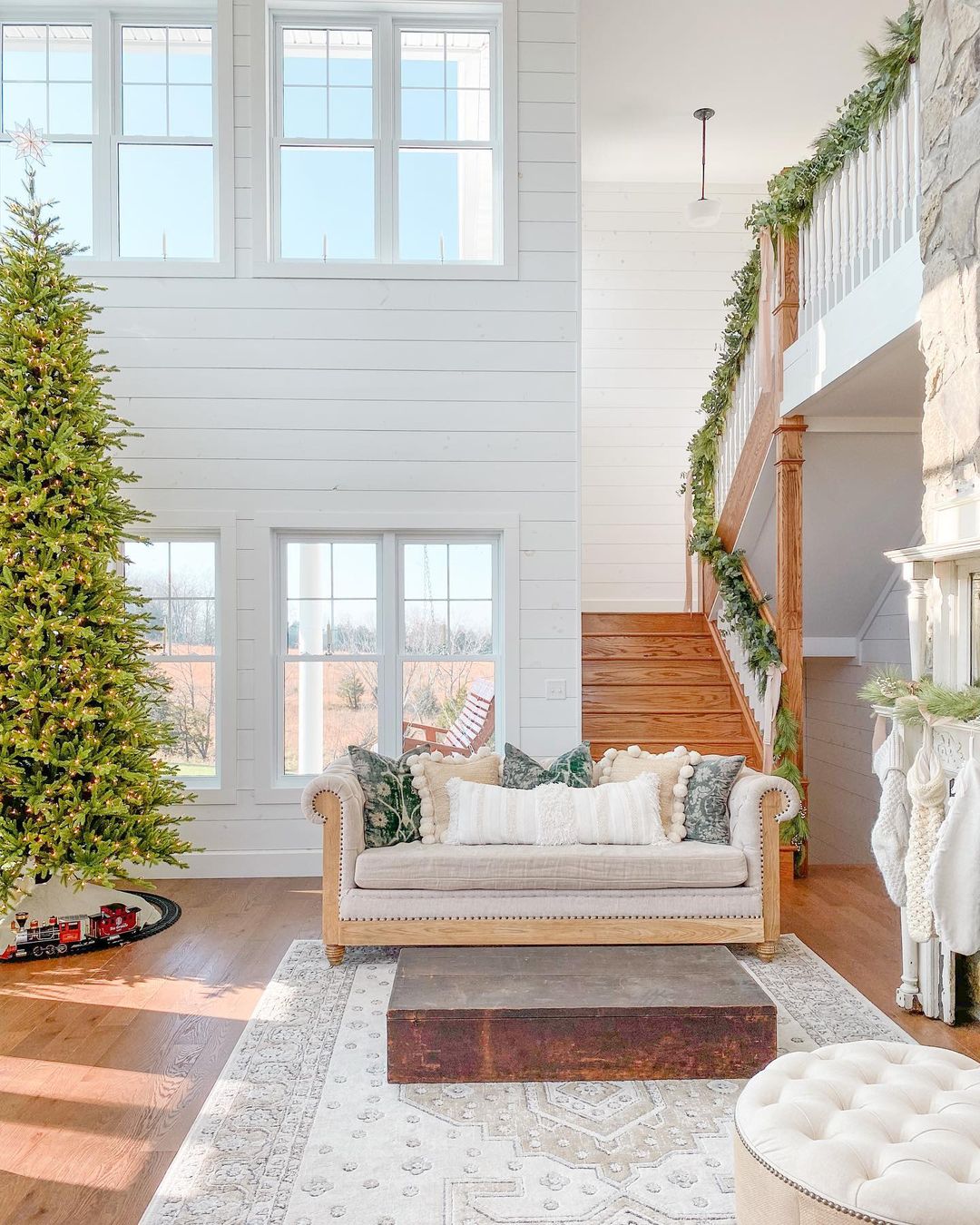 Holiday Classics Hung With Care
This Christmas sheet music scroll in @ournyfarmhouse's entryway is such a fun way to incorporate your favorite carol into your decor. The simple decor adds festive charm without taking away from the radiance of this space.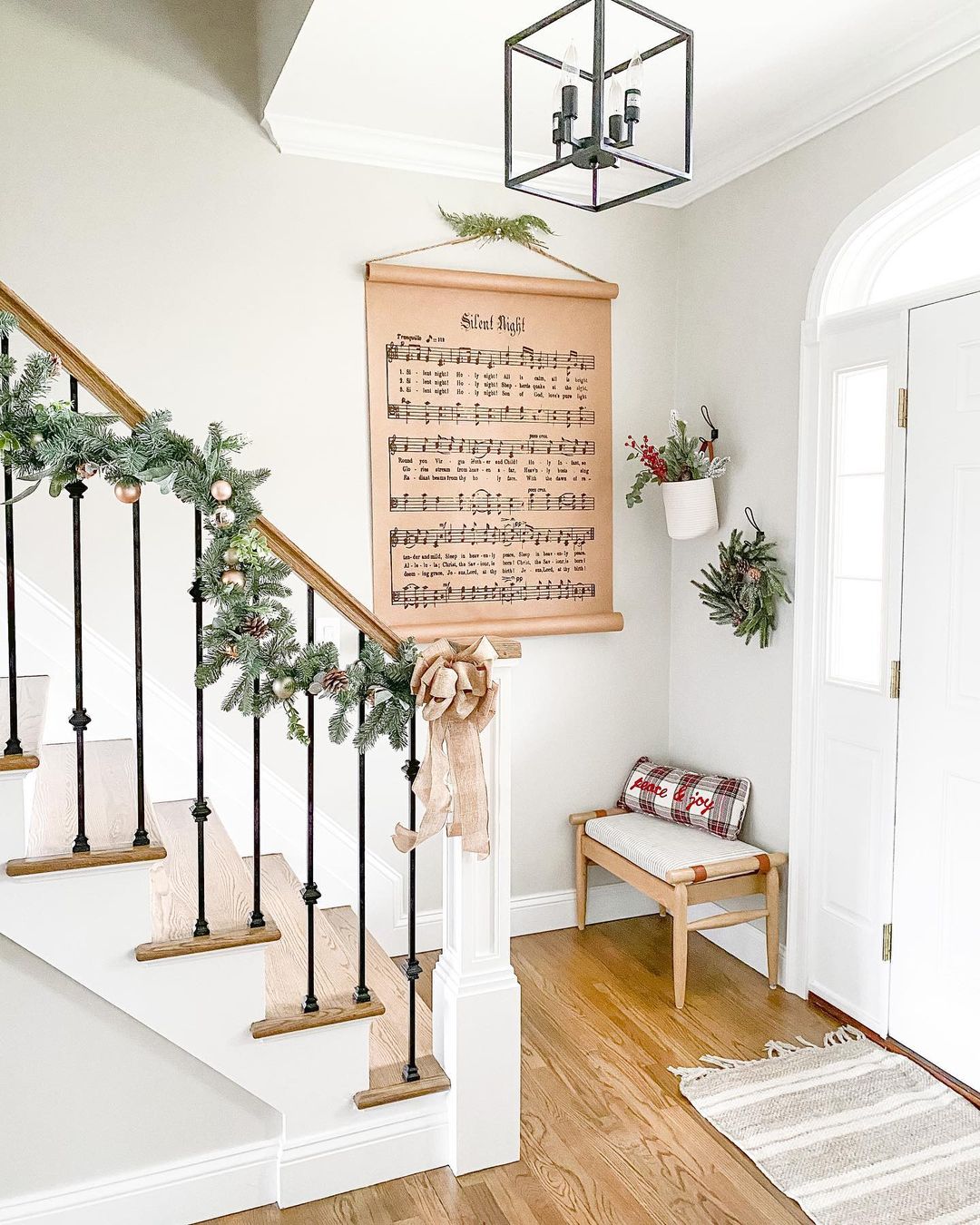 Festive Fireside
The framed TV is the centerpiece of this impressive mantle dressed with potted trees, a green swath, and textured stockings above a toasty fire. We love the way Ashley's wicker Christmas tree collar lends a natural feel to her warm winter living room.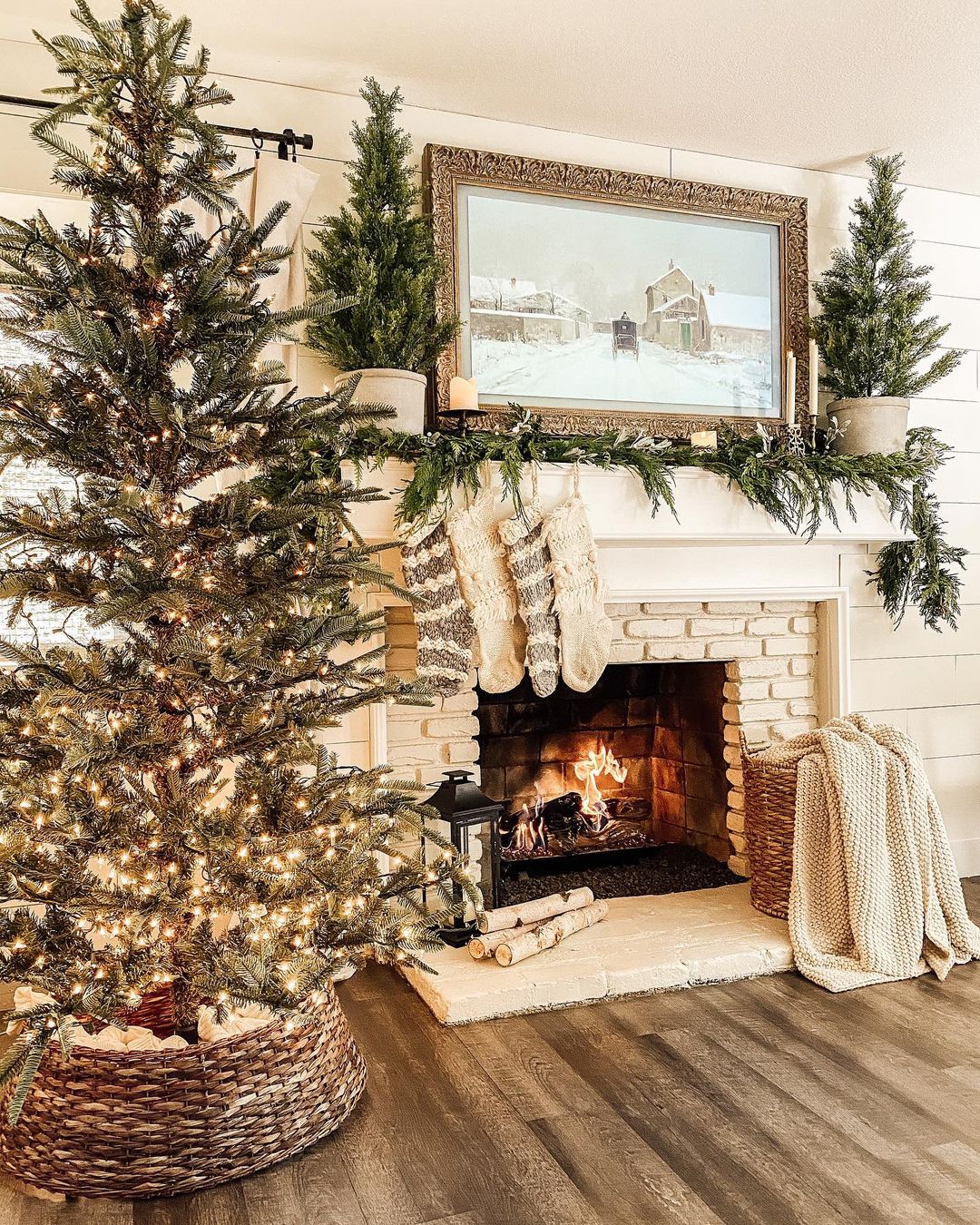 Have a Holly Jolly Kitchen
Karen adds a pop of green and nature to her kitchen for the holidays with barstool wreaths, centerpieces, and a snowy garland on the range hood. The splashes of copper add a timeless touch of warmth to the space.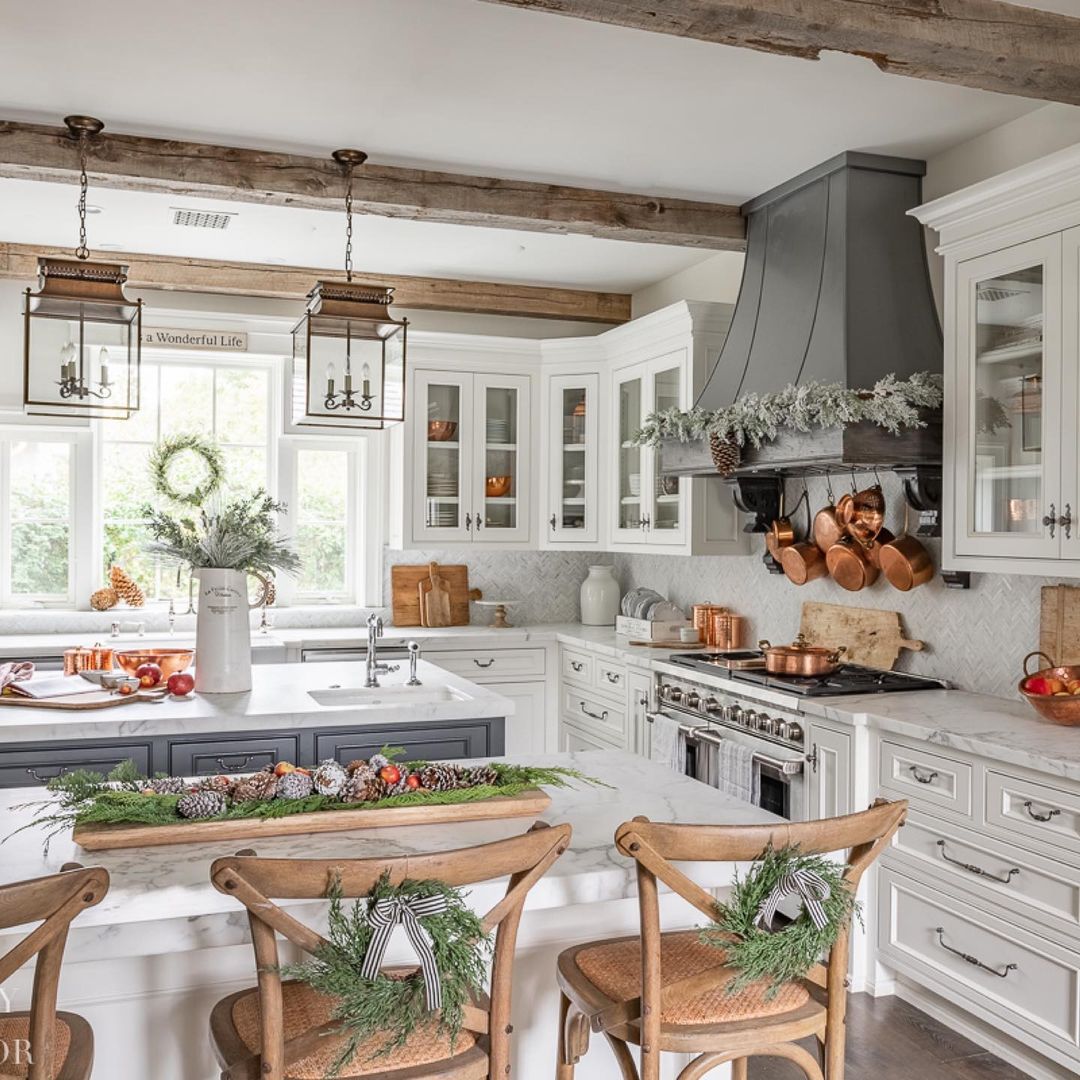 Christmas Curb Appeal
Who said outdoor Christmas decor has to include string lights on the roof? The use of glimmering garlands and wreaths achieves a cheery exterior with lighted garland on this farmhouse by @gerraldbuilders.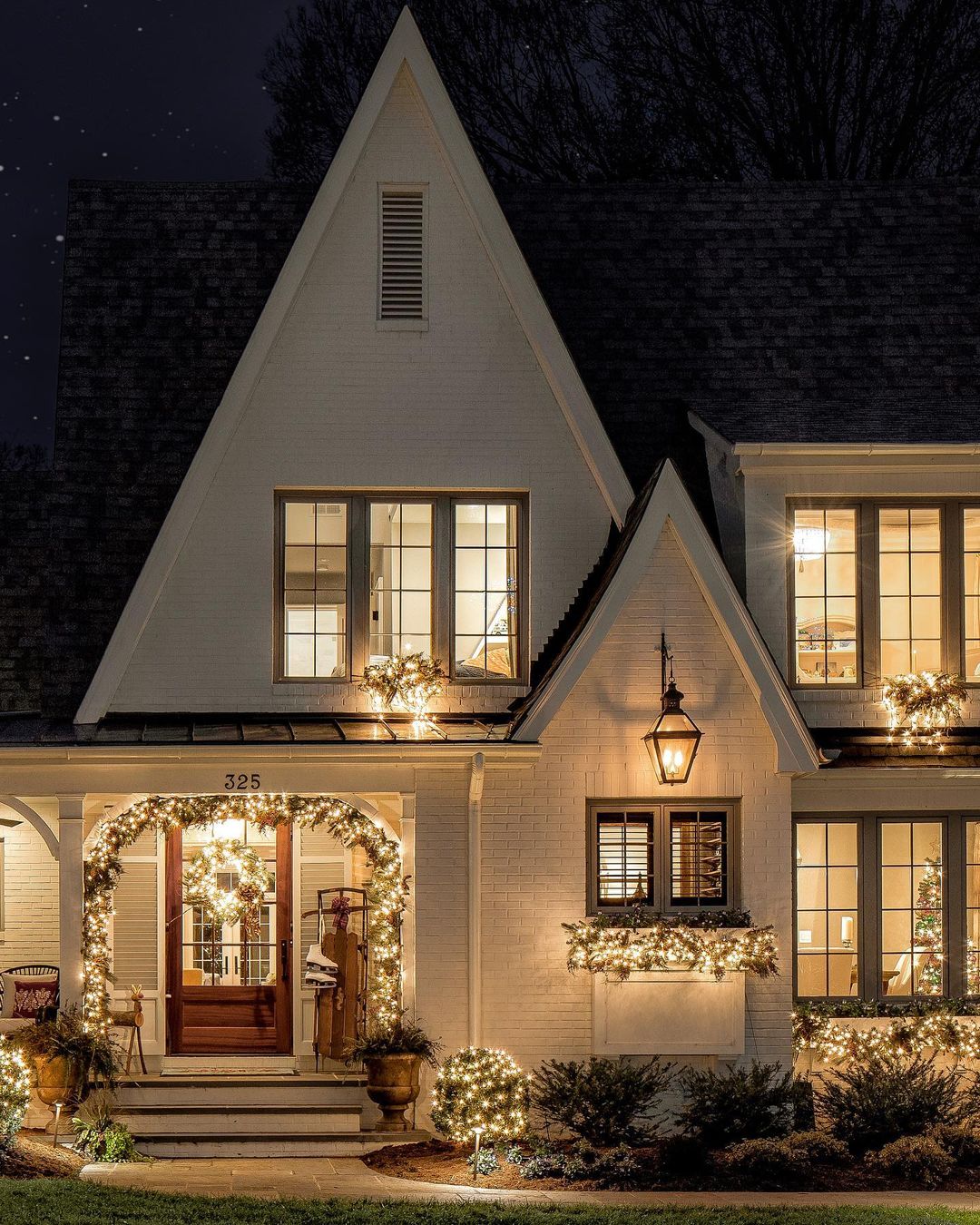 Triple the Trimming
The more the merrier! Jereme and Maloni have not one, not two, but three beautiful flocked trees topped with silver stars adorning their living room. Wreaths hang in the dining room windows and a silvery deer figurine embellishes the console table behind the couch.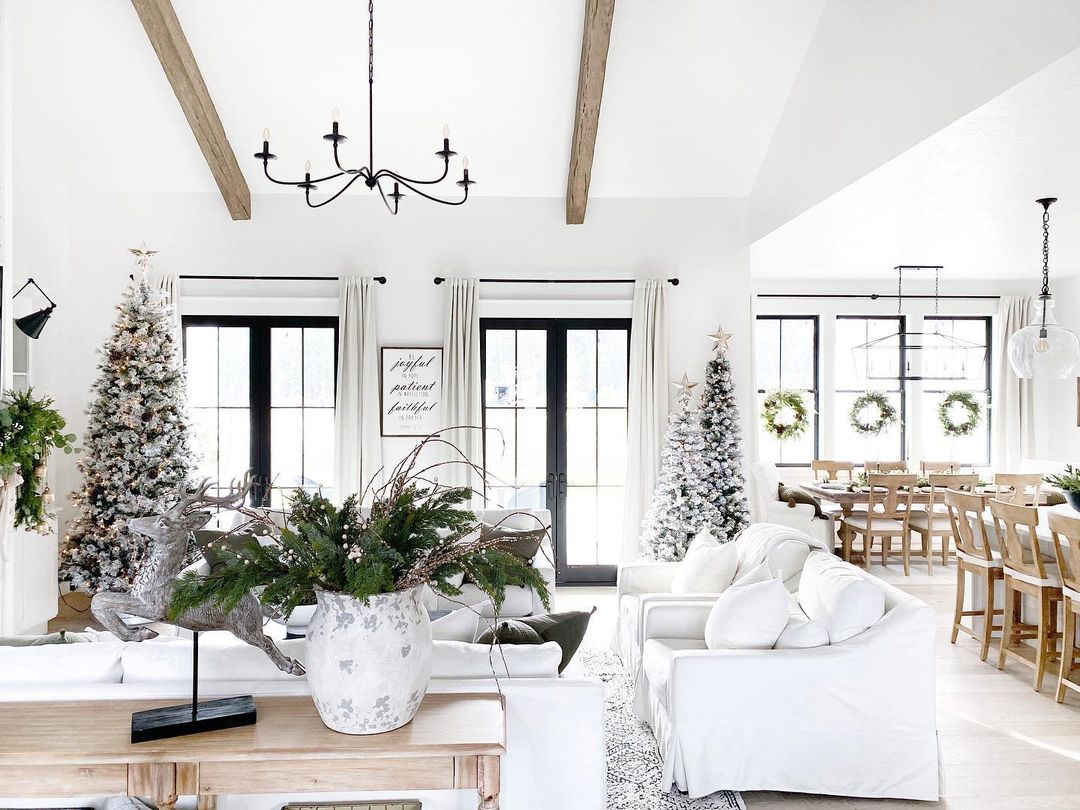 A Memorable Winter Welcome
Here, planters are repurposed for a timeless front entry in a Christmas layout for all to see. The assortment of trees of varying heights at Jami's front door is just picture-perfect against the white planked background.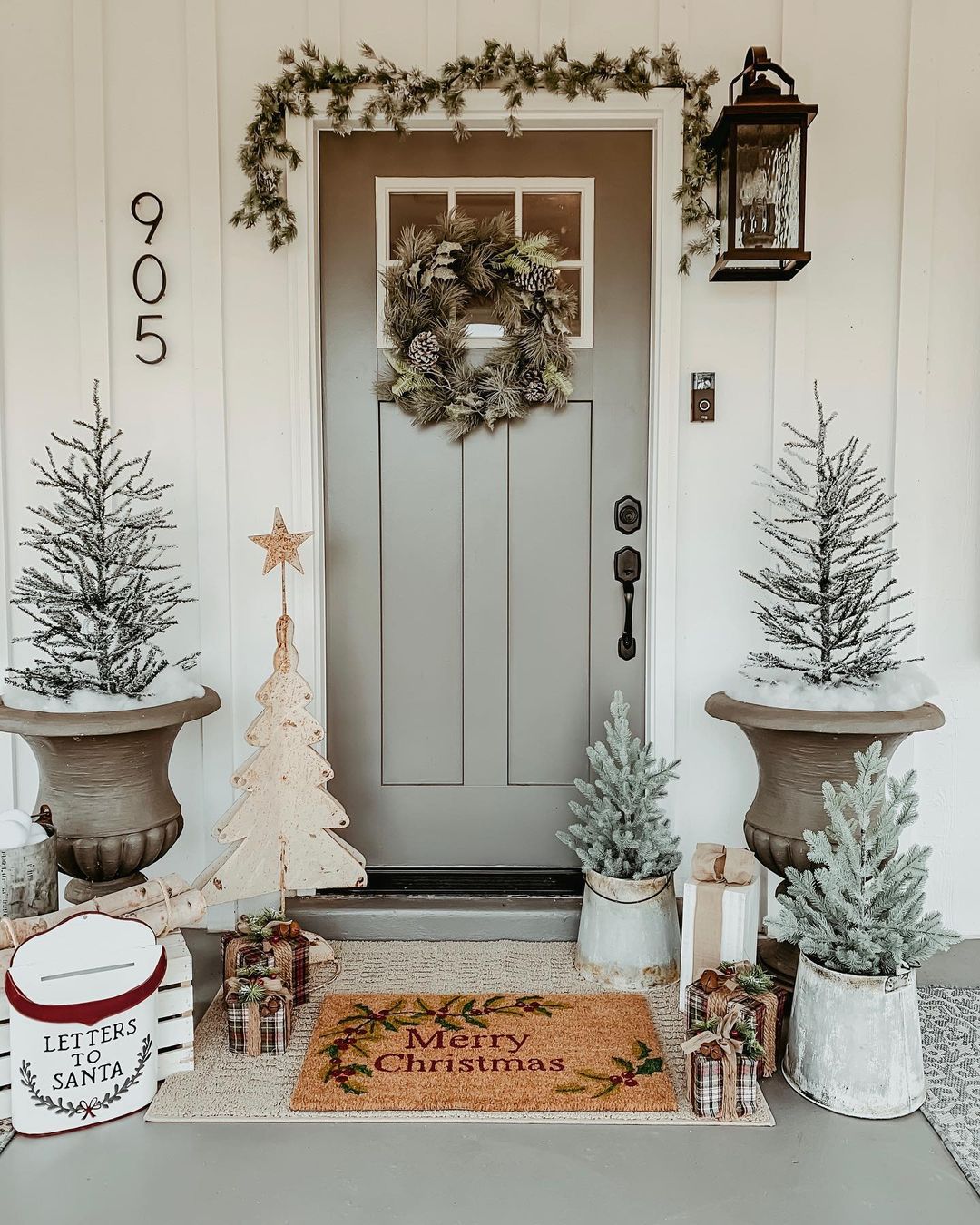 Merry and Bright
Ciara's tree screams classic Christmas with its soft glow and wicker tree collar. Her nature-inspired pinecone centerpiece is simple yet elegant and brings a bit of the forest indoors.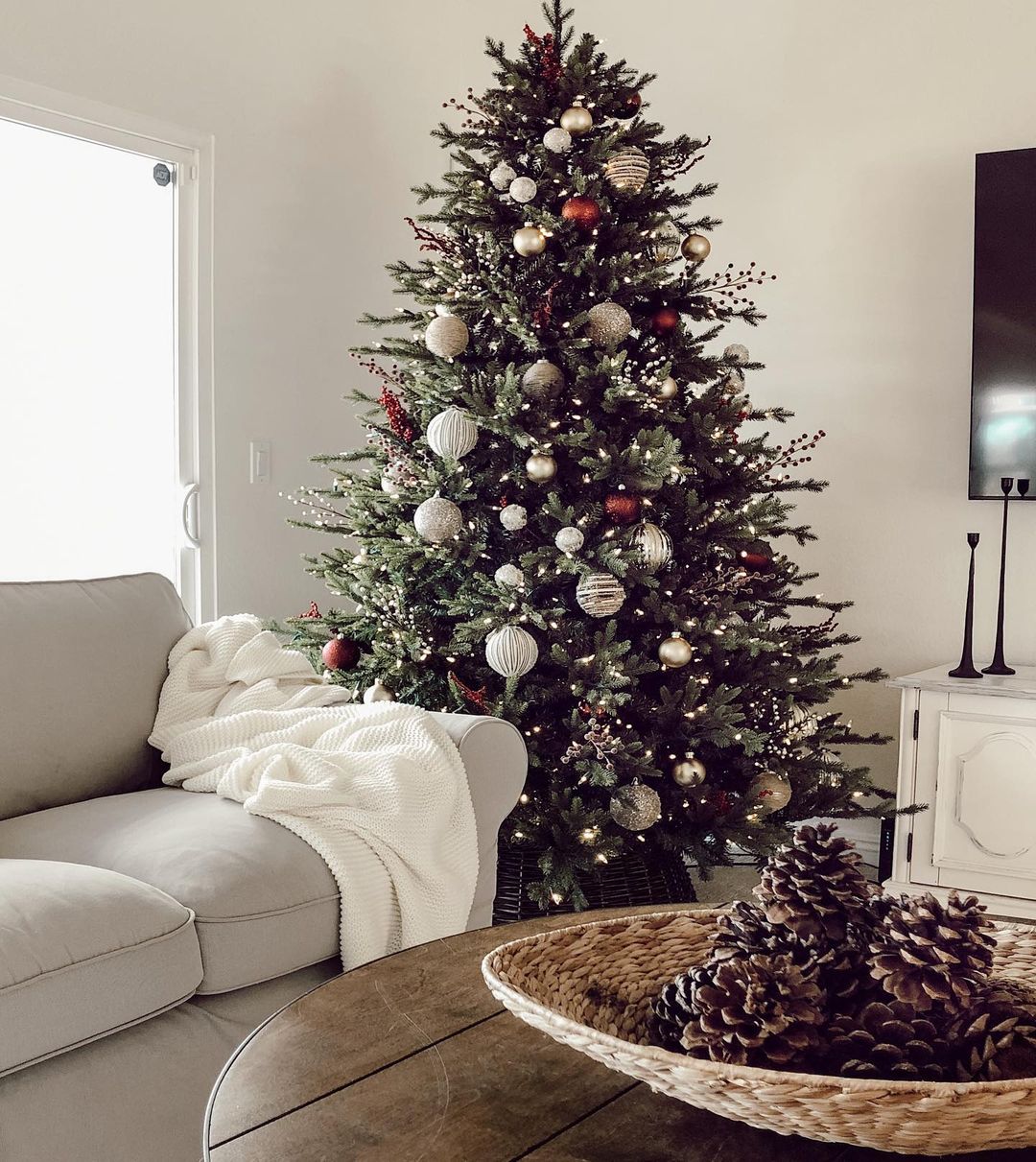 Chic Radiance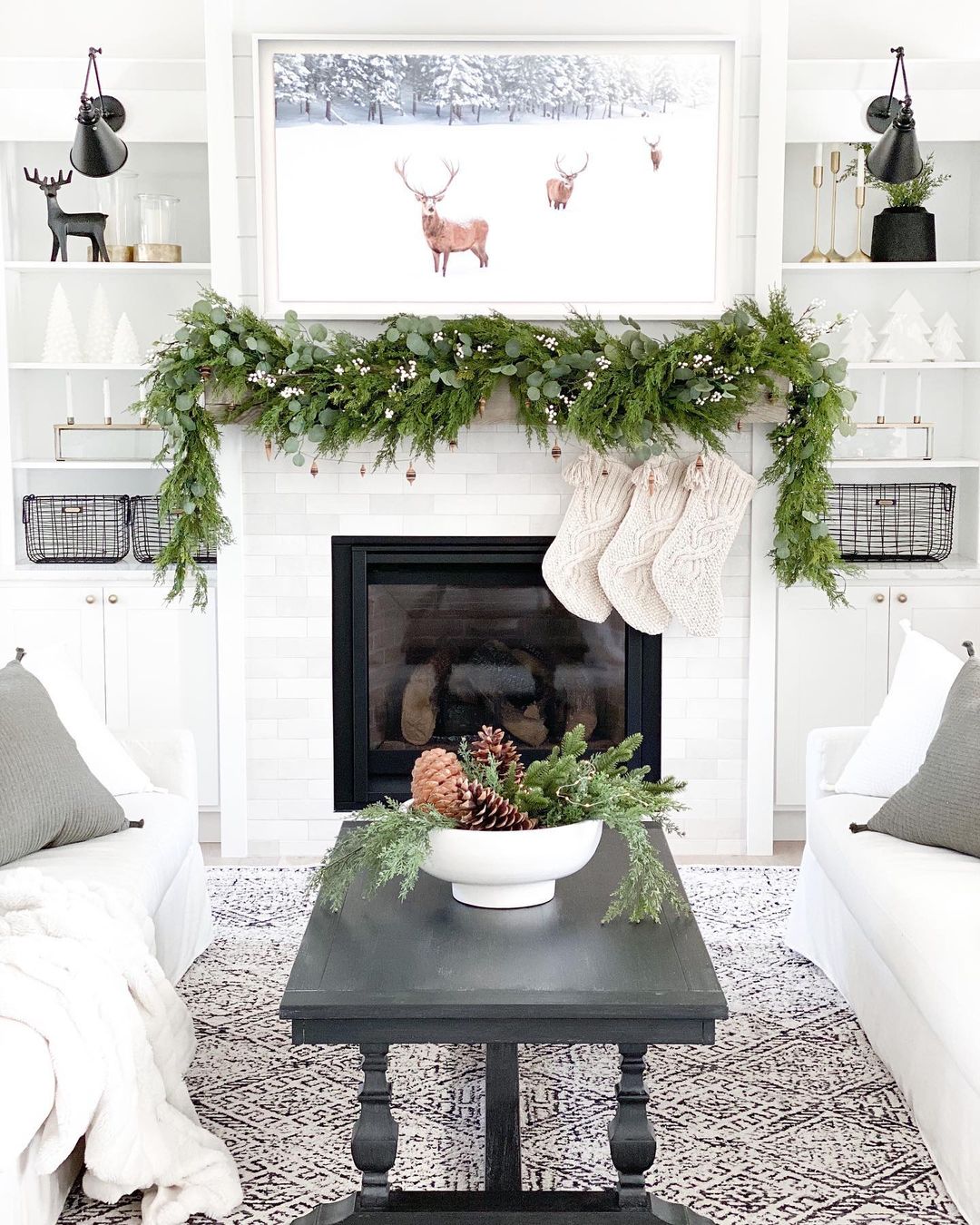 Neutral With a Metallic Glisten
The shiny metallic trees on Ashley's coffee table add sparkle to her neutral living room decor. The mirror centered between two burlap-potted trees reflects the light from a window to illuminate the room.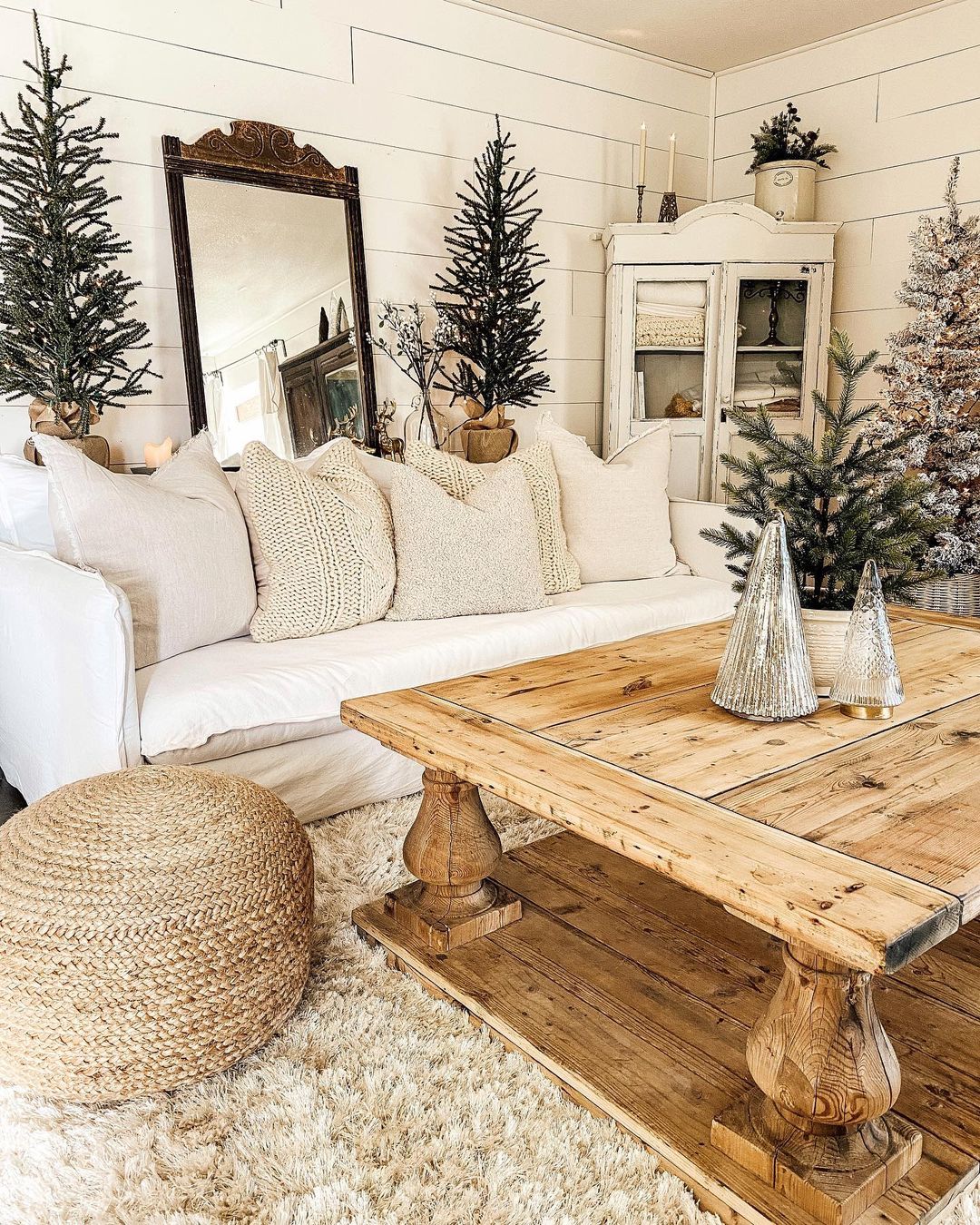 A Meaningful Moment
We love this Christmas inspired quote hanging above Robbie's front porch bench and her red accessories add a pop of color against the white exterior.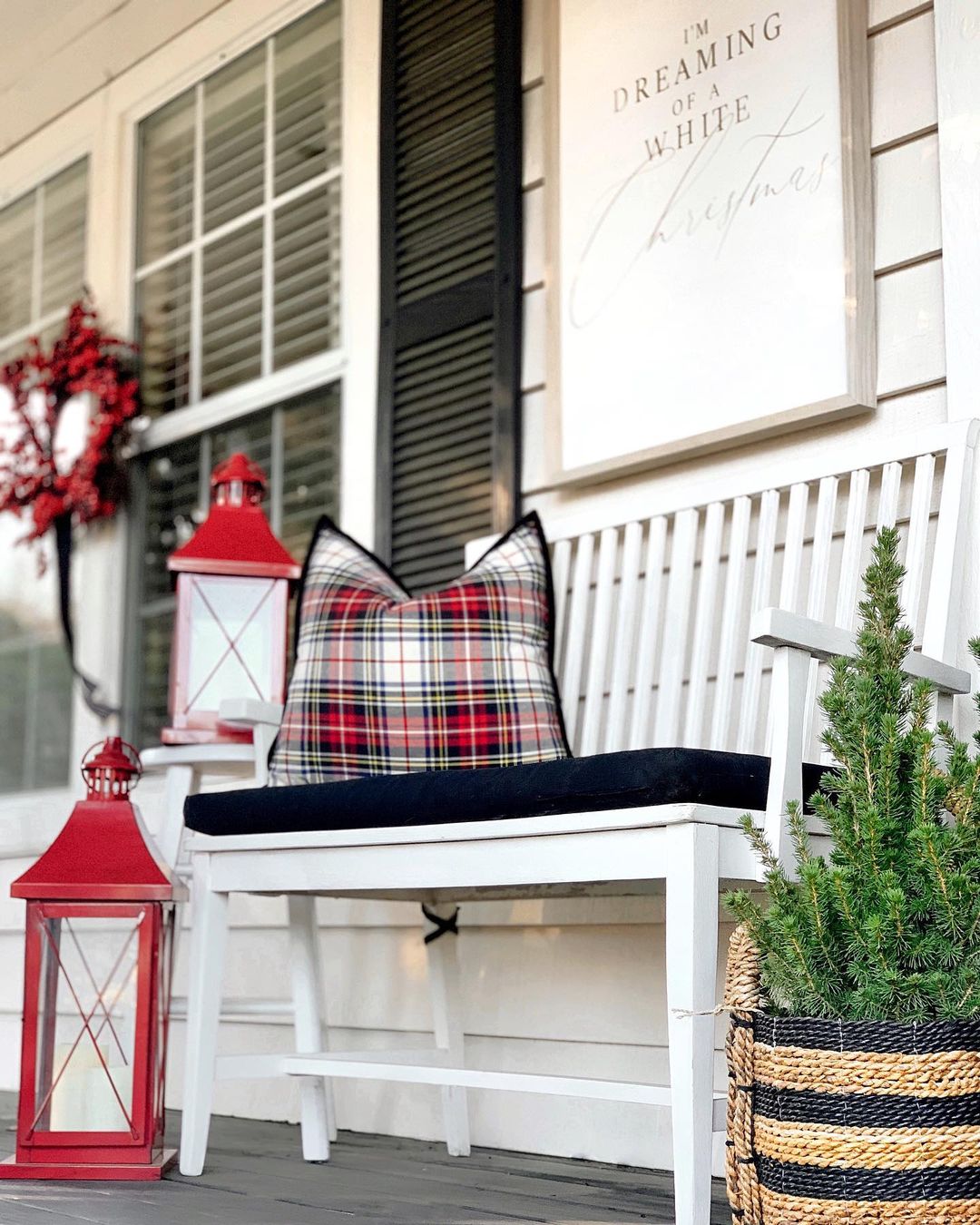 Vintage Wonderland
The vintage Christmas color palette in Courtney's kitchen is bright and cheery in the brilliant natural light. The timeless trinkets and lively colors are reminiscent of a nostalgic holiday season. Look at that vintage Santa towel draped over the apron-front sink!